Arguably, no business represents the travails of the embattled British High Street better than Marks & Spencer. The beloved retailer seems to have spent decades embroiled in reinvention projects, eternally grappling with the demands of a market that refuses to sit still. So, is now a good time to buy Marks & Spencer shares?
The COVID-19 pandemic has further complicated Marks & Spencer's exhaustive efforts to remain competitive, forcing urgent cost-cutting measures and accelerating existing plans to streamline the business – a strategy that entails the closure of at least 100-120 stores.
If you're thinking of invest in Marks & Spencer, this guide will explain how to buy Marks & Spencer shares, take a look at the best stockbrokers and consider the company's prospects going forward.
Where to Buy Marks & Spencer Shares
If you want to invest in Marks & Spencer, start by creating an account with one of our recommended online stockbrokers. If you're outside the United States, eToro is the best platform on which to buy MKS stock. If you're inside the US or Canada, our top pick is Stash Invest.
1. eToro – Market Leading Broker Built on Social Trading Innovation
One of the great Fintech success stories, eToro emerged a little over a decade ago with a fresh, accessible trading platform that introduced the concept of 'social trading'.
With its smartly designed, easy to navigate UX and an interface that resembles popular social media platforms, eToro undoubtedly succeeded in its attempts to make trading more accessible. There's also the CopyTrader feature, which allows you to instantly copy the portfolios of top traders with click of a button.
eToro has built on its early success and is now well-established as one of the world's top trading platforms, offering 800+ tradeable stocks and a variety of ways to invest. If you're interested in Marks & Spencer, you can opt to open a long position and buy the underlying asset. Alternatively, you can trade MKS shares with CFDs with up to 1:5 leverage.
Share trading on eToro is commission-free and there's no stamp duty for UK customers. You can get started with a $200 deposit, or trial the platform with the demo account. With licences from the FCA, CySEC and ASIC, eToro is one of the most secure platforms around.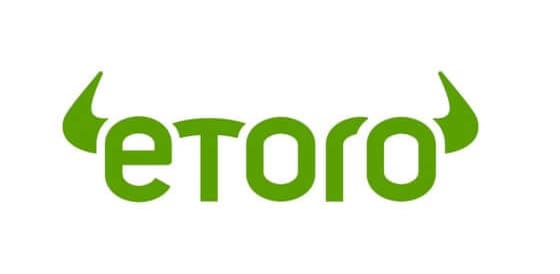 800+ stocks to buy outright or trade as CFDs
Beginner-friendly stock trading platform
0% commission on stock trading
$5,000 account minimum for CopyPortfolios
75% of retail investor accounts lose money when trading CFDs with this provider.
2. Stash Invest – Best Stockbroker for US and Canada
This fresh, approachable investment app could be a great match if you're based in the US and fairly new to investing. Easy to understand, simple to navigate and very affordable, Stash is a great option if you want to build your knowledge while making sensible, well-informed investments.
You can even build a surprisingly diverse portfolio without investing a fortune thanks to fractional stock purchasing, which enables the acquisition of portions of Marks & Spencer shares. This can also be a great way to gain exposure to particularly expensive stocks like Amazon, which is currently priced at nearly $2,500 (Find out how to buy Amazon stocks here).
Prices are affordable with plans starting at just $1 a month, which grants you access to a personal investment account, debit account, and Stock-Back rewards. Other plans are priced at $3 and $9 a month and include extras like tax benefits for retirement investing, monthly insight reports, investment accounts for two children and a smart metal debit card.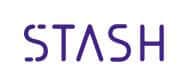 $0 minimum balance
Allows fractional stock purchases
$1 monthly fee
Lower number of shares in comparison to other brokers
$9 a month to unlock the complete features
There is no guarantee you will make money with this provider.
Should I Buy Marks & Spencer Shares? Points to Consider
It's always best to do your research before you buy Marks & Spencer shares or other retail assets like Tesco stock. We always recommend taking a closer look at the company fundamentals and researching historic price movements and forecasts before you invest money.
Marks & Spencer business model and share price history
Long regarded as a bellwether for the British High Street, Marks & Spencer has struggled to modernise its business model in recent years and the Coronavirus pandemic has only served to accentuate issues that clearly need to be addressed. Everyone expected a sharp drop in profits during the pandemic and M&S obliged, reporting profits at a three-decade low, down 21.1% on last year.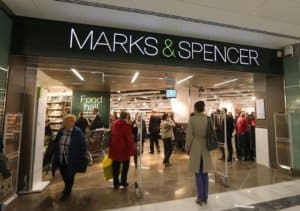 But the bad news was accompanied by plans to accelerate an overhaul. Chief executive Steve Rowe said that the Coronavirus crisis "has given us a chance to cut back harder. We're almost jumping three years in one in that respect."
According to Rowe, the pandemic has focused minds: "Last year's results reflect a year of substantial progress and change including the transformative investment in Ocado Retail, outperformance in Food and some green shoots in Clothing in the second half. However, they now seem like ancient history as the trauma of the COVID crisis has galvanised our colleagues to secure the future of the business."
M&S aims to cut £500 million in costs this year, saving in areas like marketing, logistics and recruitment. A further £210 million in savings will be made by cancelling this year's final dividend payment. Shareholders have been told not to expect a dividend in 2021 either.
While tough times lie ahead for M&S, investors seem to be impressed with the accelerated restructuring plan and the company's decisive response to the pandemic. The share price closed up 11% at 95p and continue to rise past 100p the following day.
Marks & Spencer stock dividend information
In order to preserve liquidity amid the Coronavirus crisis, Marks & Spencer has scrapped £340million in dividends in the year to March 2021.
Marks & Spencer stock forecast and prediction
Recent stock targets for MKS include an Overweight assessment by Morgan Stanley of 160.00p, a neutral rating and target of 100.00p from UBS and a target of 120.00p from RBC Capital Markets, which reiterated an Outperform rating.
How to Buy Marks & Spencer Shares on eToro
It's quick and easy to invest in Marks & Spencer stock at our recommended broker, eToro. Once you've registered and deposited into your broker account, follow these simple steps to buy MKS stock.
Step 1: Search for Marks & Spencer (MKS) Stock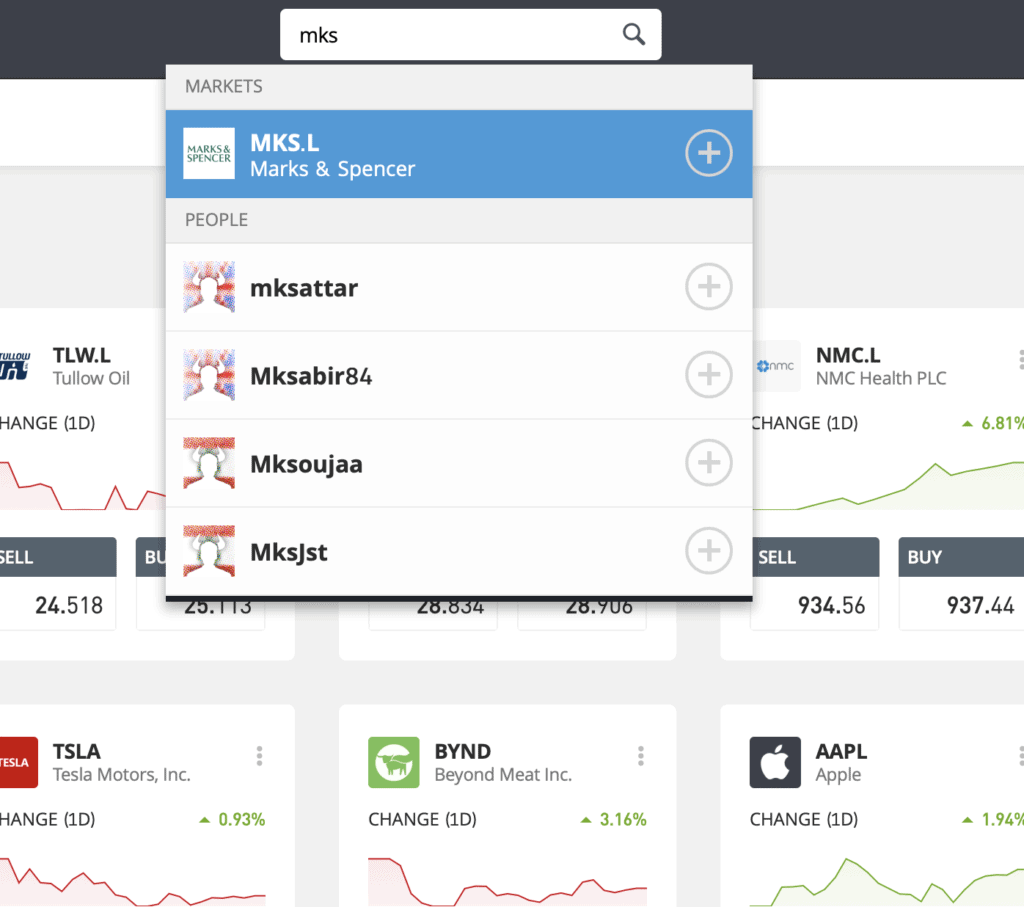 Look up Marks & Spencer by typing the ticker symbol MKS into the search box.
Step 2: Click on trade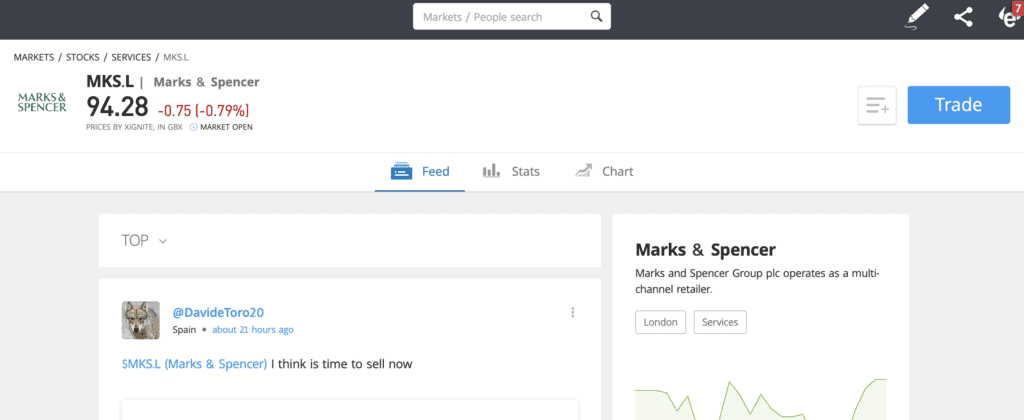 Click Trade in the top right corner of the Marks & Spencer page.
Step 3: Specify 'Buy'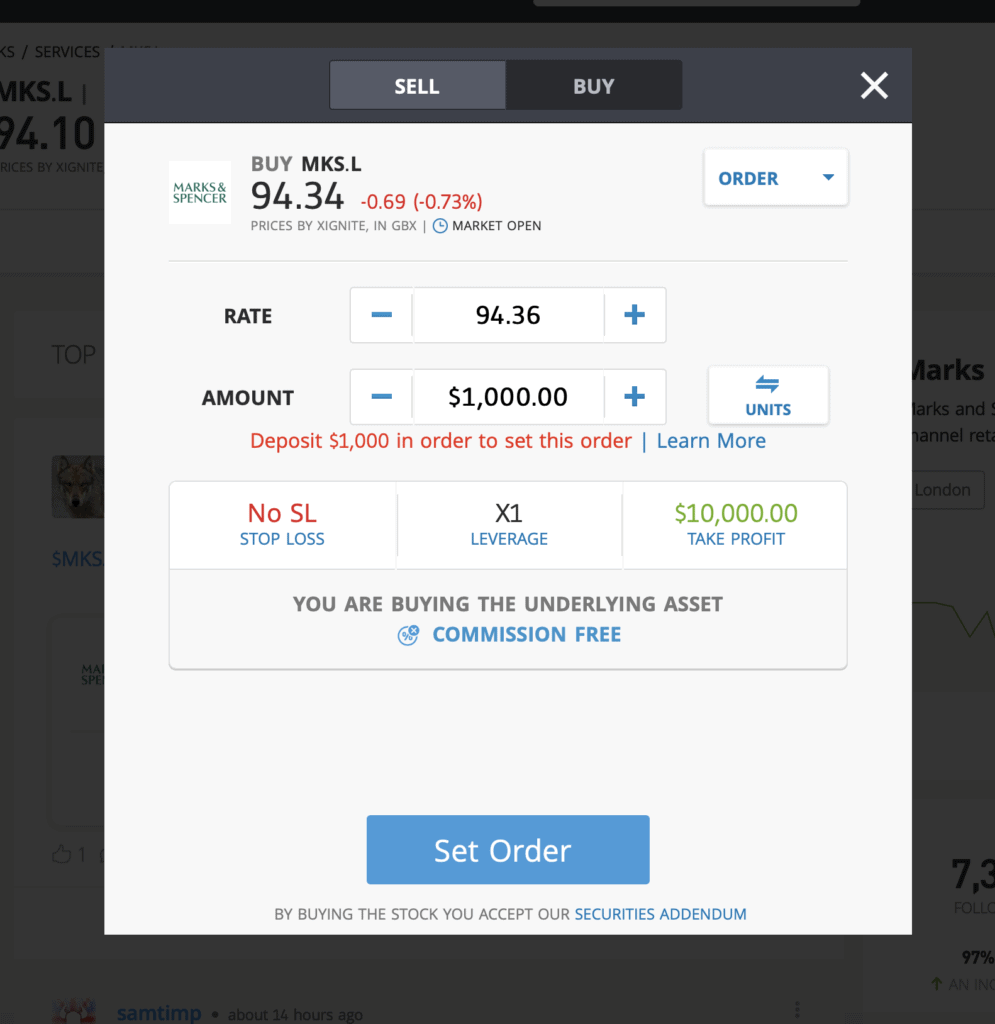 If you want to purchase the underlying asset, specify 'Buy' on the top tab, change the leverage to X1 and proceed to set your order. To trade MKS CFDs, set your leverage amount, Stop loss and Take profit order limits, then click 'Set Order'.
Investing in Marks & Spencer Shares – Final Thoughts
It may be surprising to see so many analysts rating MKS as a Buy stock with the company in a seemingly terminal decline and struggling through an extended period of lost earnings. But many investors see the green shoots of a revival emerging from the wreckage of the Coronavirus crisis. A strategic overhaul will now be actioned as a matter of urgency and long-term structural issues should finally be addressed.
If you want to buy Marks & Spencer shares today, we recommend registering with one of our recommended stockbrokers. eToro is our pick broker if you're outside the US, while we recommend US traders sign up to Stash Invest.
eToro : Best stockbroker for non U.S. countries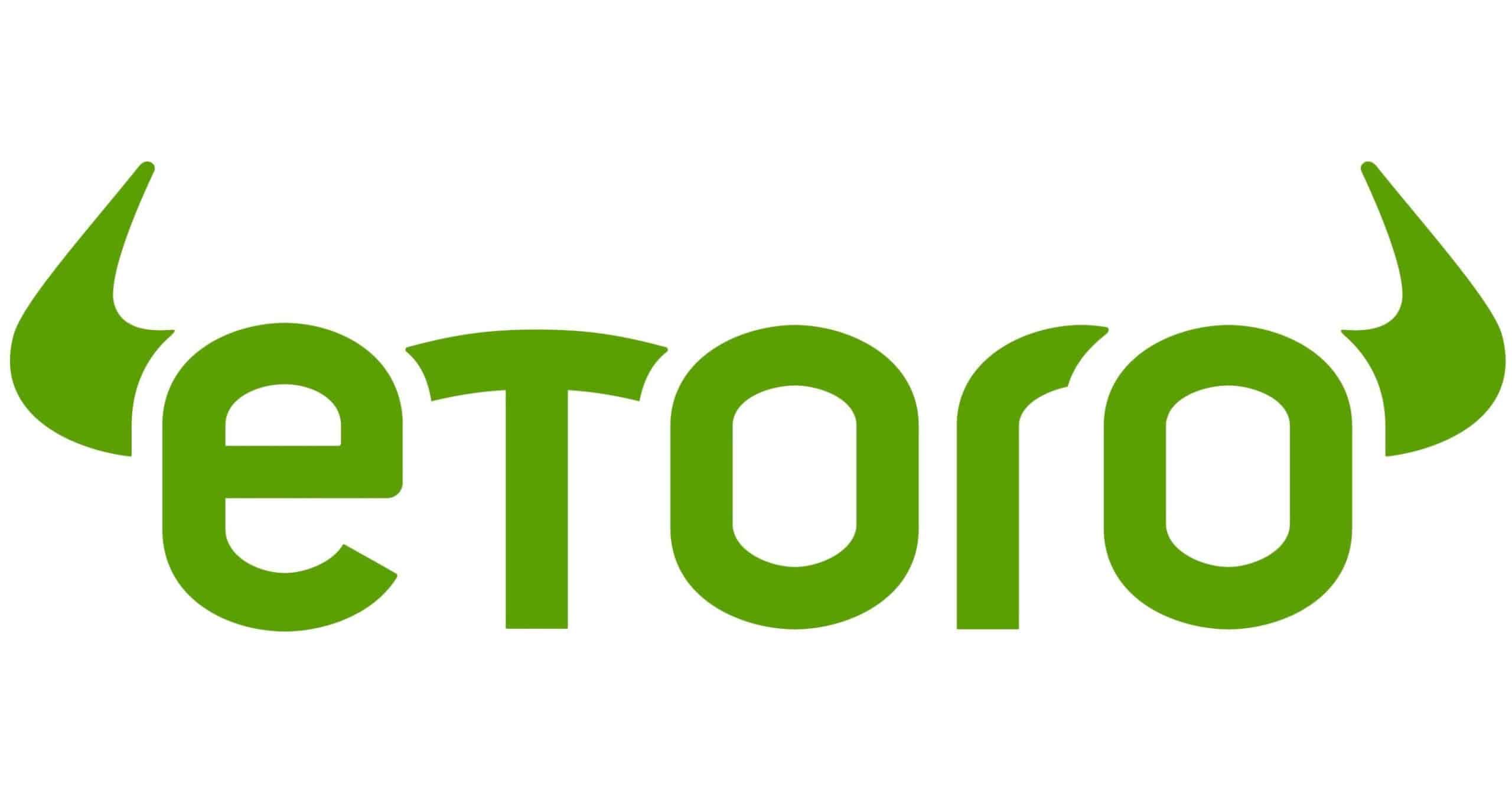 Social and copy trading available
CySEC & FCA regulated
Buy stocks commission-free (other fees may apply)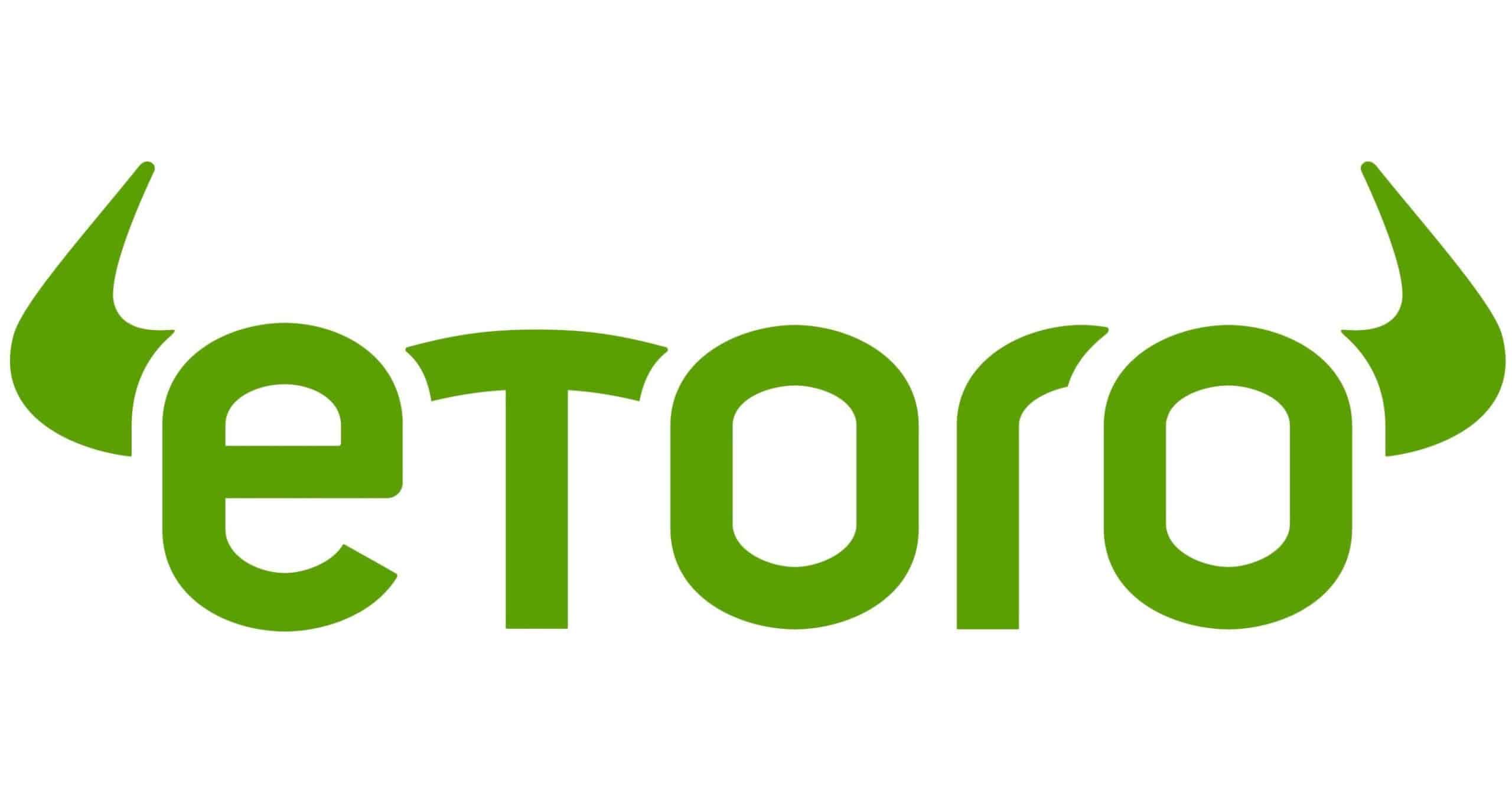 75% of retail investors lose money when trading CFDs with this provider.
Stash Invest - Invest in stocks with just $5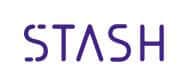 U.S. friendly stock broker
Fractional shares available - invest in stocks with just $5
Fees as low as $1 per month for basic banking and personal investing
Build a portfolio of stocks and ETFs for free
$50 bonus available when you deposit $300 within 30 days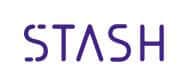 FAQs
Should I buy Marks & Spencer shares or wait?
Having dropped significantly in 2020, many analysts see plenty of upside potential in MKS right now.
What are the fees when buying Marks & Spencer stock?
Zero-commission stock and ETF trading is available to European clients who trade on eToro. This means that eToro doesn't add a dealing charge or any administrative fees when you buy MKS stock.
Is there a Marks & Spencer stock price prediction?
RBC Capital Markets gives MKS a target of 120.00p and rates it Outperform.
What does the Marks & Spencer stock dividend pay?
M&S has scrapped this year's final dividend payment and doesn't plan to pay shareholders in 2021.
A-Z of Stocks