Vegetarians are on the rise across the planet. Whether motivated by healthier eating, animal rights, or lowering greenhouse gases, more people are choosing plant-based foods. Even carnivores are increasing their intake of vegetable-based food. As the proportion of non-meat to meat eaters grows worldwide so too does the value of the stock of Beyond Meat (BYND)– a leading producer of plant-based meat products. Beyond investment and profit maximization goals, the $30 trillion sustainable investment sector likes BYND's healthy and climate friendly meat.
If you want to invest in the company that feeds vegan NBA basketball players, Olympic skiers, and world class snowboarders and climbers, this guide will explain how to buy Beyond Meat stock, evaluate the best Beyond Meat stockbrokers, and assess how its first-mover and sustainable investment advantages will affect the stock value as the world shifts eating habits to healthier foods.
Best U.S. Platform to Buy Beyond Meat Stocks
We've scoured the web to find the best stock broker in the U.S. for investing in BYND and found Stash Invest to offer the best platform, lowest fees and most appealing bonus. Click the table below and get started with only $5 today.
Stash Invest - Invest in stocks with just $5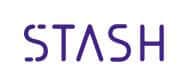 U.S. friendly stock broker
Fractional shares available - invest in stocks with just $5
Fees as low as $1 per month for basic banking and personal investing
Build a portfolio of stocks and ETFs for free
$50 bonus available when you deposit $300 within 30 days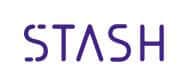 Best U.K. Platform to Buy Beyond Meat Shares
When it comes to U.K. residents, Plus500 is undeniably the best platform for investing in BYND. They are listed on the London Stock Exchange and hold various licenses, offering a secure platform for all investors. They also offer 0% commissions and competitive spreads, with a large variety of shares to pick from.
Plus500 - No.1 CFD broker for non-U.S. customers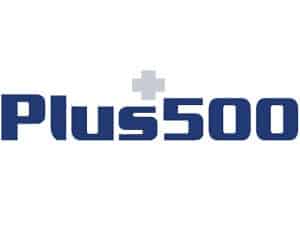 Lowest spreads in the market
No commissions on trades
Listed on the stock exchange and FCA & CySEC regulated
Advanced stock analysis tools including historical charts, news, and realtime prices
Over 2,000 shares to buy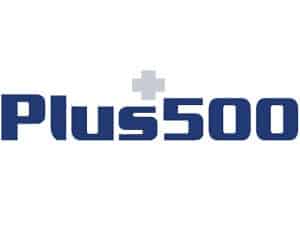 72% of retail investors lose money when trading CFDs with this provider. You should consider whether you can afford to take the high risk of losing your money.
Should you Invest in Beyond Meat?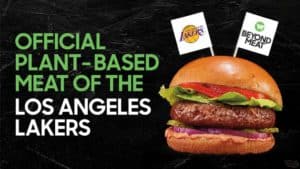 As the plant-based food trend sweeps the globe, Beyond Meat has an enviable first-mover advantage. The retail supply chain is restructuring to accommodate vegetarian food products. Grocery chains are expanding their vegetarian meat sections, and bio grocery stores are popping up on every corner of the globe. In grocery aisles, Beyond Meat's meat alternatives are the second most popular and fastest growing meat alternative.
Beyond Meat's move beyond the grocery store offers another momentous opportunity as restaurants and fast food outlets add vegetarian choices. Hardee's, Del Taco, Dunkin', and A&W Canada are among the fast food outlets selling Beyond Meat vegetarian choices while products are being tested at KFC, McDonald's, and Subway. In 3Q 2019, BYND's restaurant and foodservice revenues increased 312 percent versus 212 percent for retail over the year-ago period, to comprise 45 percent of $92 million in sales, a 250 percent increase.
If you want to invest in the rapidly growing mock meat industry, Beyond Meat is well-positioned to capitalize on healthy eating trends. And uniquely, of the dozen or so leading alternative meat pure plays, Beyond Meat is currently the only public company. Investing in BYND stock offers stock investors an opportunity to gain full exposure to the fast growing alternative meat industry.
But Beyond Meat will face stiff competition for consumer palates ahead. The growth prospects of the maker of the number one selling plant-based burger in the US, the Beyond Burger, will be affected by the following trends.
Pros of investing in Beyond Meat stock
✔️ Stricter investor sustainability standards
Investors are demanding higher transparency and disclosure standards on sustainable meat production practices across the food sector chain. The spotlight of environmental, social and governance (ESG) goals is on sustainable sourcing, animal welfare, and health and nutrition – all concerns addressed by Beyond Meat. Its competitors, in contrast – the big meat producers – fall dismally short of, and facing rising costs to comply with, meat sustainability production practices. The 2018 Business Benchmark on Farm Animal Welfare (BBFAW) report found that many meat producers have sustainability practices "established but work to be done (i.e., Kraft Heinz, Nestlé, Tyson Foods) or worst still, ESG goals are "on the agenda but limited evidence of implementation" (i.e., ConAgra Brands, General Mills, Hershey). This sustainability premium can be seen when investing in cannabis stock, for example. In recreational marijuana, the Canopy Growth and Aurora stock price have declined over the year whereas sustainable hemp clothing, food, and health and wellness stocks have faired better.
✔️ Increasing investment risk in meat companies
The failure to meet sustainability goals and the rising costs associated with complying are raising the investment risk in meat producers. As more influential institutional investors, consumers, and NGOs demand more compassionate practices throughout the global food supply chain, meat producers are under pressure to adopt ESG goals throughout the meat processing lifecycle.
✔️ Meat-free lifestyles on the rise
As more and more studies link meat eating to an increase in cancers and other lifestyle diseases, consumers are choosing healthier food choices. Health and bio stores are becoming more common than butcher shops in neighborhoods worldwide. Recent epidemics caused by animal-to-human contact–most notably SARS, the avian flu, the swine flu, and now the Coronavirus–are further swaying consumers towards meat alternatives. Plant-based meat replaces the protein, fat, and trace materials in meat with plant-based equivalents. Restaurants are reporting a 20 percent repeat purchase rate of plant-based meat products.
✔️ BYND stock has first-mover advantage
Numerous studies over three decades have shown that first movers deliver superior financial and investment performance over the long term than their competitors. This could be a good time to buy.
✔️ Sustainable investment trends
Similarly, the stock of companies committed to sustainability tend to do better primarily owing to their commitment to long-term business and sustainability goals.
✔️Sustainable investment trends
But can a company selling sustainable products meet environmental, animal welfare, and human health goals and deliver superior performance? Here, too, BYND has an edge, according to a 2020 Chinese study of companies in sustainable industries across seven countries.
Cons of investing in Beyond Meat
❌ Competition in meat alternatives
Big foodie producers are aggressively moving into the meat substitutes market. ConAgra gained hold of the Gardein meat alternative brand when it bought Pinnacle Foods for $10.9 billion in 2018. Tyson Foods is investing in meat alternative startups, including cell-based meat makers Future Meat Technologies and Memphis Meats. By 2023, cellular-based meat products – meat products cultivated in labs – will start to become cost competitive to produce, but currently can be as high as $2,800 for a pound of lab-grown beef (Jefferies). In the lucrative restaurant market, Impossible Foods' burgers are currently selling through Burger King, Red Robin and White Castle.
We do not interpret the interests and efforts of large companies to capture our leadership position as evidence that they will do so. Any more than Amazon's ascent was squelched by traditional retailers who entered e-commerce to unseat them … We intend to continue to invest in and innovate at an aggressive pace while maintaining our commitment to non-GMO and simple plant-based ingredients, to leverage our first-mover advantage here in the U.S. and abroad. Ethan Brown, Founder/CEO, Beyond Meat
❌ Sale of IPO shares
IPO lockup period for BYND shares expired in October 2019. Early investors and employees can now sell their shares. These share sales likely explain the decline in the stock value in the October–December period. BYND stock's strong rebound in January indicate the market sell-off jitters have subsided.
❌ Short interest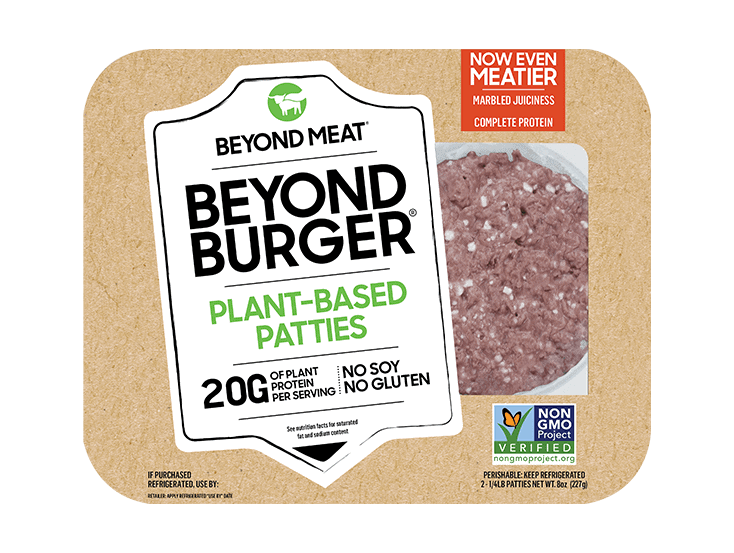 A high percentage of Beyond Meat's 60 million shares outstanding, currently valued at $6.9 billion, are being shorted. Current short interest is a 46.5 percent of shares floating on the public market. Recent analyst downgrades of BYND stock from a buy to a hold cite the belief that the stock is overvalued relative to its fundamentals and the market has already factored future growth into the stock price. Short sellers have not faired well, however, as the stock gained 47 percent in January while stocks in the food processing industry declined –5.73 percent. Short sellers, who like to challenge first movers, also have high short positions in Amazon, Tesla stocks and Netflix stock.
How to buy Beyond Meat stock in the UK
Step 1: Register your account
The first step to invest in BYND in the UK is to sign up to our recommended broker Plus500. Firstly, click on this link and register your account. Select between a Demo and Real Money account. You may sign up for a lifetime Demo account on Plus500. After filling in basic personal information, you will gain access to the unlimited demo account. Before you can use it, you will be prompted to answer a few questions to establish your trader risk profile.
Step 2: Fund your account
When you are ready to trade with real money, fund your account. Three payment options are provided. You may be asked to verify your payment method. The minimum deposit is $100/£100.
Step 3: Verify your identity
Attach and submit proof of identity and a utility bill for verification.
Step 4: Trade Beyond Meat CFD stock
Plus500 offers a wide variety of CFDs on investment instruments, including stocks, ETFs, indexes, forex and cryptocurrencies. Geared towards the advanced investor, options are also available. Query Beyond Meat and the price quotes for the stock, as well as put and call options, appear on the screen.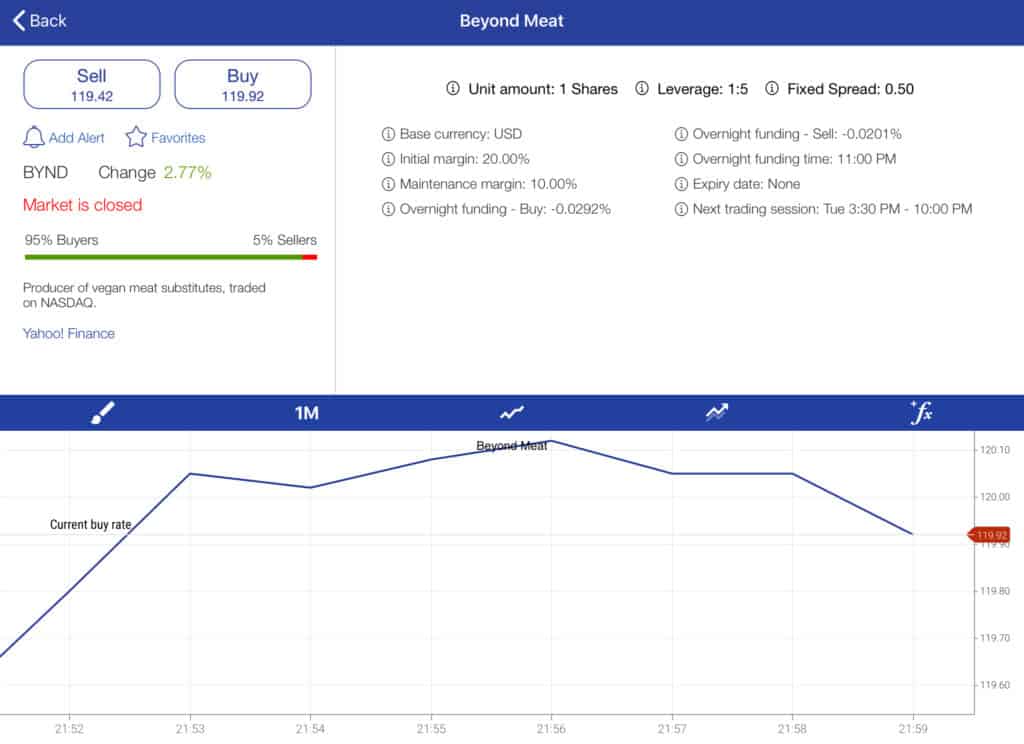 All stock information and the Buy/Sell commands are displayed on the general stock page for the serious trader who wants to execute quickly. The bottom half of the page displays the price chart and provides access to a broad selection of technical analysis indicators. To trade Beyond Meat shares, click on Buy.
How to buy Beyond Meat stock in the US
Step 1: Register your account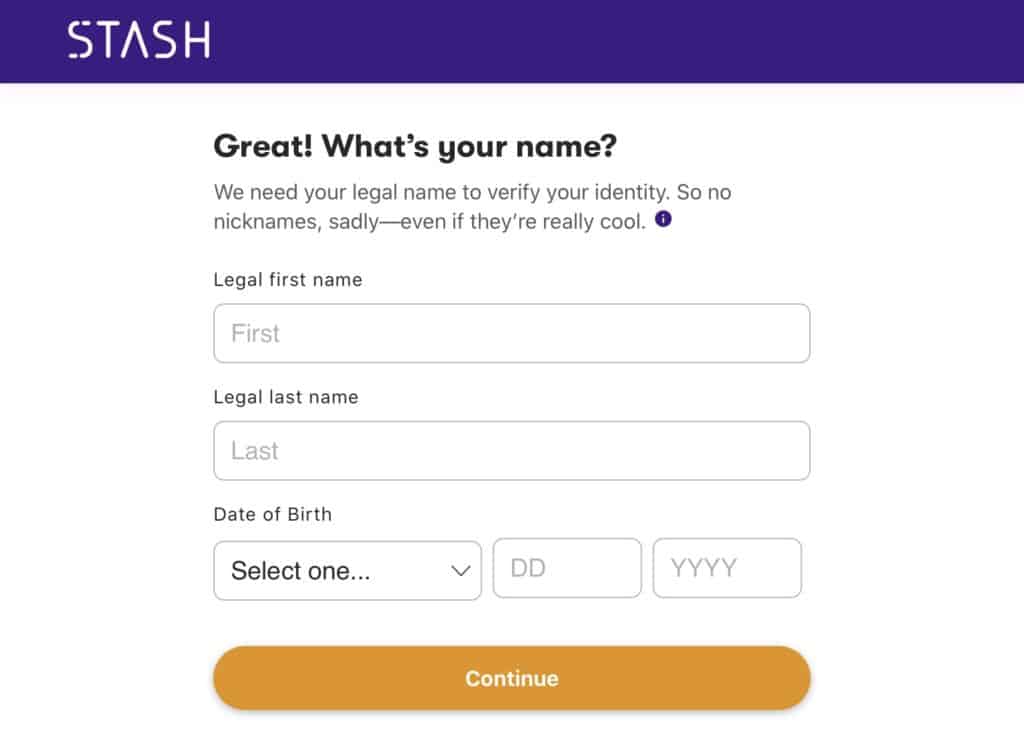 The first step to invest in BYND in the U.S. is to sign up to our recommended broker Stash. Firstly, click on this link and register your account. Fill in basic personal information and the investor profile. For ID verification, you will only be asked for your social security number.
Step 2: Choose a Stash plan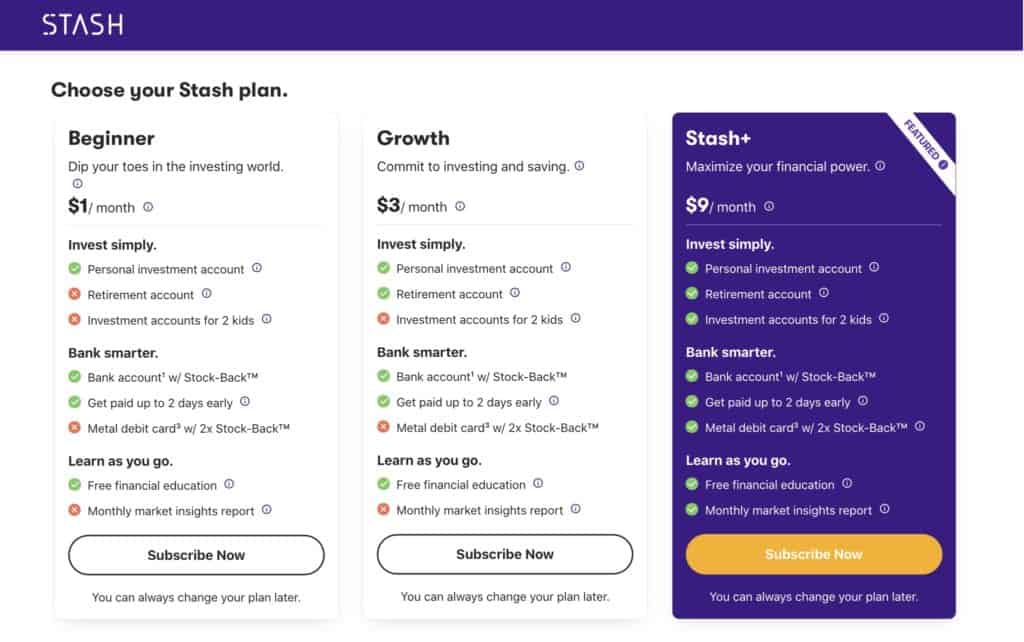 Choose between a Beginner ($1/month), Growth ($3/month), or Stash+ ($9/month) account. All three offer a personal investment account and bank account with Stock-Back™️ rewards and a 2-day early payday. Choose the Growth account to add a Retirement account. Stash+ adds investment accounts for two kids and a debit card with 2x Stock-Back™️. Pay for your monthly subscription via your bank account or debit/credit card.
Step 3: Fund your account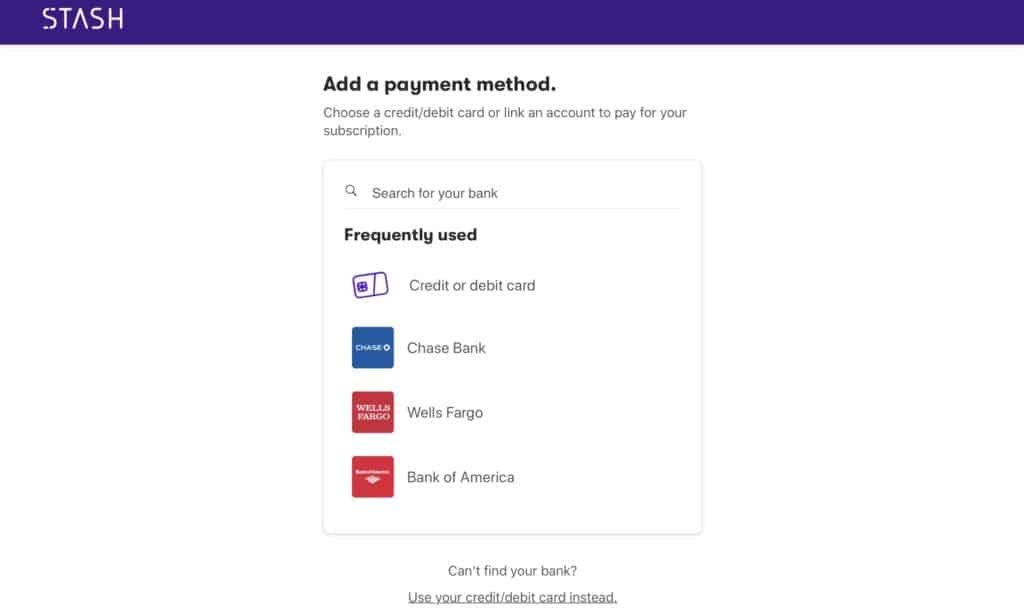 Link your bank account and fund your account by wire transfer. Receive $50 to invest when you deposit $300 within 30 days. Optionally, add the Smart-Save feature, which monitors your income and savings patterns and suggests how much to allocate to savings.
Step 4: Trade Beyond Meat stock
Type the BYND ticker in the Search box. Enter the fractional share amount you want to invest: $5, $25, $50, or a custom amount. Press Check Out on Stash to pay for the stock trade from your Stash account.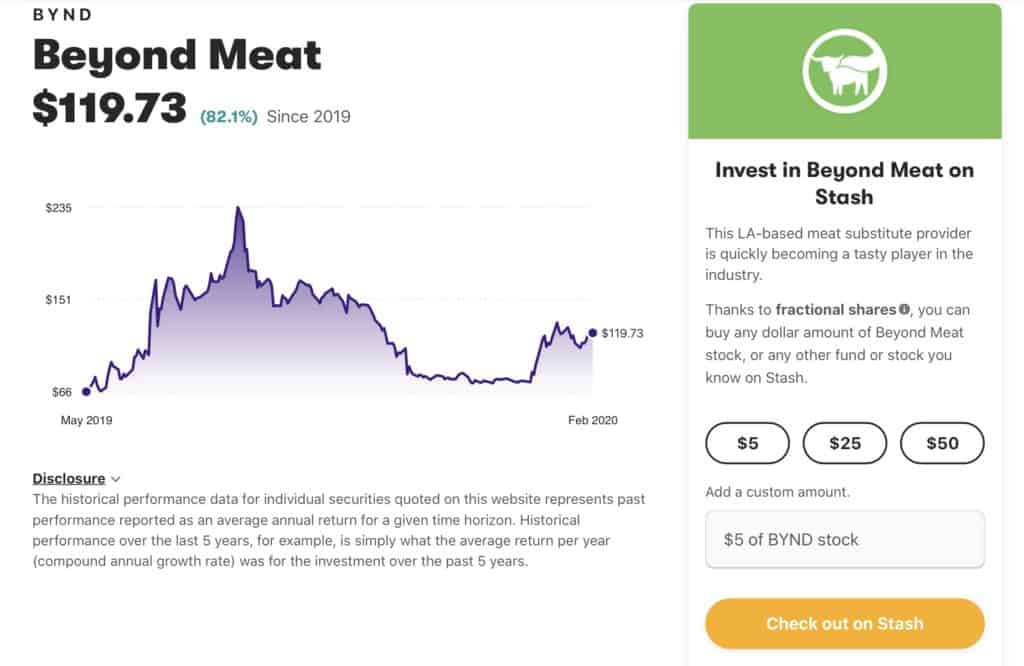 80.6% of retail CFD accounts lose money
Beyond Meat Stock: Current Prices and Summary
Investors showed their taste for the maker of juicy (beat juice) plant-based burgers when it went public in May 2019 at an initial share offering price of $25, sending shares spiking to $65.8 on the first day. At $111.9 per share, Beyond Meat stock is trading 67.5 percent above its May 2019 IPO closing price, but less than half of its peak price of $234.90 in July 2019. This performance is more than double that of US Consumer Staple IPOs in 2018 of 30 percent, the highest performing industry sector for public offerings.
If you had invested $10,000 in BYND stock at the closing price on May 2, 2019, your shares would be worth $24,324 today, a 220 percent annualized return. The S&P 500 returned 24 percent over the same period.
As more carnivores switch to plant-based foods, what can we expect for the stock price going forward? Analysts currently have a median price target of $106.9 and high forecast of $185. The median price reflects a decline of xx percent from the current stock price of $117.
A Brief Overview of the History of Beyond Meat
When Ethan Brown founded Beyond Meats in 2009 as a way to solve environmental, animal welfare, and human health problems through meat substitutes, natural and organic grocery retailer Whole Foods was one of the only nationwide retail outlets for alternative meat products. In 2013, Whole Foods opened its 335th store–becoming the eighth largest grocery retailer in the United States–and gave Beyond Meats its big break with a place on its shelves.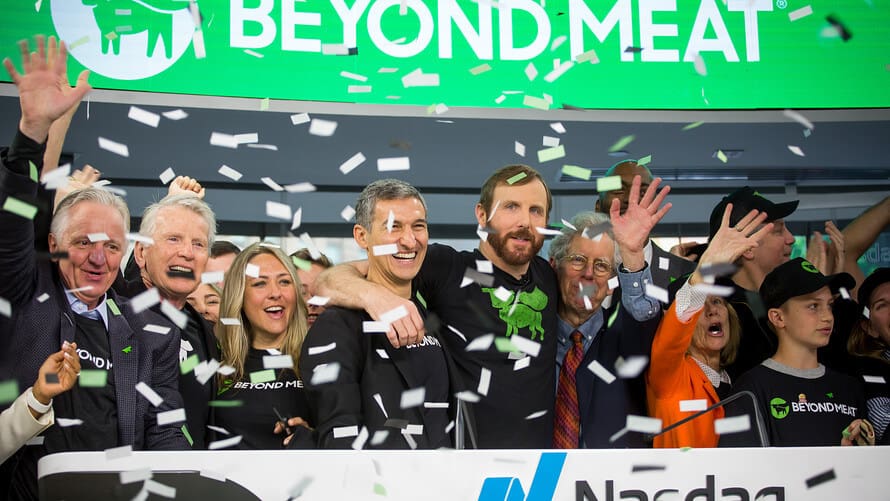 Keen venture capitalists quickly saw the opportunity in the natural food sector. From 2009–2013, WF stock appreciated 400 percent to $609.90 while the S&P Retail index increased 200 percent to $182.8 over the same period. In 2011, Beyond Meat secured its first round of venture capital funding from Kleiner Perkins–a backer of more than a dozen of the most successful technology companies including Amazon, Google, and Twitter. Currently, four venture capital firms together hold a 40 percent stake in Beyond Meats. In May 2019, Beyond Meats tapped into the investor appetite for healthy foods with a public stock offering.
Beyond Meats has secured shelf space in many more supermarket chains, including Safeway, Shoprite and Target; and restaurants including TGI Friday's, Del Taco, and Dunkin'. As BYND's commercial success grew, Ethan Brown was rewarded for his ESG agenda when he received the 2018 Environment Champion of the Earth Award from the United Nations. That same year, Beyond Meat began its international expansion, securing distribution agreements in Canada, Tesco in the UK and 3,200 Lidl stores in Germany, as well as restaurants in these markets. Including over half a dozen Asian markets, Beyond Meat products are sold in 58,000 retail and foodservice outlets globally.
Beyond Meat Shares Forecast 2020–2024
Beyond Meat is celebrating its 10th year in business on a profitable high note. In the third quarter of 2019, BYND's net income turned positive. As the company grows globally, it is producing economies of scale and thusly reducing expenses as a percent of sales. Gross margins have moved into the targeted 30 percent range while improving operating margins, currently -1.21, will continue to benefit from declining costs. For 2020, 15 analysts forecast positive earnings per share of $0.17 to $0.88, with an average estimate of $0.42 (Yahoo).
How does BYND's share price reflect its turn in fortunes? On a forward price-to-earnings basis, BYND stock is trading at 294 times earnings versus 0 times today. While the high P/E naturally raises the question – Is BYND stock overvalued? – following a 47% stock increase in January to $111, Beyond Meat is acting like a growth stock again. Growth stocks typically have high P/Es and price-to-book ratios. On the more tangible P/B ratio, BYND is trading at 18.6 times its net asset value versus 2.9 for the food processing industry.
As the below five-year forecast shows, Beyond Meat is well-positioned to deliver consistent earnings growth going forward. Management has increased its 2019 outlook, boosting its net revenue forecast to $265–275 million, a 200 percent increase over 2018, and upping EBITDA from $0 to $20 million.
2020 – Capitalizing on Investor Appetite for Meat Substitutes
At the grocery store, 43 percent of consumers say they are willing to switch meat-based protein for plant-based protein (Nielsen). Many of these switchers are flexitarians who spend $165 more than meat-only eaters, or $643, per year on meat and meat substitutes. As the second best selling mock meat brand on grocery shelves, and growing sales 20 times faster than its main competitor (in the 12-week period ending October 2019–SPINS), Beyond Meat is expected to continue to enjoy revenues and earnings growth. The outlook for Beyond Meat stock is median-to-high.
2021 – Alternative Meat Pure Plays
Beyond Meat's expansion into the grocery retail and restaurant channel will accelerate in 2021. However the market will have priced a more predictable growth story into the stock by 2021. ConAgra, Tyson Foods, and other big meat producers will expand their mock meat market share, although the majority of their revenues will still be generated from the meat industry. Sustainable investors will continue to favor meat alternative public pure plays like Beyond Meat. By 2021, though, IPOs of alternative meat companies will start to compete for investor dollars. This competition includes 42 plant-based food companies that raised over half a billion dollars from venture capitalists, a 366 percent increase over five years, in 2018. The outlook for Beyond Meat stock is low-to-median.
2022 – Carving Out Mock Meat Market Share
Beyond Meat's 10 percent market share in meat substitutes could reach 15–20 percent by 2022. Although this first-mover advantage will be hard to unseat, by 2022, Beyond Meat's competitors – the big meat producers and fast-growing startups – will be gaining market share. Beyond Meat is likely to expand through acquisitions by gobbling up some of these smaller competitors. Beyond Meat has recently added retail supply chain and marketing executives from Amazon and Coca-Cola to expand its market position in the alternative meat industry. Low-to-median stock growth is forecast. Low-to-median growth is forecast.
2023 – Faux Meat Fast Foodie Trend
In restaurants, Beyond Meat's restaurant partnerships are expanding into long-term distribution agreements. At the end of January, Beyond Meat's sausage sandwich went nationwide with Dunkin. Meanwhile, failed partnership talks between main competitor Impossible Foods and McDonald's increases the chances of a long-term partnership with Beyond Meat. An expansion to nationwide production scale with McDonald's would produce an upside of 35 percent for the stock, according to analysts AB Bernstein. The outlook for Beyond Meat stock is median-to-high.
2024 – Mock Meat: A Food Staple
Between 2020–2029, the alternative meat industry (plant-based and lab-grown meat) is forecast to grow from $14 billion to a $140 billion industry, a robust compound annual growth rate of 29.2 percent (Barclays). Due to the high costs of producing cellular cultivated meat, it is not likely to represent a significant percent of this market over the next 10 years. During the same period, the global meat market will grow a more modest 3 percent to about $1.8 trillion. By 2029, plant-based meat will comprise about 10 percent of the meat market. Leveraging its early first-mover advantage (see below), we expect Beyond Meat to maintain a leading market share. The outlook for Beyond Meat stock is median-to-high.
Conclusion
Should you buy Beyond Meat stock? Over the next decade, sales of plant-based meat alternatives will grow at a rate 10 times faster than that of the traditional meat market. As the competition mounts from both plant-based startups and big meat producers, can Beyond Meat hold its first-mover advantage?
As the leading producer of alternative meats, Beyond Meat has a stealth opportunity to continue to leverage its first-mover advantage across brand identity, innovation, and economies of scale to maintain and grow its market share.
If you want to buy stocks in Beyond Meat, we recommend doing so via a regulated online broker such as Stash Invest if you're a U.S customer, or Plus500 for U.K. customers.
Stash Invest - Invest in stocks with just $5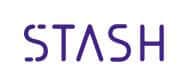 U.S. friendly stock broker
Fractional shares available - invest in stocks with just $5
Fees as low as $1 per month for basic banking and personal investing
Build a portfolio of stocks and ETFs for free
$50 bonus available when you deposit $300 within 30 days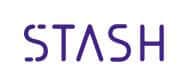 Plus500 - No.1 CFD broker for non-U.S. customers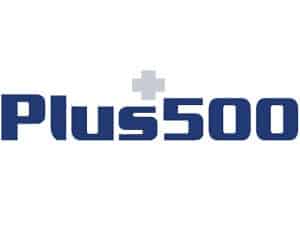 Lowest spreads in the market
No commissions on trades
Listed on the stock exchange and FCA & CySEC regulated
Advanced stock analysis tools including historical charts, news, and realtime prices
Over 2,000 shares to buy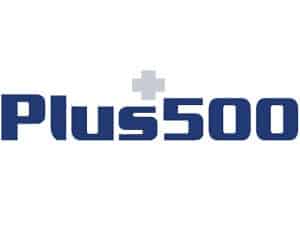 72% of retail investors lose money when trading CFDs with this provider. You should consider whether you can afford to take the high risk of losing your money.
FAQs
Is Beyond Meat stock overvalued?
On a price-to-sales ratio, BYND stock is trading at 25.9 times sales, considerably above the food processing industry P/S ratio of 0.99 (CSIMarket). Noteworthy, Beyond Meat is a growth company competing against large, established meat processors. The overall industry's shares declined in 2019, contributing to a lower P/S. In comparison, among select competitors, General Mills has a P/S of 1.89, ConAgra 1.22, and Pinnacle Foods 626. Like Beyond Meat, Pinnacle Foods' stock price growth more directly reflects the high sales growth opportunity in alternative meats, through its Gardein brand. In the most recent quarter, newly acquired Pinnacle was responsible for 20 percent of ConAgra's sales growth.
Does Beyond Meat have a nationwide distribution agreement with McDonalds?
Whether or not Beyond Meat is considered overvalued largely depends on the view on future prospects for current products being tested in major restaurant chains. BYND products are currently sold in restaurant chains including TGI Friday's and Del Taco, and are being tested in KFC, Subway and McDonald's. If Beyond Meat secures a nationwide market with McDonald's, Morningstar estimates the deal would generate an additional $400 million in annual revenues.
Is Beyond Meat profitable?
In Q3 2019, Beyond Meat reported its first quarter of positive earnings. Average analyst consensus is EPS of $0.42 in 2020. Given the growth potential in current restaurant test and grocery markets, a more telling measure is the price of the stock to expected earnings growth. Looking forward, BYND's 5-year price to earnings growth (PEG) ratio is 2.66, closer in line with the food processing industry's PEG ratio of 1.98. A comparison can be made to the Tesla stock and electric car growth story – a highly valued stock compared to that of the established automotive industry. Tesla has a forward PEG ratio of 2.5 versus 0.33 for traditional auto makers. Comparatively, BYND shares appear more reasonably valued.

Does Beyond Meat have a sustainable investment advantage?
The sustainable investment sector loves this maker of food products for its support of animal welfare, the environment, and natural foods.
As a sustainable investment, Beyond Meat is under more pressure by investors to provide stable operating performance. Sustainable investors invest long-term, typically more than five years, with a focus on long-term value creation rather than only considering financial value and risk. With these goals in mind, sustainable investors are outperforming traditional investors.

What are the health benefits of Beyond Meat products?
In addition to using non-GMO inputs, a recent lifecycle analysis of Beyond Meat's 1/4-pound burger versus a meat-based burger found the Beyond Burger generates 90% less greenhouse gas emissions, and requires 46% less energy, >99% less water and 93% less land (Center for Sustainable Systems at University of Michigan).
Is it more expensive to buy a Beyond Meat burger than a beef burger?
Currently, the price of plant-based burgers is slightly higher but quickly dropping. The cost of making a Beyond Meat burger has fallen 25 percent over the year, from $4.89 to $3.69, dropping the price 31 cents a pound to $5.74. In comparison, the average price of beef is $3.73 per pound. The decline in the cost of producing and marketing protein-based burgers is allowing Beyond Meat to steadily improve operating leverage and thus generate positive earnings. The EBITDA forecast for 2019 has been raised from $0 to $20 million.
Where and how can you buy Beyond Meat stock?
You can buy Beyond Meat shares from online stockbrokers. If you are in the US, you can purchase Beyond Meat shares through eToro. UK-based investors can purchase BYND shares through Plus500. Both online stockbrokers provide intuitive trading platforms that make it easy to buy and sell stocks. After signing up online, type in the BYND ticker, place your order and you will become an owner of Beyond Meat shares.
A-Z of Stocks