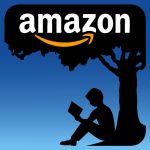 Amazon, the king of e-commerce and cloud computing, grows online businesses into market leaders. Most Americans have shopped on the online site that captures 40–50 percent of U.S. retail revenues and a growing share of global e-commerce. After buying Whole Foods, the e-retailer that has turned shopping into one mouse click ("1 Click") now wants you to shop green at its bricks-and-mortars stores. Can Amazon go green and become more profitable?
This guide will explain how to buy Amazon stock, evaluate the best Amazon stock brokers, and assess how the opportunities and challenges ahead could affect Amazon's stock value.
Should you invest in Amazon?
Pros of buying Amazon stock
After two decades of slaying bricks-and-mortars competition, Amazon is opening storefronts to take on increased competition from Wal-Mart. The retail outlets are part of Amazon's strategy to improve profitability in both its retail and non-retail businesses. Amazon is improving profit margins with:
Online food shopping and delivery – In its core e-commerce market, Amazon is driving future growth by moving aggressively into online food shopping and delivery. The 470 Whole Foods stores recently acquired for $13.7 billion will operate as central delivery hubs across the US, as well as stock non-food products from amazon.com. Investors like the diversification strategy. Though Alibaba already runs online and offline stores, those who invested in Amazon stock rather than buy Alibaba stock a year ago doubled their returns.
The combination of our two companies will account for over 85% of all hipster purchases in the United States. I'm looking forward to capturing the remaining 15%.  Jeff Bezos, Chairman and CEO, Amazon
A green strategy to capture millennials – Another word for hipster is millennial — the demographic with the most spending power consuming a whopping $600 billion a year. Amazon wants to supply these hipsters with more of the bio and organic food they love. Now when Amazon customers use Alexa assistant to order Whole Foods, they will receive information on the benefits of organic food and green products, along with recommendations. These are the same hipsters who love to buy Tesla stock, electric vehicles and home solar panels. Amazon is investing in EVs, too. Amazon's smart home assistant Alexa will encourage you to buy bio and green. And drones operating on biofuels will soon deliver your goods.
Non-retail diversification – Almost 30% of Amazon revenues are coming from outside of the core retail e-commerce business. Amazon has moved into cloud computing, digital advertising, private label and AI voice assistants. These segments are growing faster and have wider profit margins. The non-retail businesses helped Amazon blow past operating margin improvement projections in 2018.
Cons of buying Amazon stock
e-commerce revenue decline – After stripping  out Whole Foods revenue,  the rest of the business experienced a revenue decline of 10–20 percent in 2018. Some online items will soon be sold in physical stores where prices and costs are being slahsed.
Slow global sales – Amazon's global sales slowed in 2018 as it confronted more competition in the international market. Amazon commands only one percent of the Chinese market, where Alibaba controls 80 percent of sales. Since Amazon is more diversified globally, shareholders are valuing its stock higher than Alibaba stock.
Overhead costs – Amazon operates with over 300,000 employees versus 50,000 for Alibaba, which has at least twice the order fulfillment volume. Automation improvements include creating data centre efficiencies, fulfilling orders with robots and using a flex driver network to lower shipping costs. Amazon plans to improve its employee pool by building a hyperloop between its Seattle and HQ2 in Austin Texas, allowing employees to work wherever they like.

Amazon Stock: Current Prices and Summary
Amazon sold $400 billion worth of goods online in 2018, catapulting the e-retailer into the top 10 of Fortune 500 companies. Amazon became the second company in history to reach a market value of $1 trillion on September 4, 2018. AMZN stock's 10-year uptrend reversed in September with a wider technology stock sell-off, though overall the stock fared better than the sector. Amazon trades in a pack of high performing technology stocks called the FAANG (Facebook, Amazon, Apple, Netflix, Google). In 2018, Amazon stock was up 28 percent, while the overall group was down.
Should you buy Amazon stock on the dip? Going into 2019, Amazon shares appeared undervalued by the market. A good way to check is to compare the price per share to revenue and earnings forecasts by analysts. When comparing Amazon's stock price-to-future revenues or price-to-future earnings to that of other FAANG stocks, if Amazon is undervalued, it could be a good time to buy Amazon shares. Amazon's forward price-to-earnings (FPE) is 58. With Forward P/Es of 25 and 22, respectively, it is much cheaper to buy Google stock or Facebook stock. But the positive analyst outlook on Amazon earnings is hard to ignore.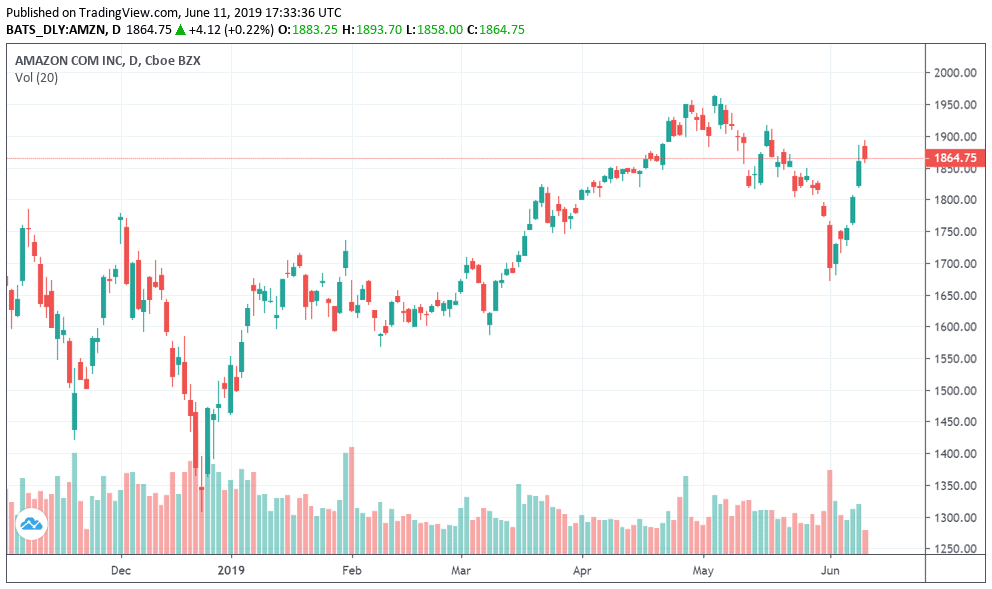 AMZN price quote
| | | | |
| --- | --- | --- | --- |
| Price | $ 170.93 | Daily high | $ 171.44 |
| Volume | 18963658 | Low | $ 169.50 |
| Variation | 12:51 | Opening | $ 169.71 |
| + / -% | 00:30% | Day before | $ 170.42 |
Best Amazon Stock Brokers
eToro

Markets.com

AllyInvest

Skilling

Pros:

Social trading leader
Copy trading available
CySec & FCA regulated
Over 6 million users worldwide
Low fees
Paypal
Large number of stocks
Quick verification

Daytraders
Demo account
Low commissions
Good quality news flow available
Good set of analytical tools

Self-directed or management portfolio investment plans
Low trading fees
Robo-avisor features
Great mobile platform
High order volume

A wide selection of currency pairs
Offers easy-to-use trading platform
Regulated by Cyprus Securities and Exchange Commission (CySEC)
Minimum initial deposit requirement – 50 EUR, GBP, USD, and 500 NOK, SEK for the Standard account


Simple process to open a real account


Offers live chat

Cons:

Limited order types
Not many deposit options
Customer service is not very effective
Unregulated broker

Experienced investors only
Account fees
High financing rates

Skilling does not offer the popular MetaTrader trading platform
Skilling offers low leverage ratio of 1:30
No ECN account


Skilling is not available for US residents


Charges additional fees such as withdrawal fees and non-trading fees


Limited payment methods



Spreads
• Spreads from 2 pips • Flat fee on withdrawal
•Fees are built into spread. • Spread cost : 0.35 • Unregulated broker
• Spreads from 2 pips
•Fees are built into spread. • Spread cost : 2 pips
Number of stocks available
4,000
2,500
1,500
N/A
Financing rate
8.9%
7.9%
13.9%
N/A
Visit broker

Visit Broker

66% of retail investor accounts lose money when trading CFDs with this provider.

You should consider whether you understand how CFDs work, and whether you can afford to take the high risk of losing your money.

Visit Broker
Visit Broker
Visit Broker
How to Buy Amazon Stock – Tutorial
How to buy Amazon stocks on Plus500
Step 1: Register your account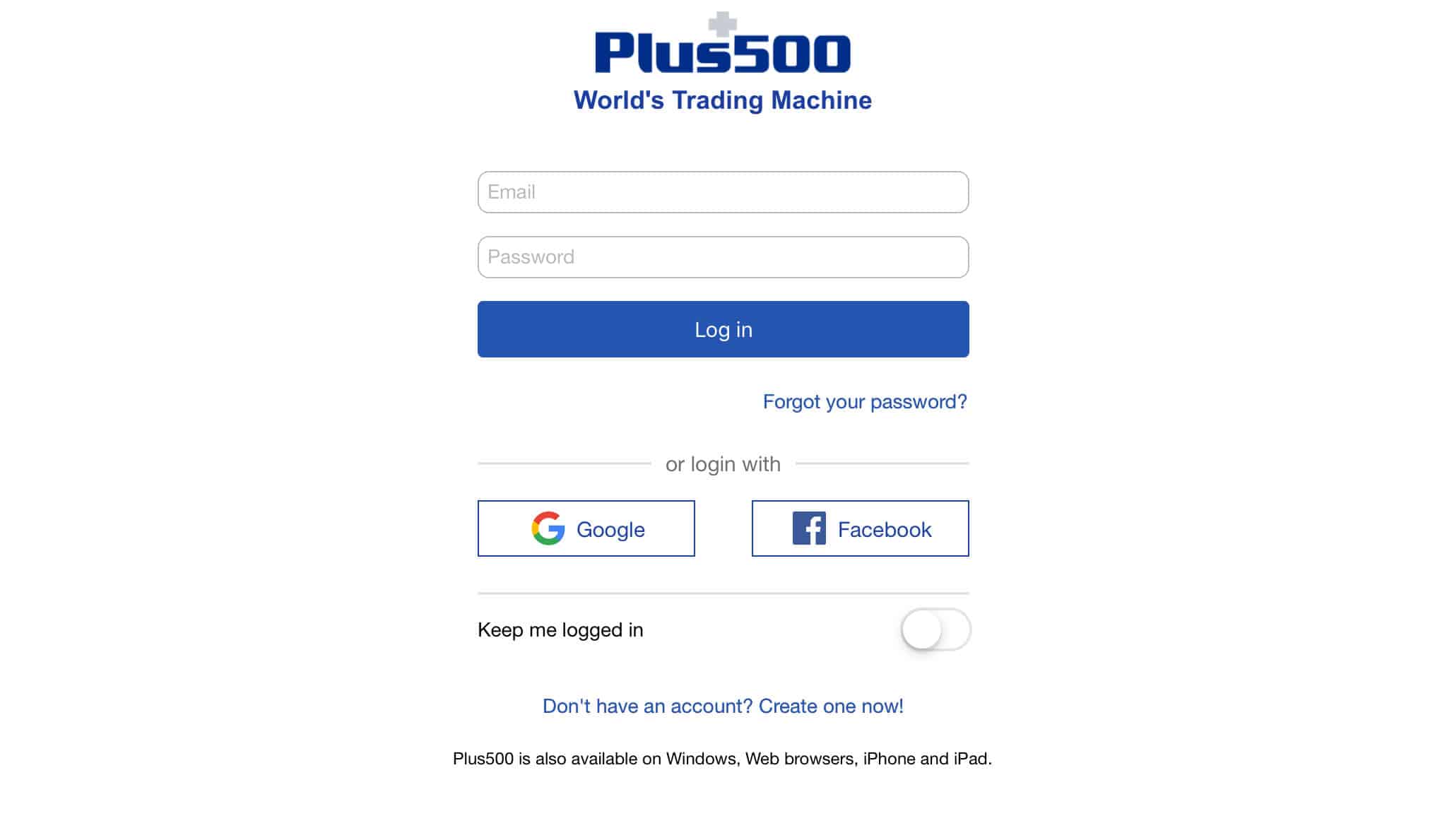 Firstly, click here to join Plus500. Yu will be prompted to download the plus500.com mobile app to register.  Select between a Demo and Real Money account. After filling in basic personal information, you will gain access to the unlimited demo account. Before you can use it, you will be prompted to answer a few questions to establish your investor risk profile.
Step 2: Fund your account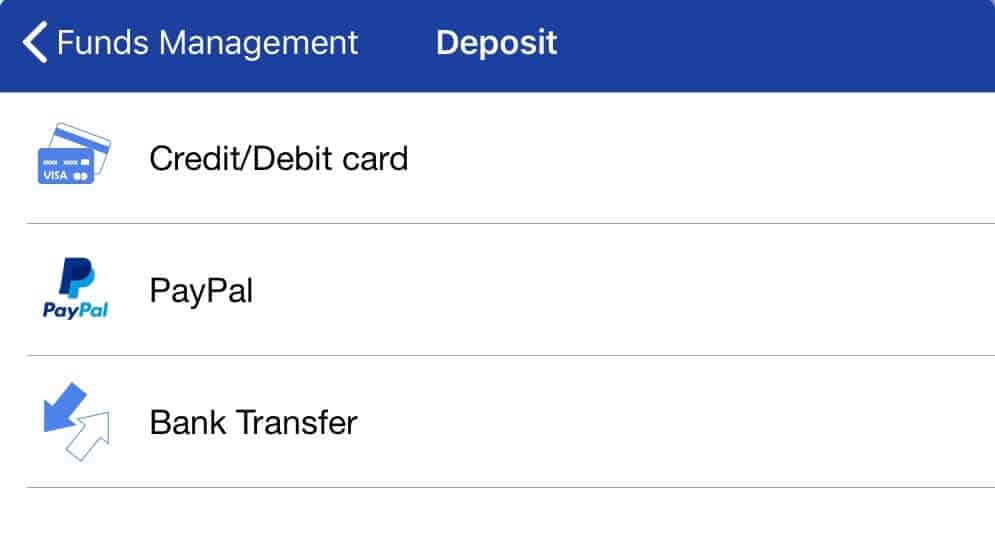 When you are ready to trade with real money, fund your account. Three payment options are provided. You may be asked to verify your payment method.
Step 3: Verify your identity
Attach and submit proof of identity for verification.
Step 4: Trade Amazon CFD stock
Plus500 offers a wide variety of CFDs on investment instruments, including stocks, ETFs, indexes, forex and cryptocurrencies. On this trading platform for the advanced investor, options are also available. Query Apple and the price quotes for the stock, as well as put and call options, appear on the screen.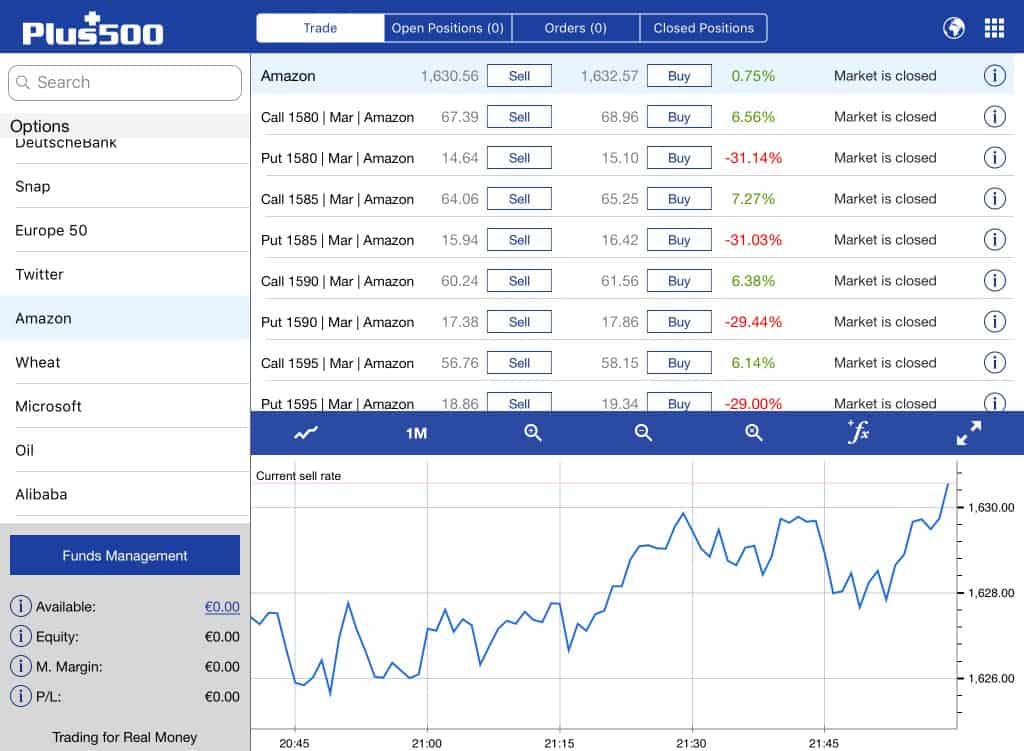 All stock information and the Buy/Sell commands are displayed on the general stock page for the serious trader who wants to execute quickly. The bottom half of the page displays the price chart and provides access to a broad selection of technical analysis indicators.
80.6% of retail CFD accounts lose money
How to buy Amazon stock on eToro
eToro has established itself as a reputable and trusted broker among traders since it launched in 2007. The leading online broker for social trading is regulated in several jurisdictions, including by the UK's Financial Conduct Authority (FCA). Popular features include social feeds, research and One Click Trading. If you are deciding whether to buy Amazon shares on eToro, review these pros and cons.
Pros
Fast account opening process
CopyTrader™ platform
CopyPortfolios™ across an investment theme
One-click trade execution
Low fees
Low minimum deposit (200 euros)
Range of payment methods
User-friendly interface
Full BCH trading
Cons
Withdrawals can be slow
Mostly CFDs
How to buy Amazon stocks on eToro
Step 1: Register your account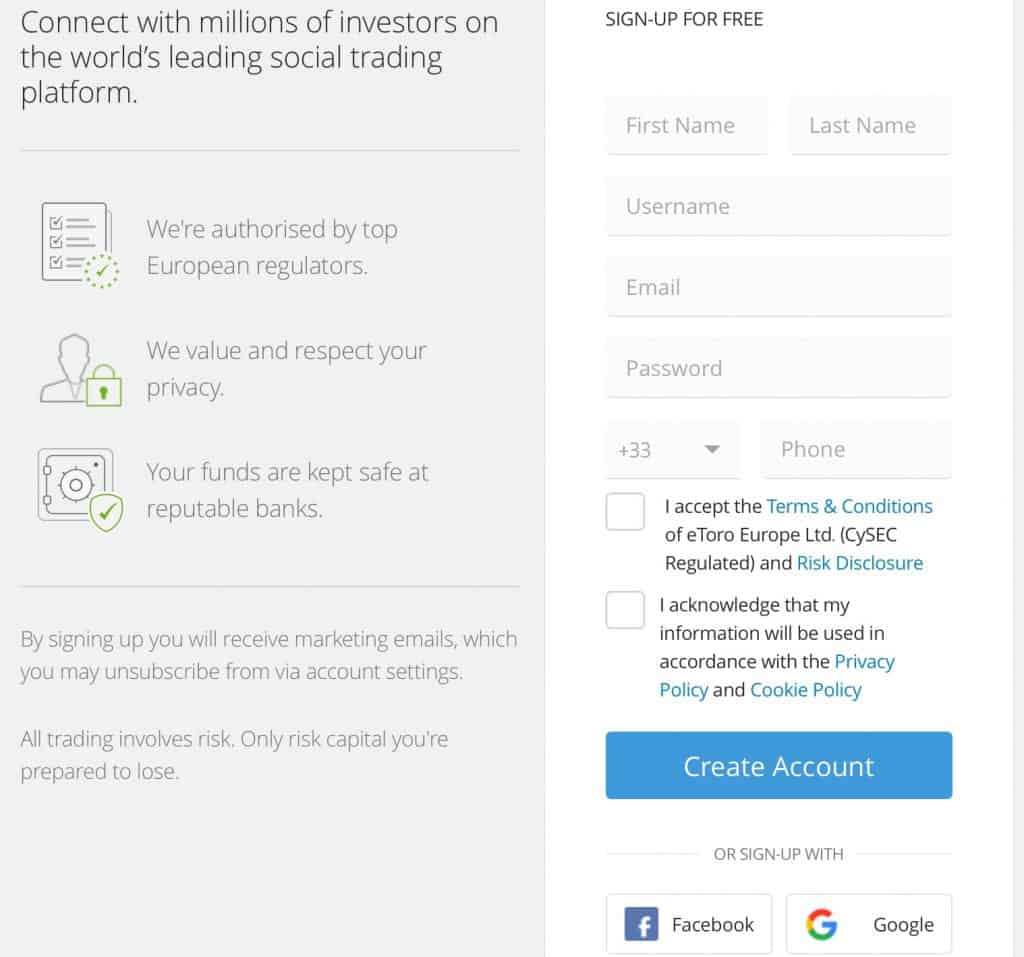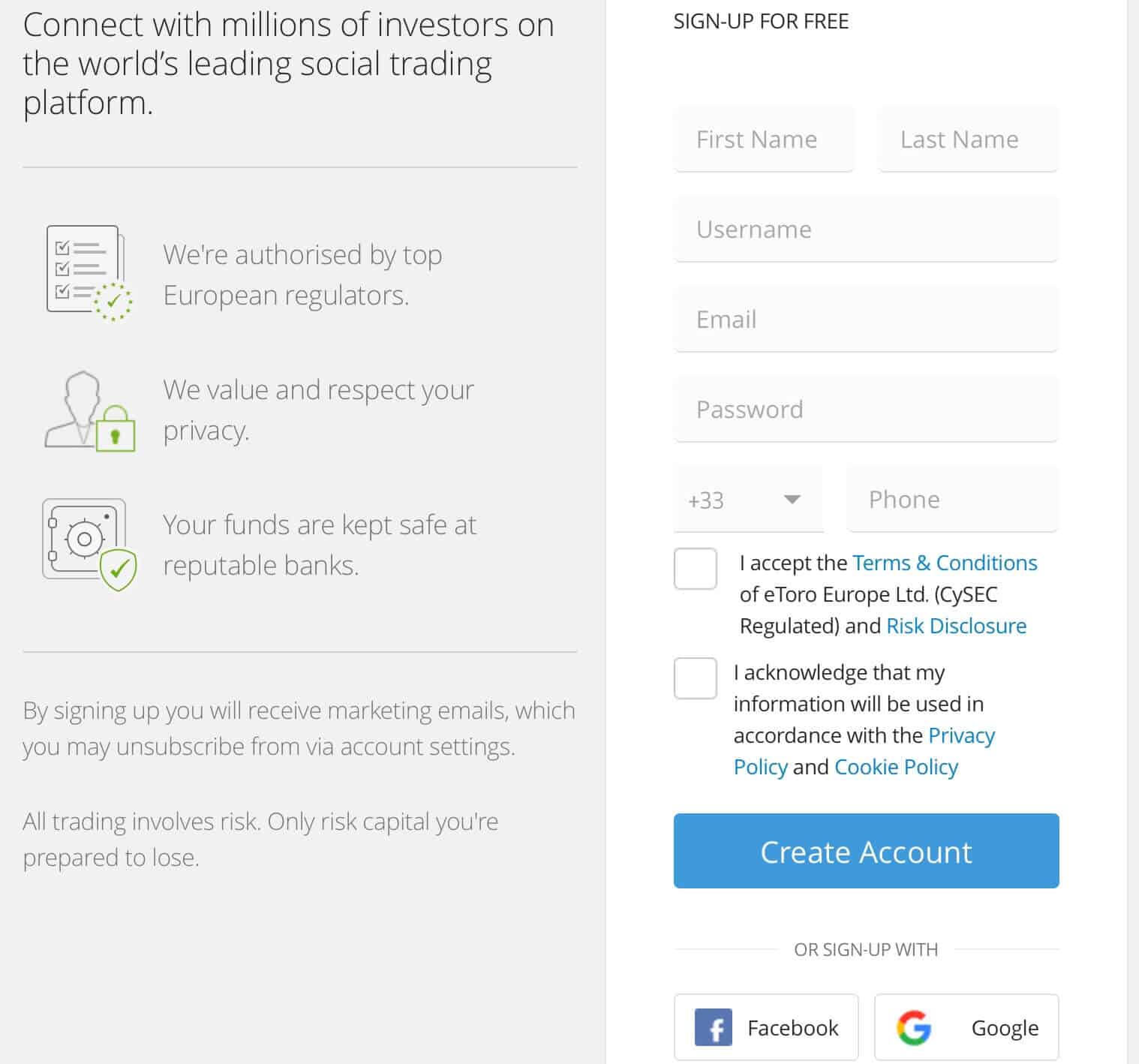 First, start by opening your eToro account here. Fill out your basic profile information. To determine your investor risk profile, you will be asked to answer a few short questions about your investment experience, knowledge and style, as well as your risk-return tolerance.
Step 2: Verify your identity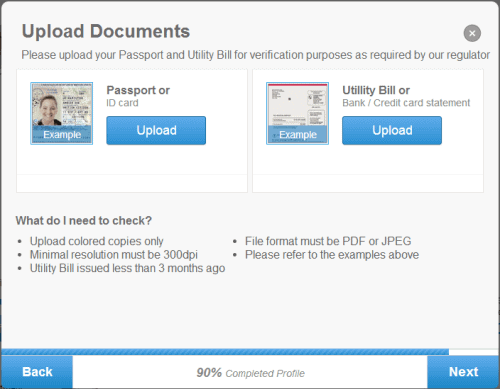 Attach and submit proof of identity for verification. US-based accounts are not accepted.
Step 3: Fund your account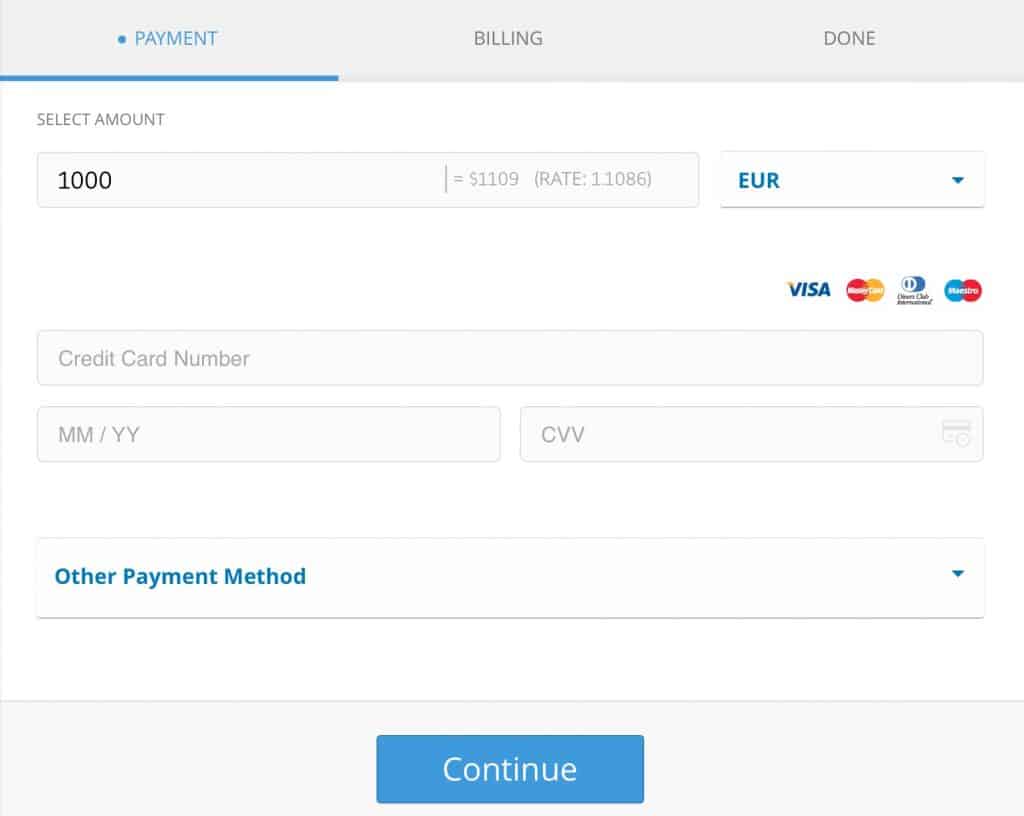 eToro provides a wide variety of payment methods. Check to see if your preferred method is available in your country.
Step 4: Trade Amazon stock
On eToro, you can invest in Amazon through traditional securities trading and social investing. eToro assigns the portfolio of every trader a risk score based on the volatility – average daily price movement – of the instruments invested in on a scale of 1–6, 6 representing the highest risk.  Here are three ways to invest in Amazon stock on the leading social trading platform.
Step 4A: Place an Amazon stock trade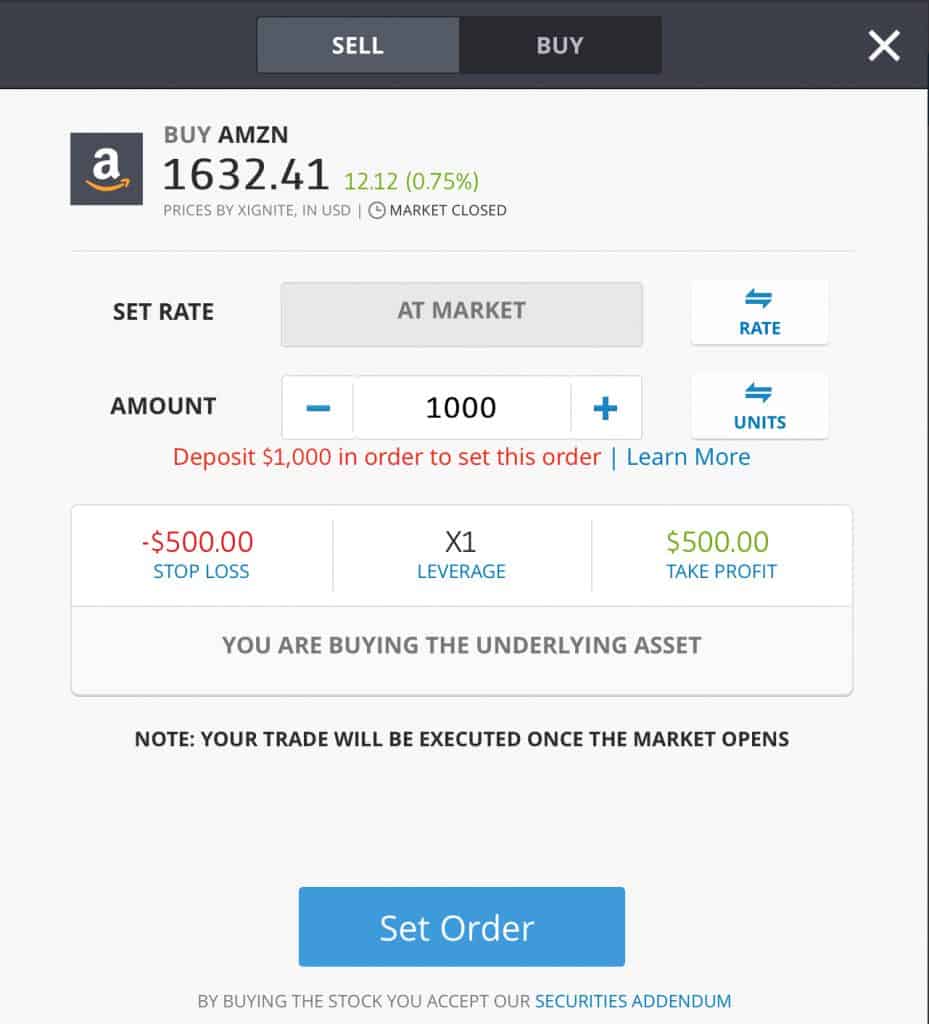 Click on Trade. Select Market (current price) or other price level you want to enter the market at. Enter the amount you want to trade and leverage (X1, X2, X5). Your Stop Loss and Take Profit levels are preset by you. You can also set up a One Click Trade option and preset the above parameters. (The Amazon stock profile page provides social feeds, stats, charts and research. Social feeds often provide helpful technical analysis tips and updates on how a stock is trading relative to its peers.)
Step 4B: Place a CopyTrader™ trade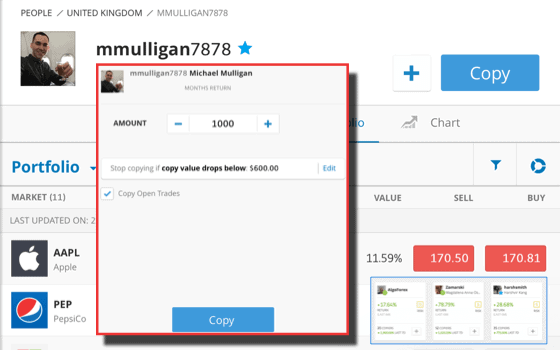 Choose from the selection of copy traders by reviewing their risk score, trading performance stats, charts, and portfolio. Also check out the traders on the Editor's Choice List. Copying a portfolio that holds Amazon is a way to buy Amazon stock and diversify risk. Click Copy. From the copy trade box, choose the amount you want to trade and the copy trade stop limit. Press Copy.
Step 4C: Place a CopyPortfolios™ trade
Choose a portfolio among dozens of investment themes. CopyPortfolios™ copies multiple portfolios and traders following that theme. We chose the NASDAQ100 theme portfolio, which has a high Risk Score of 6. Since Amazon is a top holding of the NASDAQ100, the index is another way to invest in Amazon stock.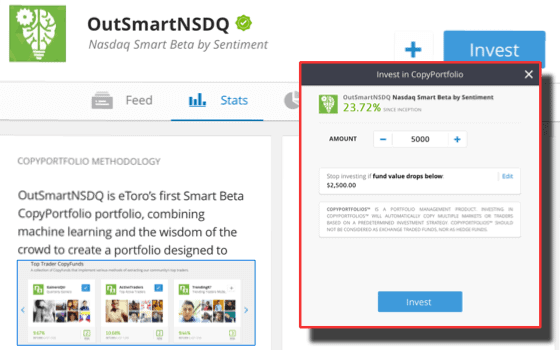 Review the risk profile and portfolio performance. Click on Invest. From the Invest box, choose the amount you want to invest and the stop investing limit. That's it! To open your eToro click here.
How to buy Amazon Stock on Markets.com
The official online broker of the Arsenal Football Club provides all the basic tools and education a retail trader requires. markets.com is owned by Playtech, a public company listed on the London Stock Exchange. Like its PlaytechOne one wallet – the one account solution for playing on casino, poker, sports and other gaming sites – markets.com seeks to provide quick and easy access to  a good range of investment products. If you are deciding whether to buy Amazon shares on  markets.com, review these pros and consumer.
Pros
Day traders
Demo account
Low commissions
Good quality news flow
Good set of analytical tools
Cons
Limited order types
Not many deposit options
Customer services not very effective
Unregulated broker
Start trading Amazon stock on markets.com
Step 1: Register your account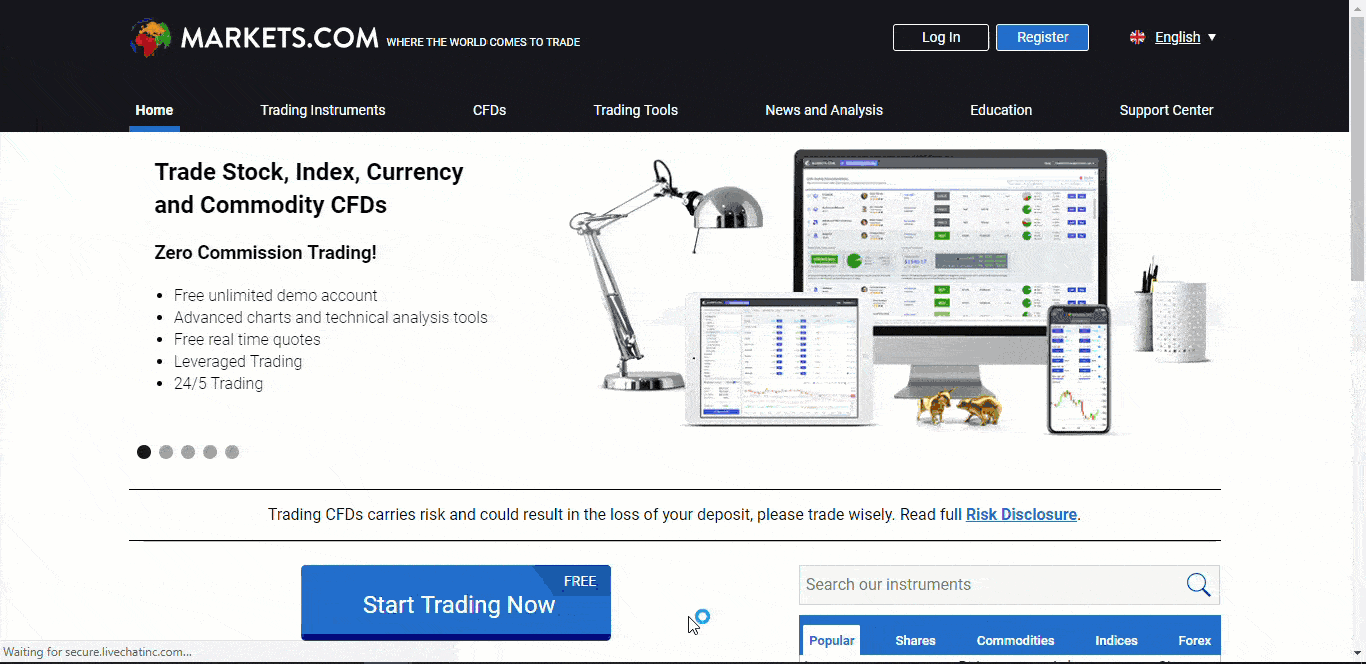 You will be prompted to download the markets.com mobile app to register. After filling in basic profile information, a brief questionnaire on investment experience and knowledge, as well as income and assets, will determine your trading level and leverage. 1:30 is the leverage for the average retail investor. So with a $500 deposit, you can trade up to $15,000.
Step 2: Fund your account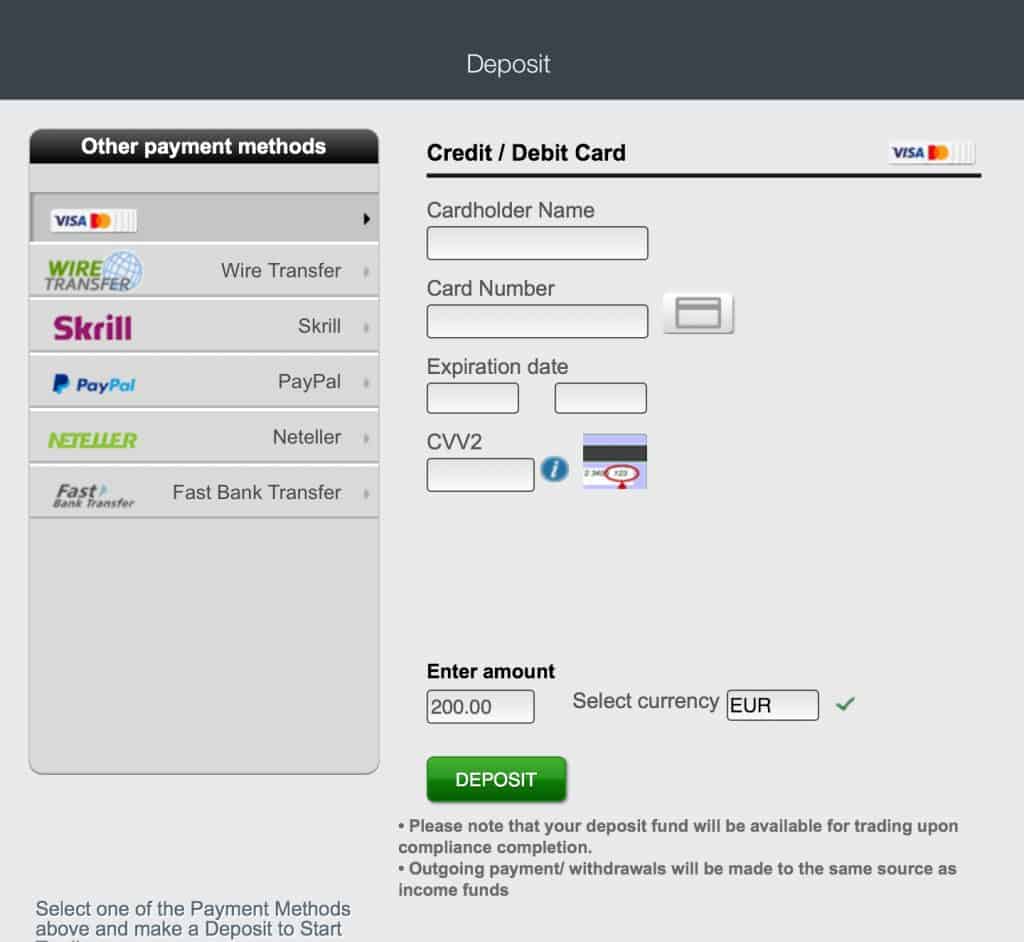 If depositing by credit card, you will need to first have it verified. Click on Verify Credit Card on the My Account Page.
Step 3: Verify your identity

Attach and submit proof of identity and a utility bill for verification. Residents of the USA, Canada, Australia, Hong Kong, Japan and some other countries are restricted.
Step 4: Trade Amazon  stock
On Markets.com, you can choose to invest in Amazon stock, or a wide range of ETFs and indexes with exposure to major technology stocks. Other securities include forex, cryptocurrencies (a handful of majors), bonds, blends, and grey markets in Uber and Lyft ahead of their IPOs. Trending Now displays a list of top moving stocks.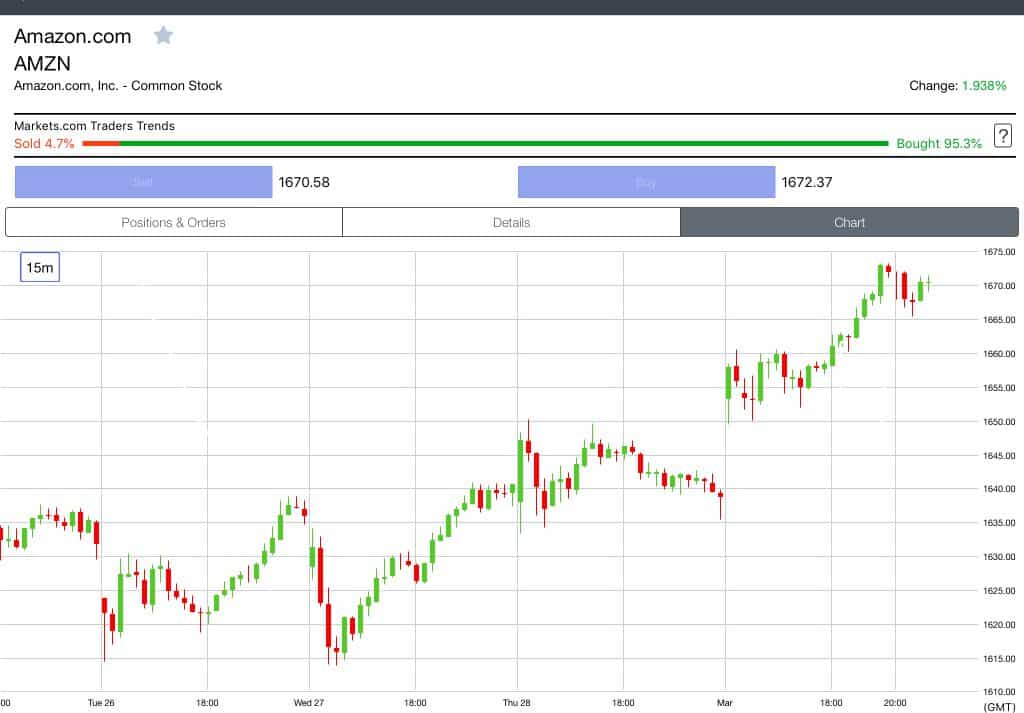 The Amazon stock profile provides basic stock price charting information and a market sentiment indicator. Place the trade by choosing the Buy or Sell button.
How to Buy/Sell Amazon CFD Stock on plus500
Novice retail traders may find this platform lacks the trading interface, research tools and education they depend on for general guidance. The experienced trader with their own tools, stock data and news will be at home with the simple, intuitive interface and over 100 technical indicators. Traders who qualify for a professional account (with a minimum portfolio value of €500k) can raise their leverage levels, for example, from 1:5 to 1:20 for stock trades. If you are deciding whether to trade Amazon CFD shares on plus500, review these pros and cons.
Pros
FCA regulated
Listed on the LSE
Easy to use platform
Great mobile platform
High order volume
Cons
Experienced traders only (no fundamental data)
Only CFD trading
High financing rates
No scalping allowed
A Brief Overview of the History of Amazon
In 1994, a Princeton graduate and former Wall Street analyst called Jeff Bezos started one of the first e-commerce businesses – an online bookstore. Three years later, in 1997, the company went public at $18 a share, valuing the online book seller at $438 million. By 2018, the market value reached $1 trillion.
Over the next 10 years, while the dot-com bubble went boom and bust and hundreds of new e-commerce companies failed, Amazon expanded its e-commerce model into new markets. It first added more digital entertainment products, including audiobooks, videos, video games, MP3s and software. Today, most any retail product can be bought on the site – from toys, clothing and personal health care products to PC computing and mobile devices. Amazon's own Kindle e-readers and fire tablets have remained competitive in the mobile device market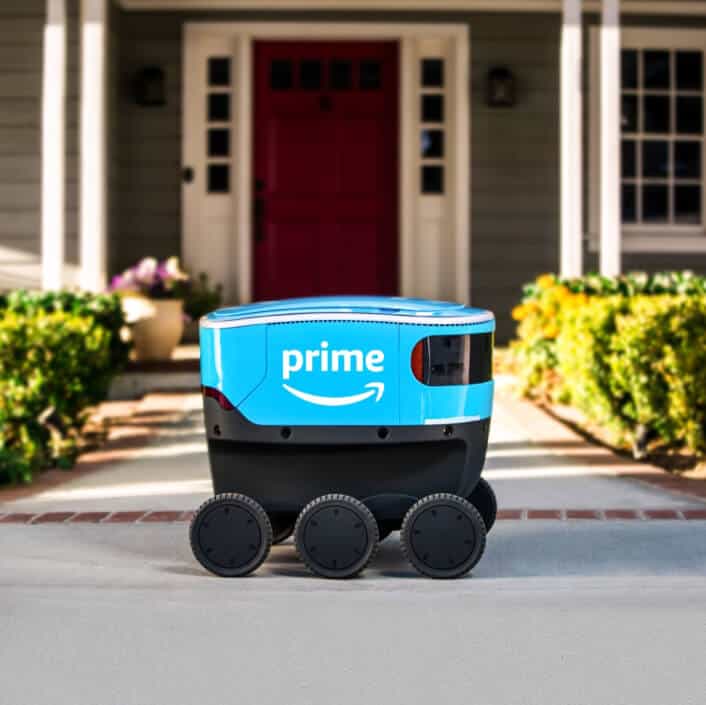 Amazon has executed well in markets outside of retail e-commerce. Leveraging its core competency in digital marketing, Amazon has launched a digital advertising service. AWS services, its cloud computing and storage service, has 32 percent of the global market. More recently, the company has been producing AI products for the smart home including the Alexa voice assistant and Echo devices – a speaker to control the smart home. In the smart home market, Amazon has a top selling voice assistant that competes with Google and Samsung.
As an online retailer, Amazon benefits from network effects, especially social media affects. Amazon.com has 2 million sellers peddling online products to 300 million users worldwide. These amplified effects make brand identity a powerful marketing tool. So it is no coincidence that Amazon had one of the top brand values in 2018, gaining 31 percent over the year – a measure of the percent a brand contributes to earnings based on the importance of brand in an industry (Forbes).
In 2018, the one-time bookseller Jeff Bezos became the richest man in America when his wealth hit $150 billion, according to Forbes.
Amazon's revenue and earnings growth outlook is bullish for the next five years. If you want to invest in Amazon stock, here's a breakdown of the outlook by year.
2019 – In-store shopping
The 2019 forecast for Amazon stock is an average price of $2,100, with an estimate of $2,450 on the high end and $1,800 on the low end. Amazon has grown revenues at a compound annual rate of 28 percent for 10 years. The storyline going forward is about profitability. Amazon's non-retail businesses now make up about 30 percent of revenues. Cloud computing, AWS, and advertising are growing faster than retail and have wider profit margins. As Amazon digests the Whole Foods acquisition, it should also help improve e-retail's thin profit margins. Median stock growth is forecast.
2020 – Lower pricing for greening consumers
Amazon's loyal customers will be shopping in stores in 2020. In the physical stores, Amazon is slashing prices and providing bigger discounts while charging suppliers more to place their products on shelves. Amazon is also moving a broad range of non-grocery products into Whole Foods stores. All the while, Amazon Alexa is nudging you to shop green and spend more money in its higher margin retail stores. The smart home market will also increasingly have an impact on Google stock, Samsung stock and Alibaba stock. All four companies are aggressively marketing their entry smart speaker products for the smart home. Median stock growth is forecast.
2021 – Business moves to the cloud
By 2021, another important roll out of Amazon's physical presence strategy will be contributing to top-line and bottom-line growth. Amazon Go check-out free stores will spread across the US over the next few years. Walk-in and walk-out with your goods. We have not forgotten AWS – the top cloud service provider. Amazon is deploying AI and machine learning tools to grow its leading market share. Leveraging e-commerce retail and AWS business clients, Amazon's push into online advertising to compete with Google and Facebook will also boost profits. The cloud services market is expected to grow at 30 percent and the competition will intensify. For other leading cloud plays, invest in Microsft stock or Alibaba stock. High stock growth is forecast.
2022 – Amazon Prime growth
The forecasted global economic slowdown will have a greater impact on Amazon's physical retail stores Whole Foods and AmazonGo. AWS will also feel businesses tightening their belts. An upside is steady monthly revenues from Amazon Prime's subscription services. Over 100 million people subscribed to Amazon Prime in 2019. This is before the big push out to Whole Foods shoppers who will benefit from free grocery delivery within hours – as well as Amazon video, music and services. Low-to-median stock growth is forecast.
2023 – A diversified company
Amazon's transition to a more diversified company will be complete when non-retail businesses contribute up to 50 percent of revenues. Non-retail and physical stores together could make up 75 percent of profits. Amazon will be diversified across four strong profit pillars – retail, AWS cloud, subscription and advertising. Median-to-high stock growth is forecast.
Conclusion
So, should you buy Amazon stock? Can Amazon continue to grow its Amazonian revenues while also expanding profit margins? So far, this retailer is on course to continue growing its profitable AWS cloud and subscription businesses, while the new advertising business can leverage Amazon's huge captive audience to generate sales. We agree with the analysts on this stock – Amazon is a proven pro at diversifying slowly but steadily into successful new business lines. When the price drops, it may be an opportune time  to buy Amazon shares.
When you are ready to buy stocks, we recommend doing so via a regulated online broker such as eToro if you're a UK customer, and Ally Invest for U.S. customers.
FAQs
Does Amazon pay a dividend?
Instead of paying dividends, high growth companies return value to shareholders in the form of increases in stock value and invest in acquisitions to sustain growth. Since its IPO in May 1997, Amazon's stock value has increased more than 130,000 percent. In comparison, Apple stock has increased about 36,000 percent over the same period (CNBC.com). Investors will expect Amazon to create shareholder value from its recent $13.7 billion acquisition of Whole Foods.
Which stock is more valuable Amazon or Alibaba?
Amazon has a market capitalization of $789 billion whereas the market values Alibaba (BABA) at $429 billion. Amazon has over 300 million customer accounts while Alibaba has over 500 million active users. Despite the higher number of active shoppers, Amazon generated about five times more revenue (about $200 million) than Alibaba (about $40 million) in 2018. Alibaba, though, is more profitable than Amazon.
Which stock has a larger share of the global retail e-commerce market, Amazon or Alibaba?
Alibaba has a high exposure to the Chinese market, with only 11 percent of sales coming from global sales. Amazon's e-commerce market is more diversified globally. Forty percent of retail sales are generated from non-US markets. Amazon has a 15 percent share of the global e-commerce market, second only to China's taobao.com.
In which indices is Amazon stock included?
Amazon is one of the most widely held stocks by indexes, mutual funds, and ETFs. An index diversifies risk by tracking the weighted average price of a group of stocks. Indexes that hold Amazon include:
NASDAQ 100 Index (NDX)
S&P 500 Index (SPX)
S&P 100 Index (OEX)
S&P 500 Consumer Discretionary (S5COND)
How do I invest in the FAANG stocks?
Indexes and ETFs provide a cheap way of getting diversified exposure to five of the highest performing technology stocks, known as FAANG (Facebook, Amazon, Apple, Netflix, Google). Many ETFs and indexes have a heavy weight in the FAANG stocks, including the NASDAQ-100 Tech and the NYSE FANG+ Index (NYFANG).
Where and how can you buy Amazon stock?
You can buy Amazon stock from online stockbrokers. eToro and plus500 are examples of online broker platforms where traders buy and sell Amazon stock. After signing up online, type in the AMZN ticker, place your order and you will become an owner of Amazon shares.