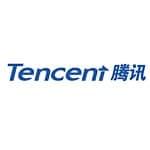 Tencent is an internet octopus. Gamers know it as the largest online gaming company in the world. In social media, the company operates the equivalent of a Skype, Amazon, PayPal, and Twitter for China. As its top-grossing games generate billions in annual revenue, Tencent is using its huge war chest to acquire new internet businesses.
This guide explores how the company is creating value from these new businesses, how to buy Tencent stock, and the best Tencent stock brokers.
Our Recommended Crypto Exchange
25 USDT No Deposit Bonus
Easy Account Creation Process
Lowest Exchange Fee
Offers Demo Trading Account
Should I invest in Tencent?
Like many people outside of China, you may not be familiar with Tencent, but you will know many of the companies it invests in. While Tencent has acquired many social media and gaming companies inside China, its tentacles have also wrapped around Snap (Snapchat), Lego, Tesla, Reddit, and Activision Blizzard to name a few recent buys. The company has ambitions to not only be the Facebook of China but also the Amazon and Alibaba. But different from these centralized internet models, Tencent founder Ma supports user-driven platforms.
We allow you to build your own house. After you built it, your fans, your clients are all yours, you don't need to pay monthly rent, you don't need to worry about yearly inflation, this is decentralization. Ma Huateng, CEO, Tencent
If you are looking for a high growth internet investment, it is impossible to ignore Tencent stock. If you buy Facebook stock or buy Amazon stock it is less of a growth play as these companies mature. Likewise, Alibaba's stock price has been trending up in 2019, but you should buy Alibaba stock for steady, long-term growth. Though after growing at a blistering 40 percent for five years, some pullback on Tencent growth can be expected. An internet advertiser at its core, Tencent is depending on its decentralized model to attract more social media and gaming traffic and drive future growth.
Pros to buying Tencent
China's favourite instant messaging apps
WeChat and QQ, the leading IM apps in China, both have about one billion users. The closest competitor is Weibo with half a billion users. WeChat users have grown 500 percent over five years and mostly use the app for business. As more users join the service, they spend money using the payment service, shopping online, and playing games. QQ, more popular among youth, is a cross between Facebook and Snapchat. Users can add filters, stickers and other entertainment effects. Skype, in contrast, has 1.5 billion global users, but even if you buy Microsoft stock it would not reflect Skype's value.
World's leading gaming service
Tencent's well-populated social media apps bring traffic to its gaming platform. Once there, gamers buy game play subscriptions and virtual items. Tencent owns a stake in Ubisoft, Activision-Blizzard, Epic Games, Riot Games and others. These affiliations help keep its content fresh. In 2019, Tencent started to move into blockchain games, which aligns with its decentralization strategy. Gamers are flocking to games on the blockchain because they pay out higher revenues to gamers.
Leveraging internet advertising
With a bigger market than Sony in games and high social media traffic as the Facebook of China, Tencent is a powerful marketing vehicle. Tencent is attracting users by aggregating content (gaming, music, videos, and more), as well as content development in games, movies, music and animation. Most recently, Tencent has invested $300 million in popular social media site Reddit, which has ambitions to take on Google and Facebook in advertising. Second to AliPay in mobile payment services, Tencent has tremendous potential to sell fintech services and advertising to its social media users. The competition is intensifying between the two large payment services. Watch this space if you hold or buy Alibaba stock.
Cons to buying Tencent stock
Chinese government content control
In 2018, Chinese government actions to instil ethics in gaming slowed revenues. New games must be screened for violence and approved by the Chinese government. Game approvals were frozen until 2019 resulting in a revenue decline for Tencent. To comply, Tencent has limited game time to one hour a day and banned overnite game play. In 2019, Tencent gamers will be required to identify their identity in a police database.
User growth slowdown
Tencent's leading instant messaging apps WeChat and QQ each have about one billion subscribers, drawing from a population of 1.4 billion Chinese. Some slowdown in user growth is anticipated. Social media and gaming revenues grew at a rate of 5 percent in 2018.
Aggressive acquisition strategy
When Tencent missed its first quarter of earnings growth in the second quarter of 2018, some analysts blamed its aggressive acquisition strategy. The company has invested over $30 billion since 2015. Many recent deals complement its social gaming business and include Spotify, Snap and esports player Hula. But it has also invested in the electric car business, including Tesla, and across more than a dozen other industries. Astute investors may want to pick up Spotify before it gains access to Tencent's growing user base.
Tencent Stock: Current Prices and Summary
Tencent is a sprawling conglomerate of internet advertising, gaming and social media services. Gaming makes up most of the revenue. Gamings' wide gross margins have helped Tencent record strong profit growth. The internet conglomerate has a price-to-earnings ratio of 34. At this price, a buy of Google shares or Facebook shares, which have a PE of 27 and 23 respectively, looks like a better deal. Tencent derives most of its revenues from online gaming where it competes with Ubisoft (PE 25) and Electronic Arts (22). Among Chinese Internet plays, Tencent stock trades as a BAT stock alongside Baidu and Alibaba. The PE for Baidu and Alibaba stock is 14 and 44, respectively. Though trading slightly higher than many of its peers, Tencent has a lot of unlocked value across online advertising, online games, and digital payments as China's middle class grows. After confronting some challenges in 2018, the current share price could be a buying opportunity.
80.5% of retail investor accounts lose money when trading CFDs with this provider.
TCEHY stock summary
| | | | |
| --- | --- | --- | --- |
| Price | $ 170.93 | Daily high | $ 171.44 |
| Volume | 18963658 | Low | $ 169.50 |
| Variation | 12:51 | Opening | $ 169.71 |
| + / -% | 00:30% | Day before | $ 170.42 |
Best Tencent Stock brokers
[wpsm_comparison_table id="68″ class=""]
How to Buy Tencent Stock – Tutorial
How to buy Tencent stock on Markets.com
The official online broker of the Arsenal Football Club provides all the basic tools and education a retail trader requires. markets.com is owned by Playtech, a public company listed on the London Stock Exchange. Like its PlaytechOne one wallet – one account solution for playing on casino, poker, sports and other gaming sites – markets.com seeks to provide quick and easy access to a good range of investment products. When deciding whether to buy Tencent shares on markets.com, consider these pros and cons.
Pros
Day traders
Demo account
Low commissions
Good quality news flow
Good set of analytical tools
Cons
Limited order types
Not many deposit options
Customer services not very effective
Unregulated broker
Start trading Tencent stock on markets.com
Step 1: Register your account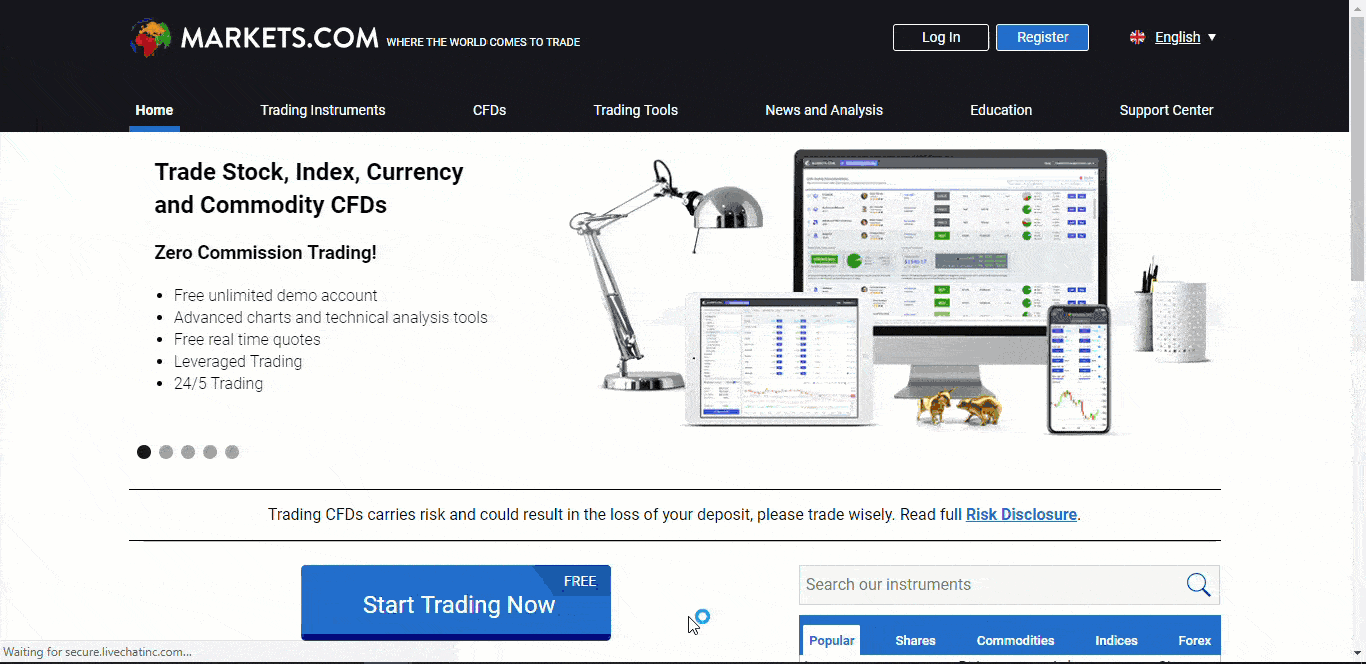 You will be prompted to download the markets.com mobile app to register. After filling in basic profile information, a brief questionnaire on investment experience and knowledge, as well as income and assets, will determine your trading level and leverage. 1:30 is the leverage for the average retail investor. So with a $500 deposit, you can trade up to $15,000.
Step 2: Fund your account
If depositing by credit card, you will need to first have it verified. Click on Verify Credit Card on the My Account Page.
Step 3: Verify your identity
Attach and submit proof of identity and a utility bill for verification. Residents of the USA, Canada, Australia, Hong Kong, Japan and some other countries are restricted.
Step 4: Trade Tencent stock
On Markets.com, you can choose to invest in Tencent shares, or a wide range of ETFs and indexes with exposure to major technology stocks. Other securities include forex, cryptocurrencies (a handful of majors), bonds, blends, and grey markets in Uber and Lyft ahead of their IPOs. Trending Now displays a list of top moving stocks.
The Tencent stock profile provides basic stock price charting information and a market sentiment indicator. Place the trade by choosing the Buy or Sell button.
How to Buy/Sell Tencent CFD Stock on Plus500
Novice retail traders may find this platform lacks the trading interface, research tools and education they depend on for general guidance. The experienced trader with their own tools, stock data and news will be at home with the simple, intuitive interface and over 100 technical indicators. Traders who qualify for a professional account (with a minimum portfolio value of €500k) can raise their leverage levels, for example, from 1:5 to 1:20 for stock trades. When deciding whether to trade Tencent CFD shares on Plus500, consider these pros and cons.
Pros
FCA regulated
Listed on the LSE
Easy to use platform
Great mobile platform
High order volume
Cons
Experienced traders only (no fundamental data)
Only CFD trading
High financing rates
No scalping allowed
Start trading Tencent CFD stock on Plus500
Step 1: Register your account
Firstly, click here and open your Plus500 account. You will be prompted to download the Plus500.com mobile app to register. Select between a Demo and Real Money account. After filling in basic personal information, you will gain access to the unlimited demo account. Before you can trade Tencent CFD stock, you will be prompted to answer a few questions to establish your investor risk profile.
Step 2: Fund your account
When you are ready to trade with real money, fund your account. Three payment options are provided. You may be asked to verify your payment method.
Step 3: Verify your identity
Attach and submit proof of identity for verification.
Step 4: Trade Tencent CFD stock
Plus500 offers a wide variety of CFDs on investment instruments, including stocks, ETFs, indexes, forex and cryptocurrencies. Options are also available for the advanced investor. Query Tencent and the price quotes for the stock, as well as put and call options, appear on the screen.
All stock information and the Buy/Sell commands are displayed on the general stock page for the serious trader who wants to execute quickly. The bottom half of the page displays the price chart and provides access to a broad selection of technical analysis indicators.
80.5% of retail investor accounts lose money when trading CFDs with this provider. You should consider whether you can afford to take the risk of losing your money.
A Brief Overview of the History of Tencent
The founder of Tencent Ma Huateng has a net worth of $40 billion, making him China's richest man. In 1999, Ma and several classmates launched the first instant messaging app in China OICQ. Tencent then migrated the service to handsets and made deals with telecom operators. In 2004, the company raised $200 million in a public offering on the Hong Kong Stock exchange. Around this time, Tencent entered the online gaming industry. A search engine, e-commerce site and chat messenger service were launched. Today, Tencent has hundreds of subsidiaries and stakes in over 600 companies (Wikipedia) transversing many industries. By revenues, its major businesses are mobile gaming (39 percent), online PC games (29 percent), payment and cloud (22 percent), social and advertising (10 percent) and media advertising (4 percent).
The company is growing fast through its $100 billion Vision acquisition fund. Most of its acquisitions are in gaming and in 2017 included a stake in Snapchat, to produce a mobile gaming platform, and the LEGO Group. In 2016, Tencent acquired China Music Corporation. In December 2018, Tencent took the company public in a $1.23 billion IPO as Tencent Music Entertainment (NYSE: TME). In 2018, Tencent became the first Asian technology company to reach a valuation of $500 billion.
We expect Tencent's revenue to grow at 20 percent annually over the next five years, double the rate of the economy, but slower than its previous five-year growth rate of 40 percent. The user base across its social network and gaming platforms is rapidly growing. The growth story going forward will include include fintech and other new content services.
2019 – A gaming slowdown
Mobile game revenue will slow in 2019 under the government's ethics program. Esports, in which Tencent is a market leader, will realize strong growth. Esports will be an official game of the 2022 Asian games. Gamers limited to one-hour a day are likely to still spend their leisure time on Tencent's music, video, and other entertainment sites. The analyst consensus is for Tencent stock to reach 50 with a low estimate of 43 and a high estimate of 65.
2020 – New businesses
The expansion into new financial services will begin to drive revenues. Music and video subscriptions, a very competitive market, will grow at 10 percent in coming years. A real game changer will be electric cars. In 2020, subsidiary Future Mobility expects to sell all-electric autonomous cars. Tencent is also starting to buy Tesla stocks, which could lead to future cooperation Low-to-median stock growth is forecast.
2021 – More fintech
Investors deciding whether to buy Alibaba stock or invest in Tencent stock may want to bet on the Chinese economy and invest in both. Internet advertising is expected to grow at 20-plus percent. The expanding fintech services will be a boost to advertising revenue as Tenpay competes with Alipay to provide online banking, insurance and other financial products. Tencent will have adjusted to the changes in the gaming universe by 2021, as subscriber growth steadies to between 10–20 percent. Median stock growth is forecast.
2022 – Services in the cloud
The cloud where all of these businesses will connect will be the strongest growth driver. Analysts expect this unit to grow at 30 percent. Median-to-high stock growth is forecast.
2023 – Diversification dilemma
Tencent had an early lead in instant messaging and social media. The internet company is now entering into highly competitive markets with formidable new competitors. Alibaba will be a tough competitor in e-commerce and the electric car market in China will face some of the fiercest competition of any industry. Though you should never underestimate a first mover, some easing of growth is expected as Tencent enters these more mature businesses. Low-to-median stock growth is forecast.
Conclusion
So, should you buy Tencent stock? Tencent has adeptly grown its internet advertising business while expanding across the social media and gaming markets. So far, this internet business has proven it can assimilate high growth businesses while operating profitably. As the internet octopus reaches into new internet businesses like e-commerce and fintech, we expect it to continue to be profitable, though it will face more intense competition.
When you are ready to buy stocks, we recommend doing so via a regulated online broker such as Plus500 if you're a UK customer, and Ally Invest for U.S. customers.
Our Recommended Crypto Exchange
25 USDT No Deposit Bonus
Easy Account Creation Process
Lowest Exchange Fee
Offers Demo Trading Account
FAQs
Is Tencent a good high growth stock buy?
New companies in fast growing industries are often valued based on their revenues instead of earnings because they are not yet profitable. Although Tencent is a company growing like a young gazelle, it has a 10-year record of consistently growing revenues and earnings. Over five years, both revenues and earnings have grown at an annual average growth rate of 40 percent. In 2018, the promising cloud and payments segment grew at more than 60 percent. Tencent's rapid growth rate is expected to slow though remain healthy. Future challenges include government control in gaming and a slowdown in social media user growth.
How do I invest in Tencent?
Tencent is listed as an American depository receipt (ADR) on NASDAQ under the symbol TCEHY (TCEHY OTC US). The stock trades on the Hong Kong Stock Exchange as 0700.hk.Tencent owns part of Tencent Music Entertainment (TME). TME went public on the New York Stock Exchange in December 2018. The company's value on its first day of trading was $23 billion, close to that of Spotify.
Is Tencent a venture capital fund?
Tencent has been compared to Alibaba and Japan's SoftBank because it is a technology company that grows through an aggressive acquisition strategy. Tencent has invested over $30 billion in over 600 companies from its $100 billion Vision Fund. After raising a $600 million venture capital fund in 2018, Tencent is fundraising for another $600 million fund in 2019.
Where and how can you buy Tencent stock?
You can buy Tencent shares from online stockbrokers. Markets.com and Plus500 are examples of Tencent online brokers providing intuitive trading platforms that make it simple to buy and sell stocks. After signing up online, type in the TCEHY ticker, place your order and you will become an owner of Tencent shares.
A-Z of Stocks