Last Updated on
Buying cryptocurrency can be sometimes difficult not just only for new investors, but for experienced traders too.
We have tested many services where you can buy cryptocurrencies and selected the best for you. We have also compiled a detailed step-by-step guide to help you on your first journey to buy cryptocurrencies. We will also give you some advice whether to trade or buy cryptocurrencies as well as showing you our insights on the best cryptocurrency to invest in 2019.
Quick Search Box
 Quick Guide: Buy Cryptocurrencies in 5 Minutes 
Register for an account with eToro
Click on "Deposit" to select the payment options
Select the amount to deposit ($250 recommended), and the payment method
Once the Payment has been processed, click on "Overview"
Quick-Search the Cryptocurrency to buy
Press the "Buy" button near the Selected Crypto
Place an "Open Trade"
You should have the Cryptocurrency available in your "Portfolio" now
If you still have doubts as to why  you should buy cryptocurrencies, you can compare the best exchanges that offer several cryptocurrencies.
Compare
You can find out more and compare the brokers and exchanges that offer to Buy or Sell Cryptocurrencies in our list below, or you can skip through directly to our step-by-step guides and tutorials
Compare Exchanges to Buy Cryptocurrencies
4,9/5


Buy Now

4,9/5


Buy Now

4,5/5


Buy Now

4,2/5


Buy Now

Payment Methods

PayPal
Credit/Debit Card
Wire Transfer
Neteller

Payment Methods

PayPal
Credit/Debit Card
Wire Transfer
Neteller

Payment Methods

Credit/Debit Card
Bitcoin

Cash
PayPal
Wire Transfer
Skrill

Payment Methods

Credit/Debit Card
Wire Transfer
Bitcoin

Cash
PayPal
Neteller
Skrill

Minimum Deposit

$250 USD

Minimum Deposit

$100 USD

Minimum Deposit

$1 USD

Minimum Deposit

$10 USD
Best Exchanges to Buy Cryptocurrencies
eToro
How to Buy Bitcoin on eToro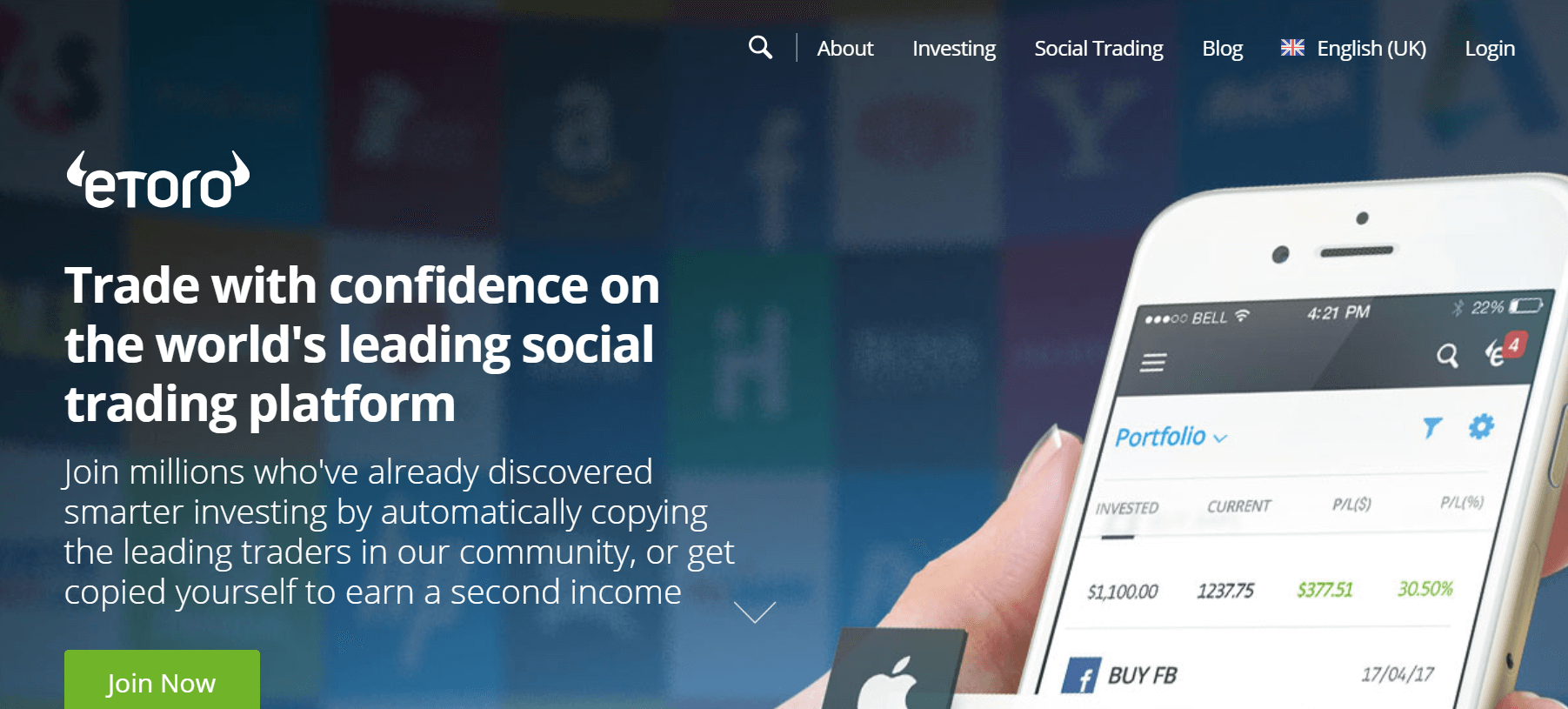 eToro is a well-known social trading broker that is regulated in multiple countries. The fintech startup offers trading for mostly CFDs and forex currency along with cryptocurrencies. You can trade Bitcoin, Ethereum, Ethereum Classic, Dash, XRP, Litecoin, Bitcoin Cash, Stellar Lumens, NEO, EOS, and Cardano on the platform. For a time, eToro offered coin trading via CFDs. However, that has changed – the broker offers outright cryptocurrency trading for its users. It means that you are owning the coins you trade on the platform. On the flip side, your digital currency is stored in crypto wallets.
One of the best features of eToro is its super-fast account creation. To register, head to the broker's website and use your email to create an account. You also have the option to register via Google+ and Facebook. At first, you will have limits on your account (though you can access eToro's demo features). To lift the limits, you have to verify your identity and fill a short customer profiling test.
The platform is user-friendly, easy-to-use. eToro has low fees compared to other brokers and cryptocurrency exchanges. The broker allows users from most countries, except for the United States, Canada, Japan, Brazil, Turkey, North-Korea, Iran, Cuba, Sudan, and Siria.
You have abundant options to deposit fiat currency (USD, EUR, GBP, etc.) to your eToro account. While cryptocurrency deposits are not allowed, you can fund your account with credit card, bank transfers, PayPal, Skrill, Neteller, and Webmoney. There is no fee for deposits on eToro. Read more about eToro's platform, fees, pros and cons here.
You own the cryptocurrency you trade on the platform
Chance for high returns
Ample number of payment methods (credit card, bank transfer, PayPal, etc.)
Super easy account opening
Established and regulated platform with many assets
Binance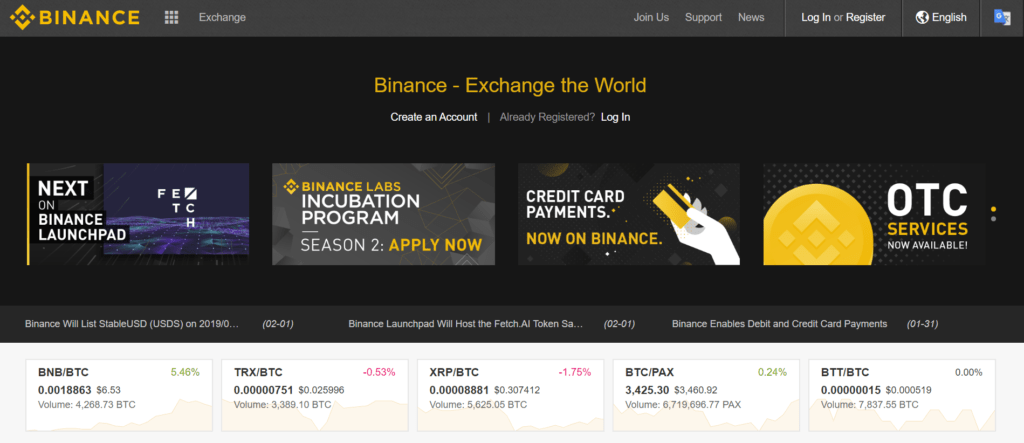 Binance is a well-known cryptocurrency exchange that is favored by many traders and enthusiasts on the cryptocurrency market. The exchange was created in China, but later on, it moved to the crypto-friendly island of Malta in the EU. From all the services we have reviewed, Binance offers the most cryptocurrency pairs. You can choose from a vast number of coins with the base currencies being BTC, ETH, BNB, and USDT. As you can't deposit, trade, and withdraw with fiat currency, the crypto exchange only has crypto-crypto pairs (e.g., ETH/BTC). Therefore, you need a crypto wallet on the exchange to buy and trade cryptocurrency.
You can choose from a basic and an advanced trading view on Binance. While the basic is more newbie friendly, the advanced view is best suited for expert traders. The platform's fees are normal compared to other services on the crypto market. The average trading fee on Binance is 0.1% if you are the maker of the trade. However, if you pay with BNB, you will get a 50% discount on the trading fee.
Creating an account on Binance is fast. Hit register and type in your details, including your email address and password, and you are done. Binance has different verification levels. Each level has a daily limit for withdrawals, starting with 10 BTC at level 1. If you are not planning to withdraw large amounts of money, this is good news for you. In other cases, you have to send different documents (such as your government ID) to the Binance team to verify. Verification on Binance can sometimes be slow.
Great selection of cryptocurrencies
High limits without verification
Different trading views
Only cryptocurrency deposits, trading, and withdrawal
Sometimes slow verification
You need a crypto wallet
Coinbase

One of the easiest option to buy cryptocurrency is Coinbase as signing up is fast, and you can use your credit card to purchase coins. However, the fees are a bit high on this crypto exchange. A standard buy or sell trade costs you 1.49%, while credit card purchases have a fee of 3.99%.
Coinbase is licensed in the United States, located in San Francisco. The service allows users of 32 countries to buy and sell cryptocurrency on the platform. On the flip side, the platform supports only a handful of coins, including Bitcoin, Bitcoin Cash, Ethereum, Ethereum Classic, Litecoin, ZRX, BAT, and Zcash.
With over $150 billion worth of cryptocurrency exchanged and 20 million customers served, Coinbase features a user-friendly interface where users can purchase coins easily. After you have registered an account, you have to verify your email and phone. Then, you have to select a payment method to use for buying coins on the cryptocurrency exchange.
There's an initial limit on the payment method you choose, which is a weekly limit of 1,500 EUR for European customers. However, you can raise the limit by submitting personal identification documents to the crypto exchange.
Easy, user-friendly interface
You can buy cryptocurrencies directly via credit card and bank transfer
Major fiat currencies are supported for deposit
High fees
Only a handful of coins supported
Changelly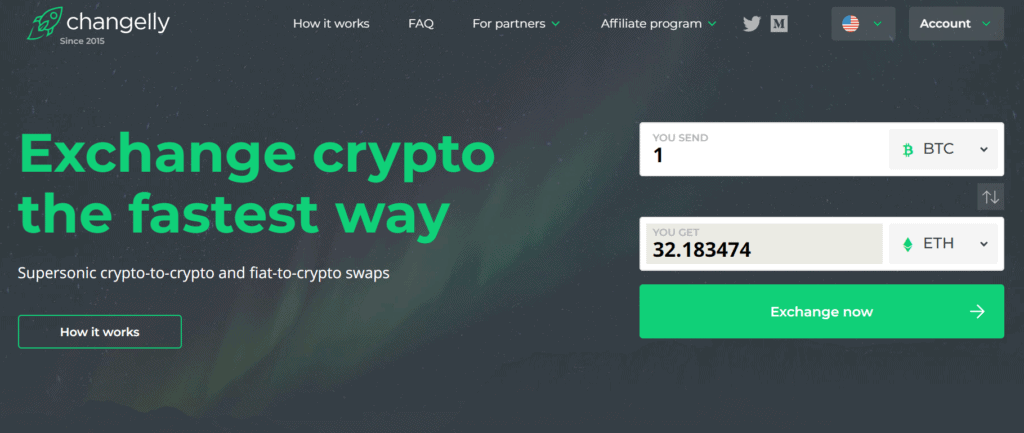 Changelly is a cryptocurrency exchange featuring near-instant transactions. The service is the direct competitor of ShapeShift, another "instant" crypto exchange. We didn't include ShapeShift as the service is not transparent about its fee structure – the company states that it charges zero fees, although the cost for each transaction is much higher than at Changelly.
Established in 2016, Changelly features a nice-looking, easy-to-use platform. The service charges a flat fee of 0.5% for each transaction. However, the crypto exchange may take its cut from the exchange rates, so you should check other services for the real rates before making a trade on the platform.
While Changelly supports a wide variety of coins, it only supports fiat currencies when buying cryptocurrency. Therefore, you can only deposit fiat to purchase cryptocurrency, but you can't sell coins on the platform. Changelly supports credit card payments. However, that will cost you a lot as the platform uses Simplex as a processor, which takes a 5% cut from all credit card transactions. Moreover, the service itself charges an additional 5% from credit card payments (totaling 10%).
One thing that is important to note is that the exchange rates are not set before you initiate a transaction. Therefore, Changelly will show only an estimate of how many coins you will receive, but not the actual amount of cryptocurrency.
Signing up for Changelly is easy. You only need an email (Facebook and Google+ are supported) to register an account to start trading.
Near-instant transfers
Easy to use
Many cryptocurrency supported
You can't sell cryptocurrency for fiat
Exchange rates are not fixed
Credit card fees are high
Buy Cryptocurrency in Five Steps
We have compiled you a simple, five-step-guide to buy cryptocurrency. Let's dive in!
Buy or Trade Cryptocurrency?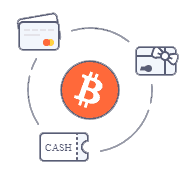 Buying
Buy and own as an asset
Mid-Long term investment
Make payments just like FIAT currency
Lower Risks, Lower Rewards
Trading
Trade on CFD (Contract For Difference)
Don't physically own as an asset
Short term investment
Higher Risks, Higher Rewards
Know your Cryptocurrency
Which cryptocurrency to buy in 2019?
As the year is coming to an end, the question stands: which is the best cryptocurrency for investors? While we can't predict how the market will perform, we have selected the top three cryptocurrencies among all cryptocurrency that we believe will be the best investments for 2019.
IOTA
During late 2017's and January 2018's bull markets, IOTA was one of the highest performing coins. The abbreviation stands for Internet of Things Application, a technology that facilitates transactions between IoT devices. If everything the developers claim is true, IOTA has one of the best networks among all cryptocurrencies as it has neither transaction fees nor scalability issues.
Stellar Lumens
One of the other high performers of 2017, Stellar Lumens (XLM) is the base currency of Stellar. With a non-profit behind its back, Stellar is an open-source, distributed, and community-owned network, which is used to facilitate cross-asset transfers of value. As XLM has very low transaction fees, it is a great option for micropayments and cross-platform transactions.
Ripple
Ripple (XRP) has generated a large level of hype in late 2017 as well as this year. The company behind the cryptocurrency has partnered with numerous corporate and governmental organizations, which has generated a series of great news for the cryptocurrency. If Ripple – that has cross-border payment solutions – can continue their good series, we can expect a bull run from the cryptocurrency in 2019.
Conclusion
We have presented an in-depth guide on choosing the best exchange as well as to purchase cryptocurrency. However, it is up to you to decide which service you want to use and the coin you seek to buy.
In our opinion, eToro is the best service from all cryptocurrency exchanges we have tested. While it is easy to register on the platform, you don't have to bother owning a wallet to trade cryptocurrency. eToro is regulated in multiple countries, offering a wide selection from cryptocurrencies and other assets.
While eToro is best suited for people who want to trade cryptocurrency, those who want actually to own the cryptocurrency, should check out the other crypto exchanges. We recommend you to set your goals first and choose the best cryptocurrency exchange accordingly.
If you like this article, subscribe to our newsletter to receive more cryptocurrency news!
FAQ
Bitcoin vs Ethereum: what's the difference?
Bitcoin (BTC) is the first and top cryptocurrencies among all, while Ethereum is the third largest by market capitalization. However, many people do not know the key differences between Bitcoin vs Ethereum. So, we are here to explain you all this. Let's dive in!
Created in 2009 by the mysterious Satoshi Nakamoto, Bitcoin is the first digital currency. The coin features a peer-to-peer (P2P) network, in which users can transfer funds securely between two parties. To send Bitcoin to someone, you don't need to know his name, account number, location, and any other personal information. You only need a Bitcoin wallet – which you can use to send coins – and the wallet address of the recipient (and some BTC of course).
Bitcoin is powered by blockchain technology, a public, decentralized ledger containing all the transactions in the system. Transactions in the Bitcoin network are confirmed by miners from all over the world, who – in exchange – are rewarded in transaction fees and block rewards for supporting the network. On the other hand, Ethereum is an operating system for decentralized applications (DApps) that runs smart contracts.
The smart contracts allow applications to run exactly as programmed without any interference from third parties, fraud, censorship, or downtime. Ethereum's main goal is to encourage more DApps to be developed and deployed on the Ethereum blockchain.
The application developers also have a chance to create their own coins using the ERC-20 standard of Ethereum. DApp developers can use their ERC-20 tokens to raise funds via an Initial Coin Offering (ICO) for their project. So, when it comes to Bitcoin vs Ethereum, the key difference is in the nature of the two solutions.
While Bitcoin is a P2P digital payment network and a cryptocurrency that is fueling the ecosystem, Ethereum is a platform for decentralized applications, not a coin. Although, Ethereum has a native cryptocurrency, Ether (ETH).
What's the best cryptocurrency wallet?
The best cryptocurrency wallet is determined by different factors. From all of these factors, security is the most important.
Unfortunately, hackers are highly targeting the crypto space to steal the digital currencies of the users. As you are holding coins in a cryptocurrency wallet, you are also subject to hacker attacks. If your coins are held in a non-safe wallet, you risk your funds being stolen by the attackers.
On the other hand, a secure wallet solution can prevent attacks from happening. Therefore, you should consider security as the single, most important factor when you are choosing a wallet service
. Among all of the crypto wallet services, hardware wallets are considered as the most secure solutions. The reason for that is that they come with a physical device that you have to use to type in a PIN each time you log in or send outgoing transactions.
If the PIN is not verified, no one – including the attackers – are able to access your funds or transact coins using your wallet. So, considering security as the most important factor – we believe hardware solutions are the best cryptocurrency wallet services.
If you are planning to buy a hardware wallet, we recommend the products of reputable companies, such as Ledger, Trezor, and KeepKey. In case you want to stay with a software wallet, good solutions include the eToro Wallet, Hodly, and Exodus.
What is a cryptocurrency ETF?
Firstly, before going into what a cryptocurrency ETF is, let's see the second part of the phrase, which is ETF.
An Exchange Traded Fund or ETF is an investment fund that tracks the price of an underlying asset. Examples of the assets the ETFs are tracking include gold, index, a basket of stocks, or oil. As ETFs are regulated and are traded on exchanges, investors (including retail and institutional) can buy and sell their holdings in ETFs to each other via the stock exchange.
Therefore, a cryptocurrency ETF would track the price of a coin or multiple digital currencies. A cryptocurrency ETF would closely track the price of the digital asset(s), so there wouldn't be much difference regarding the profits in holding an ETF of a coin or the cryptocurrency itself.
So, why would a cryptocurrency ETF benefit investors? The answer is safety. As ETFs are traded on stock markets, these assets have to comply with different regulations. Therefore, someone who purchases a cryptocurrency ETF would buy a regulated asset as opposed to holding the actual cryptocurrencies that are unregulated.
What's the best cryptocurrency to mine in 2019?
With the release of Bitcoin in 2009, cryptocurrency mining had become a big thing – especially when coins got more and more popular. However, as the number of Bitcoin miners have surged – with multiple mining giant companies taking large cuts from the market, it has become difficult to make reasonable profits from mining BTC.
Therefore, users have to look for alternative coins that are not overpopulated by miners. So, to determine the best cryptocurrency to mine in 2019, we need to take multiple factors into account. Firstly, you need a high performing mining rig, which has to be compatible with the coin you are planning to mine. Preferably, you need to have access to low-cost electricity, so you can make a larger share of profits with your mining operation.
Therefore, the first and most important factor in determining the best cryptocurrency to mine in 2019 is mining profitability. If you have your mining rig ready, knowing the costs (such as electricity), you should use a calculator that will help you in predicting your profits for different periods of time (daily, weekly, monthly, and yearly profits). Forums are also great places to look for such information.
Which Cryptocurrencies should I include in my portfolio?
Before compiling your cryptocurrency portfolio, you should determine the risk level you are willing to take when holding coins.
Coins with the largest market capitalization are considered as the safest digital currencies that have the lowest risks. If you don't want to risk a lot, we recommend you to hold mostly large market cap currencies (such as Bitcoin, Ripple, and Ethereum) in your cryptocurrency portfolio.
On the other hand, if you want to take extreme risks, you can replace these assets with coins that have low or medium-size market caps. We recommend the last option for veteran traders and crypto users only.
For beginners and intermediate users, our best bet would be to hold large market cap coins in the largest percentage in your cryptocurrency portfolio.