Buying cryptocurrency can be sometimes difficult not just only for new investors, but for experienced traders too.
We have tested many services where you can buy cryptocurrencies and selected the best for you. We have also compiled a detailed step-by-step guide to help you on your first journey to buy cryptocurrencies. We will also give you some advice whether to trade or buy cryptocurrencies as well as showing you our insights on the best cryptocurrency to invest in 2019.
Compare Platforms to Buy Cryptocurrencies
Best Platforms to Buy Cryptocurrencies
Buy Cryptocurrency in Five Steps
We have compiled you a simple, five-step-guide to buy cryptocurrency. Let's dive in!
Payment Methods you can use for Buying Cryptocurrency

The most popular payment methods for buying cryptocurrencies are the following.
Buy or Trade Cryptocurrency?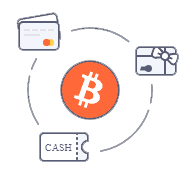 Interested in buying a particular cryptocurrency?
If you have a particular cryptocurrency in mind, be sure to check out our buy guides which explain in detail the process of buying each coin, from sign up to buying, selling and the best platforms to do it.
Which cryptocurrency to buy in 2019?
As the year is coming to an end, the question stands: which is the best cryptocurrency for investors? While we can't predict how the market will perform, we have selected the top three cryptocurrencies among all cryptocurrency that we believe will be the best investments for 2019.
Conclusion
We have presented an in-depth guide on choosing the best exchange as well as to purchase cryptocurrency. However, it is up to you to decide which service you want to use and the coin you seek to buy.
In our opinion, eToro is the best service from all cryptocurrency platforms we have tested. While it is easy to register on the platform, you don't have to bother owning a wallet to trade cryptocurrency. eToro is regulated in multiple countries, offering a wide selection from cryptocurrencies and other assets.
While eToro is best suited for people who want to trade cryptocurrency, those who want actually to own the cryptocurrency, should check out the other crypto platforms. We recommend you to set your goals first and choose the best cryptocurrency platform accordingly.
If you like this article, subscribe to our newsletter to receive more cryptocurrency news!
FAQs