Last Updated on
Went live on 30 July 2015, Ethereum's history dates back to early 2013 when its creator proposed the network to the crypto community. The aforementioned person, Vitalik Buterin, funded Ethereum's development with a crowd sale in 2014, raising over 25,000 Bitcoin (BTC) at the time.
Quick Search Box
Buy Ethereum in 5 steps on CryptoRocket
Sign up to Alvexo by clicking this link
Verify your account by submitting the relevant documents
Log in to the trading dashboard and deposit funds into your account ($250 minimum)
Select ETH or Ethereum and the number of coins you want to buy
Execute the trade
This is one of the easiest methods to buy Ethereum in 2019.
Compare
You can find out more and compare the brokers and exchanges that offer to Buy or Sell Ethereum  in our list below, or you can skip through directly to our step-by-step guides and tutorials
Compare Platforms to Buy Ethereum (ETH)
4,9/5


Buy Now

4,9/5


Buy Now

4,9/5


Buy Now

4,9/5


Buy Now

Payment Methods

Credit/Debit Card

Bank Wire Transfer
NETELLER

Payment Methods

Credit/Debit Card
Bitcoin

Payment Methods

PayPal
Credit/Debit Card
Wire Transfer
Neteller

Payment Methods

PayPal
Credit/Debit Card
Wire Transfer
Neteller

Minimum Deposit

$500 USD

Minimum Deposit

$10 USD

Minimum Deposit

$100 USD

Minimum Deposit

$100 USD
What is Ethereum (ETH)?
While Ethereum is somewhat similar to Bitcoin – as the network is also decentralized and has a native coin (ETH) -, the two blockchains have major differences. The main purpose of Bitcoin is a peer-to-peer cash system where users can own, hold, receive, and send BTC to each other.
On the other hand, Ethereum is like an operating system for decentralized applications (DApps). Before Ethereum, a user had to possess advanced programming and cryptographic skills to create a blockchain-based DApp. The Ethereum Virtual Machine (EVM) makes it possible for developers to create decentralized applications much easier and faster.
Ethereum is also famous for its crowdfunding capabilities. Numerous Initial Coin Offerings (ICOs) have been launched on the Ethereum blockchain with the organizations raising billions of funds in total. Startups who comply with the ERC-20 token standard can issue their own cryptocurrencies on the Ethereum blockchain and use that to raise funds for their projects.
According to CoinMarketCap's statistics, the Ethereum price was standing on almost $3 a little after the cryptocurrency was created. Now, the coin's value is at $134 even in this long-lasting bear market. ETH was one of the high-performers of 2017's bull market. The coin started the year with a price little over $10 and surged to $755 at the end of the year. 14 days later, Ethereum reached its all-time high at almost $1,350.
Ethereum is the third largest cryptocurrency by market capitalization. Therefore, most of the services that offer crypto trading offer ETH trading too. This includes both cryptocurrency exchanges, such as Binance, and brokers – like Plus500.
As there's plenty of services offering users ETH trading, it's easy to get confused when you are searching where to buy Ethereum. But don't worry – we are there for you! We have tested many exchanges and brokers, carefully analyzed them, and selected the best Ethereum exchange for you – as well as three other high-performing services.
In addition to listing the best services, we've included a step-by-step guide on how to buy Ethereum at each exchange and broker. Now, it's time to start your journey on using the best services to buy ETH. But before that, let's see what's the main difference between buying the coin and trading it.
How to create an Ethereum Wallet
Now that you know the pros and cons of holding your coins in a crypto wallet, you may decide to create an Ethereum wallet. We've tested plenty of wallet solutions, and we have chosen the Blockchain.com Wallet and the Infinito Wallet as the best services for ETH. Let's see both.
Blockchain.com is one of the largest companies in the cryptocurrency space that has been with us for a while. The organization has a dedicated web-based wallet where you can hold multiple cryptocurrencies, including Ethereum, Bitcoin, and Bitcoin Cash. To open an ETH wallet with this service, head to the Blockchain.com website and proceed with creating your wallet using the form on the homepage.
The Infinito Wallet offers multi-coin storage for the company's customers all over the world. Supporting over 1,000 cryptocurrencies, including ETH, Infinito combines speed, convenience, and security. You don't even need to bother to bring your laptop with your everywhere you go in order to access your ETH balance as Infinito has a mobile application for both iOS and Android. To get started, download the app from either the App Store or Google Play and install it to your smartphone. You can also use the links on Infinito's website to create your Ethereum wallet.
Best Platforms to Buy Ethereum
CryptoRocket
The St. Vincent and Grenadines-based exchange is among the most popular platforms to trade Bitcoin. CryptoRocket in fact, supports 30 cryptocurrency pairs, including Ethereum, Bitcoin, Bitcoin Cash and much more.
Pros:
User-friendly interface
MT4 and WebTrader platforms available
Minimum deposit of $10
Great variety of cryptocurrencies available
Cons:
No wallet available
Limited deposit methods
We've found it very easy to sign up on CryptoRocket. Here is a brief set-by-step guide to help you through the process.
Step 1: Registration
To register on CryptoRocket, all you have to do is click on the Sign Up button on the top right corner of the official website. You will then be required to type in your full name, email address and to create a password that you will have to type in twice.
Step 2: Opening Trading Account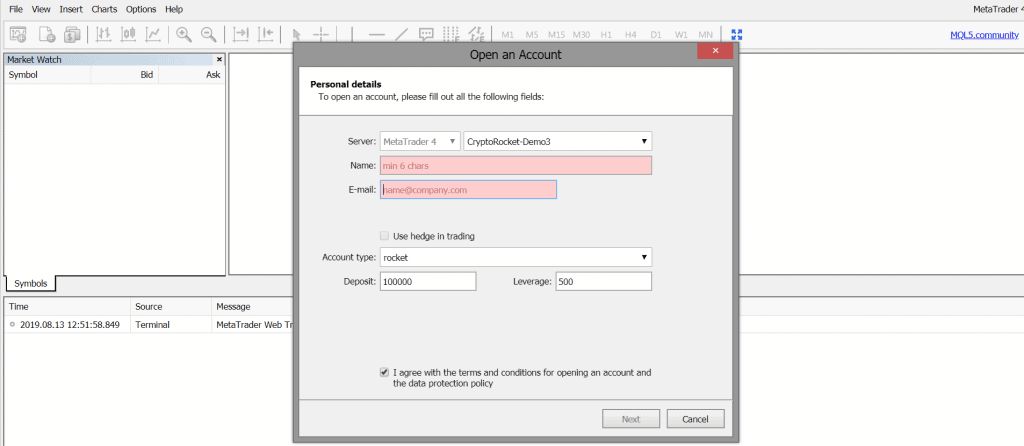 By this point, you will officially have a CryptoRocket account but not a trading account. To create one, you will access your profile and click on "Open Trading Account". You can decide whether to create a demo account or a real account. For the second one you would first have to make your initial deposit first.
Step 3: Deposit funds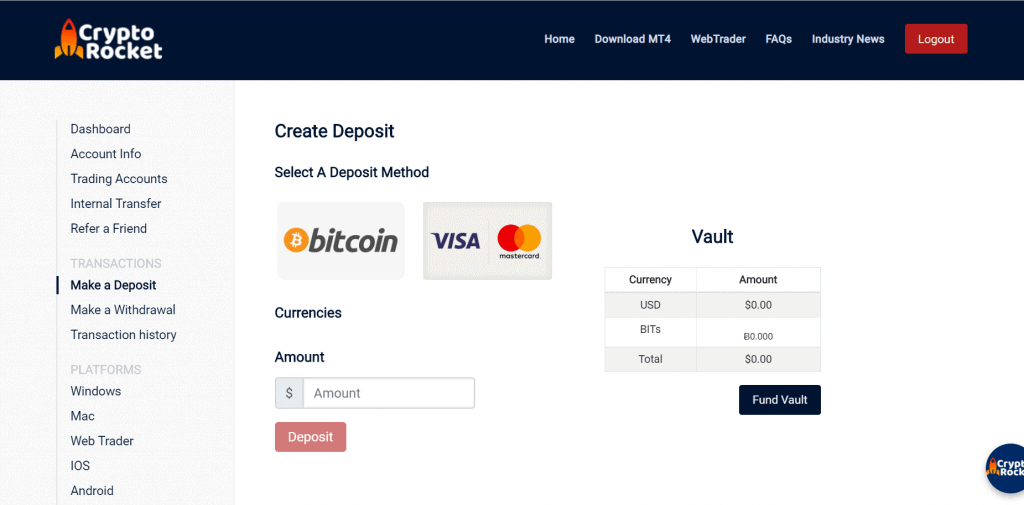 To make a deposit, all you have to do is click on "deposit" on the left side menu of your CryptoRocket profile. There, you will have to type in how much you want to deposit and then click on "deposit" again. You will then be required to type in your payment details to finalise your payment. The minimum deposit required on CryptoRocket is $10 and the payment methods allowed include credit/debit card and Bitcoin.
Step 4: Buying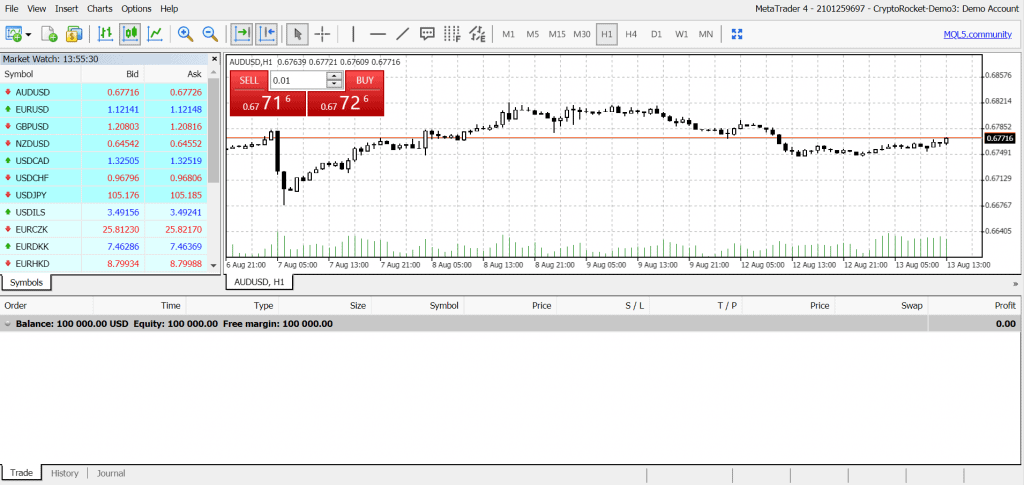 You can now start trading. The real account works exactly like the demo account. On the left side you will find the asset list, on the right side there will be the trading chart related to the asset you select and at the bottom of the screen of the trading platform you will find your trading history. To trade Ethereum, all you have to do is browse through the asset list until you find your preferred cryptocurrency pair including Ethereum, select it and start trading with it.
Binance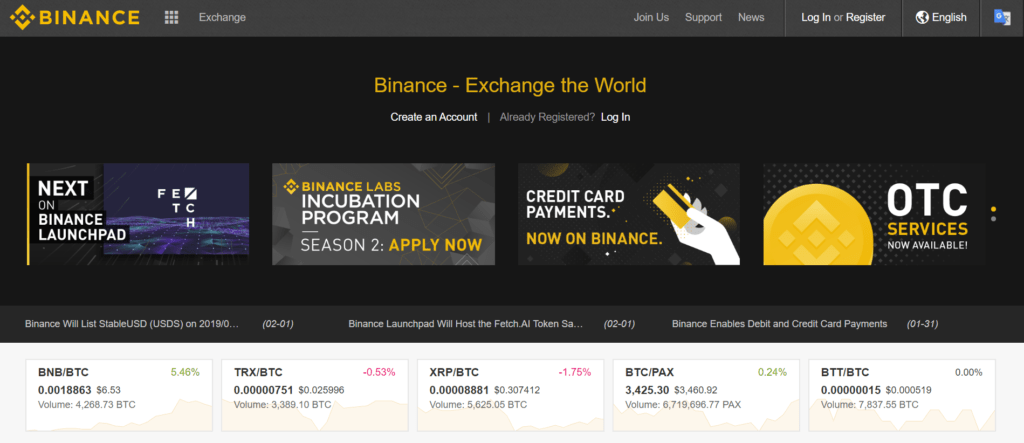 Binance is a Bitcoin, altcoin, and ETH exchange featuring a wide variety of cryptocurrencies. The platform – which is favored by many on the Ethereum market – has four base currencies: BTC, ETH, BNB, and USDT (along with other stablecoins). Binance is an exclusive crypto-to-crypto exchange, so it is not possible to trade, withdraw, or deposit fiat currencies. There's no Ethereum USD trading pair neither.
Pros:
The platform supports many coins with four base currencies (including ETH)
Registration is fast and easy
If you trade normal amounts of coins, there's no need to verify your account
Different trading views (basic, advanced)
Cons:
You need an Ethereum wallet
No fiat deposits, withdrawal, and trading
Verification can be slow in case you decide to raise your limits
Another great Ethereum news! You don't need to verify your account at Binance as the daily limits are quite high. So, we replaced that step in our guide with setting up 2FA (we'll explain why it's super important).
And as ETH is one of the four base currencies on the platform, you don't need to convert the coin you use for deposits (in case it's not one of the four base currencies).
Step 1: Register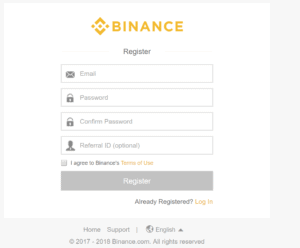 Go to the Binance homepage and click the "Register" button in the top right corner of the page.
Fill out the form with your email and desired password.
Don't forget to verify your email after creating your account.
Step 2: 2-factor authentication (2FA)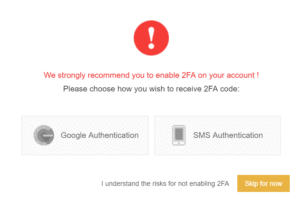 As Binance is a cryptocurrency exchange, you need an Ethereum wallet (the exchange provides that) to buy ETH.
That means attackers can steal the coins from your wallet (in case they succeed). But don't worry, a simple, but very practical security measure can help you prevent that.
That measure is 2-factor authentication or 2FA. If you set up 2FA, it will require you to type in a code you receive on another device every time you try to log in. 2FA gives extra security for your account – if the attacker acquires your login credentials, he has to get hold of your device as well (or get the code from your device) to steal your funds.
Binance supports two options for 2FA: Google Authenticator and your phone number. The latter will come with Binance sending you a text message with a code inside every time you log in. If you choose Google Authenticator, you'll have to download the app to your smartphone and sync it with Binance (you'll also have to type in a code during the login process).
Choose one of the aforementioned options to set up 2FA.
Step 3: Deposit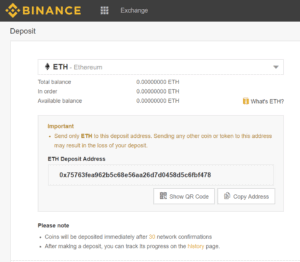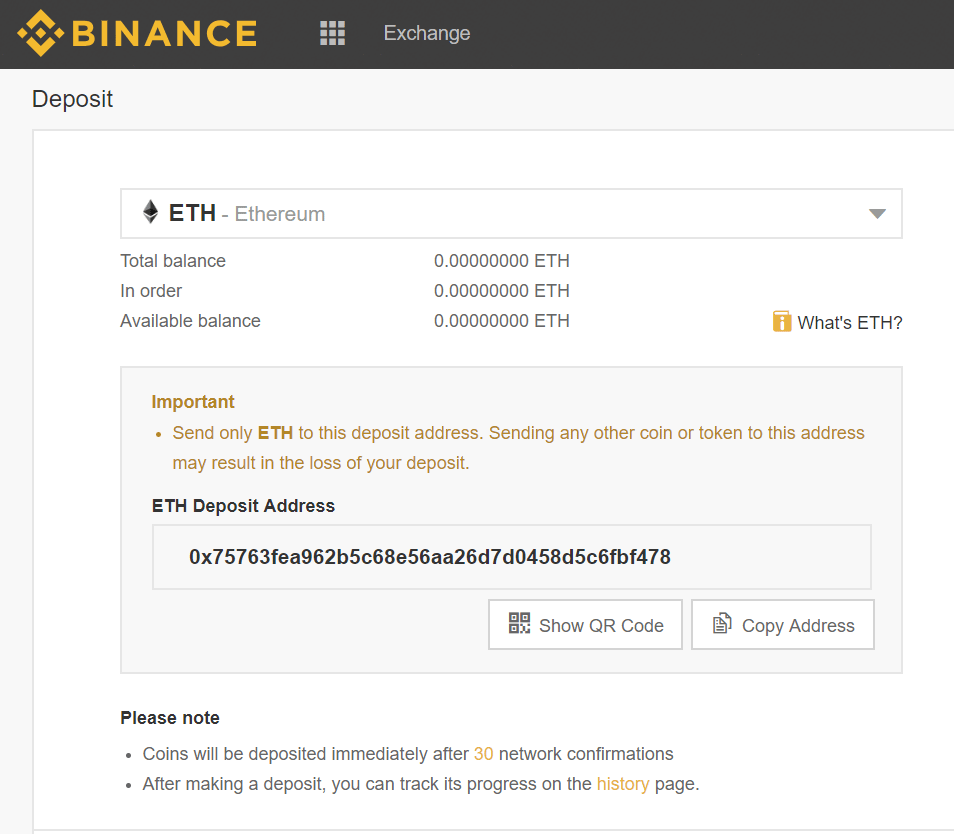 If you are ready with securing your account with 2FA, it's time to fund your Binance account. Head to the "Deposits" tab under the "Funds" menu and select the coin you want to use to deposit funds to your account. As mentioned before, fiat deposits are not allowed on Binance.
After selecting the coin, the Ethereum exchange will show a wallet address where you should send the cryptocurrency. If you are using a mobile wallet, scan the QR code shown on the page. In case you are on desktop, copy-paste the wallet address. Be extra careful when checking whether the address you copied matches the original. One mistake can lead to your funds arriving at the wrong wallet.
Step 4: Buying
Normally, it shouldn't take longer than 2-3 hours for your funds to arrive in your Binance wallet. If your account is successfully funded, head to the "Exchange" tab and select ETH from the four base currencies. Choose the coin you just deposited from the ETH trading pairs.
On the next page, you'll see a chart, the Ethereum rate compared to your coin, and three order types. If you are an experienced trader, skip this part. The market order is the simplest and easiest one. While it does not guarantee the best Ethereum exchange rate, it executes your order within a few seconds. This order type utilizes the Ethereum market rate and executes your order as quickly as possible.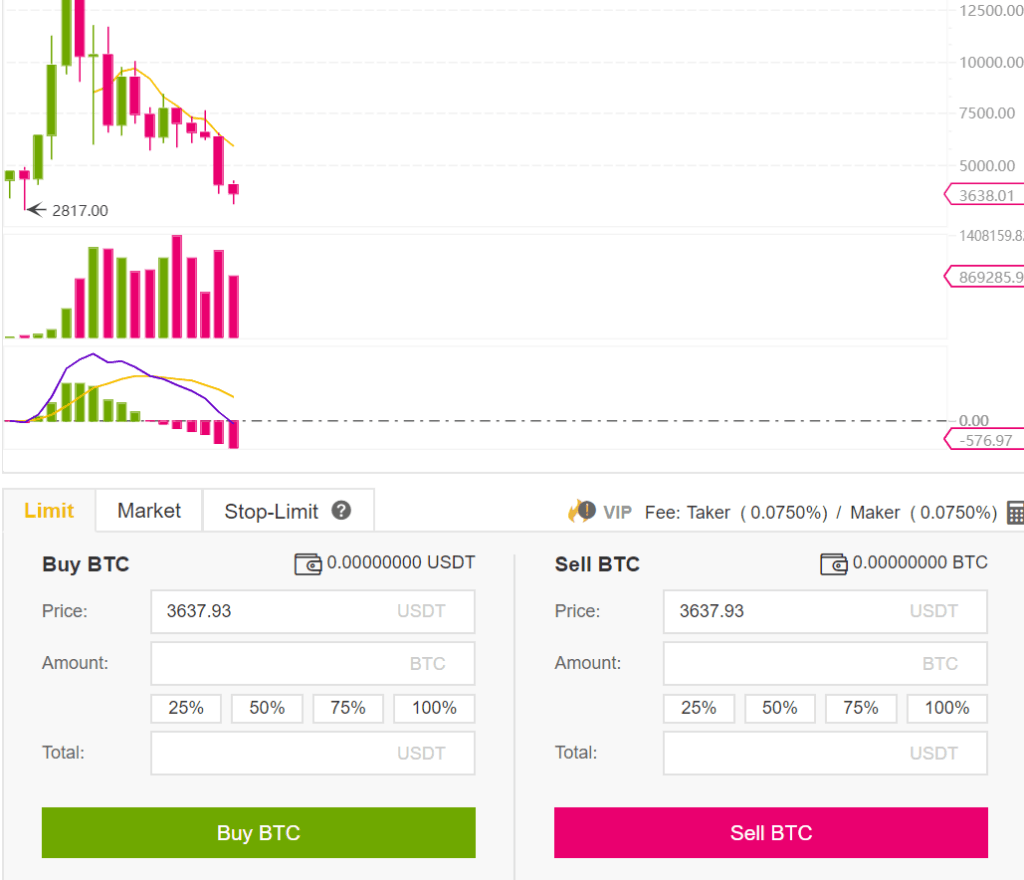 On the flip side, limit orders allow you to set your desired Ethereum rate. It guarantees you that Ethereum price – the trade executes if a seller is willing to sell ETH for you at that rate. However, orders can execute slower, especially if you set a radical Ethereum exchange rate.
Stop-limit orders are great for short-term trades. This order type will minimize your losses as you can set a stop for your order. If the Ethereum price reaches that point, your trade will execute automatically.
Now, choose from one of the options above, set the amount of ETH you want to buy, and execute your trade.
Coinbase

The San Francisco-based Coinbase is one of the top cryptocurrency exchanges on the globe. We've found the service completely newbie-friendly, so it is a great choice for persons who are relatively new to the crypto space.
Coinbase also has a Pro platform for expert traders, so it is also best-suited for investors and traders who are experienced in interacting with digital currencies. While the service only features a handful of coins, fortunately, Ethereum is among them.
If you purchase a coin via a credit or debit card on the cryptocurrency exchange, you can completely cut out the deposit process as your coins will be credited almost instantly into your account.
Furthermore, Coinbase has one of the lowest credit card processing fees (1.5%) among crypto exchanges.
Pros:
You own the ETH you purchase on Coinbase
One of the lowest credit and debit card processing fees among crypto exchanges
In case you are using a credit card to buy Ethereum, then you can cut out the deposit process
Newbie and user-friendly platform
Cons:
You need an Ethereum wallet
Trading fees are higher on Coinbase than at most of its competitors
Some brokers have lower credit card processing fees
Step 1: Register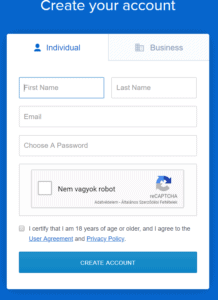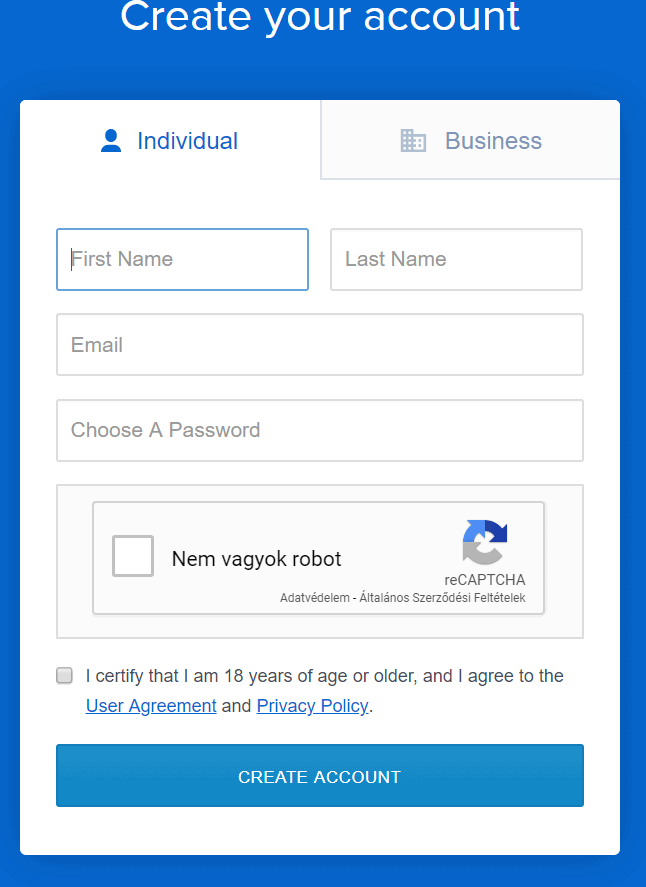 So, not it's time to dive in! The first step is to create an account at the cryptocurrency exchange.
Head to the official website of the service where you will find the "Get started" button in the top right corner of the page. After you click it, a form will appear, which you have to fill out with your first and last names, email, and your desired password.
You also have to verify you are not a robot by ticking a box as well as to certify that you are over 18 years old and agree to the Coinbase user agreement and privacy policy.
When you are ready, proceed with clicking the "Create Account" button at the bottom of the form.
Step 2: Verification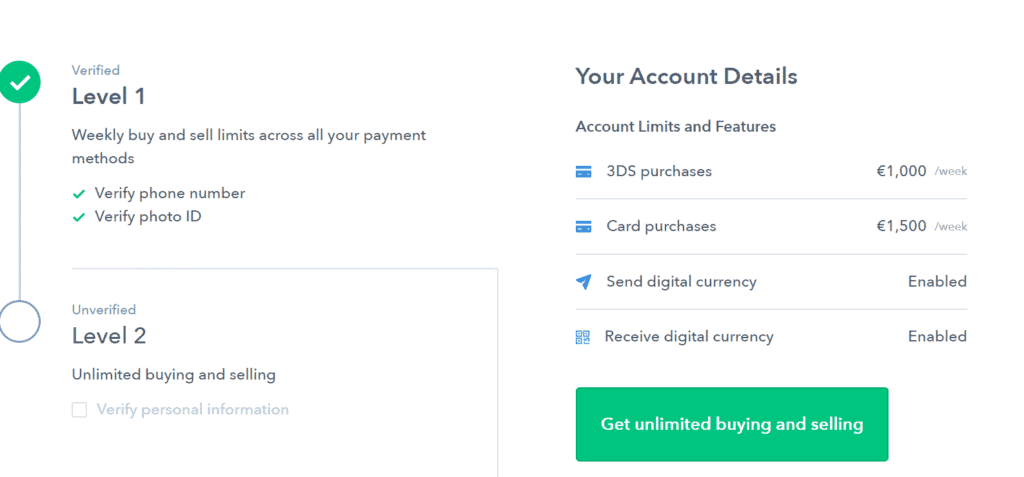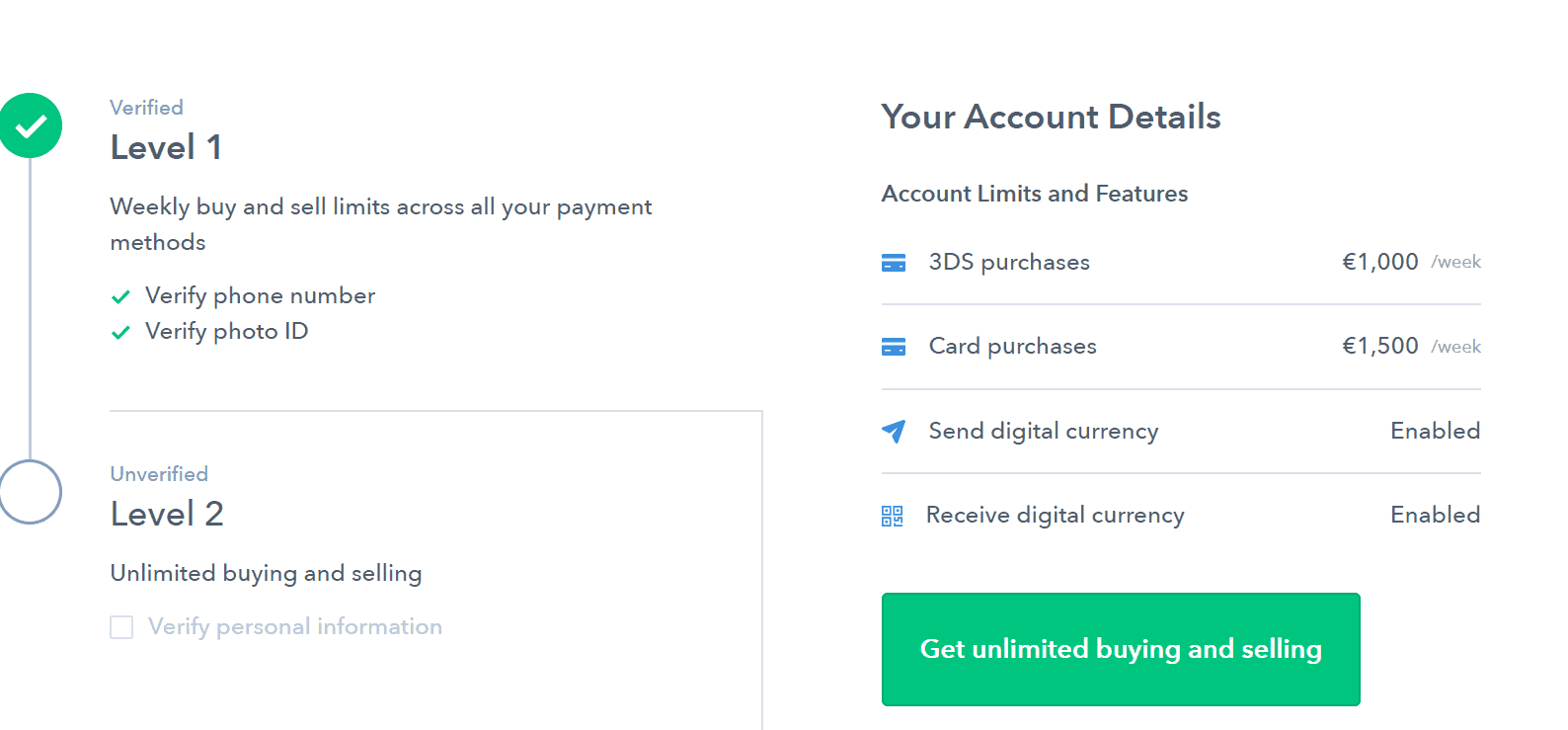 Now, as your new Coinbase account is created, you need to verify it first in order to conduct transactions on the platform.
As Coinbase has to comply with different regulations in the United States as well as other countries, they request different documents and information from you.
Now, head to the "Account Levels" tab inside "Settings" where you'll see your current account limits as well as two levels shown on the page.
While the first level of verification has weekly buy and sell limits for all of the payment method offered on the cryptocurrency exchange's platform, level two provides users with unlimited transactions.
To get started, you need to verify level one first. Coinbase request you to verify your phone number as well as to send a photo ID to them.
To confirm your phone number, you'll get a text message from the service, which you have to type in the proper field on the Coinbase website.
To successfully confirm your identity, you need to take a clear photo of one of the documents the exchange supports (payment services usually accept government ID, passport, and driver's license) and upload it using a form in the verification section.
When you are ready, either proceed to complete level two verification or – in case you are satisfied with your limits – to the next step. For level two, you need to provide additional personal information to the cryptocurrency exchange, which will grant you unlimited account limits.
Step 3: 2-factor authentication (2FA)

After you have successfully verified your account to either level one or two, you need to set up 2FA to protect your coins.
We've emphasized the importance of setting up this specific security measure in case you are using cryptocurrency exchanges in other guides in this article.
So, to set up 2FA, head to the "Security" tab under "Settings" where you will see a section for the security measure.
Coinbase accepts text messages for 2FA. If you enable the authenticator on your account, the cryptocurrency exchange will send you a text message to your phone number every time you try to log into your account.
Furthermore, you also have the option to set mandatory text messages when you trade a specific amount of digital currency on Coinbase.
For that, we recommend you to use the setting "any amount of digital currency" as it will serve you with the best protection.
Step 4: Buying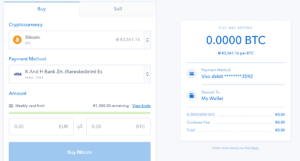 After you have finished with setting up 2FA, you can now proceed with buying Ethereum. For this step, we are using the credit card payment method that requires no deposits from the user. However, you can also pay via bank transfers on the exchange. If you choose that payment method, you need first to fund your account using your bank account, and only then you can proceed to trade ETH on the platform.
To buy Ethereum, navigate to the "Buy/Sell" tab. You'll see two options there: buy and sell. Choose buy, select Ethereum from the list of cryptocurrencies along with the amount of ETH you wish to purchase. Then choose your preferred payment method – we choose credit cards now. On the next page, fill out the form with your credit or debit card details, then proceed with clicking the big blue button at the bottom of the form: "Buy Ethereum." Congrats! You have just purchased your first ETH. You can expect your coins to be credited into your account within a few seconds (in case you have used a credit/debit card for the transaction).
Changelly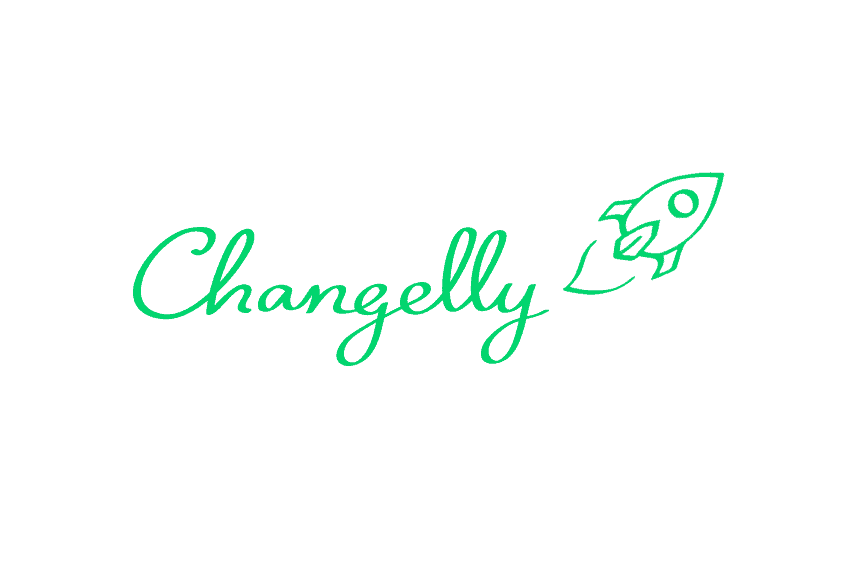 Changelly features a near-instant cryptocurrency exchange where you can convert ETH to USD within 30 minutes. At Changelly, you neither need to verify your account nor deposit funds – which is excellent. The Ethereum converter has a seamless, newbie-friendly platform. While Changelly accepts credit card as a payment method, the processing fee is quite high (almost 10 percent).
Pros:
Near-instant transactions without the need to deposit funds
Reasonable fees for trading
User-friendly platform
Many coins supported
Cons:
You need an ETH wallet
Credit card transactions are expensive
Ethereum exchange rate is not fixed
You can only buy, but not sell ETH to USD
As mentioned before, this Ethereum converter does not require you to verify your account or deposit funds. But you need 2FA for added security. Therefore, we modified the steps in our guide accordingly. Let's see!
Step 1: Register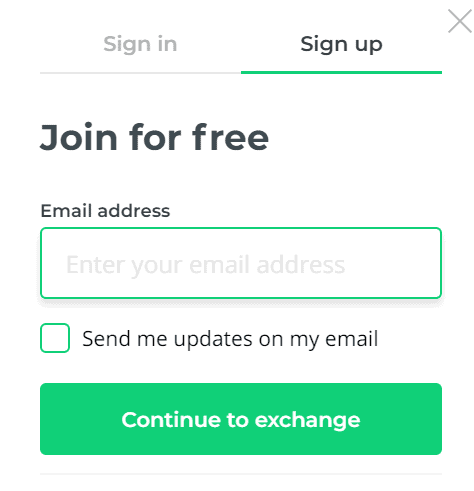 Changelly only requires your email and a strong password to create an account.
Head to "Sign Up" on the service's homepage and fill out the form.
You can also use Google+, Facebook, or Twitter to create your account.
Step 2: 2-factor authentication (2FA)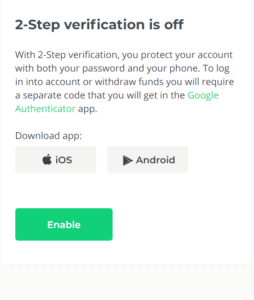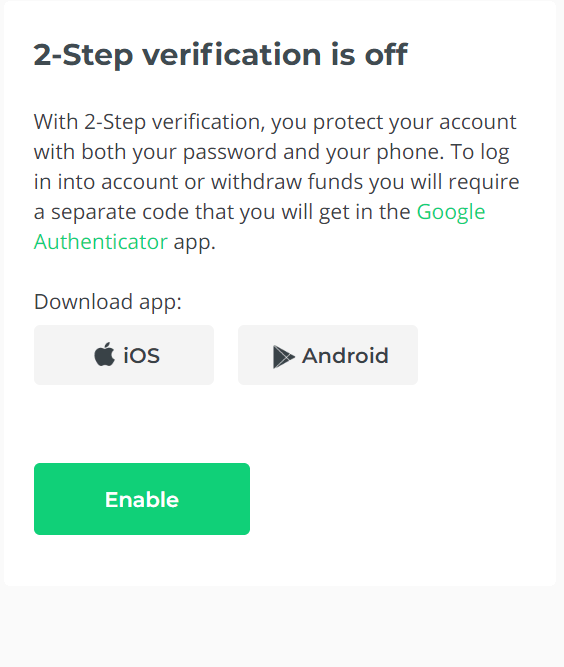 We've already explained why 2FA is important when using cryptocurrency exchanges that require you to hold coins on wallets.
And Changelly is one of those services.
So, after logging into your account, head to the 2FA tab, and use the links on the page to download and sync Google Authenticator to your smartphone (it's available for both iOS and Android).
Step 3: Buying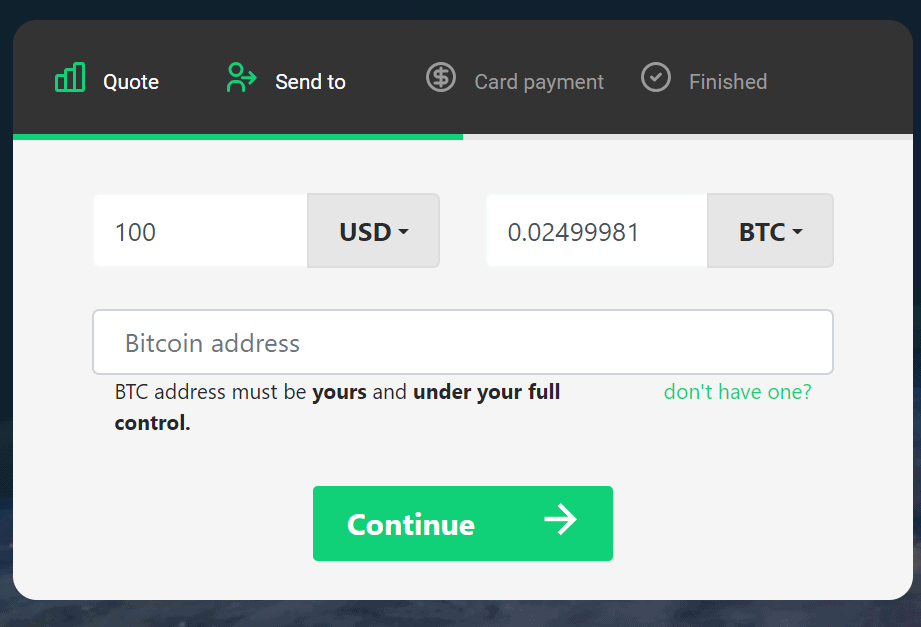 Head to the homepage of the service. Firstly, select the currency you want to use to buy Ethereum and ETH from the list below that. In case you selected USD, fill in the form on the next page with your credit or debit card details to exchange ETH to USD. If you chose to buy Ethereum via another coin, follow the instructions on the trading page to execute the trade.
Plus500
Plus500 is an Israel-based CFD broker that is listed on the main market of the London Stock Exchange. As the company is listed on a stock exchange requires it to meet a standard related to transparency.
This, along with the fact that Plus500 is regulated in several countries, provides additional protection to the customers of the service. The broker features an easy-to-use platform with a fully digital and fast account opening process. Plus500 has low trading fees with no fees for withdrawals. The broker covers most payment processing fees related to depositing funds.
Pros:
You don't need an Ethereum wallet
User-friendly platform
Low trading fees
Mobile trading
Fully digital and fast account opening
Cons:
You don't actually own the ETH
Plus500 does not allow trades to be executed within 2 minutes
High inactivity and financing fees
Plus500 is a regulated broker. So, the company has to comply with different rules, imposed by the regulators. That's why verification is essential to trade on the platform.
Also, there's one other thing that is important to note. Plus500 also offers ETH trading via CFDs. So you don't need an Ethereum wallet, but you don't actually own the ethereum.
Step 1: Register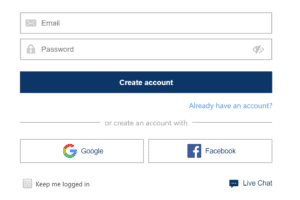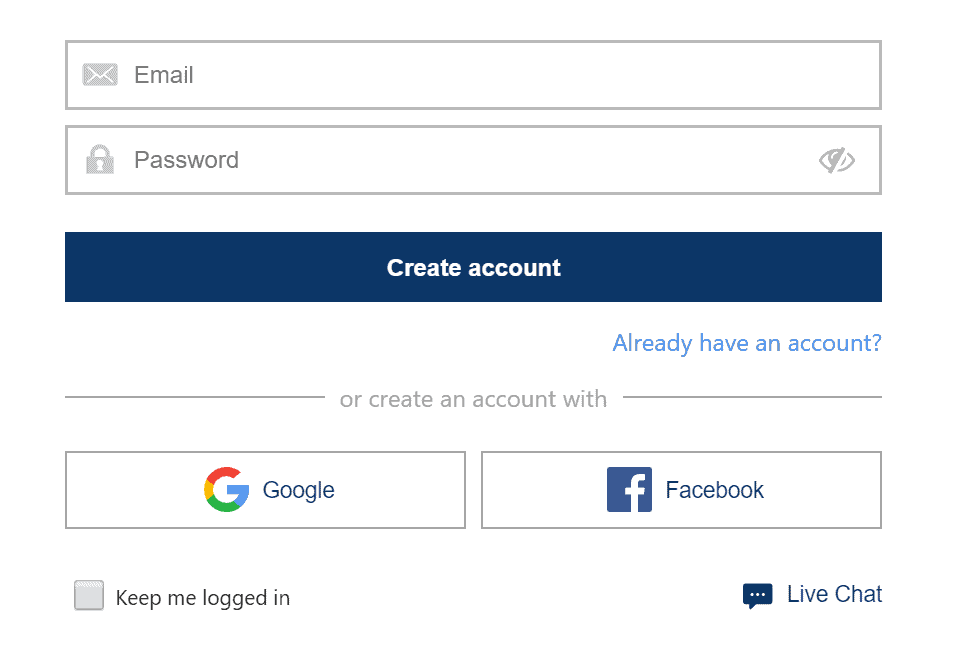 Firstly, click here to open your account. Fill out the form with your email and a strong, but memorable password. Plus500 integrates with Google+ and Facebook, so you can use either of the aforementioned accounts to register.
If you are ready, proceed to the next step.
Step 2: Verification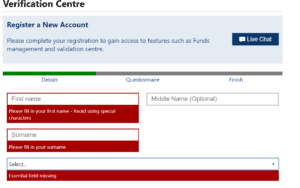 The next step is to verify your account.
Fill out a questionnaire and upload documents that confirm your identity and residential address.
As account creation at Plus500 is fully digital, it shouldn't take the broker long to verify your account.
Step 3: Deposit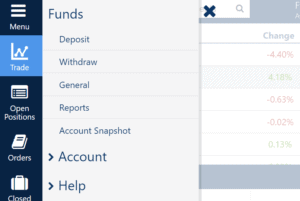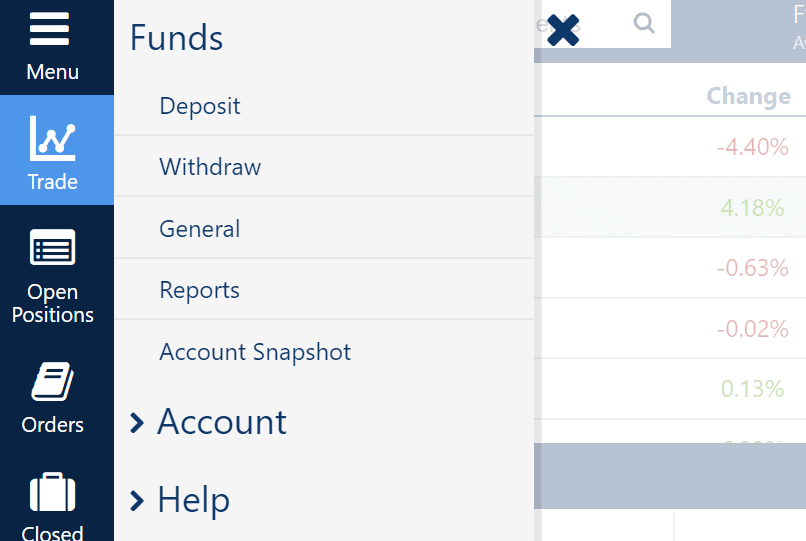 After your account is verified, it's time to fund it with fiat currency.
Plus500 accepts PayPal, credit and debit cards, Skrill, bank transfers, along with other payment methods.
Select the one you prefer, fill out the details, and initiate the transaction.
Wait until it arrives and proceed to the next step.
Step 4: Trading

Your funds have arrived at your account. Great Ethereum news – it's time to trade ETH. Use the search bar on the top of the page to search for Ethereum (ETH). Plus500 will take you to the Ethereum USD trading pair's page. Click "Buy" or "Sell"and select the amount of Ethereum you want to trade. If you are satisfied with the Ethereum exchange rate, execute the trade.
80.6% of retail CFD accounts lose money
Buying Ethereum in Your Country
UKUS & CanadaAustralia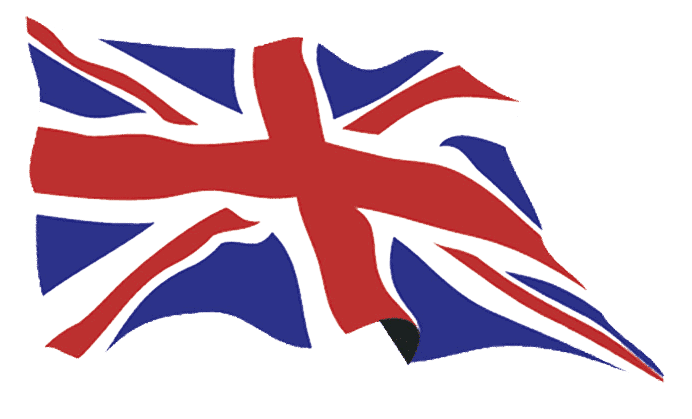 Europe is one of the top crypto-friendly continents, and the United Kingdom is a country where ETH is highly popular among cryptocurrency enthusiasts. However, choosing the wide selection of cryptocurrency exchanges and brokers, one has to spend much time to find the best service to buy Ethereum in the UK. So, we have taken the time, tested numerous solutions, and selected the best for the citizens of the United Kingdom.
And this service is Plus500, which we also ranked as the top crypto platform for buying Ethereum (globally). The broker is best suited for UK citizens as it is FCA regulated. Furthermore, a user-friendly platform, multiple payment methods to choose from (including PayPal and credit cards) as well as a fast account creation process.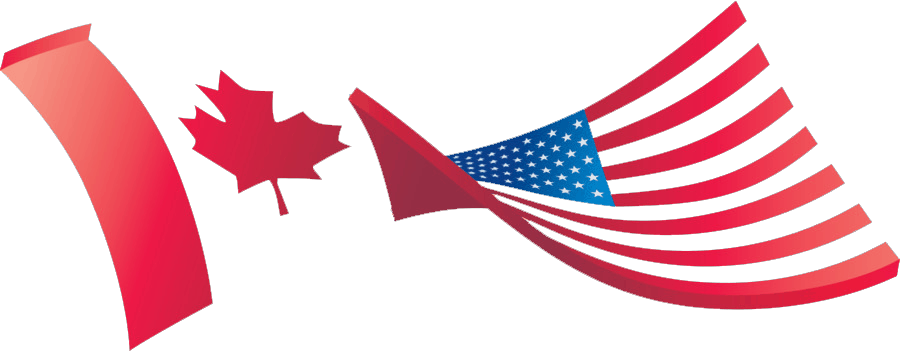 North America is the top continent for cryptocurrency-related services (Ethereum included). However, due to the strict regulations, US and Canadian citizens sometimes struggle with finding the best cryptocurrency exchange. But let us help you with that.
We've chosen the San Francisco-based Coinbase as the best service to buy Ethereum in the USA and Canada as it features both a newbie and expert-friendly platform (Coinbase and Coinbase Pro). Therefore, it's really easy to buy ETH on the exchange. Coinbase supports credit card payments with a highly competitive fee (1.5%).
While Europe and North America are two continents known for their interests in cryptocurrencies, Aussies are also showing an increase of excitement towards coins, including Ethereum. However, one problem the citizens of the Oceanic country as struggling with is that crypto payment services usually focus mainly on European and North American customers, but not Aussies.
So, we have chosen Binance that serves as the best cryptocurrency exchange to buy Ethereum in Australia. The service features a wide variety of coins, four base currencies (one of them is ETH), high initial account limits as well as multiple trading views. To see the exact steps on how to buy Ethereum on Binance, read back to find our guide on that.
Differences Between Buying and Trading Ripple
Buying
You own the Ethereum, you have the right to move it, sell it, and transfer it as you wish.
Traditionally associated with longer-term (Multiple months to years)
Assets can be used just as fiat currencies are; for purchases, or for payments
Somewhat safer than trading directly using margin or with borrowed funds
Trading
ETH trades use contracts for difference (CFDs)
You don't actually own Ethereum, you own a representation of Ethereum which is in the form of a contract
Traditionally associated with shorter-term positions or ideologies about Ethereum because using margin accrues fees very quickly
Higher risk is implied because you're buying contracts on margin (Borrowed money from the broker)
How to trade Ethereum with a trading robot?
In an earlier section of this article, we have explained to you the difference between the buy-hold method and trading Ethereum. For the trading part, we have described traditional trading that requires the trader to manually deploy fundamental and technical analysis on the coin in order to determine the best entry and exit points. However, if you are using a trading robot, most services do not require the aforementioned analysis as well as you don't have to possess any trading knowledge or experience.
Therefore, one of the main benefits of using a trading robot is time-efficiency. These services utilize algorithm-based bots that will use the same technical indicators for determining the best entry and exit points for the trades like in manual trading. However, these solutions will do this fully automatically. Besides registering an account at a service and funding it with money as well as setting up your robots, you don't have to do anything that costs you time. After the bots are up and running, doing all the trading for you, you only need to monitor their performance so you can maximize your profits.
Furthermore, most automated cryptocurrency trading platforms use their own strategies and indicators. Therefore, you don't need to worry about deploying your own strategies that would require a combination of trading and programming expertise as well as experience. We have a page dedicated to crypto robot services that you can check out for more information.
Alternative Methods to Buy Ethereum (ETH)
Credit/Debit CardPayPalBitcoin
Buying ETH with credit card is one of the most convenient and fastest payment methods. The transaction processes almost instantly with the deposit usually arriving within minutes to the cryptocurrency exchange or broker.
However, credit card transactions are often more expensive than other payment methods, such as bank transfers. There are services that charge fees as high as 10 percent for a card payment.
So, if you decide to choose the credit card payment method, be sure to choose an exchange or broker that has low fees compared to other solutions on the Ethereum market. In case you don't want to bother with a crypto wallet, go with Plus500 as funding your account is also free at the service.
Just register an account, verify it, deposit funds via your credit card, and buy Ethereum using the money on your account.
PayPal is one of the most popular online payment services on the globe. PayPal transactions are as convenient as credit card ones with an added security. The company takes account security very seriously and imposes strict rules to maintain that. That's why – unfortunately – there's no way to exchange Ethereum to PayPal funds. The company has policies that prevent its users from transferring (directly) cryptocurrencies between their wallets and PayPal accounts.
However, there's an indirect way to buy Ethereum with PayPal. Brokers such as Plus500, accept PayPal transfers while offering cryptocurrency trading. So, exchange Ethereum to PayPal funds, you have to first create an account on Plus500. Verify it and fund your account with PayPal. Use the PayPal funds on your brokerage account to buy Ethereum with PayPal on the service.
When you have some BTC in your cryptocurrency wallet, you may not want to use any fiat currencies to buy Ethereum. Otherwise, you'd need to exchange your BTC balance to fiat, withdraw your funds into your bank account, fund your account with a fiat currency, then use it to buy ETH. This would not only cost you more time, but the fees would also be higher than if you just simply buy Ethereum with Bitcoin. Now, let's see how you can do that on Binance – we've chosen this exchange as it supports a wide variety of cryptocurrencies, and both BTC and ETH are among the four base currencies.
If you haven't already done that, create an account on the service and set up 2FA. In case your BTC is not held in your Binance wallet, then head to the deposits section and use the wallet address there to funds your account with the coin. After your BTC has arrived, head to the trading page of the service. Choose either Bitcoin or Ethereum from the four base currencies, then the relevant trading pair to buy ETH. Select the amount of coins you want to exchange as well as your preferred order type, and proceed with executing your trade.
How to sell Ethereum?
In case your coins have performed well, you may want to sell them to make profits on your investment. In other, less unfortunate cases, you sell your digital currency to minimize your losses. You have already learned how to buy Ethereum today. Now, it's time to know how to sell the cryptocurrency. Let's dive in.
We'll show you how to sell Ethereum on Binance now. To get started, create an account at the service. Then, for added security, set up 2FA as soon as your account has been created. The next step is to head to the deposits section and select ETH from the list of coins. The page will show you a wallet address, which you have to copy-paste into your cryptocurrency wallet (where you are holding Ethereum) and send it to your Binance wallet. After initiating, the transaction shouldn't take more than an hour or two. When your funds are credited onto your account, you can start trading. Head to the trading page, select ETH and the coin you want to exchange it to, the amount of Ethereum you want to sell as well as your preferred order type. When you are ready, execute the trade.
As we listed the best brokers and exchanges, now know where to buy Ethereum. You also learned today how to buy ETH from each Ethereum converter.
You know the advantages and disadvantages of using different payment methods – including credit cards and PayPal – for trading Ethereum. Holding coins on wallets is riskier than buying ETH CFDs, but with the right security measures, you can still stay safe from attackers.
We ranked Plus500 as the top Ethereum converter since the broker features an easy-to-use platform, quick and easy account creation process, social trading features, a wide variety of payment methods, and it's regulated in many countries.
FAQ
Ethereum vs EOS: what's the difference?
Ethereum and EOS are both smart contract platforms that are running DApps with multiple similarities. However, the two cryptocurrencies are hardcore rivals of each other. While Ethereum is the oldest of the two boasting a strong community, EOS is the new player with fans who think the digital currency is the "Ethereum killer" solution. Now, let's see the main differences between the two coins, starting with Ethereum. Ethereum is a second-generation blockchain featuring smart contracts and decentralized applications (DApps). The cryptocurrency's main purpose (compared to Bitcoin) is to not only function as a payment system – though ETH is the native token of the platform – but to standardize and facilitate the development of DApps. Ethereum is all about decentralization; the community believes this the feature the cryptocurrency has to prioritize. A digital currency can only implement two of the following aspects efficiently; decentralization, scalability, and security. As Ethereum prioritizes decentralization, as well as the blockchain, has to be secure to avoid hackers taking it over, the network of the coin lacks proper scalability. While currently, the ETH network can process about 15 transactions per second, the coin can be mined by anyone due to the Proof of Work (PoW) algorithm of the cryptocurrency. However, that would change soon as Ethereum developers are planning to shift towards Proof of Stake (PoS) with a temporary period of a PoW-PoS hybrid. Ethereum uses Solidity as its programming language and requires users to burn ETH (Gas) when executing smart contracts. On the other hand, the first priority of EOS is scalability. Like in the case of Ethereum, EOS is unable to maintain all of the three aforementioned aspects (decentralization, scalability, security). Therefore, the efficient scalability of EOS comes with the cost of being more centralized than most cryptocurrencies (including Ethereum). EOS uses the Delegated Proof of Stake (DPoS) algorithm with 21 nodes producing new blocks. This allows the network to achieve scalability of over a thousand transactions per second. Instead of mining, EOS token holders stake their coins to vote for block producers, which creates a more centralized configuration than at Ethereum. Speaking of increased centralization, EOS has a constitution. If a user breaks it, then he risks his account to be frozen with no access to his funds. There has been already multiple cases of constitution breaks with numerous EOS accounts frozen. Unlike Ethereum, EOS has zero transaction fees. Instead of taking fees for processing transactions, users stake their tokens for executing smart contracts, which they will get back after execution. EOS developers use C++ as well as other WebAssembly programming languages.
Ethereum (ETH) vs Ethereum Classic (ETC): what's the difference?
If you have read the last FAQ section, you may have learned that the DAO fork resulted in a chain split, creating today's Ethereum (ETH) as well as Ethereum Classic (ETC). As the part of the community wanted to claim back the lost funds of the DAO attack, they have decided to go with a fork. These users stayed with Ethereum. However, others stated that "code is law" and the Ethereum blockchain is immutable. Therefore, they rejected the upgrade and stayed with their own blockchain, Ethereum Classic.
How do I buy Ethereum anonymously?
To buy Ethereum anonymously, you'll have to purchase the cryptocurrency locally. One good site is Localethereum.com where you can connect with sellers in your area. Another option to buy Ethereum anonymously is to use an exchange where you don't have to verify your identity (like Binance – the service has high account limits).
Where can I purchase Ethereum with cash?
There are two options to buy Ethereum with cash: by using an Ethereum ATM or by meeting up with a person locally. For the first option, you can use services, such as Coin ATM Radar, which shows you the ETH ATMs nearby you. You can connect with local Ethereum sellers by using Localethereum.com, a peer-to-peer marketplace for ETH traders.
Can you recommend a secure Ethereum wallet?
The safest Ethereum wallet is a hardware wallet as it requires a PIN via a hardware device to verify your transactions and to log into your wallet. The two best hardware wallets are the Ledger Nano S and Trezor. Both support ETH with the wallets storing your coins offline. If you don't want to buy a hardware device, Atomic (desktop), Exodus (desktop), and Jaxx (mobile) are all good options for an Ethereum wallet.
What's your Ethereum price prediction?
Unfortunately, we can't predict Ethereum's price. What we know is that cryptocurrencies will stay with us for a long time, and as adoption increases, so will the price. That's all we can say about our Ethereum price prediction.
Ethereum vs Bitcoin: what's the difference?
Bitcoin is the first cryptocurrency, created by Satoshi Nakamoto with the purpose to build a peer-to-peer electronic payment system. That means Bitcoin is mainly used for payments and as a store of value. On the other hand, Ethereum is a whole operating system that makes the development of decentralized applications (DApps) easier. So, comparing Ethereum vs Bitcoin: ETH is more focused on DApp creation along with other features of the Ethereum blockchain than maintaining a payment network where the users can send, receive, hold, and own BTC.
Where can I find the Ethereum white paper?
The official Ethereum white paper can be found on Github. For more information on Ethereum, check the official site of the cryptocurrency.
What determines the Ethereum value?
According to its developers, the Ethereum value depends on the platform that is made for having numerous different types of DApps developed on it. There's no central entity, all development in the Ethereum network is completely decentralized. So, we can say that the more (useful) DApps are developed, there's a chance that the Ethereum value will increase. And a large price surge can create an effect, in which more DApps are developed, further increasing the Ethereum price.
What's the best way to buy Ethereum?
The best way to buy Ethereum is determined by your goals and preferences. A part of the people prefers to buy coins conveniently and quick. Others in the crypto community want to remain cost-efficient. There are also users who prioritize anonymity when they are purchasing a coin. Let's see the best way to buy Ethereum for all of the three aforementioned preferences. So, you want to buy ETH quickly and conveniently. We believe your best option, in that case, is to use your credit or debit card to purchase the digital currency. As credit card payments are usually processed in a few second (therefore, your coins arrive into your account very quickly) – in most cases -, the deposit process can be cut out when purchasing ETH with a credit or debit card. While credit cards present a convenient and fast way to buy cryptocurrency, they usually cost more than other payment methods like bank transfers. However, the fees vary by platform; at some brokers, credit card payments are free while at another part of service providers these transactions can cost as much as 10%. If you prefer cost-efficiency, then bank transfers seem like the best option for you, especially if you are located in the European Union with access to low-cost SEPA transactions. While this payment method costs a lot less than others (like credit card transactions), bank transfers are not so time-efficient as they take at least a few days to arrive. Furthermore, you can't cut out the deposit process as you need first to fund your account with a bank transfer before you can proceed with buying ETH. In case anonymity is your first priority, then we recommend using cash (via an ATM or by finding a local seller), or a cryptocurrency exchange where the initial account limits are high – two good examples for the latter are Binance and Changelly. You have to use the aforementioned alternative solutions as most of the crypto exchanges, and brokers have to comply with strict regulations. Therefore, a large percentage of service providers are requesting Know Your Customer (KYC) and Anti Money Laundering (AML) documents from its customers before they are able to purchase coins on their platforms.
Is Ethereum a scam?
No, Ethereum is certainly not a scam. The cryptocurrency's network is developed and maintained by one of the most respected names in the industry like Ethereum founder Vitalik Buterin. The coin is full decentralized as well as secure, and it has generated many profits for early investors and traders.
Should I invest in Ethereum?
Before you decide to invest in Ethereum, you have to answer a few questions yourself. Do you have the required financial background to make the investment? Did you do a thorough background check on the cryptocurrency? Have you analyzed historical price charts? If yes, are you satisfied with the results? In case all of your answers are yes, then you may go for investing in Ethereum.
Should I buy Ethereum this year?
We can't predict the future price of Ethereum. Not this year and not in the other ahead. And, honestly, no one can provide you with an accurate prediction for the coin's value. Therefore, we can't advise you to buy Ethereum this year as you have to determine that for yourself. If you think the coin's price will certainly surge by the end of the year, you may continue with investing in ETH.