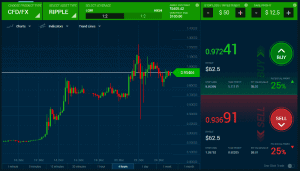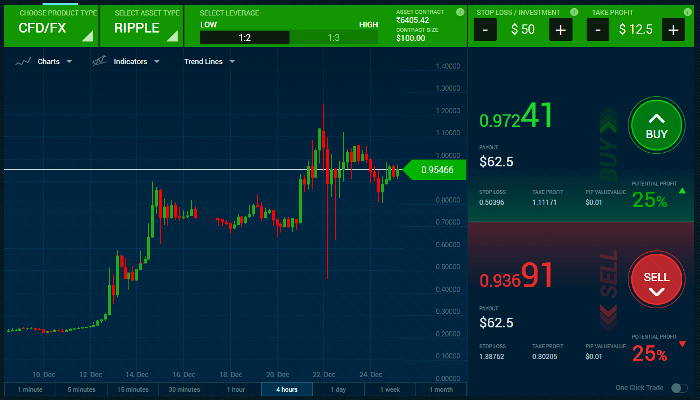 Are you a beginner trader and want to find the right online trading platform?
You'll need to find a good online broker account to try your hand at beating the market and help you manage your investments. There are a handful of good trading platforms to choose from so knowing which the best is for you can be a challenge.
You probably have a good idea of what you need in an online stock broker. Your criteria of a good online stockbroker may include access to premium research, low costs, account options, good customer service, innovative strategy tools and a comprehensive trading platform.
But how can you know which of the myriad of online trading platforms is the best? Read on to find out the best online trading platforms you can check out today.
What are the Pros and Cons of Using Online Trading Platforms?
Pros:
More control and flexibility – With online trading platforms, you can execute a trade almost immediately. Traditional brokers may need appointments either in person, over the phone or online just to initiate a trade. The time involved in such instances can be such an inconvenience.
Lower fees – One of the most significant advantages of online stock trading is the decrease in high fees and transaction costs associated with traditional brick-and-motor brokerage firms.
Access to online tools – The lower cost involved in the world of online trading does not necessarily translate to a shoddy product. Most of today`s online trading platforms offer users an impressive suite of tools to help optimize trades. Some platforms offer you a robust selection of online tools designed to give you valuable information such as interactive investment performance charts.
Chance to monitor investments in real-time – The majority of online trading platforms provide stock quotes and trade-in details that make it easy for traders to see how their investments are performing in real-time. Through online trading platforms, you'll be provided with stock market news, real-time quotes and more.
Cons:
Addictive nature – Stock trading can be like gambling for some individuals. The investor speculates on the result of something, like a company`s performance and the wagers money that the peculation will be correct. One research published in the journal of Addictive Behaviors showed that online traders can experience a certain feeling when trading that is just like what people experience when gambling.
Internet-dependent – The nature of online trading implies that you`re ultimately at the mercy of your internet connection. If your internet connection is slow or is interrupted, you may lose on a potentially vital or lucrative trade.
What is an Online Trading Platform?
An online trading platform, which is also referred to as an electronic trading platform, is a computer software program that is designed to help investors place orders for a financial product such as stocks of shares via a network with a financial intermediary.
Online trading platforms are often offered by brokers either for free or at a discount rate in exchange for maintaining a funded account or making a specified number of trades.
How Do Online Trading Platforms Work?
When you buy or sell a stock on an online trading platform, your order is placed in a database within a few seconds. The database then checks all the different markets that trade the stock and finds the best price.
The market that successfully matched the seller and buyer sends a confirmation to both parties` brokers. The price and the order are then displayed to all investors.
Top 5 Online Trading Platforms in 2020:
1. E*TRADE

E*TRADE is one of the longest-running online trading platforms in existence today. The platform simultaneously caters to active users with multiple trading platforms and $0 commission. It is also appealing to long-term investors with thousands of ETFs and mutual funds that can be traded for free.
Online traders love its basic and straightforward web platform as well as its advanced platform. The basic web platform contains numerous features that you would like to see as an investor. These features include market commentary section, free streaming market data, analyst research and an extensive list of screeners to sort the market to look for lucrative investments. Placing an order and making a trade is easy as you can do it with a few clicks, simple enough for even non-experienced traders. Alternatively, the platform has a powerful web-based platform that offers impressive charting capabilities as well as options trading features that have made E*TRADE one of the favorite platforms of traders. The platform produces graphics to display the maximum profit and loss and breakeven point for a particular options trade, which makes it easy for you to see the potential risks and rewards.
E*TRADE seems to know that not everyone is not a seasoned trading professional. The platform offers numerous educational resources to its users to help do-it-yourself traders make wise decisions. It offers its users access to online live events, free courses, educational resources like articles on popular trading strategies as well as commentary and insights. The information is tailored accordingly, making the platform one of the best online trading platforms for beginners.
While E*TRADE offers options for commission-free ETFs, the platform really shines for those investors who are seeking to make frequent trades. Some individual traders prefer to make initial trades and hold them for years to come, while others opt to continue rebalancing and tweaking their investments. The platform gives you the option to do both, but the pricing structure tends to favor more frequent trades.
Regular stock trades on E*TRADE are now $0 (It was $6.95 before.) and options trades run $0+$0.65 per contract. The platform does not have an investment minimum and its app is available on Android, iOS, and Windows devices, offering you a powerful platform to place trades. You can fund your account via wire transfer, deposit a check, Transfer Money or Transfer an Account.
Pros:
User-friendly mobile and online interfaces
Access to financial advisors
Extensive account options
Cons:
High minimum account balance
Expensive fees
2. TD Ameritrade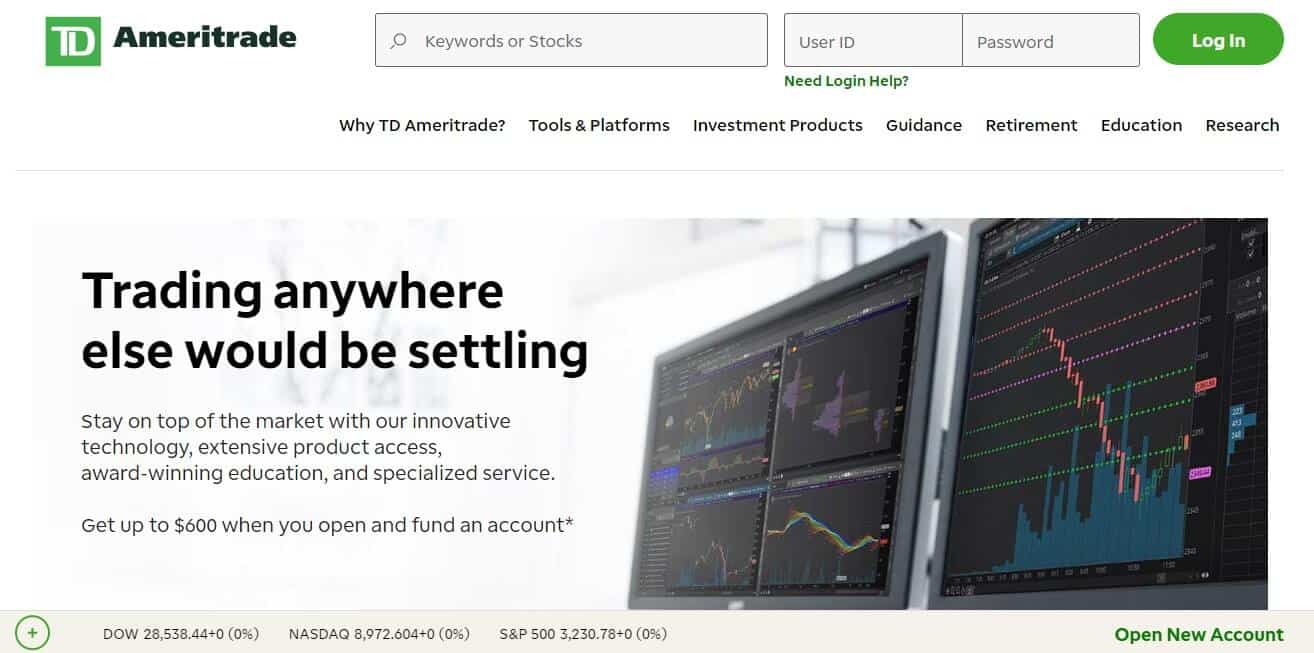 TD Ameritrade satisfies the needs of both active traders and beginner investors due to the quality of its trading platforms, $0 commissions online stock, options as well as ETF trades and a wide selection of mutual funds.
This platform requires no minimum investment and comes with standout features including extensive and fee research and data, robust trading platform and portfolio building guidance. All these are available with no trading commissions on options exchange-traded funds or stocks. TD Ameritrade is best for beginner investors, advanced trades, commission-free trades as well as for those seeking investment advice and education. Anyone can start investing on the platform thanks to its $0 account minimum for IRAs and taxable trading accounts, and it's much lower than the $500 to $2500 many platforms require.
Ameritrade doesn't have trading commissions as well. It aces its investment selection category by providing a full range of investments including forex and futures as well as Bitcoin futures trading for approved traders. The platform`s selection of over 4000 no-transaction-fee mutual funds is the same as or exceeds what`s offered at other big-name platforms.
Moreover, TD Ameritrade is among the few online trading platforms that offer mock trading accounts. It has a virtual simulator desktop-based platform designed for advanced and frequent traders. It offers $100,000 in practice `money' and a margin account. This allows you to access foreign exchanges and futures and practice backtesting. It also offers two main trading platforms and each comes with a corresponding mobile version.
The choice of the platform extends to the platform`s mobile products. TD Ameritrade mobile app included much of the trading functionality of its web-based platform and also offers level II quotes. The app includes futures and forex trading, chat support from the platform`s trading desk and complex option ordering capabilities.
Pros:
Free research
Large investment selection
Commission-free stock, options trade and ETF
No account minimum
Cons:
Expensive broker-assisted trades
High short-term ETF trading fee
3. Fidelity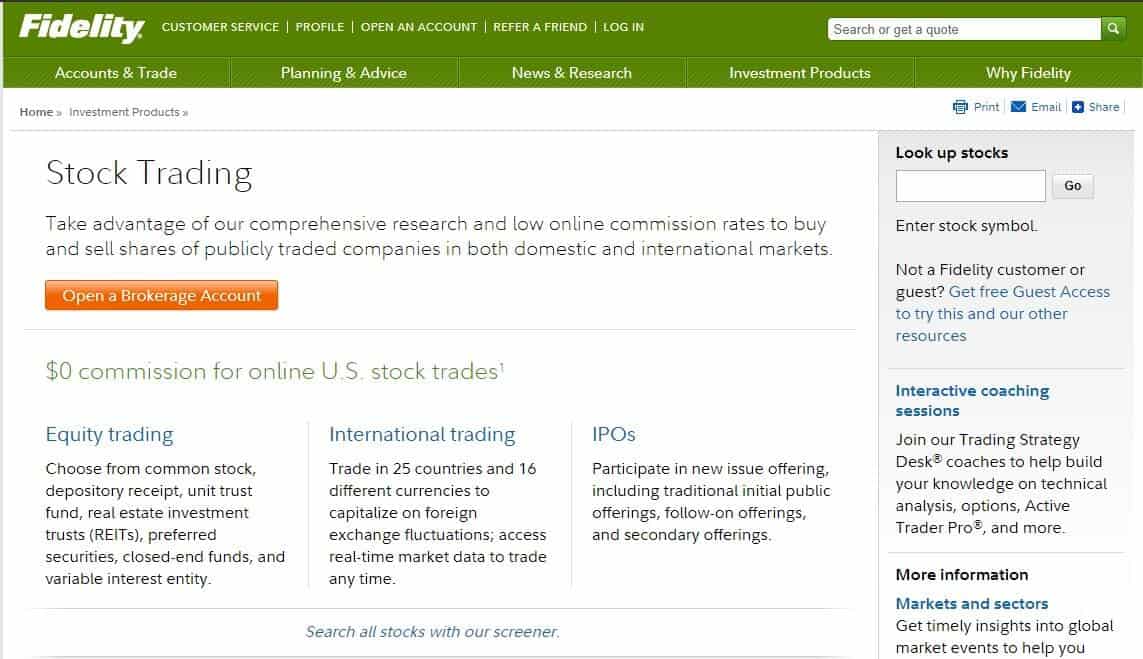 Boasting more than $2 trillion in client assets, Fidelity is a dominant force in online discount trading. It is a low-cost online broker providing $0 stock and ETF trades, excellent trading tools, comprehensive retirement services, industry-leading research and an easy-to-use mobile app.
Fidelity`s platform takes the top spot for user-friendly design, with tools to help you take the guesswork out of finding funds and discovering new strategies. The platform lets you explore your options with its slick and intuitive design, complete with color-coded charts and rankings that show what's important for traders. You can sort stocks by performance, size as well as criteria like profit or sales growth. It offers traders the perfect combination or ease of use, great research tools and a useful education center. While most online trading platforms provide a plug-and-play experience, Fidelity goes further using data and usability testing to provide the best experience to its customers. This user-friendly approach flows right into its learning center.
When it comes to research, the platform is in a league of its own. Even the intellectually curious can dive into research from over 20 providers. Its learning center features videos that are organized by topic. They don't stop after explaining the concept. They also show you how to apply principles to your investments. The information available on the platform, such as sophisticated screening tools like dividend screens with ex-dividend dates and payout ratio, makes Fidelity a good option for traders who want to dig in. Fidelity also offers a cash management account that offers numerous features of a bank checking account, including a wide ATM network, and it doesn't have monthly or overdraft fees.
In addition, Fidelity has an excellent mobile application for everyday traders. The platform understands what investors need to succeed on the go and it offers it in spades. The mobile app is a winner for traders as it's easy to use, has a wide variety of trading tools and is packed full of market research.
Pros:
Limited fees
No minimums or account fees
Cons:
Fees for additional services like account management can get high
4. Charles Schwab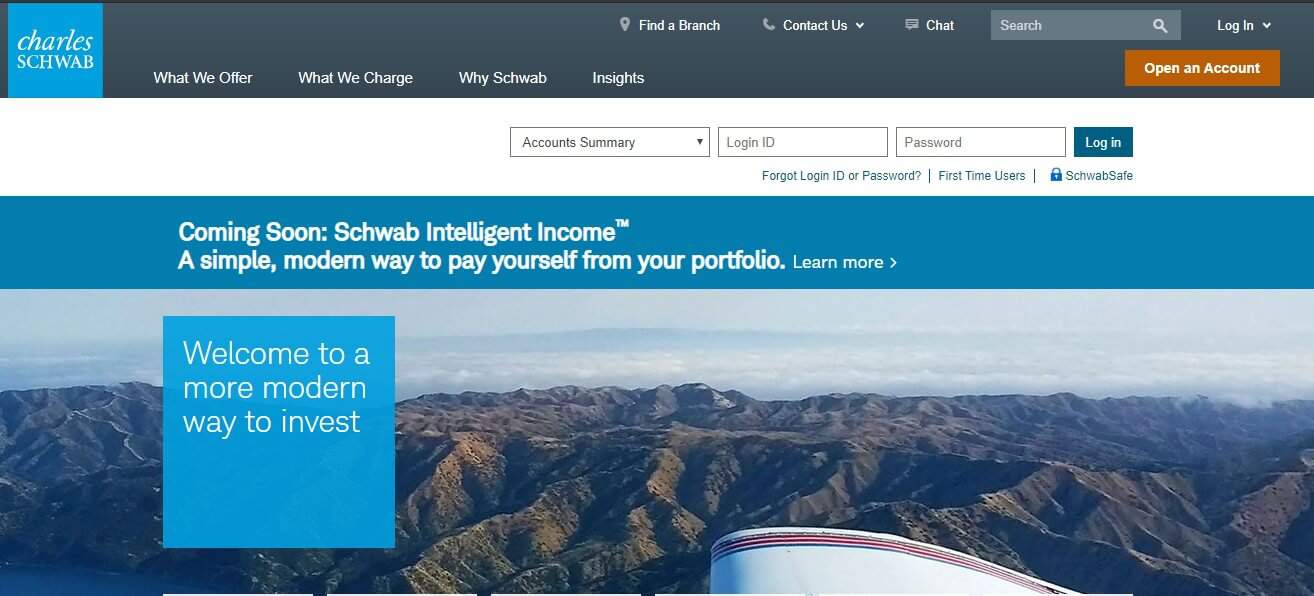 Launched in 1973, Charles Schwab is a full-service online trading platform boasting over $3 trillion in total client assets. It is a low-cost leader which offers $0 stock trades. Charles Schwab offers investors top-notch trade tools, great stock research and professional planning for the future. The platform delivers an all-round good experience. Once you sign up for an account, trades are $.95 and $.65 cents per contract. First-time investors receive 500 commission-free trades for two years if you deposit $100, 000 or more in a virgin account.
Charles Schwab is the best choice for advanced traders who need a full buffet of options like options, EFTs, futures, mutual funds, stocks and bonds as well as an extensive suite of research tools. Overall, the platform offers what most online trading platforms can`t offer. Charles Schwab has streamlined mobile and desktop platforms to provide the same range of tools and trading options. You also get the guidance of a financial advisor but at an additional fee. The platform provides full banking capabilities for its investors.
Schwab offers an excellent array of ETFs and mutual funds. You can benefit in two ways. First, the selection is easy to navigate and impressive. It lets you narrow the choices, featuring options for the best fund in selected categories. You can sort your list by feature, including benchmark index, Morningstar category and expense ratio.  You are also provided with a portfolio builder tool, geared towards helping you create a diversified portfolio based on your risk tolerance, time horizon and financial goals. Schwab also continues to aggressively compete on costs. The platform does not require any minimum initial investment for its mutual fund, and you pay the same expense ratio on these funds regardless of the amount you invest.
Pros:
No account minimum
Robust mobile app
No inactivity fees
Provides top-notch research and sophisticated tools
Cons:
Higher than average trade commissions
5. Interactive Brokers

If you`re an active investor who prefers making frequent, small trades, then look no further than Interactive Brokers. The platform does not require any pre-trading fee and options commissions are $.70 cents per contract. If you`re a high volume trader, you qualify for lower pricing at $.15 cents per contract with more than 100,000 contracts per month. This platform also offers pricing that is enticing to active ETF and stock traders.
Like Fidelity, Interactive Brokers does not support payment for order flow. This makes the platform`s already low pricing even more pleasing because it has no hidden execution costs. Interactive Brokers has the lowest rates in the market as far as margin rates go. The platform is also great for day trading and it puts focus on institutional and professional trading. It offers an arsenal of 63 different order types, the most in the online trading industry by far. Interactive Brokers has great international access and overall offering. If you want international trading, the platform makes it easy for you. It offers trading in 26 countries and more than 120 markets. It is also a great option for futures trading.
The brokerage is not a good fit for passive investors, though with few trades per year or a large balance. The platform requires a hefty $100, 000 minimum balance or $10 in commissions each month to avoid an inactivity fee. If you have an appetite for at least $10 in trades each month or can meet that $100, 000 minimum, Interactive Brokers is a great platform for you. The platform has great tools, including a natural language bot that can place orders based on your instructions and a top-notch desktop platform.
Pros:
Robust research and data
Advanced trading tools
No account minimum
Wide range of investment types
Cons:
High inactivity fees
Limited educational resources
What are the Factors to Consider When Choosing an Online Trading Platform?
Trade commissions – What will it cost to buy shares of stock? Does the platform`s fee change based on the type or size of your order? To make it shorter, find an online trading platform that offers flat-fee trades, which means charging a flat rate regardless of the price, type or the stock/size of your order.
Trading tools – Online trading is a lot easier when traders have robust tools at their disposal. A top online trading platform should offer access to a wide array of trade tools to help you make the most of each trade. These trade tools are quality stock scanners, real-time streaming quotes, mobile trading apps and last sale tickers to name a few. Remember that robust trading tools are essential for active traders.
Account minimums – Some online platforms allow you to open a trading account with no minimum deposit while some may need you to deposit some thousands of dollars. You need to know that some platforms require higher minimums to gain access to personalized support, functionality and premium platforms. Look for an online trading platform with low or no account minimums.
Investment options – A good online trading platform should provide you access to not only trading stocks but also a robust selection of no-load commission mutual funds, complex options and commission-free ETFs. Other good investment offerings to look for can include conditional orders, direct market routing, forex trading and futures trading.
Banking options – Top online trading platforms should offer you banking and other financial services. This goes beyond CDs and money market accounts. Mortgages, credit cards, debit cards and checking accounts should also be offered.
Speed and order execution – The execution speed and fill price are very vital, especially for an active trader. When trading or investing in fast-moving markets, the difference between losing and gaining thousands of dollars sometimes boils down to a few milliseconds.
What to Avoid When Choosing an Online Trading Platform?
Not thinking about compatibility – Most new traders evaluate the effectiveness of an online trading platform but forget to take its compatibility into account. If a platform is not compatible with your device or operating system, it may throw up glitches every now and then or crash.
Not knowing your broker's supported trading platforms– You need to check if your broker supports a certain trading platform and also check if the trading platform you choose offers you a demo account or not.
Imitating others – This is a common mistake that newbies make. They tend to opt for trading platforms that their family, acquaintances or friends are using. Your choice of an online trading platform should be solely based on your needs and requirements.
Confusing complexity with effectiveness – Most novices get overwhelmed when they find a platform that offers multiple features. They think that a complicated platform translates to an effective one and forget the concept of user-friendliness. Getting access to numerous features will not make you a successful trader.
Conclusion
Whether you`re looking to save for retirement or simply want to put your money to work, online trading is one of the effective ways you can use to manage and raise your wealth. But only if you do it right.
The platforms above can help you get started earning money and safeguarding your financial future. These online trading platforms have been tested and proven to be reliable and of high quality so you can pick one of them then start your trading journey.   
FAQs
How do I begin online trading?
If you`ve made the decision to start online trading, you should start by finding a good online trading platform then create and top up your account.
How fast can I begin trading?
After you`ve signed up for an account, you`ll need to deposit or transfer funds to the online trading platform and start investing.
How do I decide whether a trading platform is right for me?
Some important criteria to consider when evaluating any trading platform are how much you have, the type of assets you intend to purchase, your technical needs, trading style and how much you intend to transact.
How much money do I need to start online trading?
Most of the trading platforms above have no account minimums for both IRAs and taxable trading accounts. Once you sign up for an account, all you need to get started is enough money to meet the cost of a single share of stock as well as the trading commission if required.
Is online trading safe?
When it comes to financial risks, any form of trading comes with a certain degree of risk, and online trading is no exception. As long as you conduct meticulous research and only use established online trading platforms, your investment will be safe.