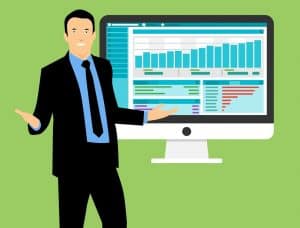 In this guide, we'll review and compare online stock brokers. Whatever your trading style or budget, whether you prefer to trade on your mobile or on a powerful workstation with many gadgets and data streams , there is an online broker for you.
Here are the online stock brokers ranked by trading level (beginner, advanced), fees, reputation, and region.
Stock Broker Comparison for 2019
Best Online Stock Brokers for 2019 
We have zoomed in on the best brokers to buy shares from based on the criteria the most important to you: level of trading expertise, fees, reputation, and region and found that the following brokers offer the best features overall, for all stock investing style and goals.
eToro is a well-known Europen broker regulated by the CySEC and FCA counting with over 7 million users worldwide. eToro is the leading social trading network, and has recently launched in the U.S. eToro has over 1,000 stocks from European, Asian and US markets to choose from with competitive fees of just 0.09% per side.
eToro has a smooth, user friendly platform which makes it really simple to invest in stocks. Their biggest advantage over other stockbrokers is their social trading technology which allows novice traders to mimick the successful strategies of advanced stock traders who make money from their followers. Their trademarked  CopyTrader™ platform allows users to follow stock trades in real time, or copy entire portfolios of high-performing stock traders with one click. This is exceptional for beginners who are looking for a regulated platform to start trading.
Their CopyPortfolios™ feature can even produce a portfolio of traders and investment portfolios following a theme. You may also place your own stock buy and sell orders. If your portfolio does well, who knows, your portfolio could end up on the Editor's Choice list of traders to copy. They also a user-friendly free stock trading app  where you can get access to eToro's social feeds, price charts, technical tools and research. For beginners, eToro is the best place to learn how to buy stocks from more advanced trading peers. Day traders like the platform for its competitive fees and quick, one-click trade execution.
Markets.com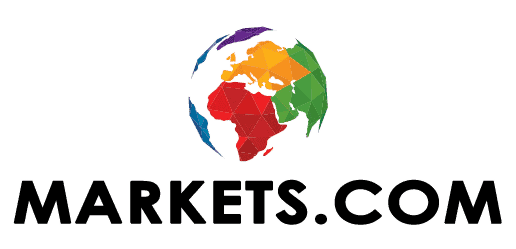 If you are new to the stock market, Markets.com is a great share broker to start with. This broker has won several customer service awards and has a well-stocked education library. You may find their pampering helpful as you learn to buy and sell shares and follow their technical analysis lessons to apply over 100 technical analysis tools available. markets.com is a division of Playtech, a gambling software company listed on the London Stock Exchange. Markets.com, itself, is licensed in Europe by CySEC, and in Africa and Australia.
The trading platform of the official online broker of the Arsenal Football Club is outfitted for the all-round retail trader. The broker offers CFDs on a good range of securities and forex pairs. No fees or commissions are charged and spreads, around 2 pips, are competitive. Signing up for a Markets.com trading account is easy and their trading interface is no frills.
Plus500

Plus500 was designed to provide the advanced trader basic trade execution tools. The fast trading speed, leverage, high order volume and risk management tools (trailing stops and guaranteed stops) the pro trader needs to buy stocks are here. The intuitive interface includes over 100 technical indicators. The trader with their own tools, stock data and news will be happy to execute on Plus500. Traders who qualify for a professional account (with a minimum portfolio value of €500k) can raise their leverage levels, for example, from 1:5 to 1:20 for stock trades. The platform was designed for traders who want to buy stocks and sell them immediately at a low cost. Active traders will like this discount platform. The beginner trader may prefer a platform with more trading support and education. No scalping is allowed on this platform and financing fees are high.
DEGIRO

DEGIRO is a low cost discount broker that does not scrimp on its stock trading options. Quite the opposite. While many of its competitors trade mostly CFDs, DEGIRO is a gateway to trade directly on 50 exchanges across 30 countries. If you want value for your money when you buy shares, this is a good place to trade. Shares cost about $2 a trade, the lowest price among discount brokers. When you trade on your domestic stock market the price is discounted further. Plus you get one free ETF trade a month. The broker is regulated by the Dutch AFM and DNB, and in many other jurisdictions around the world. A few frills are missing. Research and education tools are limited. Forex trading is not provided. But if you want to purchase stocks, this is where to shop  on stock exchanges around the globe at the best prices around.

Best Online Stockbrokers for U.S Customers
Ally Invest

Ally Invest is part of Ally Financial, the US bank that wants all of your financial services business – insurance, banking and investment – by providing low competitive pricing. Ally Invest delivers on price while still providing a fully featured trading platform to invest in stocks. There is no minimum account requirement at Ally Invest. Sign up, provide proof of identity and fund your account to start trading stocks, options and forex. Stock trades are a flat $4.95 a trade. Mutual funds are $9.95 a trade and option contracts $0.65. Over 100 commission free ETFs are also offered. This discount broker is cheap but not no frills. At no extra charge, you also receive technical indicators, charts, real time pricing data and research. For the options trader, all the basic tools are provided. An options trading bot is even provided. This option scanner makes trades based on your preset parameters. If you make at least 30 trades a quarter or maintain a daily average account balance of $100,000, the stock trading price falls to $3.95. If you do want to use broker-assisted trades, the fee is $20
ZacksTrade

Zacks Trade provides low-cost trading with the option to upgrade and access the research tools of the pros. Choose across three trading packages to build a highly customizable trading experience. A range of securities are offered for trading – stocks, ETFs, mutual funds, and bonds. Although futures and options are not offered, margin trading is allowed. The minimum balance is $2500 to start to invest in stocks. Here is the real surprise. The trading fees look like discount fees. For stocks and ETFs of more than a dollar, the fee is $0.01 per share with a $3 minimum. And here's another treat, broker-assisted fees are free.
Withdrawal fees: Investors are allowed one withdrawal from their account every month, with every withdrawal after that raking in a $1.00 fee. Subsequent withdrawals are subject to a $4.00 fee for a check and $10.00 for a wire transfer
Best online stockbrokers for Australia & New Zealand
IC Markets
The IC Markets trading platform is built for the professional forex trader who seeks super fast trading execution and low latency. CFDs can be traded on stocks on the Australian Stock Exchange, Nasdaq, and NYSE. The high volume Aussie trader who wants to execute advanced trading strategies such as hedging and scalping will like IC Markets. These customized strategies can be preprogrammed into trading bots to execute smarter and faster. Tight spreads starting at 0.4 pips and high leverage are offered.
IG Group


For traders down under in Australia or New Zealand, IG is a very established broker offering a licensed gateway to the world's stock exchanges. Trade stocks directly on the US, UK, Australian, and New Zealand markets, as well as the Asian markets next-door that Australians favour like Japan and Singapore. Basic pricing, stock profile data, and charting by Autochartist is provided for each stock. Research is slim, and includes Reuters news updates and an economic event calendar.
Best Stock Trading Website for Beginners
eToro
If someone offered you unlimited trading education and training for $200 across all trading styles and themes, would you accept the offer? Social trading is the most popular feature of trading platforms because it offers the best way to learn how to trade by copying top performing traders. You can get access to all of this trading education and intelligence for the $200 account balance and competitive fees starting at 2 pips.

eTrade

The online broker which introduced the average trader to self directed trading on the Internet still offers the best education for the beginning trader around. E*TRADE has built an extensive education library over the years, from basic trading tips to retirement planning. Daily insights is a good place to go for tips on the trading day ahead. Power E*TRADE has leveraged technology to create a training environment that puts a virtual trainer alongside you, coaching you and providing smileys when a trading opportunity looks profitable.
Best Stockbrokers for Experienced Traders
IC Markets


IC Markets provides an ECN, typically used by professional traders, across all three account types (commissions and spreads vary). The ECN allows traders to directly trade with each other, bypassing market makers who make money by widening the spread. Professional traders appreciate the low latency and execution speeds under 40 milliseconds. Over 50 banks and a dark liquidity pool provide high liquidity.
ZacksTrade
The advanced trader can choose to upgrade to the ZacksTrade Pro extensible platform. If you want a professional trader workstation setup or analyst research from the investment banks, advanced features are available for a fee. The platform offers trading bots called scanners for options, ETFs, bonds and other instruments. Sophisticated portfolio development tools with what if analyses are provided.
Best Stockbrokers for Low Fees
DEGIRO
DEGIRO's low fee trading, at about $2 a stock trade, is taking the European discount brokerage industry by storm. Impressively, for this price traders get access to direct share trading on major stock exchanges around the world. In addition, CFDs, ETFs, funds, bonds, and investment trusts are offered. Research and education resources are sparse, but at this price, you can afford to buy access to your favourite research resources, or you may make do with those freely available on the web.
Plus500
The fast trading speed, leverage, high order volume and risk management tools (trailing stops and guaranteed stops) the pro trader needs are here. The intuitive interface includes over 100 technical indicators. The trader with their own tools, stock data and news will be happy to execute on Plus500. Traders who qualify for a professional account (with a minimum portfolio value of €500k) can raise their leverage levels, for example, from 1:5 to 1:20 for stock trades. The beginner trader may prefer a platform with more trading support and education.

Best Stockbrokers for Reputation
eToro
In the popular social trading world, eToro has earned the trust of traders. Seven million traders invest and copy trades with eToro. The trading platform helps traders manage risk by rating the risk of each portfolio and a trader's overall performance on a scale of 1–6, with six being the highest risk.

IG Group
IG stands out as an LSE-listed broker that has been in business since 1974 and is licensed in major markets around the world, including in North America, Europe and Asia. The trading layout is fully customizable and includes access to over 100 indicators. Advanced features include real-time tick-by-tick charting, option analysis and backtesting.
What is a Stock Broker?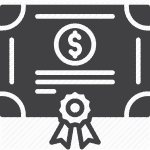 A stock broker, also known as an investment adviser or share broker in the UK, buys and sell stocks for individual and institutional investors. Companies issue stock to raise money to fund their business operations. In exchange for their investment, investors receive ownership in the form of a share certificate (a share or stock) in a company. Most stockbrokers sell other securities, including mutual funds, ETFs, indices, and bonds.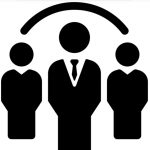 The broker is the intermediary between clients (investors) and the point of sale of the stock on a stock exchange. A stockbroker receives a license to buy and sell shares of a company after passing exams. The stockbroker works for a brokerage firm that is also registered to sell securities in the country it operates in. The broker makes money on the spread between the buy and ask price.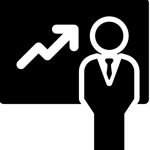 When companies 'go public' and issue stock to the public they choose which stock exchange to list their stock on. The broker has representatives licensed to directly buy and sell company stock on the exchange. Before automation in the 1980s/90s, these representatives were floor traders who worked from the floor of the stock exchanges such as the New York Stock Exchange or London Stock Exchange.

An investor, let's call him Mr. Rich, would call his stockbroker and ask to buy 100 shares of IBM. The broker would then contact his floor trader on the New York Stock Exchange and order him to buy the 100 shares. Today, the online stockbroker has replaced the floor traders with electronic order systems to facilitate trades between his clients and the stock exchanges.
How does an online stock broker work?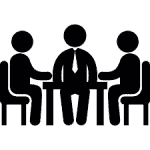 Investors can choose between a full service and discount broker. A full service broker is an investment advisor who provides advice on portfolio allocation, long-term financial planning and retirement planning. A high minimum account balance is required and high fees are charged. Fees typically include commissions and a percent of assets under management.

Most full service brokers today also offer their clients online investment accounts. In the online world, more individual investors use discount brokers than full service brokers. Mr. Rich, for example, can open up his online broker app on his mobile, call up the stock profile of  IBM, and review the stock price, trading volume, news and other information. He can then open the Trade window, and click on buy or sell to execute a trade in IBM stock.

Discount brokers allow an investor of any income level to invest in the stock market. Online brokers are always happy to upgrade clients to higher fee investment advisory services. Investors can have the best of both worlds, for a fee. They can choose from online brokers offering an online broker account with full access to an investment advisor; investment guidance over the telephone; or basic telephone, email and chat access to customer service. Fees range from high for direct investment guidance to zero for a discount broker with customer service support.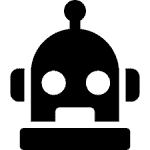 Robo-advisors combine the services of a full services broker with the prices of a discount broker. The services of evaluating your investor risk profile, suggesting the best portfolio allocation for your risk profile, and periodically rebalancing your portfolio are automated. You need only interact with your mobile phone app.
A share dealing account is used to buy and sell stocks with a view to making an investment return in the future by selling the stock at a profit and/or collecting regular dividends. Dividends are paid out of a company's profits to shareholders typically on a quarterly basis. A share is a unit of ownership in a publicly listed company. The stockholder makes a profit/loss when the share value increases/decreases relative to the price paid per share.
Stockbrokers act as intermediaries between the stock exchanges where the shares are traded and the buyers and sellers. A stockholder can also short a stock.
When a share dealing account is managed from a retirement or savings account it may be exempt from taxes on gains and losses from the sale of shares.
Conclusion
Online trading is the only way to invest for most traders. Mobile trading allows you to trade on the go and still have access to your watchlist, alerts and sentiment indicators. This review provides traders at any level the information needed to determine which stockbrokers best align with your investment style and goals. If you are a beginner or active trader, go ahead and choose a low cost broker like eToro, DEGIRO or Ally Invest. Why pay high trading fees for research and technical tools you may never use? Keep in mind that you can find professional research for free or a low monthly fee on the Internet. If you do see yourself trading alongside the pros in the future, extensible platforms that allow you to upgrade like Zacks Trade and IG Group will meet your current and long-term investment objectives. If you want the reputation and reach in the global stock markets of the big brokers like Merrill Lynch, take a closer look at IG or IC Markets.
FAQs