Apple has become the world's most valuable company by being the most innovative. The maker of consumer electronic products and services has maintained a top place in the personal PC, smartphone, tablet and now smartwatch market by providing better design, performance and features.  With this in mind, buying Apple shares is a no-brainer. But how do you go about investing in Apple? And which stockbroker offers the best rates for buying AAPL stock?
This guide will explain how to buy Apple stocks, evaluate the best Apple stockbrokers, and assess the future performance of the company by looking at how the opportunities and challenges ahead could affect Apple's stock value.
Should I invest in Apple?
From Macs to Apple watches, Apple has maintained a leading market share position in its competitive consumer electronic markets by targeting premium product sales. Through feats of design engineering led by legendary designer Sir Jony Ives, Apple has continually raised prices. Following the launch of the iPhone XS Max at $1,440 USD in 2018, some analysts are calling Apple a luxury goods maker.
After an unexpected slide in China iPhone sales in 2018, can Apple continue to innovate and grow its legendary profits? More than 50 percent of Apple sales come from the iPhone. Apple sells less than 20 percent of smartphones globally but commands almost 50 percent of premium smartphone sales ($400–600 average price). For smartphones over $800, the iPhone dominates with an 80 percent global market share. iPhone's manufacturing costs (under $300) remain competitive with those of Samsung, Huawei and other top competitors. The low production costs make Apple's fat profit margins the envy of the industry. Apple has taken home more than 60 percent of the industry's profits since 2011. Beyond the iPhone, Apple is focused on diversification.
In our last fiscal year, we had $100 billion of revenue that was not iPhone, $100 billion. And in this last quarter, if you take everything outside of iPhone, it grew at 19 percent. Nineteen percent on a huge business.
Tim Cook, Apple CEO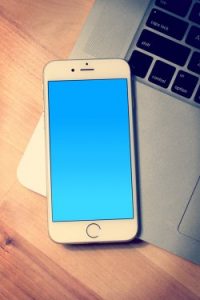 With over $230 billion in cash, Apple is well prepared for economic downturns and industry downcycles. Apple could disappoint, though, if it does not use its huge stash of cash to reward shareholders. So far, the iPhone maker has been keeping investors satisfied with dividends and stock buybacks. The company has consistently increased its dividend since 2012. When growth slowed in China in Q4 2018, Apple bought back more than 70 million in shares, boosting earnings.
iPhone sales have growing exposure to the Asia Pacific, the fastest growing region for the consumer electronics industry. The region's growing middle class want smartphones, and as they become the upwardly mobile they want iPhones. Despite the slowdown, other Apple product divisions have fared well. Sales of the iPad led by the iPad Pro, which commands 26.5 percent of the global tablet market, hit a three-year high in Q4 2018 while the average selling price rose. A slow decline in laptops in favour of tablets also supports Apple sales. This mobile device growth is driving growth for Apple's services, such as Apple Music and iTunes.
Apple Stock: Current Prices and Summary
Apple stock performance has been more volatile lately. The slowdown in China sales was not forecast but the company has lots of cash on hand to help smooth out price fluctuations through dividends and stock buybacks. The stock is also sensitive to trends impacting the consumer electronics industry and consumer technology industry, in general. Apple trades as one of the FAANG stocks – Facebook, Apple, Amazon, Netflix and Google. Long-term, the company has a strong track record of creating value. This performance is reflected in the stock's low volatility compared to that of other stocks. An investment in this tech bellwether stock should take into consideration not only demand for Apple products and services but also wider technology industry trends.
APPL price quote
| | | | |
| --- | --- | --- | --- |
| Price | $ 170.93 | Daily high | $ 171.44 |
| Volume | 18963658 | Low | $ 169.50 |
| Variation | 12:51 | Opening | $ 169.71 |
| + / -% | 00:30% | Day before | $ 170.42 |
How to Buy Apple Stocks – Tutorial
How to buy Apple stock on Markets.com
The official online broker of the Arsenal Football Club provides all the basic tools and education a retail trader requires. markets.com is owned by Playtech, a public company listed on the London Stock Exchange. Like its PlaytechOne one wallet – one account  for playing on casino, poker, sports and other gaming sites – markets.com seeks to provide quick and easy access to  a good range of investment products.  If you are ready to buy Apple shares, here are the pros and cons of markets.com.
Pros
Day traders
Demo account
Low commissions
Good quality news flow
Good set of analytical tools

 

Cons

Limited order types

 

Not many deposit options
Customer services not very effective
Unregulated broker

 

Start trading Apple stock on Markets.com

Step 1: Register your account

 

You will be prompted to download the markets.com mobile app to register. After filling in basic profile information, you will be prompted to answer a brief questionnaire on your investment experience and knowledge, as well as income and assets, to determine your trading level and leverage. 1:30 is the leverage for the average retail investor. So with a minimum $500 deposit, you can trade up to $15,000.

Step 2: Fund your account

If depositing by credit card, you will need to first have it verified. Click on Verify Credit Card on the My Account Page. 

Step 3: Verify your identity

 

Attach and submit proof of identity and a utility bill for verification. Residents of the USA, Canada, Australia, Hong Kong, Japan and some other countries are restricted. 

Step 4: Trade Apple stock

On Markets.com, you can choose to invest in Apple stock, or a wide range of ETFs and indexes with exposure to major technology stocks. Other securities include forex, cryptocurrencies (a handful of majors), bonds, blends, and grey markets in Uber and Lyft ahead of their IPOs. Trending Now displays a list of top moving stocks. 

The Apple stock profile provides basic stock price charting information and a market sentiment indicator. Place the trade by choosing the Buy or Sell button. 

How to Buy/Sell Apple CFD Stock on Plus500

Novice retail traders may find this platform lacks the trading interface, research tools and education they depend on for general guidance. The experienced trader with their own tools, stock data and news will be at home with the simple, intuitive interface and over 100 technical indicators. Traders who qualify for a professional account (with a minimum portfolio value of €500k) can raise their leverage levels, for example, from 1:5 to 1:20 for stock trades. If you are ready to trade Apple CFD shares, here are the pros and cons of Plus500.

Pros

FCA regulated
Listed on the LSE
Easy to use platform
Great mobile platform
High order volume

Cons

Experienced traders only (no fundamental data)
Only CFD trading
High financing rates

 

No scalping allowed

Start trading Apple CFD stock on Plus500

Step 1: Register your account

 

Firstly, click here to open your account. You will be prompted to download the Plus500.com mobile app to register.  Select between a Demo and Real Money account. You may sign up for a lifetime Demo account on Plus500. After filling in basic personal information, you will gain access to the unlimited demo account. Before you can use it, you will be prompted to answer a few questions to establish your trader risk profile.

Step 2: Fund your account.

When you are ready to trade with real money, fund your account. Three payment options are provided. You may be asked to verify your payment method.

Step 3: Verify your identity

 

Attach and submit proof of identity and a utility bill for verification.

Step 4: Trade Apple CFD stock

Plus500 offers a wide variety of CFDs on investment instruments, including stocks, ETFs, indexes, forex and cryptocurrencies. Geared towards the advanced investor, options are also available. Query Apple and the price quotes for the stock, as well as put and call options, appear on the screen. 

All stock information and the Buy/Sell commands are displayed on the general stock page for the serious trader who wants to execute quickly. The bottom half of the page displays the price chart and provides access to a broad selection of technical analysis indicators. 

80.6% of retail CFD accounts lose money

A Brief Overview of the History of Apple

The history of Apple from the production of the first Apple 1s by Steve Jobs and Steve Wozniak in Jobs' garage in the 1970s to the 175-acre Apple Park in Cupertino, California housing 12,000 employees is a remarkable one.  One of Apple's first programmers was Bill Gates, a student who created the personal computer operating system MS-DOS. His company Microsoft initially made money writing software for Apple's Mac before licensing the OS to IBM. As IBM and many other PC makers have entered the market, Apple has maintained a loyal following by producing consumer personal computing products with premium features and performance. By 1980 when Apple went public, the PC maker had over $100 million in sales. The IPO sold 4.2 million shares at $22 per share.

In 1985, Wozniak and Jobs left Apple and eventually the company's performance declined. The second coming of Steve Jobs in 1996 turned around the fortunes of Apple. In a historic deal, Microsoft invested $150 million in the company Gates used to program for. In August 2018, Apple was the first company to reach a market value of $1 trillion. Steve Jobs was a larger-than-life technology leader. When he resurrected Apple in 1986, some questioned whether he was an irreplaceable leader. One of his greatest achievements was putting a management team in place that has continued to deliver strong stock performance for investors.

If you want to invest in Apple stock, you will be happy to know the company that reached a market value of $1 trillion in 2018 is not overvalued according to analysts who follow the stock. The most highly valued stock in the world was trading at a price-to-earnings (P/E) ratio of 14 at the start of the new year. The consumer electronics industry, in comparison, has a P/E more than two times higher. Although the sudden plunge in Chinese iPhone sales has slowed a stock price rebound, Apple has already revamped its business stragedy to recharge growth in China. Before you buy Apple shares, read our five-year forecast for Apple and the trends driving future growth.

2019 – The China slowdown

The China slowdown matters because Apple is not selling Gucci bags. The affluent Chinese continue to buy their Gucci and LVMH bags even in recessions. Sales of Apple's premium smartphones, however, fell 19.9 percent at the end of 2018, more than double overall smartphone sales. Getting caught up in the US-China trade war – which CEO Tim Cook blames entirely for Apple's recent sales woes – is not pleasant but problems in Apple's business would have been a much worse scenario. Apple recently revised its first quarter 2019 guidance downwards. Analysts expect an earnings decline of 4.4 percent in 2019. Revenue, however, should pick up in the latter half of the year as a slew of new iPhones and iPads, and a new iPhone financing program in China are introduced.  The stock is currently undervalued. With these headwinds, modest growth in the stock price is expected.

2020 – The China comeback

More robust earnings growth of 14 percent is forecast for 2020 as strong demand for new iPhone and iPad models increase revenues. The higher margin services business, which grew in China in 2018, will be a growth engine. Services revenue, which hit a record $10 billion in the fourth quarter, is on track to double from 2016 levels this year. Higher service margins will offset tighter iPad margins. Apple will continue to provide commodity pricing for the iPad in the tablet market while transforming the iPad Pro into a high end business tool. The surprise in 2020 will be the rebound in iPhone sales in China, following the $5 billion fall in revenues "100%" due to China iPhone sales, says Cook. Mid-February, Apple announced it is partnering with Alipay to provide the Chinese with interest-free loans to buy iPhones. We expect this financing program to give revenues a boost in 2020. We forecast mid-to-high stock growth in 2020.

2021 –

 

Cyclical concerns

The economic consensus is that world economic growth will slow but be stable over the next five years. The general forecast is for modest growth in emerging markets and a slight decline in developing economies. Though Apple's revenues will be affected, Apple is partially insulated from economic and cyclical trends due to its loyal customer base, continual product innovation and high share of the less cyclical premium product market. The growing services business is less vulnerable to cyclical downturns. Consumers may delay an iPhone upgrade but will continue to consume their favourite music, videos and apps. Expect modest stock growth in 2021.

2022 – More economic woes

Modest earnings growth of 2.2 percent is forecast as the strengthening dollar and economic slowdown continue to place a drag on revenues. Apple will continue to grow free cash flow, as it has done for a decade. In a slower year, Apple can be expected to engage in stock repurchases to keep its share price up. Apple's lower priced X line will help boost developing country sales. We are already starting to see some pushback in Apple's premium pricing. The newly released XR for under $800 is a response to Apple's pricey X line of phones. Modest stock growth supported by Apple capital markets activity is forecast. 

2023 – The global rebound

 

Apple is expected to grow earnings at a rate 8.6 percent over the next five years. The major drivers for growth will be new product launches and innovation, and growth in emerging markets as the growing middle class continues its spending spree on luxury items. As economic growth rebounds, Apple will be well positioned capture sales as it lives up to its well earned reputation as an innovator in the consumer electronics space.  

Innovative design

Here are a few areas in which we expect Apple's innovativeness to shine through. Apple remains competitive in its core Mac business. MacBook Pro's and Mac Air's continue to get thinner and lighter yet more powerful, leaving the rest of the industry to copy the design.

In 2018, although Mac shipments slid slightly with those of the rest of the industry, Mac gained overall market share moving to fourth spot. Apple will maintain its leading position in the premium smartphone, tablet, and Apple Watch market by continually innovating across design, performance and functionality. What will those innovations be? Keep your eye on Apple's insider news sources for leaks on the company's tightly guarded product updates.

The most recent advances include the most advanced LCD display and a faster processor and neural engine on the XR iPhone. An Apple Watch that can sense an irregular heart beat and call an ambulance are other features beguiling Apple fans in 2019.

Our capital, our equity, is the ideas and the technologies that we are developing

.

Sir Jony Ives, Chief Design Officer, Apple

The stock price looks depressed but to Warren Buffet, the billionaire value investor who owns 5 percent of Apple stock, an economic downturn would be an attractive opportunity to accumulate Apple shares. Meanwhile, we expect Apple to continue to pay an increasing dividend over this forecast period, creating more value for shareholders.

Conclusion

So, should you buy Apple stock? Can Apple keep innovating to warrant the premium product prices that drive its legendary profits? We think that this company can, and that its engineers have only scratched the surface of what they can offer. If their products continue on this path, there is no telling what the stock price could become.

If you are ready to invest in Apple stock, we recommend doing so via a regulated online broker such as Plus500 if you're a UK customer, and Ally Invest for U.S. customers.

FAQs

What is the current dividend of Apple stock?

Apple has been paying a regular cash dividend since 2012. The current dividend is $0.73. Apple's dividend is distributed to investors quarterly.

What are key ratios for evaluating Apple stock?

Price-to-earnings (P/E) Ratio
The price-to-earnings ratio compares the stock price to the actual earnings of the company. The P/E ratio is calculated by dividing the stock price by the earnings per share (EPS). Apple's P/E is 14 versus more than 30 for its sector, consumer electronics, indicating that Apple may be undervalued.
Price-to-book (P/B) Ratio?
The price-to-book ratio measures the intrinsic value or book value of a company. The P/B is calculated by dividing the book value (assets minus liabilities) by the number of shares outstanding. Apple has a P/B of 6.86 versus 3.45 for the consumer electronics industry, indicating that Apple has a higher intrinsic value.

In which indices is the stock included?

Apple is one of the most widely held stocks by indexes, mutual funds, and ETFs. An index diversifies risk by tracking the weighted average price of a group of stocks. Apple, which joined the DJI in 2015, makes up 4.52 of its weight while IBM, which joined in 1979, equals 3.65 percent. Indexes that hold Apple include:
Dow Jones Composite Average Index (DJA)
Dow Jones Industrial Average Index (DJI)
S&P 500 Index (SPX)
S&P 100 Index (OEX)
S&P 500 Information Technology (S5INFT)

How has Apple's stock performed since Tim Cook took over in August 2011?

 When Tim Cook took over as CEO of Apple in August 2011, APPL was trading at about 50 (High regret for investors who did not buy Apple shares at this price). At the end of 2018 the stock, then trading in the 160s, had more than tripled.

Where and how can you buy Apple stock?

Online stockbrokers sell Apple stock. Markets.com and Plus500 are examples of Apple online brokers providing intuitive trading platforms that make it easy to buy and sell stocks. After signing up online, type in the APPL ticker, place your order and you will become an owner of Apple shares.