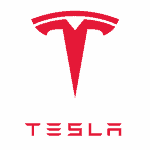 Tesla Inc. is a leading maker of electric vehicles (EVs) and solar panels. Its environmentally conscious customers – a fast-growing consumer market – are willing to pay a premium while doing good driving a zero emissions, sleek Tesla electric car. They are also loyal stockholders who buy Tesla stock even if Tesla misses production or profitability targets. As Germany, Sweden, India and other countries plan to go fully EV by 2030, will Tesla become the GM of the decarbonized economy?
This guide will explain how to buy Tesla stock, evaluate the best Tesla stockbrokers, and assess how the opportunities and challenges ahead could affect Tesla's stock value.
Should you Invest in Tesla?
Pros of buying Tesla stock
Tesla's ambitions are much bigger than the electric car. The company plans to outfit the loyal buyers of its cars and solar panels with an interconnected smart energy home. If want to invest in green consumer trends, here are a few reasons why Tesla stock is a good buy.
Market leading EV technology – The premium car maker's entry into the lower priced market, the Model 3, was the best selling EV globally in 2018. And Tesla just lowered its price. Tesla is following up with a Model Y SUV for the masses. Watch out Detroit! Ford and GM have some new competition in the truck market as Tesla introduces an all electric pickup truck. Tesla's advantage as a maker of electric cars and sports utility vehicles is market leading performance. The Tesla EV has the longest driving time, quickest acceleration, and superior fuel economy to most other EVs. With a Tesla Semi, a company could save $200,000 in fuel costs over a million miles.
Energy generation – The PowerPack energy storage battery is installed by over 100 microgrids worldwide. Tesla is the favourite car maker of environmentally conscious millennials. These green consumers spend $600 million a year. With the acquisition of SolarCity in 2016, Tesla is selling solar roofs to the green consumer. The connected green home will include an EV, EV charger, solar panels, and Powerwall lithium-ion battery storage charger. Like Daimler, Tesla could combine the solar battery storage and EV charging station.
Strong brand equity in advanced sustainable energy technology – Tesla has a loyal investor base as the first commercially viable EV maker. It has now attached its sustainable energy brand to the residential solar market by  acquiring SolarCity. CEO Elon Musk brings more value to the brand as a successful technology entrepreneur and the founder of PayPal and SpaceX – the maker of advanced rockets and spaceships that land with precision on their space pads when they return from NASA space journeys.
Cons of buying Tesla stock
Missed production targets – The challenge for Tesla has been developing the production and assembly line to keep up with orders. By the end of 2018, Tesla was making over 86,000 cars a quarter versus 6,000 quarterly five years earlier. In 2018, as Model 3 became the best selling premium car in the United States, Tesla met production orders and produced two consecutive profitable quarters.
We've basically almost doubled our fleet every year. Every year, we make as many cars as we did in all prior years. So this is … I think maybe the fastest that a complex manufactured object like a car has grown in history. Elon Musk, CEO, Tesla
Big auto is entering the market – As more countries announce a transition to all electric vehicles by 2030, auto makers will be accelerating their roll out of new EV models. Tesla is an opportunity to invest directly in the electric car market. The leader in autonomous cars Google's Waymo is putting its technology in electric cars, but the Google stock price will not reflect the EV market any time in the near future. Likewise, Nissan, Hyundai and BMW stock still reflect revenues from gas-guzzling cars.
Self-driving cars revving up – Tesla vehicles are already outfitted with autonomous driving functionality, but many self-driving cars like Google's Waymo will also vye for market share. Daimler and BMW have announced a $1 billion partnership focused on delivering mobility services with an all-electric, self-driving fleet of vehicles and EV charging stations. Like Tesla EVs, these cars will provide taxi and delivery services and charge and park autonomously.
China's BAT (Baidu, Alibaba, Ten-cent) companies have invested billions in electric and autonomous car makers in China. Investors wanting exposure to a diversified portfolio of EV companies could buy Alibaba stock. Alibaba plans to make EV cars available for test drives through vending machines.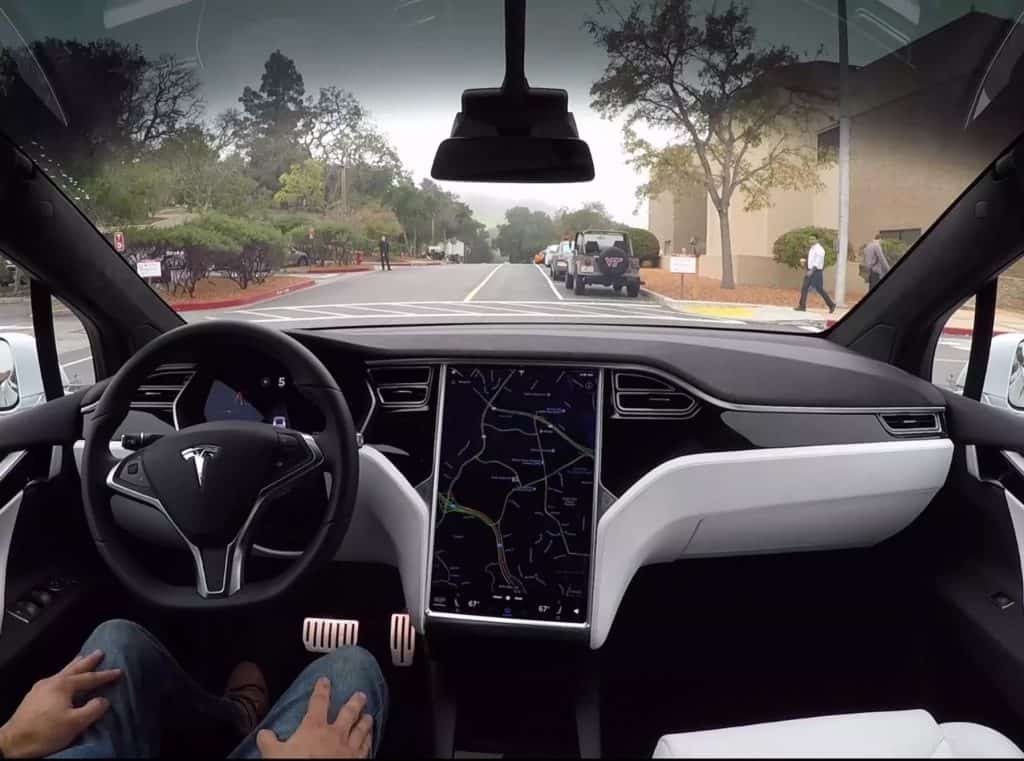 Tesla Stock : Current Prices and Summary
Tesla has something in common with Bitcoin – analysts like making very bold price predictions for Tesla shares. The consensus forecasts of analysts following the stock are more reasonable. The average one-year forecast is in the low 300s and five-year forecast the low 500s. The market is placing a high value on Tesla's EV technology and first mover advantage. At a market cap of $40.9 billion, the market values Tesla at only $7 billion less than BMW (BMW) – most likely Tesla's main competitor in the lucrative Chinese market where Tesla is building one of its lithium-ion battery gigafactories. BMW generated five times more revenue than Tesla's $21 billion in 2018.
Interestingly, $40 billion is an informal forecast of annual revenue of Apple's secretive electric car. Though 5,000 employees are said to be working on the car, Apple is smart to keep the project under wraps. The press is playing a find-and-report autonomous and EV car accident game. You can buy Apple stock without worrying about the effects of accident reports. Tesla appears to have turned the corner to longer term profitability and therefore Tesla stock will be less affected by the media and rumour mill. The company has reported two consecutive quarters of profitability and expects to continue to grow profits in 2019. Tesla's price-to-forward earnings in the fourth quarter was 67. In comparison, the forward price ratio of BMW is 6.5. Tesla's recent $1.8 billion junk bond issue rated the company near-investment grade.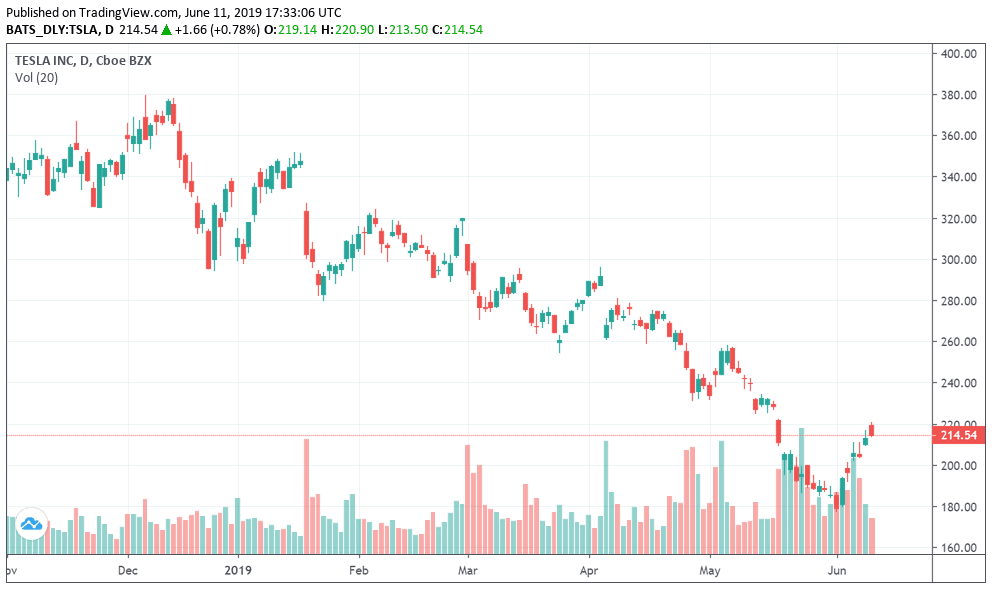 TSLA price quote
| | | | |
| --- | --- | --- | --- |
| Price | $ 170.93 | Daily high | $ 171.44 |
| Volume | 18963658 | Low | $ 169.50 |
| Variation | 12:51 | Opening | $ 169.71 |
| + / -% | 00:30% | Day before | $ 170.42 |
Best Tesla Stockbrokers
eToro

Markets.com

AllyInvest

Skilling

Pros:

Social trading leader
Copy trading available
CySec & FCA regulated
Over 6 million users worldwide
Low fees
Paypal
Large number of stocks
Quick verification

Daytraders
Demo account
Low commissions
Good quality news flow available
Good set of analytical tools

Self-directed or management portfolio investment plans
Low trading fees
Robo-avisor features
Great mobile platform
High order volume

A wide selection of currency pairs
Offers easy-to-use trading platform
Regulated by Cyprus Securities and Exchange Commission (CySEC)
Minimum initial deposit requirement – 50 EUR, GBP, USD, and 500 NOK, SEK for the Standard account


Simple process to open a real account


Offers live chat

Cons:

Limited order types
Not many deposit options
Customer service is not very effective
Unregulated broker

Experienced investors only
Account fees
High financing rates

Skilling does not offer the popular MetaTrader trading platform
Skilling offers low leverage ratio of 1:30
No ECN account


Skilling is not available for US residents


Charges additional fees such as withdrawal fees and non-trading fees


Limited payment methods



Spreads
• Spreads from 2 pips • Flat fee on withdrawal
•Fees are built into spread. • Spread cost : 0.35 • Unregulated broker
• Spreads from 2 pips
•Fees are built into spread. • Spread cost : 2 pips
Number of stocks available
4,000
2,500
1,500
N/A
Financing rate
8.9%
7.9%
13.9%
N/A
Visit broker

Visit Broker

66% of retail investor accounts lose money when trading CFDs with this provider.

You should consider whether you understand how CFDs work, and whether you can afford to take the high risk of losing your money.

Visit Broker
Visit Broker
Visit Broker
How to Buy Tesla Stocks on eToro
eToro has established itself as a reputable and trusted broker among traders since it launched in 2007. The leading online broker for social trading is regulated in several jurisdictions, including by the UK's Financial Conduct Authority (FCA). Features include social feeds, research and One Click Trading. If you are ready to buy Tesla shares, here are the pros and cons of buying on eToro.
Pros
Fast account opening process
CopyTrader™ platform
CopyPortfolios™ across an investment theme
One-click trade execution
Low fees
Low minimum deposit (200 euros)
Range of payment methods
User-friendly interface
Full BCH trading
Cons
Withdrawals can be slow
Mostly CFDs
Trade Tesla stock on eToro
Step 1: Register your account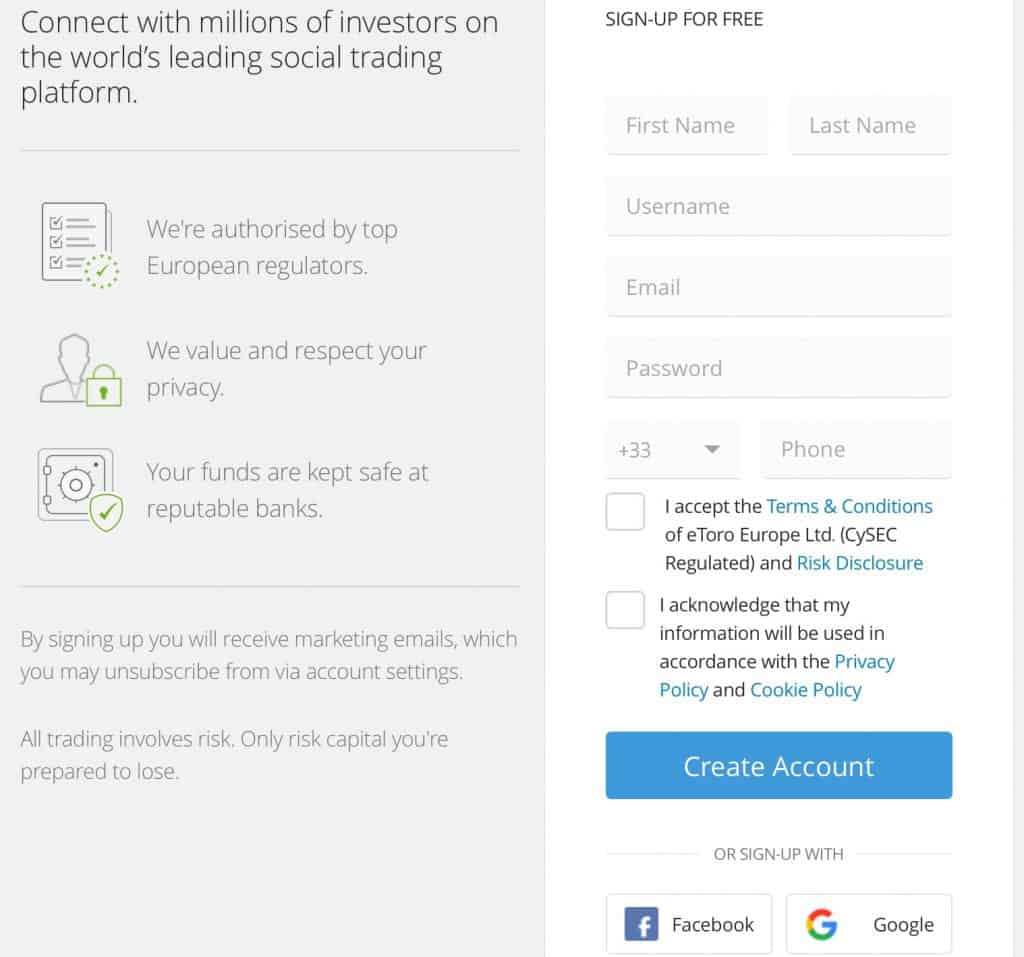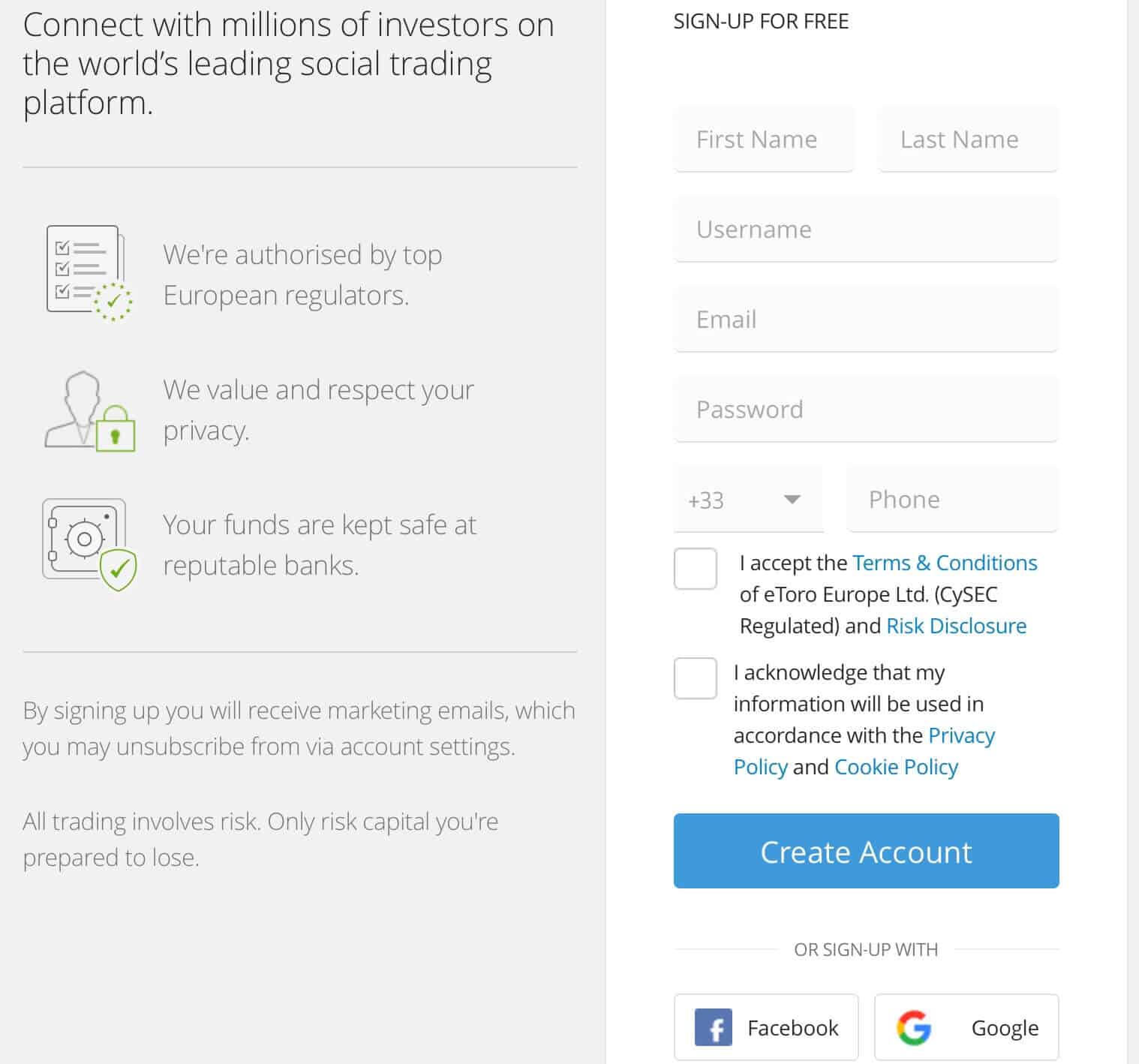 Firstly you will have to create an account on eToro by clicking here. Fill out your basic profile information. To determine your investor risk profile, you will be asked to answer a few short questions about your investment experience, knowledge and strategy, as well as your risk-return level.
Step 2: Verify your identity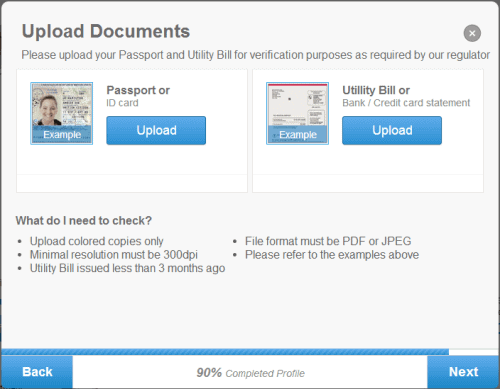 Attach and submit proof of identity for verification. US-based accounts are not accepted.
Step 3: Fund your account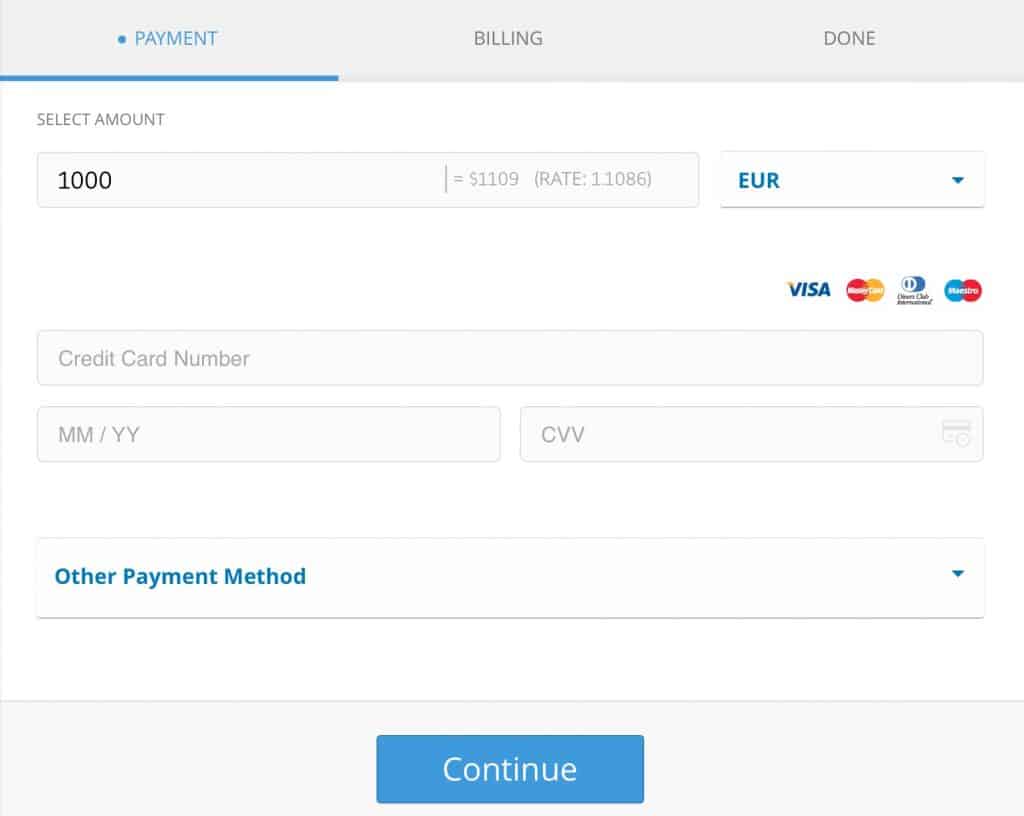 eToro provides a wide variety of payment methods. Check to see if your preferred method is available in your country.
Step 4: Trade Tesla stock
On eToro, you can invest in Tesla through traditional securities trading and social investing. eToro assigns the portfolio of every trader a risk score based on the volatility – average daily price movement – of the instruments invested in on a scale of 1–6, 6 representing the highest risk.  Here are three ways to invest in Tesla stock on the leading social trading platform.
Step 4A: Place Tesla Stock trade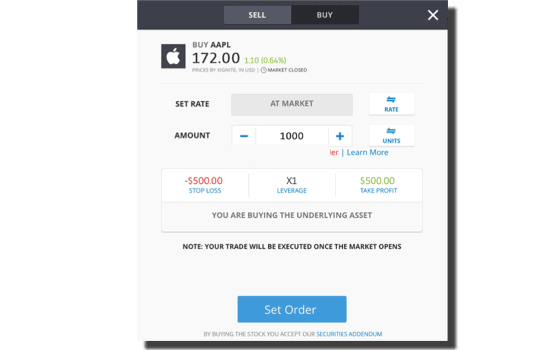 Click on Trade. Select Market (current price) or other price level you want to enter the market at. Enter the amount you want to trade and leverage (X1, X2, X5). Your Stop Loss and Take Profit levels are preset by you. You can also set up a One Click Trade option and preset the above parameters. (The Apple stock profile page provides social feeds, stats, charts and research. Social traders often provide helpful technical analysis tips and updates on how a stock is trading relative to the broader market.)
Step 4B: Place CopyTrader™ trade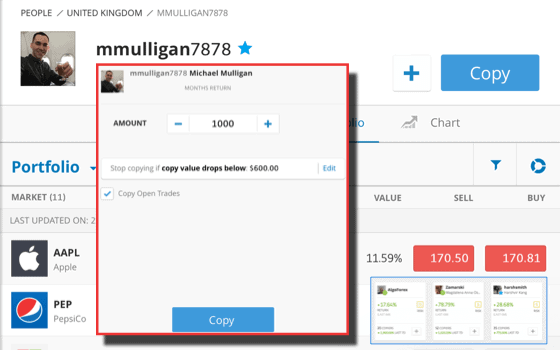 Choose from the selection of copy traders by reviewing their risk score, trading performance stats and charts, and portfolio. Check out the traders on the Editor's Choice list. Click Copy. From the copy trade box, choose the amount you want to trade and the copy trade stop limit. Press Copy.
Step 4C: Place CopyPortfolios™ trade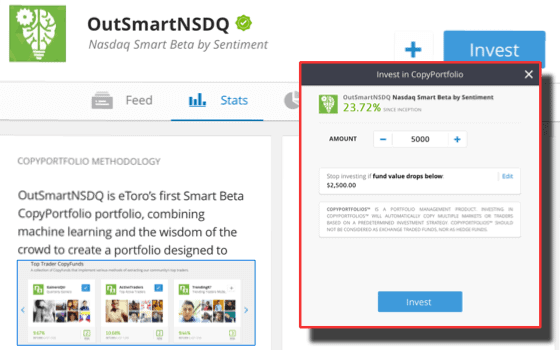 Review the portfolio's risk profile and performance. Click on Invest. From the Invest box, choose the amount you want to invest and the stop investing limit. And that's it! How easy was that? To buy Tesla stocks on eToro, click here.
How to buy Tesla stock on Markets.com
The official online broker of the Arsenal Football Club provides all the basic tools and education a retail trader requires. markets.com is owned by Playtech, a public company listed on the London Stock Exchange. Like its PlaytechOne one wallet – one account  for playing on casino, poker, sports and other gaming sites – markets.com seeks to provide quick and easy access to  a good range of investment products. If you are ready to buy Tesla shares, here are the pros and cons of buying on emarkets.com.
Pros
Day traders
Demo account
Low commissions
Good quality news flow
Good set of analytical tools
Cons
Limited order types
Not many deposit options
Customer services not very effective
Unregulated broker
Trade Tesla stock on markets.com
Step 1: Register your account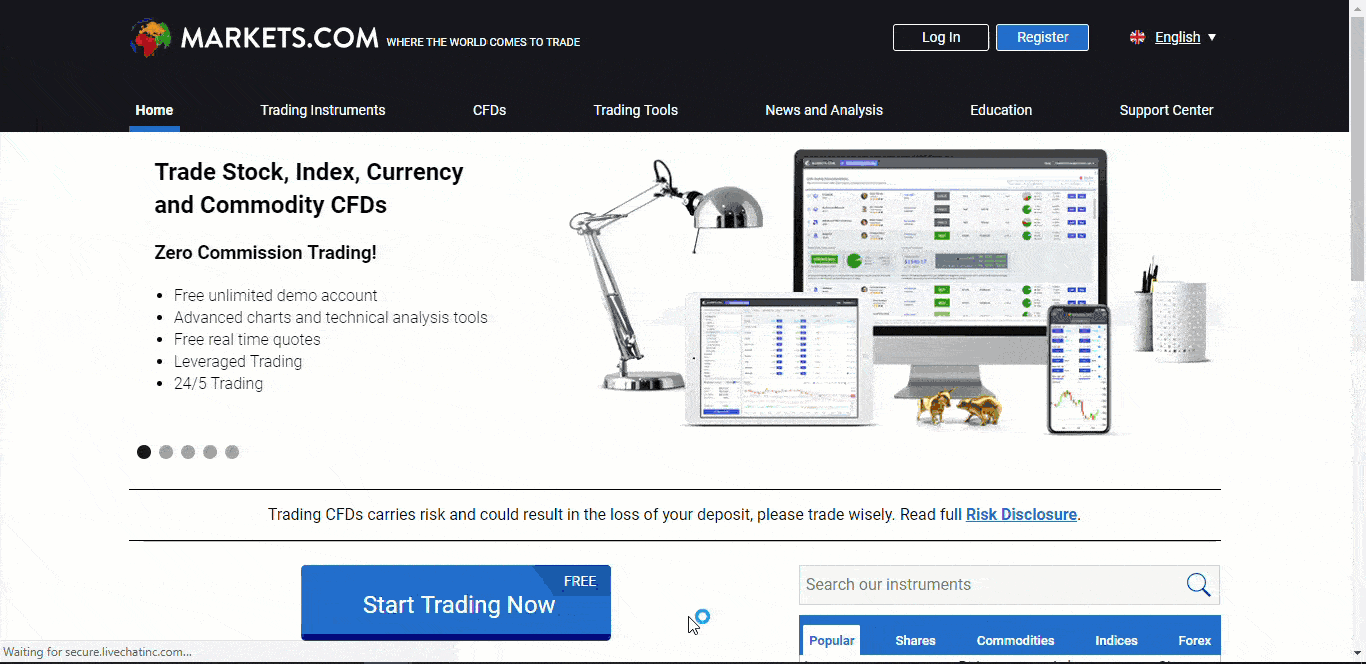 You will be prompted to download the markets.com mobile app to register. After filling in basic profile information, you will be prompted to answer a brief questionnaire on your investment experience and knowledge, as well as income and assets, to determine your trading level and leverage. 1:30 is the leverage for the average retail investor. So with a minimum $500 deposit, you can trade up to $15,000.
Step 2: Fund your account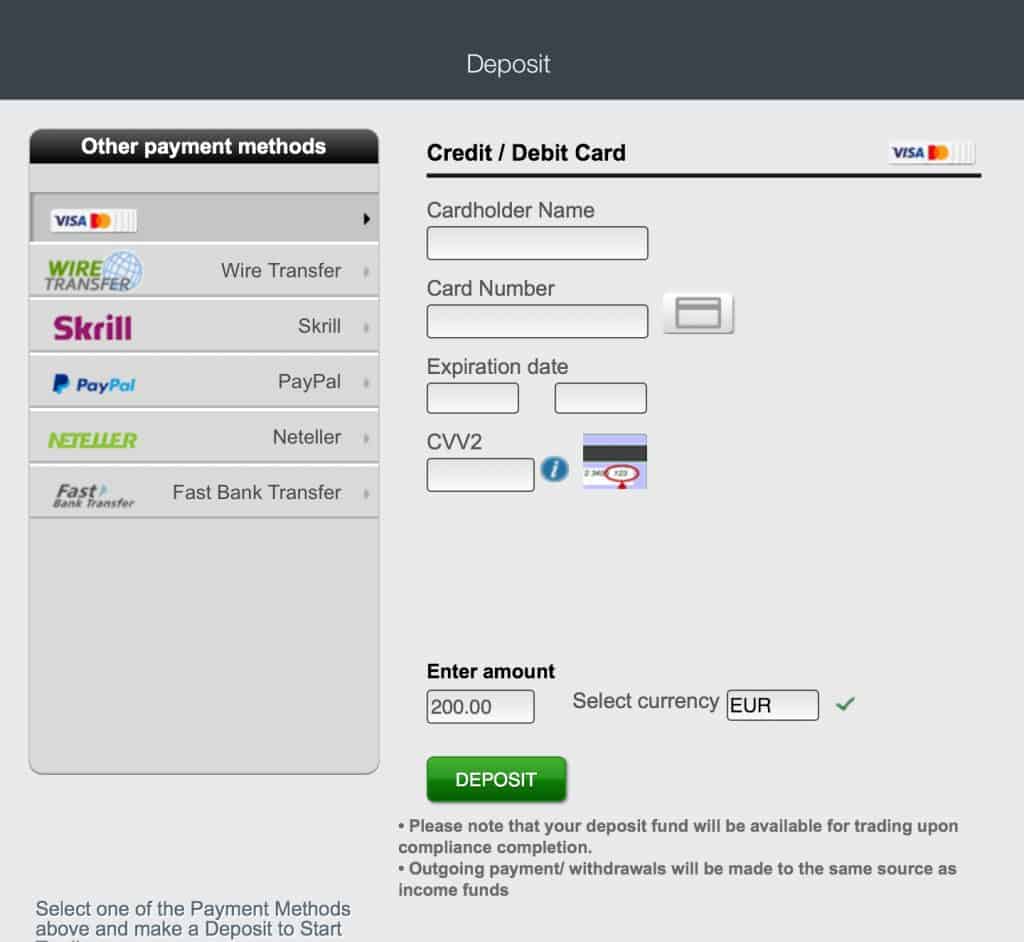 If depositing by credit card, you will need to first have it verified. Click on Verify Credit Card on the My Account Page.
Step 3: Verify your identity

Attach and submit proof of identity and a utility bill for verification. Residents of the USA, Canada, Australia, Hong Kong, Japan and some other countries are restricted.
Step 4: Trade Tesla stock
On Markets.com, you can choose to invest in Tesla stock, or a wide range of ETFs and indexes with exposure to major technology stocks. Other securities include forex, cryptocurrencies (a handful of majors), bonds, blends, and grey markets in Uber and Lyft ahead of their IPOs. Trending Now displays a list of top moving stocks.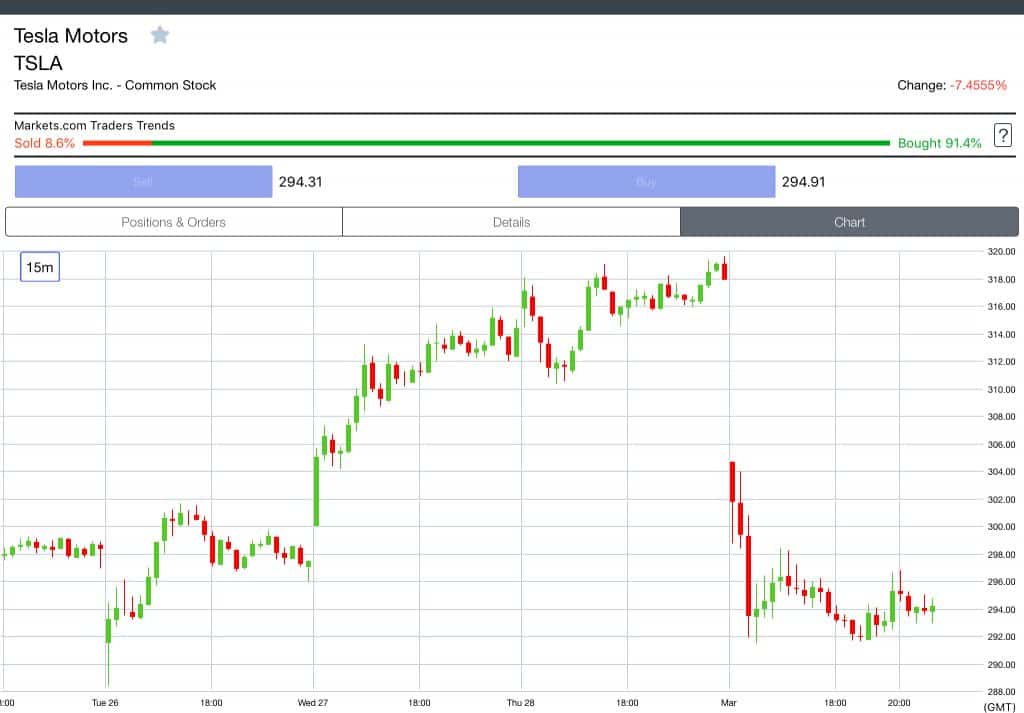 The Tesla stock profile provides basic stock price charting information and a market sentiment indicator. To buy Tesla shares, place the trade by choosing the Buy or Sell button.
How to Buy/Sell Tesla CFD Stock on Plus500
Novice retail traders may find this platform lacks the trading interface, research tools and education they depend on for general guidance. The experienced trader with their own tools, stock data and news will be at home with the simple, intuitive interface and over 100 technical indicators. Traders who qualify for a professional account (with a minimum portfolio value of €500k) can raise their leverage levels, for example, from 1:5 to 1:20 for stock trades. If you are ready to trade Tesla CFD shares, here are the pros and cons of buying on Plus500.
Pros
FCA regulated
Listed on the LSE
Easy to use platform
Great mobile platform
High order volume
Cons
Experienced traders only (no fundamental data)
Only CFD trading
High financing rates
No scalping allowed
Trade Tesla CFD stock on Plus500
Step 1: Register your account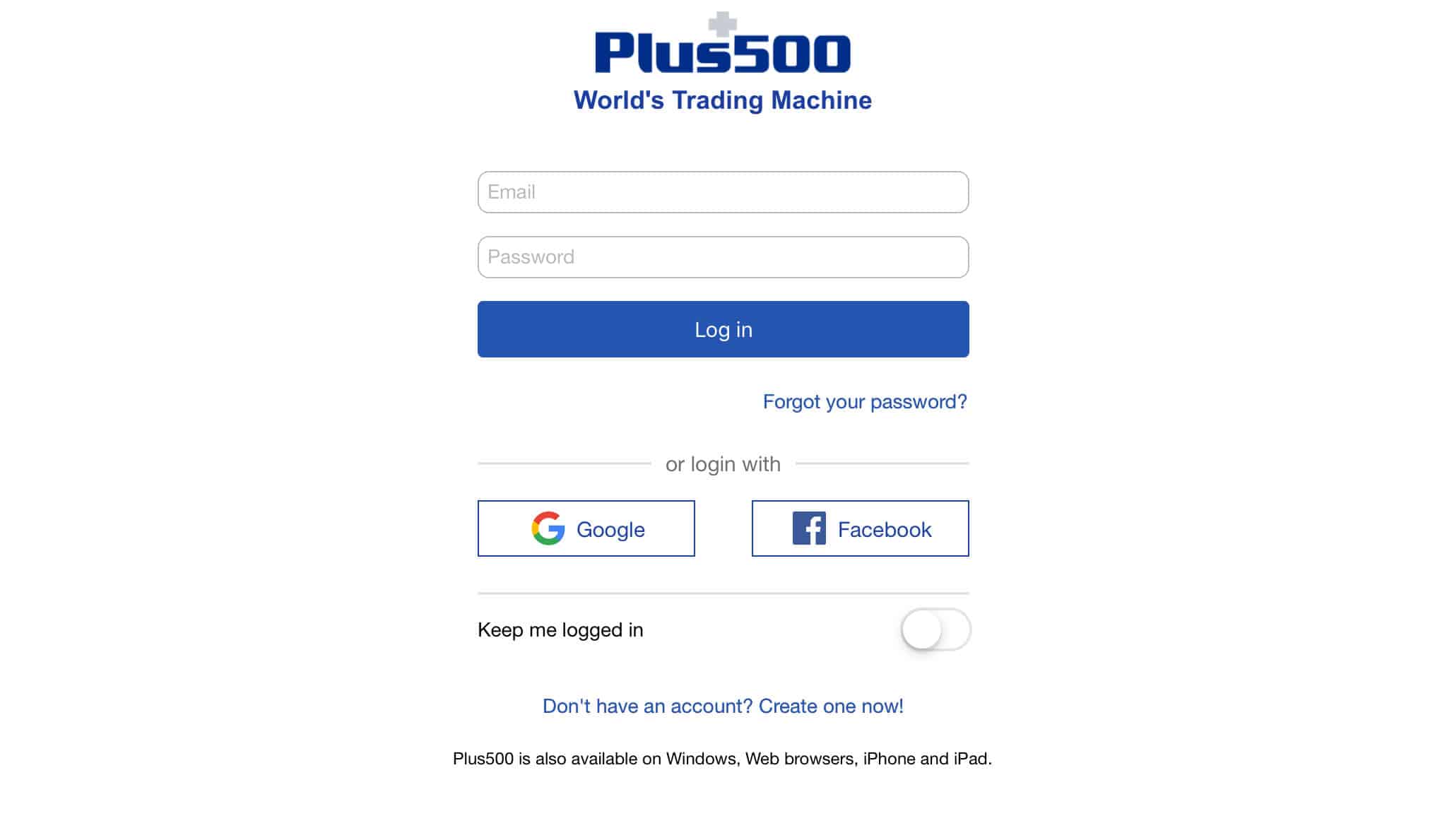 You will be prompted to download the Plus500.com mobile app to register.  Select between a Demo and Real Money account. You may sign up for a lifetime Demo account on Plus500. After filling in basic personal information, you will gain access to the unlimited demo account. Before you can use it, you will be prompted to answer a few questions to establish your trader risk profile.
Step 2: Fund your account.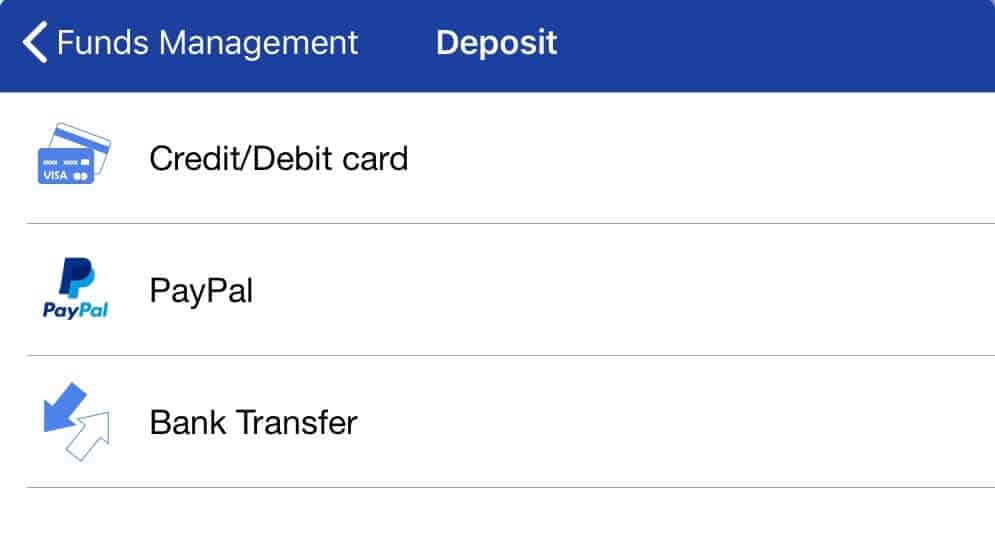 When you are ready to trade with real money, fund your account. Three payment options are provided. You may be asked to verify your payment method.
Step 3: Verify your identity
Attach and submit proof of identity and a utility bill for verification.
Step 4: Trade Tesla CFD stock
Plus500 offers a wide variety of CFDs on investment instruments, including stocks, ETFs, indexes, forex and cryptocurrencies. Geared towards the advanced investor, options are also available. Query Tesla and the price quotes for the stock, as well as put and call options, appear on the screen.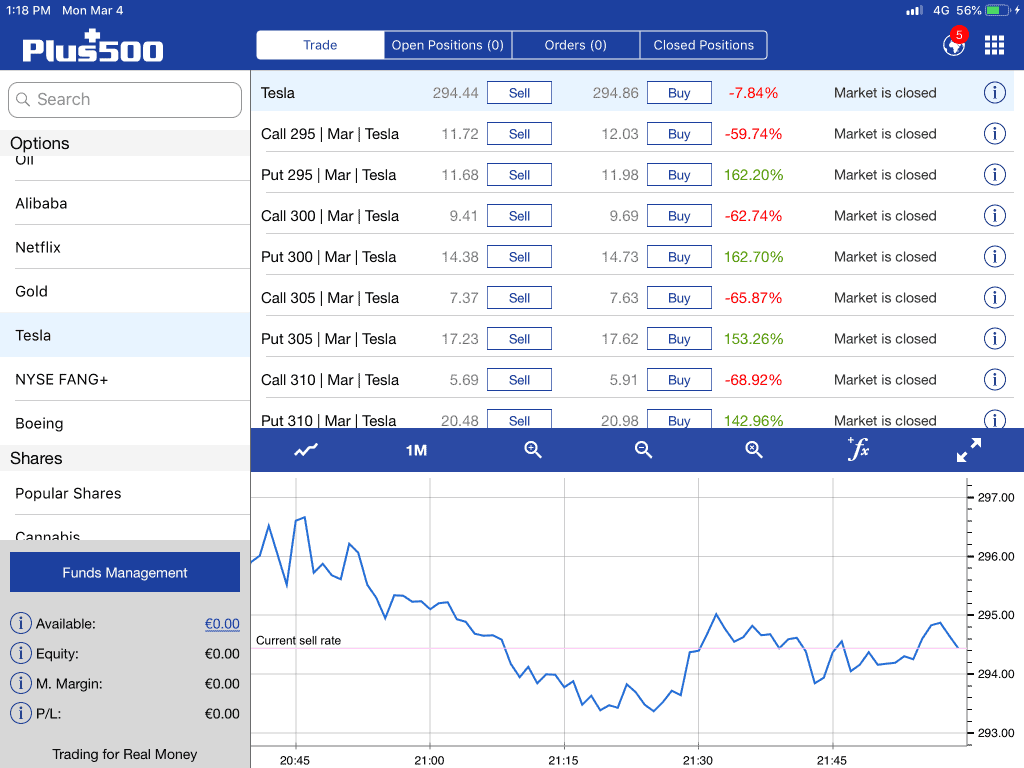 All stock information and the Buy/Sell commands are displayed on the general stock page for the serious trader who wants to execute quickly. The bottom half of the page displays the price chart and provides access to a broad selection of technical analysis indicators. To trade Tesla's shares, click on Buy.
80.6% of retail CFD accounts lose money
A Brief Overview of the History of Tesla
In 2003, as General Motors was pulling its electric vehicle from the market, two engineers Martin Eberhard and Marc Tarpening started Tesla Motors. In 2004, Elon Musk and two other co-founders joined the company when they participated in a funding round. Tesla stock became a market darling when the company proved that electric vehicle technology was commercially viable. Tesla set new standards for electric vehicle driving range, fuel economy and acceleration time. Tesla went public in June 2010 at $17 per share raising $224 million.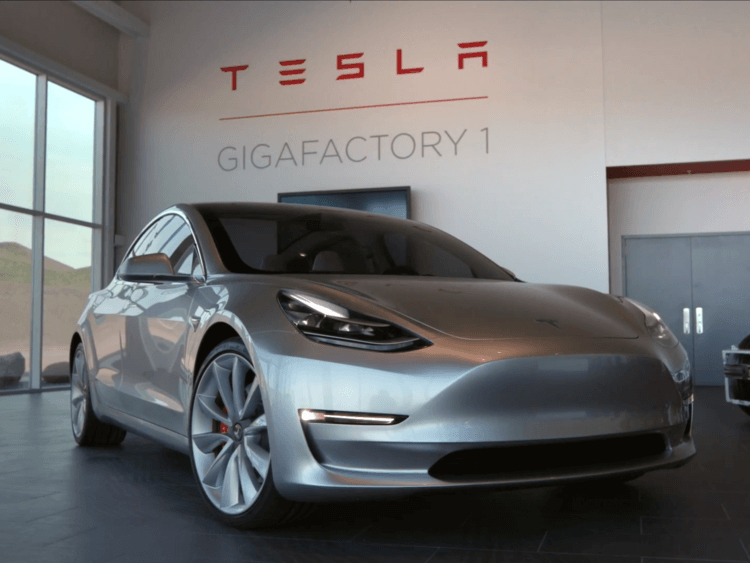 The Tesla Roadster was introduced in 2008, followed by the Model S sedan, Model X sport utility vehicle, the Model 3 low-priced EV, and the Tesla Semi. In 2016, Tesla bought SolarCity – a company in which Musk was an investor, as part of its sustainable energy ecosystem strategy. Solar panels and roof tiles are built at Tesla's Gigafactory.
The investor choosing to buy Tesla stock today will be investing in the transition from CO2-emitting gas and diesel vehicles to clean electric cars. As noted above, the market is placing a high value on Tesla's market potential in the new EV world.
2019 – Model 3 rollout
Model 3 continues its global roll out into Europe and China with a newly reduced price. Tesla expects deliveries to increase 55 percent in 2019. The first quarter will be the challenge, as some analysts expect an earnings decline before Model 3 sales pick up, ending the year with three profitable quarters. If Tesla earnings surprise on the upside in Q1, the stock will be rewarded. The outlook for Tesla stock is median-to-high.
2020 – Model Y for the masses
In 2020, millennials will spend $1.4 trillion, one-third of all retail spending. This is good news for their preferred car brand, Tesla. Tesla is introducing new models that will appeal to the thriftier spending millennial. Tesla's $35,000 car, Model Y, to be introduced in 2019 will compete with new EV competitors. High sales are expected for the SUV Model Y for the masses recently announced. Tesla's $88,000 SUV, which cuts out the mid-market, will appeal to the higher net worth millennials who are expanding their families.
The outlook for Tesla stock is median-to-high.
2021 – Big auto competition
By 2021, many of the major car makers will have entered mass production of EVs. The Audi eTron, BMW i3, Jaguar I-PACE, and Mercedes EQC will all be competitors on the high end. BMW is currently filling 2000 jobs. GE and Daimler are also making trucks. Tesla will also be selling these electric car buyers its home energy system. The millennial home will have a solar roof, energy storage, electric car and EV car charger. As EVs take over the auto market, Tesla will be treated as a grown up auto manufacturer rather than a way to invest in tech stocks. Median stock growth is forecast.
2022 – Big production plans
Bold stock forecasts are being made for Tesla from 2022 and beyond. Tesla plans to build out four Gigafactories by 2025 in preparation for the all electric vehicle market. G3 in Europe and G4 in China will be underway. Competition will be intense against Chinese EV makers, which are already main competitors. Though Tesla surprised the market by selling 60 percent more lower priced cars than its nearest Chinese competitor in 2018. Alibaba stock may be a partial play on the EV market by 2022. Low-to-median growth is forecast.
2023 – Ramp up for 100% EV markets
By 2030, Germany, Sweden and India plan to convert to all electric vehicles. Investors who invest in Tesla stock and the EV industry early could benefit as electric car sales replace the gas guzzlers. This transition will require a significant ramp up in EV production. As the first mover and incumbent electric car maker, Tesla will see strong sales growth. Over the next seven years, EV production will surpass that of the gas-guzzling vehicle market. High-to-median stock growth is forecast.
Conclusion
Should you buy Tesla stock? Can Tesla continue to develop electric cars with the best performance in the market and remain profitable? In 2018, Tesla's research and development costs as a percent of sales were falling, but the company has not compromised on performance. The best selling luxury car worldwide in 2018, the Model 3, was second in fuel economy only to the Hyundai Ioniq while delivering the smooth ride, speed  and acceleration of Tesla's higher priced models. We think Tesla can continue to produce top performing EVs at competitive prices for both the premium and mid-price market.
If you want to buy stock, we recommend doing so via a regulated online broker such as eToro if you're a UK customer, or Ally Invest for U.S. customers.
FAQs
Can I invest in Tesla through an ETF?
Exchange traded funds (ETFs) offer a way to lower the risk of investing in the electric vehicle sector by buying shares in a portfolio of EV companies. Investing in ETFs is also cheaper than investing in individual stocks. ETFs providing exposure to the electric vehicle sector include:
Clean Edge Green Energy Index Fund (QCLN) – Tesla is a top holding
VanEck Vectors Global Alt Energy ETF (GEX) – Tesla is a top holding
Global X Lithium (LIT) – Tesla is a top holding among these lithium ion battery makers and suppliers

Is Tesla's investment in the residential solar business profitable?
Tesla bought SolarCity for $2.6 billion in November 2016. Elon Musk , who served as chairman of SolarCity, owned 22 percent of the stock. Tesla's plans are to make the maker of home solar panels and roofs profitable by cutting costs and leveraging the synergies with its core EV business. Both sell to the environmentally conscious millennial market. Together with Tesla Powerwall and Powerpack products, the electric car and home solar products are part of Tesla's sustainable energy ecosystem.

Is Tesla in the space and hyperloop businesses?
Tesla CEO Leon Musk is a serial entrepreneur who has several companies, besides Tesla. He has taken three companies to a market value of more than $1 billion – Tesla, PayPal, and SpaceX.  SpaceX makes advanced spaceships and rockets that deliver supplies to NASA space stations. Its plan to one day create a human colony on Mars is also separate from Tesla's business. The hyper loop venture, called the Boring Company, is an underground rapid transit system that transports vehicles under and between cities to avoid traffic and reduce travel time.

Are Tesla EVs self-driving cars?
All Tesla cars are built with fully functionality self-driving hardware, although this function is not currently activated in the vehicles. In the future, the Summon feature – controllable with a smartphone app – will find you a parking spot and drive to your front door to pick you up.

Where and how can you buy Tesla stock?
You can buy Tesla shares from online stockbrokers. eToro and Plus500 are examples of Tesla online brokers providing intuitive trading platforms that make it easy to buy and sell stocks. After signing up online, type in the TSLA ticker, place your order and you will become an owner of Tesla shares.