Deliveroo, the third largest food delivery service in Europe, is expanding its delivery platform. Europe's 155 million food app users can now ask their Deliveroo driver to pick up their groceries and household items. The broader delivery menu is increasing revenues per driver and edges this Deloitte Technology Fast 50 company closer to profitability.
If you want to invest in a rapidly growing company as it expands its services and geographical footprint, this guide will explain how to buy Deliveroo stock, evaluate the best Deliveroo stockbrokers, and assess how Amazon's (find out how to buy Amazon Stocks here) large investment in the food delivery service will contribute to growth going forward.
Where to Buy Deliveroo Stock
Deliveroo has announced plans to do an initial public offering (IPO). With more of its competitors launching IPOs this year, Deliveroo's own IPO is likely to follow close behind. Following are the steps to trade Deliveroo stock once the company goes public. Once the IPO is announced, we also include tips on how you can invest in pre-IPO Deliveroo shares and the IPO.
In order to buy shares in Deliveroo, you will need to create a stock account with one of the brokers below. For non-US customers, check out our eToro review. If you're inside the US or Canada, opt for Stash Invest.
eToro has been leading the social trading revolution since 2007. You have several options to participate in popular copy trading via CopyTrader or CopyPortfolios and gain an investment advantage as you buy your first Deliveroo stocks. With copy trading, you can copy the position of other traders who have Deliveroo stocks in their portfolio. The 'copying' is done by linking your profile to another trader in one click. If you want to build your own portfolio, you may buy stocks and ETFs outright or with leverage.
And if you are ready to improve your trading skills, eToro is dedicated to helping you learn and grow into a trading pro. When you purchase any stock, research, news and social trading tips can give you an upper hand. Fellow Deliveroo stock traders share trading strategies, tips and news. The platform further offers a wide array of trading tools and comprehensive courses to develop as a trader. eToro also throws in a free demo account loaded with $100,000 practice money. eToro does not charge trading commissions. This broker makes money on the spreads (not charged on unleveraged stock and ETF trades), which are low. The spread on Apple (AAPL), for example, is 0.18%. Regulated in multiple jurisdictions, eToro has a license from ASIC, CySEC, and the FCA. SSL encryption protects your information while your funds are safe in tier 1 European banks.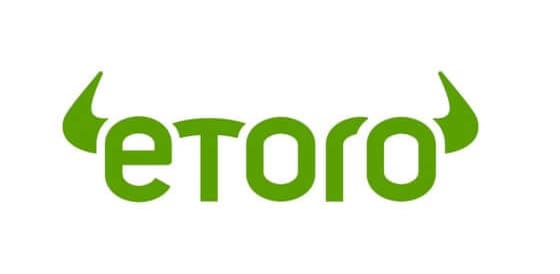 Simple and intuitive web and mobile platform
An unlimited demo account
Social trading
Withdrawal, inactivity and overnight fees
Service limited to 39 US states
If you are new to investing, Stash Invest will set you up with a bank and brokerage account for $1 a month. This simple app is always working hard to make you money. Idle cash in your broker account automatically transfers into your interest-earning savings account. As you shop with your Stash debit card, you can earn stock back. How so? Stash lets you buy stock as fractional shares for as little as $5. Retirement plans are available through the Growth plan ($3/month). The Stash+ plan ($9/month) also provides a cash back Metal card and higher stock back rewards.
Stash Invest provides a choice of 450 stocks and ETFs. Or choose funds from its Portfolio Builder based on a Conservative, Moderate or Aggressive investment profile. You can choose to invest from $5–$50 in six globally diversified funds. Stash Invest is committed to supporting your long-term investment goals. Investment lessons and guidance are available to accompany you on your investment journey.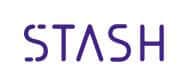 $0 minimum balance $5 on Portfolio Builder
Allows fractional stock purchases
$1 monthly fee
Lower number of shares in comparison to other brokers
$9 a month to unlock the complete features
Should I Buy Deliveroo Stock? Points to Consider
Before deciding whether Deliveroo stock is a buy or sell, you should consider the company fundamentals, along with historic price movements and forecasts.
1. Deliveroo's business model
From High Street favorites to Michelin-starred chefs and Deliveroo Editions, Deliveroo's menu provides a wide variety of original choices. These premium menus are how Deliveroo differentiates itself from its competitors.
Like other food courier apps, on Deliveroo, users can peruse menus across a large number of restaurants and order food for home delivery. Delivery Editions, a remote "cloud" kitchen that serves as a hub for restaurants, which could be located anywhere, is one way it improves its value proposition. Where else could you order your favorite dish from a New York restaurant and have it delivered to your Chelsea, UK doorstep in 30 minutes?
Deliveroo has added a number of new services over the last year to increase and diversify its revenues.
Deliveroo Grocery Delivery – Initially launched to meet the demand during the coronavirus confinement, Deliveroo Essentials delivers everything from toiletries and canned goods to dog food. Deliveroo's first major grocery partner is Marks and Spencer.
Deliveroo Food Procurement – Launched in 2019, Deliveroo aggregates restaurant ingredients and supplies and sells them to restaurants, which save 20–40 percent on average on their supply bills.
Marketplace+ – Like Just Eat, this service provides on demand food ordering but delivery is made by the restaurant's own fleet.
Virtual Restaurants – Virtual restaurants allow restaurants to produce new menus and market them under a new brand name. In the last year alone, 1,200 UK virtual brands joined the 4,500 virtual brands hosted on Deliveroo worldwide. These new brands are generating 88 percent more revenues.
Deliveroo for Business – Over 10,000 companies worldwide are signed up to offer food delivery as a company perk for employers, including Facebook.
Deliveroo's new business model will help insulate it from economic downturns and contribute to steadier revenue growth. Since eating at restaurants is a discretionary, non-necessary expense, restaurant sales typically decline during economic recessions. Groceries and household goods, however, are necessary items in good times and bad. These new defensive business lines will help offset any sales declines in the core food delivery business.
2. Growth story
Deliveroo, one of Europe's most popular food delivery apps, is quickly growing revenues and expanding global market share. Deliveroo delivers food in over 500 cities in 14 countries across Europe, Asia and the Middle East. This fast growth landed it at the top of the Deloitte Technology Fast 50 in 2018 with market-beating 15,749 percent growth.
In 2021, Deliveroo is on track to deliver another stellar year of growth. There is an unsung hero of the global coronavirus pandemic—food delivery apps. Since the coronovirus confinement, Deliveroo has added 3,000 new restaurants in the UK alone to its 80,000 restaurants worldwide. The Deliveroo app was downloaded more than 1.5 million times in March, three times the February rate.
The global expansion is expensive, but Deliveroo is moving closer to profitability as its curated menu pleases palates worldwide. The food courier first hit the Deloitte Fast 50 in 2017, registering an astounding 107,117 percent growth rate in four years. As the business matures, Deliveroo revenue growth has slowed over the last two years but is still growing at a healthy clip. Revenues grew about 83 percent in 2019 to an estimated $700 million (actual company figures not available). Losses continue to grow but at a slower pace. The loss margin (percent of revenues) on a loss of $284 million was 48 percent in 2018 versus 71 percent in 2017.
3. Deliveroo stock forecast and company valuation
Deliveroo has raised $1.5 billion from private investors. The most recent funding round led by Amazon was for $575 million. This capital infusion gave Deliveroo an estimated value of $4 billion, giving it a high valuation-to-equity ratio of 2.7
Though based on estimated 2019 revenues of $700 million, Deliveroo appears undervalued at 5.7 times revenues compared to competitors. The newly merged Just Eat Takeaway (TKWY) has a market capitalization of $4.3 billion and 2019 revenues of $415 million, valuing it at 10.4 x revenues. Delivery Hero has a 9x revenue multiple ($13.6 billion $1.5 billion).
As Deliveroo launches in new global markets, competition is intensifying at home and abroad. In the UK and Ireland, UberEats has lowered fees charged to restaurants from 35 to 30 percent, in line with Deliveroo's. Over the next four years, the European food delivery market is expected to grow at a compound annual growth rate of 7.2% to $34.3 billion. We expect Deliveroo's product line expansion to provide an added boost to its growth with particularly strong growth from the new Deliveroo Food Procurement business, and grocery and household item delivery.
Households can save by having meals, groceries and household items packaged in one delivery. By increasing revenues per order, Deliveroo can substantially improve its margins per order. Currently Deliveroo makes about €10 on a €30 order for earnings of €4 after delivery and marketing expenses (priordata).
4. Deliveroo's competitive advantages
The idea for Deliveroo was incubated by a US investment banker Will Shu working long hours as an investment banker at Morgan Stanley in London. Frustrated by the lack of takeout options, he teamed up with friend and software engineer Greg Orlowski to launch Deliveroo in 2013. Shu, himself, served as the first delivery driver, while conducting market analysis on delivery routes, delivery times, and so forth. After expanding across Europe in two years, in 2015, Deliveroo began its global market expansion and currently operates in Europe, Asia and the Middle East.
Deliveroo has carved out a niche as a premium food delivery service. A glance at the menu and you can see the difference. You will not see the traditional fast food chains, but instead a selection of restaurants curated by Deliveroo's smart algorithms. The hyper local approach means rather than choosing from the menu of a large food chain, you are equally likely to find your favorite ice cream shop or breakfast cafe on the menu.
Deliveroo has taken on the competition head on by offering a guaranteed 30-minute delivery time. Riders make deliveries on bikes and scooters, including a fleet of electric scooters. In March 2021, Deliveroo made a £25,000 investment in a drone startup started by a Deliveroo rider. Drones could resolve a major expense for food delivery services—fierce competition for delivery riders and rising recruitment and retention costs. Deliveroo pays about £5 per delivery in rider costs.
How to Buy Deliveroo Stock from eToro
So when can you invest in Deliveroo stock? Market speculation is that Deliveroo is planning an IPO in 2021. Since 2014, competitors Just Eat, GrubHub, Delivery Hero, Takeaway and Uber have done IPOs. DoorDash is preparing for an IPO and Deliveroo could follow.
But once Deliveroo finally announces the date of its long-awaited IPO, how can you invest? And are you eligible to invest in the IPO?
Below we have provided the steps on how to invest in Deliveroo after the company has gone public through an initial public offering. We use competitor Takeaway in the example, since it is a publicly traded stock.
Assuming you have a funded account, below are the simple steps to take to invest in Deliveroo with stock trading apps.
Step 1: Search for Deliveroo Stock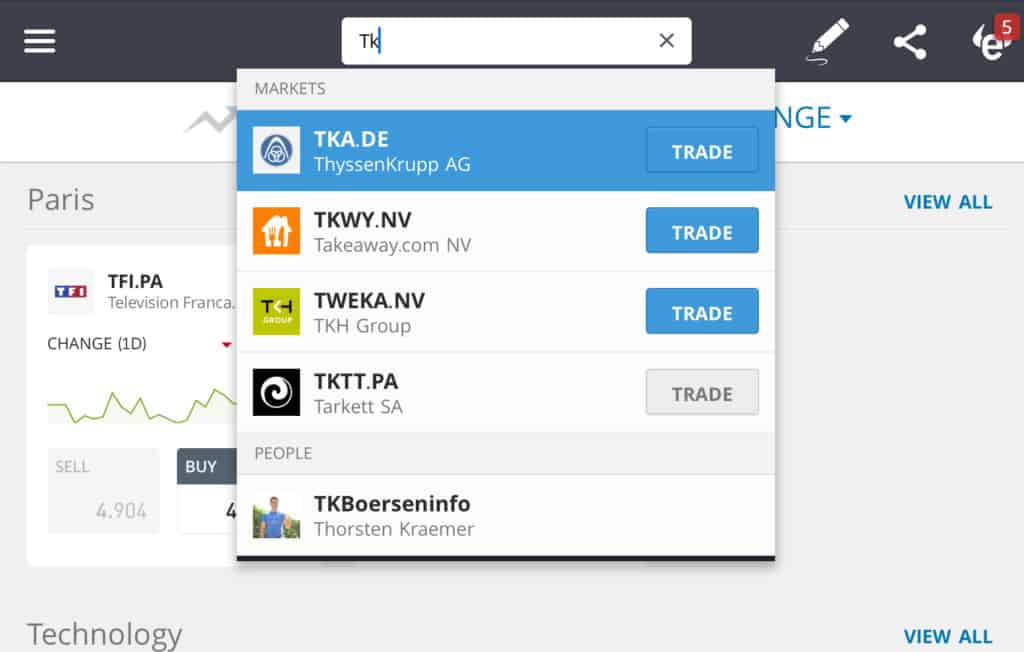 Step 2: Click on Set Order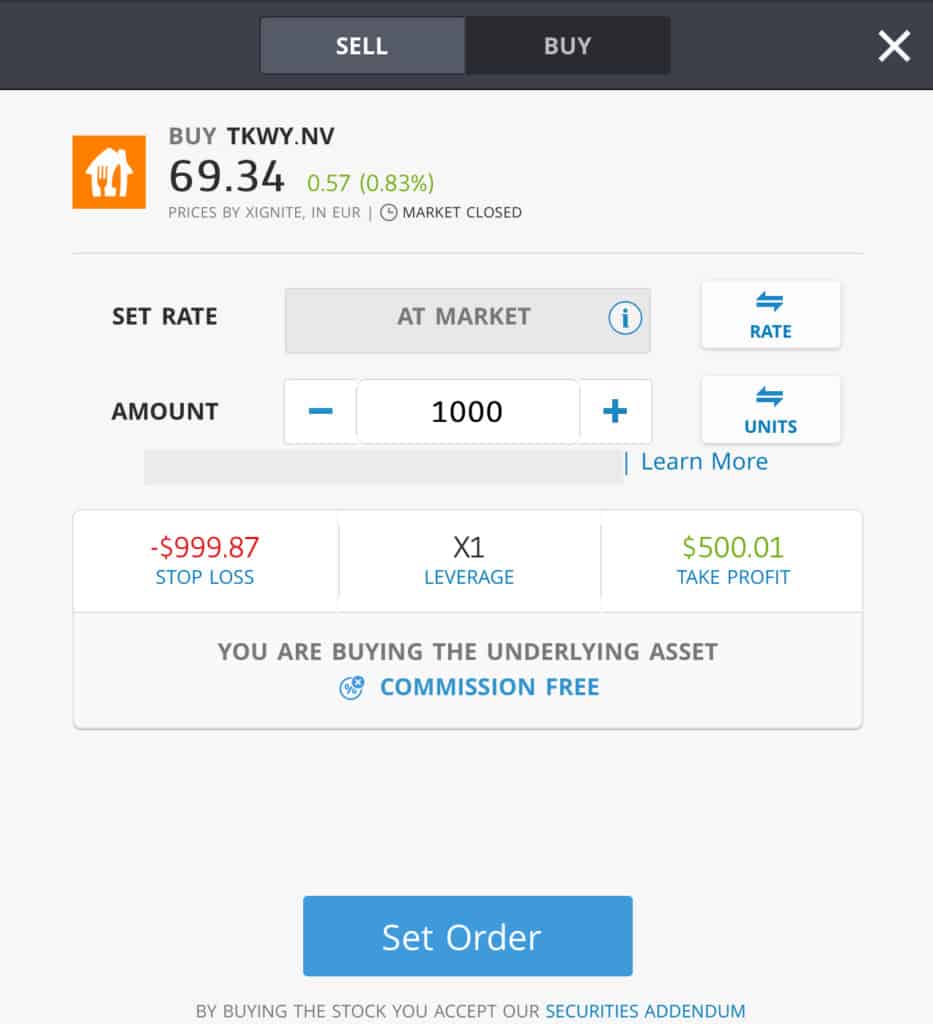 Step 3: Specify 'Buy'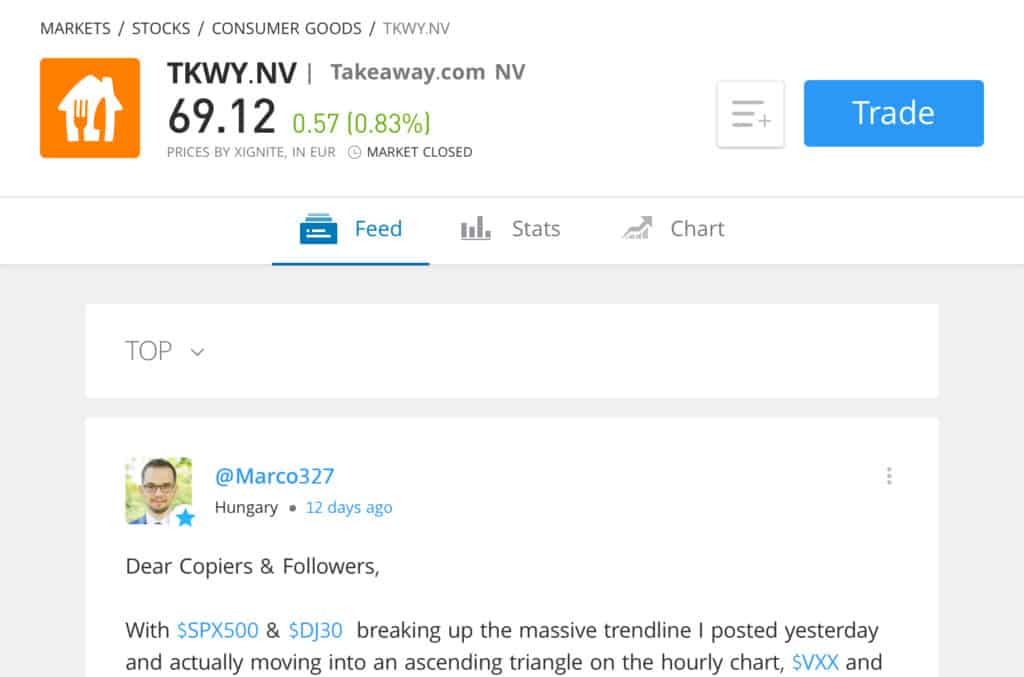 Specify 'Buy' on the top tab, change the leverage to X1 to purchase real stock and proceed to set your order. At the time of this purchase the market was closed and it was a weekend (as seen on screenshot two above). As such, there was an extra fee for the convenience of trading outside normal hours. And if at this point you haven't put money into your account, you'll be prompted to do so.
Investing in Deliveroo Shares – Final Thoughts
Competition in the core on demand food delivery business remains intense but is streamlining into fewer rivals with differentiated market niches. Deliveroo has differentiated itself by offering premium restaurant menus, and more recently adding grocery and household items. With the addition of procurement , delivery outsourcing and other restaurant services, Deliveroo is diversifying into a stronger more formidable competitor.
If you want to be an early investor in Deliveroo stock, keep an eye open for the IPO announcement. Several broker websites offer the option to sign up for news on a Deliveroo IPO. If you want to get in early, sign up with brokers that offer grey markets in pre-IPO shares. Other on demand online services companies, including Uber and Lyft, were actively traded in pre-IPO markets before their IPOs. Or you may invest in the IPO directly. Buying Deliveroo IPO shares could be an opportunity to purchase the shares at a lower price before they are bid up in the market. Of course, there is also the risk that they could trade lower after the IPO. Alternatively, you can wait and invest after the IPO by following our how to buy Deliveroo stock guide above.
FAQ
What are the profit margins of the food delivery business?
Online food aggregators that provide a choice of restaurants online but the restaurant takes care of delivery (Just Eat Takeaway) have margins in the 50 percent range. Food ordering apps like Deliveroo, Uber Eats and GrubHub that also provide the delivery service have margins in the 30 percent range (McKinsey).