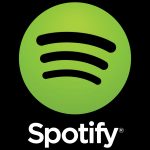 With access to over 200 million music fans on Spotify, the route to promoting your singing career no longer has to be through the local bar circuit or major record labels. Music lovers enjoy their favourite music on the most popular streaming music app in 78 countries around the world. As the music industry transitions to a streaming model, Spotify is becoming profitable by helping independent labels and artists thrive.
This guide looks at how to assess Spotify's future growth opportunities, value Spotify stock, and find the best Spotify stock brokers as the audio streamer expands its market share with more original content.
Should you invest in Spotify?
As the music industry moves to a streaming model, is it a good time to invest in Spotify – the leading streamer of music and podcasts? Spotify's goal is to develop the platform that will let one million artists live off their music. Beyond supporting the independent music scene, more independent and original content will reduce Spotify's dependence on the big record labels.
As long as Spotify does not own the rights to the catolog of songs it streams, it must pay royalties to the music studios. Like video streaming service Netflix, Spotify is finding itself held hostage to increasing licensing fees. But rather than watch its profitability erode, the largest streamer of movies and TV programs starting producing original shows, and gave investors a reason to buy Netflix stocks again.
Spotify is following Netflix into original and indie content.
Pros of buying Spotify stock
Low content development costs
An important difference is Netflix paid $13 billion to develop new movies and shows in 2018. Most of Spotify's original content is developed by the users, themselves. Spotify has bought the largest production house for making podcasts, Gimlet, which adds a roster of narrative, interviews and sponsored podcasts (by Virgin Atlantic, Tinder, and Lyft, for example) to Spotify's dozen or so exclusive shows.
Growing global subscribership
Spotify is the world's leading music and podcast streaming service. After adding more than a dozen new countries in the Middle East and North Africa at the end of 2018, over 200 million active monthly users in 78 countries use the service.
Increasing user engagement
Adding podcast services is one way Spotify is increasing user engagement. Spotify's podcast listeners are twice as engaged on the service as music-only listeners. Paid subscribers are spending 25 percent more time listening to the growing library of independent music content. Additionally, Spotify has invested in technology to improve music curation, recommendations and lists.
Today, audio is only one tenth of the size of the video market, so there is a massive opportunity here for audio to evolve into a more personalized, more immersive experience, much like how the video industry has evolved. Daniel Ek, CEO and Chairman, Spotify
Cons of buying Spotify stock
Rising content costs
Spotify currently pays out 70 percent of revenues in artist royalties. In the US market, music royalty fees are rising on an escalating scale over the next five years.
Licensing deal negotiations
Spotify is in negotiations to establish new licensing fees with the major labels. Universal, Sony and WarnerMedia own the rights to 70 percent of the world music market and independents 30 percent. Spotify's licensing fees could increase or stay the same.
Unhappy artists
You will have a hard time convincing Sean Mendes that the Spotify artist royalty payment system is not fair. The young Canadian self-launched his career through Spotify and YouTube streaming, racking up close to 8 million in equivalent album sales. Still some artists want a bigger cut of the streaming service's revenues.
Spotify Stock: Current Prices and Summary
As Spotify streams into new global markets, its challenge is increasing average user revenues while lowering the licensing fees it pays to studios. So far, the company has been masterfully orchestrating this feat. Spotify's margins are expanding as it prepares to turn the corner to profitability. The pure streaming music plays – Spotify, Pandora, Napster, Deezer – are entering a profitable stretch. Spotify's price-to-sales ratio is 4.26. While the cost of sales is steadily rising with the subscribership base, the gross margin is widening. The value generated per subscriber has jumped 40 percent over the cost of subscriber acquisition.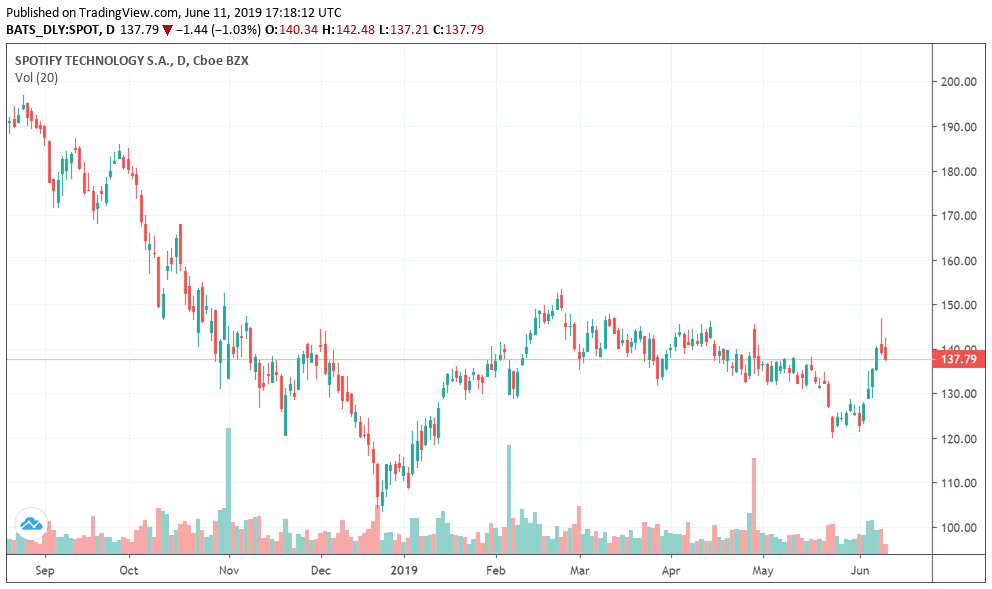 SPOT price quote
| | | | |
| --- | --- | --- | --- |
| Price | $ 170.93 | Daily high | $ 171.44 |
| Volume | 18963658 | Low | $ 169.50 |
| Variation | 12:51 | Opening | $ 169.71 |
| + / -% | 00:30% | Day before | $ 170.42 |
Best Spotify Stock Brokers
[wpsm_comparison_table id="68″ class=""]
How to Buy Spotify Stock – Tutorial
How to buy Spotify Stock on Markets.com
The official online broker of the Arsenal Football Club provides all the basic tools and education a retail trader requires. markets.com is owned by Playtech, a public company listed on the London Stock Exchange. Like its PlaytechOne one wallet – the one account solution for playing on casino, poker, sports and other gaming sites – markets.com seeks to provide quick and easy access to a good range of investment products. If you are deciding whether to buy Spotify shares on markets.com, review these pros and consumer.
Pros
Day traders
Demo account
Low commissions
Good quality news flow
Good set of analytical tools
Cons
Limited order types
Not many deposit options
Customer services not very effective
Unregulated broker
Start trading Spotify stock on Markets.com
Step 1: Register your account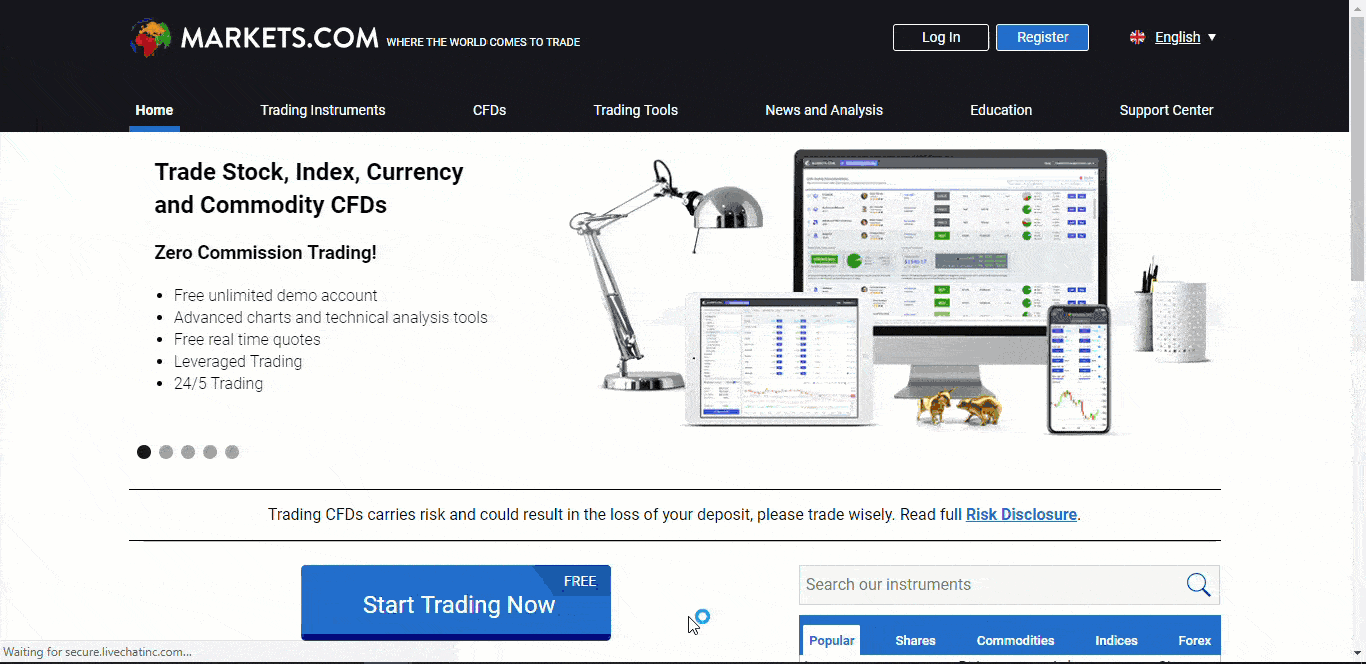 You will be prompted to download the markets.com mobile app to register. After filling in basic profile information, a brief questionnaire on investment experience and knowledge, as well as income and assets, will determine your trading level and leverage. 1:30 is the leverage for the average retail investor. So with a $500 deposit, you can trade up to $15,000.
Step 2: Fund your account
If depositing by credit card, you will need to first have it verified. Click on Verify Credit Card on the My Account Page.
Step 3: Verify your identity
Attach and submit proof of identity and a utility bill for verification. Residents of the USA, Canada, Australia, Hong Kong, Japan and some other countries are restricted.
Step 4: Trade Spotify stock
On Markets.com, you can choose to invest in Spotify stock, or a wide range of ETFs and indexes with exposure to major technology stocks. Other securities include forex, cryptocurrencies (a handful of majors), bonds, blends, and grey markets in Uber and Lyft ahead of their IPOs. Trending Now displays a list of top moving stocks.
The Spotify stock profile provides basic stock price charting information and a market sentiment indicator. Place the trade by choosing the Buy or Sell button.
How to Buy/Sell Spotify CFD Stocks on Plus500
Novice retail traders may find this platform lacks the trading interface, research tools and education they depend on for general guidance. The experienced trader with their own tools, stock data and news will be at home with the simple, intuitive interface and over 100 technical indicators. Traders who qualify for a professional account (with a minimum portfolio value of €500k) can raise their leverage levels, for example, from 1:5 to 1:20 for stock trades. If you are deciding whether to trade Spotify CFD shares on plus500, review these pros and cons.
Pros
FCA regulated
Listed on the LSE
Easy to use platform
Great mobile platform
High order volume
Cons
Experienced traders only (no fundamental data)
Only CFD trading
High financing rates
No scalping allowed
Start Trading Spotify CFD Stocks on Plus500
Step 1: Register your account
Firstly, begin by opening your account by following this link. You will be prompted to download the plus500.com mobile app to register. Select between a Demo and Real Money account. After filling in basic personal information, you will gain access to the unlimited demo account. Before you can use it, you will be prompted to answer a few questions to establish your investor risk profile.
Step 2: Fund your account
When you are ready to trade with real money, fund your account. Three payment options are provided. You may be asked to verify your payment method.
Step 3: Verify your identity
Attach and submit proof of identity for verification.
Step 4: Trade Spotify CFD stocks
Plus500 offers a wide variety of CFDs on investment instruments, including stocks, ETFs, indexes, forex and cryptocurrencies. On this trading platform for the advanced investor, options are also available. Query Apple and the price quotes for the stock, as well as put and call options, appear on the screen.
All stock information and the Buy/Sell commands are displayed on the general stock page for the serious trader who wants to execute quickly. The bottom half of the page displays the price chart and provides access to a broad selection of technical analysis indicators.
80.5% of retail investor accounts lose money when trading CFDs with this provider. You should consider whether you can afford to take the risk of losing your money.
A Brief Overview of the History of Spotify
Swedish entrepreneur Daniel Ek launched Spotify in 2011 with some of the proceeds from a successful startup he sold Advertigo. The service uses a freemium model with the option to remove ads and upgrade to advanced features through a subscription. The streamer has an impressive 46 percent conversion rate of its 207 million users to subscriptions. The company pays 70 percent of its revenues to the rightsholders of the music, mostly large record labels, but also independent artists.
Spotify has been growing through organic growth and acquisition. As it rolls out streaming services around the globe, subscriber numbers have jumped from 500 million in 2013 to 200 million active monthly users.
Increasing user engagement with the content is improving profitability through increased user and advertising fees. Spotify's acquisitions to curate content (Echo Nest, MightyTV, Nolan's), improve playlists (Sonalytic) and help artists license and monetize their content (CrowdAlbum, Loudr, Mediachain) add artist and listener engagement tools. Adding to its two podcast buys in 2018, building its podcast business will be. A key target of acquisitions in 2019.
The other area of acquisitions is data analytics. These analytics identify fan preferences enabling Spotify to make exclusive offers to concert tickets and merchandise through Fans First and other promotional programs.
Spotify Shares: Forecast 2019–2023
Streaming music is trending and Spotify is providing one of the best user experiences for the price. Investments in user engagement ensure that as streaming media usage grows, more music lovers will be downloading the Spotify app. Streaming media's share of the $18.9 billion global music recording industry revenues jumped 14 percent to 50 percent in 2018 (IFPI).
Spotify's growth over the next five years will come from organic growth and acquisitions. Spotify has earmarked $400–500 million for new acquisitions in 2019.
2019 – Global market growth
By 2020, analysts expect Spotify to increase its market penetration in existing and new markets by 15–25 percent (GP Bullhound). Spotify's new markets include the Middle East and Asia. Long term, Spotify's falling ARPU has the potential to increase as developing economies add more subscribers with rising incomes. Spotify's main audience is 18-34 year olds with the strongest income growth potential. Continued strong growth in ad revenues, which were robust in Q4 2018, is expected this year. The median forecast for the Spotify stock price is 157, with a high of 203 and a low of 87.
2020 – Podcasting
Podcast subscribers have doubled in two years and are twice as engaged in Spotify content than music-only listeners. The acquisitions of podcasting companies Gimlet and Anchor in 2019 bring popular podcast programs to Spotify's content library. Spotify expects this non-music content to grow to equal 20 percent of listening hours. Unlike the content of most of the music artists it streams, Spotify will own the podcast content it develops. As it builds its own content library, costs will decline. Low-to-median growth is forecasted for Spotify stock.
2021 – Original content
How big is the opportunity in original content? Worldwide independent artist direct revenues grew 35% to $643 million in 2018. At this rate, indie artist direct revenue would grow to equal 5–10 percent of global music recording revenues over this forecast period. Spotify's indie revenues can be expected to grow similarly, leading to higher gross margins as licensing fees fall. Low-to-median growth is forecasted for Spotify stock.
2022 – Rising royalty costs
By 2022–2023, Spotify will be paying close to 5 percent more in music royalties. The US Copyright Royalty Board has raised the royalty rates paid for songs. The rates will rise from 10.5–15.1 percent on an annual incremental basis over the next five years. This rising cost will not prevent Spotify from turning profitable in the 2020–2022 window. The increase in independent music artists and podcast originals will lower licensing fees. Median-to-high growth is forecasted for the Spotify stock price.
2023 – Streaming profitability
As the percent of original content increases, Spotify will reach its gross margin expansion objective of 30–35 percent. The move towards original content and less variable licensing fees is migrating more of the cost structure towards fixed costs. Healthy profit growth will follow. Median-to-high growth is forecasted for the Spotify stock price.
Conclusion
Spotify stock is an opportunity to invest in the global music industry's transition to streaming. And better still, when you buy Spotify stock you also buy Tencent stock – China's largest internet company and content streamer. In 2017, Spotify took a 9 percent stake in Tencent as part of a share swap. Streaming music will allow independents to take more of the music content ownership share from the major labels. The rise of the indies is a good reason to buy Spotify shares.
When you are ready to buy stocks, we recommend doing so via regulated stock trading apps such as Plus500 if you're a UK customer, and Ally Invest for U.S. customers.
FAQs
When did Spotify go public?
Spotify went public on the New York Stock Exchange on April 3, 2018 in a direct listing in which the shares were sold directly to the public. The company was valued at $26.6 billion.
Does Spotify pay a dividend?
No, Spotify shares do not pay dividends. Instead of paying dividends, high growth companies return value to shareholders in the form of increases in stock value and acquisitions to sustain growth. Since its IPO in April 2018 , SPOT shares have returned 22.5 percent to shareholders whereas the S&P 500 with dividends reinvested returned 6 percent.
Can I buy Spotify stock directly from Spotify?
No, Spotify does not have a direct stock purchase plan (DSPP) plan.
Where and how can I buy Spotify stock?
You can buy Spotify stock from online stockbrokers. Markets.com and plus500 are examples of online broker platforms where traders buy and sell Spotify stock. After signing up online, type in the SPOT ticker, place your order and you will become an owner of Spotify shares.
A-Z of Stocks