After a tough 12 months that have seen further ground lost to rivals like Huawei, Finish telecom giant Nokia could find itself at a crossroads. Rumours abound that a mystery suitor is attempting a takeover and, while the same grapevine suggests resistance on Nokia's part, there's no doubt that the company is looking vulnerable right now.
Nokia's plight has an added twist of geopolitical intrigue. Given the close links Huawei reportedly has with the Chinese government and its growing ascendancy in the global telecom market, a Nokia buyout could be seen as an attempt to block the Chinese company's market dominance. Should Nokia investors be worried? It's probably too early to say, but it's certainly something to consider.
This guide will explain how to buy Nokia (NOK) stock, take a look at the best stockbrokers and consider the telecom company's prospects going forward.
Where to Buy Nokia Stock
If you're looking to invest in Nokia, we recommend creating a stock account with one of our top stockbrokers. If you're outside the United States, select eToro. If you're inside the US or Canada, choose Stash Invest. Let's take a look at what these two have to offer.
If you're searching for an accessible, competitively priced broker with some unique features, look no further than our eToro review, it's our recommended broker. Best known as an innovative social trading platform that offers tools like CopyTrader – a feature that allows you to duplicate experienced traders' positions – eToro has built on its early social trading success in recent years. This slick platform now offers a comprehensive choice of services and tools to fit the needs of both investors and traders.
eToro currently offers over 800 stocks. prospective Nokia investors can invest in a number of ways. You can open a long (BUY) position and invest in the underlying asset or trade on price fluctuations with CFD trading. This approach allows you to speculate on price movements - either way - without buying the underlying asset. Consequently, you can take a short position and boost the value of your trade with leverage.
Customer support is dependable and licenses from ASIC, CySEC, and the FCA show that eToro is a regulated platform. For the most part pricing is competitive – eToro charge zero-commission on stock trading and there's no stamp duty on stock purchases if you're in the UK. Stock trading will be available to US users later this year.
A minimum deposit of $200 and the chance to play around with a demo account before investing real money mean eToro is also a good choice is you favour a low-risk approach. There's a flat $5 fee on all withdrawals at eToro.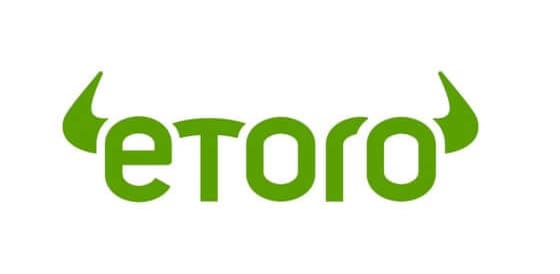 800+ stocks to buy outright or trade as CFDs
Beginner-friendly stock trading platform
0% commission on stock trading
$5,000 account minimum for CopyPortfolios
75% of retail investor accounts lose money when trading CFDs with this provider. You should consider whether you can afford to take the high risk of losing your money.
Affordability is at the heart of the Stash Invest's innovative app. This refreshingly simple addition to the US investment landscape offers a route into the stock market that's both accessible and low-cost.
Thanks to fractional stock purchasing, Stash helps user to build a surprisingly diverse portfolio without splashing huge amounts money at all, and you can buy just fractions of Nokia stock. This makes Stash a great platform to build your knowledge and understanding of the stock market while making affordable investments across an extensive choice of stocks. Stash offers more than 1,800 ETFs and individual stocks, so there's plenty of scope to explore the market.
Three plans are available, starting with a $1 a month Beginner package with a personal investment account, bank account and financial education course. The $3 package adds tax benefits for retirement investing while the $9 plan throws in investment plans for two kids, a monthly market insights report and a sleek metal card with ramped up rewards.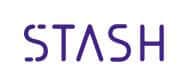 $0 minimum balance
Allows fractional stock purchases
$1 monthly fee
Lower number of shares in comparison to other brokers
$9 a month to unlock the complete features
Should I buy Nokia Stock? Points to consider
If you're interested in buying Nokia stock, or any other stock such as Samsung stock or Apple stock, we always recommend you look into the company fundamentals and researching historic price movements and forecasts before you take the plunge.
Nokia business model and share price history
Whatever happens to the Finish telecom titan, Nokia's standing as one of the pioneers of the mobile comms industry is assured. Nokia has displayed remarkable adaptability over the course of its 150-year history, navigating an improbable route from a 19th-century pulp mill to a 21st-century telecommunications giant and becoming a genuine emblem of Finish national pride somewhere along the way.
The company's modern history is very much linked to the mobile telephony boom in the 1990s. Nokia has been the largest worldwide vendor of mobile phones and smartphones on the planet, having seized a market-leading position as the industry underwent rapid growth. Indeed, the decision to focus on telecoms at exactly the right time saw Nokia's operating profit soar from negative in 1991 to $1 billion in 1995 and almost $4 billion by 1999. By December 1998, Nokia had overtaken Motorola to become the world's best-selling mobile phone brand and manufactured its 100 millionth handset.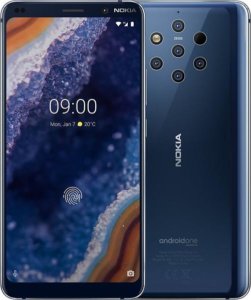 The sale of Nokia's mobile and devices division to Microsoft was announced in 2013, on the back of a difficult couple of years, including a large loss in the second quarter of 2011. In the years since, the Nokia brand – relinquished to Microsoft Mobile in 2014 – has returned to the mobile and smartphone market through a licensing arrangement with HMD Global, which had some success in reviving Nokia's brand value.
Nokia's stock price plummeted last October when its Q3 report predicted a slump in profits over the next two years. Though July – September profits had exceeded analyst expectations (478 million euros to 432 million euros), earning forecasts didn't make for optimistic reading. Nor did the decision to suspend its dividend. The result: Nokia's share price dropped 24%, its biggest fall since 1991.
5G appears to be more of a problem than an opportunity for Nokia. Transitioning to the next generation of mobile technology and competing with Huawei has proved costly and profit margins are suffering.
While Nokia remains the world's second-largest telecom equipment maker after, you guessed it, Huawei, it's certainly having to weather a tough spell – stock has fallen 40% over the last year (compared with 15.1% decline in the industry), staff have been laid off in Finland and buyout talk is in the air.
Nokia stock dividend information
Nokia suspended its dividend payout last year, claiming that extra funds were needed to invest in 5G infrastructure.
Nokia has a trailing-twelve-months P/E of 12.81. This compares to an average P/E of 20.42 in the Wireless Equipment industry.
Nokia stock forecast and prediction
Despite uncertainty surrounding Nokia's future and speculation that a buyout might be on the cards, analysts are pretty positive about its prospects. The median 12-month forecast of 31 analysts, as reported by CNN, is $4.63. This represents a 36.51% increase on the current price of $3.39 (24/4/2020).
If you're a value investor, Nokia's recent slump could look like an opportunity. If it can navigate a tough 5G transition, there's clearly potential for a revival on the horizon.
How to Buy Nokia Stock from eToro
Assuming you have a funded account, follow these simple steps to buy Nokia stock.
Step 1: Search for Nokia (NOK) Stock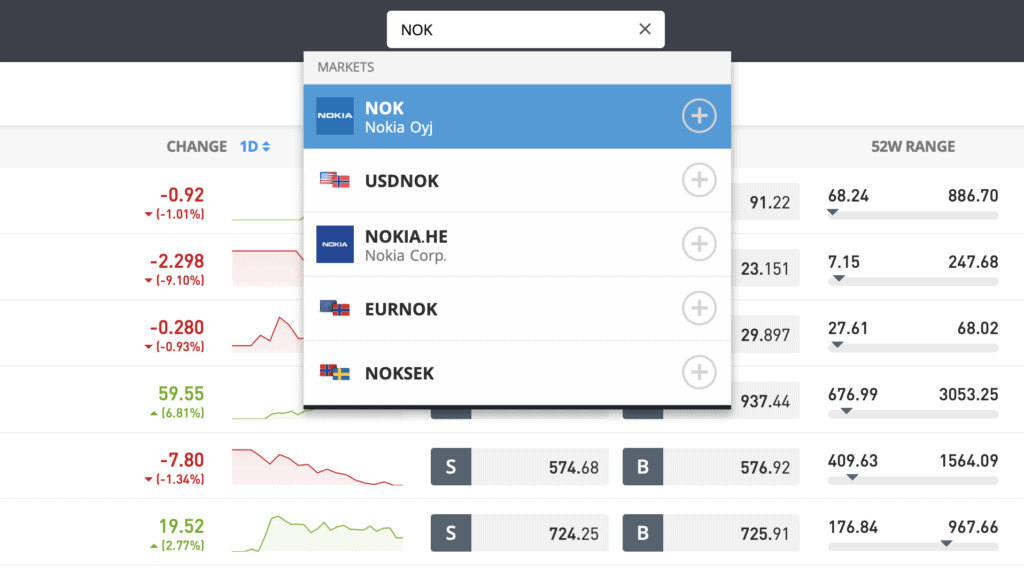 Look up Nokia by typing the ticker symbol NOK into the search box.
Step 2: Click on 'Trade'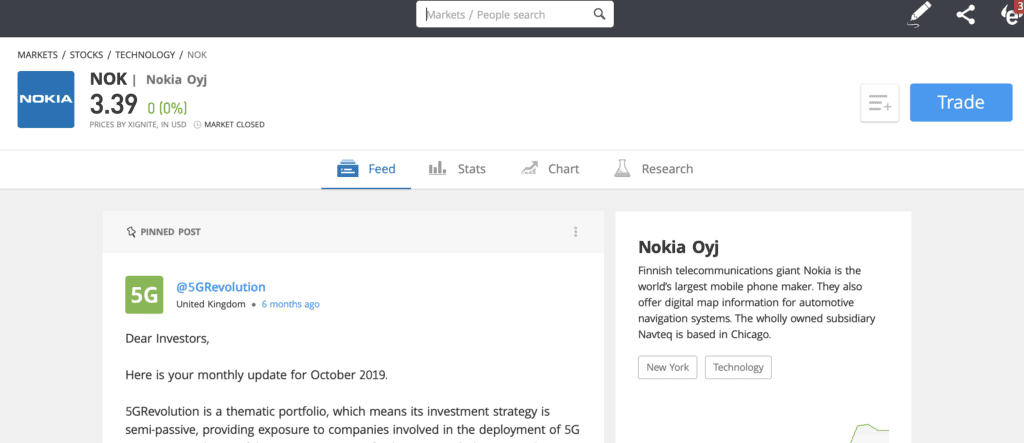 Click Trade in the top right corner of the Nokia page.
Step 3: Specify 'Buy'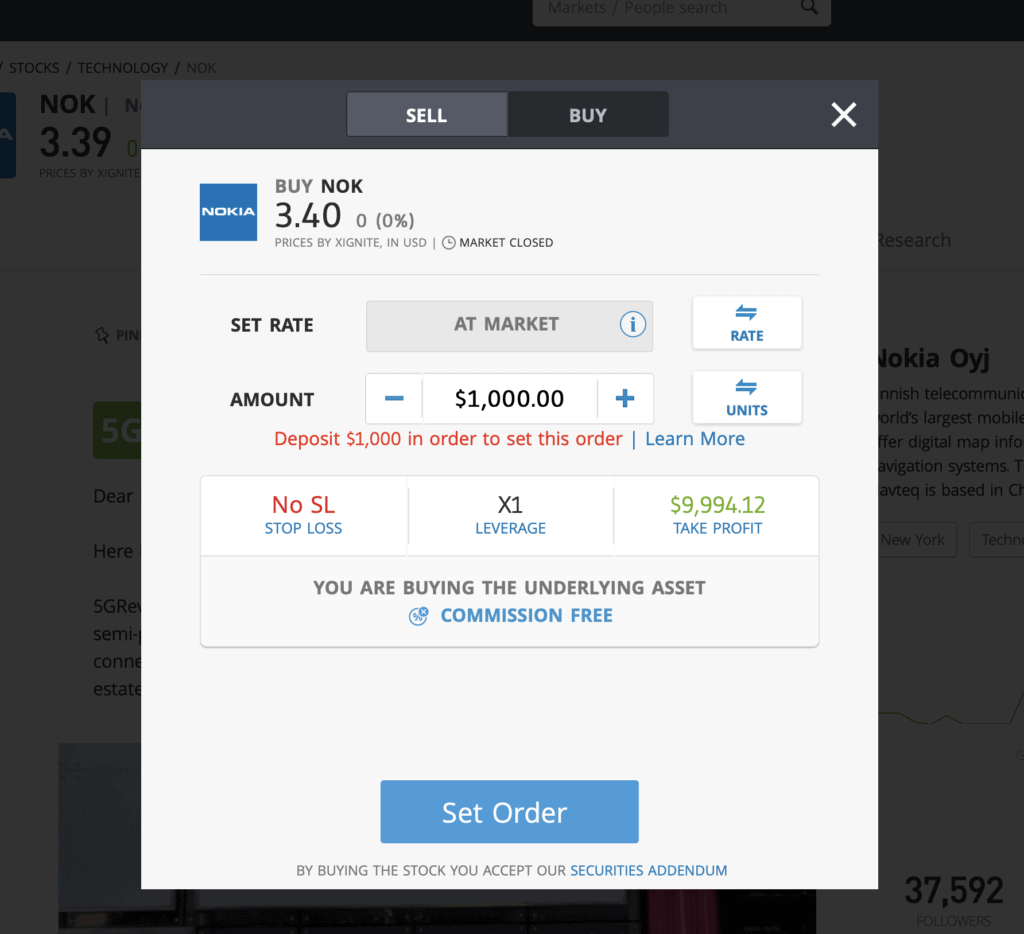 Specify 'Buy' on the top tab, change the leverage to X1 to purchase real stock and proceed to set your order. If you want to trade Nokia CFDs, set your leverage amount, Stop loss and Take profit order limits, then click 'Set Order'.
Investing in Nokia Shares – Final Thoughts
Nokia faces an uncertain future and its stock price has taken a bit of a battering over the last 12 months. There's no doubt that intense cost pressures relating to the development of 5G technology and the performance of Huawei are taking a toll, but such high costs and shrinking margins shouldn't continue beyond the 5G bedding in period. Which is why plenty of analysts seem to think Nokia might be a good bet for value investors right now.
eToro : Best stockbroker for non U.S. countries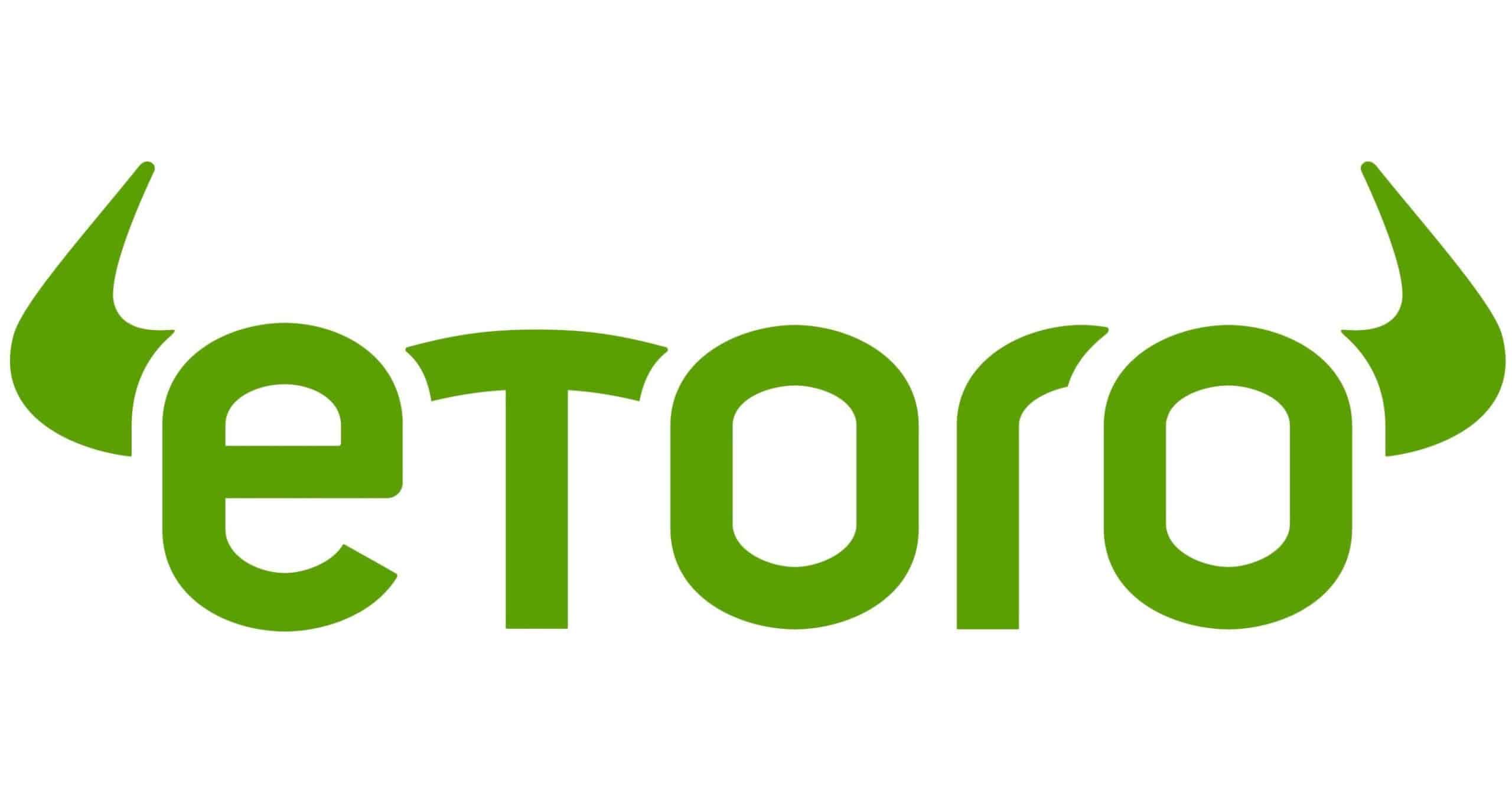 Social and copy trading available
CySEC & FCA regulated
Buy stocks commission-free (other fees may apply)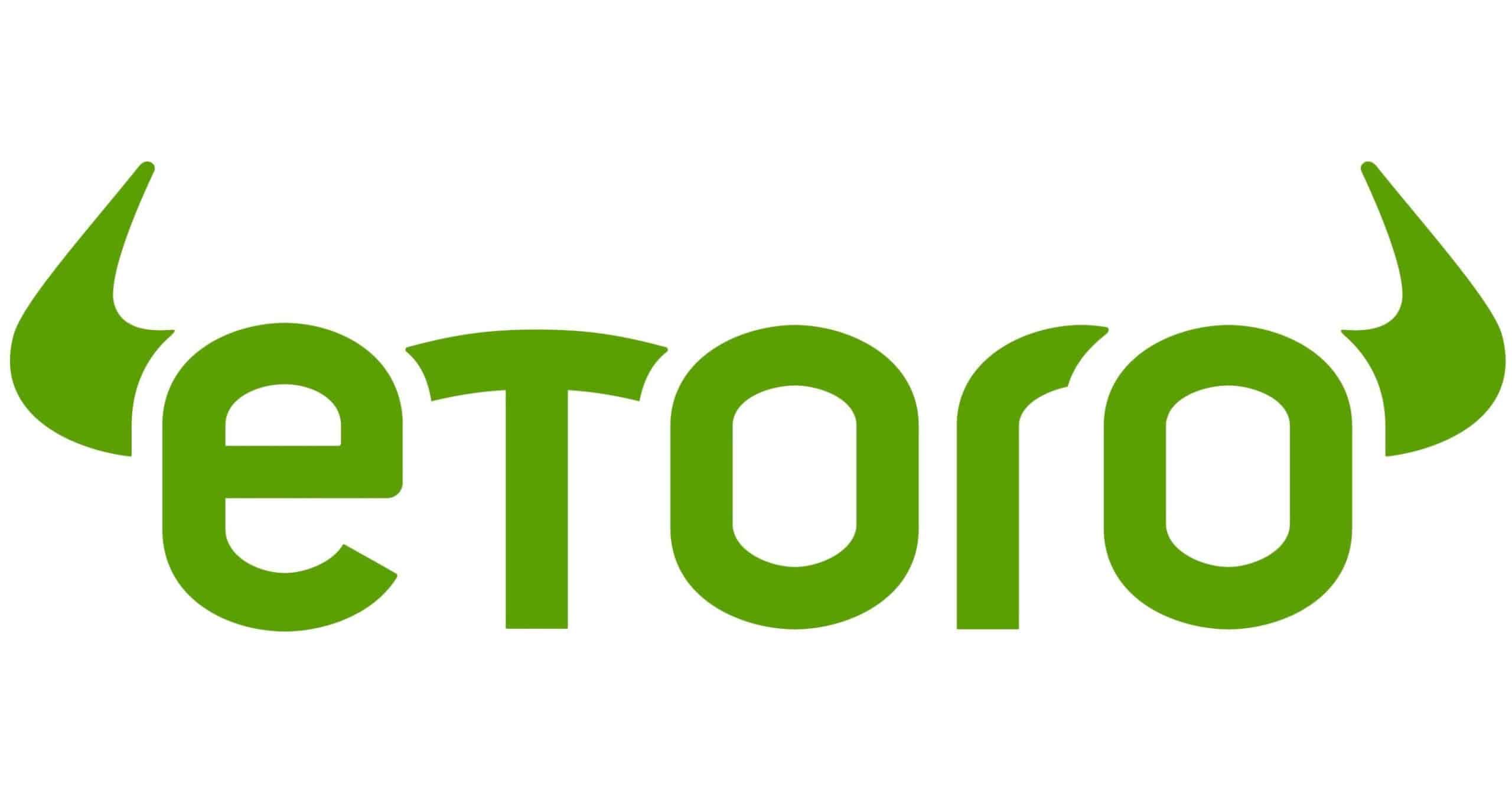 75% of retail investors lose money when trading CFDs with this provider.
Stash Invest - Invest in stocks with just $5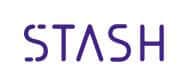 U.S. friendly stock broker
Fractional shares available - invest in stocks with just $5
Fees as low as $1 per month for basic banking and personal investing
Build a portfolio of stocks and ETFs for free
$50 bonus available when you deposit $300 within 30 days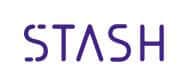 FAQs
Should I Buy Nokia stock or wait?
On the back of a tough 12 months, Nokia may now be a stock with compelling growth potential. It might be a bit premature to invest right now but we recommend keeping an eye on NOK. This is a company with significant pedigree and we wouldn't bet against a revival of fortunes after 5G transition pains have been endured.
A-Z of Stocks