As a member of the Ally Bank family, it's among the leading investment brokerages around, especially when you consider all the services it has for just about every area of your financial life. With zero commissions and no required minimum plus a robust selection of trading features, Ally Invest stands outs as an excellent stockbroker for both new and experienced traders.
Continue reading to learn more about Ally Invest's features, fees, pros and cons, and whether we recommend it.
Ally Invest Review
We have examined Ally Invest in detail and we do not recommend it. There are other options such as the broker below which provider a better stock trading experience with the added bonus of social trading and an easy-to-use stock trading platform.
eToro : Best stockbroker for non U.S. countries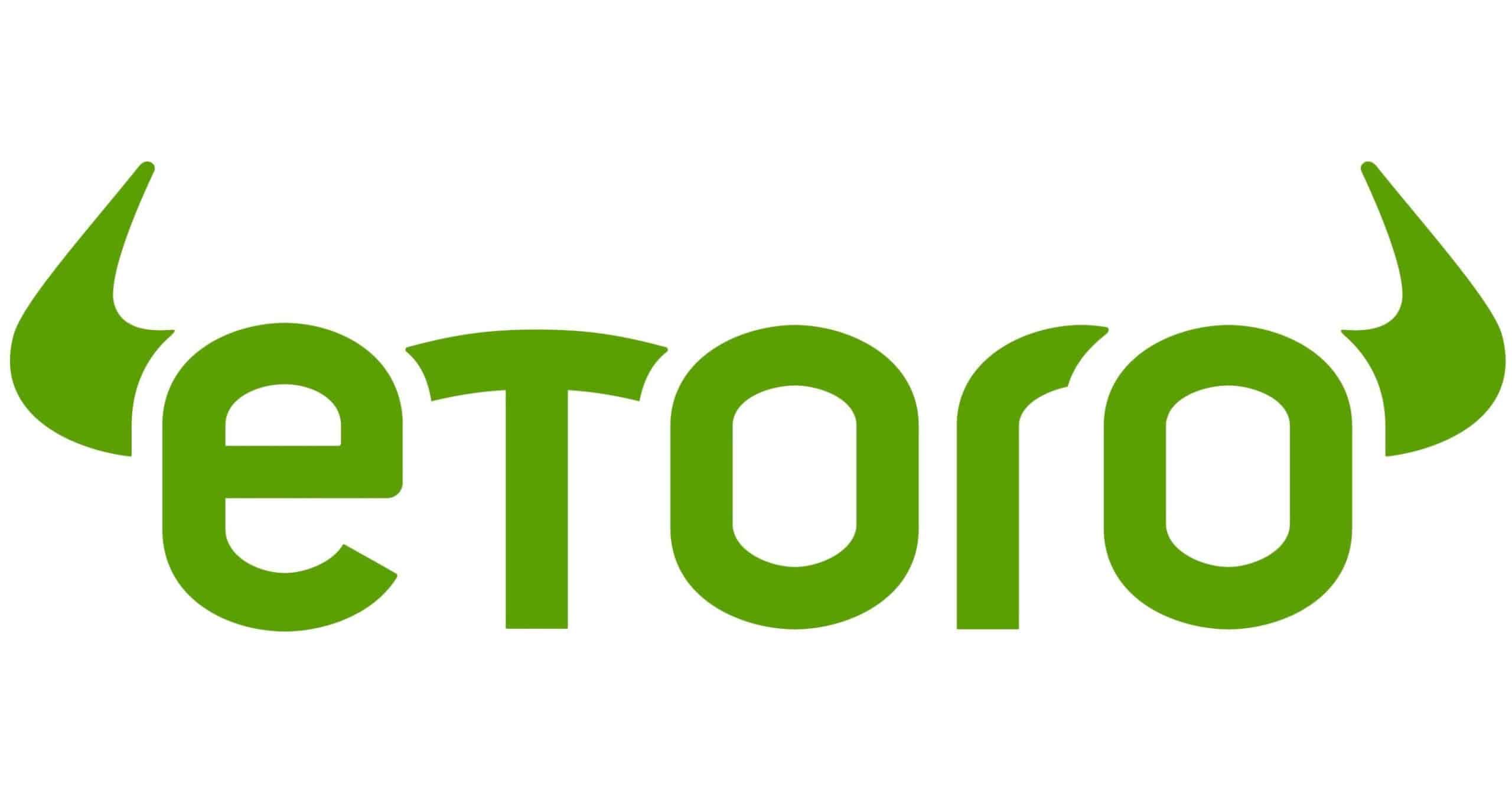 Social and copy trading available
CySEC & FCA regulated
Buy stocks commission-free (other fees may apply)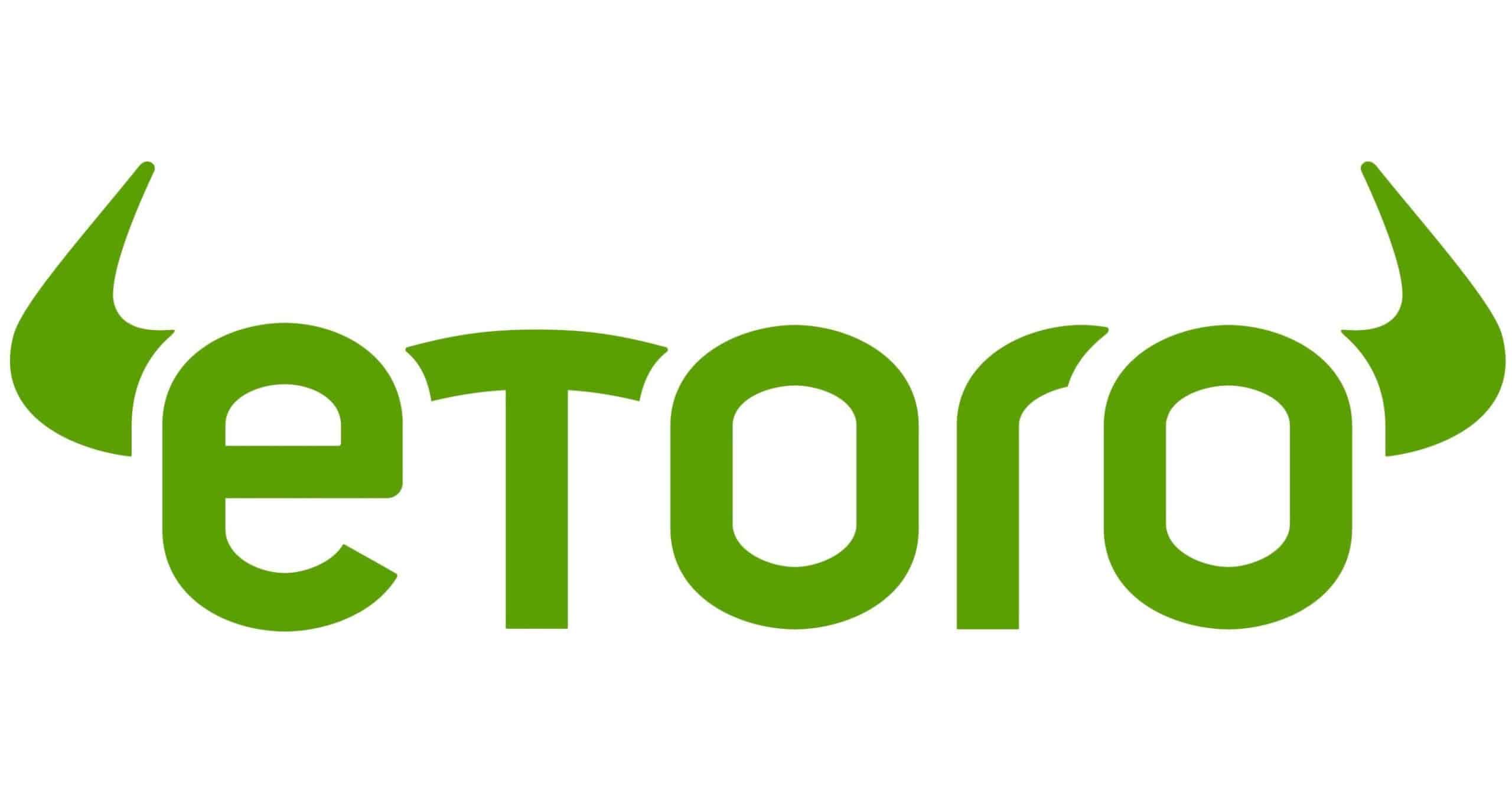 75% of retail investors lose money when trading CFDs with this provider.
What is Ally Invest?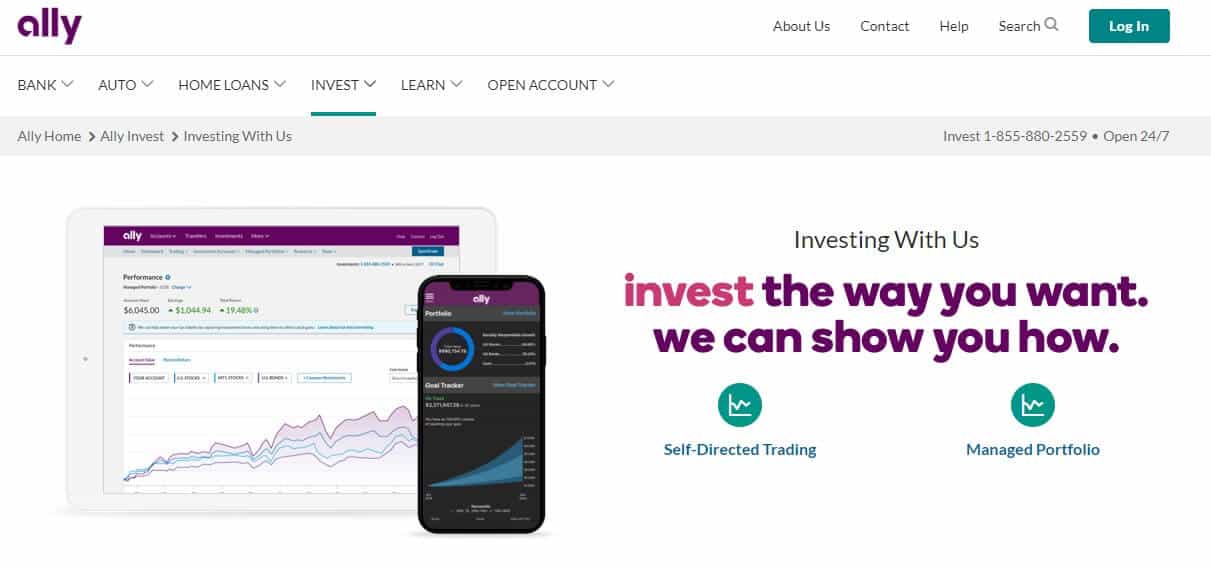 Ally Invest is an investment service provided by Ally Bank. The stockbroker was previously known as TradeKing before Ally Bank acquired it. Ally Invest offers an extensive selection of self-directed and managed investment products. The stockbroker serves over 250,000 customer accounts, with $4.7 billion in assets under management.
Ally Invest aims to offer all its users highly competitive fees, high-end customer service and a seamless trading experience. The platform can be accessed via most of your devices, including your laptop, desktop computer or mobile application, allowing you to trade on the go.
One significant advantage of using Ally Invest stock brokerage is that it offers a lower trading fee compared to the other best trading platforms.
Read on to learn more about Ally Invest, how it works as well as its pros and cons.
Tradable Securities
Ally Invest gives its users access to:
Stocks – It primarily focuses on major stocks in the United States.
ETFs – Ally Invest offers over 500 commission-free exchange-traded funds from WisdomTree, Vanguard, iShares and GlobalX among others.
Penny Stocks – These are also referred to as pink sheets or better still over-the-counter bulletin board. These securities are quite high-risk especially if you don't know how to work with them.
Mutual Funds – Ally Invest offers thousands of choices here, but it doesn't include any no-transaction-fee funds.
Options – Ally Invest platform offers very robust tools for option trades, including a profit and loss calculator as well as options chains.
Forex – Ally Invest offers a strong Forex trading platform for traders as well as a practice account. This requires you to deposit at least $250.
The biggest shortfall for a majority of the long-term investors is the platform's selection of funds with no trading fees. There are around 100 no-fee ETFs and no fee-free mutual funds. A lot of its competitors with similar commissions only offer specific funds or even their own funds with no trading costs. This puts Ally Invest customers at a slight disadvantage if funds are a huge part of their investment plan.
Stocks Offered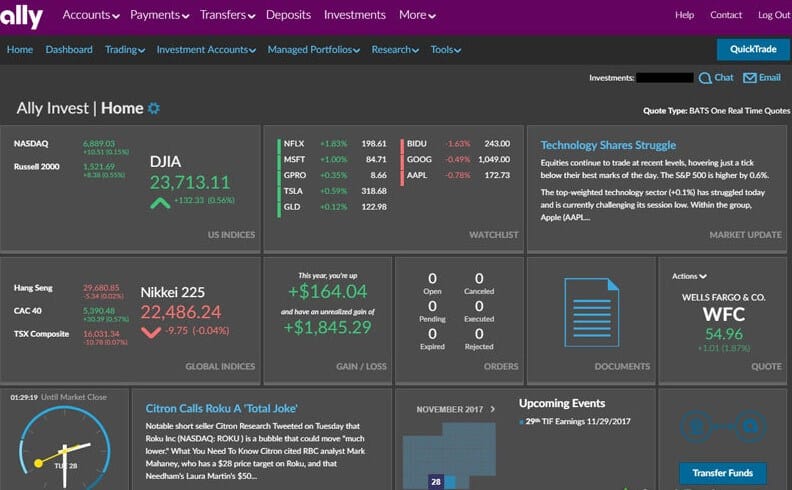 If your main objective in this investment space is to focus on stocks, then you're in luck. Ally Invest lists thousands of publicly listed brands, subsequently offering you the opportunity to build a diversified portfolio of investments.
This stockbroker primarily focuses on the major United States stock exchanges, notably the NASDAQ and the New York Stock Exchange.
Special Features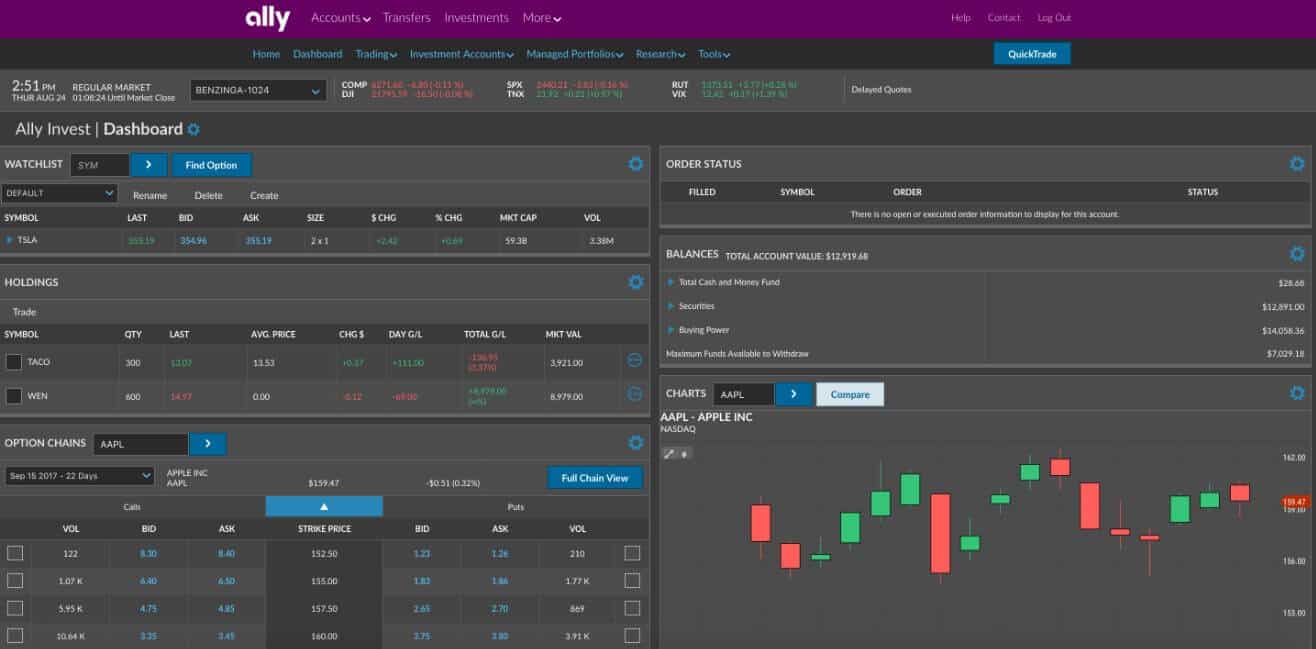 Commission-free trading
Like a majority of other online stock brokers, Ally Invest got rid of commissions on most United States exchange-listed options, ETF trades and options in 2019.
Account protection
Ally Invest user accounts are SIPC protected for amounts getting up to $500, 000 with $250,000 for cash claims. Additional coverage is available for an amount up to $37.5 million, with up to $900, 000 in cash with an aggregate cap of $150 million (Forex & Futures accounts are not covered).
Managed portfolio options
If you prefer to have some help in creating and maintaining your investment portfolio, Ally Invest also includes a fee-free managed portfolio akin as well as a Robo-advisory service. It's known as the Cash-Enhanced Managed Portfolio.
Clearing agency
Ally Invest services brokerage accounts as well as advisory client account assets are stored in custody with Apex Clearing Corp.
Trading tools
Ally Invest provides its users with a full suite of robust trading tools to help them become more successful investors. These include the following:
Market and company snapshots – Ally Invest also offers some insights into individual companies. These insights will include news, market statistics as well as detailed metrics and more.
Profit and loss calculator – This Ally Invest feature allows you to understand the profit and loss capability of a certain options trade before you make it. It also enables you to see how outcomes vary based on changes in volatility and time.
Market data – This feature gives charts, dividend rates, quotes, news, overall options summary, peer performance comparisons as well as historical quotes.
Streaming charts – This is another feature that should be beneficial to all traders. Ally Invest includes six charts with over 90 chart studies and drawing tools the help analyze the performance of individual securities. These charts are also fully customizable.
Watchlists – This feature is a customizable list to help you track and view market data on any group of securities on Ally Invest.
Probability calculator – If you would like to know whether you'll hit your target, this Ally Invest feature will provide you with some implied volatility to help you analyze the probability of meeting your targets before placing your trades.
Options chains – This feature enables you to trade with ease. You can place options trades as well as complex multi-leg spreads without any hassle.