ATFX is a broker founded in 2014 that has been gaining popularity in the forex and CFD industry since its foundation. The broker showed potential in recent years, which is why we decided to test and review it. ATFX is a regulated broker with an innovative and proactive approach compared to other forex and CFD brokers in the industry. 
If you wish to find out more about what ATFX is, what they offer, their fees, trading platform, regulation and so on, we recommend reading this review. 
Is ATFX recommended?
✅ATFX is a broker developed about five years ago specializing in CFD and forex, regulated by the FCA, the Cyprus Securities and Exchange Commission (CySEC), and Market in Financial Instruments Directive (MiFID).
Although ATFX has been in the industry for only five years, the new-broker has reached the standards necessary to be considered one of the most recommendable brokers out there. The broker offers a wide selection of assets to choose from as well as the copy trading option through one of the most popular trading platforms, the MetaTrader 4. ATFX executes orders based on the STP (Straight Through Processing) model rather than the market maker model, offering a reliable middleman connection between traders and financial markets. We decided to test it to find out whether it actually is as legit and trustworthy as its website and the positive reputation makes it appear to be.
Based on the result of our test of the broker, ATFX has lived up to the potential it had when it first emerged and ensured its reliability and credibility, so we recommend trading with this broker.
What is ATFX?
ATFX is a CFD and Forex broker founded in 2014. It is currently owned and operated by AT Global Markets and is registered at the 1st Floor, 32 Cornhill, London EC3V 3SG, United Kingdom. The broker is regulated by FCA, CySEC, MiFID and authorized to offer its services in EEA countries.
ATFX connects traders and investors to the forex and CFD markets, acts as an STP broker, meaning the broker obtains the best spreads and commissions from its liquidity providers. ATFX uses some of the newest technologies to get the best rates from its liquidity providers, removing the conflict of interest between the trader and a forex broker.
Markets and Products
Score: 7/10
ATFX offers a decent variety of trading products for you to choose from compared to other forex and CFD brokers such as Coinbase and Plus500. There are over 80 assets you can choose from, including stocks, forex, and indices.
Here is an overview of the instruments available on ATFX:
Forex: 7 major currency pairs; 21 minors; 15 exotics
Indices: 15 global indices.
Commodities: 4 commodities. Gold, Silver, Crude Oil, Brent Oil
Cryptocurrencies: 4 cryptocurrencies. Bitcoin, Ethereum, Litecoin, and Ripple.
Shares: 50 shares.

Special Features
Score:6/10
ATFX does not provide a great deal of information when it comes to special features or services. There are some basic features that can be considered to be fairly positive.
➡️Low Minimum Deposit
The broker requires a minimum of $200 as an initial deposit for you to be allowed to access the trading space and start trading forex, CFDs and so on.. Another positive thing about it is that no fees are charged, no matter what payment method you choose, be it debit or credit cards, e-wallets or wire transfers.
➡️Trading Central
ATFX offers the Trading Central, a research and technical analysis tool for all ATFX clients. The Trading Central is one of the most efficient data analysis providers for forex and CFD traders.
➡️Quarterly Market Outlook
ATFX offers a Quarterly Market Outlook, allowing you to monitor changes and trends in the financial market with detailed fundamental and technical analysis. It is designed to help you develop an effective trading strategy to make long term profits.
Supported Countries
Score: 7/10
There is not much information provided on the supported countries. However, the broker is regulated in the European Union and MiFID, meaning ATFX can provide its service in most of the countries in the globe.
ATFX online trading service is not available for the following countries: Iran, the US, Canada, and Korea. Based on the languages support is available in, we assume that ATFX can be used from Taiwan, China, Malaysia, the UK, Thailand, Vietnam, and the Philippines.
If you do not come from any of these countries, we recommend contacting customer support to find out whether ATFX provides services in your country before signing up on it.
Languages
Score: 6/10
ATFX support is available in 6 different languages:
English

Chinese

Malaysian

Thai

Vietnamese

Filipino
Trading Platforms
Score: 9/10
ATFX offers the popular MetaTrader4 to support its trades. It is currently amongst the most popular and well-reputed platforms on the market, with over 80% of all reliable brokers using it. It is popular particularly thanks to its suitability for all kinds of users because other than being very simple and intuitive to use, it also offers all of the more complex tools that more advanced traders can use to pursue more refined investment strategies.
The platform can be downloaded on your desktop, as well as on your mobile and it only takes a few minutes. In addition, ATFX offers you the option to launch the platform on your browser. One of the advantages of ATFX is the ability to trade the MT4 via the user's dashboard.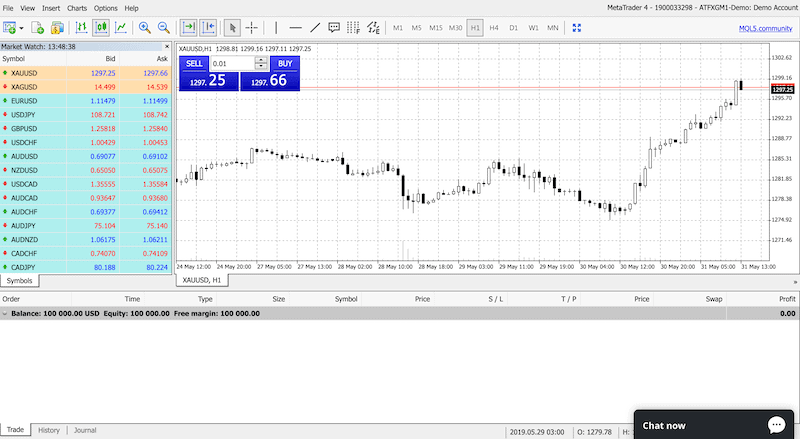 Once you've downloaded it, all you have to do is open it, log in with your name and email address and then you will get some login details that you will have to keep for future logins. The availability of MT4 is certainly a plus for ATFX, which is why we scored it so high in this section as opposed to brokers like Skilling, which do not offer the MT4 platform.
Fees and Limits
Score: 8/10
Spreads
It is also important to know about the spreads on ATFX, which are competitive compared to other brokers on the market, such as Skilling. ATFX Spreads vary depending on the account type with spreads on the Edge account are low and competitive compared to any broker in the industry. They start from 0.6 pips but they vary depending on the asset you are interested in. The spread on EUR/USD starts from 0.6 pips and for the forex majors, the minimum spread does not go over 0.8 pips. As for the forex minors, the minimum spread starts from 0.9 on pairs such as CAD/JPY and AUD/NZD and goes up to 2.8 for the GBP/NZD pair. For the exotics, the minimum spread starts from 10 pips for the EUR/HUF pair and goes up to 128 for USD/RUB.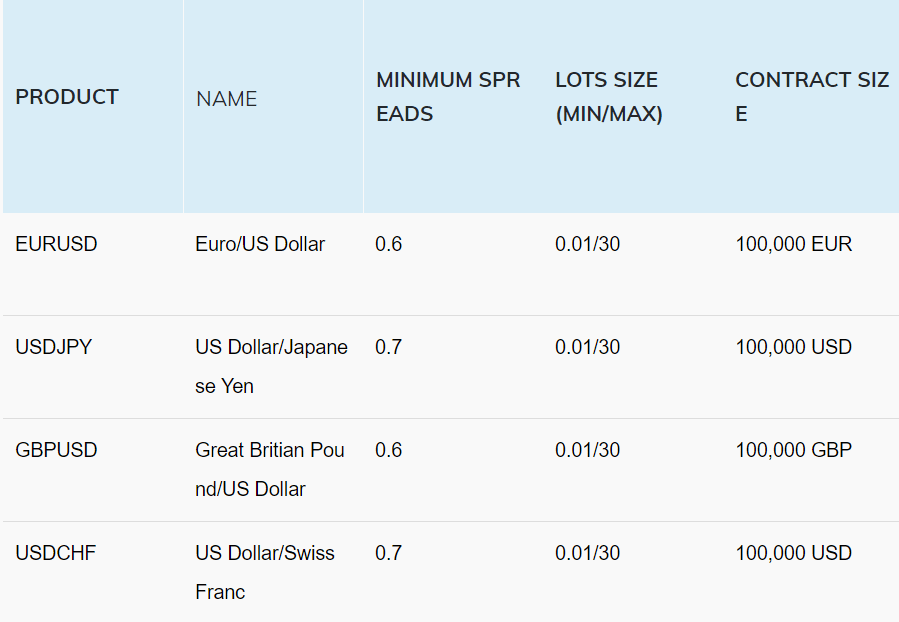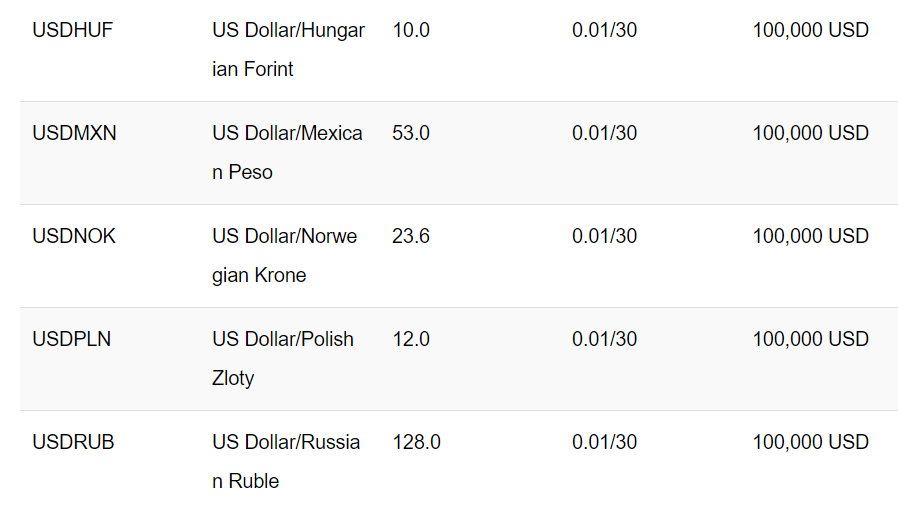 Trading and non-trading fees
According to the ATFX, the Company does not charge different fees or costs depending on the Execution. However, note that there are additional fees you should be aware of and which may be applied are:
💳Transaction fees;
💳Conversion of realized P/L to base currency; and
💳Inactivity fees.
Deposit and Withdrawal fees
The website claims that no fees apply for deposits, no matter what payment method you choose, including credit/debit cards, e-wallets or wire transfer. A small fee may apply if you are depositing funds with a non-UK credit or debit card, but aside from that, the official website claims that no fees apply.
💳Neteller/Skrill Fee – No fees apply according to the website.
Minimum Deposit
Score: 7/10
The minimum amount you will have to deposit to be allowed to access the trading space is $200 for the Standard account. No fees will be charged for the deposit. We recommend starting by depositing the minimum amount. If you see that you are making profits, you can always deposit more. For those who choose the Edge account, the is a minimum deposit requirement of $5,000.
Account types
Score: 7/10
ATFX offers a variety of two account types – the Standard account and the Edge account. Here are some of the main differences between the two accounts.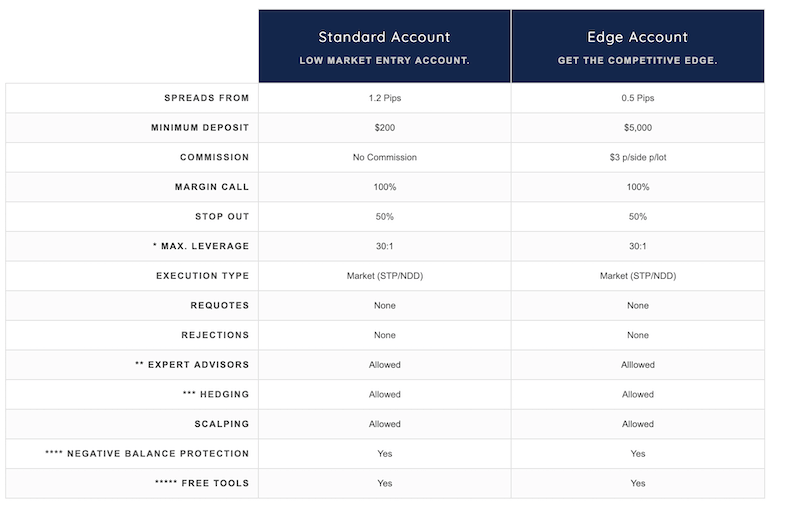 As you can see, the main difference is that the Edge account provides traders lower spreads compared to the Standard account.
How to trade on ATFX
Registration
Registering on ATFX is fairly straight forward. To get started you will have to go on the ATFX official website. Right at the top of the page, you will be able to see two buttons suggesting you to either open a demo account or to open a live account. We recommend starting from the demo account so please click on the right side button saying "OPEN DEMO ACCOUNT". You will then be asked to type in some personal details, including your first and last name, email address, phone number, country and you will have to confirm that you allow ATFX to send you information. Once you are done, you will receive a confirmation email with your login details. Opening a real account is similar to opening a demo one but it will be more time consuming because you will have to fill in a questionnaire with an estimated time of completion of 10-15 minutes.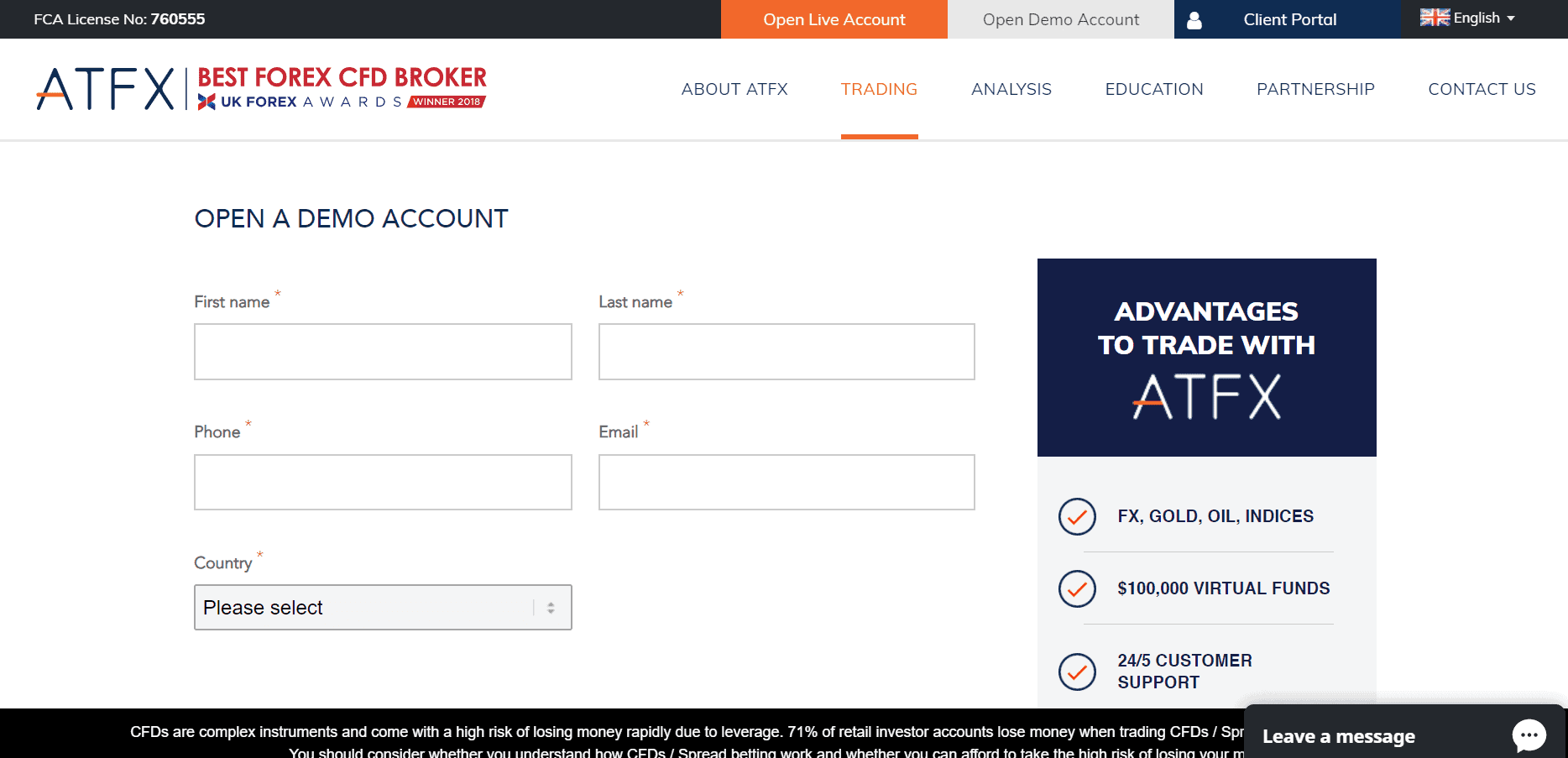 Deposit
After you've created your account you can move on to the deposit page to place funds in your account and start live trading. You will have to deposit at least $200 to be allowed to start trading.
Trading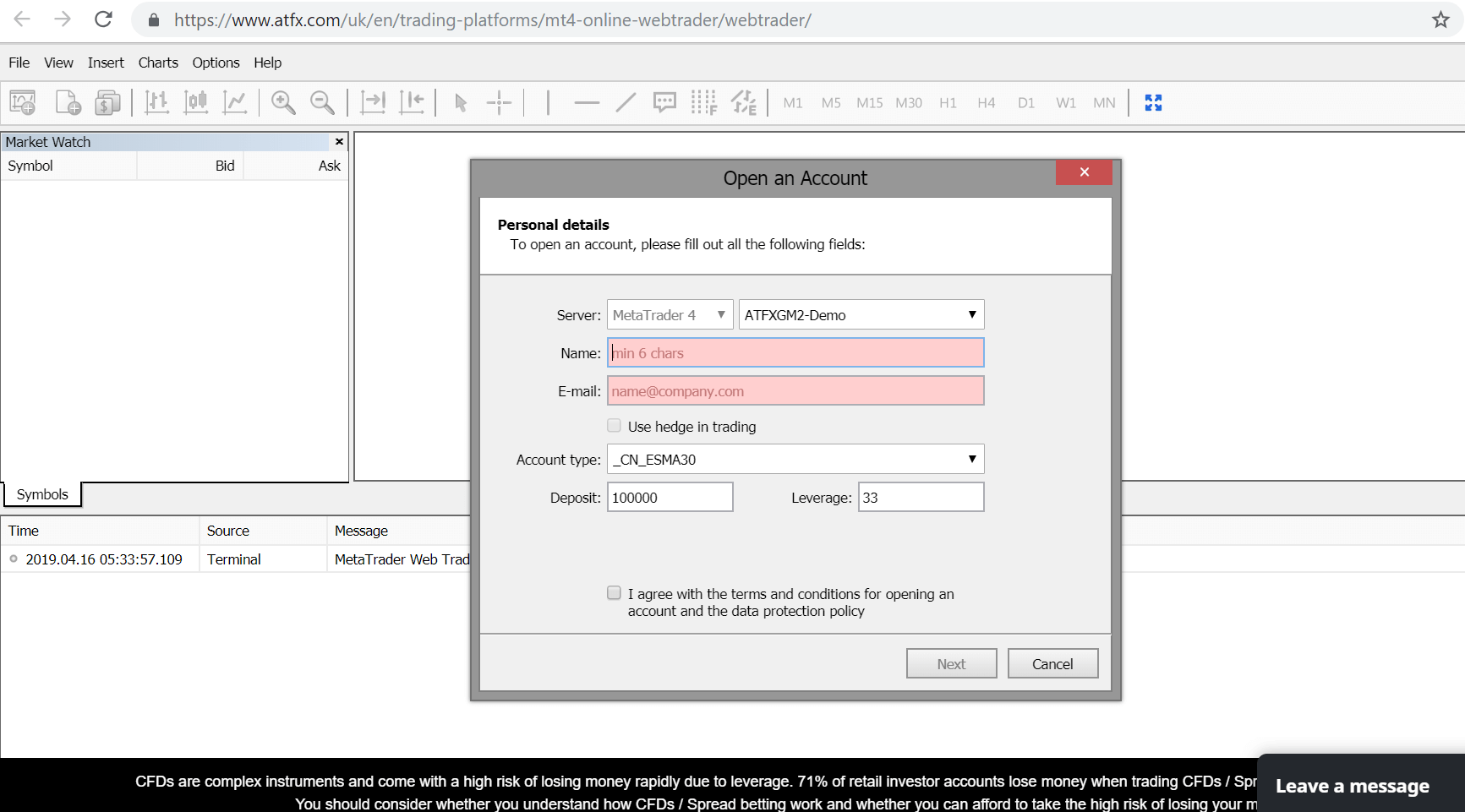 Once you have deposited funds into your account or have opened a demo account, you will be suggested to download MT4. Doing that takes just a couple of minutes, alternatively, you can also access MT4 WebTrader, a browser-based platform that does not need to be downloaded. Once you access the platform you will have to type in your name and email and the system will generate some login credentials to facilitate your access to the trading platform in the future. If you have a demo account, you will be given $100,000 to trade, whilst if you are trading live, you will have as many funds as you deposited in the previous stage.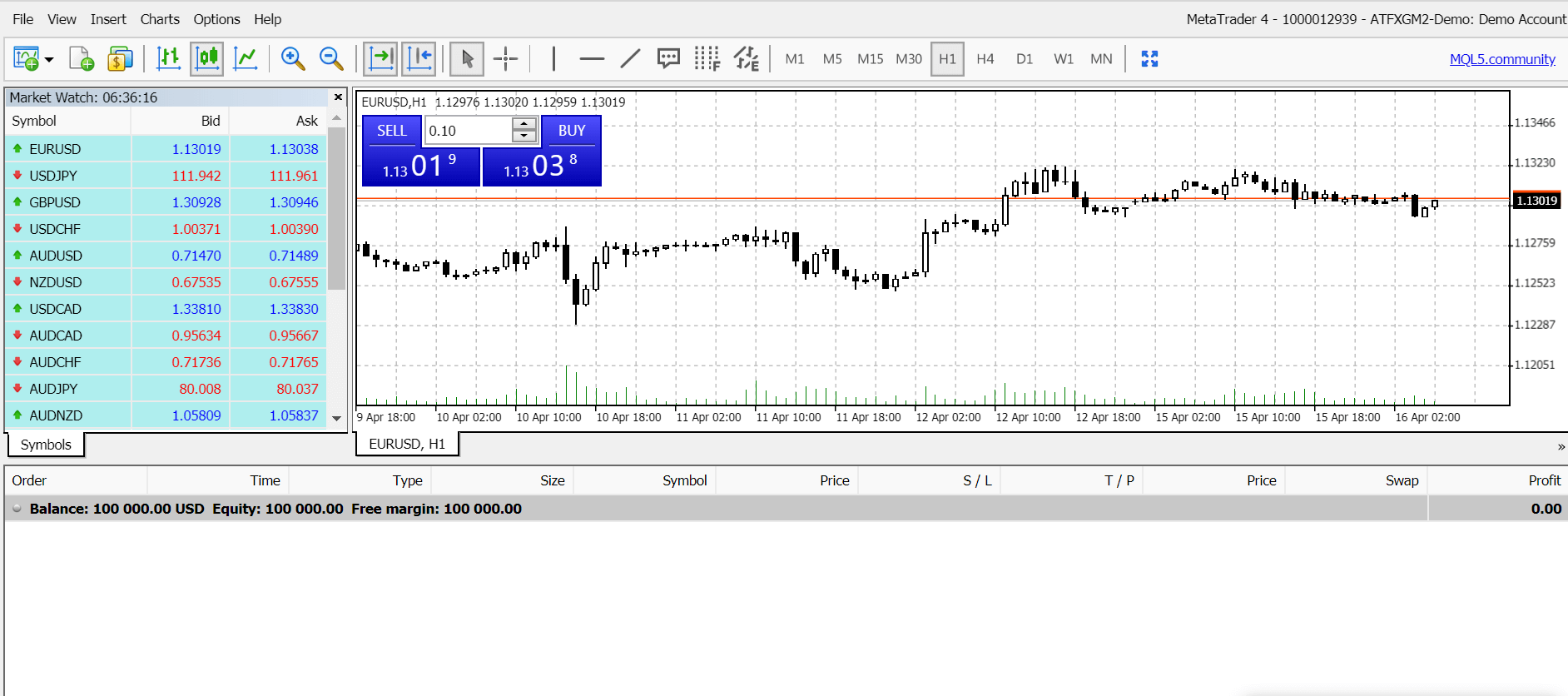 Trading is very simple, you will have the asset list on the left side of the screen, the charts where you can buy and sell assets on the right side and the trading history on the bottom. To trade with an asset, all you have to do is select one from the asset list and decide whether you want to sell it or buy it depending on what your strategy is. The first time you click on one of the two, a risk disclaimer will pop up and you will have to accept the terms and conditions before being allowed to continue. Once you've done that you are free to trade as much as you want.
Security and Regulation
Score: 9/10
Regulation
ATFX is regulated by several regulators including The Financial Conduct Authority (FCA) which is the most trusted regulatory agency in Europe together with CySEC. ATFX is also regulated by the Cyprus Securities and Exchange Commission (CySEC), and Market in Financial Instruments Directive (MiFID).
According to the FCA, ATFX is allowed to operate in the UK but not in the US, Belgium, or any other country where such type of trading would go against local law or regulation.
Security
The broker does not offer very detailed information on its trading security measures. ATFX does take security and safety of funds measurements – Firstly, the funds belonging to clients are separated from the operational funds of the broker and kept in separate banks in segregated accounts. The broker offers clients protection through the investor compensation fund of up to €20,000. Moreover, ATFX offers traders negative balance protection that ensures that traders will not lose more money than deposited.
Deposit and Withdrawal Process
Score: 8/10
Payment Options
You can choose from several payment methods on ATFX. The most popular payment option is MasterCard or VISA credit and debit cards, but you can also use e-wallets such as MoneyBookers, Neteller, and others. Alternatively, you can pay your deposit via bank transfer. We are certain that the transfers are accepted in a variety of currencies but please contact customer support if you are not sure whether your currency is accepted.

Withdrawal process: According to the website, there are no fees when it comes to withdrawals, no matter what payment method you choose. Processing time varies depending on the method chosen though. If a withdrawal is requested through a local bank, processing time takes around 2 days whereas it will take between 3 and 7 days if it is requested with a wire transfer. With credit and debit cards, the processing time depends on your bank. As for e-Wallets, withdrawals are processed instantly.
---
Overall, ATFX does not charge any deposit and withdrawal fees and offers a fair selection of payment methods.
Education and Resources
Score: 8/10
The ATFX website also offers an education section for users to benefit from. The main resources on offer are webinars. The webinar schedules are updated periodically on the official website under the "education" section. There usually are 5-10 webinars scheduled within a period of two weeks and the available languages vary. There currently are webinars available in English, Spanish and German. You can register for a webinar by clicking on the "register" button next to the webinar and you will then have to fill in a form typing in your first and last name, email address, phone number and you will have to select your country. You will then get an email to remind you to attend the webinar at the indicated time.

On top of the education section, the broker offers resources to help you carry out research and market analysis. The "analysis" section of the website offers a section dedicated to technical analysis with daily reports on the technical market, reports on specific currency pairs, cryptocurrencies, futures, indices and so on. The website also offers a section with information on trading central a very well-reputed tool for data analysis, providing investment research for over 200 investment banks, brokers, managers and professional dealers from 45 countries. There is also a link you can click on to download the software. There is then an economic calendar that you can access at any time.
Customer service
Score: 7/10
You can contact a member of staff 5 days a week from Monday to Friday between 9 am and 5 pm. You can reach them via telephone, email, and chatbot. There is a hotline for users calling from the UK and a few others for those calling from outside the country. Alternatively, you can contact a member of staff by leaving them a message on the live chat that you can find at the bottom right of every page of the website. There are different emails depending on what your concern is about including sales, support, partnerships, complaints, and general information.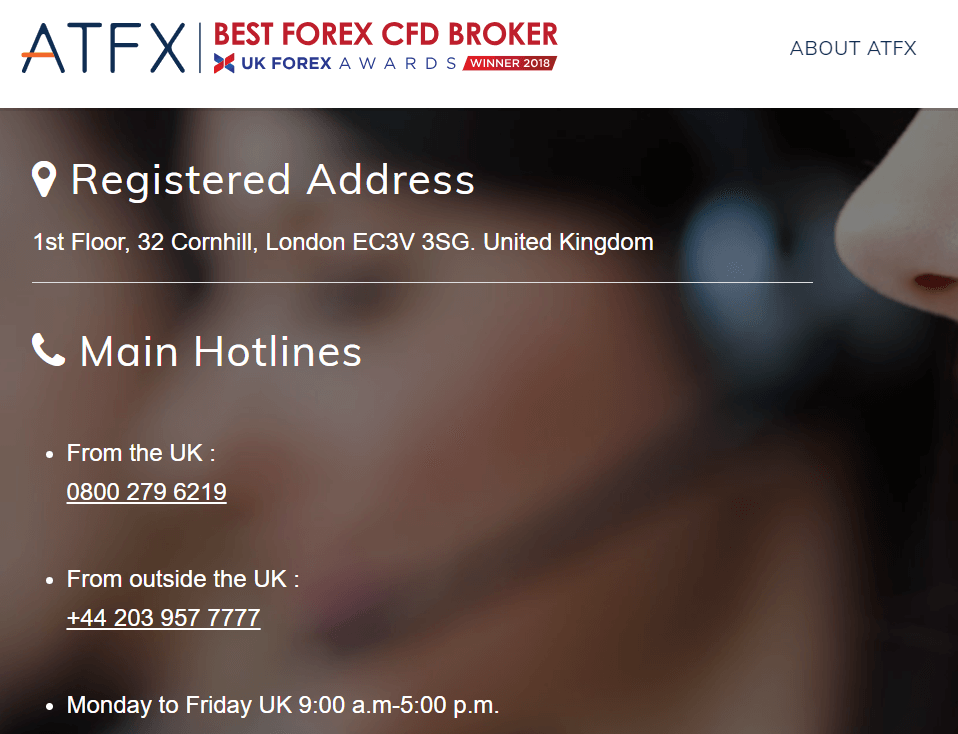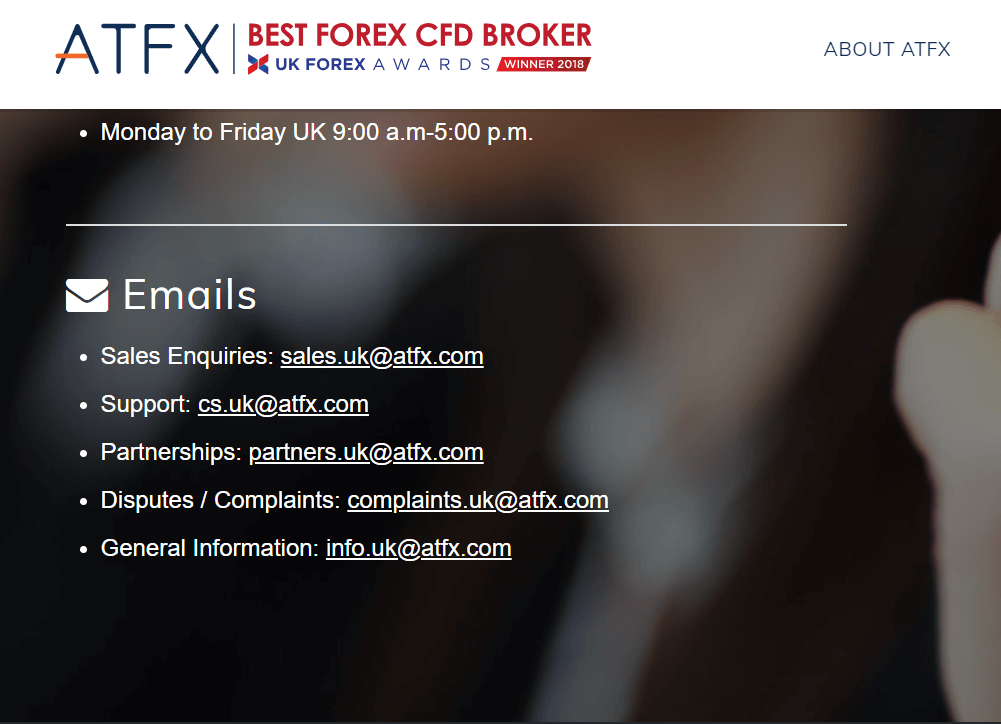 Mobile App
Score: 7/10
ATFX offers the MT4 mobile app available on the App Store and Google Play. You can download the MT4 app on your phone, and through it, you will be able to access your ATFX account. All you have to do is go on the App Store or Google Play depending on the type of phone you have and then you can download the MetaTrader4 app within a couple of minutes and access the trading platform linked to your ATFX account in the same way as the desktop platform. You can login the first time you're your name and email address. You will then get some login details that you will be asked to keep in a safe place and that you will need for future access to the platform.
Pros and Cons
Pros
It is an FCA/CySEC/MiFID regulated broker.
It uses MT4 to support trades.
It offers a comprehensive education and analysis sections.
It offers very professional and helpful customer service.
Offers competitive spreads.
Cons
Customer support is not available 24/7.
The broker omits relevant information on its website.
It is not available in the US, Korea, Canada, Iran and more.
It offers a limited choice of payment methods.
No information is provided on fees charged for withdrawal requests.
Conclusion
ATFX has definitely gained momentum in the last five years. There are some very positive aspects of the broker, such as the availability of the MT4 trading platform as well as the education and resources section of the website. The broker has succeeded to acquire the needed regulation and STP/NDD connection to liquidity providers that removes the conflict of interest and offers traders better spreads and commissions. As a result, ATFX fees are relatively low.
At the moment, we recommend trading with reliable broker like ATFX, fully regulated and with an innovative approach.
FAQs
Are there risks when trading on ATFX?
Yes, whenever you trade online, there will be a risk of losing part or all of your funds, no matter what platform you decide to trade on. In terms of regulation and traders' protection, ATFX provides all the necessary tools and legal safety for its users.

Can I pay in other currencies other than USD?
Yes, you can. We are certain that other currencies available are EUR and GBP.

Is customer support available?
Yes, it is. We tried contacting customer support within office hours and they responded quickly and efficiently. You can contact a member of staff Monday to Friday from 9 am to 5 pm. You can contact them by phone, email or through the live chat. There is also a phone number available if you are calling from outside the UK.
Is ATFX a regulated broker?
Yes, ATFX is regulated and licensed by the Financial Conduct Authority. Together with the Cyprus Securities and Exchanges Commission and the MiFID, it is one of the most trusted and well-reputed regulatory agencies in Europe. Brokers that are FCA-regulated have to comply with certain standards aimed at protecting users.

Are there any fees on ATFX that I should know of?
There are no hidden fees on ATFX. You are not required to pay any fees upon registration, when you deposit or withdraw money. You may be charged a small fee if you are depositing money with a non-UK bank card. You should be aware of these fees: Transaction fees; Conversion of realized P/L to base currency; and, Inactivity fees.
How do I open an account on ATFX?
The first thing you need to do is go on the official website and look for the sign up button. Right at the top of the page, you will be able to see two buttons suggesting you to either open a demo account or to open a live account. We recommend starting from the demo account so please click on the right side button saying "OPEN DEMO ACCOUNT". Once you have done that, you will be required to provide your full name, email address and phone number. If you are trying to create a demo account then that is all you need, but if you are trying to create a real one you will have to go through a questionnaire on your financial situation and general knowledge of crypto trading. The whole process should take between ten and fifteen minutes.

Is there a demo account?
Yes. Before creating a real account and depositing real funds, you will have the option to try a demo account. You can actually switch to demo at any time, even after you have deposited funds into your real account. When trading in demo mode, you will be given a demo balance of $100,000 that you can use to test the trading platform by placing trades and trying different investment strategies as well as seeing how the platform operates.

How much money should I deposit when I begin?
The minimum amount you are required to deposit in order to start trading is $200 for the Standard account and $5,000 for the Edge account.

Can I access the same account through the apps on my phone?
Yes, there is no need to create a different account on your phone if you already have one on your laptop. All you have to do is download the MT4 app and type in the login details you were provided with when you first accessed MT4 on your laptop. Once you've done that, you should be able to access the trading platform linked to your ATFX account from your smart phone.

How We Review Brokers
In case you were wondering, our reviews of brokers are the result of our tests of the platforms. There are a few things we look at before deciding whether a broker is legit or not:
Regulatory status.
Presence of risk disclaimers, education and legal sections to evaluate transparency.
Information on fees, account types and spreads.
Create an account and try the demo account to see if it is as helpful and explicative as it is supposed to.
Switch to a real account and deposit the minimum funds necessary to start trading.
Assess based on trading experience, availability of support, profit potential and more.