IOTA is a totally different iteration of familiar blockchain technology, forgoing the linear "Blockchain" of Bitcoin for multi-dimensional "Tangle" of transactors. IOTA has no fees, actually speeds up the more people use it, and is infinitely scalable. IOTA takes its name from the "Internet of Things", often abbreviated "IoT". It's a technology solution by which all sorts of devices around the globe can be interconnected, transacting money and data.
IOTA is also a cryptocurrency (MIOTA). Crypto investors are right to see IOTA as an opportunity for big returns. As more of our daily lives go online, the applications of the IOTA network will inevitably go mainstream. To invest in IOTA while the network is still young, users will need an IOTA wallet, one which can store the MIOTA cryptocurrency and protect the investment for however long the user decides to hold.
Quick Search Box
 Quick Guide: Create an IOTA Wallet in 5 Minutes
Create an eToro Account
Choose a "Deposit" payment option
Make your first deposit ($250 minimum recommended)
Make sure that the payment has been processed on "Overview"
Open a Trade with "Buy" at the IOTA Market
Download the eToro app for your phone
Log into your new account
Your new IOTA has arrived!
Compare
To find out more and compare different wallet providers, check out our list below. If you want to learn How to buy Bitcoin and other cryptocurrencies, read 
this guide
.
What is a IOTA/Crypto Wallet?
What is a IOTA/Crypto Wallet?
IOTA is a digital currency. This means that it's used like physical money, but it must stored in a piece of software to remain safe and accessible to its owners. A piece of software that performs this function is called a "wallet". It's a digital product that performs the same function as the leather wallet in your pocket, for digital currencies like IOTA.
Everyone who uses IOTA has an IOTA wallet. There's a wallet for every other kind of cryptocurrency, as well. Crypto wallets perform these functions:
Send Cryptocurrencies
Receive Cryptocurrencies
Trade Cryptocurrencies
Spend Cryptocurrencies
Withdraw Cryptocurrencies
IOTA's Tangle and wallet technologies can do many things. However, you can't use a crypto wallet to:
Send BTC to a non-BTC Address (like-address to like-address only!)
Share personal data with 3rd parties (not recommended)
Withdraw fiat cash from your bank (only crypto ATMs)
Ever wonder how certain IOTA coins are tied to their owners? This is done using secret codes called "Private Keys". When you receive new IOTA coins, you receive Private Keys along with the transaction. These keys signify to the IOTA network that you, the owner, have the right to ownership of these coins. The private keys are managed in an IOTA wallet that you control.
There are many IOTA wallets available today. They can be stored on mobile devices or computers. IOTA wallets can even be housed in standalone physical products, which are safer than software wallets because they are not connected to the internet (and its hackers and fraudsters).
IOTA wallets also exist on cryptocurrency exchanges. Exchanges wallets are meant to temporarily store your IOTA after you buy it, while you choose where to send your IOTA for longer-term storage.
Of all of these options, the safest bet will be an IOTA wallet that's not connected to the internet. This could be a software wallet on a laptop that's never been online, a hardware wallet like the Ledger Nano S, or a Paper Wallet (that's just your IOTA Private Keys written down on a piece of paper – hack proof!).
Compare IOTA and Crypto Wallets
4,9/5


Buy Now

4,9/5


Buy Now

4,5/5


Buy Now

4,2/5


Buy Now

Payment Methods

PayPal
Credit/Debit Card
Wire Transfer
Neteller

Payment Methods

PayPal
Credit/Debit Card
Wire Transfer
Neteller

Payment Methods

Credit/Debit Card
Bitcoin

Cash
PayPal
Wire Transfer
Skrill

Payment Methods

Credit/Debit Card
Wire Transfer
Bitcoin

Cash
PayPal
Neteller
Skrill

Minimum Deposit

$250 USD

Minimum Deposit

$100 USD

Minimum Deposit

$1 USD

Minimum Deposit

$10 USD
Best IOTA and Crypto Wallet Providers
eToro
Create an IOTA Wallet on eToro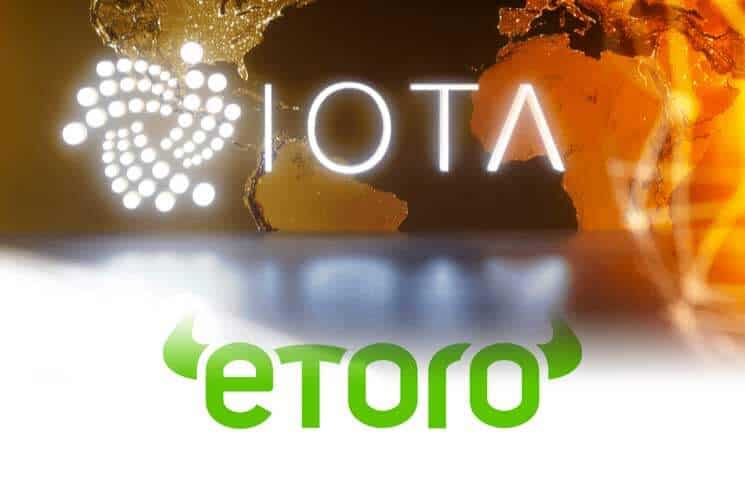 eToro is a cryptocurrency exchange with a deeper history than any other. A long time fintech services provider, eToro is regulated by the FCA and CySec. Having been around since before Bitcoin even existed, eToro allows users to invest in traditional securities like stocks in additiong to crypto. eToro usually operates as a CFD broker, but now offers users traditional ownership of Bitcoin, IOTA, and other cryptocurrencies.
This is accomplished with the eToro wallet – a new crypto wallet product introduced in 2018. The eToro wallet is made for the storage and transfer of Bitcoin, Ethereum, and other eToro-supported digital currencies.
Follow the steps below to create your own eToro cryptocurrency wallet in just a few minutes.
Step 1: Registration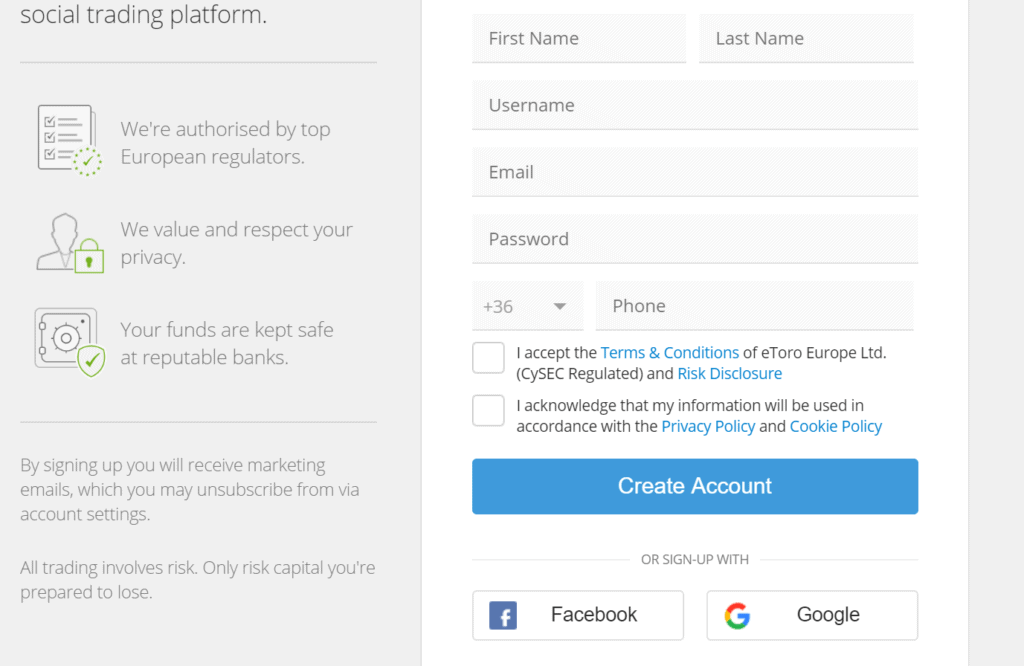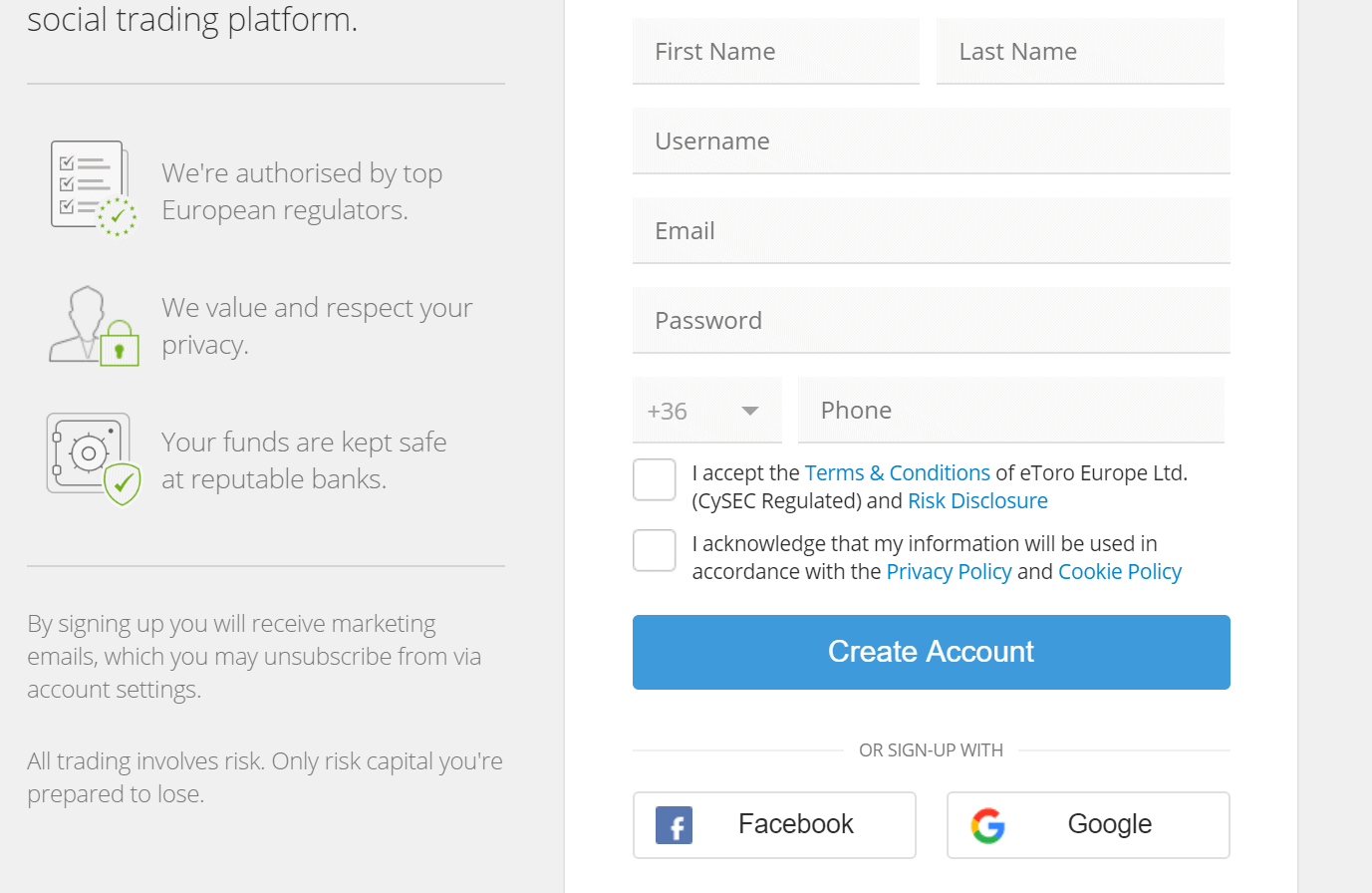 eToro is free to use, whether you're using its flagship platform or the eToro wallet for cryptocurrencies.
Go to the eToro website and click "Sign Up".
You'll be prompted to provide certain information about yourself. Fill out the information requested and submit.
For even faster signup, just connect your Facebook or Google account.
Step 2: Verification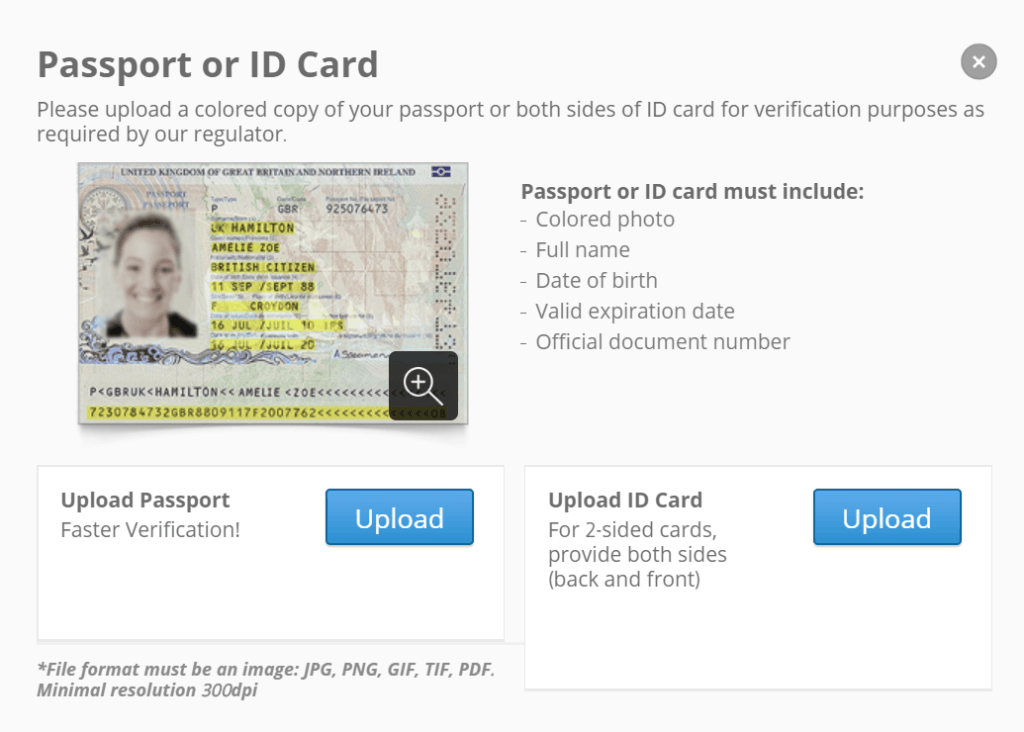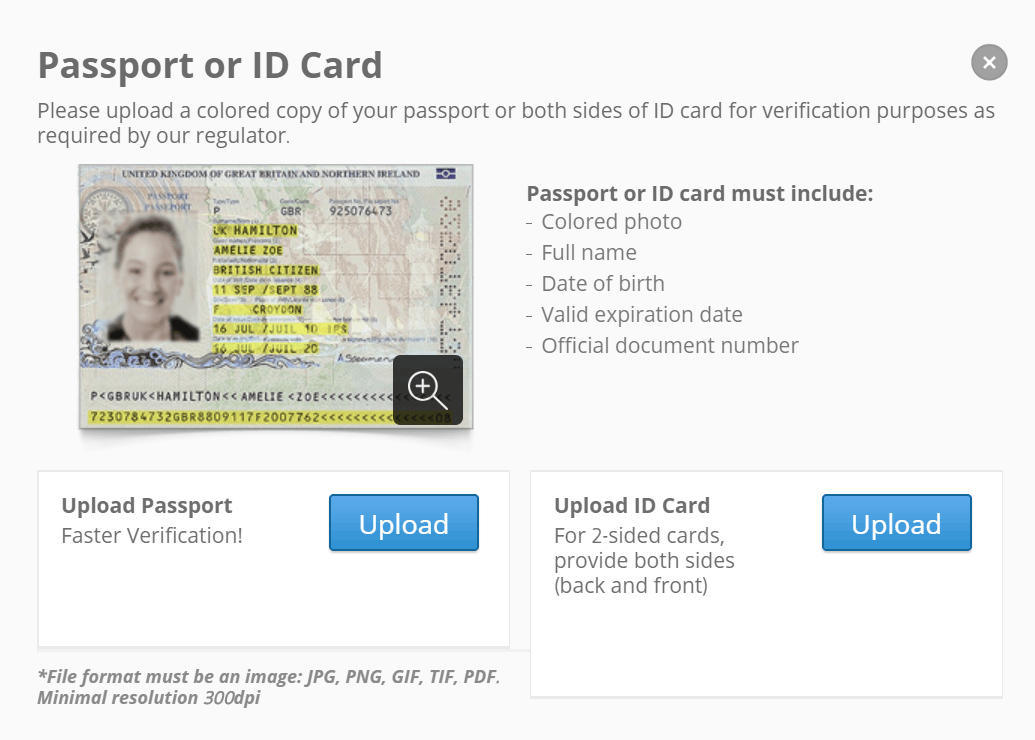 eToro is regulated by agencies around the world, so they are required to complete KYC and AML procedures with new users.
eToro does this by getting a copy of each user's government ID/Passport/Driver's License.
This step is unnecessary if you only plan to buy IOTA with eToro. But if you ever wish to sell crypto through this platform, you'll need to upload your docs.
Step 3: Fund Your eToro Wallet and Buy IOTA.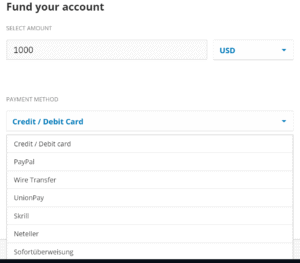 Put money into your new eToro wallet using your credit card or bank account. Now buy IOTA (or any other altcoin on the platform) within the intuitive eToro Wallet interface.
Choose from the various payment methods available, such as e-wallet fiat providers like Skrill, Neteller, and Paypal.
For your first deposit, a moderate amount of $250 is recommended. This will be enough to make a significant investment and learn the platform, without risking too much before you are ready.
Step 4: Buying IOTA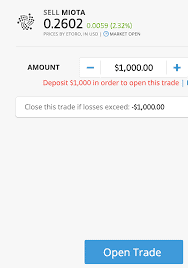 Your account is now funded, so you'll be able to open an IOTA buy order on eToro.
Search at the top of the page for IOTA, this will bring up the IOTA to USD trading pairs.
Click "Buy" next to MIOTA, then "Open Trade" on the next screen to proceed.
Step 5: Holding MIOTA
Your account is now funded, so you can download the eToro Wallet app to your phone for storage of MIOTA and other cryptocurrencies you might buy.


The eToro wallet can be used to buy, send, and receive cryptocurrrencies.
You're now ready to send, receive, or store MIOTA anyway you like!
Binance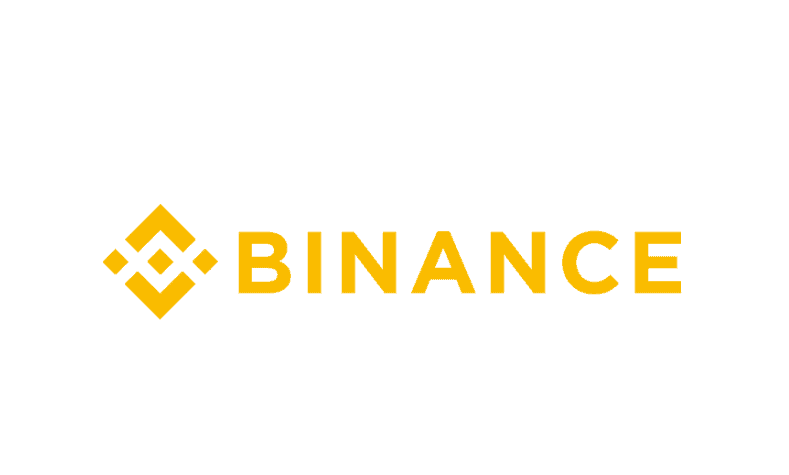 More cryptocurrency is traded with Binance than with any other cryptocurrency exchange in the world. Most people who buy IOTA find themselves on Binance at some point. Here is a quick guide to creating your own Binance account, as well as how to use the Binance IOTA exchange wallet.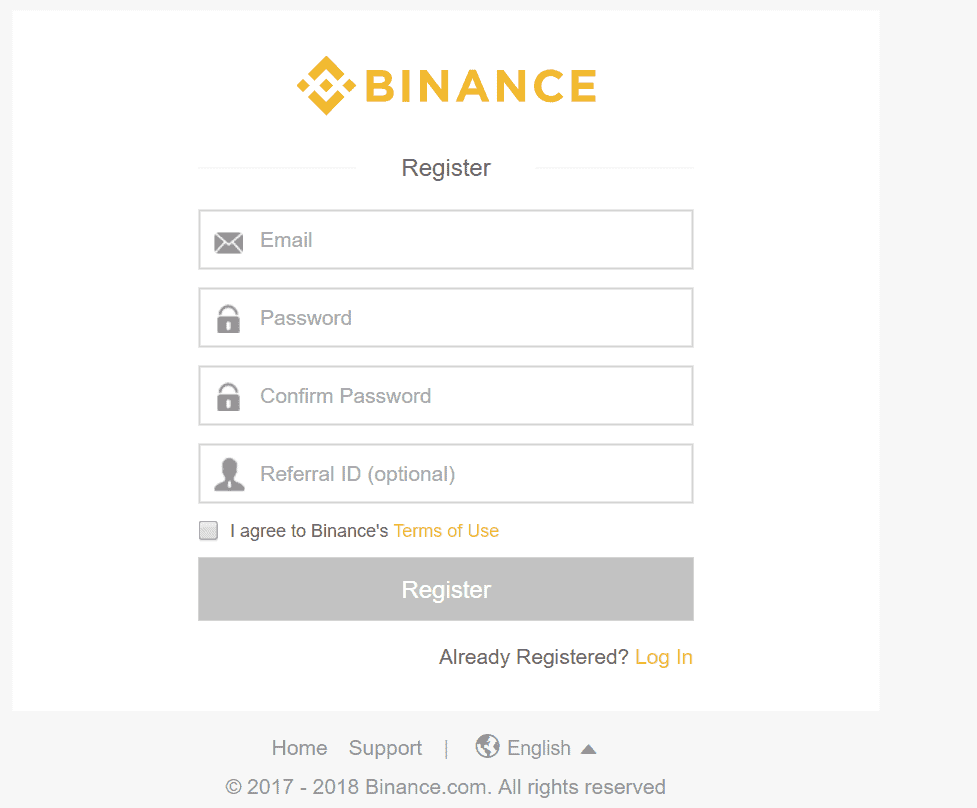 Step 1 – Create Your Binance Account.
Go to Binance.com and register for a new account. List your email address and create a new password.
Binance will send you an email with a link that you should click.
Once you click the link, you'll be let back onto Binance. Give a little more information, and you'll be able to fund your Binance account with Bitcoin, Ethereum, Tether, Binance Coin (any of which can be traded for the rest of the altcoins on Binance, including IOTA/MIOTA).
Note: You can't buy IOTA with fiat money on Binance.
Step 2 – Go to "Funds" > "Balances"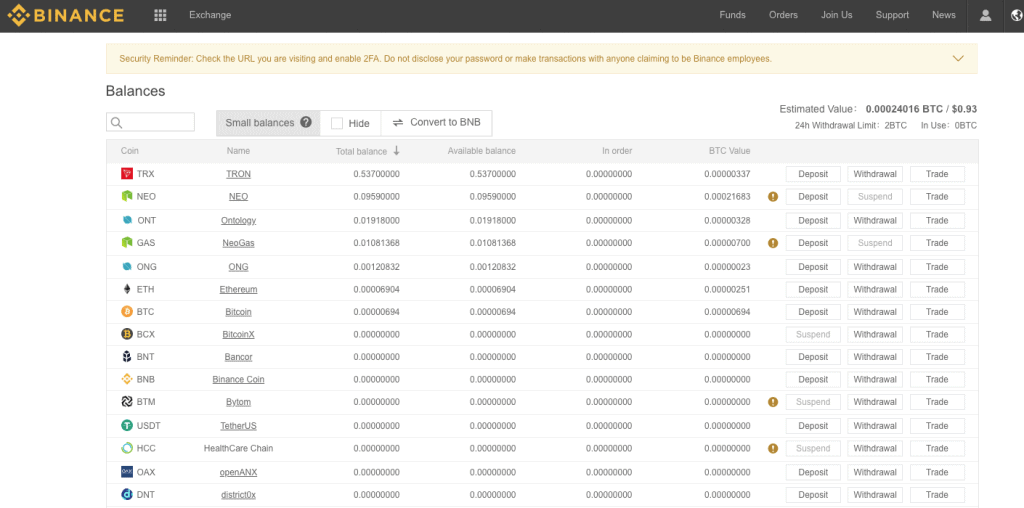 Here's an image showing a bunch of Binance wallets, one for each cryptocurrency traded on the platform.
Whenever you buy an altcoin on Binance, it gets delivered to its wallet here in your account.
When you have cryptocurrency in one of these wallets, it will appear at the top of the pile. You can send IOTA or other altcoin to these wallets by clicking "deposit" beside the relevant wallet.
Guarda Wallet
Guarda Wallet is an excellent multicurrency wallet with full IOTA functionality. We're impressed with Guarda's security, an important characteristic for a mobile-ready IOTA wallet. Find out how to create your own Guarda wallet below.
Step 1: Create a Guarda Wallet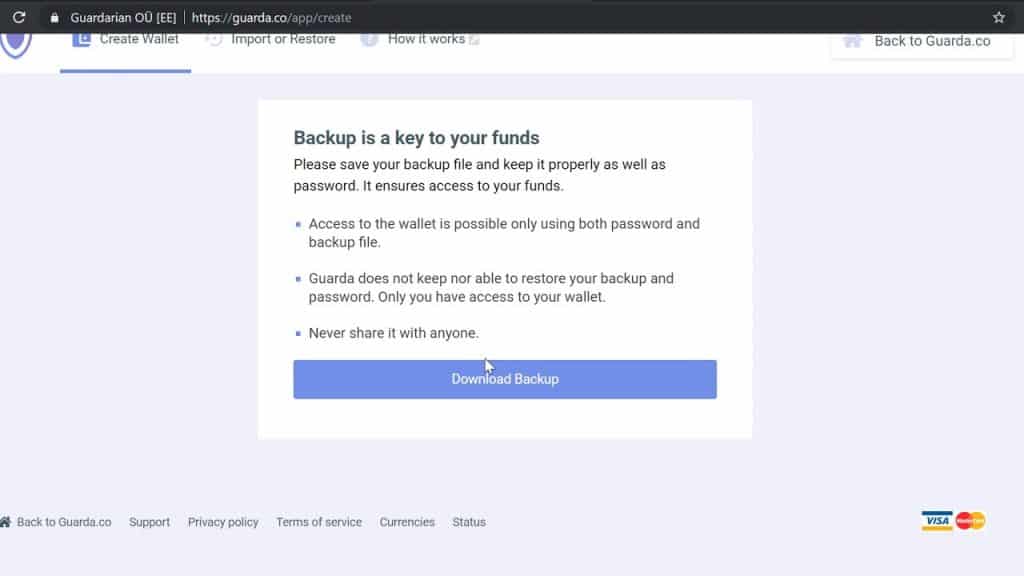 Go to Guarda.co and create your wallet. Guarda is an online wallet, accessible through browser or as an app on your mobile device. Create your wallet, and make sure to Backup the wallet as well. This will let you recreate your wallet if you ever get locked out for some reason.
Step 2: Access your IOTA wallet
Your IOTA wallet will already be active within your Guarda wallet. Once inside your account, you'll be able to send MIOTA to the IOTA wallet address, where you can send your IOTA for any purpose, receive more, or store your coins for a long term investment.
Best IOTA Wallets in Your Country
UKCanada & USAustralia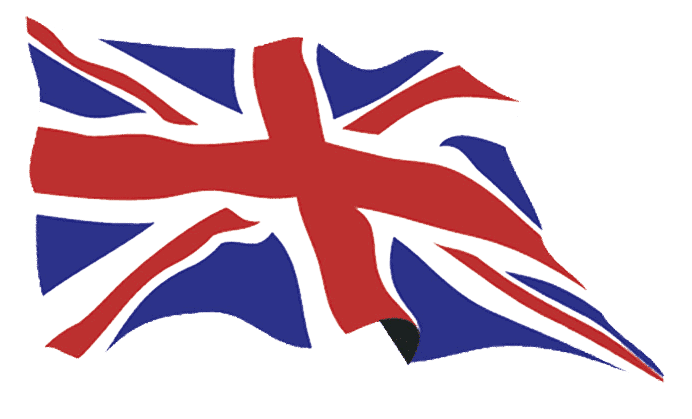 eToro is the most impressive investment option for people in UK. Though not yet available on the eToro Wallet, users can speculate on the value of IOTA within eToro's flagship platform, alongside the best cryptocurrencies in the market.
eToro is licensed in multiple international jurisdictions. Its long history of excellent services and practices extends back before Bitcoin even existed
If you want to actually own and trade IOTA, Binance might be your best bet. IOTA is tradable against Bitcoin, Ethereum, Tether, and Binance Coin on Binance. From Binance, you can trasfer your IOTA to any IOTA-supporting crypto wallet.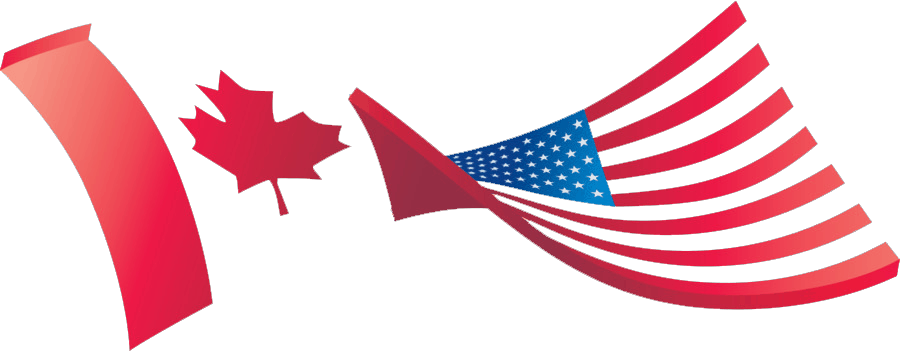 eToro is the best IOTA investment option for people who just want to buy low and sell high. Not yet available on the eToro wallet, IOTA is tradable within eToro's main CFD investment platform.
For users who wish to own and transact with their IOTA, Binance may be the best option for people in North America. All of Binance's trading currencies have trading pairs with IOTA.
Binance is the best temporary IOTA wallet solution for traders in Australia and New Zealand.
While not ideal for long term storage, the Binance wallet has never had a major hacking scandal as is so often the case with exchange wallets.
People can buy IOTA on Binance, then store it in the Binance wallet until they figure out where and how to store it securely elsewhere for the long term.
Differences Between Exchange, Hardware and Software Crypto Wallets
Now that we understand some of the best IOTA wallet options, let's highlight the differences between exchange, hardware, and software wallets.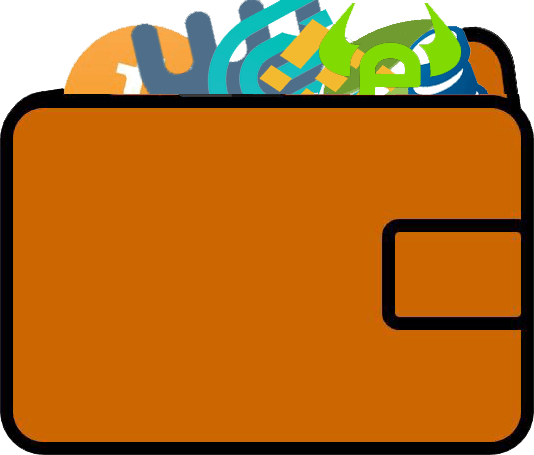 Exchange Wallets
Every cryptocurrency exchange provides temporary wallet solutions for their users. This is where coins go after a trader buys them.
Crypto exchanges are occasionally hacked, and user funds stolen, so people shouldn't rely on exchange wallets for the long term.
Here are some good examples of Exchange wallets:
Coinbase Wallet
Binance Wallet
eToro Wallet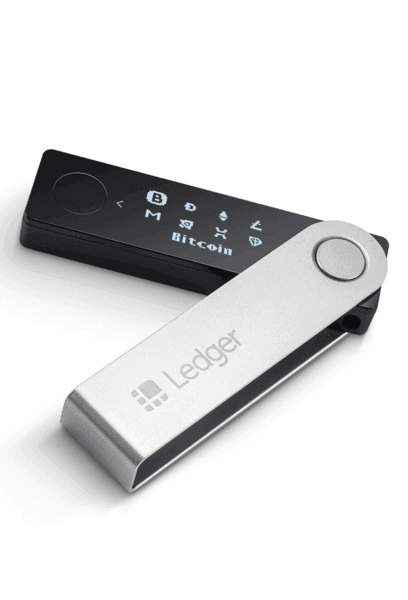 Hardware Wallets
A hardware wallet is a physical produce equipped with software that stores cryptocurrencies. Hardware wallets are only connected to the internet when making transfers, thus storing crypto securely.
Here are some good examples of Hardware wallets:
Ledger Nano S
Trezor
Bitcoin Paper Wallet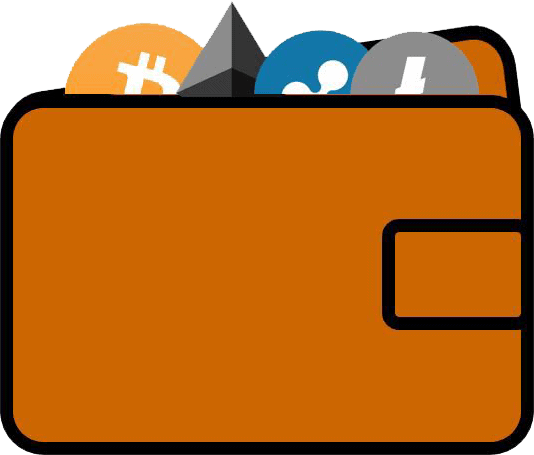 Software Wallets
Software wallets are pieces of software downloaded onto mobile devices and computers. These web-connected wallets are always going to be a little more vulnerable than hardware wallets, but they're more convenient for everyday crypto use.
Use software wallets to store IOTA that you plan to trade or spend in the next few days. Use more secure wallets like hardware wallets for long term storage.
Here are some good examples of Software wallets:
Exodus Wallet
Jaxx Wallet
Bitcoin Core
Best IOTA Wallet on Mobile
AppleAndroidApple x Android
Best IOTA Wallet Apple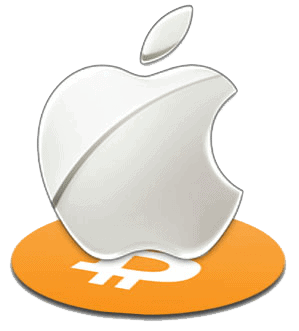 The Guarda Wallet is probably the best wallet solution available for IOTA users with Apple phones. It's an intuitive and secure multicurrency wallet that's cross-compatible with desktop browsers.
Apple users can also use eToro, which allow for trading of MIOTA using CFD. However, the eToro Wallet doesn't yet support IOTA, so don't plan to trade to own with eToro, at least for IOTA.
Best IOTA Wallet Android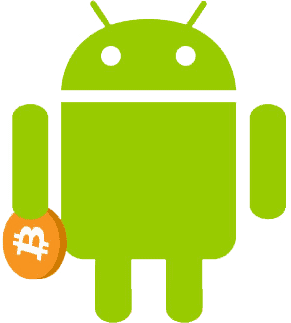 Guarda is probably the best IOTA wallet available for Android mobile users. A web wallet, Guarda will be available to anyone with access to the internet, so you'll be able to use it on your computer as well.
The eToro app is also available for Android. Here you'll be able to trade on IOTA prices using CFDs. However, the eToro wallet does not yet support MIOTA, so you won't be able to trade to own with eToro.
IOTA is not the most well-supported cryptocurrency for mobile, but there are more IOTA wallets than ever for Android and Apple anyway. Check out the key differences between important crypto apps below:
Apple
Only works with applications made for its own software
Most Cryptocurrency apps and wallets are instantly banned on the Apple store due to violations of T&C
All app publishers need to be identified and cannot be anonymous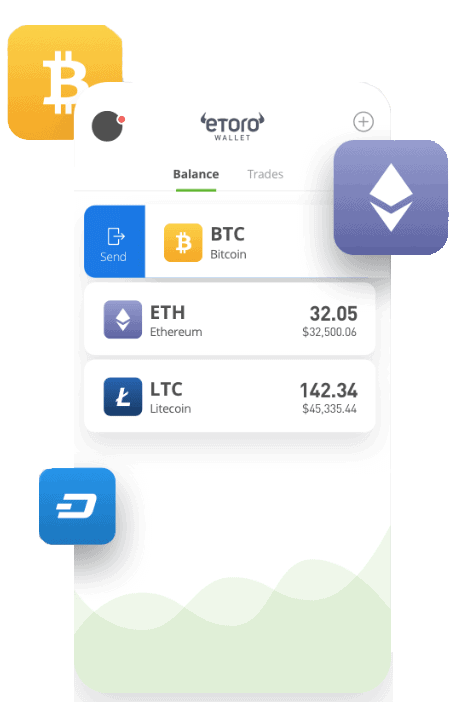 Android
You can run any application on Android
You will find any app on the Play store, even the ones that are scams
You can run crypto mining applications and scripts on your device
There are tons of options when choosing an IOTA wallet. IOTA is an innovative digital currency, and developers around the world are finding useful ways for users to store and transact with their IOTA.
When evaluating IOTA wallets, choose one with verifiable security. Also make your choice based on ease of use and compatibility with other cryptocurrencies and altcoins that you enjoy using.
When making your choice, look to third party discussion forums like Reddit and BitcoinTalk Forum. Here, unbiased users will have candid conversations about their experience with each wallet option, so you will learn what it's like the use in real life.
When you finally choose an IOTA wallet, make sure to keep the keys and passwords secret. This way you'll never lose access to your IOTA, and no one will be able to steal them from you. Good luck, and happy investing!
FAQ
Can I store all my cryptocurrencies in the same wallet?
For the most part, yes. There are many multicurrency wallets which can be used to store all of the major cryptocurrencies. However, as new cryptocurrencies and altcoins are added to the markets each day, there is no wallet option that's truly universal. If you trade in very new or obscure altcoins, chances are you'll need multiple wallets. Also, as no wallet can fulfill a user's need for security, convenience, and universal support in a single piece of software, users will likely need multiple wallets for each requisite use case.
Can I send IOTA to a Ripple or Ethereum wallet address?
Definitely not! Only send IOTA to another IOTA address. Sending IOTA to any other kind of coin address will most likely result in the loss of your funds, and there won't be any way to recover them.
What is the best Way to keep my Cryptocurrencies safely stored?
If you want to store cryptocurrencies like IOTA for the long haul, use a hardware wallet. Hardware wallets are small physical devices that house offline apps. Each app stores the keys associated with the ownership of your coins. When connected to the internet, the apps spring to life and let you do anything you want with your MIOTA. When offline, the hardware wallet prevents hackers from being able to access your coins.
Can I convert Bitcoin to FIAT currency on my wallet?
There are very few IOTA wallets that allow for fiat purchases of IOTA within the app interface itself. eToro's main app lets users trade IOTA CFDs on their phone, so this is the closest option we're aware of.
Can I link my credit card to my IOTA wallet?
Only with the eToro flagship trading app can users buy IOTA with credit card.