Ripple is an innovative blockchain network that's changing the way money crosses borders in the banking space. Already adopted by banks like PNC, Santander, and the Royal Bank of Canada (not to mention remittance services Western Union and MoneyGram), Ripple is already a fintech revolution, and XRP is definitely a cryptocurrency to own.
To invest in Ripple XRP, you'll need a Ripple wallet. We'll take a deep dive on Ripple wallets in the page below. By the time you're done reading, you'll have chosen a wallet, know how to download and install, and be prepared to send, receive, and invest for the long term. Let's get started!
Quick Search Box
 Quick Guide: Create a Ripple Wallet in 5 Minutes
Register for an account with eToro
Click on "Deposit" and choose from available payment options
Make a first deposit ($250 recommended)
Click on "Overview" once your deposit has arrived
"Buy" to Open Trade for Ripple
Download the eToro app for your mobile device
Input your login info to access your new account
The Ripple you just purchased will appear in your new "Portfolio"
Compare
You can find out more and compare the different wallet providers in our list below. If you want to learn more about How to buy Ripple and other cryptocurrencies, we recommend
this guide
.
What is a Ripple/Crypto Wallet?
What is a Ripple/Crypto Wallet?
Ripple is digital money, so it must be stored digitally. A Ripple wallet is a piece of software that allows a user access to their XRP, so they can send, receive, trade, and store according to their personal needs.
Every Ripple holder uses wallet to manage their Ripple and other cryptocurrencies. You can use your Crypto Wallet to:
Send Cryptocurrencies
Receive Cryptocurrencies
Trade Cryptocurrencies
Spend Cryptocurrencies
Withdraw Cryptocurrencies
Ripple and all other cryptocurrencies have some kind of blockchain technology to secure and record transactions. You can't use your crypto wallet to:
Send XRP to a non-XRP address
Share your data with 3rd parties (stay private, stay safe)
Withdraw fiat currency from a bank (only Bitcoin ATM)
Ripple wallets manage secret codes called "Private Keys" that tie certain Ripple coins to their rightful owners. Without these keys, no one can buy, sell, or trade Ripple. Ownership equals access, and "Private Keys" confer ownership.
However, it's very inconvenient to keep track of long alphanumeric codes, so crypto developers created Ripple wallets software. Ripple wallets manage your Private Keys so that you never have to think about it. They also provide a convenient user interface so you can transact with your Ripple.
Ripple wallets are made for different devices. They can be stored on your phone or computer. Some are even housed in hardware of their own; these hardware wallets are disconnected from the internet to prevent hacking theft.
Ripple wallets also exist on crypto exchanges, because whenever you buy Ripple, it has to be stored somewhere. Exchange wallets are only meant for temporary storage, or for balances involved in trades.
Your Ripple and other cryptocurrencies will always be safest in a crypto wallet you control. Even better, store coins meant for long term investment in "cold storage" wallets, not connected to the internet.
Compare Ripple and Crypto Wallets
4,9/5


Buy Now

4,9/5


Buy Now

4,5/5


Buy Now

4,2/5


Buy Now

Payment Methods

PayPal
Credit/Debit Card
Wire Transfer
Neteller

Payment Methods

PayPal
Credit/Debit Card
Wire Transfer
Neteller

Payment Methods

Credit/Debit Card
Bitcoin

Cash
PayPal
Wire Transfer
Skrill

Payment Methods

Credit/Debit Card
Wire Transfer
Bitcoin

Cash
PayPal
Neteller
Skrill

Minimum Deposit

$250 USD

Minimum Deposit

$100 USD

Minimum Deposit

$1 USD

Minimum Deposit

$10 USD
Best Ripple and Crypto Wallet Providers
eToro
Create a Ripple Wallet on eToro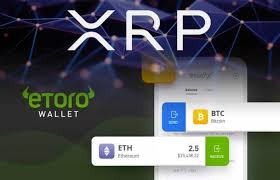 eToro is not a new exchange. Long serving the conventional investment space, eToro is regulated by the FCA and CySec. Its introduction into cryptocurrency trading several years ago was a great day for our community.
In 2018, eToro launched their first Crypto Wallet. For the first time, they allowed users to buy real Bitcoin and other cryptocurrencies, not just make value speculations using CFD.
Follow the steps below to buy Ripple (and other cryptocurrencies) with the eToro Wallet, in no time flat.
Step 1: Registration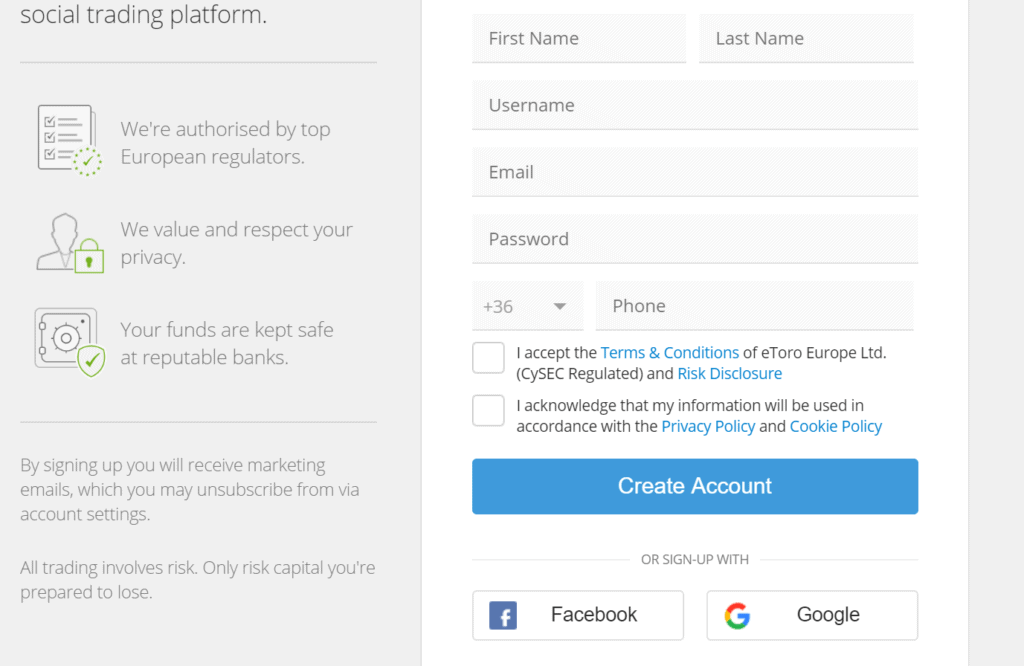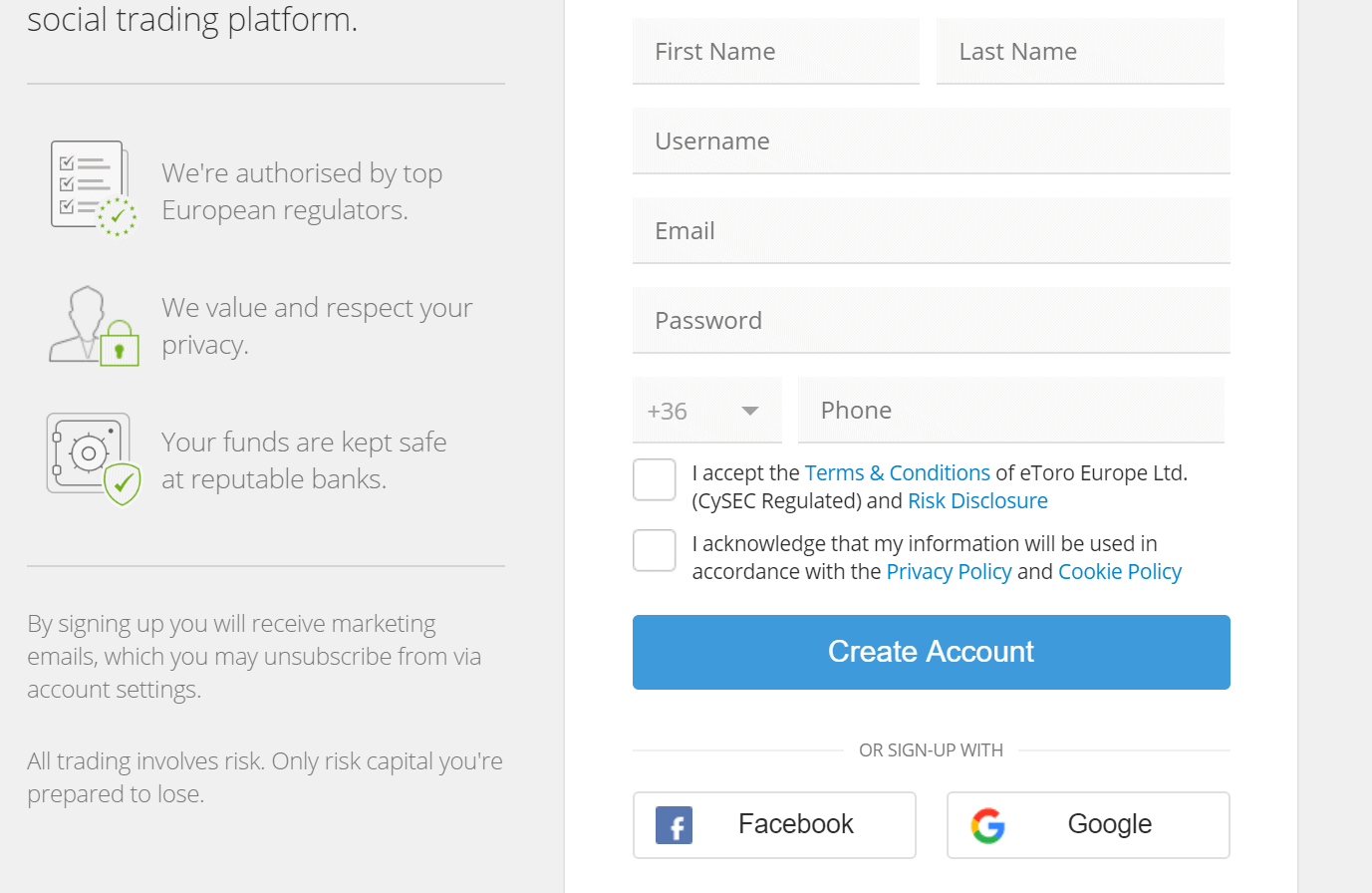 Signing up with eToro is totally free, just like you'd expect from a high quality crypto wallet.
Go to the eToro website and click "Sign Up".
Fill out the information requested of you. This should take no more than a couple of minutes.
For even easier signup, simply connect your Google or Facebook account.
Step 2: Verification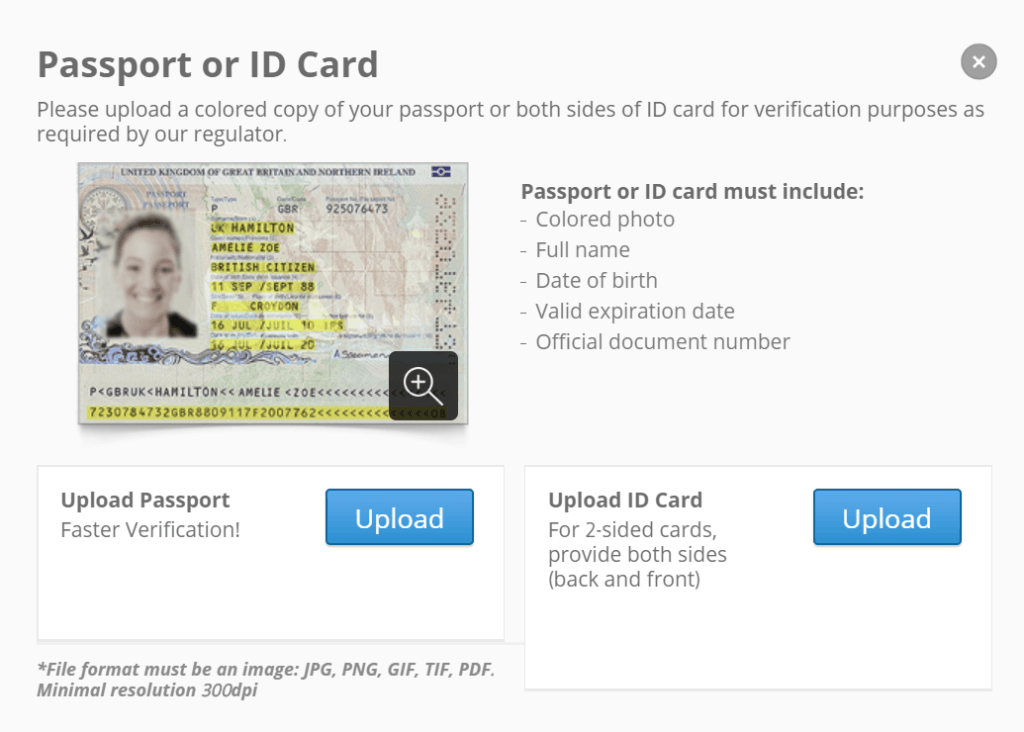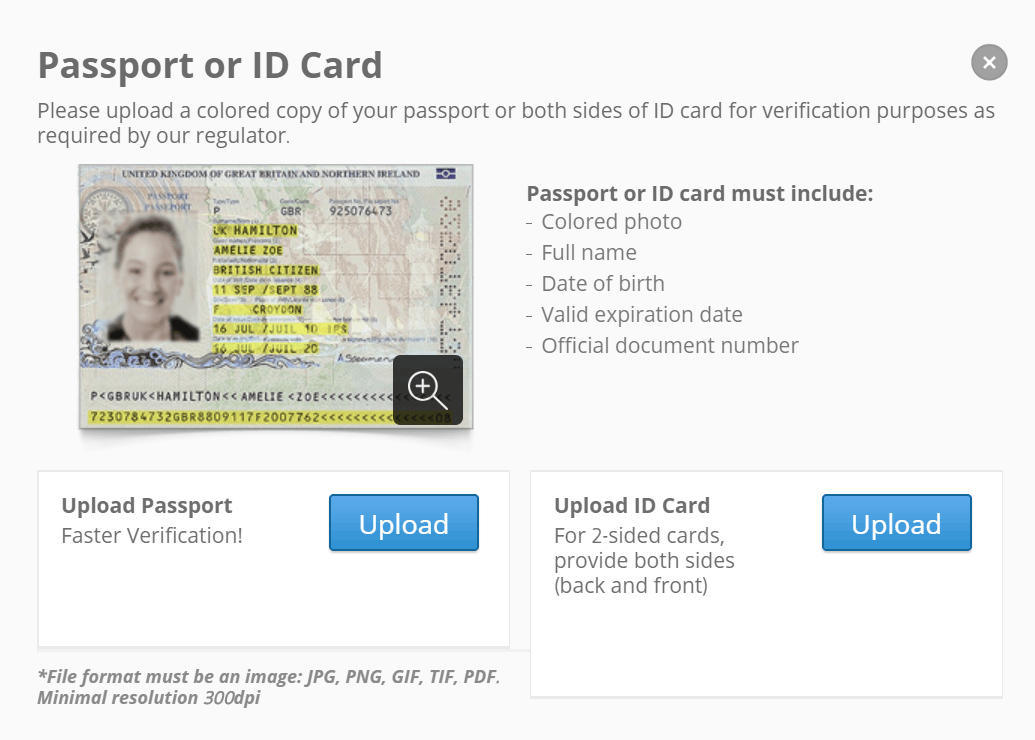 eToro is required to fulfill KYC and AML standards, to comply with various international fintech regulations.
This means you need to submit your government ID/Passport/Driver's License.
You don't need to do this step to buy Bitcoin, but if you wish to sell cryptocurrencies with eToro, you must first do KYC/AML.
Step 3: Fund Your eToro Wallet and Buy Ripple.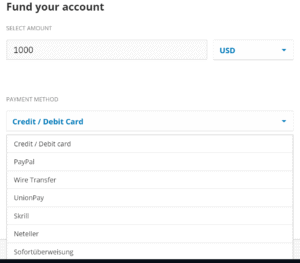 Choose a deposit method and fund your new eToro account. You can choose from a wide variety of payment methods.
eToro supports high quality e-wallet FIAT solutions, such as Skrill, PayPal, and Neteller.
Once you've selected the best method for you, make an initial deposit. We recommend starting small at $250 USD while you learn the platform.
Step 4: Buying Ripple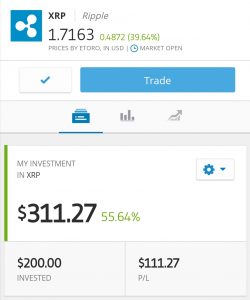 Once your deposit arrives in your eToro account, you can initiate your first Buy order.

Search at the top of the page for Ripple or "XRP". This will bring up the XRP to USD trading pairs.
Click "Buy" next to the Ripple chart, and "Open Trade" when the next screen appears.
Step 5: Holding XRP
Now that your account is funded, download the eToro wallet for easy management of your XRP.


eToro has various services and platforms. If you want to send, receive, and store Ripple for the long term, you definitely need the eToro wallet.
Once installed, your Ripple is available to use any way you like. Before you buy and store your Ripple coins, you may want to check out the Ripple price.
Binance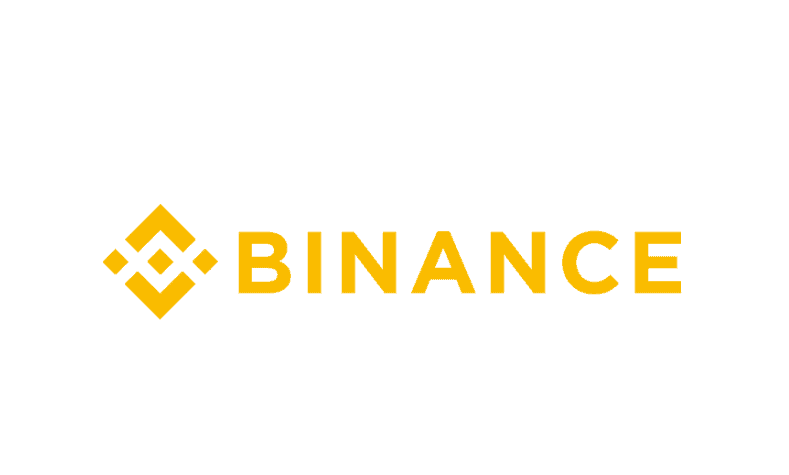 Binance is an internationally used cryptocurrency exchange hub. If you're interested in trading Ripple, you'll likely use Binance often. We'll give you a quick overview of how to create a Binance account so you're ready for this exchange wallet.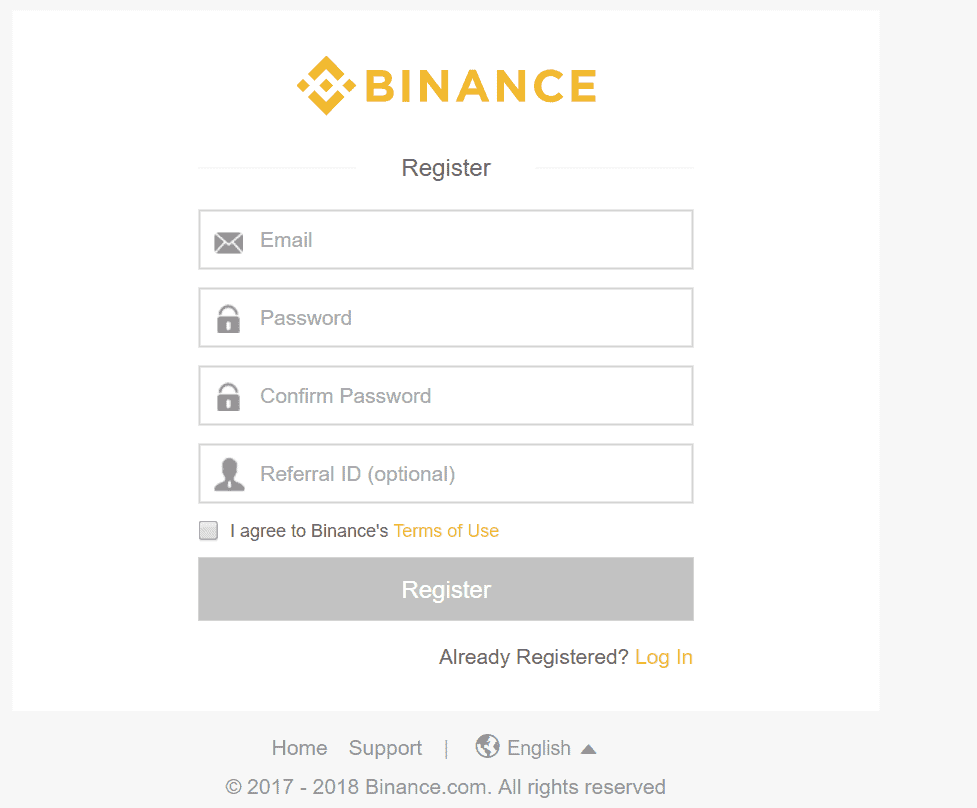 Step 1 – Create Your Binance Account.
Complete new registration at Binance.com. You'll need to provide your email address and create a new password for the site.
Respond to the email Binance sends you by clicking the link therein.
You'll arrive within your new Binance account. Supply a little more info, and you'll unlock Ripple buying functionality.
Note: You can't buy Ripple with fiat money (USD, EUR, etc.) on Binance.
Step 2 – Go to "Funds" > "Balances"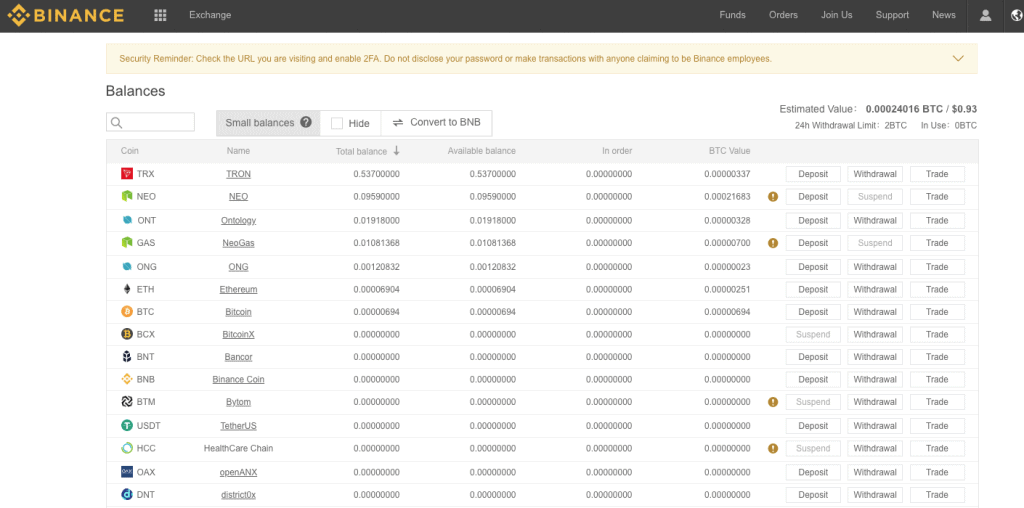 This is where all of your Binance wallets are kept.
When you buy any cryptocurrency on Binance, it's delivered to one of these wallets.
When a wallet contains coins, it appears at the top of the list. You can also send coins to your Binance Ripple wallet, and withdraw from the same.
Exodus Wallet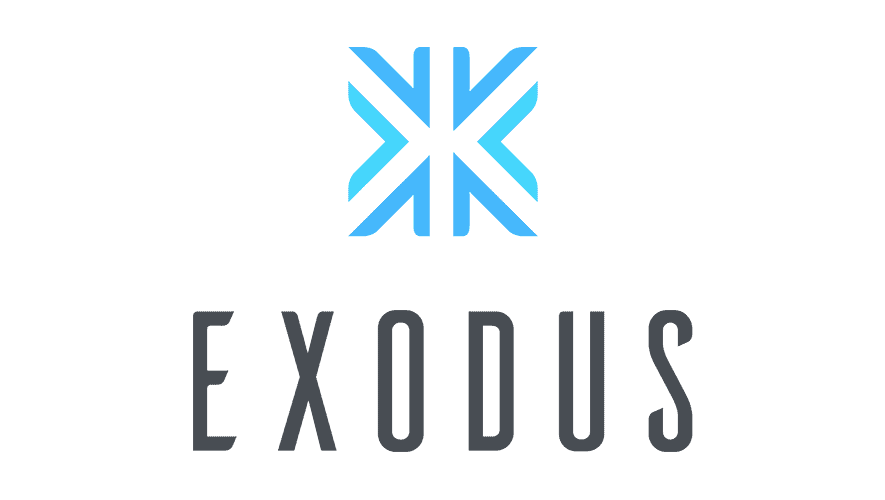 Exodus is a software wallet for computers and laptops. Download and setup couldn't be easier. In a couple of minutes, you'll have a perfectly good place to store Ripple and a ton of other cryptocurrencies.
Step 1: Download Exodus.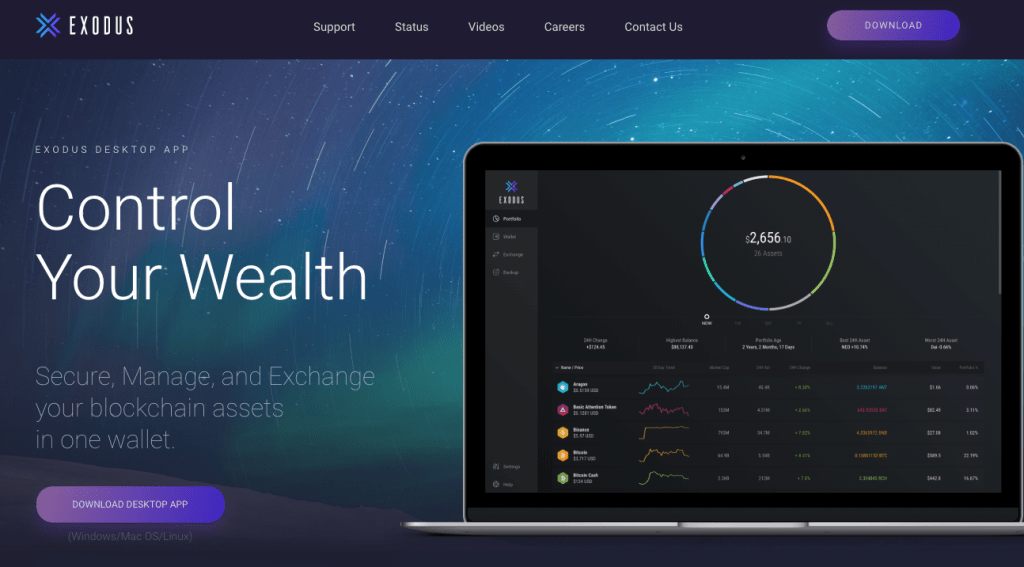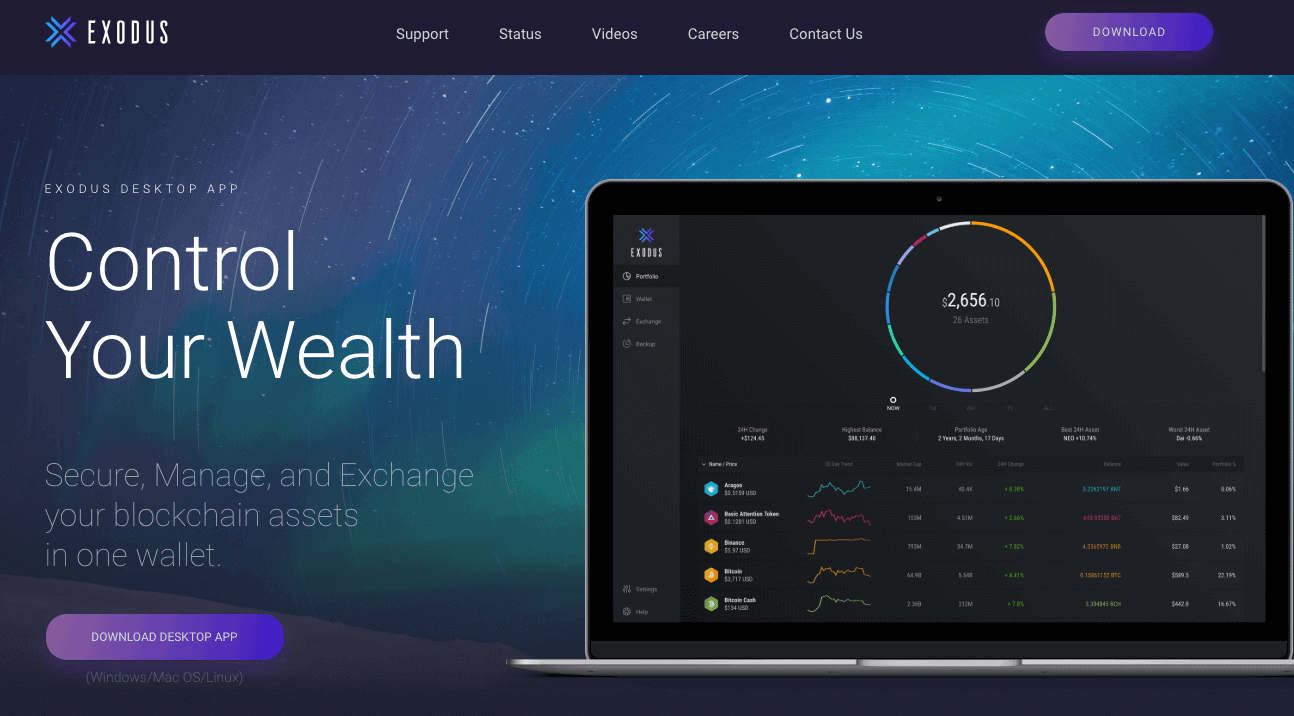 You can find the Exodus file you need at Exodus.io. Choose the right file for your operating system.
Step 2: Open Your Exodus Ripple Wallet.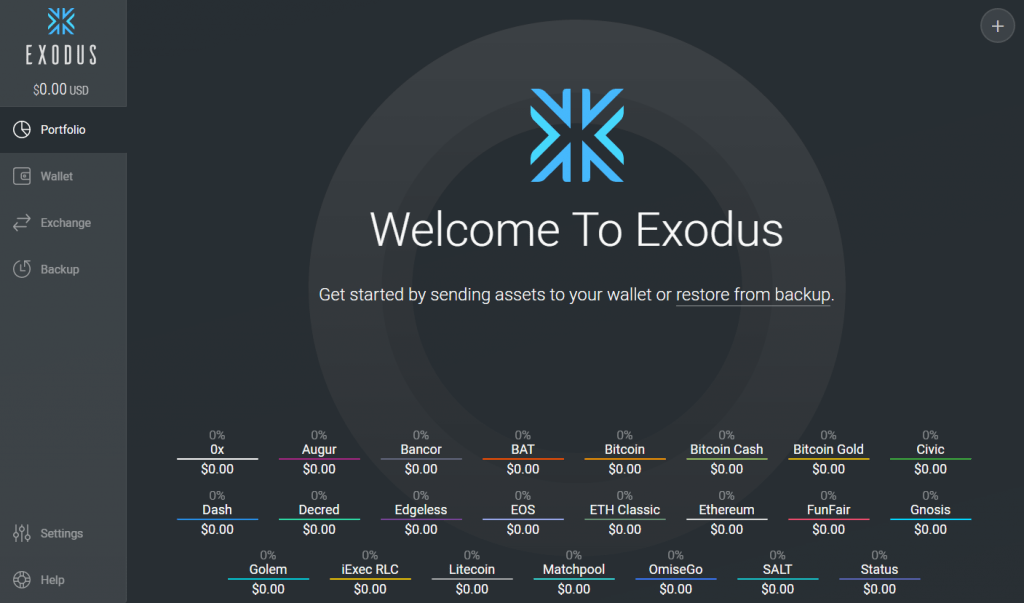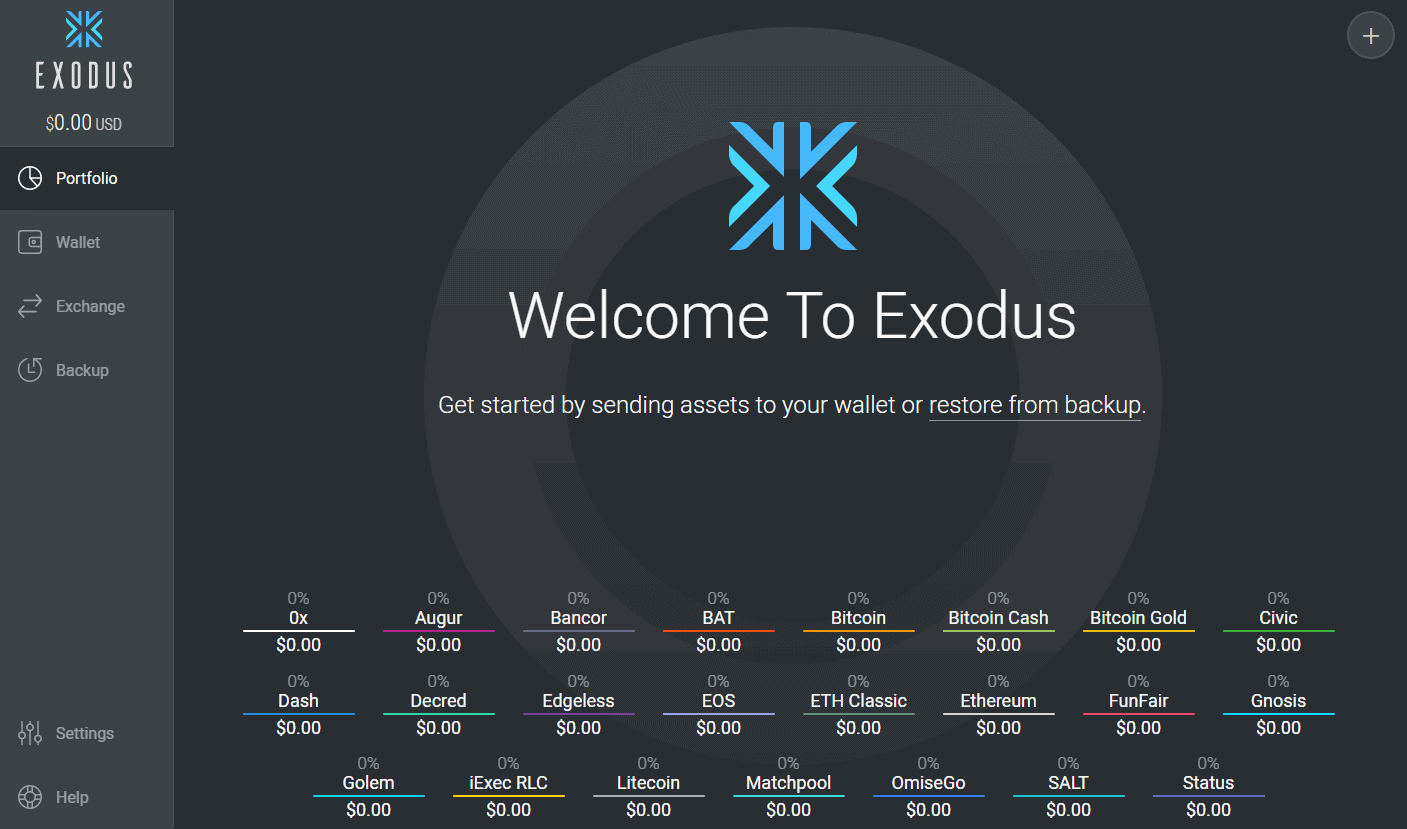 Exodus is a multi-currency wallet, supporting many dozens of cryptocurrencies. Choose "Wallet" on the left column, and select the Ripple XRP wallet. This will lead to a new screen with options for sending, receiving, and trading XRP for other wallet-supported assets. 
Infinito Wallet

The Infinito Wallet advertised itself as a universal crypto wallet, because it supports a bunch of cryptocurrencies. If you trade mainstream crypto, this can be a one-stop-shop for you. Infinito is also easy to use and attractive to look at. Here's how to get your own copy.
Step 1: Download Infinito Wallet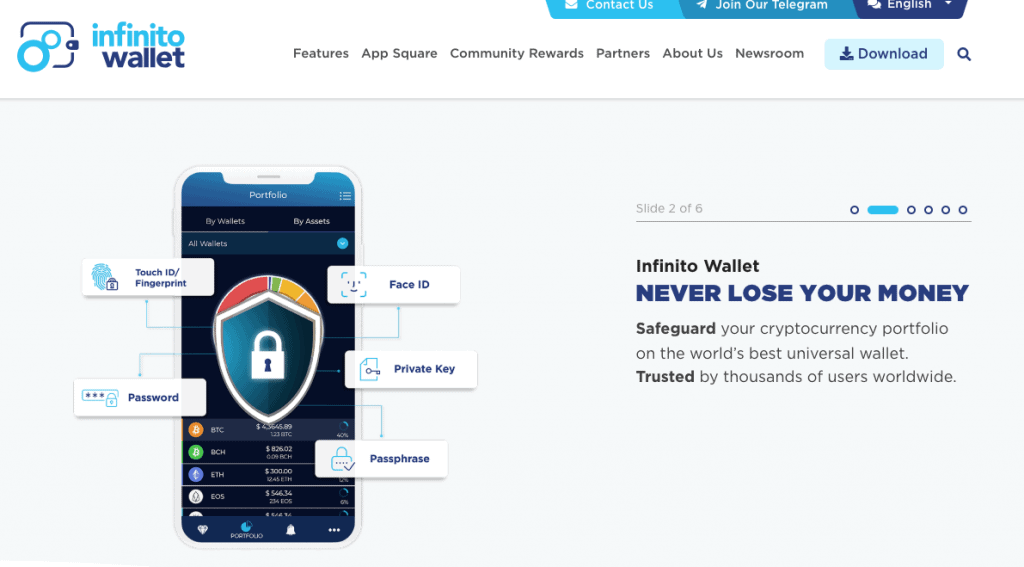 At Infinitowallet.io, click "Download". Choose the file made for the device you own. Once the download is complete, install Infinito. Setup is a breeze. Now open your new app.
Step 2: Go to the Ripple Wallet already within Infinito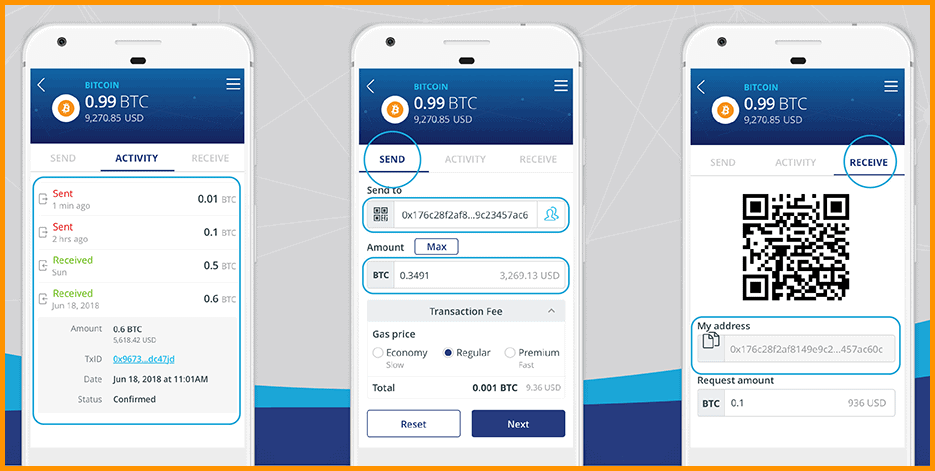 Infinito Wallet already includes a Ripple wallet. Open it up to see your Infinito Ripple address and all Ripple wallet functionality.
Best Ripple Wallets in Your Country
UKCanada & USAustralia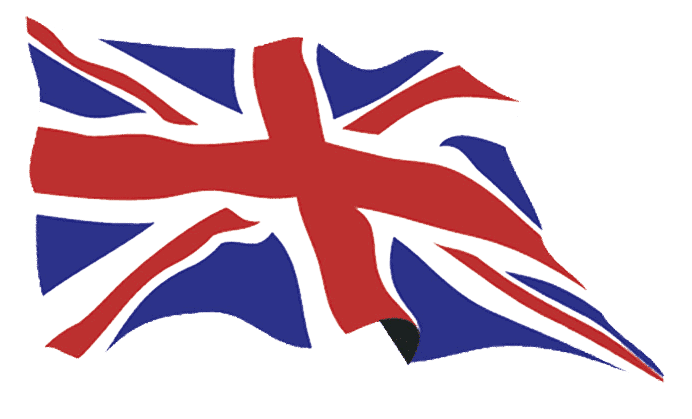 eToro is the best all-around Ripple wallet experience you can have in the UK.
eToro entered the crypto investment space years ago as a CFD exchange. Today, they offer real cryptocurrency broker services, including the eToro cryptocurrency wallet.
The eToro Wallet is a bespoke crypto storage solution, for Ripple, Bitcoin, Ethereum, Litecoin, and Bitcoin Cash. The eToro wallet occasionally adds new currencies, so keep your eyes peeled if you are a more diverse trader.
eToro is regulated and licensed in multiple international jurisdictions. They were trusted in the investment industry before cryptocurrency even existed.
eToro is to be trusted specifically because they're not newcomers. This is an experienced fintech player, and their Ripple wallet feature is one of the best in the industry.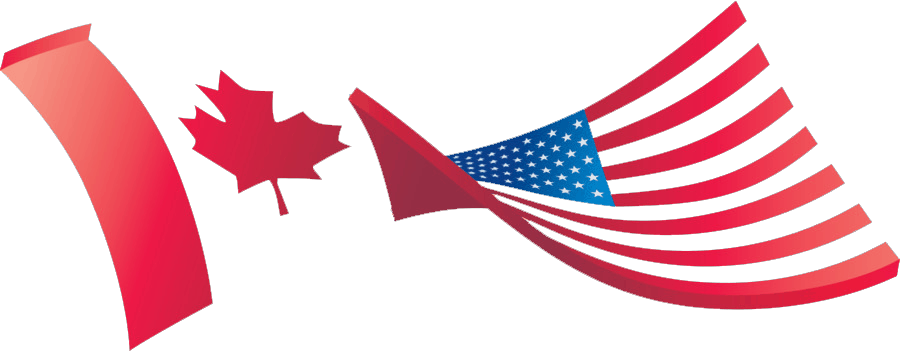 eToro is no longer limited to the UK. Having jumped through multiple regulatory hoops around the world, it's now available in more than 60 nations, including the US and Canada.
The eToro wallet application is the most intuitive we've seen, and it's a secure solution for newcomers to the United States and Canadian industry.
eToro is also a great choice for people who use other eToro services, as it fully integrates with all corners of the eToro ecosystem.
Binance is the best Ripple wallet we know about for people living in Australia and New Zealand. This is because it offers to most features, and access to the wider world of crypto trading.
Though not the best choice for long term storage, Binance users have access to dozens of cryptocurrencies, so it's an excellent choice for any active crypto trader.
Binance is also a global standard worldwide, so Aussies and New Zealanders will feel connected to a crypto industry that sometimes feels faraway.
Differences Between Exchange, Hardware and Software Crypto Wallets
There are three main types of Ripple/Cryptocurrency Wallet. Here are their similarities and differences.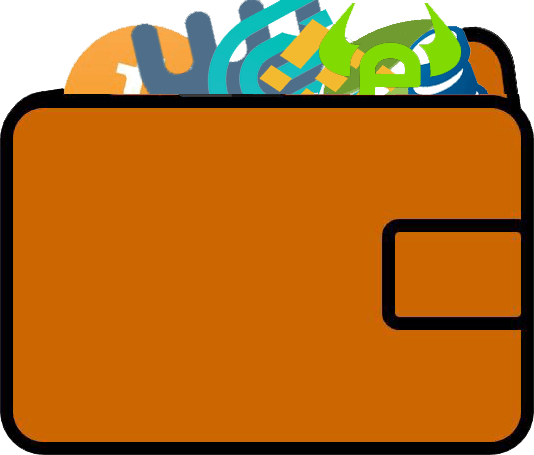 Exchange Wallets
Cryptocurrency exchanges have wallets for every customer, so their is a place to store Ripple and other altcoins after a purchase has been made.
Users aren't meant to use exchange wallets for long term storage, because exchanges are sometimes hacked. But as a short term solution for storage of coins involved in trades, there's no other way to do it than with an exchange wallet.
Here are some good examples of Exchange wallets:
eToro Wallet
Binance Wallet
Coinbase Wallet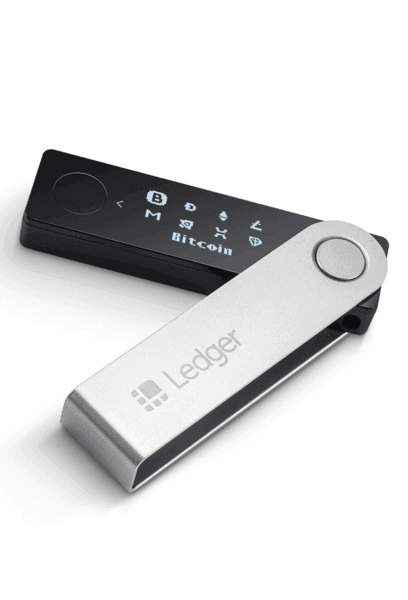 Hardware Wallets
Hardware wallets are physical products that store cryptocurrencies without being connected to the internet. This protects coins from web hacks and scams.
There aren't many companies manufacturing hardware wallets, but all the ones we've tried are of a high quality. Beware of hardware wallet counterfeits, though. These only come from unauthorized and "second hand" sources.
Here are some good examples of Hardware wallets: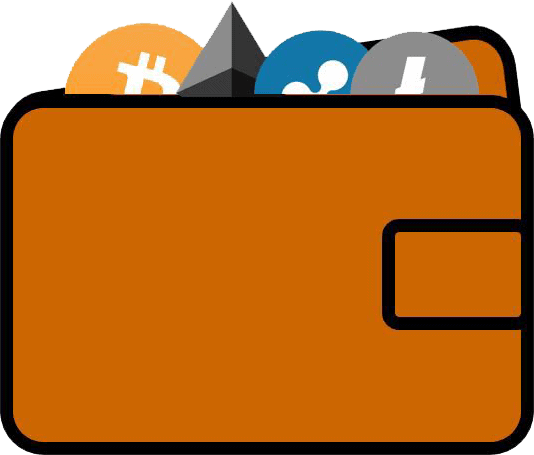 Software Wallets
Software wallets are applications for crypto storage, built for mobiles and computers.
Software wallets are not quite as secure as hardware wallets (because they're still connected to the internet), but they're far safer than exchange wallets. Use software wallets for crypto you will be using in the next few days. Use "cold storage" (not internet connection) for long term storage.
Here are some good examples of Software wallets:
Exodus Wallet
Jaxx Wallet
Best Ripple Wallet on Mobile
AppleAndroidApple x Android
Best Ripple Wallet Apple
The Ripple wallet you use on your phone is meant for convenient daily access to your XRP.
For this reason, the eToro Wallet is going to be your best choice. It gives you the ability to transact with XRP whenever you need it.
eToro isn't meant for long term storage, but neither is any mobile app. For large balances of XRP, you shouldn't be using your phone at all.
Best Ripple Wallet Android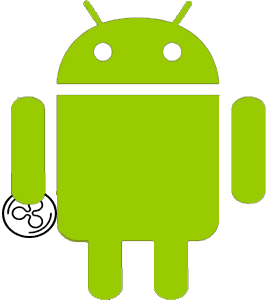 We like the Jaxx app for Android devices. Sure, you could use eToro as well, but it's a different high quality wallet with a different feature set.
Jaxx supports Ripple and many other cryptocurrencies, and even offers inter-wallet trading of all supported currencies.
It's convenient and fairly intuitive for newcomers, and fairly feature-rich for traders with a bit more experience. It'll certainly serve the daily mobile needs of the Ripple investor.
There are tons of Ripple wallets for mobile devices. We'll cut to the chase and give you the best option for Android and Apple. You can find the main differences regarding Crypto Applications below:
Apple
Only works with applications made for its own software
Most Cryptocurrency apps and wallets are instantly banned on the Apple store due to violations of T&C
All app publishers need to be identified and cannot be anonymous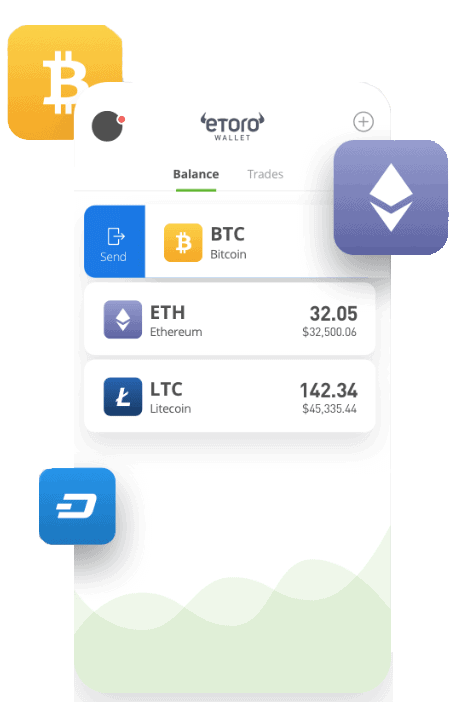 Android
You can run any application on Android
You will find any app on the Play store, even the ones that are scams
You can run crypto mining applications and scripts on your device
You never would have guessed years ago, at the genesis of Bitcoin, that hundreds of cryptocurrency wallets would one day be available. This is the industry we've inherited, so it can be confusing for the new Ripple investor to choose the best option.
We hope you now understand the different options available to you, as well as the criteria by which to make the best choice. When evaluating a new Ripple wallet, always prioritize security and ease of use. Also, pay attention to reviews you find on independent forums, like BitcoinTalk and Reddit. You'll learn from others' experiences and avoid making mistakes.
When you choose a wallet, keep your keys to yourself. Guard your passwords. Use best practices and you should not lose any of your precious Ripple balance. This will keep your XRP safe for months and years to come. Hopefully by that time your XRP will have gained incredible value, all thanks to your trusty Ripple wallet.
FAQ
Can I store all my cryptocurrencies in the same wallet?
Certain wallets like Jaxx and Exodus support dozens or even hundreds of cryptocurrencies. This is very convenient for people who invest in numerous cryptocurrencies, and don't want to have a different wallet for each coin.
Can I send Bitcoin to a Ripple or Ethereum wallet address?
Never send a coin of one type the the address of another coin type. This will almost always result in the loss of your funds. Bitcoin is sent only to Bitcoin addresses, Ethereum only to Ethereum addresses, etc. There are some exceptions, such as ERC20 tokens (coins created using Ethereum) being able to be sent to Ethereum addresses, but you should research these cases individually. In all other cases, only send your coins to addresses for coins of the same type.
What is the best Way to keep my Cryptocurrencies safely stored?
Hardware wallets and paper wallets are the best choice for long term storage. A paper wallet is nothing more than the private keys associated with your coins, printed or written down. They can be typed into the blockchain network at any future time, bringing up the coins you own. Hardware wallets work the same way, except they store the keys for you without your having to write them down. These options are known as "cold storage", because neither involves an internet connection, thus eliminating the possibility of hacking and internet scams.
Can I convert Ripple to FIAT currency on my wallet?
Some wallets, like Coinbase, have this functionality, but there are very few such options for Ripple traders at present.
Can I link my credit card to my Ripple wallet?
The only case we know of is the eToro wallet, which allows users to buy cryptocurrency using eToro, storing it in the eToro Wallet.