Cryptocurrency wallets come and go, but only the best stand the test of time. Atomic wallet is one of the more recent additions to the game. And it seems set to stay, thanks to its robust features. It has embraced the technological aspects of crypto transactions, incorporating top-notch solutions that keep it ahead of the game. However, with the increase in cryptocurrency exchange and wallet hacks, is it your best choice? We've reviewed Atomic Wallet in detail and have found it not to be a good choice for storing your cryptocurrency safely. Take a look at our in-depth guide to find out why we have come to this conclusion, and find a recommended wallet instead.
Top-rated crypto platform for 2020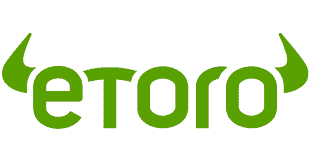 15+ coins supported
CySEC and FCA regulated
Buy, sell and trade crypto in 1 platform
Over 6 million users worldwide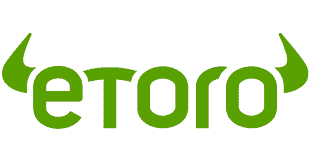 75% of retail investor accounts lose money when trading CFDs with this provider. Crypto assets are highly volatile unregulated investment products. No EU investor protection.
Is the Atomic Wallet Recommended?
❌Atomic wallet offers a great combination of features but cannot be said to be the best option. While it does try to keep users' funds secure through technological means, it has yet to comply with regulatory requirements. In this regard, the eToro wallet offers matchless performance as it is affordable, secure and compliant with both the FCA and CySEC.
What is Atomic Wallet?
Atomic wallet derives its name from a built-in mechanism in the wallet that facilitates atomic swaps. It is a desktop app that allows users full control over their crypto funds, as private keys and transactional data are stored on users' PCs and not on the provider's servers.
It was founded in 2017 by Konstantin Gladych, its current CEO and the co-founder and CEO of Changelly.com. Atomic wallet compatibility with Windows, Mac OS, Ubuntu, Fedora and Debian operating systems makes it easy to use on a variety of devices. It has the objective of combining simplicity and a wide range of features, allowing for easy access to all levels of users.
What wallet type is Atomic?
Multi-currency
Desktop wallet
Non-custodial
Cold storage
What cryptocurrencies does the Atomic wallet support?
Currently, Atomic wallet supports over 300 cryptocurrencies, including most major coins and all ERC-20 tokens. Here is the full list:
Bitcoin
Bitcoin Cash
Stellar
EOS
Litecoin
Tether USD
Cardano
Monero
Bitcoin SV
Tron
IOTA
DASH
Binance Coin
Ethereum Classic
Tezos
ZCash
Bitcoin Gold
VeChain
Maker
OmiseGo
MobileGo
Dogecoin
0x
Decred
QTUM
Aeternity
Ziliqa
Bitcoin Diamond
Digibyte
Pundi X
Puma Pay
Ethos
Bitcoineum
ChangeBank
BlockCAT
Crypto Crash Course
Blox
Cofoundit
CMC
Cobinhood
Creditbit
Credo
CryptoCarbon
CryptoLah
Civic
DABCoin
DALECOIN
TheDAO
Steamr
DataBrokerDAO
Digital Developers Fund
DENT
DigixDAO
DGX
Etheroll
District0x
Droplex
DA Power Play
DCORP
Minereum
Macroverse Token
Mothership
Monetha
Metal
Miltrav
Matryx
MyEtherWallet Donations Token
Mysterium
NimiqNetwork
Numeraire
Nexium
NIMFA Token
Open ANX
Ohni
Opus
TenXPay
Lampix
Herocoin
Polybius
Pillar
Pluton
et
PoSToken
Propy
Persian
Prosper
PornToken
Patientory
vSlice
VOISE
We Bet Crypto
WePower Contribution Token
Wi Coin
Wi Coin
WINGS
Wolk Protocol Token
Xaurum
Sphre AIR
XENON
Rialto
YUPIE
Zeus Token
Blockmason Credit Protocol
ChangeNOW
Dentacoin
Ethos
Dragonchain
High Performance Blockchain
Ripple
Credits
Sophia TX
MyBit
Centra
QASH
QuantStamp
Molecular Future
BLOCKMASON CREDIT
Mithril
True USD
Gemini Dollar
Atomic Wallet Coin
Bytom
USD Coin
Populous
Paxos Stabdar Token
Augur
Golem
Holo
IOS Token
WAX Token
Bezant
Digitex Futures
Decentraland
Waltonchain
Nexo
Bancor
TokenPay
BitTorrent
Dai
VeThor
SmartCash
STATIS EURS
The Abyss
Maximine Coin
XYO
EtherCarbon
Eidoo
EasyHomes
Edgeless
Elixir
EthereumMovieVenture
EthBits
TetherEUR
Fame
FARAD
Fintech Coin
Fuel Token
Fun Fair
FundYourselfNow
HelloGold
SGelderGER
Gnosis
GoldenTickets
Guppy
H2O Token
HelloGold
HackerGold
Humaniq
Decision Token
IDICE
ICONOMI
ICOS
IDEA
Feed
Quantum
QTUM Token
Basic Attention Token
Quantum Resistant Ledger
Real Estate Tokens
iExec RLC
Roulette Token
Relex
ROUND
RvT
Salt
Santiment Network Token
SOCIALL
Sensatori
SGELDER
StatusGenesis
Shitcoin
Smart Investment Fund Token
Skin Coin
SikobaPreSale
Sun Contract
SINGLS
SND Token 1.0
SONM
Status Network
Storm
CoinMeet
ATMChain
SmartMesh
Leverj
Crypto20
Delphy Token
Enigma
Cindicator
MediShares
BANKEX
com Token
Bread
Unikoin Gold
Modum Token
Nuls
CyberMiles
Ethereum
AirSwap
Simple Token
Genaro
Delta
Bluzelle
WePower
Request
MedToken
Raiden
EnjinCoin
ODEM
First Blood
300 Token
Ad Shares
Ad Token
AdEX
Air
Alis
Amis
Aragon
Aigang
Arcade
Aeron
Maecenas
ATHENIAN WARRIOR
IoTeX
Atlant
Avalon
Aventus
BlockCDN
BeerCoin
Dao Casino
BLX
BLackmoon Crypto Token
BMChain
BraveNewCoin
Blockoptions
BROTHER
Digital Zone of Immaterial Pictorial
Immortal
Indorse
Intelligent Trading Technologies
iXledger
Jetcoin
Kickcoin
Kin
KyberNetwork
Refereum
LatiumX
PureLifeCoin
ChainLinkToken
LookREV
Lancer token
LangPie
Loopring
LUCKY
Lunyr
Embers
MCAP
Musiconomi
Monaco
Moeda Loyalty Points
Mainstreet
Science Power and Research Coin
SPARTA
STORJ
StarCredits
Stox
Substratum
SwarmCity
Synapse
TAAS
TBOT
TrueFlip
TheBillionCoin2
TIME
TIPBot
Blocktix
TokenCard
Timereum
Tierion Network Token
Tronix
TrustCoin
Unicorns
Veritaseum
Vibe Coin
VIBEX Exchange Token
Viberate
Viuly
Veros
RipioCreditNetwork
IOT Chain
Power Ledger
EthLend
ai U-Token
Data
Nebulas
QunQunCommunities
Jibrel Network Token
AppCoins
Polymath
Theta Token
Bytom
Amber
YOYOW
Al Doctor
What fees does Atomic wallet have?
There are no Atomic wallet fees for downloading or using the app but some services attract fees at certain times. Here are some of them:
Cryptocurrency purchases via credit card 7% commission+$10 minimum fee
In-wallet currency trades (peer-to-peer) incur varying fees
Trades conducted through Shapeshift are charged at prevailing rates
Atomic swap fees are minimal and trades are conducted at prevailing market rates based on Coinmarketcap data
How to open your Atomic Wallet account
Trying to figure out how to open a wallet on Atomic wallet? Here is everything you need to know:
Step 1: Go to the official Atomic wallet website (https://atomicwallet.io/) and download your wallet and install it to your PC
Step 2: After installing your wallet, tap 'Open Wallet' and create a strong password to protect your account
Step 3: Once you set the password, the wallet will automatically generate a 12-word backup phrase (mnemonic phrase) and prompt you to make a copy. Create a copy and keep it securely. You can use this phrase anytime to restore your wallet in case your PC crashes or gets stolen.
Step 4: After copying the phrase, you Atomic wallet account is now ready to use. Note that every Atomic wallet address for your crypto coins will be automatically generated from the mnemonic seed phrase. If you lose the seed, you cannot recreate or recover the wallet in case of PC loss or failure.
How do I add cryptocurrencies to Atomic Wallet?
The next important step is figuring out how to add currency to Atomic wallet. No matter what crypto you have in mind, the procedure on how to transfer bitcoin to Atomic wallet or any other coin is the same. Follow these steps:
Step 1: Launch the Atomic wallet app
Step 2: Log in using your password and go to the list of coins that appears on the screen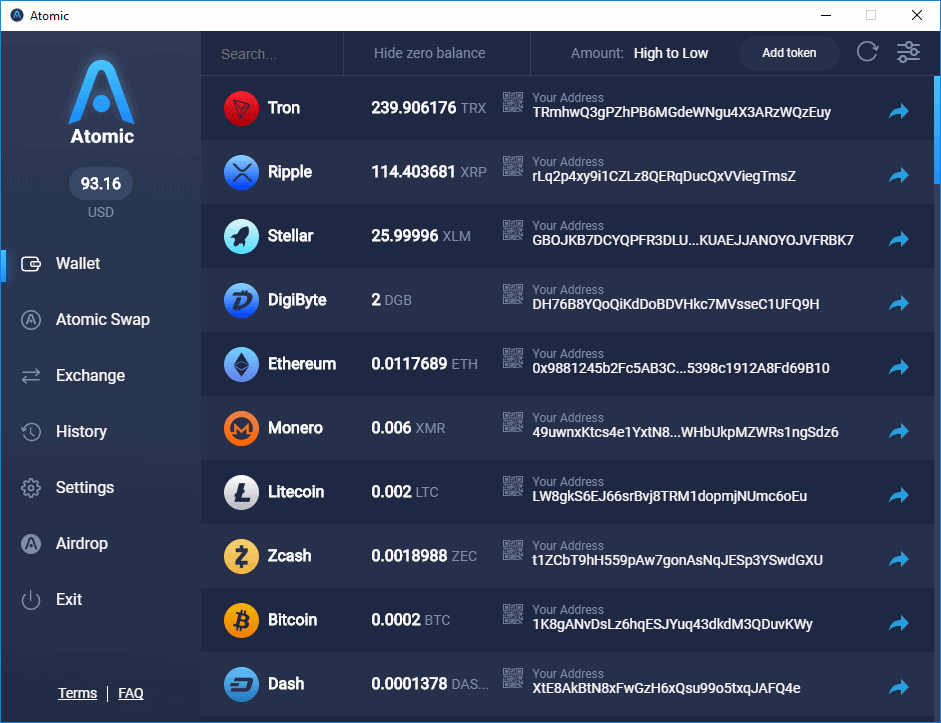 Step 3: Next to each coin, there will be a section labelled as 'your address.' This section varies from one coin to the next. To send any type of coin to your Atomic wallet, simply copy the relevant address and send funds to it. You might have to wait anywhere from five to 30 minutes for the funds to reflect in your account.
How to send payments on Atomic wallet?
Now we know how to transfer Ethereum to Atomic wallet and how to transfer Ripple to Atomic wallet and every other coin on the list. Next, we take a look at how to send payments on Atomic wallet. The procedure is straightforward:
Step 1: Launch the Atomic Wallet App
Step 2: Choose the asset you want to send from the list of cryptocurrencies that appears on the screen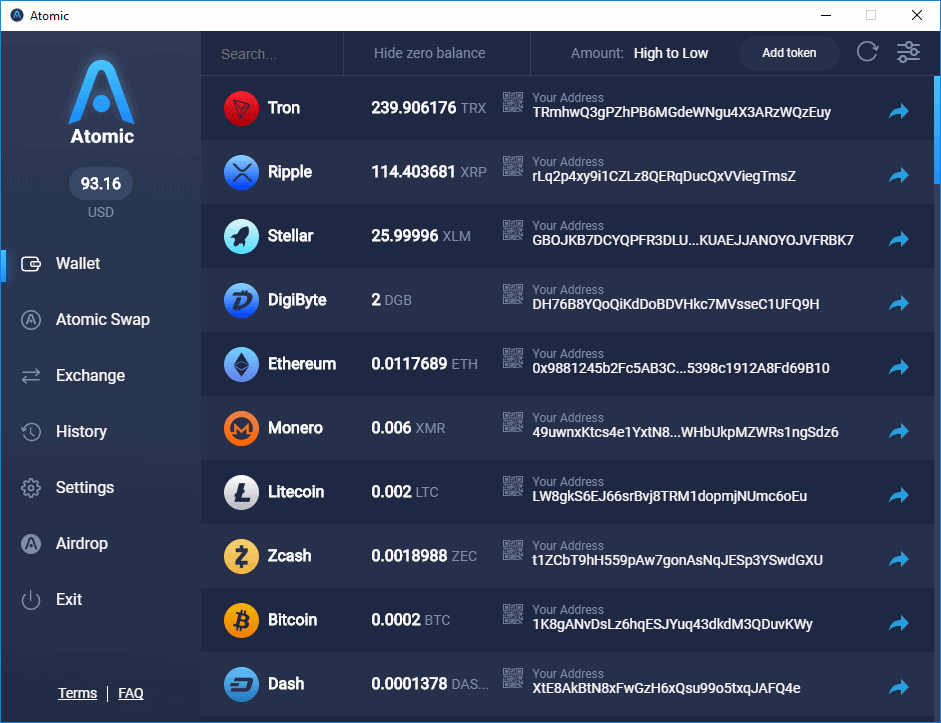 Step 3: When you click on the crypto coin, it will expand and prompt you to enter the details. Input the destination address and the amount of crypto you want to send.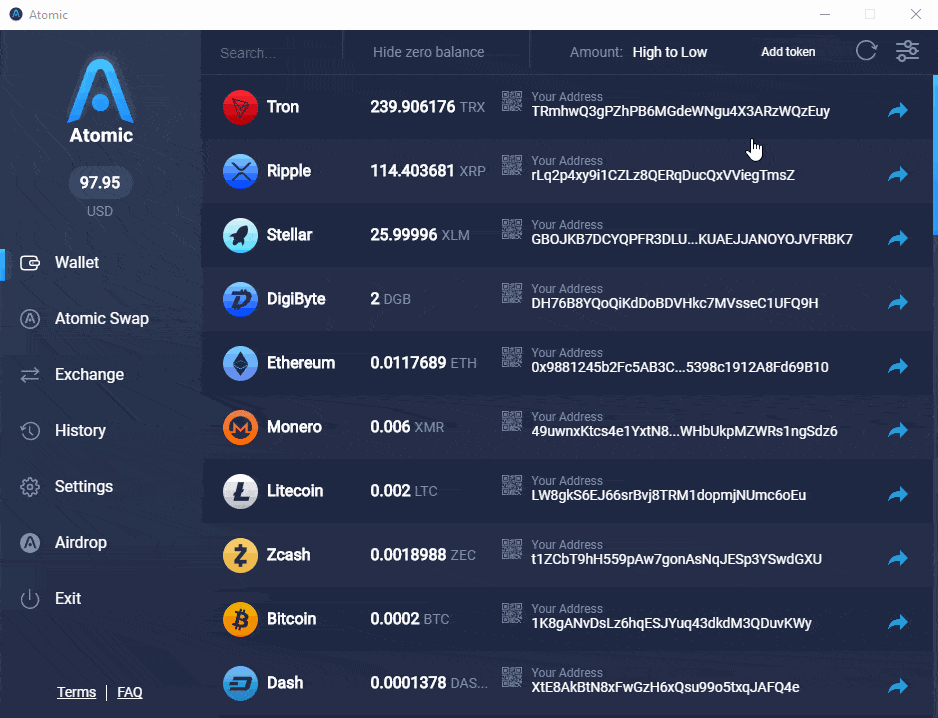 Step 4: After confirming that the figures you have entered are correct, input your password for security purposes and hit 'Send'
How do I receive payments on Atomic wallet?
Let us now examine how to receive payments on Atomic wallet. Use the following steps:
Step 1: Launch your Atomic wallet app
Step 2: Select the asset you want to receive into your wallet
Step 3: Click on the address under 'Your Address' column. This will automatically copy the address to clipboard
Step 4: Paste the address into the source wallet or send it to the person who wants to transfer funds into your wallet
Step 5: After confirming that the funds have been transferred, wait for five to 30 minutes and then check your account balance to confirm receipt.
How safe is Atomic Wallet?
Atomic wallet offers relatively high security features to keep your crypto funds safe. Let us take an in-depth look at the top Atomic wallet safety features:
Here are the security features that the wallet offers users:
Custody-Free Solution
Being a serverless solution, Atomic wallet does not require any registration process from its users. As such, it stores no sensitive personal information and does not rely on third parties to facilitate transactions on its behalf. This enhances the platform's security.
Advanced Encryption
Additionally, all connections on the wallet run in encrypted mode and the all the data it transfers are also encrypted.
Private Keys Stored on Device
Atomic gives its users full control over their private keys as it does not store them in its servers. Rather, the keys are stored on the user's PC. In addition, every user gets a unique mnemonic seed phrase which controls access to the account. This is a second layer of protection that allows users full control over the wallet.
This combination of features keeps users' funds safe on Atomic wallet. However, since the platform is unregulated, it cannot be said to be completely secure. eToro is a great example of a high-security wallet that combines top-of-the-range features with regulatory compliance. It has certification from both the FCA and CySEC, and is therefore a safer alternative to Atomic wallet.
Atomic Wallet Pros and Cons
Pros:
HD algorithms and personal storage for private keys offer high security
Supports a wide range of crypto assets, with a list that is constantly growing
Mnemonic seed phrase allows users to recreate wallet in case of PC failure or theft
Atomic swap offers a viable alternative to crypto exchange
Cons:
No mobile phone app yet
Supports atomic swaps for only three crypto pairs
Fee system is unclear
The wallet's code is not open-source
Does not have multi-signature or 2FA security features
Atomic Wallet vs. other wallets – how does it compare?
In order to fully explore whether the Atomic wallet is the best wallet, we will undertake a comparison of its top features against those of three other popular crypto wallets.
Atomic wallet vs. eToro
Our eToro review shows it's a highly popular crypto wallet and for good reason. It has a user-friendly interface and provides high security features. Being a mobile-based multi-currency wallet, it offers convenient access. Atomic wallet is desktop-based, and yet to venture out into the more popular mobile arena. Both wallets use seed phrases to provide wallet backups. While Atomic wallet beats eToro on the range of coins it supports, eToro is superior in its blend of privacy and security features.
Atomic wallet vs. Coinbase
Atomic wallet offers a much wider range of cryptocurrencies than most other wallets. It is easy to use and incorporates atomic swaps, offering matchless convenience. However, in comparison to Coinbase, it falls short on a number of noteworthy points. First, it charges higher transaction rates and offers trading using third-party providers. In contrast, Coinbase is reasonably priced and offers a seamless trading experience. It is also one of the few crypto wallets to comply with FCA and CySEC regulations, an added advantage in terms of user security.
Atomic wallet vs. Cryptonator
Atomic Wallet dwarfs Cryptonator in as far as sheer cryptocurrency variety is concerned. It is more advanced, thanks to atomic swaps and trading options based on Changelly and ShapeShift. Cryptonator uses 2FA for security and Atomic wallet uses the mnemonic seed phrase as well as HD algorithms.
Conclusion
From the three coins highlighted above, eToro is the obvious winner with the best combination of features. Not only does it offer cost-effective services and high security; but it also complies with regulatory requirements, making it the safest alternative here for crypto users.
Top-rated crypto platform for 2020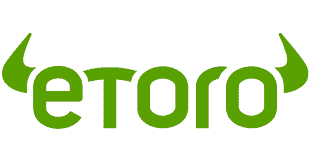 15+ coins supported
CySEC and FCA regulated
Buy, sell and trade crypto in 1 platform
Over 6 million users worldwide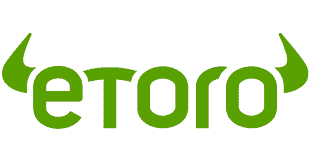 75% of retail investor accounts lose money when trading CFDs with this provider. Crypto assets are highly volatile unregulated investment products. No EU investor protection.
FAQs
My Atomic wallet froze. What should I do?
One of the most practical solutions to a frozen wallet is recreating the wallet from the mnemonic seed phrase. To do this, simply reinstall the app on your PC and on the login page, select Restore from Backup. This will allow you to recover the app using your 12-word seed phrase. If it does not work, you may need to consult customer support services who typically reply within 24 hours.
How does Atomic Swap work on Atomic wallet?
Essentially, Atomic swaps change a cryptocurrency into another without the need for a third-party to facilitate the exchange. To carry out an atomic swap, a user simply puts up an anonymous notice outlining what you want. The system automatically matches suitable transaction parties and swaps coins. At the moment, Atomic wallet only offers atomic swaps for three pairs and plans to incorporate additional assets in future.
Why does my balance read zero after depositing funds to Atomic wallet?
Whenever this happens, you might first want to check the status of your transaction on blockexplorer. To do this, copy the wallet address by clicking on the relevant coin in your app. Then open the blockexplorer for that particular coin and search for your transaction using the wallet address. If the transaction shows on blockexplorer, there could be connection problems causing a delay. In case it does not reflect at all, contact customer support.
How do I export my Atomic wallet to another PC?
To move your wallet to another computer, download the Atomic wallet app on the new device. When you start it, click on Restore from Backup once you get to the login screen. You will get a prompt to enter the 12-word mnemonic seed phrase. One you enter the phrase, the PC will automatically recreate your wallet. Always keep your seed phrase safe, as this is all a bad actor requires to create your account from scratch and access funds.