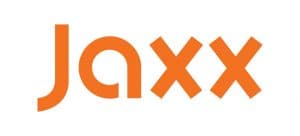 Jaxx Wallet is one of the new cryptocurrency wallets that has penetrated the cryptocurrency industry and put on the table new advanced features. However, in as much as it has the good to offer, it has also had its share of trouble with the media. Due to many negative reviews online, we have decided to take a closer look and review Jaxx wallet in-depth, and have found that it is not a safe option to store cryptocurrencies. Read our in-depth guide to find out why you should stay away from this wallet, and how to find a better wallet.
Top-rated crypto platform for 2020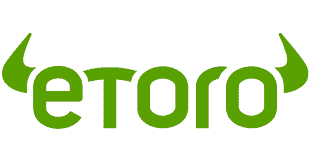 15+ coins supported
CySEC and FCA regulated
Buy, sell and trade crypto in 1 platform
Over 6 million users worldwide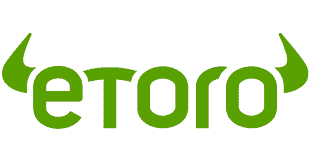 75% of retail investor accounts lose money when trading CFDs with this provider. Crypto assets are highly volatile unregulated investment products. No EU investor protection.
Is the Jaxx Wallet Recommended?
We consider Jaxx Wallet to have quite a lot of potential, but for now, it does not deliver as well as other wallets. It is true that efforts have been made to improve it. It is now more secure, it's easier to use and has a great variety of cryptocurrencies. However, it does not yet reach the level of regulated wallets like the eToro wallet, considering that it is much more secure and it's great reputation precedes it. Read our eToro review it is our recommended wallet.
What is Jaxx Wallet?
Jaxx is a new multi-currency Bitcoin wallets that is driven with its ambition of simplifying the blockchain and channeling as many customers as possible. It was started in Italy in 2013 by Anthony Diiorio, who is also a co-founder of Ethereum. It supports seven cryptocurrency assets, and it provides the customer with several ways to store and control their e-shopping information. Given that their main aim is to simplify the blockchain, they have come up with an easy-to-use platform that has compatibility with mobile devices and desktops.
Its major advance is the integration of ShapeShift which allows it to support multiple cryptocurrencies. Other features include:
Put-together dashboard– The Jaxx dashboard has a single place to view and select any of your wallets in case you want to use it. Within the dashboard are also the operations that can be executed.
News Viewer– Jaxx has brought in a new feature in which you can be updated on any new developments and news about the wallet itself and the blockchain and cryptocurrency field as a whole.
Direct access by users – Jaxx lacks 2factor authentication and this, in turn, grants direct access of accounts to users. This makes it vulnerable to security threats.
Multi-cryptocurrency support– Jaxx supports both mobile and desktop transactions, making it easy to effortlessly access your assets from anywhere.
Jaxx Compatibility
Web browsers, specifically Google Chrome and Firefox.
Android mobile
iOS mobile and tablet
What wallet type is Jaxx?
Cross-platform pairing
Multi-coin support
Non-custodial
Open Source
What cryptocurrencies does the Jaxx wallet support?
BTC – Bitcoin
ETH – Ethereum
DASH
ETC – Ethereum Classic
REP – Augur
LTC – Litecoin
ZEC – Zcash
RSK – RSK Testnet
DGE – Doge
CN – Iconomi
GNT Golem
GNO – Gnosis
DGD – DigixDAO
BCAP – BlockchainCapita
CVC – Civic
STX – Stox
POE – Poet
MCI – Musiconomi
QTUM – Quantum
CFI – Cofoindit
ART – Maecenas
PAY – TenX
BAT – Basic Attention Token
RLC – iExec
EDG – Edgeless
Wings
SAN – Santiment
SNT -Status
ANT – Aragon
EOS
SLT – Salt
DPP – DAPowerPlay
MCO – Monaco
TKN – TokenCard
GUP – Matchpool
ENJ – EnjinEthereum
MLN – Melon
CRB – Creditbit
BCP – Blockmason
FUL – Fuel
DRT – DomRaider
WRC – Worldcore
BNT – Bancor
AON – Aion
BCH – Bitcoin Cash
UKG – Unicorn Gold
STM – Storm
SWM – Swarm
SNM – SONM
WAX – Wax
VIB – Viberate
PRE- Presearch
UCA – Ucash
CAT – Bitclave
DCN – Dentacoin
PLY – Polymath
ZAP – Zap
SNS – Sense
LIF – Winding Tree
SHP – ShipChai
What fees does Jaxx wallet have?
Downloading and installing Jaxx does not require any fees. However, when making your application, you are required to pay one transaction fee. This transaction fee often ranges from 000441 ETH with Ethereum transaction, while the other fees vary.
Jaxx users are provided with three options: slow, medium and fast. The amount of fees you are charged is directly proportional to the speed of the transaction.
It seems that the information about fees on Jaxx are quite vague, which is never a good sign. That is why we recommend regulated wallets like eToro, that cannot hide important information such as fees.
How to open your Jaxx Wallet account
Step 1: Visit the Jaxx website on your web browser and download the app.
After the download has completed, install it on your device.
Step 2: The next step is to choose which cryptocurrency you intend to use in the wallet.
You can always change this later. You can also add a Bitcoin account.
Step 3: After choosing the cryptocurrency to use, click "CREATE NEW WALLET" as shown in the picture then click continue.
This completes the first phase of the process.
Step 4: The fourth step entails backing up the wallet. In this step, you click "Tools" at the top right corner of the page. From the options provided, select "Backup wallet."
The system will then generate a 12-word mnemonic masterseed and show it to you. This mnemonic will be required for many operations, including accessing the account. You should, therefore, write it down, confirm you have captured all the words in the right order then store it safely.
Step 5: The next step will be to create a strong PIN. Among the menu options, select "Settings" then "Setup Security PIN."
In the field provided, enter a strong PIN which you can easily remember.
Step 6: At this stage, the wallet is finally ready to use.
You can now carry out transactions like receive and send by simply tapping on the "Receive" or "Send" buttons on the dashboard. To exchange your crypto, click on the fox icon at the top of the page.
How do I add cryptocurrencies to Jaxx Wallet?
Jaxx users get the privilege to manage their tokens inside the wallet. This is attributed to by the ShapeShift feature. With this feature, you can always convert your coins to any of the supported currencies.
How to send payments on Jaxx wallet?
Knowing how to send payments in Jaxx Wallet is very vital, and for it to be successful, you need to have the recipient's cryptocurrency address. This address does not always have to be manually entered, rather you can scan the recipient's QR code. Unfortunately, the feature does not work on desktops. If you are using a desktop, you have to type it in manually.
Here is a step-by-step guide on how to send the payments:
Step 1: First, open your Jaxx wallet, which will look something like this
Step 2: The first and foremost thing when you want to send payments is to ensure that you have the cryptocurrency, or specifically, the wallet from which you want to send payments has enough balance.
Step 3: Click on "Send" at the top-right of the Jaxx screen.
Step 4: Have the cryptocurrency address of the person to whom you are sending the payments.
You have to ensure that the address is for the same currency you want to send. That is to say, if you want to send Bitcoins, then the address needs to be a Bitcoin address. The recipient can alternatively provide the QR code.
Step 5: Input the address or click on the camera and scan the code.
Scanning can only be done if you are using a phone. Otherwise, desktops require that you manually input the address.
Step 6: Click on "Send button."
How do I receive payments on Jaxx wallet?
Receiving payments on Jaxx is also as easy. This step also has some requirements, one of which is the recipient's address which you are required to provide. Follow the steps below.
Step 1: Send your cryptocurrency address or QR code to the sender.
Step 2: Click on the "Receive" button which is located at the top-left of the page.
Step 3: Next, you need to choose the currency type you would like to receive.
It is important that the sender knows this information so as to use the same currency.
Step 4: After choosing the currency you would like to use, enter the amount you are requesting.
Step 5: The last step is to click on "Generate" which will finalize the process.
After the transaction, make sure you check your wallet balance to confirm the transaction happened.
How do I exchange Bitcoins to Ethereum?
Another feature which you need to be acquainted with is how to use ShapeShift or simply how to exchange currencies.
Step 1: Open your Jaxx wallet
Step 2: Send Bitcoins to your Jaxx cryptocurrency wallet.
Step 3: Click on the "Send" button
Step 4: Click on the ShapeShift icon. This icon is blue and is located right between the "Receive" and "Send" buttons.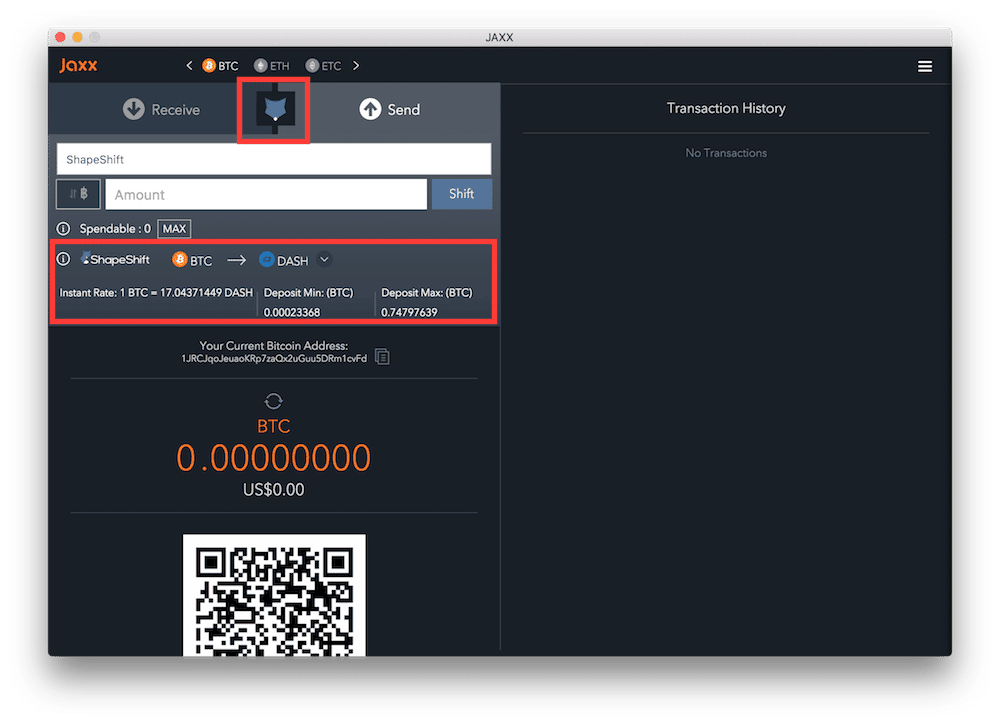 Step 5: From the drop-down menu, select ETH.
Step 6: You should then check the provided rate and calculate the number of BTC you wish to exchange.
Enter this amount and click on the "shift" button.
Step 7: Confirm that the calculation is right then hit "Confirm."
The transaction may take a couple of minutes to complete. When it finally does, some Ether will be deposited in your Ethereum wallet.
How safe is Jaxx Wallet?
Even though Jaxx has found itself in many security scandals, it still offers some security features to its users. Keep in mind though, that these are very basic security features that most wallets out there have. If safety is what you are looking for in a wallet, then eToro is probably your best option.
Use of PINs
Jaxx employs the use of the basic PINs. If ever your PIN is compromised, fraudsters can easily get into your account since there is no requirement for the second signature.
Private keys
Jaxx gives its users private keys that are created on the device from an unpredicted entropy.
If security is one of your major concern, and it should, Jaxx should not be your number choice. This is because it does not support 2factor authentication or multi-signing. This means it lacks the security feature in which two signatures (one from the user and one from the wallet) are required to gain access to the account. The use of simple security measures like PINs and private keys do not offer absolute security and in case your logins have been stolen, then accessing the transactions and funds can be very easy. Besides, the wallet does not protect your account in case your device has been compromised.
Jaxx Wallet Pros and Cons
Pros:
Jaxx is an ideal wallet for beginners because of its intuitiveness and ease of use.
It offers services across multiple currencies, which is very helpful as it gives customers a range of choices. This also gives it edge over wallets like GreenAddress that only support one currency.
Its high compatibility with mobile phones and desktops make its accessibility easy.
Cons:
Major security threats. Jaxx has made headlines for one of the biggest security issues.
Its lack of 2-factor theory makes it less secure. Customers' accounts, transactions, and personal information can be accessed easily.
No verification during logging in. The fact that Jaxx does not request for any verification whatsoever when logging in makes its security and privacy measures as good as nothing.
No identifying requirements when opening the account. This makes it difficult to differentiate a fraudster from the real owner.
Jaxx Wallet vs. other wallets – how does it compare?
Jaxx wallet vs. eToro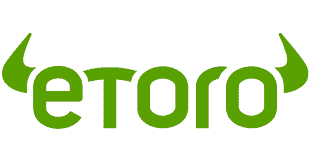 While Jaxx wallet has not yet been able to provide its customers with a 2factor authentication, eToro does have it. In fact, it requires a password and an authentication code before allowing you to access your account. That make it safer than most other wallets.
The good thing about Jaxx is that is has a great selection of cryptocurrencies. While the wallet supports over 60 different currecies, eToro only supports five. However, the eToro wallet supports all of most used cryptocurrencies out there, so there is not much of a difference between having 5 major currencies and 60 minor ones, because people are always looking for the main ones.
There are quite a few hidden fees on Jaxx. We know about application fees as well as transaction fees, but the website is very vague about what the fees actually are. With eToro, there is no need to worry about this, because being a regulated platform, it does not have any hidden fees and what you see is what you get.
Jaxx wallet vs. Exodus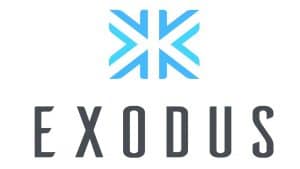 2factor authentication is one security measure that both Exodus and Jaxx have failed to provide their customers with. This makes both wallets vulnerable to security threats like hacking.
Hierarchical Deterministic
This pertains to the ability of the system to automatically generate new addresses after every transaction. Both wallets have the feature, and even though it is not compensation enough for the lack of the 2factor authentication, it is still a good type of security feature.
While both wallets support multi-currencies, Exodus beats Jaxx at 80 while Jaxx falls around 60.
Jaxx offers its users with the option of choosing what amount of fee to be charged, depending on how fast or slow the transaction is. Exodus does not have that feature and customers have no control over the fees they pay.
Jaxx wallet vs. GreenAddress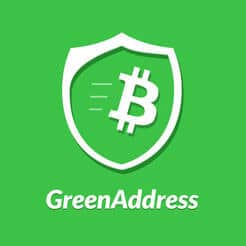 GreenAddress provides its users with the 2factor authentication, making it more secure than Jaxx which lacks this feature.
Number of currencies supported
While GreenAddress only supports the use of Bitcoins, Jaxx supports over 60 cryptocurrencies. Having support for only one cryptocurrency like GreenAddress limits the customers.
Generation of new addresses
This is one feature which both wallets have in common. As is in Jaxx wallet, GreenAddress also facilitates generation of new addresses after every transaction. This prevents customer's transactions from being tracked.
Conclusion
Even though Jaxx wallets and the other wallets mentioned above have great features, eToro still beats all the wallets mentioned above in various ways, starting from security to ease of use. It is regulated by agencies like FCA, making it secure. Its fees are also affordable.
Top-rated crypto platform for 2020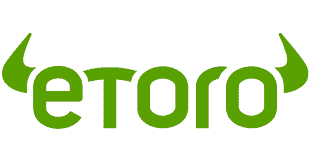 15+ coins supported
CySEC and FCA regulated
Buy, sell and trade crypto in 1 platform
Over 6 million users worldwide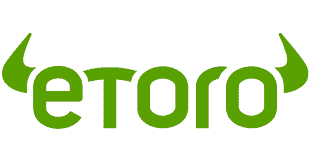 75% of retail investor accounts lose money when trading CFDs with this provider. Crypto assets are highly volatile unregulated investment products. No EU investor protection.
FAQs
Can you trade cryptocurrencies from inside the Jaxx wallet?
Yes. Jaxx is among the few wallets that allow their users to exchange currencies from the inside. This is enabled by the ShapeShift feature which is an advanced exchange service. This is among the features that put Jaxx ahead, compensating for its unregulated security measures. Unlike other wallets, with Jaxx, users are not required to send their currencies out of the wallet in order to exchange them. All the user has to do is to click on the fox icon and select which coins he wants to exchange.
Is it possible to transfer my token sale tokens into Jaxx?
This depends on the currency you are using. If it is one already integrated into the system, then it is possible. However, if it is not integrated yet, then you cannot manage it through Jaxx. Whether or not the currencies are integrated into Jaxx, you can store in the wallet. However, the problem is when you need to transact them, then you will have to export your ETH address Private Keys then import it in a different wallet other than Jaxx. Use the following steps to do so: 1. Go to Menu 2. Choose Tools from the Menu options 3. Click on Display Private Keys 4. Check the box on I UNDERSTAND. 5. Go to Display Ethereum Keys.
Why do I need to secure my Jaxx Backup phrase?
It is vital that you write down your 12-word mnemonic phrase immediately after creating your wallet, then store it in a secure offline place. This is important since the phrase is a requirement when you want to restore or regain your digital access to the account in any of the 9 Jaxx wallet platforms.
Why does my cryptocurrency address keep on changing?
Jaxx has a Hierarchical Deterministic feature which enables its system to generate new addresses after every transaction. This feature helps in protecting customer information and their transactions from being tracked. It is, therefore, very normal for the address to keep on changing. However, you can see all previous addresses by going to Menu, then tools, Display Private Keys, and lastly confirm that you understand.
Why is my token balance incorrect?
Sometimes when you want to check your balance, Jaxx will only look for the genesis address and therefore, wrong display balance. To correct this, you need to: 1. Visit https://www.myetherwallet.com/#send-transaction 2. look for the public address in which your tokens are. 3. Copy the key and paste it on the site. 4. Click on Unlock 5. Go back to Jaxx and copy the address shown and paste it in the site in step 1. 6. Select token from the dropdown then click the Send Entire Balance button. 7. Next click Generate Transaction followed by Send Transaction. 8. Check the Yes I am Sure! Make transaction box. 9. The tokens should show up after a couple of minutes.