Shapeshift is a cryptocurrency-to-cryptocurrency exchange service started in 2014. The Swiss company has been at the forefront of providing fast exchange services across dozens of cryptocurrency pairs. It also has remained true to the intended purpose of the blockchain – to support decentralized, anonymous peer-to-peer transactions. But everything is changing at ShapeShift with the shifting regulatory winds.
We have conducted an in-depth review of fees, features, and pros and cons to assess whether ShapeShift will remain popular as it adopts traditional exchange rules. As the 'accountless' ShapeShift starts adding membership and ID requirements, some loyalists may abandon the formerly anonymous and frictionless exchange.
Our Recommended Crypto Exchange
25 USDT No Deposit Bonus
Easy Account Creation Process
Lowest Exchange Fee
Offers Demo Trading Account
What is Shapeshift?
ShapeShift was like the Swiss Army knife of cryptocurrency exchange when it was added to the JAXX wallet in 2016. It provided multi-functionality to the boring Bitcoin wallet, although ShapeShift did not support real-time Bitcoin trading, until recently. All of a sudden the JAXX wallet could near-instantly exchange, send and receive cryptocurrencies as new cryptos started to join Bitcoin in virtual money wallets. Everyone signed up for a JAXX wallet. ShapeShift, which still considers itself a provider of the "tools…to navigate the crypto frontier," is now readying to provide trading. Real-time crypto trading is coming to the service, and so are other big changes. As part of these these changes, to meet customer demand for account transaction data, provide loyalty programs and operate in new jurisdictions, ShapeShift is requiring customers to register ID proof.
It's a big philosophical shift for ShapeShift that may irk some users, but investors are still enthusiastic. They include Earlybird, FundersClub, Blockchain Capital, Access Venture Partners, LakeStar, Pantera, and the Digital Currency Group.
How does the Shapeshift exchange work?
ShapeShift provides a crypto swapping service. You cannot buy cryptocurrency with fiat on Shapeshift. Using its API, wallets like JAXX are able to integrate crypto-to-cyrpto exchange into their services. ShapeShift now operates its own platform and is adding real-time trading, making it a future competitor of exchanges like Gemini and Poloniex. The New ShapeShift provides a complete crypto management system – crypto asset swapping, real-time trading and hardware wallet digital asset storage on KeepKey.
The ShapeShift beta platform provides a complete crypto swap and security solution. It includes a web-based interface to manage ShapeShift swaps, and a cold crypto wallet. ShapeShift's new KeepKey hardware wallet seamlessly integrates cold storage asset management into the system. Cryptocurrencies can also be swapped in ShapeShift from the hardware interface.
What cryptocurrencies does Shapeshift support?
When ShapeShift was added to JAXX in 2016, most wallets supported Bitcoin and had begun to sell and buy ethereum. ShapeShift now supports over 40 cryptocurrency pairs. If you do not see the coin you want to swap, you can make a request to ShapeShift to add it.
Bitcoin
Bitcoin Cash
Aeternity
Aragon
Basic Attention Token
Bitcoin Gold
Binance
Bancor
Blackcoin
Civic
Dai
Dash
DigiByte
district0x
Dogecoin
Edgeless
Ether
Ether Classic
FunFair
Gnosis
Golem
Matchpool
Komodo
Litecoin
Decentraland
Maker
Numeraire
OmiseGo
PolyMath
Augur
Reddcoin
RCN
iExec
Salt
Matchpool
Siacoin
Status
Storj
Swarm City
TrueUSD
Wings
Monero
Ripple
Zcash
Zilliqa
Supported countries
Shapeshift is another one of them unregulated cryptocurrency exchanges accepting users from any global jurisdiction.
Fees & limits
ShapeShift does not charge fees, other than the crypto mining fees. It makes money on the spread between the bid and ask prices of the cryptocurrencies.
Shapeshift Dashboard
The ShapeShift dashboard is easy to navigate. The Status Page summarizes all swap information. If your order does not fall within the minimum and maximum limits (3/4), it will fail to be executed. The miner fee, the only charge to you, is transparent (5).
1 – Order ID
2 – ShapeShift Deposit Address
3 – Order Maximum Limit
4 – Order Minimum Limit
5 – Miner Fee (fast processing)
6 – Status Bar
7 – Deposit Address
8 – Receiving/Withdraw Address
9 – Current/Final Rate
10 – Order Type
How to Buy Cryptocurrency on Shapeshift: Step-by-Step Tutorial
Real-time trading will arrive soon on ShapeShift, but is not here yet. Following is the process to swap cryptocurrencies on the platform.
Trade cryptocurrency on Shapeshift
Shapeshift now offers five levels of accounts. Level 1 allows users to swap crypto currencies anonymously. To open levels 2–5, you require FOX tokens and need to provide personal information and ID proof.
Step 1: Register your account
So you have decided to give up your anonymity and register on ShapeShift.io to get the higher USD 10,000 trading limit. FOX tokens and a loyalty program are other perks. Here's how to sign up.
On the Sign Up screen, enter your email address. Confirm your registration in the email sent to you.
Step 2: Verify your account
You will now be prompted to fill out basic personal information. Next submit the requested ID for verification.
ShapeShift remains a non-custodial exchange. There is no ShapeShift account to fund.
Step 3: Choose which assets to trade
Choose the asset you want to send and that you want to receive in the swap. In this example, the Bitcoin and Ether coins are being swapped. Next, choose whether you want a Quick or Precise exchange.
Quick Deposit – Make a deposit between the minimum and maximum allowed. The exchange will be made instantly. The deposit address can be reused.
Precise – Specify the amount you want to receive. You will then be provided with a deposit address. If your price is not filled within five minutes, the order expires. This option provides the opportunity to get a higher rate.
Click Continue
Step 4: Swap cryptocurrency
Next, fill in the following addresses on the order form:
Destination – This is the address your new coins will be sent to.
Refund – In the exchange fails, your deposited coins will be returned to this address.
To reuse the Deposit address, click on the Reusable Address toggle.
Click Start Transaction.
Step 5: Send the deposit coin
A status page will appear. Enter the Deposit address. Here's the legend.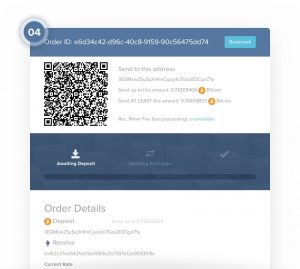 Once the Receive coin has also been sent, a Block Explorer page is displayed. Here, you can see your transaction being processed and completed. If your exchange fails, search FAQs for help. If you want to buy Ripple, for example, an XRP Tips & Tricks page addresses common issues.
Is Shapeshift regulated?
ShapeShift is not regulated, and is known to avoid regulated jurisdictions. The BitLicense developed by the New York State Department of Financial Services (NYDFS) May have been the motivation for ShapeShift to relocate from New York. Everything is changing, however, on the New ShapeShift. To use the exchange, ID verification is required. The implementation of the verification allows ShapeShift to operate in more jurisdictions and raise limits.
Is Shapeshift safe?
Can the "safest, fastest asset exchange on earth" become a custodian of your personal information and still remain safe? ShapeShift has operated as a non-custodial decentralized exchange. This means no user identification or personal information was stored by the exchange. Nor does it collect and hold your funds. Maintaining anonymity was the key reason for maintaining a crypto-to-crypto swap service and not introducing crypto-fiat payments into the system. These practices place ShapeShift at the centre of the safety debate around KYC compliance and money laundering on decentralized exchanges. A CipherBlade Blockchain Analysis found that $3 million of Shapeshift funds were associated with money laundering – one-third of that reported by a previous report. As mentioned, ShapeShift is changing with the regulatory times. To keep its exchange safe, ShapeShift:
Conducts know your customer (KYC) and anti-money laundering (AML) verifications on Level 2-5 accounts
Offers KeepKey cold storage wallet with PIN protection and password phrase protection
Uses two-factor identification (2FA)
Employs system to identify bad wallet addresses and other fraudulent activity
Encrypts all data with an air-gapped (offline) key
ShapeShift educates crypto users on how to stay safe. Recommendations include:
Use two-factor identification (2FA) with SMS, email, Google Authenticator, Authy or Yubikey
Create an alias email to decrease the risk of email phishing attacks
Update each of your accounts with a unique password. Store all passwords in an encrypted password manager,
Move unused crypto from hot wallet to cold wallet storage
Is the Shapeshift wallet safe?
ShapeShift has introduced a cold hardware wallet to keep customer digital assets secure. The KeepKey wallet seamlessly integrates with the ShapeShift crypto exchange service though a web interface. Unlimited addresses can be stored on the wallet. KeepKey offers PIN protection, password phrase protection and customizable transaction speed. The wallet allows users to generate and manage private keys offline, with no internet connection. Backup and restore are enabled by a private recovery key. Manual approval through a confirmation button ensures control over transactions.
If you have doubts as to what the best service for storing your cryptos is, you can compare the best cryptocurrency wallets best
Bitcoin wallets
here.
Does Shapeshift have an app?
Shapeshift has an Android and IOS app.
Is Shapeshift customer service reliable?
If you have a question or need guidance, start here:
ShapeShift ZenDesk – FAQs are provided on how to use ShapeShift with illustrated examples and videos.
Email support – Use the Submit a Request form if your questions/issues are not resolved by ZenDesk.
Shapeshift Pros and Cons
Pros:
Instantly swap crypto-to-crypto on a fast exchange
No fee, other than mining fees
Real-time trading coming
Integrated KeepKey hardware wallet
Cons:
Unregulated
No crypto-to-fiat exchange
Registration now required
New ID proof requirements
New FOX token details undisclosed
Full membership details undisclosed
ShapeShift VS Alvexo
Since the early days of bitcoin trading when ShapeShift created the tool to instantly swap digital assets, the crypto exchange market has become crowded. Even though ShapeShift remains a decent option if you want to get started into the crypto trading industry, Alvexo is a better option for several reasons. The broker has lower fees and spreads and is highly regulated by CySEC and FCA. In terms of the trading experience itself, Alvexo offers a great variety of assets as well as an easy signup process and a technologically advanced trading platform.
These are just a few of the advantages offered by the exchange. To find out more about it, we recommend visit Alvexo. You will also find a step-by-step guide on how to get started with your trading experience on the platform.
Conclusion
ShapeShift has made the swapping of digital currencies easier. The process is no longer completely frictionless, though. Optionally, users can sign up and provide personal information in exchange for higher levels of services. The first level provides a $10,000 transaction limit and 0.05% FOX tokens back per trade. If investors are releasing information to an exchange, does it make more sense to also have the full security and deposit protection of a regulated exchange? We think so. For this reason we recommend Alvexo.
Our Recommended Crypto Exchange
25 USDT No Deposit Bonus
Easy Account Creation Process
Lowest Exchange Fee
Offers Demo Trading Account
FAQs
Do I need the KeepKey hardware wallet to swap crypto on ShapeShift?
No. KeepKey is an optional, safe way to store your digital assets and private keys offline. PIN authentication, extra password protection and the manual confirmation of transactions (at the touch of a button) are used to safeguard your assets. The New Shapeshift crypto swap, trade and storage solution will provide support for other hardware wallets. For seamless integration with ShapeShift interface, KeepKey is recommended.
What's the difference between a hot and cold wallet?
Hot wallets store your crypto assets online and face a higher risk of cyber hacking. Cold storage involves storing your crypto assets offline on a USB drive or paper wallet, for example. The following risk measures should be taken to protect your hot and cold crypto assets: 1. Generate and store your private keys offline 2. Use two-factor authentication to access your wallet 3.Use biometric identification
Do I need a digital wallet to exchange crypto-fiat with Shapeshift?
Yes. ShapeShift is a non-custodial exchange platform. There is no online wallet to store your crypto assets. By keeping your cryptocurrency offline, you assets are safe from hacking and other cyber security threats. However, you do have the option of using a hot and/or cold wallet. A safe practice is to keep only the cryptocurrency you need to swap and trade in hot wallets and store the rest of your digital assets in a secure cold wallet solution.
A-Z of Bitcoin Exchanges