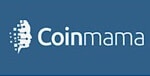 Coinmama is a cryptocurrency broker launched in Israel in 2013 that makes buying and selling crypto easy. Whether you consider bitcoin the new gold and a store of value or a speculative asset, more and more people want to put some bitcoin in their investment portfolio. Or they may want to keep some bitcoin in their wallet to spend. These bitcoin buyers can go to a large exchange and try and buy coins at a fair price from professional traders – a money-losing venture for most novice traders – or buy bitcoin at a set price in the same way they buy a book on Amazon. Coinmama has created an e-commerce store for buying eight major cryptocurrencies.
But when it comes to price, does Coinmama truly have your best interest at heart? We have conducted an in-depth review of fees, features, and pros and cons to assess whether crypto buyers are getting a good deal on Coinmama. We have concluded for those who want to buy and sell – not trade – crypto, Coinmama makes it fast and simple to shop for digital money.
🌟Is Coinmama recommended?
❌
If you want to buy crypto, you can choose between an e-commerce shop for digital money and a trading exchange. Many first-time cryptocurrency investors are being enticed onto the dozens of active cryptocurrency exchanges launched in recent years. Even with the best trading bots, technical indicators and execution speed, most active traders lose money on these exchanges. Buying bitcoin does not have to be so complicated. Coinmama prides itself in being faster and more efficient than an exchange. Sign up and full ID verification can be completed within six hours, versus days for some exchanges.
Traders have another option between the broker and exchange. On popular social trading platform eToro, beginner traders follow and copy the strategies and portfolios of expert traders. Its popular CopyTrader™️ and CopyPortfolios™️ will soon be available across more cryptocurrencies. The regulated broker is opening a new exchange eToroX with 37 crypto pairs and 8 stablecoins pegged to fiat currencies.
Visit Our Recommended Exchange Instead
What is Coinmama?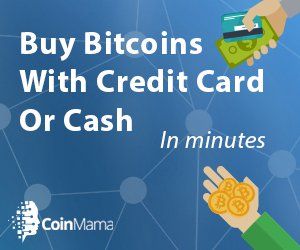 Coinmama is a global cryptocurrency broker. Currently, over 1.5 million customers use the service in over 200 countries. Buyers transact directly with Coinmama. In contrast, a cryptocurrency exchange like Karkaen or Binance acts as an intermediary between buyers and sellers. Which is cheaper? Typically, a broker is more expensive than an online exchange. How does Coinmama compare to cryptocurrency exchanges? Coinmama charges a 5.9 percent trading fee, which is included in the price. If you use a credit or debit card another 5 percent is added. At 10.9 percent, the overall fee is higher than that of many exchanges. Alternatively, you can fund your account by SEPA transfer and knock 5 percent off the fees.
How does the Coinmama exchange work?
Coinmama is the place to sell or  buy cryptocurrency if you are seeking a fast and efficient transaction at a firm price. Coinmama, itself, is your trading partner – in the same way your bank is your seller when you purchase a money order.  The buying process is like buying a book on Amazon but instead of sending the book to your home address, you send your new digital money to your digital wallet address. Coinmama provides the choice to purchase a bitcoin (or one of the other 7 cryptos) package in denominations of USD 100, 250, 1,000 or 3,000, or another amount within your buying limit. You need to pass the basic verification level before you can buy bitcoin. Buying limits are not determined by your verification level. The minimum order fee is USD 60.
 What cryptocurrencies does Coinmama support?
A year ago, you could buy ethereum and bitcoin on Coinmama. The following eight coins are now available to buy or sell:
Bitcoin (BTC)
Ethereum (ETH)
Ripple (XRP)
Litecoin (LTC)
Bitcoin Cash (BCH)
Cardano (ADA)
Qtum (QTUM)
Ethereum Classic (ETC)
🏳️Supported countries
Coinmama is a Slovakia-based cryptocurrency exchange offering bitcoin buying in 200 countries and dozens of states.
Coinmama is not available in the following US territories:
Coinmama is not available in the following US states:
Connecticut
District of Columbia
Hawaii
Idaho
Iowa
New Mexico
New York
Oregon
Utah
Vermont
Florida
Coinmama is not available in the following US territories:
American Samoa
Guam
Northern Mariana Islands
Puerto Rico
United States Minor Outlying Islands
Virgin Islands
Coinmama is not available in the following countries and territories
Cuba
Crimea
Iran
Israel
Lebanon
Nigeria
North Korea
Palestinian Territories
Somalia
South Sudan
Sudan
Syria
Zimbabwe
Fees & limits
Coinmama charges a 5.9 percent fee, which is included in the transaction price.
Deposits by bank transfer are free. A 5 percent processing fee is added to credit/debit card payments.
Coinmama Dashboard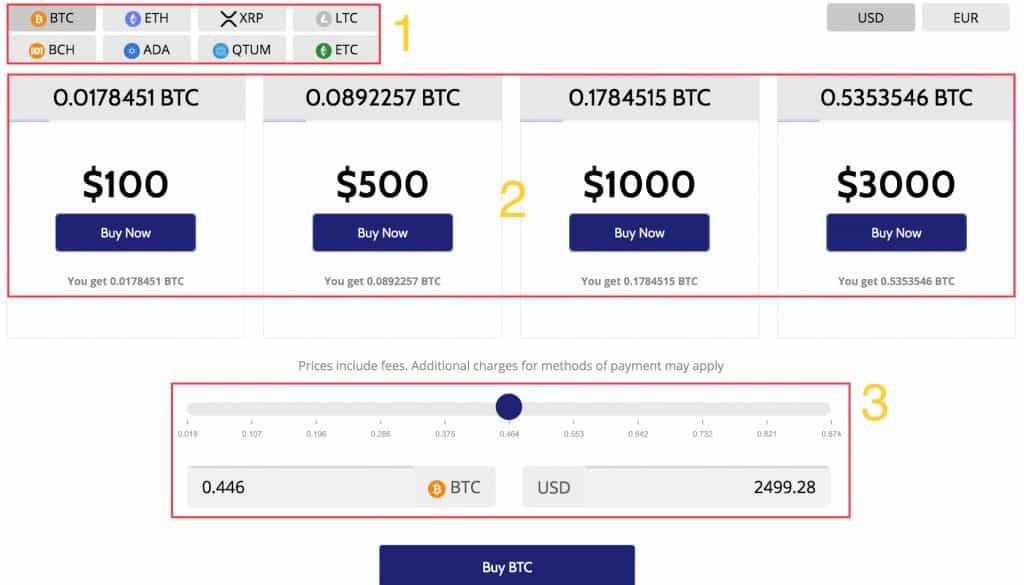 If you have visited exchanges like Binance or Bitstamp, then you will be delighted with the simplicity of the Coinmama interface. No fluctuating prices or flashing indicators. The price is firm, and in three clicks you can complete your purchase. The eight currency pairs are listed at the top left of the screen (1). Four pricing packages are available for each currency (2). If you want to buy at another price, slide the toggle to how much you want to spend (3). You now also have the choice to sell crypto from the Sell menu.
How to Buy Cryptocurrency on Coinmama: Step-by-Step Tutorial
Coinmama operates like an online shop for buying cryptocurrency. Similar to buying a money order, the price is fixed based on the current exchange rate charged by Coinmama. On a cryptocurrency market, in contrast, you can accept the market price, which continually fluctuates, or enter a limit order to be filled when the price reaches your predetermined limit price. On Coinmama, you are walking into a virtual cryptocurrency market and accepting the price tag 🏷 on the currency.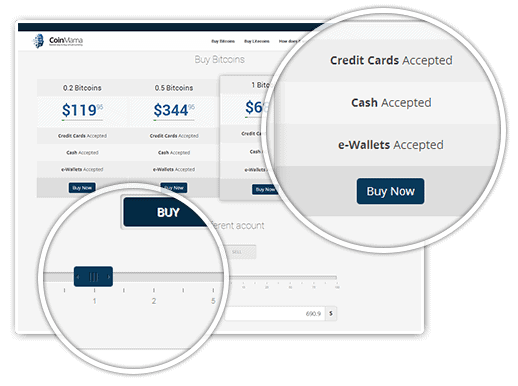 A minimum purchase amount of USD/EUR 60 in Bitcoins is required. Up to USD/EUR 5,000 can be bought daily and USD/EUR 20,000 monthly.
Trade cryptocurrency on Coinmama
Step 1: Register your account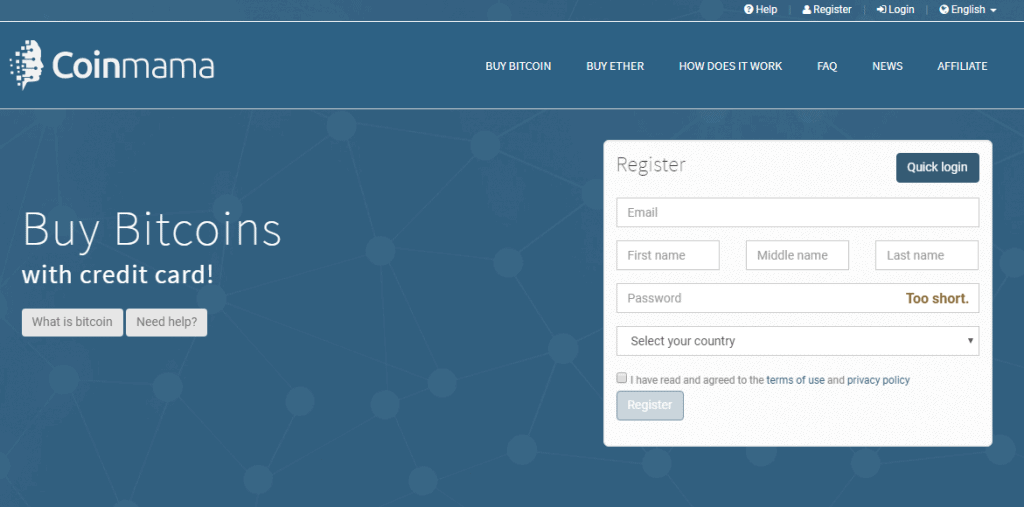 From the Sign Up form, fill in your name, email, password, and country of residence. Confirm the registration by following the link in the email you will be sent. Login into Coinmama.
Step 2: Verify your identity

After you verify your account, you are ready to trade. There are three verification levels, which do not affect the daily/monthly trading limits.
Level 1 – National ID and a selfie holding the ID and a note with "Coinmama" and the date written on it.
Level 2 – Level 1 plus a utility bill (electric, cable, gas, water bills, property tax, bank statements or credit card statements)
Level 3 – This somewhat cryptic requirement involves filling in a "short form." Contact support@coinmama.com for details.
Step 3: Buy cryptocurrency
Select the currency you want to buy. In this example, bitcoin. You have the option of selecting units of $100, $250, $1,000 or $3,000. Or you can choose to invest another amount within your allowed limit. The buyer is purchasing 0.338 bitcoin at a price of USD 2500.48. Either move the slider to the amount you want to buy or enter it manually. Click on Buy.
Step 4: Withdraw Your Bitcoin


Enter the bitcoin wallet address where you want your new bitcoins delivered. Note that if you do not have a bitcoin wallet, Coinmama suggests you open a free wallet at Binance. Click on Go to Payment.
Step 5: Pay for Your Bitcoin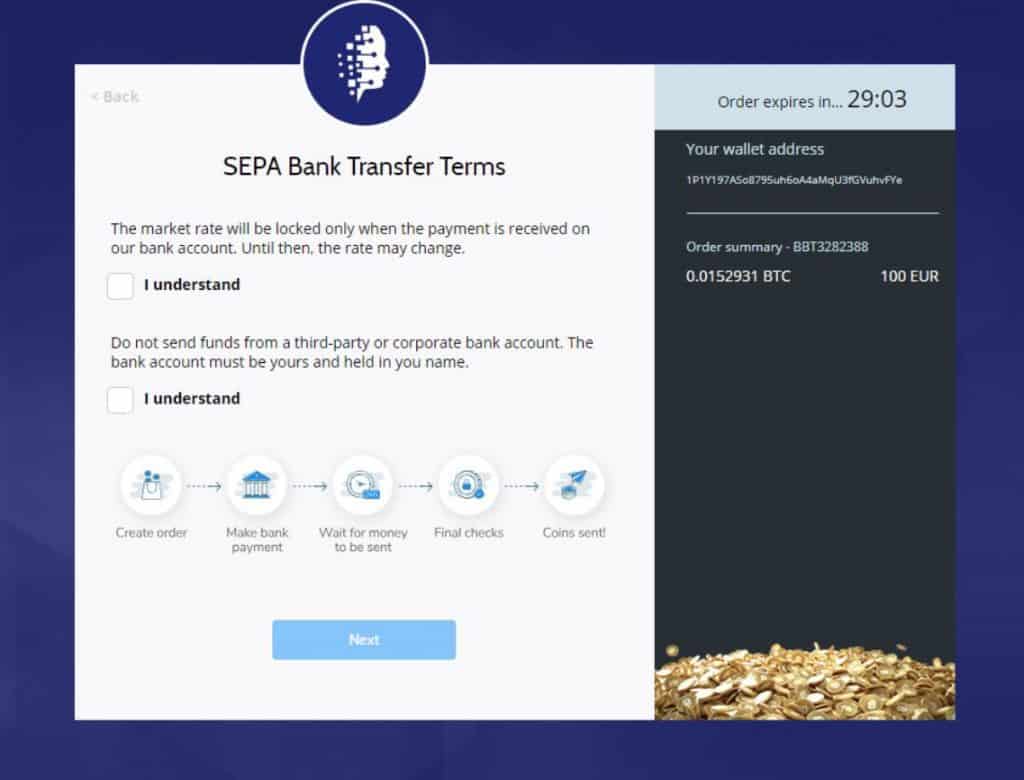 On most cryptocurrency exchanges, the trader is required to deposit money before trading. Remember on Coinmama, you are not actually trading but buying at the market price. Like an Amazon checkout, you pay after you have selected your currency. Choose to pay by credit/debit card or SEPA bank transfer. For a SEPA bank transfer, note the bank account details, log into your online bank and process the payment. Your coins will be transferred once the bank transfer has been received (typically within 24 hours). Alternatively, you may go to your bank and order a bank transfer.
Is Coinmama regulated?
Coinmama is not a regulated exchange.
Is Coinmama safe?
Coinmama had never been hacked, until February 2019. The exchange estimates hackers accessed 450,000 email addresses and hashed passwords of users in part of a large attack on 30 companies affecting a total of 841 million user records. But the exchange notes that hackers would not have been able able to access wallets of those with two-factor identification enabled. Since Coinmama does not store your coins, you do not have to worry about them being stolen.
🔐Registered with FINCEN (Financial Crimes Enforcement Network)
🔐Customer coins are never stored on the exchange, but in users' own wallets
🔐Two factor identification (2FA) is used
🔐All traders must be verified before using the exchange
Is the Coinmama wallet safe?
Coinmama does not have a wallet. Coinmama recommends users open a Blockchain or Binance wallet. You are free to choose any other wallet that holds the coins you want to store. If you want to buy Ripple, for example, ensure a wallet address can receive Ripple.
Does Coinmama have an app?
Coinmama does not have an app.
Is Coinmama customer service reliable?
If you need to contact Coinmama, here is where to start.
Help Center – FAQs are provided on all aspects of how to buy and sell cryptocurrency on Coinmama.
Email support – Contact Coinmama by email through Submit a Request.
Coinmama Pros and Cons
Pros:
✅Quick and easy way to buy and sell  cryptocurrencies
✅ Verification process completed in 1-to-6 hours
✅ Does not require centralized storage of your crypto
✅ User-friendly e-commerce interface for crypto shopping
Cons:
❌Unregulated
❌Only eight cryptos available.
❌No cryptocurrency trading
❌Cryptocurrency prices set by Coinmama
❌No wallet or app
❌Fees high with credit card purchase
Why We Recommend eToro Over Coinmama
Coinmama is a way to quickly buy and sell bitcoin, as well as seven other cryptos, without the complexities of bitcoin trading. Eight of the most popular coins can be bought and sold without having to place your assets on a centralized exchange.
For beginner crypto investors who want to learn more about cryptocurrency investing and trading, there are other ways to buy crypto while avoiding trading against big traders on an exchange. Investing in cryptocurrency portfolios on eToro is a way to diversify the risk of holding only one or two coins. This reputable broker has been around for over a decade.
Here is why we think eToro is the better exchange for many beginner traders.
✅Regulated by multiple jurisdictions globally, including the UK FCA and CySec
✅Leading social trading platform to develop trading skills
✅Top performing traders easily copied with CopyTrader™️ and OneClick trading
✅Top performing cryptocurrency portfolios by theme easily copied with CopyPortfolios™️
✅Secure multi-currency wallet granted a Distributed Ledger Technology (DLT) licence from the Gibraltar Financial Services Commission (GFSC)
✅Trading tips from social feeds
✅Low fees
✅Good educational resources for the beginner trader
✔️

Conclusion
As a broker, Coinmama prices may be slightly higher than those on some exchanges but keep in mind, especially for beginner traders, the price you place in a trade order may not be the price your trade will close at on an exchange. Once you place your order on Coinmama, your price is locked until your payment is complete. If you want to invest long-term or make payments in crypto, Coinmama provides a place to buy and sell crypto with convenience, speed and competitive pricing.
If you want to invest in more than one crypto, a portfolio may make more sense. For more on cryptocurrency portfolio products with low fees, take a look at our eToro review.
FAQs
Should I choose a regulated cryptocurrency exchange
A trader is exposed to higher risks when trading on an unregulated exchange. If you lose money on an unregulated exchange due to fraud, it will be more difficult to seek remedy through a legal or insurance claim. On a regulated exchange, the investor has more protection against loss. If the broker you have deposited money with goes bankrupt, for example, the US FDIC or UK FCA provide deposit insurance.
Does Coinmama have an affiliate program?
Yes. The Coinmama Affiliate program will pay you 15 percent on all our chases made by your referrals. Bitcoin payouts are paid monthly.
What is a centralized exchange?
A centralized exchange accepts and holds users' deposits. Most exchanges also conduct ID verification to comply with know your customer (KYC) and anti-money laundering (AML) rules. As a repository of client money and personal identification information, centralized exchanges have a higher risk of becoming a victim of cyber hacking and theft.
What is a decentralized exchange (DEX)?
A decentralized exchange does not use an intermediary to hold customer funds and accounts. Peers trade directly amongst each other (peer-to-peer) and funds are transferred between their cryptocurrency wallets. Trader money and ID are at lower risk of being hacked. A downside of DEXs is the current lack of liquidity.
Do I need a digital wallet to trade with Coinmama?
Yes. Coinmama does not provide an online wallet. You will require a wallet address to receive the coins you buy on Coinmama. The exchange recommends the Blockahin or Binance wallets.
What's the difference between a hot and cold wallet?
Hot wallets store your crypto assets online and face a higher risk of cyber hacking. Cold storage involves storing your crypto assets offline on a USB drive or paper wallet, for example. Coinmama's cold storage wallet places crypto assets in a safety deposit box in a bank vault. The following risk measures should be taken to protect your hot and cold crypto assets:
☑️ Generate and store your private keys offline
☑️ Use two-factor authentication to access your wallet
☑️ Use biometric identification
Can I sell cryptocurrencies on Coinmama?
Yes, Coinmama recently added cryptocurrency selling services.