Changelly is an online site where you can buy and exchange crypto with crypto launched in 2013 in Prague. The broker sells over 140 cryptos and has recently added the ability to buy Ripple with a credit or debit card. (XRP) in USD or Euro with a credit or debit card. The exchange offers transparent transactions at the "best rates on the market" and places no limit on how much cryptocurrency you can buy.
Since lowest price claims cannot always be trusted, we sought to find out if Changelly offers the best price. We have conducted an in-depth review of fees, features, and pros and cons to assess whether crypto buyers are getting a good deal on Changelly. We went to a few crypto compare sites and found Changelly price quotes in the mid-to-high range of market quotes. But when we cross-checked the prices with the live prices on Changelly, Changelly was indeed the lowest price! We entered a transaction on Changelly to ensure, even with the fee and processing fee added, the all-in cost was still cheaper. Changelly was the lowest price.
🌟 Is Changelly recommended?
❌
Shop around! Take the time to directly compare the prices on Changelly and other exchanges you are considering. Keep in mind that some crypto compare sites may not be trustworthy. We have concluded that Changelly offers competitive pricing on cryptos. Be aware, though, that the price you choose can change before your crypto payment is deposited into the Changelly wallet to complete the sale. The low fees charged could still compensate for this price slippage.
Another option is to buy crypto on an exchange that builds the price into the spread between the buy (bid) and sell (ask) price. The price on eToro, in contrast, may be a tad higher than Changelly and some other quotes. It is important to make note, however,  that eToro has very low price slippage – up to one pip at most. The final price (not including fees) is close to the ask price. The regulated broker is opening a new exchange eToroX which is launching with 37 crypto pairs and 8 stablecoins backed by fiat currencies.
What is Changelly?
Changelly is a low cost cryptocurrency broker. If you want to buy cryptocurrency at a low price, Changelly promises the best prices in the marketplace. Before buying, remember to always directly compare fees on the exchanges or use a crypto comparison engine you know to be trustworthy. There is no minimum or maximum order.
Wallets Exchanging Crypto With Changelly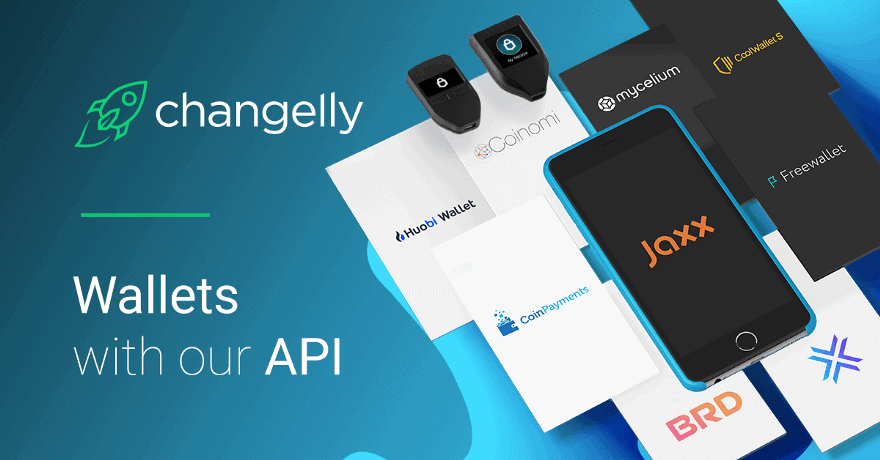 You may already be using Changelly's service. Changelly's API integrates with wallets and exchanges. If you used to love the JAXX wallet, then you will be happy to learn about the Changelly API. JAXX integrated with ShapeShift to provide easy exchange across many cryptos, before ShapeShift left its partner without an exchange service at the end of 2018. JAXX now uses Changelly as its exchange engine, which could make the popular wallet even better if Changelly meets its "best price" offer. Enjin, Exodus, Huobi and Ginco are among the soft wallets that use Changelly. Hard wallets include the popular Trezor wallet and CoolWalletS.
Changelly supports transaction transparency. Exchange transactions are now integrated with the Changelly branded EnjinX blockchain explorer. When you buy ethereum compatible coins and tokens, you can verify your transaction. When your transaction is complete, you can use the explorer to search by transaction, addresses, blocks, and coins to locate and confirm the completion of your transaction. Enjin and Changelly have also launched the Major Tom token – an Ethereum ERC-1155 token playable in 22 Enjin games.
How does the Changelly exchange work?
Changelly is a cryptocurrency broker that sells crypto at a rate determined by its pricing algorithm to be the "best rate on the market." How so? Changelly's pricing engine is integrated with the largest exchanges, including Binance, Poloniex, and Bittrex. When you enter an order to buy BTC with ETH, for example, within milliseconds, Changelly finds the best price on the exchange and displays it. As mentioned, the price could slip, though, before you complete the order. Payments are made in cryptocurrency. Crypto is deposited from your off exchange wallet and can bought with credit or debit card.
 What cryptocurrencies does Changelly support?
Changelly is always adding new coins. Over 140+ cryptocurrencies are currently available, including:
BTC
ETH
XRP
TRX
DASH
LTC
ZEC
EOS
TUSD
DGB
BCHABC
ETC
XEM
LSK
XMR
STRAT
ARDR
REP
MAID
DOGE
NXT
NAV
GNT
WAVES
USDT
SWT
DGD
TRST
EDG
WINGS
RLC
GNO
DCR
GUP
LUN
XLM
BAT
ANT
BNT
CVC
PAY
NEO
OMG
MCO
ADX
ZRX
QTUM
PTOY
STORJ
HMQ
SALT
XVG
BTG
DNT
VIB
RCN
POWR
STX
KMD
WAX
BRD
DCN
SNM
NGC
NOAH
BNB
ZEN
AE
ARK
ARN
PART
ZAP
ABYSS
LRC
XZC
SMART
BQX
NEXO
ONT
BETR
ENJ
BCD
KNC
DENT
BKX
TEL
DAI
MKR
IGNIS
ADA
PROC
GUSD
USDC
GRS
EURS
BCHSV
DGTX
PAX
NIM
PMA
RFR
XTZ
GAS
BTT
GAS
FET
🏳️Supported countries
Changelly is a Slovakia-based cryptocurrency exchange that accepts transactions from any country.

Fees & limits
Changelly charges a 0.5 percent fee, which is significantly lower than many competitors, but there is the risk of the price changing before the exchange is paid for. How does this compare to other crypto brokers? Coinmama, in comparison, charges 5.9 percent for a fixed, locked in fee. Bitpanda's fixed fee of 1.2–1.49 percent is built into the price. Remember to include fees when you are shopping by price.
A network fee is also charged. It averages about 0.002 percent of a transaction. Changelly has no maximum transaction amount. However, if you pay in fiat by bank card, you will be subject to the following processor restrictions.
Simplex limitations (for purchasing BTC, LTC, BCH, XRP, ETH):
First transaction: from $50 to $10000
Daily limit: up to $20000
Monthly limit: up to $50000
Also check Indacoin limitations, if applicable to your transaction.
Changelly Dashboard

You do not need any experience to trade on Changelly. If you have used PayPal, you will find this process even easier. Unlike PayPal, you never have a balance. Instead, you pay directly from your crypto wallet or bank card at the time you make the purchase. Choose the currency you want to make your purchase with and the currency you want to buy, and pay. No ID verification is required. You will need a compatible online wallet to fund and receive your cryptocurrency purchase.
How to Buy Cryptocurrency on Changelly: Step-by-Step Tutorial
Changelly never asks you to deposit funds with the exchange. Crypto-to-crypto purchases are made by depositing money from your crypto wallet. You also have the option of buying cryptocurrency with a bank card (credit or debit card) and having it deposited to your own crypto wallet. A new feature is the ability to directly buy Ripple (XRP) with fiat (US, EUR) by credit or debit card.
Trade cryptocurrency on Changelly
Step 1: Register your account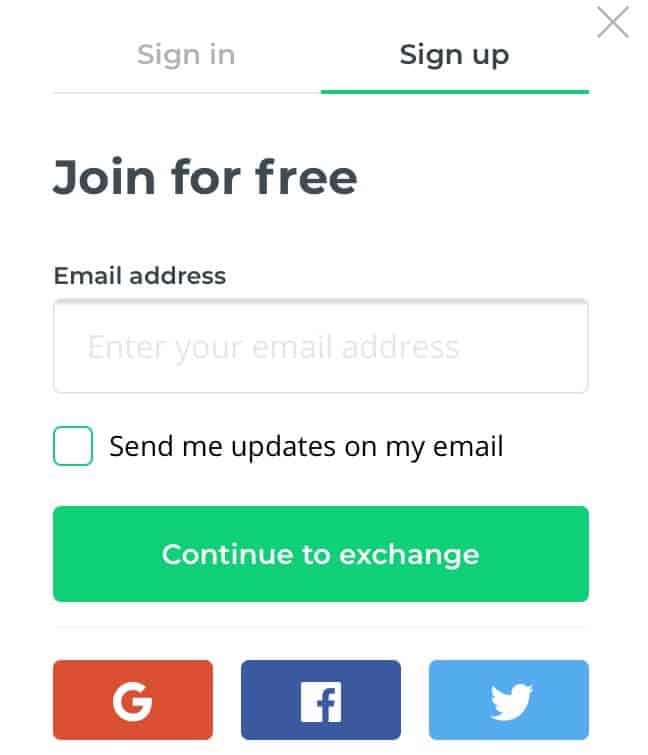 From the Sign Up form, enter your password. Follow the link in the confirmation email sent to you to activate the account. Your username (email address) and password (provided) will be sent separately in an email. You are all set to buy cryptocurrency.
Step 2: Buy cryptocurrency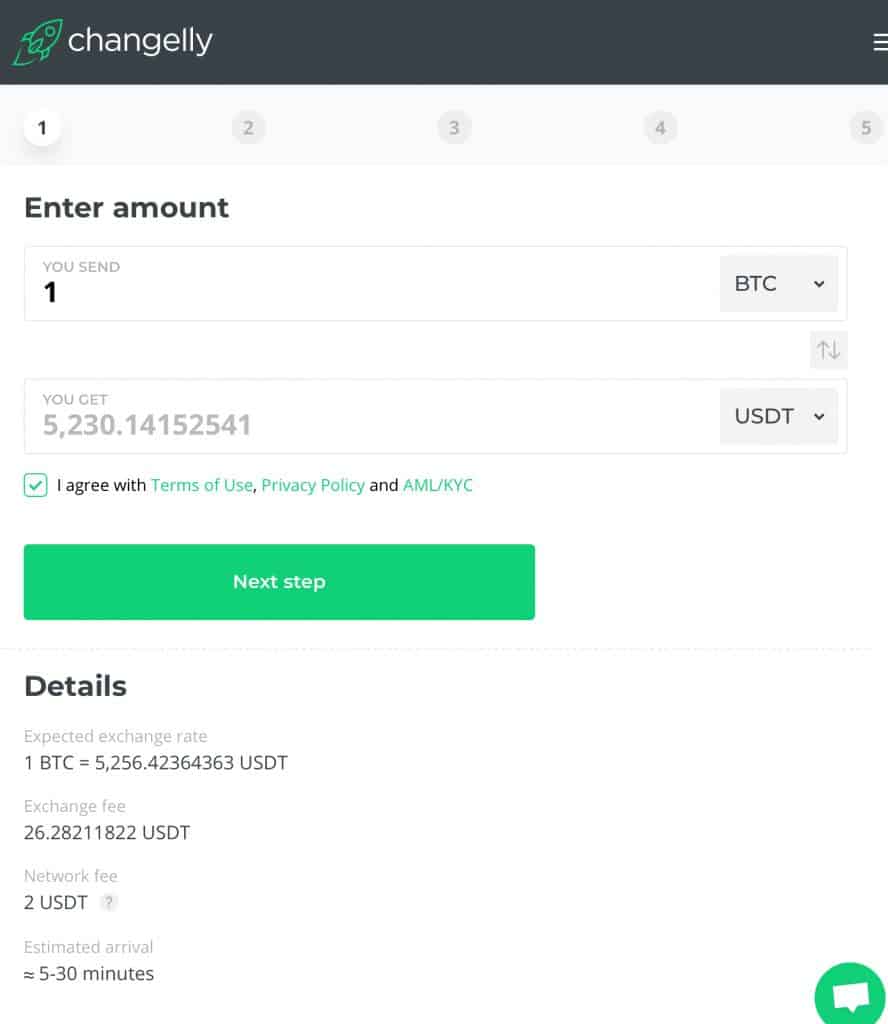 Enter the cryptocurrency you will use to pay for the transaction. Then, enter the cryptocurrency you would like to buy. In either denomination, enter the amount you want to buy. Note the transaction fee, network fee and estimated time of arrival. Select Next Step.
Step 3: Deposit cryptocurrency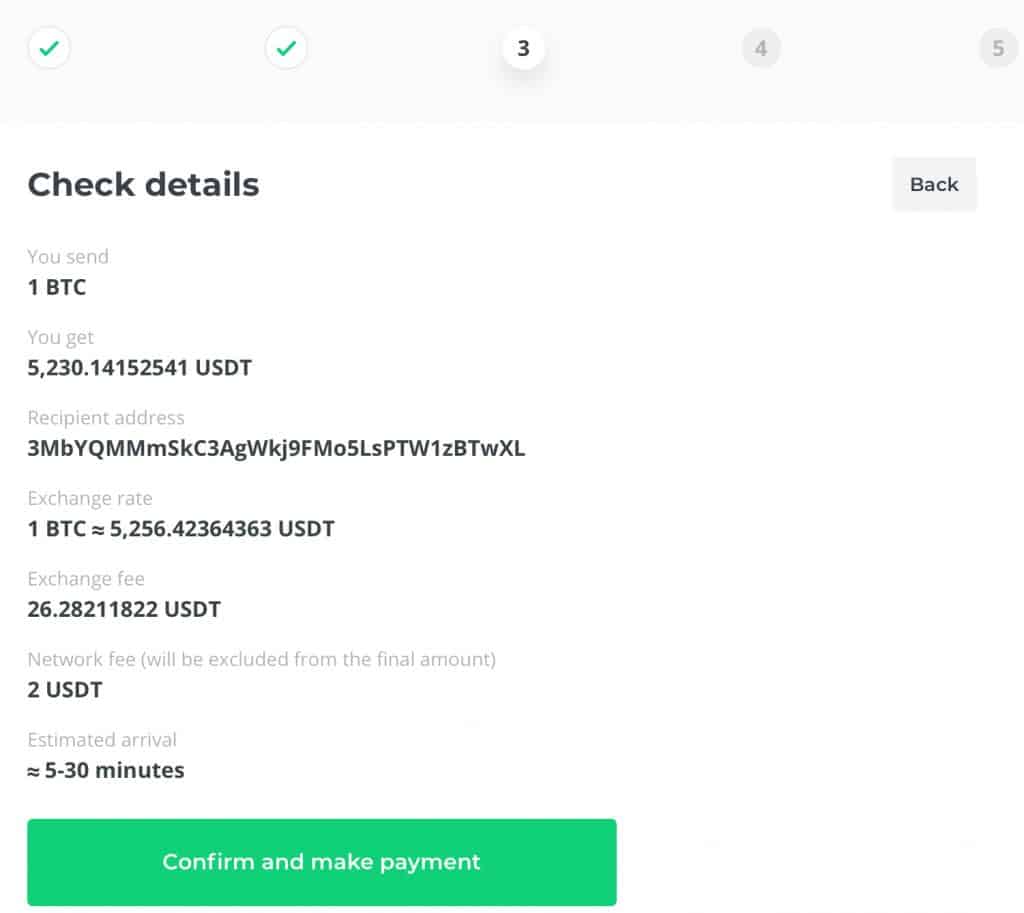 Review the transaction details and click on Confirm and Make Payment.
Step 4: Enter the recipient address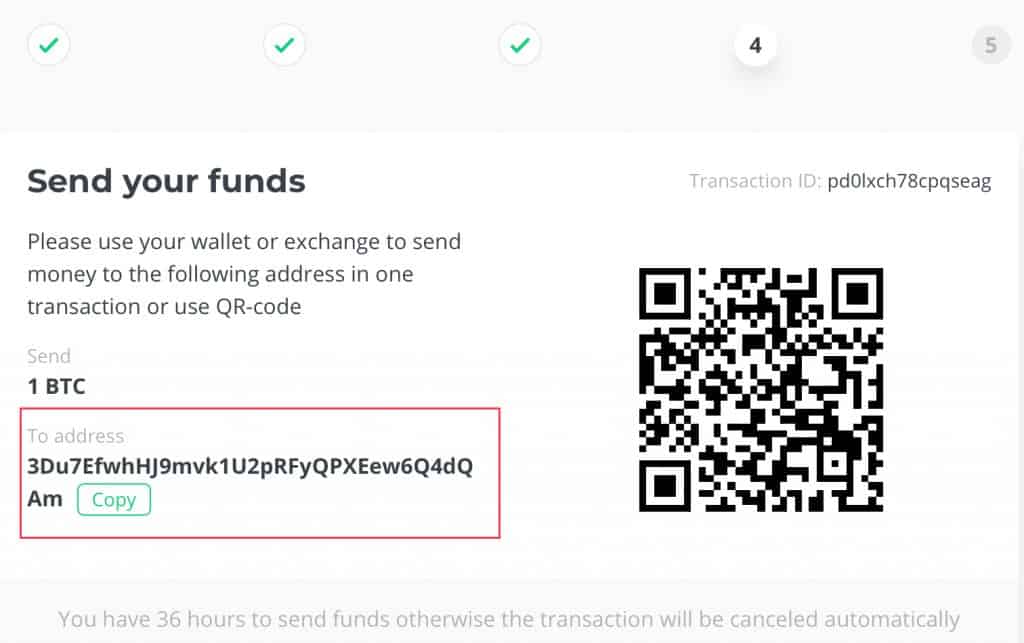 Enter your wallet address where you want the funds sent. Use the QR-code or click Copy to copy the exchange wallet address. Go to your wallet and send the transaction amount to the Changelly wallet address. Select Next Step.
Step 4: Verify the transaction
Want to confirm that Changelly has sent your money? You can now check from the Changelly blockchain Explorer powered by Engin.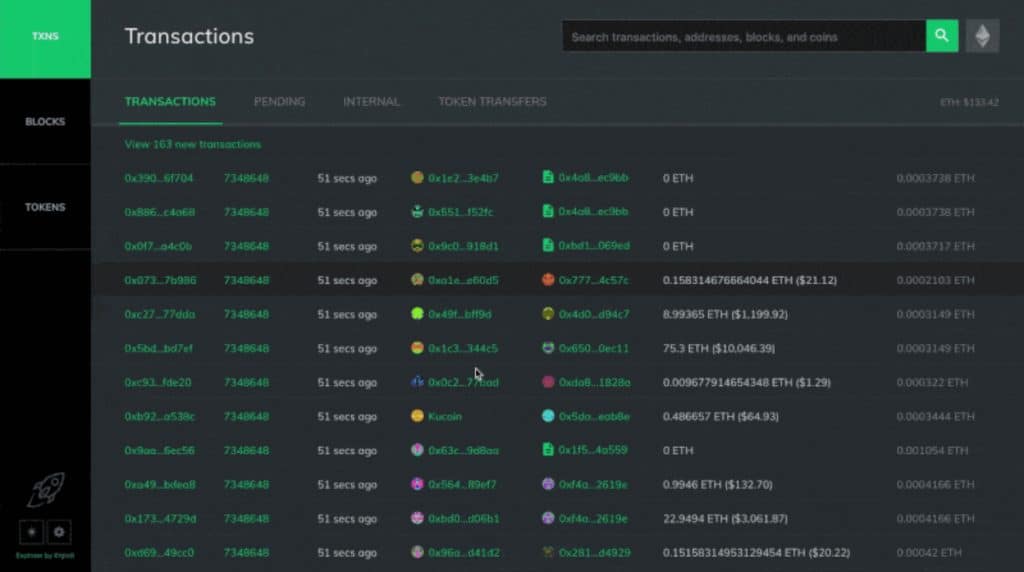 Is Changelly regulated?
Changelly is not a regulated exchange.
Is Changelly safe?
Changelly does not conduct ID verification. Know your customer (KYC) and anti-money laundering (AML) checks are not carried out. Nor are deposits taken. For advocates of the decentralized exchange model, the absence of centralized control of money and personal information safeguards customers against hacking. Since Changelly is a broker, not an exchange, and your only trading partner, counterparty risk is low. To help its customers safely store their crypto, as a noncustodial exchange Changelly:
🔐 Does not accept deposits so customer digital assets are never stored centrally on the site
🔐Does not collect personal information, which could be stolen on a centralized exchange
🔐 Uses two-factor identification (2FA)
🔐 Transmits data over a secure HTTPS network
🔐 Recommends users store digital assets in a hardware wallet with their private keys
Is the Changelly wallet safe?
Changelly does not store your crypto and therefore does not have an online wallet. Your wallet needs to support the coins you are using for payment and buying. For example, if you are buying the newly listed BitcoinCash SV (BSV), you will need one of the 17 wallets that supports BSV to receive your new tokens. Among the wallets are Edge, Coinomi and Exodus – all three integrate with Changelly. If you send cryptocurrency without initiating a transaction, the funds will automatically be converted into the last cryptocurrency you bought and sent to the same wallet address.
Does Changelly have an app?
Changelly has an Android app. Through its API, the broker is integrated with other wallets and apps, including the Enjin wallet and Stratis app. Stratis develops blockchain solutions for Microsoft products. The Changelly API allows wallets and merchants to integrate its crypto exchange service into their services.
Is Changelly customer service reliable?
If you need assistance using Changelly, consult:
Video Guides – Video tutorials on how to buy and exchange coins and tokens
Help Center – FAQs are provided on all aspects of how to buy and sell cryptocurrency on Changelly
Email support – Contact Changelly by email through Submit a Request
Changelly Pros and Cons
Pros:
✅ Guarantees best crypto prices in the market
✅ Easily exchange over 140 cryptos for a low fee
✅ Non-custodial exchange does not hold customer funds
✅ Integrated with many popular wallets and exchanges
Cons:
❌ Unregulated
❌ Potential slippage in floating price quotes before trade completion
❌ No cryptocurrency trading
❌ Cryptocurrency prices set by Changelly
❌ No IOS app
❌ No wallet
Why We Recommend eToro Over Changelly
While we found low, competitive fees on Changelly, some users report higher than average fees on some coins and tokens. Take the time to directly compare fees on the coins you want to trade on a few exchanges before trading, or use a comparison engine your trust. You assume the risk of losing money if prices change before the trade is completed. Since Changelly does not offer actual bitcoin trading, you cannot use limits, stop-loss orders or other trading tools to hedge against a change in price. It pays to compare the price slippage of brokers without fixed prices.
The low price slippage on eToro of less than one pip, for example, makes it easy to estimate the price you will receive.  eToro is a leading social trading platform. By investing in CopyTraders™️ or CopyPortfolios™️, investors can copy the trades and portfolios of the best performing traders with OneClick. Past performance is never a guarantee of future performance, but on average, traders who follow top-rated traders are more profitable.
Here is why we think eToro is the better exchange for many beginner traders.
✅ Regulated by multiple jurisdictions globally, including the UK FCA and CySec
✅ Leading social trading platform to develop trading skills
✅ Top performing traders easily copied with CopyTrader™️ and OneClick trading
✅ Top performing cryptocurrency portfolios by theme easily copied with CopyPortfolios™️
✅ Secure multi-currency wallet granted a Distributed Ledger Technology (DLT) licence from the Gibraltar Financial Services Commission (GFSC)
✅ Trading tips from social feeds
✅ Low fees
✅ Good educational resources for the beginner trader
✔️

Conclusion
Changelly promises the "best prices" while offering the convenience of a brokerage service without the high fees typically charged. If you want to actually trade cryptocurrencies, eToro provides beginners an edge. You can follow the traders with the best trading performance to increase your chances of making profitable trades. Slippage at a maximum of one pip is low, further lowering your risk of losing money. For more on how to learn to trade cryptocurrencies, find out more about the social trading revolution by reading our eToro review.
FAQs
Should I choose a regulated cryptocurrency exchange
A trader is exposed to higher risks when trading on an unregulated exchange. If you lose money on an unregulated exchange due to fraud, it will be more difficult to seek remedy through a legal or insurance claim. On a regulated exchange, the investor has more protection against loss. If the broker you have deposited money with goes bankrupt, for example, the US FDIC or UK FCA provide deposit insurance.
Does Changelly offer the best crypto exchange rates?
Changelly states it offers "the best available rate at moment of transaction." In addition, Changelly charges a low 0.5 percent commission fee. By providing one rate to buyers based on fluctuating prices, Changelly does not incur the cost of hedging volatile prices to provide a fixed price. This allows Changelly to provide the best price at the lowest fee.

Is there a risk of the price I choose to buy at changing before I complete payment?
Yes. Changelly uses a floating not fixed rate which, like trading, introduces price risk. When you click to buy ETH for BTC, for example, the rate shown is not a firm rate. You first need to send money to the Changelly wallet. When your ETH hits the Changelly wallet, the transaction will complete at the current price.
What is a centralized exchange?
A centralized exchange accepts and holds users' deposits. Most exchanges also conduct ID verification to comply with know your customer (KYC) and anti-money laundering (AML) rules. As a repository of client money and personal identification information, centralized exchanges have a higher risk of becoming a victim of cyber hacking and theft.
Do I need a digital wallet to trade with Changelly?
Yes. Changelly does not provide an online wallet. You will require a wallet address send and receive coins on Changelly. The exchange recommends a hot wallet.
What's the difference between a hot and cold wallet?
Hot wallets store your crypto assets online and face a higher risk of cyber hacking. Cold storage involves storing your crypto assets offline on a USB drive or paper wallet, for example.  The following risk measures should be taken to protect your hot and cold crypto assets:
☑️ Generate and store your private keys offline
☑️ Use two-factor authentication to access your wallet
☑️ Use biometric identification
Can I sell cryptocurrencies on Changelly?
At this time, Changelly provides the ability to buy cryptocurrency from its own inventory.