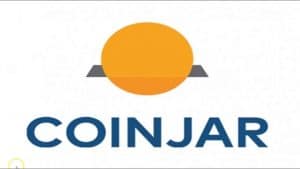 Coinjar is an Australian cryptocurrency exchange broker that allows you to buy and sell a range of different cryptocurrencies. The platform supports fiat currency deposits and withdrawals, although these facilities are reserved for Australian residents only.
If you're thinking about buying and selling cryptocurrencies at Coinjar, make sure that you read our comprehensive guide first. We'll cover everything you need to know, such as fees, supported coins, security, user-friendliness, and more.
If you don't quite have the time to read our guide in its entirety, then our conclusion argues that you should opt against opening an account with Coinjar.
Not only are fiat currency facilities restricted to all non-Australian residents, but the platform only lists five cryptocurrencies. We prefer regulated platforms such as Coinbase.
Is Coinjar Recommended?
❌We cannot endorse or recommend Coinjar, mainly due to its restrictions on non-Australian residents, limited coins, high trading fees, and lack of verifiable security safeguards.
What is Coinjar?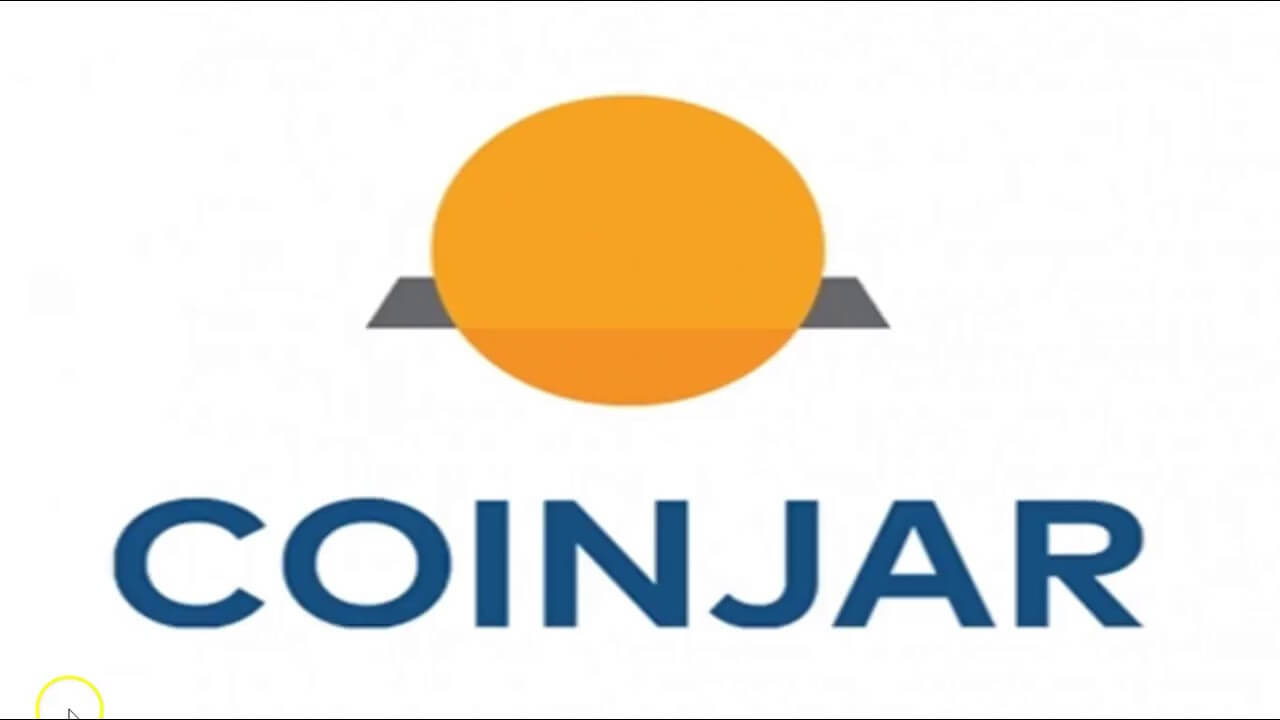 Coinjar is a cryptocurrency exchange broker that allows you to buy and sell cryptocurrencies. The platform lists five coins in particular – notably Bitcoin, Ethereum, Litecoin, Ripple and Zcash.
The platform is very popular in Australia, as it allows local residents to deposit and withdraw funds using a bank account. For those based outside of Australia, you can only use the Coinjar platform if you are depositing funds with a cryptocurrency.
In the future, the team at Coinjar are planning to expand their user base to other countries, however at the time of writing there is no clear indication when this will be.
On top of its traditional exchange-based services, Coinjar also offers a cryptocurrency index fund. This allows you to speculate on the movement of four cryptocurrencies via one simple investment.
How does Coinjar Work?
Coinjar works in a similar way to most cryptocurrency exchanges. If you're from Australia, you have the option of funding your account via your local bank account. If not, then you'll need to deposit funds with a cryptocurrency. Once your account is funded, you can then buy and sell cryptocurrencies.
Coinjar makes their money by charging transaction fees every time you trade.
Once you've bought your desired cryptocurrency, you can then store it via the Coinjar wallet, or withdraw them to a private wallet of your choosing.
On top of traditional brokerage services, you can also trade crypto-to-crypto pairs on the Coinjar platform. This includes a range of real-time technical charts that can assist with your decision-making process.
When you do trade Bitcoin and other cryptocurrencies at Coinjar, you only have the option of going long. This means that you can't speculate on the market going down in value. If this is something that you want to do, then you'll need to use a platform like Coinbase.
What cryptocurrencies does Coinjar support?
Coinjar only supports a total of five cryptocurrencies, making the platform extremely limited for those that want to create a diversified portfolio. You'll find the platform's supported coins below.
💱 Bitcoin (BTC)
💱 Ethereum (ETH)
💱 Litecoin (LTC)
💱 ZCash (ZEC)
💱 Ripple (XRP)
Coinjar state that they plan to add additional cryptocurrencies to their platform in the near future, however, no dates have been given as of yet.
Which countries does Coinjar support?
As an Australian based exchange, the platform primarily focuses on Australian residents. This means that if you are planning to deposit funds with fiat currency, you won't be able to do this at Coinjar unless you are an Australian resident.
If you're happy depositing and withdrawing funds purely in cryptocurrency, then the Coinjar platform is accessible worldwide. At the time of writing, Coinjar does not explicitly prohibit any nations in particular, meaning the platform is available to all.
Coinjar fees
Coinjar offers their cryptocurrency exchange services in return for fees. You might need to pay a fee when you deposit or withdraw funds, and also when you trade. We've broken the main fees down below.
Deposit fees
💳 Crypto deposits: Free
💳 BPAY (Australian residents only): Free
💳 Blueshyft cash deposit (Australian residents only): 1.5%
Withdrawal fees
💳 Debit card withdrawals: n/a
💳 Credit card withdrawals: n/a
💳 Australian bank account: 1%
💳 Swipe: Free
💳 BPAY Biller: 0.5%
💳 External crypto address: No charge other than mining fees
Trading fees
Coinjar has a rather straightforward fee system when it comes to trading. Essentially, every time you buy or sell a cryptocurrency on the platform, you'll be charged a trading fee of 1%. This is even more expensive than Bitoasis, who charges a whopping 0.5% per trade!
For example, if you bought $200 worth of cryptocurrency on Coinjar, you would pay $2. If you then sold the same investment at the same price, you would again need to pay another $2. Although this might sound nominal, a 1% trading fee is actually huge for day trading professionals.
This effectively makes it unviable for short term investments. On the other hand, if you're looking for a cryptocurrency exchange that offers really low fees, then you're better off using Coinbase. They don't charge a fixed trading fee, as the fees are built into the spreads.
Coinjar platform dashboard
Although Coinjar is extremely limited for those based outside of Australia, and you're only able to buy and sell five different coins, the platform is at the very least really simple to use. Coinjar has implemented a simplistic approach to its design, essentially making the platform super easy for beginners.

In terms of the actual buying/selling marketplace, it's really simple to transact. As you'll see from the screenshot below, once you've chosen the cryptocurrency that you want to buy, all you need to do is enter the USD (or local currency) amount. The trading box then updates with the amount of cryptocurrency you will receive.

When it comes to ongoing support, the Coinjar platform also offers a highly informative guide section. This covers the most frequently asked questions that Coinjar receives, such as fees, how to open an account, or withdrawal times.

How to sign up and trade on Coinjar
If you're based outside of Australia, then we would suggest re-thinking your desire to open an account of Coinjar. If you want to buy and sell cryptocurrencies using everyday payment methods, then you're better off using a platform like Coinbase.
Nevertheless, if you want to proceed with your Coinjar account application, we've provided you with a step-by-step guide below.
Step 1. Open an account with Coinjar
Head over to the Coinjar platform, and look up for the 'open a Coinjar today' box. You'll need to enter your full name and email address, and then click on 'sign up now'.
Step 2. Re-enter your details
Annoyingly, even though you've already entered your full name and email address, you'll need to enter them again on the next page.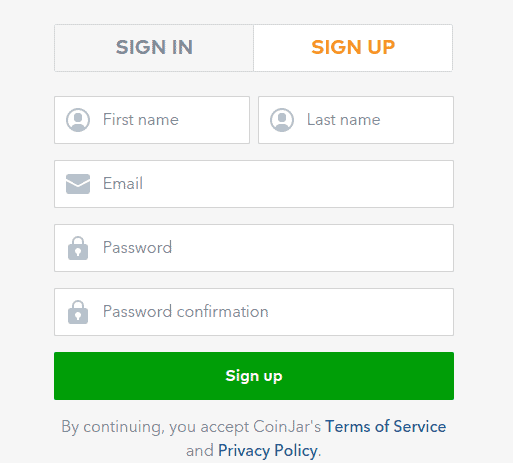 You'll also need to choose a really strong password.
Step 3. Confirm your email address
Before you can proceed to the next stage of the account set-up process, you'll first need to verify your email address.
Once you've clicked on the link found within the email that Coinjar sends you, you then need to sign in with the account credentials you chose in the previous step.
Step 4. Choose a username, add country of residence and enter phone number
You'll now need to choose a username for your newly created Coinjar account. You can also add a photo, however, this is optional.
You will also need to select your country of residence so that the Coinjar platform is customized for your specific location.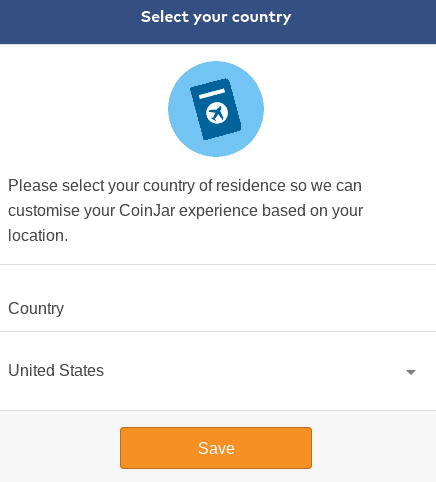 Next, you then need to enter your phone number. It's important that you enter your number correctly, as some Coinjar features will require you to confirm a code that is sent directly to your phone. This will also be required when you set-up two-factor authentication (which you should do for enhanced account security).
Step 5. Deposit funds
Now that you've set-up your Coinjar account, you'll now need to deposit some funds. Don't forget, if you're not based in Australia, then you'll need to deposit funds using a cryptocurrency. On the left-hand side of your account dashboard, click on 'accounts'.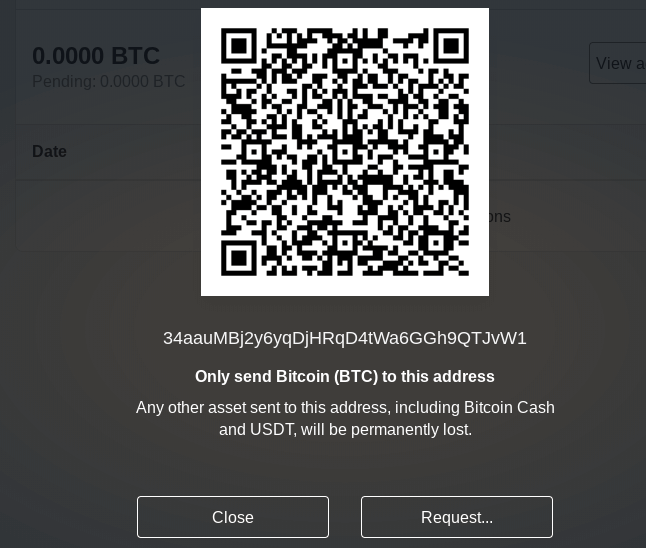 Then click on the type of cryptocurrency that you want to deposit with. Next, click on the blue 'actions' box, followed by 'view address'. A pop-up box will appear with your unique Coinjar wallet address for your selected cryptocurrency. You'll also see a QR code, which you can scan if you're looking to deposit from a mobile wallet.
It is important that you only deposit the specific cryptocurrency that the wallet supports. For example, if you try to deposit Ethereum into your Bitcoin wallet address, the funds will be lost forever.
Once you've transferred your coins over to Coinjar, your account should be credited within about 10 minutes.
If this sounds like too much hassle, then you can deposit instantly at Coinbase with a debit/credit card, and even buy Bitcoin with PayPal.
Is Coinjar regulated?
Although Coinjar is not regulated by any notable financial bodies, the platform is registered with the Australian Transaction Reports and Analysis Centre. This ensures that the company remains fully compliant with domestic and international anti-money laundering rules.
Is Coinjar safe?
Coinjar is not regulated by a national financial body, meaning that your funds are never 100% safe. This also means that you are offered no consumer protections in the event that the platform seized to exist. At the time of writing, Coinjar has not experienced any major hacks, although this doesn't mean that the platform is immune to external malpractice.
Ultimately, we are unable to endorse Coinjar as a safe and secure platform, not least because of their lack of regulatory oversight.
Coinjar security measures
Nevertheless, here are some of the security features that Coinjar have in place to keep your funds safe.
🔒 Two-factor authentication
🔒 A minimum of 90% of customer funds held in cold storage (this is very low)
🔒 Multi-sig technologies for online storage
🔒 Website encryption
Does Coinjar have a wallet?
The team at Coinjar have built their own native cryptocurrency wallet that is available worldwide. The wallet can store the five cryptocurrencies that the platform lists, which includes Bitcoin, Ethereum, Litecoin, Ripple and Zcash.

The wallet allows you to secure your coins via multi-factor authentication, which will require you to confirm access with a secondary device. The wallet is also available on both desktop and mobile (Android and iPhone) devices. You'll be able to send and receive funds via your Coinjar wallet, check your balances, and review account transactions.
Does Coinjar have an app?
The Coinjar mobile app is concurrent with its wallet. You can download the app via your Android or iPhone device, free of charge. Although you can perform all of the same account functions on your Coinjar app as the main desktop site, you are still limited in what you can do.
If you want to trade cryptocurrencies on the move, and have the option of trading on Coinbase through your phone. You'll also be able to reduce the amount of fees you pay, as Coinjar charges a trading fee of 1%, even if you use your mobile.
Coinjar customer service
Customer support at Coinjar is really limited. Firstly, the customer support team only work Monday to Friday, between the hours of 8am and 6pm, Melbourne time. This can be hugely problematic if you are not based in Australia, as you'll likely need to contact the team at an ungodly hour.
Moreover, the Coinjar customer support team can only be contacted via a support ticket. Although you'll likely receive a response within about 2 hours (during working hours), this is still a significant inconvenience.
If you are a subscriber to the Coinjar trader plan, then you will have access to a dedicated phone number. However, everyone else is limited to the support ticket service.
If customer support is one of your main priorities, then Coinbase allows you to contact them via phone, email, and even live chat.
✔️ Support ticket
❌ Phone support (unless you're subscribed to the Trader plan)
❌ Live chat
❌ Social media
Coinjar pros and cons
Pros:
✅Very user-friendly
✅Two-factor authentication
✅Mobile app
Cons:
❌Only 5 cryptocurrencies available
❌ Unable to short coins
❌1% trading fees are expensive
❌Fiat deposits and withdrawals only available to Australian residents
❌Not regulated
❌Cold storage minimum of 90% is low
Conclusion
It's somewhat difficult to make a strong case for Coinjar. Firstly, it's tough to get around the fact that the platform only allows you to buy and sell cryptocurrencies with fiat currency if you're based in Australia. Although non-Australians can still use the Coinjar platform, they have to stick with cryptocurrency deposits and withdrawals.
Moreover, you're severely limited with the number of cryptocurrencies you can trade – regardless of where you are from.  In fact, you can only purchase five cryptocurrencies on Coinjar, which is a bit non-descript.
It is also important to note that the Coinjar platform does not have regulatory oversight by any national financial bodies. This means that there is no guarantee that your funds are safe.
If you're looking to alleviate the above concerns, then we would instead recommend Coinbase.
On top of this, you'll also have the option of going short, meaning that if you want to profit when cryptocurrencies lose value, you can.
How many coins do Coinjar list?

Coinjar lists a total of five cryptocurrencies. This includes Bitcoin, Ethereum, Ripple, Zcash, and Litecoin.

Can you 'short' cryptocurrencies on Coinjar?

Coinjar only allows you to go long. If you like to have the option of shorting cryptocurrencies, then you'll need to use a platform like Coinbase.

How do I contact Coinjar via live chat?

Coinjar does not offer a live chat facility for its customers. You'll need to raise a support ticket if you need assistance. Telephone support is only available to those that are subscribed to the trading plan.

How much are the Coinjar trading fees?

Coinjar charges a trading fee of 1% every time you buy and sell a cryptocurrency. This is expensive in comparison to other cryptocurrency exchanges.

Is Coinjar easy to use?

The team at Coinjar have built a really simple to use the platform, which makes it perfect for inexperienced traders. This is also the case with their mobile app.

Do I need to verify my identity to use Coinjar?

You will do if you decide to deposit or withdraw funds with fiat currency. However, this option is only available to Australian residents.

Can I withdraw funds back to my debit or credit card?

Coinjar allows Australian residents to deposit funds with a local bank card. Everyone else will need to deposit and withdraw using cryptocurrencies.

Does Coinjar offer leverage?

You won't be able to obtain leverage with Coinjar. If leverage is what you need, you can get this on Coinbase.