The process for buying cryptocurrency can be overly complex most of the time and can dissuade beginners from getting involved with the process. Platforms like PayPal can facilitate the buying process entirely and make cryptocurrencies accessible in a cost-efficient way. Ripple [XRP] is a cryptocurrency that focuses on frictionless global payments which makes it an attractive asset for a range of people also considering that the Ripple price is predicted to increase by 2020; this guide will overview how to buy Ripple [XRP] with PayPal and get started with using the currency.
While Ripple may seem extremely complex in its technological nature, using it as a payment option and buying it for investment purposes can be very simple with PayPal. Prior to beginning, ensure you have a valid PayPal account, funds that are linked to your PayPal, a valid internet connection, and verification documents such as a passport, proof of residence, and so on at your disposal.
Fast Guide: Buy Ripple in 5 Minutes With PayPal
Register for an account on eToro or any other verified exchange that enables PayPal integration.
Verify your account by submitting the required verification documents/materials.
Head to the deposit section of your account and select 'PayPal' from the drop-down menu given.
Specify the quantity of funds to deposit and hit 'Deposit' -> then, login to your account.
After the deposit processes, go to the markets section and look for 'Ripple' or 'XRP'.
Click the 'Trade' button and on the new page that loads and then indicate '1x' margin (This means you'll buy the underlying asset and won't use any margin).
Press 'Submit/Buy' and on execution, you'll have successfully bought XRP using PayPal.
66% of retail investor accounts lose money when trading CFDs with this provider. You should consider whether you understand how CFDs work, and whether you can afford to take the high risk of losing your money.
If you still have doubts as to why you should use PayPal to buy Ripple or other cryptocurrencies, you can compare the best exchanges that offer PayPal as a payment method.
Compare
You can find out more and compare the brokers and exchanges that offer to Buy or Sell Ripple (XRP) with PayPal in our list below, or you can skip through directly to our step-by-step guides and tutorials.
XRP
(XRP)

Price
Market Cap
Compare Exchanges to Buy Ripple with PayPal
4,9/5


Buy Bitcoin

66% of retail investor accounts lose money.

4,9/5


Buy Bitcoin

4,6/5


Buy Bitcoin

4,5/5


Buy Bitcoin

Payment Methods

PayPal
Credit/Debit Card
Wire Transfer
Neteller

Payment Methods

Cash
Credit/Debit Card
Wire Transfer
Neteller

Payment Methods

PayPal
Credit/Debit Card
Wire Transfer
Skrill

Payment Methods

Credit/Debit Card
Wire Transfer
Neteller
Swift

Minimum Deposit

$200 USD

66% of retail investor accounts lose money when trading CFDs with this provider.

You should consider whether you understand how CFDs work, and whether you can afford to take the high risk of losing your money.

Minimum Deposit

$1 USD

Minimum Deposit

$150 USD

Minimum Deposit

$250 USD
Best Exchanges to Buy Ripple with PayPal
eToro
How to Buy Ripple on eToro

eToro sets the precedent for platforms that streamline the process for buying cryptocurrencies like Ripple (XRP). eToro is a regulated and registered platform with the FCA and CySEC (Cyprus Securities and Exchange Commission) – this enables the platform to provide account security and fund safety on a level that many others simply cannot. Buying Ripple on eToro is fast, easy, and secure as insured by the FCA.
To buy Ripple on eToro, you'll just need verification documents, a reliable internet connection, a previously created PayPal account, and funds to buy Ripple.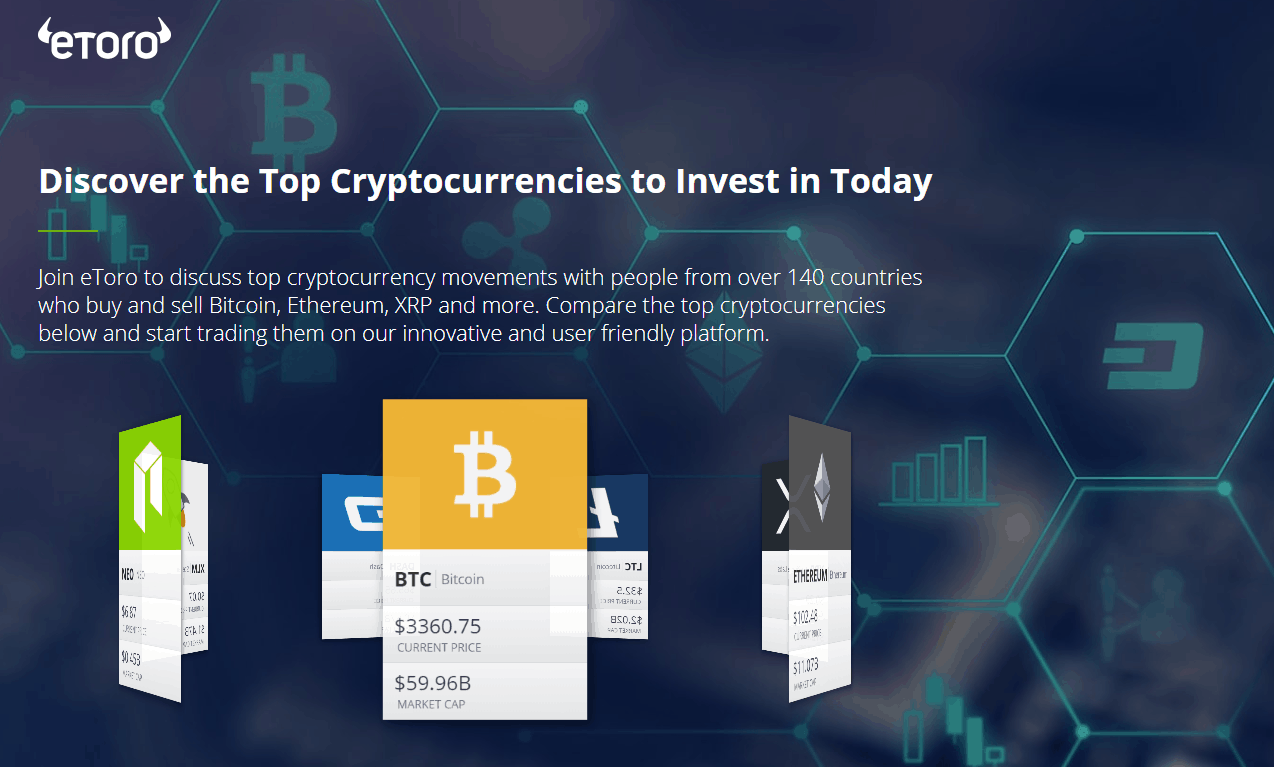 The first step for buying Ripple with eToro is to create an account on the platform by selecting the 'Register' or 'Join Now' button on eToro's homepage. Clicking on this will bring up a preliminary form that will ask you to input information such as your name, email address, and username. Ensure the email address entered is accessible and valid as you'll need to open it up to confirm your account and also validate incoming links.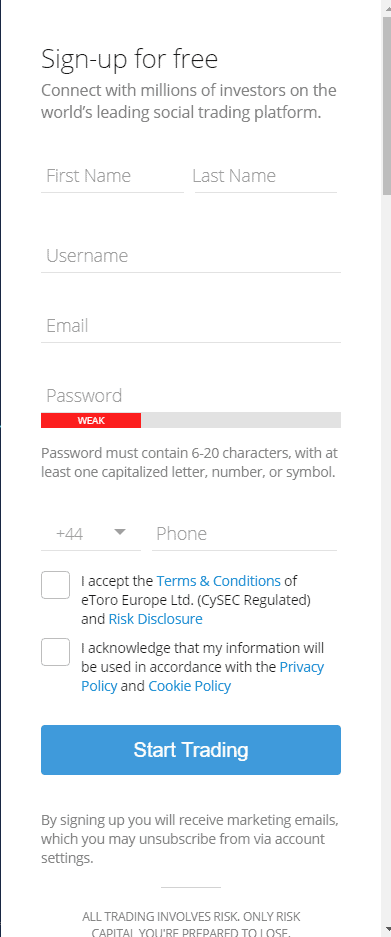 Once entered, hit 'Start Trading' (Which is the equivalent of a submit button on eToro), and you'll then be asked to go to your email address and confirm the new link that was sent to you.
After clicking on the link, log in to your new account which will now be preliminarily confirmed. This will give you basic access to the functionality of the site and will let you use the demo version of the platform. In order to actually buy Ripple (XRP) with our account using PayPal, we'll next need to verify our account. For this, head to your homepage of the newly created account and on the left-hand side click the 'Complete Profile' link that should now be highlighted in blue. This will lead you to a new page that will ask you to submit verification documents/materials – this includes a valid form of ID (Passport, driver's license, or equivalent), a proof of residence document (Such as a utility bill or bank statement), and a second method of authorization (Traditionally just a phone number).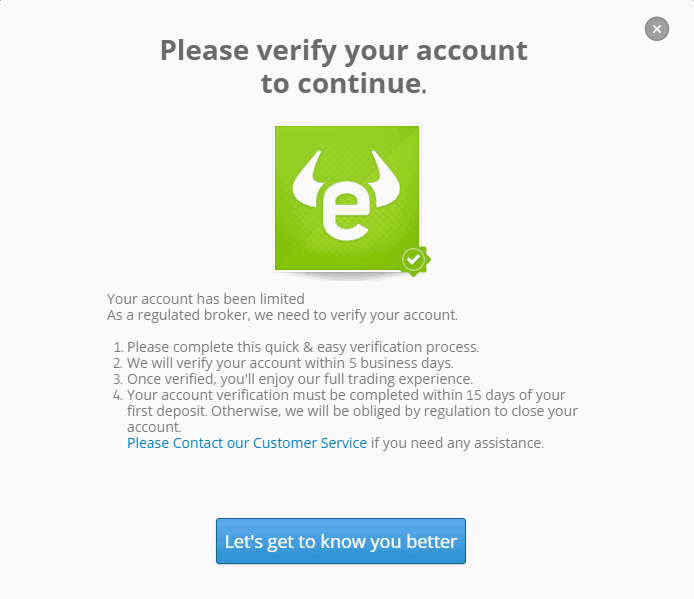 The next step involves linking our PayPal and submitting a deposit query. To do this, head to the left-hand side of your account and click the 'Deposit' button in blue. Clicking on this will bring up a page where you'll need to indicate what type of funding method you want to use (For this, select PayPal), and then the quantity of money to deposit to eToro.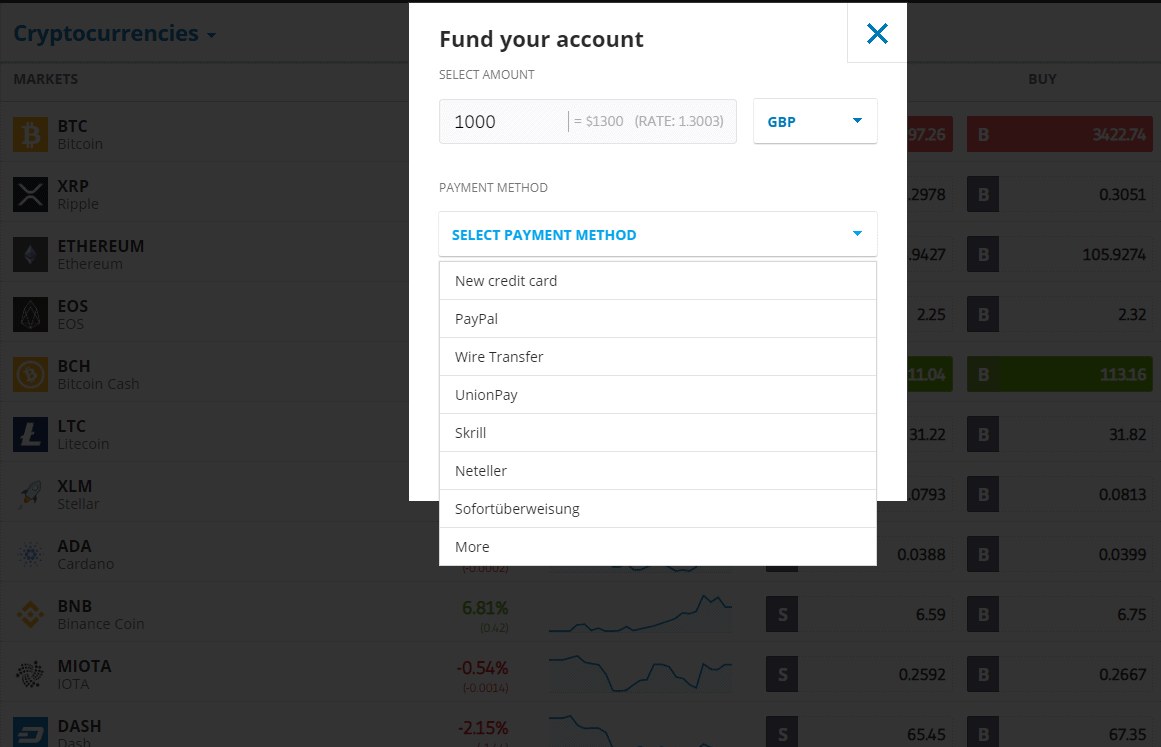 As shown above, click PayPal from the dropdown menu and then specify PayPal as your selection. Click 'Submit' and you'll then be sent to a new page where you have to log in to your account to confirm the transaction from PayPal. The transaction will process and upon completion, your eToro account will now have fiat funds that we'll nextly use to buy Ripple (XRP).
After your deposit has confirmed, head to the markets section of eToro and click on 'Crypto', or simply search for Ripple (XRP) from the assets that are listed. The following assets will appear; (Click on the 'Buy' option for Ripple as is shown in the red box below)

After clicking on buy, you'll then be asked to input at what price you want to purchase Ripple and for how much. Make sure '1x' is selected under margin (This will disable margin and make our purchase directly for underlying Ripple/XRP). Then, click the submit or 'Trade' button, and wait for execution. Once processed and the order is executed, you'll have successfully bought Ripple (XRP) using PayPal on eToro!

Not convinced yet? Check out our full eToro review to find out more about eToro's cryptocurrency platform, fees, security and more.
LocalBitcoins
Buying Ripple (XRP) directly using PayPal on LocalBitcoins isn't possible, however, the easiest method is to purchase Bitcoin using PayPal on LocalBitcoins and then use that purchased Bitcoin to exchange it for Ripple (XRP) on any Ripple supported exchange such as eToro or Binance.

LocalBitcoins is a peer to peer (P2P) ran site – what this means is that the user base essentially thrives on users interacting with other users. As a result, you buy Bitcoin with Paypal on LocalBitcoins from other users that are looking to sell their Bitcoin. After reviewing the site and looking for users that are selling their cryptocurrency based on certain parameters, you then enter in a 'trade' with the user.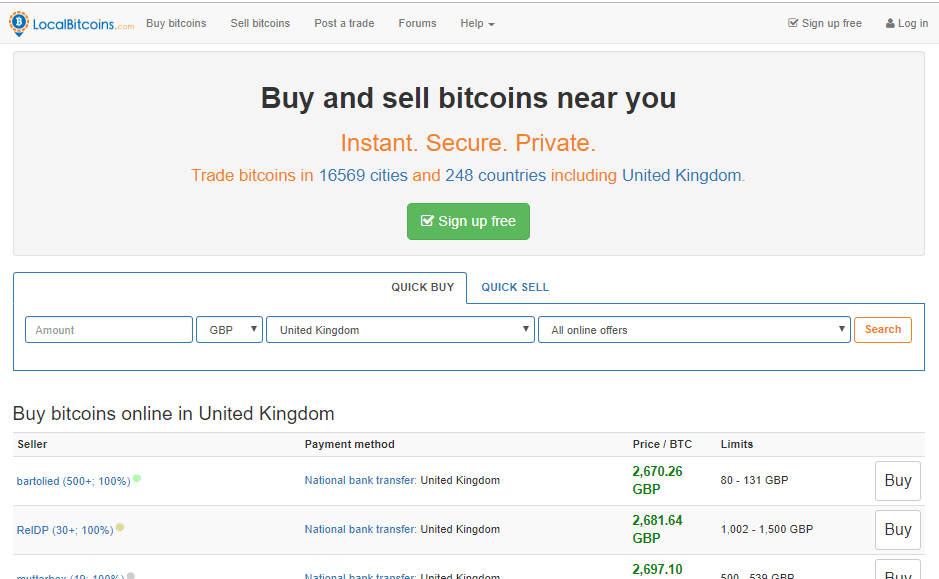 LocalBitcoins enables a market of buyers and sellers strictly for Bitcoin. You can engage in sales or purchases in a variety of ways, however, most namely bank transfers and PayPal are the 2 most common.
The process works as follows: Browse the platform, find the seller you want to engage with, confirm the details, funds are held in escrow, send your payment, once seller confirms your payment, your Bitcoin is released.
LocalBitcoins is fairly popular but can be confusing for beginners; make sure you follow along carefully to ensure the process goes well.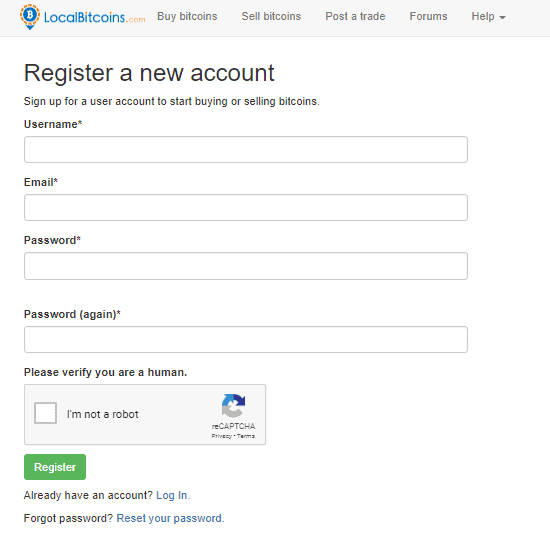 The first step is to create an account. Click 'Sign Up For Free' at the top right of the page, and then input your information such as username, email, and then input a strong password. Make sure not to share this password with anyone.
The next step is to locate a sale offer for Bitcoin using PayPal. This can be done by going to 'Buy Bitcoins' and selecting 'PayPal' from the 'All Online Offers' drop-down. This will filter it so that only PayPal accepting offers are shown. Find a reliable one that you've reviewed as legitimate and press 'Buy'.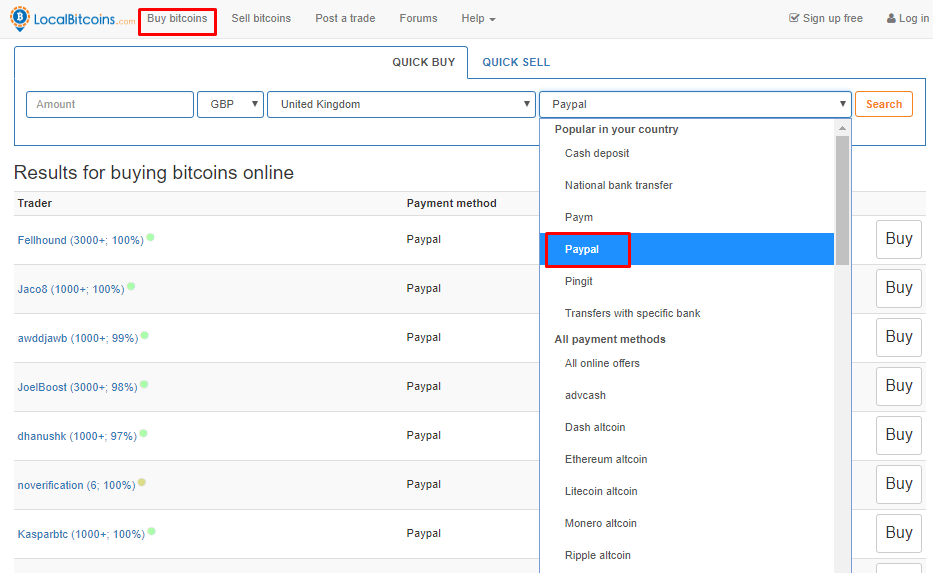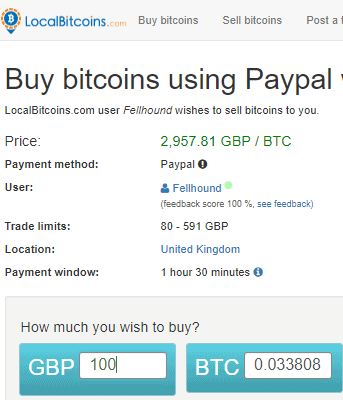 Since the site is P2P you'll then be asked to negotiate with the seller the terms; ensure that escrow is used as this will protect you in the case of a scam. Then, once the terms and amounts are reviewed and agreed to, send PayPal funds to the address that the seller validates and gives to you.
Keep in contact with the seller – and once these have been accomplished, and the seller will confirm they've received the funds and then will release your Bitcoin.
Now, this Bitcoin needs to be deposited to an external exchange like Binance or eToro; once that is completed, you'll then use Bitcoin to exchange it for Ripple (XRP) via the XRP/BTC trading pair.
Coinbase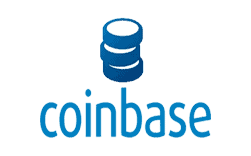 Coinbase, a San Francisco registered and inclusively ran cryptocurrency exchange, maintains a high level of safety, security, and legitimacy and currently stands as one of the best options for buying Ripple (XRP). At this time, while Ripple can be purchased with a credit card or bank account, Coinbase does not enable Ripple (XRP) purchases via PayPal, only fiat withdrawals.
Consider the following before buying Ripple (XRP) on Coinbase:
PayPal can only be used for withdrawal of sold funds, it cannot be used for purchase of Ripple (XRP).
Currencies that can be withdrawn to PayPal have to be fiat.
On Coinbase's settings page, click on the 'Linked Accounts' button which will give you the list of your accounts that have been linked.

Here, simply select the option to 'Link New Account' or equivalent, and select 'PayPal' from the options provided.
After clicking this, you'll be prompted with a new login page that will ask you to verify your account information and login details on PayPal. You'll then be asked to verify and validate your account is correct, and then you'll have added PayPal as a linked account on the exchange.

Assuming you've successfully added PayPal as a valid payment method on Coinbase, the next step here is to then convert any cryptocurrency you own into USD or fiat inclusively on the exchange. This can be done by going to the 'Buy/Sell' section of the exchange and clicking 'Sell' and then converting whichever assets you have on the exchange back to its fiat value.
Coinbase enables you to sell your cryptocurrency to fiat and then withdraw it to PayPal. Once you've sold the cryptocurrency, you can then navigate to the 'Withdraw' section and then selecting PayPal from the drop-down menu.
BitPanda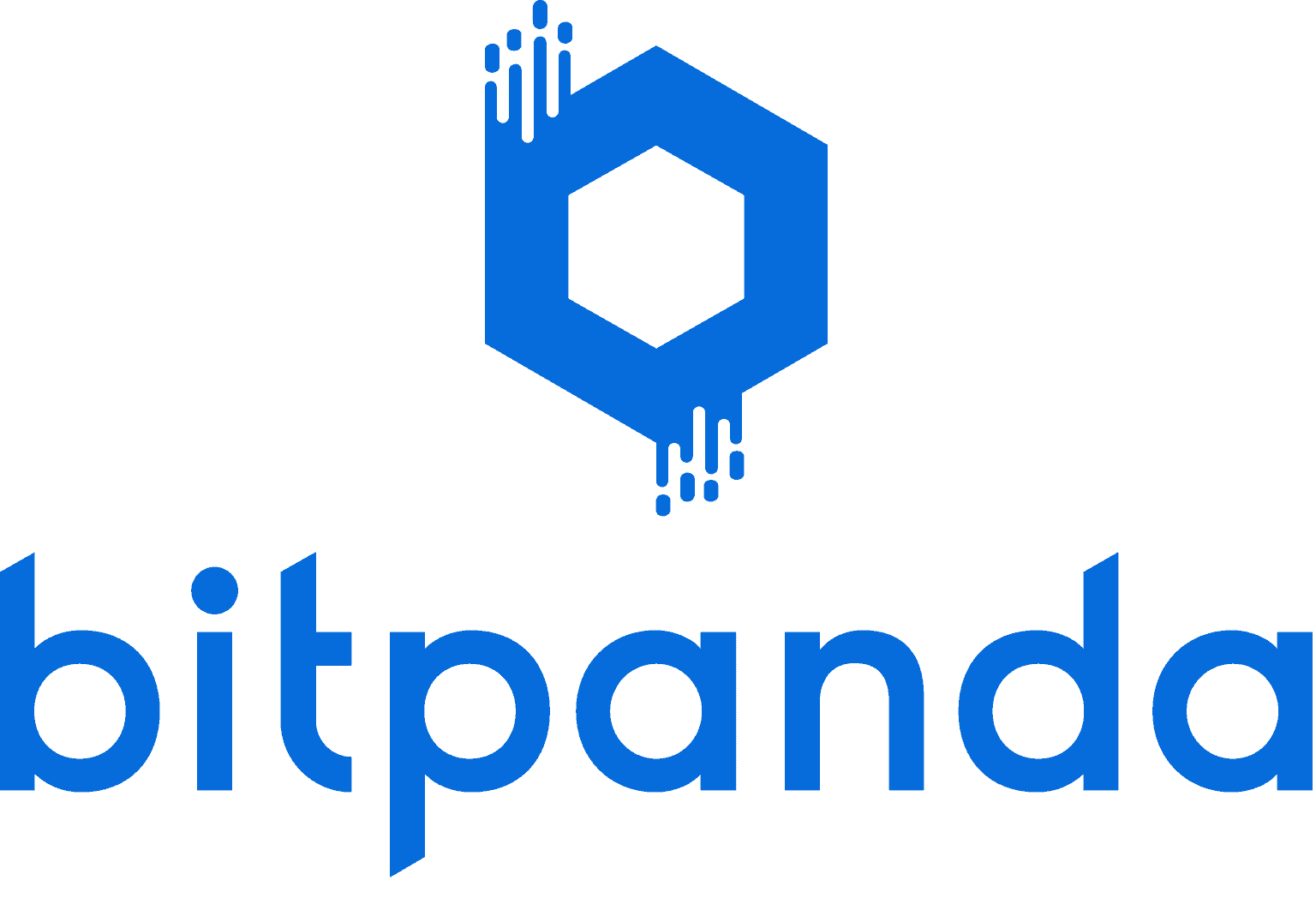 BitPanda is another reputable and well-known exchange in the blockchain and cryptocurrency community that at one time was one of the best options for purchasing cryptocurrency with PayPal; since its inception, however, BitPanda has ultimately disabled its Paypal integration after claiming PayPal's cryptocurrency policy had changed.
While BitPanda was one of the most popular options for buying cryptocurrency using PayPal, the exchange announced via a Tweet that it would be disabling all PayPal implementation processes: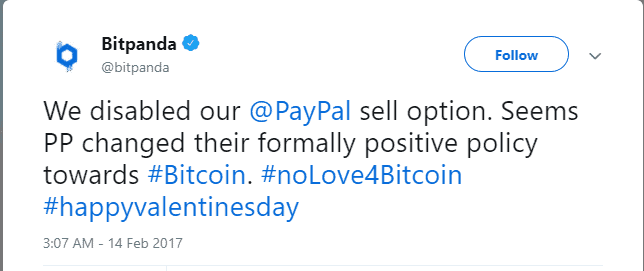 Since then, BitPanda has continued to grow in size and user base; as a result, it's definitely possible that the exchange add PayPal back as a valid form of payment or deposit within the near future. At this time, however, it's disabled on the platform.
Buy Ripple on VirWox

VirWox is a payment processor as well as a global exchange for a variety of online digital currencies. Of these currencies, Bitcoin is one of the most traded. VirWox was widely known for being an option to purchase cryptocurrency using PayPal.
Buying cryptocurrency with PayPal on VirWox was originally very simple. All that was required was to buy the 'SLL' currency' on VirWox through PayPal and then use that SLL to exchange for Bitcoin internally on the exchange. Then, you'd be able to use that Bitcoin to buy Ripple – unfortunately, however, VirWox has disabled PayPal on the platform.
Starting in January 2019, VirWox disabled all PayPal support, and as a result, buying cryptocurrency on VirWox with PayPal is no longer possible.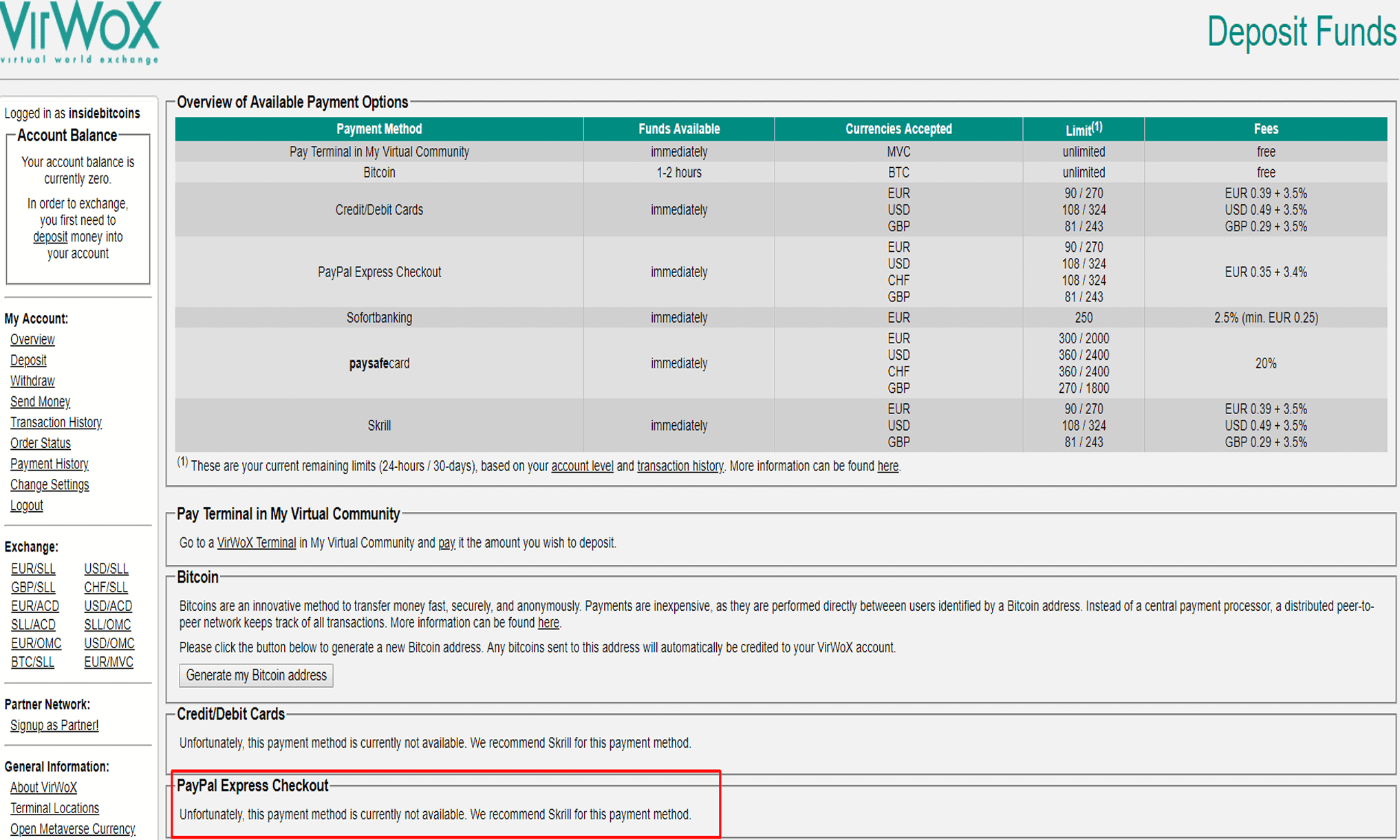 The image above depicts in the red box where PayPal integration was once enabled, which as is detailed in the information box, is now no longer supported.
Wirex

Wirex is a very popular and well-known cryptocurrency exchange and payment provider that enables physical credit and debit cards for cryptocurrencies. The platform is also a form of exchange that lets you users buy Ripple with PayPal for their Wirex products. As a result, it stands as a very streamlined option for those looking to buy Ripple with PayPal.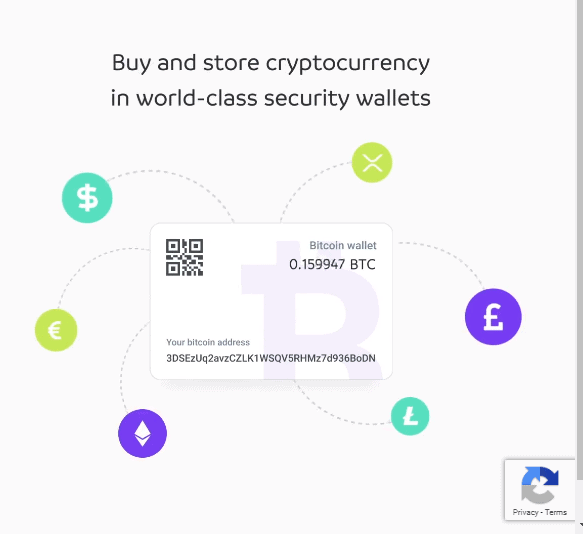 Wirex's main appeal is its physical credit/debit card options for cryptocurrencies which essentially enables you to use your held/stored cryptocurrency at any supported credit/debit card outlet or merchant (Whether in person or online) – as a result, your funds are subtracted from your held crypto.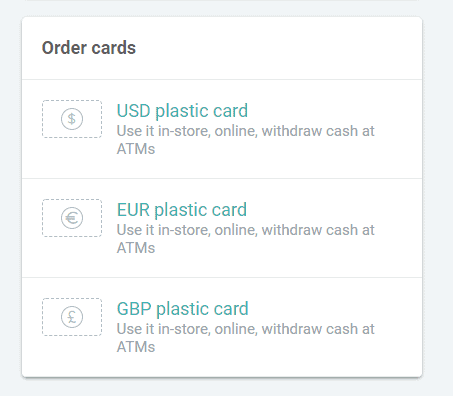 To get started, you'll first need to create an account with Wirex which will require various information including your residential information (To be able to send the physical card to). You'll need to specify which jurisdiction you're in so that you can actually receive a Wirex card – then, finally, once you've created an account you'll need to load the card you acquired. To do this, you can use PayPal. Simply head to the 'Deposit' section/button of the platform and click on 'PayPal' as the method for your deposit. This will also appear as 'Add Funds'. Then, select 'XRP' as the cryptocurrency you want to purchase. Then a new window will ask you to confirm the details and your PayPal account, and once you've submitted this, you should have successfully sent in a purchase order for XRP.
Buy Ripple with Bitcoin on Paxful

Paxful is similar to LocalBitcoins – it is a peer to peer platform which runs off of users opting in to sell or buy Bitcoin. As a result, PayPal is one of these options (However, added with a premium set by the seller). In the case of Paxful we will be buying Bitcoin using PayPal from the exchange and then using the Bitcoin to exchange for Ripple (XRP).

In the case of Paxful, you're not buying Bitcoin or any cryptocurrency from a centralized exchange, you're buying from a different seller. As a result, this means Paxful is not responsible for sales and it's possible that a seller you're buying from is fraudulent (As a result, be wary and do your own research).
Start off by creating an account on the platform and verifying your email. Then, head over to the 'Buy Bitcoins' section of the platform and filter by purchase methods. In this scenario, select 'PayPal' as your buy method and then input your desired amount for the purchase. Then, find the seller you want to utilize – in this case, the above image depicts a user we want to buy from that is selling at nearly 100% premium (The price we have to pay for buying with PayPal).
Click 'Buy' and then specify the fiat or exact amount you're looking to purchase on the platform. Then, you'll enter in an escrow agreement with the seller.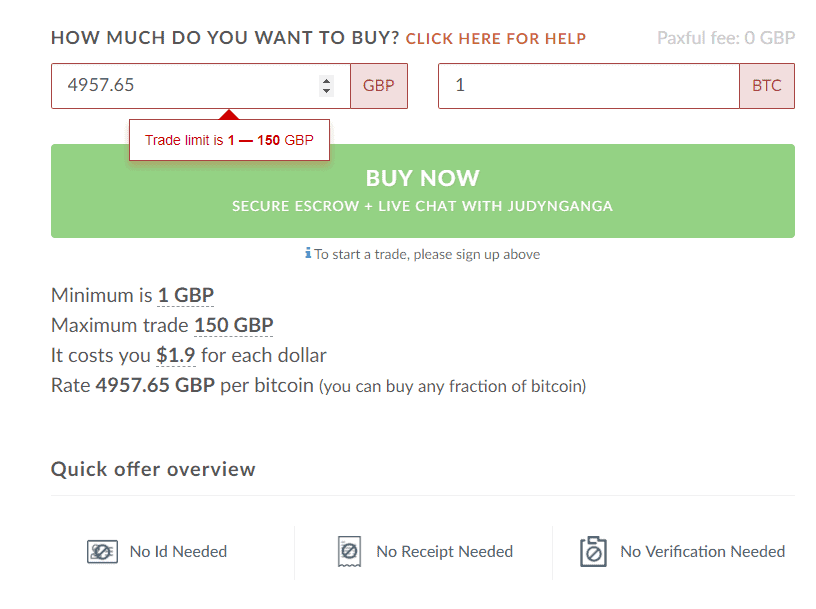 For each listing, criteria is going to differ. Work out the purchase with the seller and they will then give you the correct PayPal address to send your payment to. Make sure you research your seller thoroughly to not scammed; after the payment is sent, the seller will confirm they've received payment and will release your Bitcoin.
Then, withdraw the Bitcoin from Paxful to an exchange of your choice that supports XRP/BTC (Ripple buyable with Bitcoin). Then, simply exchange for Ripple (XRP) and you'll have successfully bought Ripple using PayPal.
Buy Ripple with PayPal in Your Country
UKUS and Canada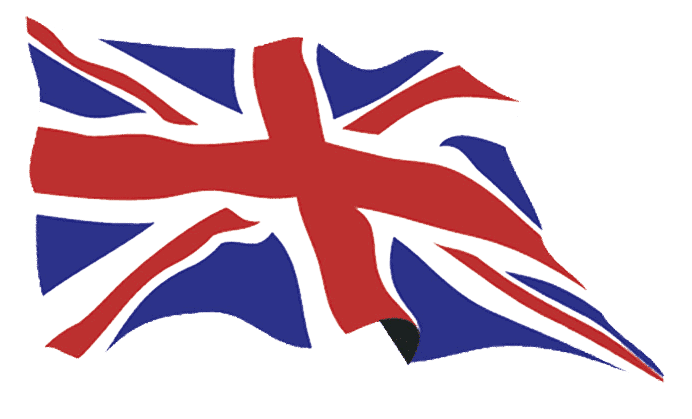 Each country has different regulations and legislative structures when it comes to who and how you can buy Ripple (XRP). The UK is one of the most popular areas of users looking to buy cryptocurrencies.
Arguably the easiest and most efficient method to buy Ripple (XRP) with PayPal in the UK is through eToro. This is mainly because of the regulation eToro abides by in terms of the FCA. eToro is also registered with CySEC, which gives your account a deeper level of security than others.
Following the steps steps above will help you to buy Ripple using PayPal on eToro.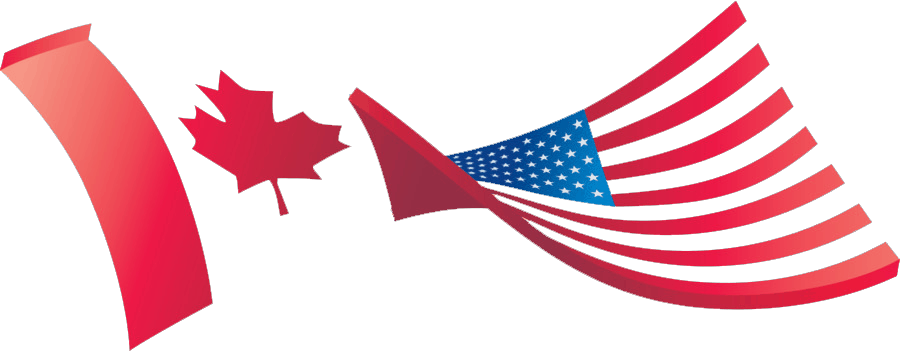 The US and Canada comprise a very large percentage of global cryptocurrency buyers and users. At this time, the easiest and least costly method of buying Ripple (XRP) with PayPal in the US and Canada is also through eToro.
eToro maintains a high level of regulation and safety, especially for US and Canada accounts. It is also not costly as opposed to other platforms.
Tips on How to Buy Ripple (XRP) with PayPal
Verification
Prior to attempting any purchases, ensure that your PayPal account is verified and that a valid account or card is linked. This will save a monumental amount of time down the line.
Adding multiple methods of verification and security will also enable you to have a higher sense of confidence in buying Ripple. You can be comfortable only submitting sensitive documents to a singular platform (PayPal) and not have to submit documentation to other places just to link a deposit method.
Research and Look for Trustworthiness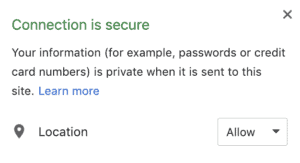 Always ensure whichever exchange you're using is reputable and verified for PayPal integration. PayPal is a common victim of phishing attempts; this means scammers and hackers will duplicate a login page or verified security page and try to entice users to provide sensitive information to a fraudulent page. Always make sure the link or site you're on is verified and legitimate and not a fake or duplicate; follow links from verified and validated sources.
*A good tip for this is to use Chrome and look for the 'Lock' symbol highlighted in green next to your URL bar.*
Do Your Research
Always do your due diligence and complete your own research. If there's a site that offers Ripple purchasing with PayPal but it's unreliable and there are no reviews or acclamations about it online, it's best to avoid it. Be wary of various scams in the PayPal and cryptocurrency community.
Ripple (XRP) vs PayPal
Ripple and PayPal might appear to serve similar purposes on the outside, however, their internal usage is rather contrary. It's important to know that Ripple is the name of the company behind 'XRP' which is the company's respective cryptocurrency (Many people get confused by this). Ripple as a company provides services to facilitate and streamline the process of global transactions, competing directly with SWIFT. However, XRP, also serves as a payment method, a currency in itself that runs in a semi-decentralized manner. PayPal, adversely, is a centralized service that provides users the ability to send payments to other users that are registered on the PayPal platform. In terms of adoption, PayPal is more widely available; however, in terms of utility, XRP is faster, more cost efficient, and accessible to anyone with an internet connection.
Similarities
Used for online payments and transactions to others
Run on peer to peer (P2P) sending fashion
Fast transactions that are completed digitally via the internet
Can be accepted by online vendors or merchants
XRP and PayPal can both be used for
Differences
XRP is a cryptocurrency in itself, PayPal is a platform that runs by sending representations of fiat currencies (Such as USD or GBP)
Ripple (XRP) maintains its technology on a blockchain which is a public ledger, while PayPal is privately recorded.
XRP transactions are not discriminant to jurisdictions; PayPal may require additional fees for certain currency or jurisdiction payments.
XRP payments cannot be reversed, PayPal transactions can be charged back.
XRP does not require identification verification or a bank account, PayPal requires it.
Is Ripple better than PayPal (Or vice-versa?)
Ripple (XRP) is not in an absolute manner better than PayPal, and PayPal isn't the latter in comparison to Ripple. Each entity has tis own respective advantages and downfalls, and each has independent uses. As a general form of payment, Ripple (XRP) is in fact more efficient and faster than PayPal, however PayPal is currently more widely accepted on a plethora of websites and third party platforms.
Reasons to buy Ripple (XRP) with PayPal
KYC ProcedureOptional Bank LinkingInstant Payments and TransfersVerified IntegrationChargeback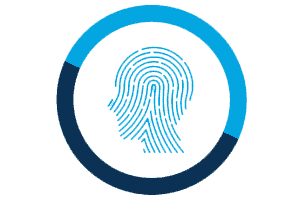 Many exchanges that enable the purchase of Ripple require a lengthy KYC (Know Your Customer) process, which is a hedge against fraudulent or illegitimate schemes involving Ripple. KYC is required preliminarily with PayPaypal to sign up which gives you the option to add your details and information before any purchases, which not only streamlines the process, but also saves you time.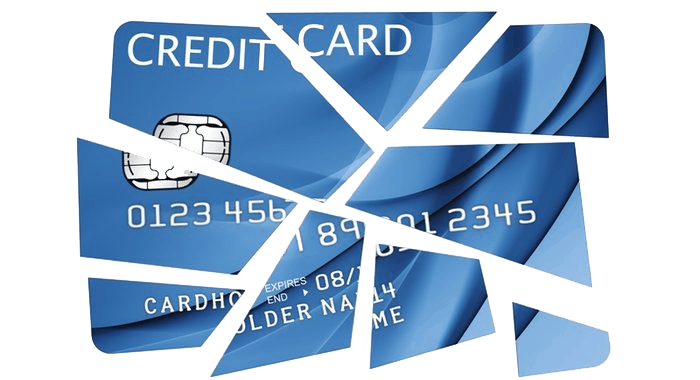 Buying Ripple with PayPal does not require a bank account, as it's moreso optional. You can fund your account via credit card or have a third party send you funds and purchase your XRP via that method.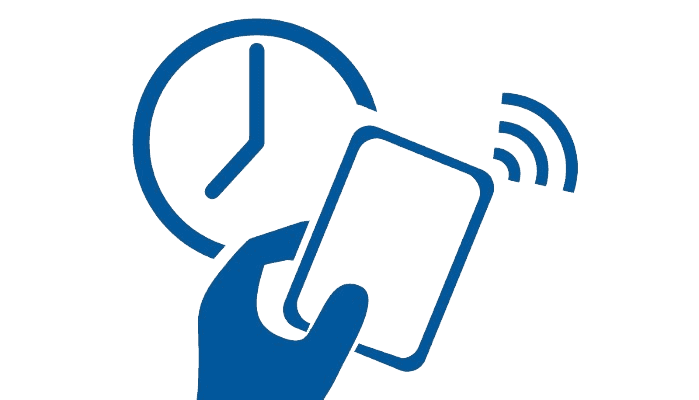 An excellent quality for PayPal is that it enables representations of transfers and payments near instantly, meaning you can buy Ripple (XRP) immediately and don't need to wait for the physical bank transfer to use the funds to buy Ripple.

Verified PayPal activation requires lengthy verification and validation from regulatory bodies when being enabled as a valid payment method. As a result, exchanges like eToro that enable instant and verified PayPal implementati0n have been pre-audited and vetted by other third party regulatory bodies or firms, which traditionally can give the buyer a larger sense of confidence.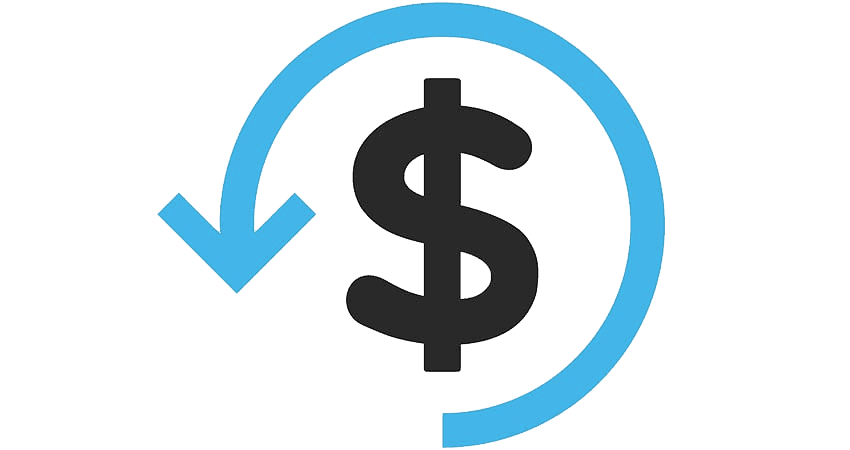 PayPal enables chargebacks which can serve as a form of protection in the case of hacks, scams, or any other type of process that might have been done harmfully to your attack. With sufficient evidence, the PayPal team will then review the claim; if they find it was actually a hack or fraudulent scam, they'll issue 'Chargeback', or in other words, a refund.
FAQs
Buying Ripple using PayPal on a verified and vetted exchange is in fact safe, it does depend on the exchange you're using. As long as the exchange is reputable and has been vetted as a legitimate option, you should be fine as far as safety with purchasing Ripple using PayPal.
[/accordion]
Can I buy Ripple directly on PayPal?
You can't purchase Ripple, Bitcoin or Ethereum directly on PayPal's platform at this time. However, depositing and funding your PayPal account can then be used to link to an external exchange that allows for this, like eToro.
What is the best site to buy Ripple with PayPal?
Arguably, eToro is the best site to buy Ripple with PayPal on it – this is because eToro is regulated and registered, and also because it maintains verified and validated assets. PayPal integration and usage on the platform is very intuitive and can be quick to get started with.
Can I buy Ripple with PayPal anywhere?
No, unfortunately, you have to find a supported exchange with PayPal integration in order to buy Ripple using PayPal. Prior to any purchase, make sure PayPal is integrated.
Can you sell Ripple with PayPal?
You cannot sell Ripple (XRP) directly on PayPal, however, you can sell Ripple to fiat of your choice and then withdraw it to PayPal (Assuming a verified account) when using the Coinbase exchange.
Is PayPal the fastest option for buying Ripple?
Arguably, yes, PayPal and peer to peer exchange outlets are the two fastest options for buying Ripple because they are near instant and don't require a ton of verification and KYC if you already have a verified PayPal account.
Can I buy Ripple using GBP on PayPal?
Many are aware that USD is available for use to buy Ripple via PayPal, however, less are aware that GBP is also a possible currency. All that's required is that the exchange you deposit to through PayPal also supports GBP.