Last Updated on
NEW YORK (InsideBitcoins) — In spite of an $18 (5%) price swing during the week, the price of bitcoin finished 1% higher for the period November 29 through December 5, up approximately $4 — closing near $376 Friday.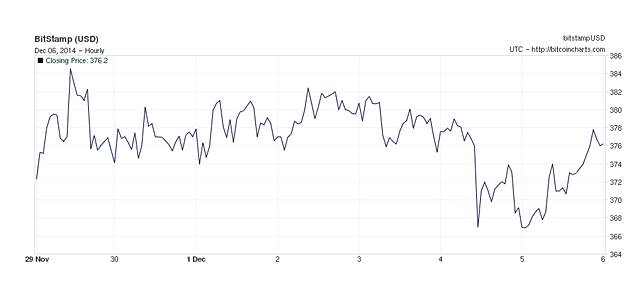 Notable developments this week in the cryptocurrency industry included: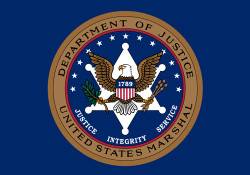 In the U.S. Marshal Service's auction of 50,000 bitcoin seized last year from alleged Silk Road founder Ross Ulbricht's stash, only 11 bidders participated, submitting a total of 27 bids. That's down from 49 bidders during the last auction held in June. Bitcoin investor Tim Draper, who successfully bid for all 29,656 bitcoins in the first government auction, confirmed that he purchased just one block of 2,000 BTC in this week's bidding. Other successful bidders have not been announced.  The government has 94,000 bitcoins remaining to be auctioned.
Global Advisors, known as the one of the world's first regulated bitcoin investment funds, reported that HSBC recently severed ties with the fund due to concerns related to money laundering. The Global Advisors Bitcoin Investment Fund (GABI) is located in Jersey, which has become known as a bitcoin-friendly jurisdiction over the course of 2014.
The Bitcoin Foundation issued a notice regarding at least two fraudulent websites that were spoofing the Foundation's site and attempting to gain user information.
MasterCard  responded to an inquiry on digital currencies by the Australian Senate Economics Reference Committee and subsequently issued a video statement denouncing purchasing anonymity and calling bitcoin transactions "suspicious."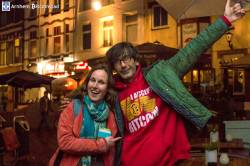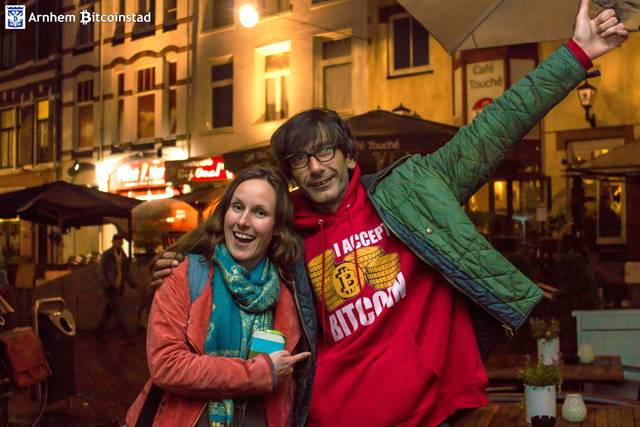 Arnhem, a small city in the East Netherlands, celebrated six months as the self-proclaimed "Bitcoin City."
In an effort to bring more security and privacy to their online wallet, Blockchain.info launched Tor access, which drastically improves the security of the site for users who wish to remain anonymous.
Jackson Palmer, dogecoin creator, said Tuesday at the Future of Money & Technology Summit in San Francisco that "Centralization of mining is a really big issue and makes bitcoin much easier to attack as a network and will become much more a problem when the next halving occurs in 2016 for bit rewards. The problem is that, as your profitability layer becomes less and less profitable, so does the incentive to secure the network."
Bitreserve, the "cloud money system," offered a new service allowing users to hold their bitcoin as gold — and spend their gold as bitcoin.
The New York State Department of Financial Services (NYDFS) posted to its website all 3,746 comments received from the public regarding the initial BitLicense proposal. Notable commenters included former president Bill Clinton, who said that, as proposed, BitLicense "raises First Amendment concerns." Superintendent Ben Lawsky indicated that a revised BitLicense proposal should be issued for additional public comment later this month.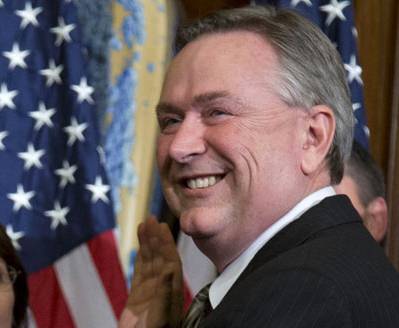 ChangeTip, the bitcoin micropayment service, raised $3.5 million in a Series A Round of venture capital funding. Pantera Capital — an investment firm focused exclusively on bitcoin and the companies in the space — led the round, with participation by Bold Start Ventures, DCG, CryptoCurrency Partners, 500 Startups, and others.
Colorful – and lameduck — Congressman Steve Stockman (R-TX) proposed a new bill to the Congress called the "Cryptocurrency Protocol Protection and Moratorium Act." The bill calls for a five-year moratorium on regulation targeting cryptocurrencies in the United States.
For other events of the week, check the Inside Bitcoins news summary. And as always, for breaking news, follow us on Twitter @InsideBitcoins and join the conversation on Facebook.
Hal M. Bundrick is the Editor-in-Chief of Inside Bitcoins. Editor@InsideBitcoins.com. Follow him on Twitter @HalMBundrick