NEW YORK (InsideBitcoins) — The day after gorging on turkey, stuffing, corn bread, and a wide assortment of other carbohydrate intensive foods, people across the United States will find themselves in a series of stores trying to spend an umpteen amount of money on all sorts of things. Welcome to the holiday season!
But there is an alternative for those that are still recovering from their food coma. Over a thousand different merchants are participating in what's being called "Bitcoin Black Friday." Companies are offering exclusive deals for those that are paying with bitcoin.
"The event really highlights some of the great features about bitcoin."
BitcoinBlackFriday.com is the site that is helping to organize this initiative in an effort to bring out more awareness. Founder Jon Holmquist told InsideBitcoins that this is a community event designed to make everyone involved better off.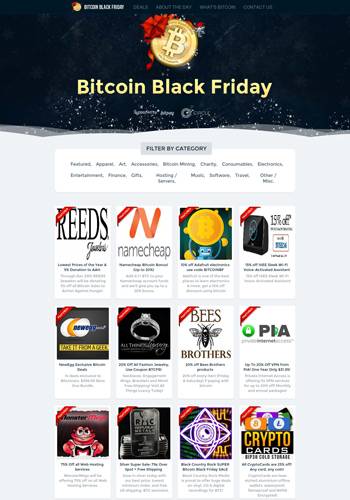 "[The goal is to] get a ton more publicity for Bitcoin. The event really highlights some of the great features about bitcoin (low processing cost, ease of use, etc.), it also gives some incentive for people to try it out. Hardcore bitcoiners get to shop at the merchants they support and get some awesome deals, merchants get to see the most amount of orders they see year round," Holmquist said in an email interview.
Holmquist added that there are currently 8,000 subscribers on the site's email list, but if past years are an indication, it's anticipated that this Black Friday will be even greater.
Last year the site accounted for 10,000 individual transactions, approximately 10% of the day's total bitcoin transactions across the entire network. Coinbase saw an 806% increase in payment processing volume over the past six months. Bitpay saw a 6,260% year-to-year increase.
What is likely to give this year a much higher usage rate is the fact that much larger companies — Dell, for example — now accept bitcoin. This has resulted in an increase in awareness for bitcoin.
Then there's the fact that bitcoin is clearly catching on, which should make the day more successful. Blockchain.info shows that last year around Black Friday, the company only had around 600,000 My Wallet users. Going into this Black Friday, there are close to 2.6 million My Wallet users.
It is days like this that can give bitcoin the increase exposure it needs to gain further acceptance by users.