Bitcoin is finally showing signs of serious recovery after many months of living in a dull lull. However, there's still the question as what exactly is causing the current price surge. From a critical perspective, a few factors stand out as the most influential, and the first is Bitcoin's success in making a strong case for mass adoption.
Adoption And Mainstream Acceptance
A simple look at the market developments around Bitcoin reveals that 2019 is turning out to be a great year for the crypto especially in terms of adoption. Some institutions of higher learning and even coffee shops are now accepting Bitcoin payments. Bitcoin ATMs are also gaining popularity. In this regard, Bitcoin is on the fast lane to mass adoption.  In fact, Google Trend has recorded more Bitcoin searches in the past three weeks.
Below is a snippet of Google Trend's chart according to Bitcoin searches made between April 22 and May 22, 2019.

Besides that, more people are now aware of Bitcoin's power as a valid means of payment. Unlike 5 years ago, Bitcoin is now widely accepted. More people want to use it, and that has had the effect of creating more demand – and hence the price surge. In the last few days, Bitcoin's dominance in the crypto market has shot up to over 56%, with more than a 30% price hike – according to data as presented on CoinMarketCap.
Anticipated Block Halvening
Every few years, the Bitcoin network undergoes a block reward halvening. Currently, the block reward is 12.5 BTC per mined block. As such, the next halvening expected to occur in May 2020 will bring down that figure to 6.25 BTC. The reduction is expected to increase Bitcoin's demand and possibly drive up the price. The next halvenings are expected in 2020, 2024, and 2028.
Below is a chart representing the halvenings and their corresponding block reward reductions.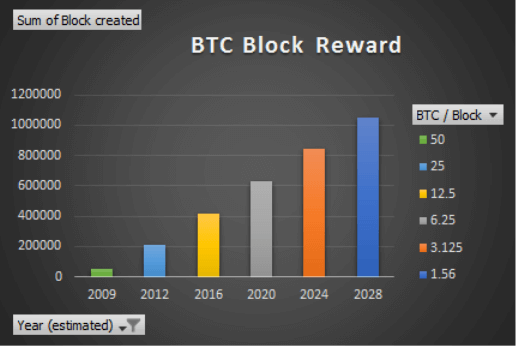 However, the past halvenings have already established a precedent market mechanism whereby Bitcoin's price surges about a year before the event. That's why the current surge this has long been expected, with the trend anticipated to continue into a bull run.
Increasing Institutional Funding
While Bitcoin has had a good run as a top crypto for years, 2019 is proving to be somewhat of a golden period. After years of skepticism and doubt, financial institutions are beginning to get interested in cryptos, and Bitcoin in particular. When crypto exchange Bitfinex raised $1 billion in its recent IEO (Initial Exchange Offering) drive, Bitcoin had an almost immediate 4% price surge.
Other heavily funded institutions like Fidelity Investments are also entering the crypto space to deal in Bitcoin. Bakkt is also eyeing a Bitcoin ETF to boost its new role in facilitating trading Bitcoin futures. The fact the US SEC is considering approving a Bitcoin ETF could also have an impact on Bitcoin's price.
Chinese Investments
A trade war looms between the US and China, and the Chinese are getting hit hard especially when it comes to the Yuan value. The war has already cost both sides. China's GDP has suffered a 0.5% drawback while the US has suffered 0.25%. The Yuan is declining, and that's why a lot of Chinese investors are on a safety flight and turning to Bitcoin to secure their wealth's value.
Also, the fact that Chinese authorities are not friendly with cryptos isn't helping. However, a lot of Chinese investors are now using Bitcoin as a means to get their money from the government's grip and out of the country especially since other methods like off-shore real estate purchases are no longer viable. As such, money coming into the Bitcoin market has created demand for Bitcoin and drove up the price.
Technical Indicators And FOMO
According to technical indicators, Bitcoin's current trend mirrors the previous charts in the run-up to major bull runs.  The crypto has formed the Golden Cross and shaped the charts into the parabolic trend reminiscent of the 2017 bull run. The fact that Bitcoin is already experiencing price action is evident to that effect.
Here's a chart depicting Bitcoin's trend in response to the halvening instances over the years: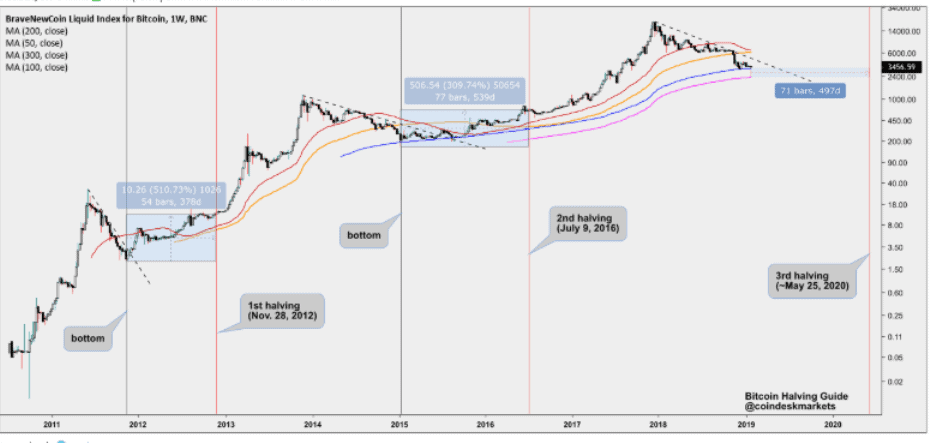 Below is a  chart showing Bitcoin's price action in May 2019: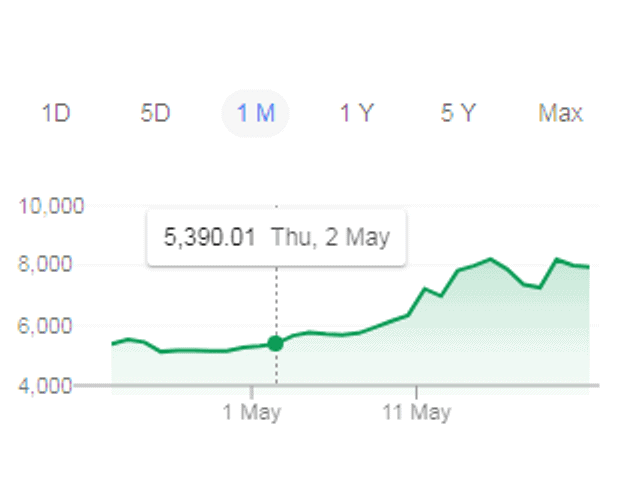 Also, there's the FOMO (Fear Of Missing Out) among Bitcoin fans and new entrants who are rushing in to buy Bitcoin before the price hits the roof. This buying pressure has the effect of driving up the price due to the rising demand.