Weiss Crypto Ratings, a subsidiary of Weiss Ratings, a "financial ratings agency" that grades companies and investments, just put out a "comprehensive report on emerging trends in the cryptocurrency market," reads a press release from the company.
Ranking Digital Assets
Weiss ranks coins on a letter system, with the highest scores going to "coins with the best combination of adoption and technology. Of course, these factors point to "long-term" success within the crypto industry.
In addition, Martin D. Weiss, Founder of Weiss Ratings, comments on the decision-making process:
"Despite lower prices since early 2018, our ratings model gives us hard evidence that a critical segment of the cryptocurrency industry has enjoyed remarkable growth in user transaction volume, network capacity, and network security. Equally important is our finding that these improvements are often powered by an evolution in the underlying technology. Therefore, for those willing to take the risk, the best time to invest could be very near."
The top five currencies are as follows:
Steem (STEEM), NEO (NEO), Stellar (XLM), Zcash (ZEC), and BitShares (BTS), mark the final five spots in the top ten.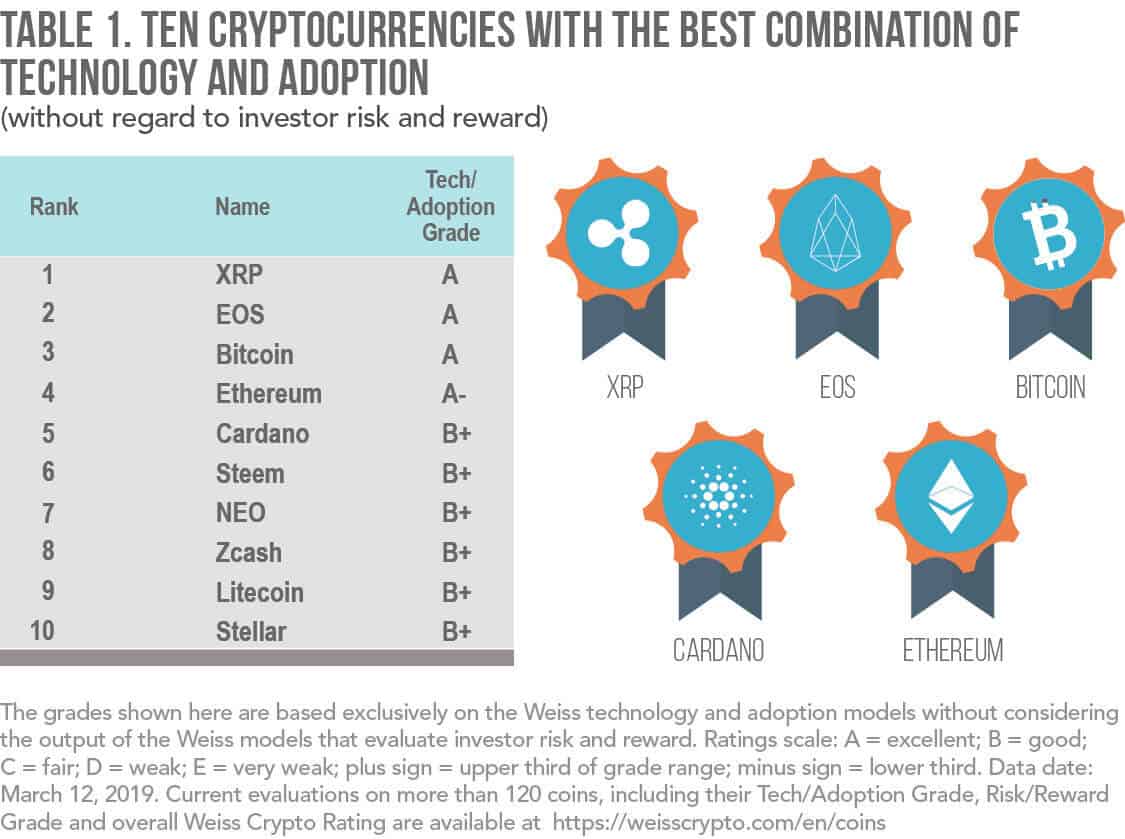 Keeping A Level Head
However, these assets are not perfect. Weiss makes note of crypto's volatility, which is higher in crypto "than virtually any other asset class". When factoring in risk and reward, no assets receive an A. EOS, Ripple, Bitcoin, and Binance Coin (BNB) nail the highest rank, however: a B-. These ratings update every week.
This report was written by Martin Weiss and the group's chief crypto analyst, Juan Villaverde. The two found five notable trends:
1.

An important segment of the cryptocurrency industry is enjoying remarkable growth in the volume of user transactions, a key aspect of adoption.

2.

Improving adoption is largely powered by improving technology.

3.

The way cryptocurrencies are secured is changing quite rapidly. Delegated Proof-of-Stake (DPoS) coins are on the rise, while Proof-of-Work (PoW) coins are losing market share.

4.

Some cryptocurrencies are moving beyond blockchain entirely.

5.

Killer dApps (Decentralized Applications) will play the biggest role in determining the future winners. Examples include

Decentralized, crypto-based social media

Fair and secure elections