Last Updated on
LONDON (InsideBitcoins) — Evaluating art has always been a job for the experts. Some art manages to capture a moment in time so perfectly that it outshines all the other monumental zeniths of its day; such pieces are destined to be forever associated with a particular moment in human history. Others are relegated to the cultural dust heap, forgotten experiments, ideas and memories that failed to resonate with contemporary tastes.
But what if art could secure its value? What if it contained an intrinsic merit beyond the cost of materials, a worth that was separate from the whims of the consumer and the critique of the elite?
Art with a hidden message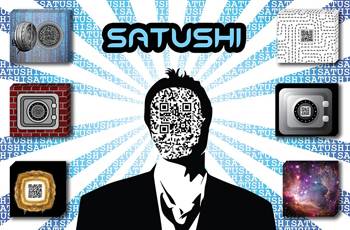 CrypArt, a company based in the Isle of Man, has set out to achieve just that by producing art out of QR codes; some of the pieces contain hidden messages that can be scanned into a phone, others contain imbedded bitcoin wallets.
It all started, as these things so often do nowadays, with an email. Early in 2014, a group of Manx bitcoin enthusiasts were contacted by an artist who identified himself only via the pseudonym 'Satushi'. His vision, for an open source, collective art, resonated with the burgeoning cyrptocurrency group and plans on how to create and evolve a stable of CrypArtists were quickly drawn up.
By insisting that the protocol was open source, Satushi enabled other enthusiasts to follow suit in the creation of bespoke, finite art designed from the ground up to encourage the owner to take responsibility for generating and protecting their own wallets. Each piece carries with it a hidden treasure, in the case of wallets, literally so.
Open source and anonymous art
Satushi was soon joined by other artists such as Crypsi, another anonymous street artist known for his/her libertarian themed pictures. Little is known about Crypsi other than to say that he/she has gone on record stating that the current global system is flawed and needs to change.
"[We] believe our bespoke art will satisfy customers wanting art with real value in the form of a bitcoin wallet."
That was then and this is now; several months on and the idea has moved from concept to reality, with art on display and available for purchase directly from their website. The CrypArt foundation itself is typically grass roots; run by local residents Adrian Forbes and Owen Cutajar both of whom feel passionate about what this new form of art has to offer.
"We feel truly honoured to be involved in such a radical new concept in the art world and to help promote and spread the CrypArt ethos," Forbes told Inside Bitcoins.
"We share Satushi's dream of spreading QR technology and bitcoin as a global currency and believe our bespoke art will satisfy customers wanting art with real value in the form of a bitcoin wallet."
Painting with a bitcoin palette
Owen, who runs an IT consultancy company, admits that he has had to overcome some unique problems in helping setup CrypArt.
"It was hard to coordinate two popular artists who insist on remaining anonymous," he sighed.  "Getting artists to provide information and stick to schedules is not easy, but the end results speak for themselves."
True enough. Art is not by definition to everyone's taste, nor is it much of a sure bet when it comes to investment, even if the piece does contain bitcoin. Yet this art stands out as something of a statement, a pro-cyrptocurrency gesture in a world filled with negative memes. Sat on a wall or hung in a gallery, here we have at last a talking point that engages people on a cultural level.
Ian Jackson is an Inside Bitcoins correspondent based in the U.K.
Feature illustration: "The End is Nigh" by Crypsi