Last Updated on
Update: 14:39 UTC +1.00, 10 July 2019 – Bitcoin falls sharply by $700 to $12,400 as US Federal Reserve head Jerome Powell makes statement
Bitcoin has reclaimed $13,000 as it makes up 85% of the losses inflicted since the day Coinbase went down on 26 June in the midst of the gigantic run-up.
Mati Greenspan, senior market analyst, likened that reversal to throwing a "bucket of ice water" on what was a searing red-hot market. Others said it was the pin-prick that popped the surge.
However, with the convergence of price drivers that set those gains in motion still in place, analysts are now eyeing the next target at $13,800, the previous near-term high.
When the price dipped below $10,000 that looked like a good time for those not already in the market to buy bitcoin.
Bitcoin is 5.3% higher today at $13,027 in the past 24 hours, according to cryptocompare.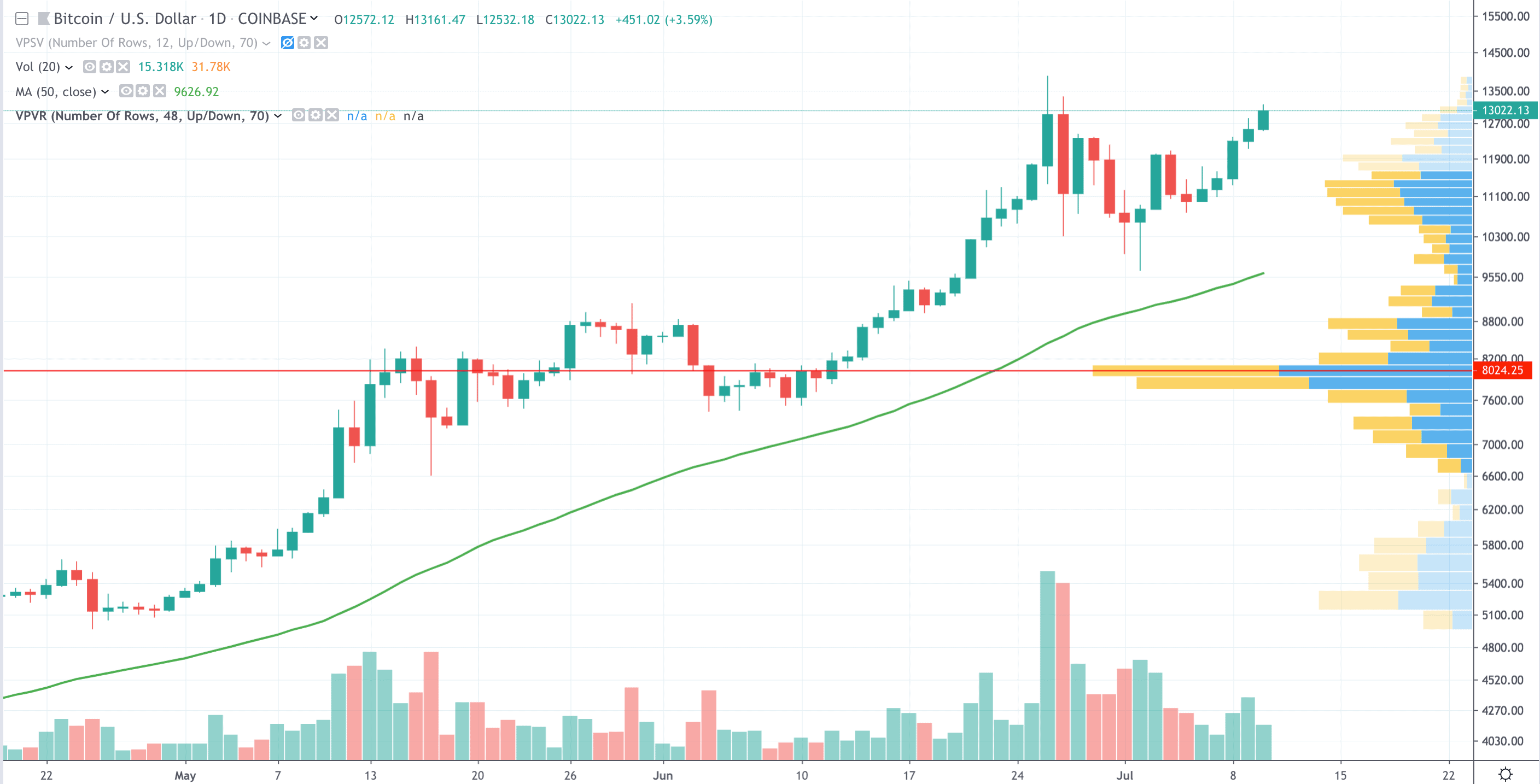 No Facebook Libra in India
Having said that, it is worth noting that Facebook has officially said it is not intending to launch Libra in India, citing the anti-crypto regulations in that country.
That was to be expected though, given previous reports emanating from those in the know at the country's financial regulators. So, that setback for Libra may already have been priced in by the market.
And besides, Libra still has the rest of the world to win, even if India was thought to be a key target region for the putative world currency.
Bitcoin (BTC) network fundamentals in good health
The price recovery from the lows at $3,200 seen late last year are reflected in the bitcoin network fundamentals.
For example, difficulty has touched an all-time high, as well as the hashrate – both an indication that more miners are joining the party.

Despite that, average transaction fees is only $2.44 so there is no sign yet of the spikes when the price reached its all-time high in December 2017. Then, mempool back log saw transaction fees hit $55.
The wider adoption of SegWit by exchanges is certainly helping on that score and to a much lesser extent Lightning network layer adoption too.
Bitcoin price parabola violation hasn't happened
Trader Peter Brandt feared a couple of days back when the bitcoin price briefly went under $10,000, that a violation of the parabolic was a possibility. Looking back from today's vantage point, that seems a fading possibility.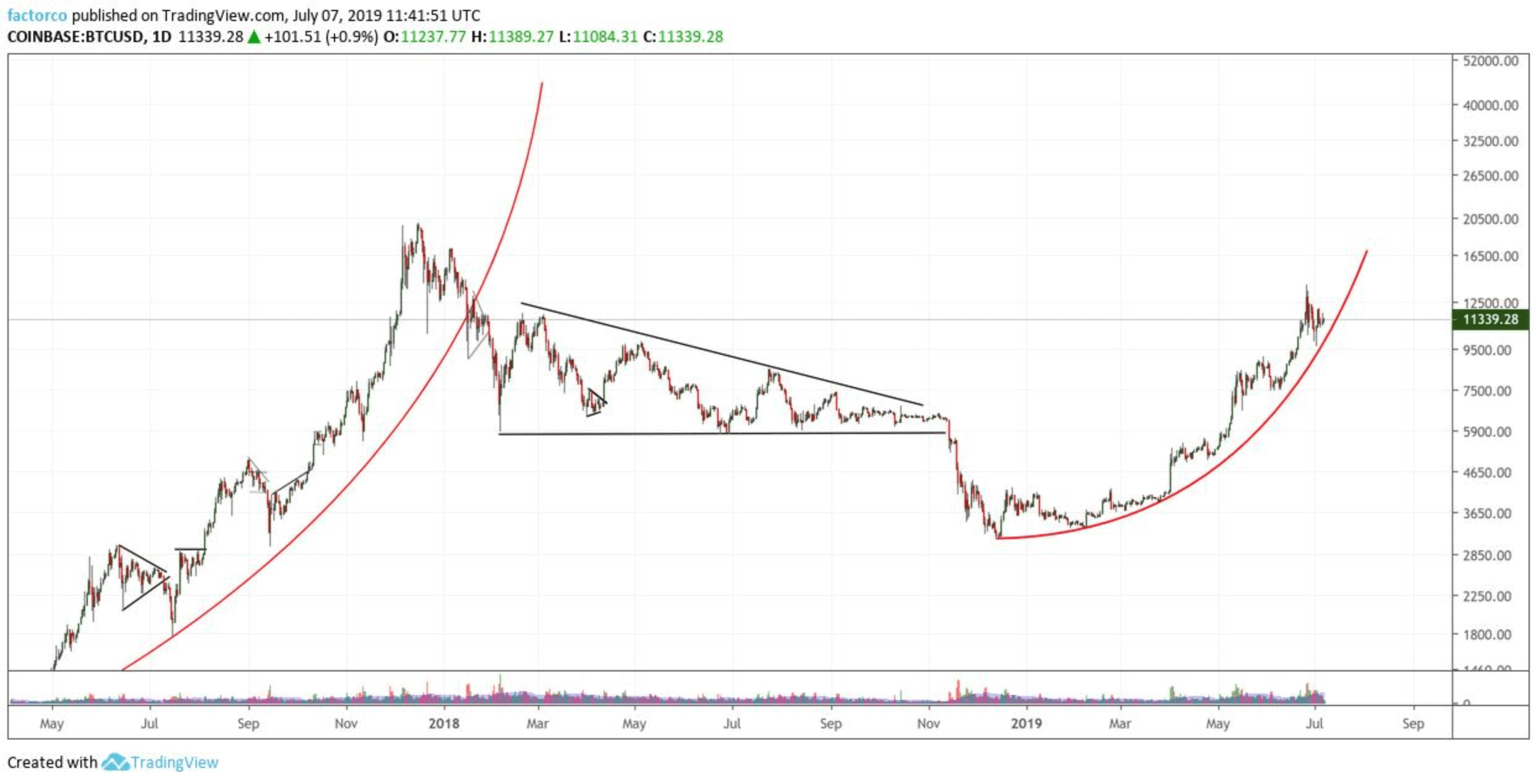 Beware a bitcoin pull back?
Nevertheless, analyst Simon Peters reckons that a failure to hold above $11,000 could usher in a reversal to $7,000, although, again, that seems unlikely if current momentum holds.
"All eyes are still on the crucial $13,800 level, bitcoin's 2019 high. Investors will be waiting to see whether this rally has enough stamina to break this level. If not, falling back to levels of $7,000 is still highly possible," said Peters in an emailed statement.
The rising bitcoin domination is now reading 65.2, which is only 0.6 off the 7 December 2017 figure of 65.8.
Altcoin price recovery weak
That domination looks set to rise further as the top altcoins fail to match the bitcoin recovery.
On 30 December 2016 bitcoin dominance was at 87.31 and declined from then onwards., falling to as low as 33.0 on 7 January 2018.
One factor hurting some coins could be Facebook's Libra, despite the regulatory and political push back it has been greeted with.
The extent of the altcoin difficulties is illustrated in the table below, although as bitcoin nears its previous all-time high a return to finding altcoin bargains may come back into vogue.
If you had invested $1,000 at the market top, you would have $617 if you bought bitcoin. The position for altcoins is grim. Litecoin (LTC) investors are on 333, Ethereum (ETH), $219, XRP $120 and Bitcoin Cash (BCH) $104, as at 8 July 2019.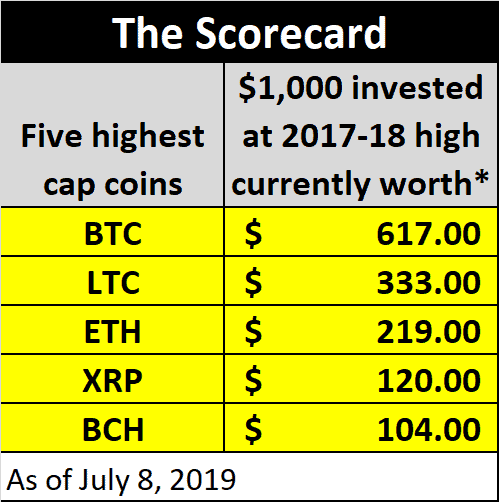 The two coins at the bottom of that table could  be seen as cheap by some potential buyers, but that may not be for a little whole yet.
If you are tempted to buy Bitcoin Cash then follow this link. Alternatively you could avail yourself of the new opportunities to buy Ripple with PayPal if you think Libra's problems could see the XRP settlement coin look more attractive to institutions and payment providers.
For the bitcoin maximalists it's all a matter of "I told you so".
Pomp says bitcoin to $100,000 and beyond
Anthony Pompliano of Morgan Creek Digital Capital was on Yahoo Finance yesterday where he reiterated his price target of $100,000 by end 2021, suggesting it could go even higher than that.
"I think by the end of 2021 we'll see it eclipse $100,000. The important thing to remember about bitcoin is that it's a fixed supply asset and so supply and demand economics apply. If there are increases in demand, you're going to see the price move up," said the Pomp.
Gary McFarlane is the cryptocurrency analyst at UK investment platform interactive investor. His comments are provided in a personal capacity and should not be considered investment advice.