Currently, Bitcoin Cash (BCH) is the sixth largest coin, even though the cryptocurrency has experienced a recent community split (the November 2018 Bitcoin Cash hard fork). Due to the network upgrades, the coin features low-cost transactions and a community that's determined to increase the adoption of the cryptocurrency by constantly developing new solutions as well as partnering with new merchants to accept BCH for payments.
Buy Bitcoin Cash in 5 steps on eToro
Create an account on the service
Verify your identity with the required documents
Deposit fiat currency to your account
Select Bitcoin Cash and how much BCH you want to trade
Execute the trade
What is Bitcoin Cash?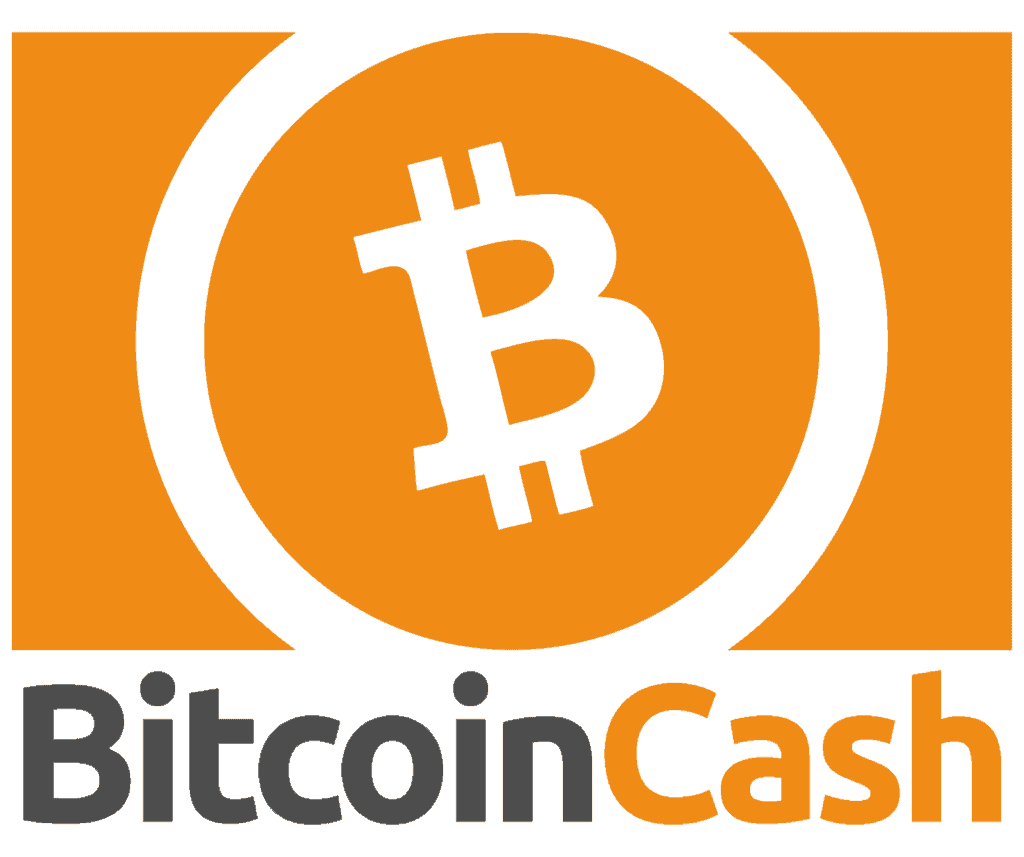 If you were carefully checking Bitcoin Cash news, this wouldn't be new to you. The birth of the coin dates back to August 2017 when a debate between two developer teams resulted in the creation of Bitcoin Cash. The first group – the ones who had stuck with the original Bitcoin (BTC) – argued that they have to implement off-chain solutions to improve the scalability of the network. On the flip side, Bitcoin Cash supporters wanted to upgrade the network by an on-chain method (increasing the block size limit). As the community could not discuss this debate properly, it resulted in the BTC blockchain splitting in two on August 1, 2017: Bitcoin and Bitcoin Cash.
In November 2018, a proposed upgrade of the BCH network split the community in two: Bitcoin Cash and Bitcoin SV (Satoshi's Vision). Although two cryptocurrencies were created from one coin, Bitcoin Cash managed to keep its place in the top 10 digital currencies.
Many traders, investors, and crypto enthusiasts made good profits from Bitcoin Cash. In 2017, the coin managed to climb up to over $4,000 from $500 in less than two months.
The disagreements within the community did not change the fact that Bitcoin Cash is still a hot asset. Most of the services that allow users to buy Bitcoin also offer BCH trading too. Now, the question stands: where to buy Bitcoin Cash? In this guide, we'll show you how to buy Bitcoin Cash using brokers and exchanges, comparing the different service providers as well as the payment methods.
Please note that due to the November 2018 Bitcoin Cash chain split, BCH is sometimes abbreviated as "BCHABC" or named "Bitcoin Cash ABC" on some exchanges and brokers.
Differences between buying and trading Bitcoin Cash
Buying and trading Bitcoin Cash are two different things. You can purchase BCH and hold it for a certain amount of time in the hope that the coin's price will go up. The buy-hold process is usually a mid and long-term investment. On the flip side, if you decide to benefit to conduct short-term trades, you are trying to take advantage of the volatility of the cryptocurrency market. One of the major benefits of trading Bitcoin Cash is the fact that you can sell the coin for profits even in a downtrending market. This is not possible when you are buying and holding BCH on the mid and short terms.
While you are able to sell BCH when trading the cryptocurrency, you need to possess at least basic currency trading skills and knowledge of the crypto market. Traders often use both fundamental (checking the latest news among other things related to BCH to predict the future price of the coin) and technical analysis. To conduct a successful and efficient analysis of a digital currency, the trader needs to use different technical indicators – such as the moving average and Fibonacci retracement – to determine the best entry and exit points for his or her position. This process can take quite some time as you have to sit in front of your computer to conduct both fundamental and technical analysis.
So, buying and holding Bitcoin Cash is more convenient. However, you can generate profits in a downtrending crypto market when you are trading BCH. In case you are doing manual trading – so you are not using automated cryptocurrency trading solutions -, you have to possess a certain skill set and have experience trading digital currencies in order to succeed.
How to buy Bitcoin Cash on eToro?
Founded in 2007, eToro is a trusted broker that's been in business for over 10 years. The service features a newbie and user-friendly interface, fast account opening, social trading features, and plenty of payment methods to fund your account. Regulated in multiple countries – including top-tier regulators, such as UK's FCA -, eToro is considered a safe broker to do business with.
Pros:
Fast and easy account creation
Wide variety of payment methods (including PayPal and credit card)
Outright BCH trading
Great mobile trading app
Social trading features
Low minimum deposit (200 EUR)
Cons:
Your coins are held in Bitcoin Cash wallets
What's different about eToro from other brokers who offer coin trading is the fact that the service is offering outright Bitcoin Cash trading. It means that you own the actual BCH you are trading on the platform. On the other hand, your coins are held in a Bitcoin Cash wallet.
Step 1: registering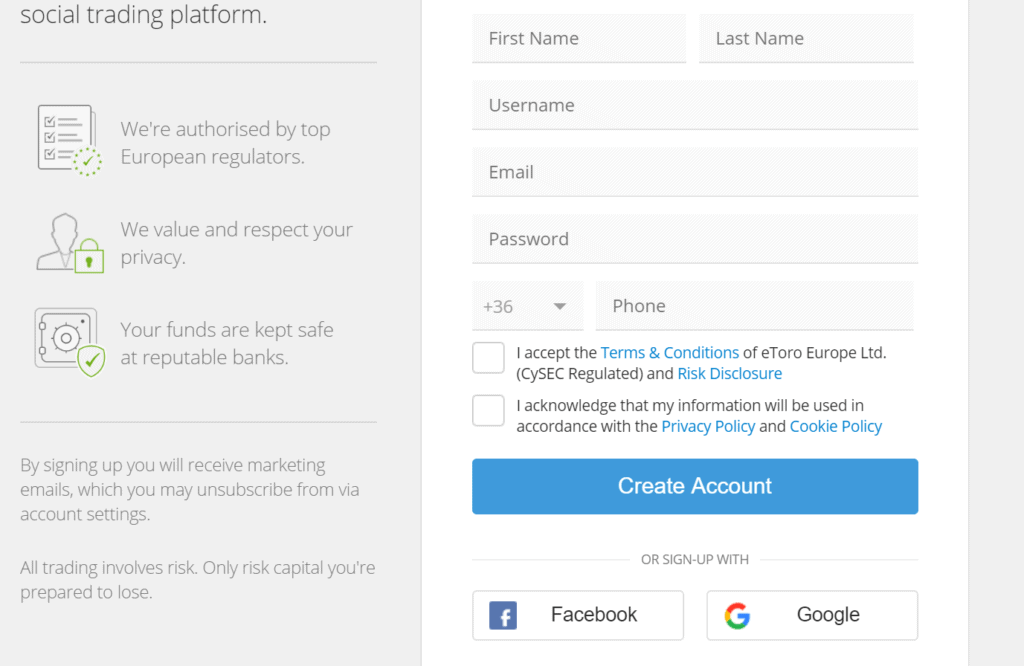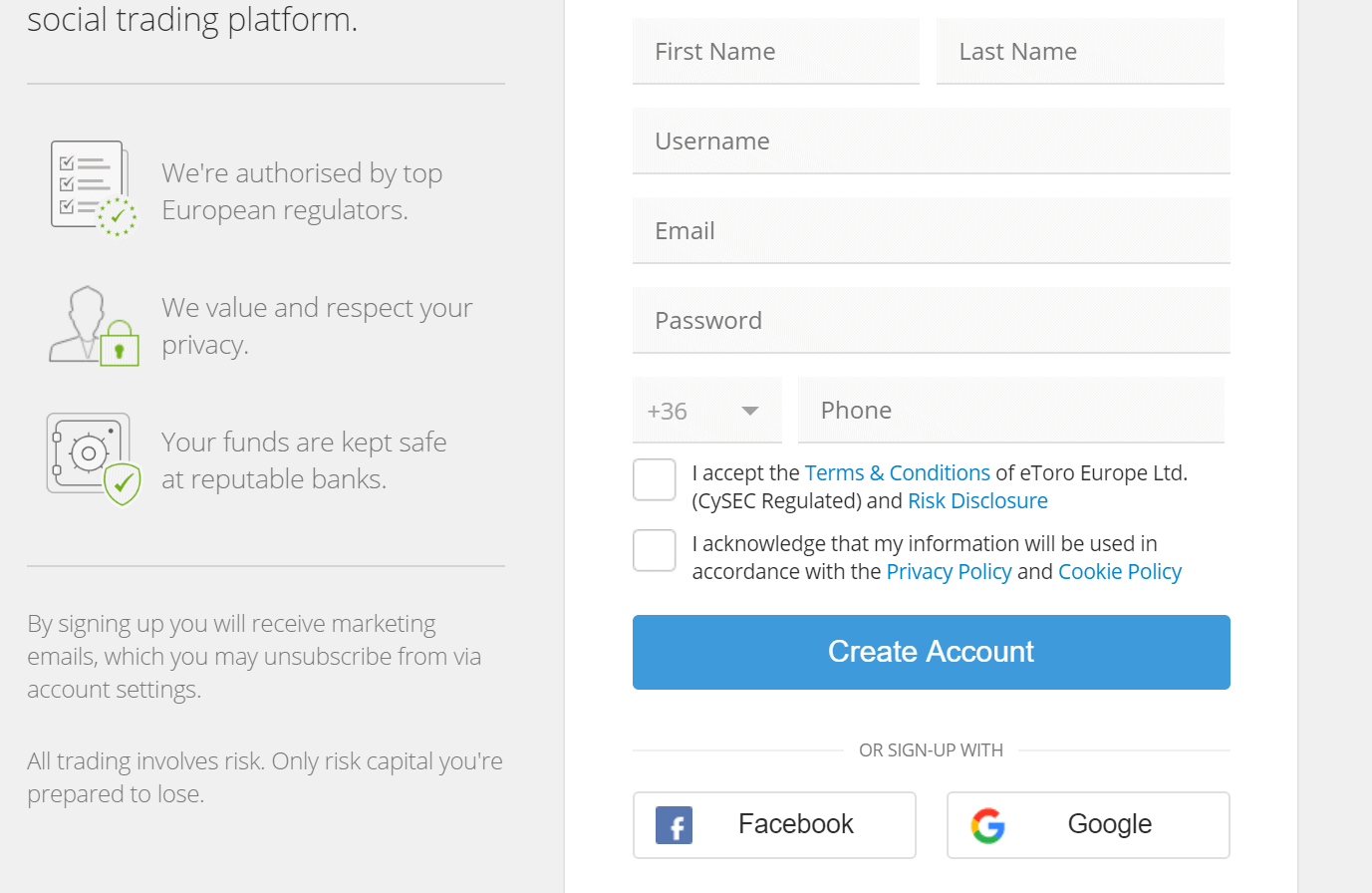 The first step to start trading on eToro is to register an account at the broker. Head to the website of the company and click "Sign Up." Fill in the form with your email address, your desired password, and your phone number. Be sure to choose a strong password that you will remember. You can also use Google+ and Facebook to register an account faster on eToro.
Step 2: verification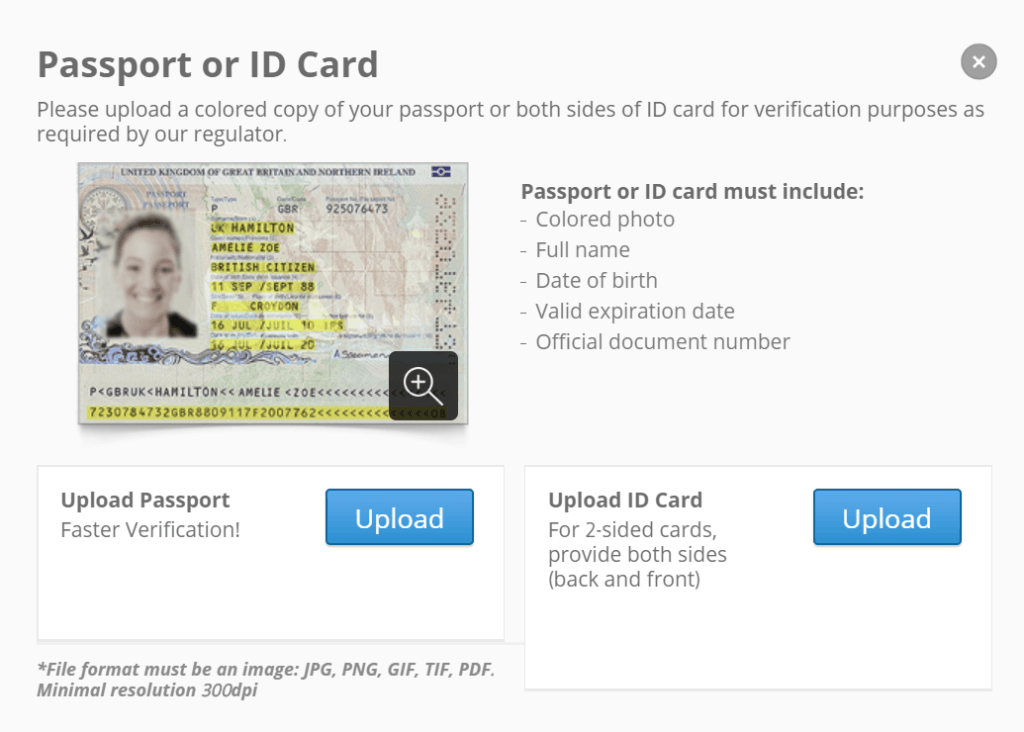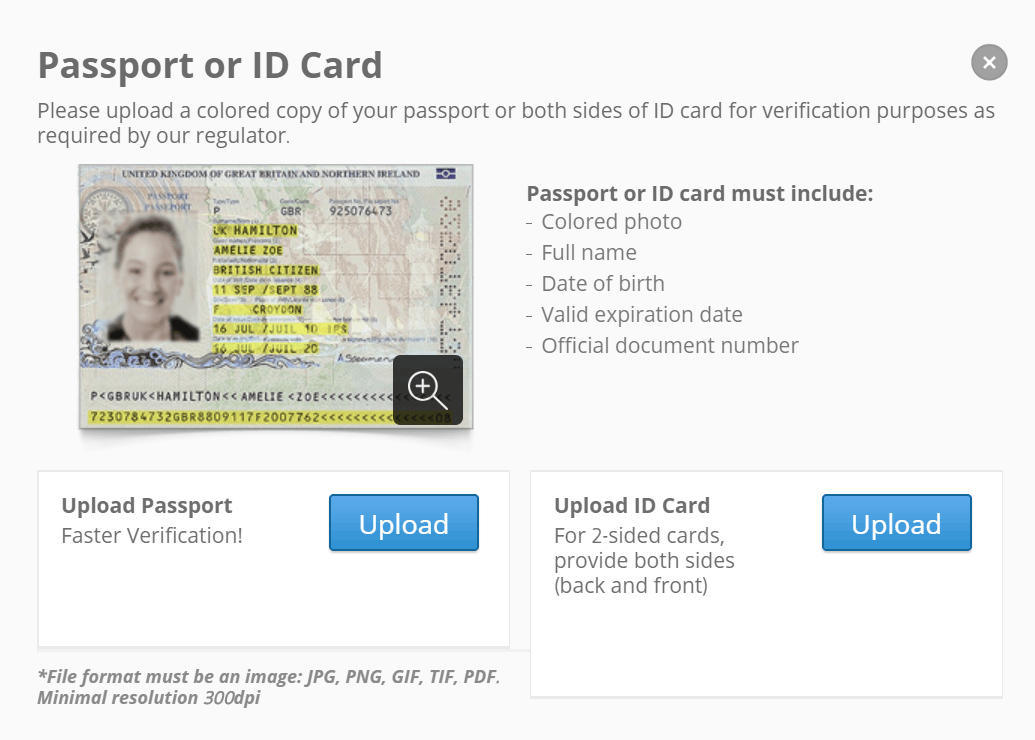 After creating your account, you need to verify it to start trading on the platform. Fill in the questionnaire and send the broker clear images of your documents that verify your identity (passport, government ID) and your residence (utility bill, bank statement, etc.).
Step 3: deposit funds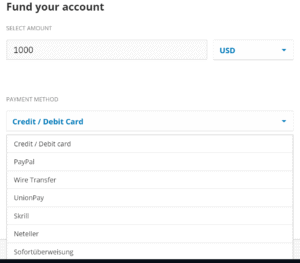 When your verification is successful, you'll be able to start trading. However, a deposit is required first to make Bitcoin Cash USD trades. So, the first step is to add funds to your eToro account. The platform allows plenty of payment methods to fund your account, including PayPal, credit and debit card, Neteller, Skrill, bank transfers, and more. Fortunately, deposit is free on eToro, so the company won't charge you anything for adding money to your account.
Step 4: trading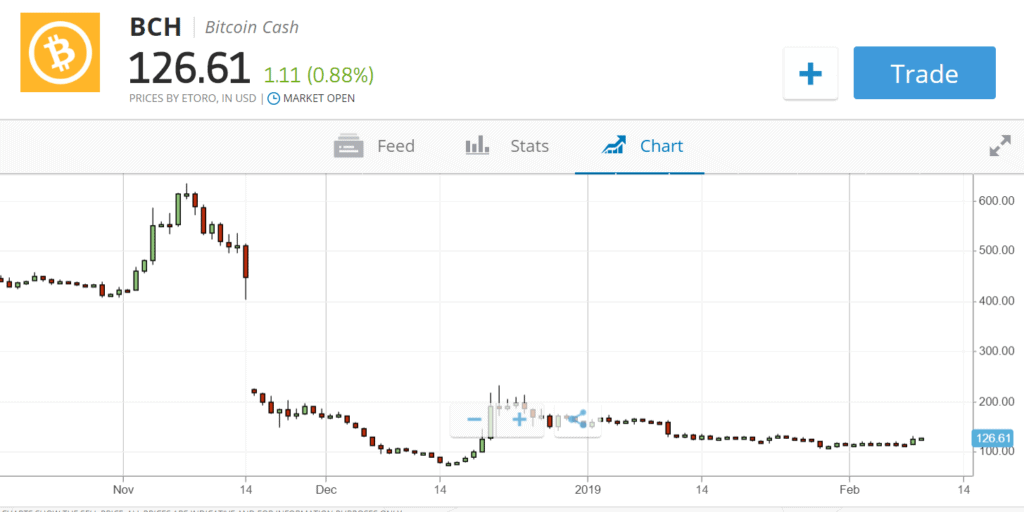 Now, it's time to buy Bitcoin Cash. Use the search bar on the top of the screen to search for BCH. After you have found the cryptocurrency, click "Trade" and choose how much Bitcoin Cash you want to buy. Always check the chart before to ensure the best Bitcoin Cash rate. If you are ready, execute the transaction to trade BCH to USD.
How to buy Bitcoin Cash on Plus500?
Plus500 is a CFD broker founded in 2008. With its headquarters in Israel, the company is regulated in many countries, including the UK and Cyprus. Plus500 is listed on the Main Market of the London Stock Exchange, which gives users on the platform additional safety. The service features an easy-to-use platform with low spreads and a fast, fully digital account creation process.
Pros:
You don't need a Bitcoin Cash wallet
Easy to use
Low trading fees
Mobile trading platform with a nice design
Fast, fully digital account opening
Cons:
You don't actually hold Bitcoin Cash on the platform
The broker is not allowing trades to be executed within 2 minutes on the platform
High fees for financing
Plus500 is a broker that offers Bitcoin Cash trading via CFDs. Therefore, you don't need a BCH wallet to execute crypto trades on the platform. Let us show how you can do that with our step-by-step guide below.
Step 1: registering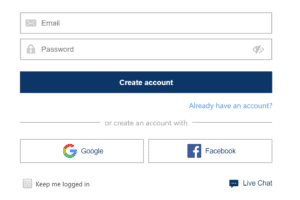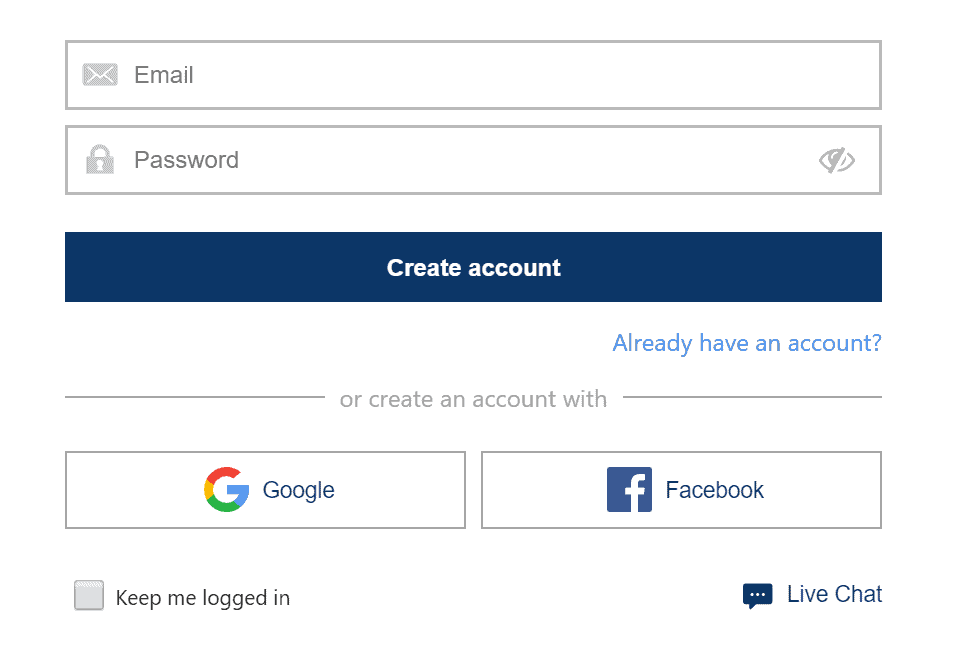 Firstly, navigate to Plus500's website and register an account. To do that, click the "Start Trading Now" button and fill in the form with your details. Plus500 accepts integrations with your Google+, and Facebook accounts for a faster sign up process.
Step 2: verification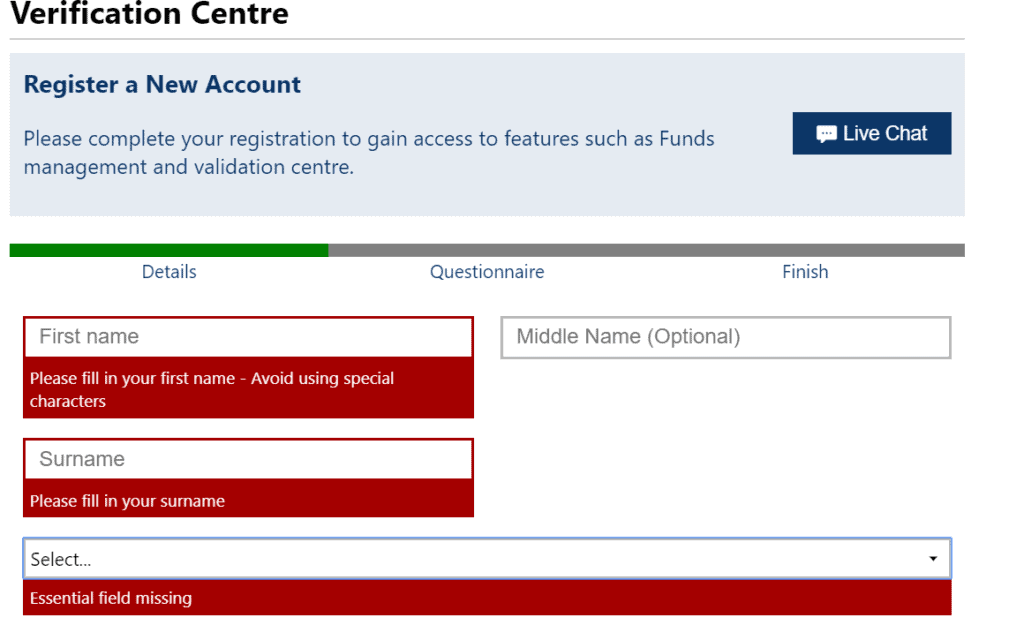 Once you have signed up, it's time to verify your account. To start, fill in the questionnaire and verify your email account as well as your phone number. Upload clear images of the documents required to verify your identity and address. Continue with proceeding to the next step.
Step 3: depositing funds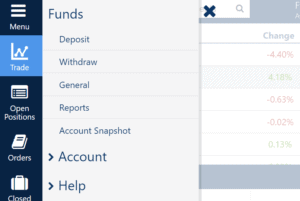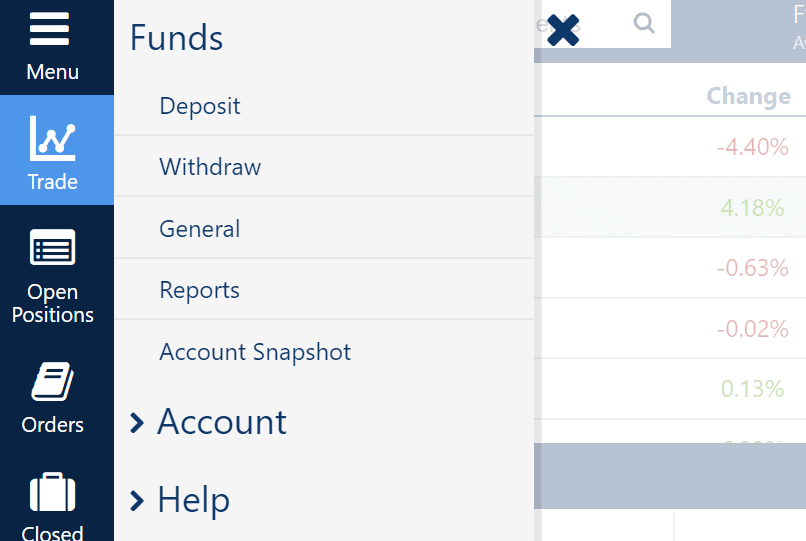 Such as eToro, Plus500 accepts multiple payment methods for deposits, and the whole process is free of charge. Choose "Deposit" from the menu in the top left part of the page, choose your desired payment method (credit card and PayPal payments are accepted) and the amount of funds you want to send to your account.
Step 4: trading
After your funds have arrived on your account, you can start trading Bitcoin Cash. Search for Bitcoin Cash ABC (the coin is named like this on Plus500) and choose whether you want to buy or sell the cryptocurrency. Then select the amount of coin you want to trade for BCH to USD to finish the process.
How to buy Bitcoin Cash on Binance?
Binance CEO Zhao Changpeng co-founded the BCH exchange in 2017 with the company's CMO, Yi He. Firstly, the exchange was headquartered in China. However, after the cryptocurrency ban in 2017, Binance has moved its operations to Japan and Malta. The company features a crypto to crypto exchange with a wide variety of coins and four base currencies (BNB, stablecoins, BTC, ETH). You can choose between two trading views (basic, advanced) to trade Bitcoin Cash on Binance.
Pros:
Huge variety of coins supported
Easy registration with minimal personal info required
High limits without verification
Different trading views to choose from
Cons:
You need a Bitcoin Cash wallet
No fiat withdrawals, deposits, and trading
Verification can be slow
Now, you know the upsides and downsides of the exchange. Let's continue with our step-by-step guide on how to buy BCH on Binance. We modified the steps in this guide, leaving out the verification part as Binance has high limits (a daily limit of 10 BTC for withdrawals), which will be sufficient for normal trading. We replaced the verification step with a security measure (2FA).
Step 1: registering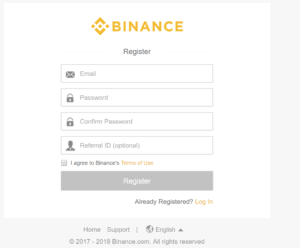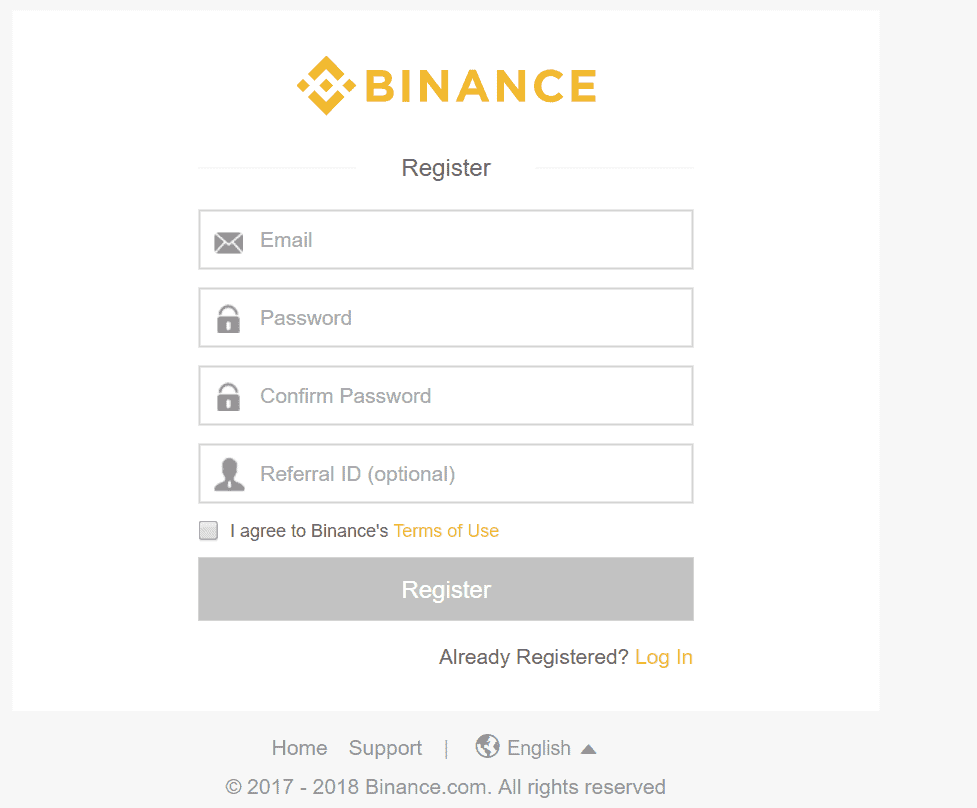 Creating an account on Binance is easy. If you prefer anonymity or semi-anonymity, Binance is a good choice as the exchange will only ask for your email address. Click "Register" on the home page and proceed with creating your account. After you opened your account, don't forget to check your inbox and verify your email.
Step 2: 2-factor authentication (2FA)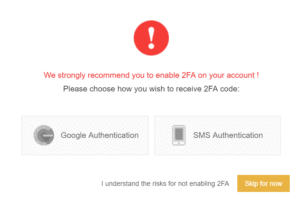 Setting up 2FA is essential to protect your account from attackers. After your first login, Binance will ask you to set this security measure up. Do that by either using your phone number (the Bitcoin Cash converter will send a text message every time you log in) or Google Authenticator. Please don't proceed to the next step without setting up 2FA.
Step 3: deposit funds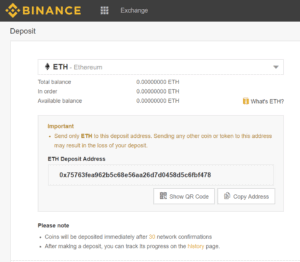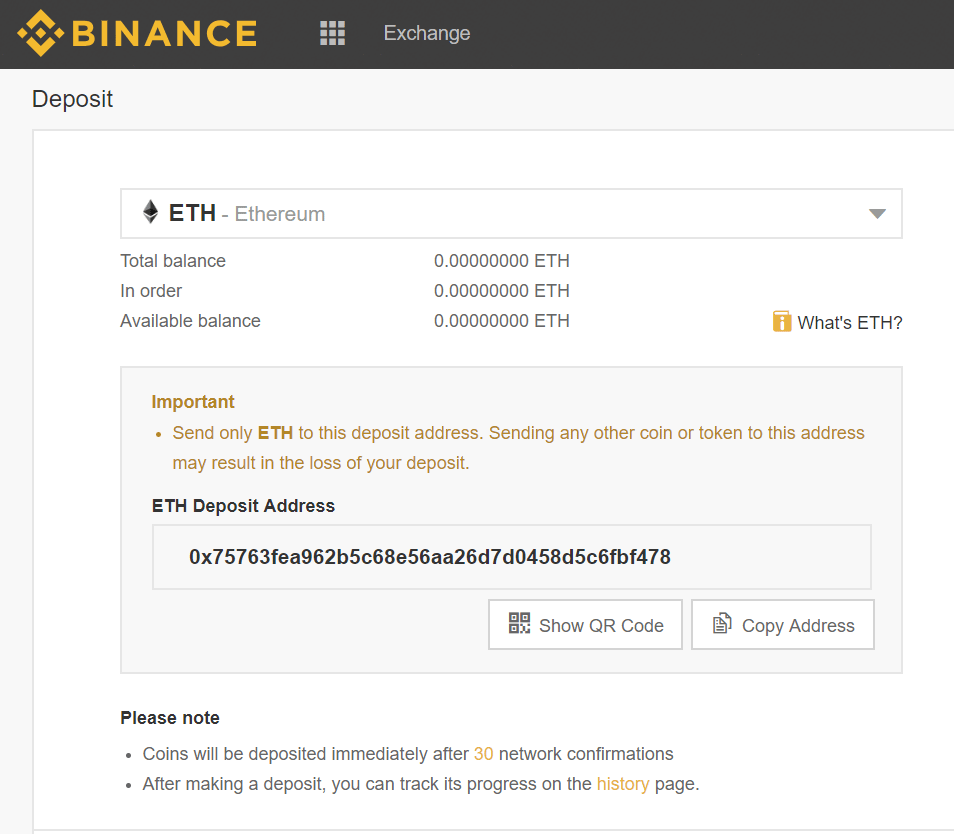 After your account is secured via 2FA, it's time to continue with depositing funds. Please note that Binance only accepts cryptocurrency deposits. Therefore, you need to own coins before you can start trading on the exchange as the Bitcoin Cash exchange does not accept fiat deposits. Head to the "Deposits" tab under "Funds," choose your desired cryptocurrency, and send funds to the address shown on the page. Make sure to double and triple check the wallet address before sending funds to avoid any mistakes.
Step 4: trading
You can start trading as soon as your coins have arrived at Binance. If you have deposited any of the four base currencies (BNB, BTC, ETH, USDT), select Bitcoin Cash from the list under your base currency as well as the amount of BCH you want to buy, and execute the trade. In case you added a cryptocurrency that's not a base currency, you have to exchange it to a base currency on the platform before you can buy Bitcoin Cash.
You can choose from three options to execute your trade: limit order, market order, and stop-limit order. While the first will let you set the Bitcoin Cash price you are willing to buy the coin at, the market order prioritizes simplicity: you trade at the current Bitcoin Cash market rate. While market orders are fast, they do not guarantee you the best price. Use stop-limit orders when you are executing short-time trades to minimize your losses in case the Bitcoin Cash price goes down.
How to buy Bitcoin Cash on Changelly?
Changelly is a cryptocurrency exchange that features near-instant transfers with reasonable fees. Unlike at brokers, such as eToro and Plus500, you need a cryptocurrency wallet to buy Bitcoin Cash on the exchange. While you can't sell coins for fiat, the service accepts credit card payments on its platform (though they will cost you a lot).
Pros:
Fast transactions, arriving in 10-30 minutes
Trading fees are relatively low
Easy to use platform
Support for a wide variety of coins
Cons:
You need a cryptocurrency wallet
Credit card fees are high
Bitcoin Cash exchange rate is not fixed
You can't sell coins for fiat
At Changelly, the deposit process is completely left out (one of the reasons for the fast transaction times). Moreover, for trading normal amounts of coins, you don't need to verify your account, so we've left out that step from the guide. Let's focus on setting up 2FA instead.
Step 1: registering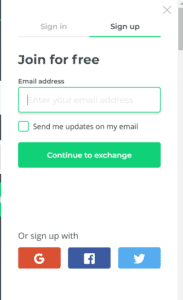 You only need an email address to register an account on Changelly. Click the "Join" button in the top right corner of the page, fill in the details with your email and desired password and continue to the next step. You can use Google+, Facebook, and Twitter to register an account faster.
Step 2: verify your email
After you are done filling the form, Changelly will send you a message to verify your email. Head to your inbox and click the link inside to verify your email address.
Step 3: 2-factor authentication (2FA)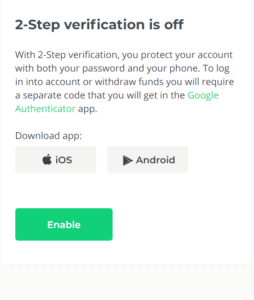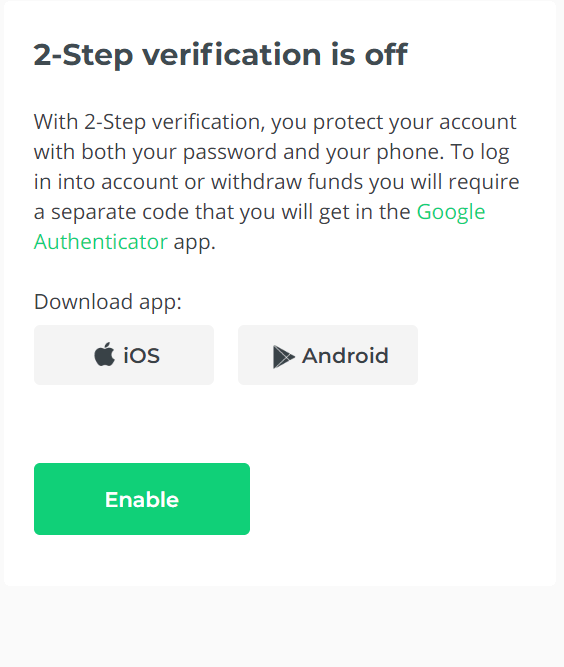 The next step is to set up 2FA on your account. Changelly accepts Google Authenticator, which you can download to either iOS or Android using the links inside your account's settings tab. Download the app and set 2FA up for your own security, then proceed to the next step.
Step 4: trading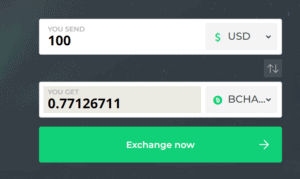 On the home page of the website, you'll find a converter. Choose Bitcoin Cash ABC (BCHABC) and the fiat currency you want to use to buy BCH. Set the amount of Bitcoin Cash you want to purchase. After that, you need to provide your credit or debit card details to initiate the trade.
How to buy Bitcoin Cash on Coinbase?
Fortunately, Bitcoin Cash is one of the handful of coins that are supported by the San Francisco-based cryptocurrency exchange Coinbase. Hooray! So, you are able to trade BCH on the crypto exchange's newbie and user-friendly platform. Among all of the major cryptocurrency exchanges, Coinbase has one of the lowest credit card processing fees (about 1.5%), and using this payment method is really easy as well as convenient on the service.
Pros:
You own the BCH you purchase on the cryptocurrency exchange
Low credit card processing fees compared to main competitors
No need to deposit funds in case you are using credit card to buy Bitcoin Cash
User and newbie-friendly platform
Cons:
You need a Bitcoin Cash wallet
Credit card processing fees are lower at some brokers
Trading fees are higher than at most of the cryptocurrency exchanges
Step 1: registering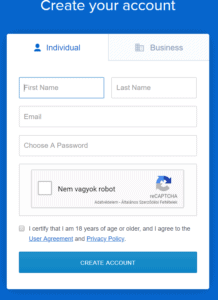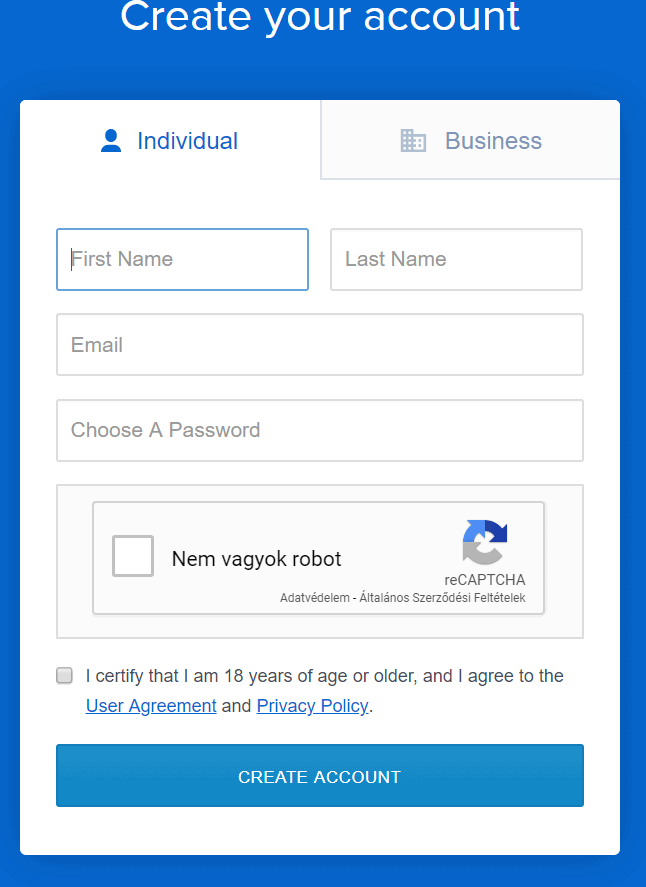 So, as the first step of our Coinbase tutorial, let's create an account at the service. Head to the official website of the cryptocurrency exchange. When you are there, you'll find a button stating "Get Started" in the top right corner of the page. Click it, and the site will take you to a page where you have to fill out a form with your first and last names, email address, and desired password. Don't forget to tick that you are not a robot as well as you have accepted the terms and conditions and privacy policy of the service (and that you confirm that you are above the age of 18). When you are ready, click "Create Account" at the bottom of the form and proceed to the next step.
Step 2: verification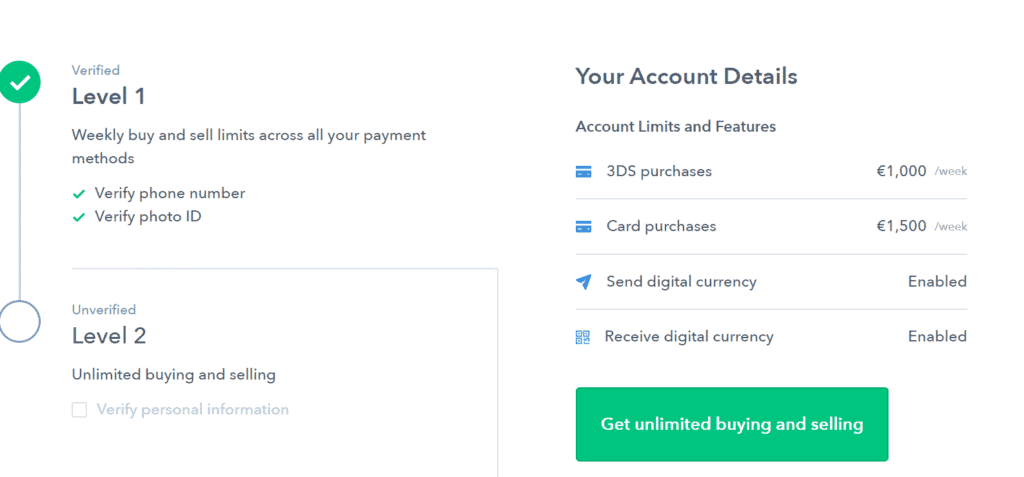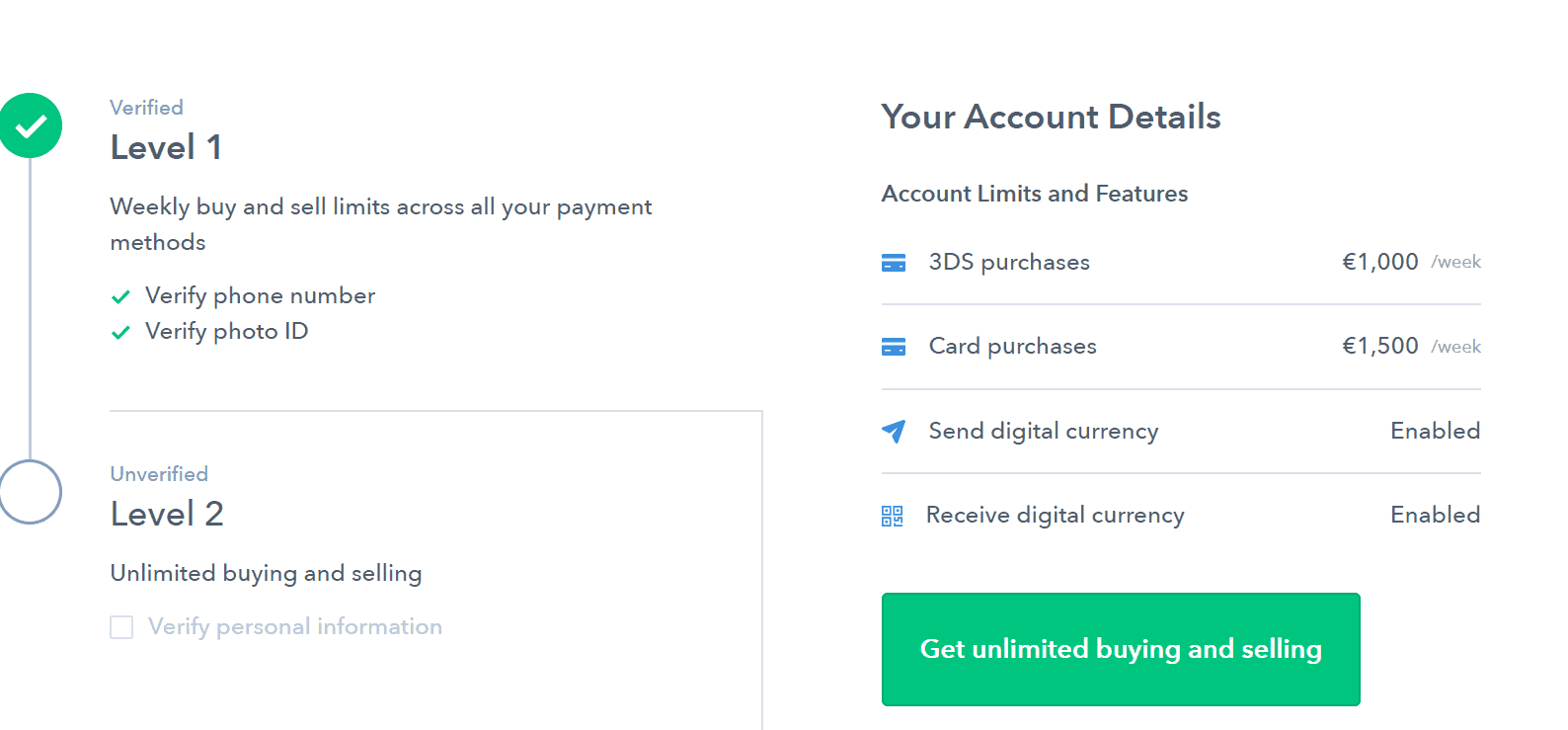 As Coinbase is operating in the US, the cryptocurrency exchange is subject to strict regulations that require the company to request Know Your Customer (KYC) documents from its customers. Therefore, you need to raise your account limits by verifying your phone number and identity before you can proceed to buy Bitcoin Cash.
To verify your account, head to the "Account Levels" tab under "Settings." The verification page will show your current account limits and what is left of those limits as well as different features that are either enabled or disabled for your account. When you are on this page, you'll see that there are two levels. While the first will raise your limits that will allow you to buy Bitcoin Cash on the platform, you will need to complete level two to have access to unlimited buying and selling on the service. Level one will need you your phone number and a photo ID, while the next level will require you to provide additional personal information to the operators of the cryptocurrency exchange.
Now, let's verify your phone number – by typing in the code that the exchange has texted you in the related fields – and your identity. For the latter, crypto exchanges typically accept government ID, driver's license, and passport. Take a clear photo of either document and submit it to Coinbase. Wait for a while until the team verifies your document and either proceed to the next step or complete verification for level two.
Step 3: 2-factor authentication (2FA)

As you are planning to hold Bitcoin Cash (at least for a while) in a cryptocurrency wallet, it is essential to turn on 2-factor authentication (2FA). Fortunately, Coinbase supports 2FA in the form of text messages. Every time you log into your account, you'll get a code from the company, which you have to type in the related fields. Also, Coinbase has an option to set a certain amount – like 1.2 BTC. If that's reached, 2FA will be activated.
To set up 2FA on your Coinbase account, navigate to the "Security" tab inside "Settings." You'll find a section about 2-factor authentication. Click the blue button stating "Enable Authenticator." Also, we recommend you to choose the setting in which a verification code will be sent to your phone if any amount of digital currency is moved.
Step 4: trading
Now, it's time to buy some Bitcoin Cash. Please note that we are using credit card as the payment method in this tutorial. This method does not require you to funds your account with money before you can trade as the credit card transactions will be processed almost instantly. However, if you wish to credit your account with fiat via bank transfer, you need to first wait for the deposit to arrive before you can buy BCH.
Head to the "Buy/Sell" tab where you'll see a list of cryptocurrencies. Firstly, choose BCH from the list. Now, you need to proceed by adding your credit card as the payment method you will use to buy Bitcoin Cash on Coinbase. When you are done with that, select the amount of BCH you want to purchase on the cryptocurrency exchange. Then finish the process by executing the trade.
How to trade Bitcoin Cash with a trading robot?
Automated trading solutions have been present in the fiat world for a while. These services use algorithm-fueled robots that are scouring the markets to find the best exit and entry points for trading. Therefore, the bots are making potential profits fully automatically. As the cryptocurrency market has grown bigger, trading robot solutions have been implemented to coins too, including Bitcoin Cash.
The benefits of using a trading robot to trade Bitcoin Cash are clear. Firstly – as opposed to "manual" trading -, you don't need to sit in front of your computer all day deploying technical analysis to the BCH chart. Instead, you only need to set up the bots – some platforms even have their own strategies too (so you don't need to develop one) – and monitor their performance. Secondly, automated cryptocurrency trading requires no trading knowledge from the user. So, trading Bitcoin Cash via crypto robots is completely newbie-friendly.
While BCH trading robots present a great way for all kinds of traders to make potential profits, automated trading is considered as a high-risk activity. However, the higher the risks, the higher the profits can be. We have a page dedicated to crypto robots; if you are interested in trading BCH via such services, we recommend you to check it out.
How to buy Bitcoin Cash with Credit Card
As shown in the previous step, it is possible to buy Bitcoin Cash with credit card. While bank transfers can be slow and inconvenient, credit card payments are the fastest way to buy BCH. When using a credit card to purchase cryptocurrency, your funds will arrive almost instantly. On the flip side, card transactions cost more than bank transfers or crypto to crypto payments.
The big question is: which provider should you use? As seen in the previous step, using a credit card on Changelly comes with high fees (almost 10%). If you want to use a Bitcoin Cash exchange, we recommend Coinbase for credit card transactions as the service has a 3.99% for card deposits, which is reasonable compared to its competitors on the Bitcoin Cash market. Using a broker is a good option too (such as eToro and Plus500) as both services offer cost-free credit card deposits.
How to buy Bitcoin Cash with Paypal
PayPal is a popular payment service that is used by over 244 million customers from all over the world. Many companies, especially e-commerce sites, accept transactions via PayPal as paying via the payment service is super easy and fast. On the flip side, the company has high fees and strict policies. The latter has an effect on the cryptocurrency industry as PayPal does not like coin transactions.
Therefore, Bitcoin Cash exchanges can't accept payments via PayPal. So, if you want to buy Bitcoin Cash with PayPal, you have to use workaround methods. You can't directly send Bitcoin Cash to PayPal and vice versa. One method is to use a third-party service, such as Localbitcoins.com, that will connect you with local customers who will sell you Bitcoin Cash to PayPal. However, that would cost you a nice fee and could result in PayPal disputing your account as it is against its policies. Furthermore, local transactions are not as safe as using brokers or exchanges.
So, that's left us with another option, which is using brokers to buy Bitcoin Cash with PayPal. As brokers like eToro and Plus500 accept PayPal deposits, you can fund your account with the service. Then use your balance to buy Bitcoin Cash. That's basically an indirect method to buy Bitcoin Cash with PayPal.
How to buy Bitcoin Cash with Bitcoin?
In some cases, you don't want to use fiat currency to buy Bitcoin Cash. Why use your credit card, PayPal, or bank account when you have some BTC sitting in your wallet? As Bitcoin is the top cryptocurrency among all coins, it is widely accepted as a base currency on different cryptocurrency exchanges.
One of these exchanges is Binance, a crypto-to-crypto specialized service that we have chosen as the best for buying Bitcoin Cash with Bitcoin. You can easily transfer your BTC to your Binance wallet, choose the BCH/BTC trading pair, and exchange the two coins in the matter of a few minutes. And it won't even cost you much. If you need more details on the buying process of Binance, read back to see our step-by-step tutorial.
Do you need a Bitcoin Cash Wallet?
As wallets can be hacked and Bitcoin Cash can be bought via CFDs without the need for a wallet, that brings up the question of whether you should be using a wallet to buy BCH. Owning cryptocurrency is great for mid and long-term investors, traders, and crypto enthusiasts who believe in the technology.
Though – as mentioned before – cryptocurrency can be stolen from your wallet by hackers. So, buying Bitcoin Cash from a broker, without the need to use a BCH wallet, would help you avoid the attackers stealing your funds. Also, if you send a transaction to the wrong place or if you make any other mistake, you can contact the broker or your bank to solve your problem. In case you do the same with a cryptocurrency wallet, you can't contact any service provider to help you.
Although there are hacker attacks against crypto owners, you can avoid them simply by improving your security. Buying a hardware wallet could be a great choice here as the hacker has to steal your hardware device in addition to hacking the software side of your wallet in order to send out a transaction from your hardware wallet. We recommend checking out Ledger and Trezor as both are trusted brands.
How to create a Bitcoin Cash wallet?
If you are planning to use a cryptocurrency exchange to buy BCH, you will certainly need a great Bitcoin Cash wallet. The reason for that is that exchanges are highly targeted by attackers and most of them don't have the required security measures for the safe storage of your coins. But worry no more! You just simply need to create a secure Bitcoin Cash wallet, which we will show you know at two trusted wallet service providers.
The first service we are showing you know is the Blockchain.com Wallet. The company, Blockchain.com, has been present in the cryptocurrency space for a while and it is trusted by millions of customers. Over 33 million wallets have been created using the organization's free service. The Blockchain.com Wallet is web-based, so you don't have to worry about downloading an app to your desktop or smartphone. Just head to the homepage of the service, click "Sign Up" in the top right corner, fill out the form with the required information. And voilá, your Bitcoin Cash wallet is ready.
If you are looking for a smart mobile Bitcoin Cash wallet, look no further. The Infinito Wallet is a multi-coin cryptocurrency storage service that will allow you to send, receive, and hold over 1,000 digital currencies, including Ethereum ERC-20 tokens. To create a Bitcoin Cash wallet via Infinito, head to the homepage of the service and use the links provided in the "Download" section to install the app on your device. You can also check for the app in the App Store or Google Play – Infinito supports both Android and iOS.
How to buy Bitcoin Cash in the UK?
Europe is a crypto-friendly continent with over thousands of service providers present in the region. Among all of these European countries, Bitcoin Cash (along with other cryptos) is quite popular in the United Kingdom. As there are plenty of services that offer BCH trading, it can become hard to choose the best for UK citizens.
And this service is eToro. Along with choosing the broker as the best exchange for Bitcoin Cash in this article, eToro is the best solution for UK citizens to buy BCH as well. The broker offers outright Bitcoin Cash trading with an FCA regulated service. The platform is easy to use, newbie-friendly, featuring a lightning fast registration and verification process, social trading features, and multiple payment methods (including PayPal and credit cards) that you can use to fund your account.
How to buy Bitcoin Cash in the USA and Canada?
Checking the stats, North America is the top crypto-friendly continent in the world. There are over 2,000 payment services that are offering solutions for cryptocurrencies – Bitcoin Cash included – and blockchain technology. As a part of digital currency exchanges and brokers are focusing on European customers – and some of them exclude US and Canadian citizens due to the strict regulations in both countries – it is crucial to choose the best exchange for the locals in both countries.
As we have tested the services of numerous digital currency exchanges and brokers who offer coin trading, we have selected the best solution for US and Canadian citizens. And this service is Coinbase, the perfect platform for both newbies and expert traders. Bitcoin Cash is one of the handful of coins Coinbase supports. The cryptocurrency exchange offers credit card purchases with one of the lowest fees on the crypto market.
How to buy Bitcoin Cash in Australia?
Oceania is not a continent flourishing with cryptocurrency and blockchain service providers. However, there are plenty of Aussies that are interested in this new tech and the coins – including Bitcoin Cash. The biggest markets of cryptocurrency exchanges are concentrated in North American and Europe. Therefore, many services focus mainly on the citizens of these regions. So, here comes the question – which is the best exchange for Aussies?
We've tested a number of crypto exchanges and brokers, and we ranked Binance in the first place for Australian citizens. Why? The crypto-to-crypto specialized service offers high limits for its users – so there's no need to verify your account if you are trading normal amounts of coins -, the trading fees are low, and the exchange supports a wide variety of coins. And – of course – Australian citizens can register a free account on Binance.
How to sell Bitcoin Cash?
When you have bought BCH, and the price of the coin just went up to a specific level, you would want to sell the digital currency to make profits. Or – in the opposite case -, you want to exchange your Bitcoin Cash to minimize your losses. We've shown you how to buy the coin on different services. But how can you sell Bitcoin Cash? Let us show you one of the top platforms.
Taking that you have a Binance account – if not, read back to learn how you can register an account on the exchange – you need to head to the trading platform. Choose the currency pair for BCH from one of the four base currencies (BTC, ETH, BNB, and stablecoins), and choose the sell option. Execute the trade.
Conclusion
We've listed you the very best brokers and exchange where you can buy Bitcoin Cash. You also know how to buy BCH with different payment methods and what are the pros and cons of having a wallet. Now, it's your choice to choose between the different options and solutions as well as to set your goals.
From all the services we tested, eToro comes out as the winner. The broker's social trading platform is easy-to-use, newbie friendly, featuring plenty of payment methods to choose from. Account creation is fast, and you own the actual coins you are trading as the service offers outright Bitcoin Cash trading.
FAQ