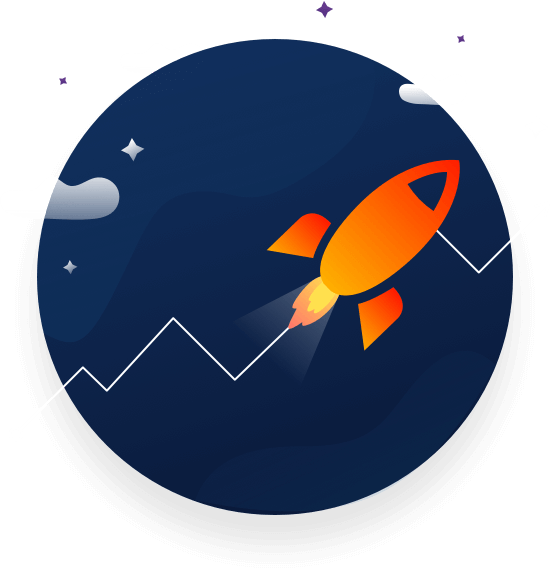 CryptoRocket is currently one of the most popular and well-reputed crypto exchanges on the market.
Even though the platform is preceded by an excellent reputation, we decided to test it to find out whether what they say about it is true. Our results revealed that the exchange is actually legit and profits can be seen.
Our Recommended Crypto Exchange
25 USDT No Deposit Bonus
Easy Account Creation Process
Lowest Exchange Fee
Offers Demo Trading Account
Keep on reading to find out everything you need to know about the exchange, including pros and cons, fees, customer services, registration and so on.
Full ReviewPros & Cons
CryptoRocket Review
Criteria
Rating
Overall Score

9/10

Country of Origin
St. Vincent and Grenadines
Markets

Crypto
Indices
Forex
Stocks

Fees

No Commission while Live Trading
No Transaction Fees
No Deposit Fee

Trading Platforms
Safety Score
Trading Education Score
Customer Service
Verification Process Score
Minimum Deposit
$10 USD
Visit Site
Buy Cryptocurrencies
Pros
MT4 and WebTrader are the trading platforms available
Round-the-clock customer support with professional and helpful members of staff
Great asset variety
Transparency concerning the risks associated with crypto trading
Cons
Unregulated exchange
No live chat or phone numbers available for customer support
How to Trade Cryptocurrencies on CryptoRocket
Fill in the registration form on CryptoRocket
Click on "Deposit" and select your payment method
Insert your investment amount, which has to be at least $10
Open a trading account by clicking on the "open trading account" button on the main page of your trading profile
Store your login details in a safe place and access the trading space
Find the cryptocurrency pair you want to trade with
Select it and start trading with it
How to Trade Forex on CryptoRocket
Register for an account with CryptoRocket
Click on "Deposit" once you've signed up
Choose your initial investment amount (you will have to deposit a minimum of $10)
Once the payment is processed you will have to open a trading account
Click on "Open Trading Account" on your trading profile
Access the trading platform and search for the forex pair you are interested in
Select it and click on "buy"
How to Trade Stocks on CryptoRocket
Sign up on CryptoRocket
On the left side menu of your trading profile, click on "Deposit"
Make your initial deposit after choosing your preferred payment method
Access the trading platform and create a trading account
Save the login credentials you will be given for later access to the trading platform
Choose the stock you want to trade with from the asset list on the left side of the platform
Start trading!
How to Trade CFDs on CryptoRocket
Register on CryptoRocket
Get to the deposit stage by clicking on "Deposit" on the left side menu
Decide whether you want to pay via credit/debit card or Bitcoin
Insert your investment amount and complete the transaction
Click on "Open trading account" on the main page of your trading profile
Copy and paste your login details into the trading platform to access it
Start trading CFDs
What is CryptoRocket?
CryptoRocket is an online trading exchange owned by CryptoRocket Limited and is registered in St. Vincent and the Grenadines.
What Makes CryptoRocket Unique?
There are quite a few aspects of CryptoRocket that make it unique. These include the great asset variety on offer, which allows users to diversify their trading portfolio to whatever extent they wish. The exchange also offers great education resources, to help traders make the most out of their trading experience. The trading platform they offer is also very easy to use but at the same time maintains more complex features that more experienced users may need to pursue more complex trading strategies.
Account Creation
When it comes to account creation, CryptoRocket really demonstrates how much it strives to satisfy the needs of users by making the sign up process straight forward and simple. Feel free to read through our guide to show you how to create an account on the exchange.
First Step
The first thing you have to do to create an account on CryptoRocket is to go on the official website. On the top right corner of the page, you will see a Sign Up button. By clicking on that, you will be redirected to a sign up form requiring you to type in your email address and choose a password which you will have to write down twice to confirm it.
Second Step
Once you've done that, your account will be created but you will still have to create a trading account. As soon as you sign up, you will see a button saying "Open Trading Account". If you click on that, you will be able to create a demo account before depositing any real funds into your account.
You will have 500,000 USD available in your demo account that you can use to simulate as many trades as you want. The availability of a demo account is a great feature that allows users to get familiar with how the exchange works and be prepared for when real money will be involved. By selecting "demo account", you will be given some login credentials that you will have to type in to access the MT4 or WebTrader platform, depending on which one you choose.
Third Step
At this point you will have to make the initial deposit, which you can do at any point, once you feel familiar with how the exchange and the trading platform work. As we've mentioned already, depositing money in your account is very simple, and the exchange does not charge any fees, so whatever you deposit will be available in your account for trading.
The payment methods accepted include VISA, MasterCard and Bitcoin. To make the deposit, all you have to do is click on "Deposit" on the left-side menu. You can then type in your deposit amount, click on deposit and write down your payment details to complete the payment.
Fourth Step
All you have to do now is start trading. From the demo account you can switch to a real account and start trading. On the left side of the trading platform you will see the asset list and on the right side you will have the trading chart of the selected asset.
To view more details about an asset, all you have to do is double-click on the asset you are interested in trading with. At the bottom of the screen you will have the trading history. You can either buy or sell an asset by double-clicking on it and then selecting either buy or sell or by clicking once on it and selecting buy or sell on the trading chart.
Trading Platform
CryptoRocket offers two of the main trading platforms on the market: MetaTrader4 and WebTrader. While the first one has to be downloaded in order to function, the other one can simply be accessed online, so you simply need an Internet connection to be able to trade on CryptoRocket. Both of them are considered the most intuitive and easy-to-use platforms out there. If an exchange offers them as trading platforms, it often means it is legit.
CryptoRocket Prices and Fees
We've found spreads and commissions to be lower than the ones imposed by other brokers. However, spreads vary depending on the asset you want to trade with so we do recommend keeping an eye on it before you decide whether or not you want to trade with it.
In general though, spreads start at 0.01 pip and there are no commissions charged while trading live.
CryptoRocket Security and Regulation
We tried to look for information on the exchange's regulatory status but we were unable to find anything, which probably means that it is an unregulated platform. However, that should not be a cause for concern because regulatory institutions exist to ensure that users are protected. CryptoRocket was found to be making efforts towards the protection of users with risk disclaimers, education resources, good customer services and so on.
CryptoRocket Education
Like other respected Bitcoin exchanges such as Paxful and Coinbase, CryptoRocket offers education resources to protect users and help them make the most out of their trading experience. In the case of CryptoRocket specifically, it offers written guides on how to get Crypto Pairs to Appear on MetaTrader and a general guide on how to use MetaTrader4. Other than that, it offers industry news updates that can affect users' trading decisions.
CryptoRocket Customer service
You will be able to contact a member of staff 24/7 through the support form they provide on the official CryptoRocket website. All you have to do to fill it in is to type I your name, email address and the subject of your message.
After you write your message you can send it and wait for a member of staff to email you back. We tried doing that to see how long it took for them to reply. In our case, it took about one hour for them to reply and we found them to be very professional and responsive.
CryptoRocket Products and Markets
CryptoRocket is considered to be a valid exchange partly due to great variety of assets offered to improve users' trading experience. The platform has 30 crypto pairs such as LTC/USD and BCH/USD, 55 currency pairs such as GBP/USD and USD/JPY, 104 stocks including giants like Apple and Coca Cola and 11 indices for you to choose from.
CryptoRocket vs Other Brokers
There is a great variety of investment brokers out there, particularly those dealing with cryptocurrencies among other things. CryptoRocket and Robinhood are two of them. The question is, how does a broker like CryptoRocket compare with others though?
When it comes to CFD brokers, CryptoRocket certainly is one of the best ones considering that it is modernised and has an up-to-date trading platform with all the features that all kinds of users may need, both beginners or experienced ones.
In general, CryptoRocket offers some of the most convenient fees on the market since the exchange does not charge deposit or transaction fees and there is no commission charged during live trading. Spreads were found to be very competitive as well.
As for cryptocurrencies, CryptoRocket has few rivals. Not only it offers all of the most popular cryptocurrencies on the market but it goes above and beyond that by offering more cryptocurrencies than most other brokers. As mentioned earlier, CryptoRocket offers 30 cryptocurrency pairs, including OMG/BIT, SAN/BIT, ZEC/BTC and so on.
CryptoRocket in UK/Australia
CryptoRocket can be used to trade in both of the countries mentioned above. In fact, the broker has a strong presence in the UK and Australia, with a growing number of users signing up on it every day. If you are not from these countries, the best thing you can do is to try and sign up on it from wherever you are. If the system will allow you to sign up, it means you are able to use the platform from your location. Unfortunately, the exchange is not available in every single country of the world. We can say for sure that the broker is currently unavailable to traders in the US.
Conclusion
In conclusion, based on our test of the broker, we are confident in saying that CryptoRocket is among the most reputable Cryptocurrency exchanges out there. In fact, it offers competitive fees, a well-reputed trading platform, professional customer support, a great asset variety and so on. You may also be able to save on it compared to other platforms because the exchange does not charge deposit and transaction fees or commissions while live trading.
Our Recommended Crypto Exchange
25 USDT No Deposit Bonus
Easy Account Creation Process
Lowest Exchange Fee
Offers Demo Trading Account
FAQs
Does CryptoRocket have offer a wallet?
Unfortunately, CryptoRocket does not offer a crypto wallet. If you are interested in a broker with this function, we recommend going for Coinbase. Aside from this though, we've found CryptoRocket to be an excellent broker with great trading features, so unless the wallet is a priority for you, we recommend to consider going for CryptoRocket. We are confident you will be satisfied with the services it offers.
Should I choose a regulated exchange instead?
The short answer is no. The long answer is that it depends. The truth is that trading on an unregulated broker exposes you to greater risks because there are no regulatory agencies monitoring the exchange's activities. However, there are secondary ways to find out whether a broker is legit or not and whether it is safe to trade on it. In the case of CryptoRocket, we've found it to be making significant efforts in the direction of protecting users even though it is an unregulated broker. That is why we consider it safe to trade on it.
What is the difference between a bitcoin exchange and a bitcoin robot?
As you probably know by now, CryptoRocket is an exchange and not a bitcoin robot. The difference between the two is quite simple. The first one basically gives users a platform where they can place trades independently; it is simply today's version of the physical broker you used to call to trade stocks. Bitcoin robots are also known as auto trading robots. They specialise in cryptocurrency trading and place trades in complete automation. They are considered a great option for inexperienced traders who are yet to develop a trading strategy.
Do I need to verify my identity to use CryptoRocket?
No. There is no need to verify your identity. The only thing we do recommend doing is to use your real email address because you will get a confirmation email when you sign up on the broker. Other than that, the sign up process takes less than one minute because the only details you are required to type in are your email address, full name and password.
What is leverage and does CryptoRocket offer it?
The leverage offered on CryptoRocket goes up to 1:500 but it varies depending on the asset you select. Leverage is the debt a trader takes on towards the broker and uses it to buy an asset. That means that if the leverage goes up to 1:500, for every $1 in your account, you can buy $500 worth of assets. Having access to such a high leverage gives you the opportunity to make large sums of money in little time. Please do keep in mind that the higher the risk, the higher is the potential of fund loss.