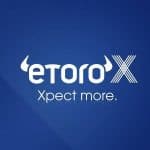 eToroX is one of the latest additions to the cryptocurrency exchange space, claiming to be "a secure and regulated platform that empowers people with blockchain technology." To a great extent, the platform seeks to ride the wave of popularity and success of its parent company eToro.
To this end, it highlights the fact that it brings the "stability of a market leading financial services provider and the security and transparency of a regulated crypto powerhouse."
Our Recommended Crypto Exchange
25 USDT No Deposit Bonus
Easy Account Creation Process
Lowest Exchange Fee
Offers Demo Trading Account
However, the reality appears to be far different from the claims as a closer look at the exchange reveals glaring flaws.
In this eToroX review, we seek to delve deep into the framework and features of this new platform and separate hype from fact. The review will look at all aspects of its functionalities based on the basic benchmarks that a good crypto exchange should adhere to.
We will examine whether it meets the required standards and whether or not it is a good choice for you. Read on to find out everything you need to know about eToroX and assess for yourself if it fits your requirements.
What is eToroX?
Launched in 2019, the eToroX cryptocurrency exchange seeks to act as a bridge between the traditional financial sector and the nascent crypto space. It is the crypto subsidiary of eToro, the largest social trading platform.
Its mother platform, eToro has been in existence for more than 10 years now and in that period, gained a following of 10 million users. As one of the few regulated exchanges globally, it has a reputation for compliance and safety.
eToroX has sought to live up to the big name of its predecessor, but still has a long way to go, as we will see in the course of the review.
How does eToroX Work?
eToroX plays an intermediary role between the buyers and sellers of listed assets. It does not have any interference as an exchange between buyers and sellers. It simply reflects prices that the platform's clients and different market makers create, as they work in tandem with the site.
With multiple market makers, the site strives to have a healthy order book as well as adequate liquidity for the placement and execution of orders.
In order to trade on the platform, you have to be a fully verified account holder on the mother platform, eToro.
You can opt to use the eToroX exchange as a web-based platform or as a mobile app. Unlike other exchanges, eToroX is yet to offer the option of opening a market order. Rather, it provides its own equivalent of this, under the tab "Get Best Price."
When you select this option before trading, the system will give you the best price available for the units you specify. Here is what you need to do:
Select the cryptocurrency you want to trade
Choose "Buy" or "Sell" depending on what you have in mind
Enter the amount
Click "Get Best Price"
In case you need to cancel an order, follow these steps:
Go to the Private Order Book which lists all of your Open Orders
Filter the open orders by currency from the upper right side corner
Click on the currency you want and find the relevant order then click
"Cancel" on the right side of the order line
Confirm the action so as to proceed with the request
The order should disappear from the list of Open Orders as soon as the action is confirmed. It will appear under Cancelled Orders.
Creating an eToroX account
Follow these steps to create an account on eToroX if you already have an eToro account:
1.Click on the sign in link on the eTorox site
Firstly, you must click on the sign in link and create your profile.
2. Select "Connect with eToro
Secondly, the website will ask you to connect with eToro. This is where you will be able to link your eToro account to your eTorox account.

Use your eToro details to login
You will have to use your pre-existing eToro login details in order to access eTorox.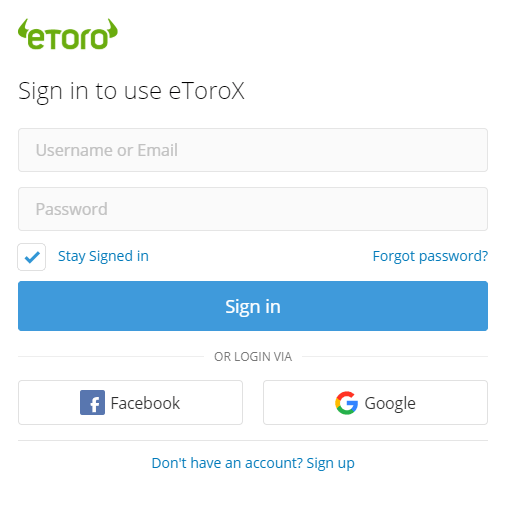 If you don't have an eToro account, here is what you need to do:
Join the eToro platform
Click on one of the links on the site to "join the platform" so as to access the signup page
Create your account
Use your email address and enter a password to create an account

Confirm your account
You will get a confirmation email in your inbox. Click on the link in it to verify your address
Start verification
Verify your account so as to start trading by going to "Settings" and selecting "Start Verification"
The process of joining eTorox is quite long and complicated. We would recommend instead trying a simple, regulated broker like Alvexo with which you can start trading with no hassle, in less than 5 minutes and is regulated by CySEC and FCA. 
What cryptocurrencies does eToroX support?
eToroX offers a very limited range of cryptocurrencies including:
Ripple (XRP)
Ethereum (ETH)
Bitcoin (BTC)
Bitcoin Cash (BCH)
Litecoin (LTC)
In addition to this, the exchange has created a number of stablecoins, pegged to various major world currencies as well as to gold and silver. These are:
CADX
AUDX
USDEX
JPYX
CHFX
EURX
GBPX
NZDX
CNYX
RUBX
SLVRX
GOLDX
Which countries does eToroX support?
The eToroX exchange supports the following countries:
Aland Islands
Algeria
Andorra
Angola
Argentina
Armenia
Austria
Azerbaijan
Bahamas
Bahrain
Bangladesh
Barbados
Belgium
Bermuda
Bhutan
Bolivia
Brazil
Brunei
Bulgaria
Cameroon
Cayman Islands
Chile
Columbia
Macau
Macedonia
Malaysia
Maldives
Malta
Martinique
Mauritius
Mayotte
Mexico
Moldova
Monaco
Mongolia
Montenegro
Morocco
Mozambique
Netherlands
Netherlands Antilles
Nigeria
Costa Rica
Côte d'Ivoire
Croatia
Cyprus
Czech Republic
Denmark
Dominica
Dominican Republic
Ecuador
Egypt
Estonia
Finland
France
Georgia
Germany
Ghana
Gibraltar
Greece
Greenland
Grenada
Guadeloupe
Guatemala
Oman
Pakistan
Palestinian Territory
Panama
Peru
Philippines
Poland
Portugal
Qatar
Reunion Island
Romania
Russia
Saint Lucia
Saint Vincent
Saudi Arabia
Senegal
Singapore
Slovakia
Slovenia
Guernsey
Hong Kong
Hungary
Iceland
India
Indonesia
Iraq
Ireland
Isle of Man
Israel
Italy
Jamaica
Jersey
Jordan
Kazakhstan
Kenya
Kuwait
Kyrgyzstan
Latvia
Lebanon
Liechenstein
Lithuania
Luxembourg
South Korea
Spain
Sweden
Switzerland
Syria
Taiwan
Tanzania
Thailand
Trinidad and Tobago
Tunisia
Ukraine
United Arab Emirates
United Kingdom
Uruguay
Venezuela
Vietnam
Virgin Islands
eToroX Fees
There are various fees to take into consideration when using the exchange, and they are considerably expensive when compared to other cryptocurrency exchange. These include:
Trading platform fees
Withdrawal fees
Let us look at each of these:
Trading Fees
| | | |
| --- | --- | --- |
| Monthly Trade Volume | Maker Fee | Taker Fee |
| Less than $100,000 | 0.10% | 0.24% |
| Less than 500,000 | 0.09% | 0.22% |
| Less than $1,000,000 | 0.08% | 0.20% |
| Less than $500,000,000 | 0.07% | 0.17% |
| Less than $10,000,000 | 0.06% | 0.15% |
| Over $10,000,000 | 0.03% | 0.12% |
Note that all trades use the first tier (less than $100,000) by default. However, at the end of every month, the total trade volume for the month gets added up. Based on this value, you will get a rebate in Ether (ETH) for any excess paid in the course of the month.
Withdrawal Fees
| | | |
| --- | --- | --- |
| Currency | Withdrawal Limit | Fee |
| Bitcoin Cash | 166 | 0.01 |
| Bitcoin | 10 | 0.0006 |
| Ethereum | 278 | 0.017 |
| Litecoin | 555 | 0.033 |
| Ripple | 166,667 | 8.5 |
| AUDX | 50,000 | 3.75 |
| CADX | 50,000 | 3.9 |
| CHFX | 50,000 | 3 |
| EURX | 45,000 | 2.65 |
| GBPX | 40,000 | 2.3 |
| JPYX | 5,500,000 | 3.3 |
| USDX | 50,000 | 3 |
| NZDX | 50,000 | 4.25 |
Deposit Fees
There are no deposit fees when using the exchange.
eToroX platform dashboard
When you first login to your account on eToroX, here is how the dashboard will look like: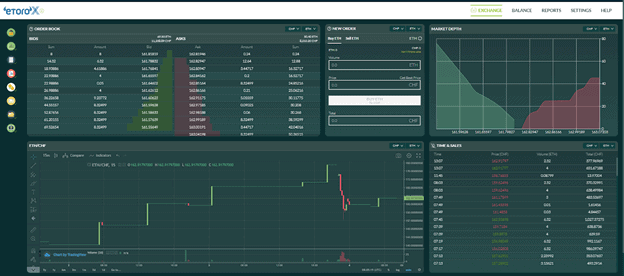 This is the default layout for the trading platform, but it is 100% customizable. As you can see, the prominent items on the dashboard are the order book, market depth, charts and portfolio allocation.
Use the icon on the top left hand side to change either the location or the size of these features.
After customization, your dashboard may look something like this: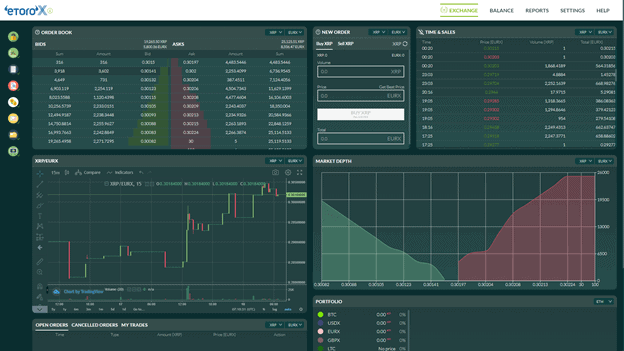 How to sign up and trade on eToroX
Here is how to buy cryptocurrency on eToroX:
Login to your eToroX account
Select the digital asset you wish to buy
When a pop-up menu appears, click "Buy"
Input the amount you wish to buy
To complete the purchase, enter your credit card details on the Simplex interface that appears. Currently, you can only use GBP or EUR for the purchase
Check that the transaction details are correct and then hit "Buy"
Is eToroX regulated?
eToroX is indeed regulated under the Gibraltar Financial Services Commission (GFSC). This has been one of the top hallmarks of the parent company, eToro, which operates 6 regulated entities.
In keeping with the principle, eToroX operates under eToroX Limited, which is a limited liability company incorporated in Gibraltar. It has a distributed ledger technology (DLT) license under the GFSC.
However, an important point to note is that this is a recently established regulatory authority set up in 2018. Its regulatory regime is extremely lax and does not involve any stringent rules. Rather, it uses what it terms as a "flexible, adaptive approach."
With this in mind, it is not possible to attribute the security and credibility associated with regulated entities to this exchange.
???? Is eToroX safe?
Safety is one of the most important features of a reliable crypto exchange, and once again, eToroX falls short in this regard. Its safety features are limited to:
???? Two-Factor Authentication
eToroX users require 2FA to log in to accounts, using a password and authentication code sent using the method of choice.
???? SOC
This refers to the exchange's 24/7 security operation center which detects and identifies events in real-time and sends alerts when necessary.
Some of the safety features that are notably lacking on the platform include:
????  Cold Storage
While eToroX claims to store some funds in cold storage, some are stored in hot wallets. Though this offers convenience in terms of accessibility and ease of use, it is risky as the funds are within reach of online attackers.
????  Private Key Storage
eToroX secures the private keys of its wallet's users, a common security loophole that could lead to loss of funds. What makes this insecure is the fact that if the system's servers are compromised, attackers can get their hands on this sensitive data and use it for malicious purposes.
????  Information
The exchange fails to provide sufficient information on how exactly it provides protection for user funds. Details on how its 24/7 security system works are not available on the site.
All in all, eToroX cannot be said to be a safe platform. It is only lightly regulated under a still-developing framework in Gibraltar. Furthermore, its security features are limited, especially in view of the prevalence of insecurity within the cryptocurrency space.
Does eToroX have a wallet?
Yes. eTorox has a wallet which users can download from the Apple App Store or Google Play Store. The wallet features a unique design, with multiple functions. In addition to offering crypto storage, it supports the exchange of digital assets and purchase of cryptocurrencies using credit card.
It is also possible to use the wallet to transfer funds from eToro's trading platform, send or receive crypto and convert supported coins.
Users receive a personal blockchain address for transactions and the provider safeguards the private keys.
Does eToroX have an app?
Yes. eToroX mobile wallet doubles up as the crypto exchange app. In this app users can trade supported cryptocurrencies and view asset balances.
eToroX customer service
Currently, eToroX offers customer support via email. There is no live chat option on the site. Users prefer live chat support as it offers immediate help in case of urgent queries. It is also easy to use and convenient.
On the other hand, email support is associated with delays and is one of the least preferred support options.
eToroX pros and cons
Pros:
Availability of a mobile app for transacting on the go
The site is a subsidiary of a highly reputed exchang
Cons:
Limited range of crypto assets to trade
Email-based customer support, no live chat
Use of a third-party service provider for payment processing increases transaction fees
No support for USD in credit card fiat purchases
Lightly regulated
Conclusion
Overall, eToroX is still a long way off from becoming the cryptocurrency exchange platform it claims to be. One of its greatest claims to fame is the fact that it is regulated. But as we have seen, the regulatory licensing issued in Gibraltar is based on a lax framework. As such, it does not add much to the security or credibility of the exchange.
Additionally, the exchange barely offers any cryptocurrencies to trade. That makes it highly inadequate for traders who require a variety of coins. Though it is associated with a big name platform, eToro, it does not live up to this name in the slightest.
It might take some time and tons of refinements before the site can become what it envisions. But in the meantime, we would not recommend it as a reliable or secure crypto exchange platform.
Disclaimer: Wallet and Exchange services provided by eToro X Limited ('eToro X'), a limited liability company incorporated in Gibraltar with company number 116348 and with its registered office at 57/63 Line Wall Road, Gibraltar. eToro X is a regulated DLT provider licensed by the Gibraltar Financial Services Commission under the Investments and Financial Fiduciary Services Act with licence number FSC1333B.
Our Recommended Crypto Exchange
25 USDT No Deposit Bonus
Easy Account Creation Process
Lowest Exchange Fee
Offers Demo Trading Account
How do I verify my eToroX account?
Verification on eToroX involves taking a selfie and presenting valid identification such as an ID or passport.
Where do I find my personal address in the eToroX wallet?
To access your address, go to the "Balance" page. On this page, you will find a list of addresses for the different digital assets in your wallet. Choose the appropriate address for the cryptocurrency you want to deposit and copy it.
Which payment service provider does eToroX work with?
eToroX works with Simplex, a third-party provider who facilitates credit card transactions within the eToroX wallet.
What fees does Simplex charge for credit card transactions?
At the moment, Simplex charges a 4% fee for processing credit card transaction on eToroX while eToroX charges 1%. The fee is included in the "To Buy" amount during the transaction. You will see the indicative fee on the first screen whenever you initiate a transaction. On your credit card, the charges will appear under "etorox_simplex.
How can I cancel a transaction?
You can only cancel a transaction that is shown as pending. To do so, you will need to open a ticket on the Simplex site or go to Simplex.com and use the Live Chat feature. Note, however, that you cannot cancel a payment that has already been approved.
What are tokenized assets on eToroX and why does the platform offer them?
Tokenized assets on the eToroX trading platform refer to its variations of stablecoins. The site has created a number of such coins, pegged to various major currencies. Some are also pegged to stable assets such as silver and gold. With these stablecoins, users in different countries can trade against familiar currencies.
Is there a relationship between eToro and eToroX and if so, what is it?
Yes. eToroX is the cryptocurrency subsidiary of eToro, launched to bridge the two worlds of traditional financial markets and crypto. eToro is a robust platform offering a wide variety of trading options including cryptocurrencies. eToroX however, has been designed to focus solely on cryptocurrencies.