The Bitcoin market is expanding, and many have opined that it's now ready for an ETF (Exchange Traded Fund) platform. However, the proposals tabled before the SEC have faced a few hurdles, and the SEC has made it clear that it's won't approve an application that doesn't meet all its demands.
For a Bitcoin ETF to see the light of day, a few requirements must be met. Below is a break-down of these requirements and how they impact the applications.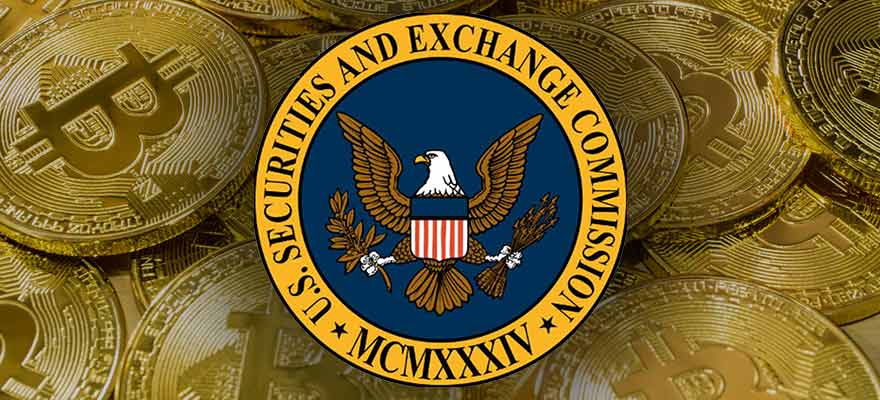 Security
Security is one of the most potent points of concern within the crypto industry. Besides the many reported cases of scams, the crypto space has been plagued by doubts about the security of the investments held by digital asset holders. There have been cases where some exchanges don't compensate their customers for the money lost in the event of hacking and loss.
For an ETF to be approved to enter the Bitcoin trading business, the SEC needs to be sure that both public and investor interests are protected in the best way possible. As such, the regulatory body requires any ETF applicant to explicitly state their plans to compensate customers in the event of such losses.
Investor Confidence
For any industry to really grow, the people committing their money in it must be satisfied with its authenticity and ability to bring them desired profits. For years, the crypto space has experienced spates of uncertainties whereby some supposedly good investment opportunities have turned into loss-making ventures. Examples can be drawn from what happened to exchanges like Mt.GOX that went under, leaving investors to shoulder the losses.
One way of bolstering investor confidence is presenting credible data in regard to the volumes handled by trading platforms. Of late, there have been claims that some crypto exchanges are bloating their volumes to look good. There's a level of fear that such malpractice may spread into the futures trading business if a Bitcoin ETF is approved before appropriate policies and preventative measures are put in place. Indeed, such mishaps would result into capital flight and negatively affect the funds inflow into the growing Bitcoin market.
Mainstream Support
When Bitcoin came into being back in 2009, there wasn't much publicity about it. However, over the years, the crypto has improved both in value and popularity. People can now buy Bitcoin on crypto exchanges or even over the counter. Bitcoin adoption has also increased greatly. People can now shop and even pay for coffee and school tuition fees using Bitcoin. There are now over 4,000 Bitcoin ATMs across the world.
While Bitcoin adoption increases, developers are coming up with more use cases, which in turn improve Bitcoin's liquidity and further expand its market base. The growing Bitcoin popularity as well as its strengthening market standing has attracted institutional investors and given rise to platforms like Bakkt. There's now more money flowing into the Bitcoin market than there was barely a year ago. All these factors have played a huge part in partly convincing the SEC that the Bitcoin market is ripe for an ETF approval.

However, the SEC has postponed its latest scheduled ruling to allow more public participation on the matter.  SEC is currently preparing to review two pending Bitcoin ETF applications – one by Bitwise, and another by Van Eck. At the moment, SEC has already received about 25 submissions from public participants. These submissions, depending on the arguments presented and the data or evidence provided, will likely influence the final decision.
Market Maturity
A market is said to be mature when it finally develops to a level where it doesn't get easily swayed about by isolated events. With that in mind, the Bitcoin market can be described as a developing market working towards maturity, although it can be agreed that the ultimate desired results are yet to manifest as the market is still vulnerable to manipulation. Such manipulation may occur in form of insider trading, wash trading, or spoofing. In fact, it's on these grounds that the SEC rejected ETF applications tabled by Granite Shares, ProShares, Gemini, and Direxion.
Below is a snippet of a tweet sent out by Eric Conner as a reaction to a recent market flash-crash. Eric is a product researcher at a blockchain startup company, Gnosis.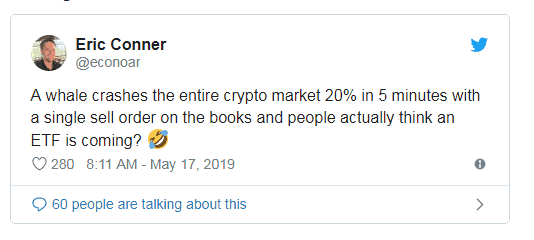 However, the market's resilience in the wake of the recent news of Bitfinex and tether scandals has demonstrated the crypto's strength and ability to withstand shocks. Still, that didn't stop Bitcoin from experiencing a flash-crash when a BTC whale dumped 5,000 BTC a few weeks ago. We can expect a Bitcoin ETF to get approved when market players including exchanges, futures trading platforms like Bakkt, and other major stakeholders institute crypto-related reforms to weed out market manipulators.
Regulation
Regulation has long been a thorny issue when it comes to cryptocurrencies, and most especially Bitcoin because of its popularity and inherently decentralized nature. Just the other day, a US Congressman was quoted saying cryptos should be banned because their decentralized systems drain America's ability to project power internationally. However, it's pretty clear to everyone that cryptos are the next big thing and can't be stopped.
That's why the Bitcoin market, being the largest, needs serious regulation to prevent its use by criminal elements. As such, the SEC requires any ETF applicant to explain their policies in regard to dealing with illegal use of their platforms. These policies include AML (Anti-Money Laundering) and KYC (Know Your Customer) procedures to be followed.
Below is a representation of the effects of speculations about a possible ETF approval block reward halving on the market between 2016 and 2017.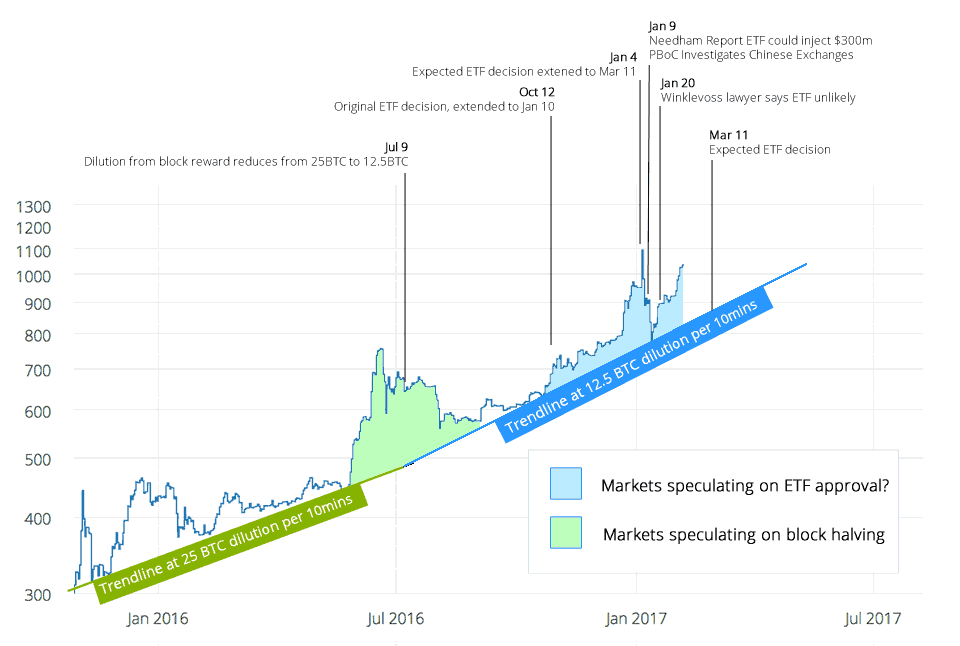 Final Word
Time and time again, the SEC has stated that it has nothing against ETFs as long as they're implemented in an acceptable manner that safeguards the interests of the people dealing with them as well as public interest. If all the above-mentioned requirements are meant, then a Bitcoin ETF will be approved. Judging from the current atmosphere and the SEC's caution in making rulings, it's pretty certain that one of the applications being presented will soon meet all the requirements. In fact, it's already evident that some of the SEC members, including its Chairman, are warming up to cryptos.