Cryptocurrencies like Bitcoin (BTC) and NEM (XEM) enable you to send code with a respective 'value', to people around the world and have that same transaction confirm and settle within minutes, many times even seconds. Cryptocurrencies like NEM fluctuate in price relative to the market supply and demand, which in NEM's case, will only ever be a finite supply. Buying cryptocurrencies can be very complex and confusing, especially for beginners, so this guide will walk through the process of buying NEM in a simplified step-by-step manner.
NEM is not just a cryptocurrency; it's a framework and an enterprise-focused technology that wants to streamline the switch to entirely digital finance. While it's complex technology, you don't need to know its technical makeup to extract its usefulness and efficiency. We'll walk you through what NEM is, how to buy NEM, where to buy NEM, and more.
Quick Search Box
How to Buy NEM (Fast Step Guide)
Register an account on Binance or a different reputable exchange that lists NEM [XEM]
Verify your email and add an additional layer of security for your account (Either a phone number 2FA, or an alternative email – this is recommended as exchanges have been hacked before)
Either deposit funds to the exchange via base cryptocurrency (Such as Bitcoin) or purchase Bitcoin directly on the exchange (If supported, as is on Binance)
Navigate to the markets or 'Exchange' section of your broker. In the market search bar, select the BTC markets (Or Ethereum if you deposited Ethereum) and type in "XEM".
Select 'Market Order' underneath 'Buy XEM' (XEM is NEM's exchange ticker) and specify, relative to the number of funds you've deposited, and press 'Buy'. Upon execution, your account balance will be updated to reflect your purchased NEM.
66% of retail investor accounts lose money when trading CFDs with this provider. You should consider whether you can afford to take the high risk of losing your money.
Compare
You can find out more and compare the brokers and exchanges that offer to buy or sell cryptocurrencies like NEM in our list below, or you can skip through directly to our step-by-step guides and tutorials
Compare Exchanges to Buy NEM (XEM)
[wpsm_comparison_table id="7″ class=""]
What is NEM (XEM)?

NEM, represented on the cryptocurrency markets by the ticker symbol of "XEM", is a cryptocurrency and blockchain framework aiming to serve as a global infrastructure for a new 'digital economy' of blockchain network participants. NEM is actually an acronym for 'New Economy Movement', which serves as the cryptocurrencies' main purpose; to enable a faster, easier, and more efficient economy.
NEM is its own respective blockchain, just like Bitcoin. A blockchain is similar to a sequence of information that cannot be edited or changed because if it is, all of the previous information changes along with it (So everyone would know the edited information is fake), however, don't spend too much time dwelling on this, as blockchain infrastructure knowledge is not required to extract NEM's efficiency. In fact, buying NEM and using it requires little to no blockchain knowledge at all.
NEM is also very similar to Bitcoin in that it was not forked off of any previous cryptocurrency or blockchain. Many cryptocurrencies that you hear about today are 'forked' from a previous software; there's nothing wrong with this, it just means that it utilizes a previous software as its main development basis (This sounds complex – all you need to take away from this portion is that NEM was coded from absolute scratch, and most major cryptocurrencies other than Bitcoin are not). NEM is one of the few top 100 market capped cryptocurrencies with a uniquely coded blockchain.
Whenever you buy and send NEM to another person, it is broadcast to a global blockchain. While in a traditional banking setting, users rely on central intermediaries like the bank or a financial processor, NEM transactions do not rely on any central intermediary. All transactions are vetted and processed by participants in the NEM network (Otherwise referred to as 'nodes'). This enables NEM to be sent, received, and confirmed in a matter of just minutes (Sometimes even seconds) to anyone in the world.
[/su_note]
Best Exchanges to Buy NEM (XEM)
eToro
(Step by Step) How to buy NEM on eToro?
eToro is a regulated, overseen and licensed exchange that offers a variety of different products, including cryptocurrency purchases, CFD trading, equities and indices purchases, and much more. The exchange is registered and regulated with the FCA and the CySEC (Cyprus Securities and Exchange Commission) which enables a high-level of security and safety for your funds. While eToro is an excellent option for prospective traders looking to dabble in cryptocurrencies as well as potentially trade CFDs, NEM is currently not supported on the exchange.
The possibility for an NEM listing is definitely possible. Since the start of 2019, eToro has been actively pursuing the listing of new cryptocurrencies they feel can garner large volume. Tron was most recently added, and NEM is definitely a prospective option for their listing. Keep in mind though, at the moment eToro doesn't offer NEM trading, so be wary of any scams associated with that.
---
eToro is a multi-asset platform which offers both investing in stocks and cryptoassets, as well as trading CFDs.
Please note that CFDs are complex instruments and come with a high risk of losing money rapidly due to leverage. 66% of retail investor accounts lose money when trading CFDs with this provider. You should consider whether you understand how CFDs work, and whether you can afford to take the high risk of losing your money.
Past performance is not an indication of future results.
Cryptoassets are volatile instruments which can fluctuate widely in a very short timeframe and therefore are not appropriate for all investors. Other than via CFDs, trading cryptoassets is unregulated and therefore is not supervised by any EU regulatory framework.
Binance
Buying NEM through Binance is arguably the best current option as far as exchanges and brokerages go. The Malta-based exchange audits and verifies listings prior to addition to their markets. Additionally, Binance has maintained one of the most transparent environments when it comes to crypto-exclusive exchanges. The team has also been the subject of various hacks and attacks which they have countered and protected against. Since then, they've emerged as one of the most reputable and secure exchanges, as when placed under the same circumstances, other exchanges have lost millions in users funds.
Buying NEM on Binance can be done fairly quickly; to start, make sure you have a valid funding method or pre-purchased Bitcoin, a working and accessible email, and a reliable internet connection.

Pros:
Vetted and audited cryptocurrencies only are listed. Maintains a level of integrity other exchanges lack.
Registration is extremely fast, and you do not need additional documentation or a verified account to purchase NEM.
Relatively low fees for trading, withdrawal fees are miniscule.
Integrated charting tools, advanced exchange view opportunity, ability to use technical analysis directly on the platform with no third party.
Cons:
No current margin is enabled
If you're looking to verify your account for extend your limits, the process can take some time.
Register
The first step for buying NEM on Binance is to register an account. For this, all you'll need is a valid email, a secure password (Keep this in a safe place and don't share it with anyone). Head to Binance's homepage, and on the top-right section of the page, you'll see on the navigation bar the "Log In/Register" button. Click on this and press 'Register'. You'll be given the following screen: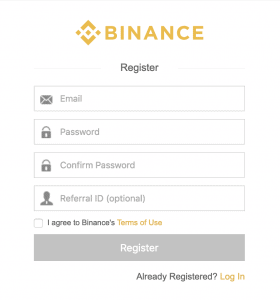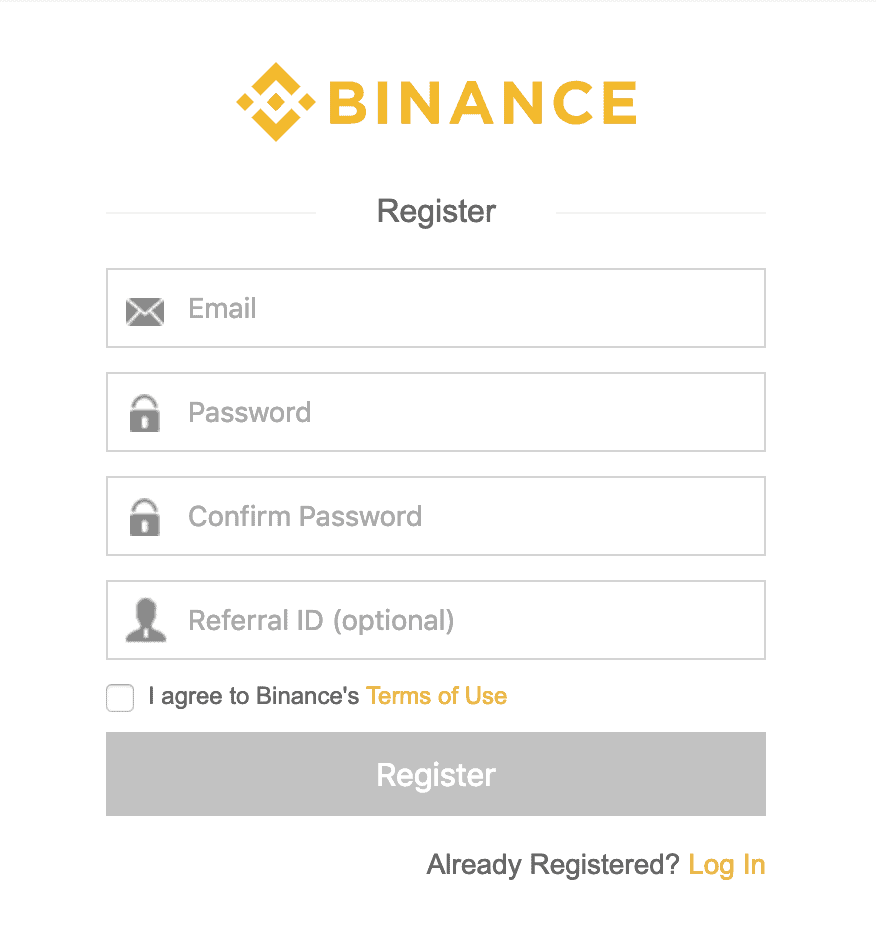 Enter in a valid email address that you have access to, and provide a password. Click 'Register', complete, the captcha, and you'll be sent a verification email. Head to your email and click the link that the Binance team has sent you. This will verify your account and you'll then be able to use all of the functionalities on the platform.
Secure Your Account
The next step after you've set up your account and verified your email address is to add an additional level of security. This is not explicitly required for your account, however, we highly recommend it, as not having it can be catastrophic in the event of either identity theft or exchange hack. Keep in mind, that Binance is an exchange for your funds, so in a way you can think of it enacting as a platform for you to be your own bank. You want to ensure that this bank is as secure as possible and that in the event of a hack that your level of safety is as high as possible.
Google Authenticator is a third party application that Binance encourages for your additional layer of security; in order to add this layer, go to the app store of your phone (It's supported on both iPhone and Android) and search for "Authenticator". It'll be a symbol of a vault-shaped in the form of a "G". Download it, and set it up; once set up, on the app click on the "+" sign in the top right corner. It will ask you to scan a propsective QR code. Leave this open on your phone and login to Binance.
Now, while on Binance, head to the "Account" page. On this page, you should see the option for 'Security/Settings'. Click on this and click 'Enable Google Authentication'. The following screens will appear that will ask you to scan the QR code:
Credit: Binance Support
Now, on the Authenticator app, use the camera that opens up after we press the "+" sign as done before, and scan the QR code that is shown on your Binance account (The above image QR code will be different from your uniquely generated QR code). Press continue, write your backup keys down in a safe spot, and then you'll have successfully enabled 2FA on your account.
Deposit Funds
After you've created an account, and hopefully enabled a second layer of authentication, the next step for purchasing NEM is to fund your account. There are two ways to do this: Either deposit pre-purchased Bitcoin or Ethereum to your Binance account, or buy Bitcoin with a debit card or Ethereum with a credit card on Binance and then exchange it for NEM. The end goal in both methods is the same; you want to fund your Binance account with either Bitcoin or Ethereum which are both paired currencies to NEM that we'll use to exchange for NEM.
Assuming you don't have Bitcoin or Ethereum yet, you'll need to purchase it on Binance using a credit card. To do this, you'll need to login to your Binance account and on the top-right where it used to say 'Log In/Register', will be a new set of Tabs; hover over the 'Funds' tab as is circled in red below.


From the drop-down menu click on the 'Buy with Credit Card' option. A new page will then emerge, and this is where you'll enter in your credit card information (Always check the URL and that there is a secure 'Lock' icon, as this validates you're not on any other phishing or scam site). From the drop-down menu of assets to purchase select either 'BTC' or 'ETH' as these are the two assets that are available to be used to purchase NEM. Enter in the number of funds you want to spend worth of NEM (We recommend about $250, however, you can enter in your own respective amount.
Binance additionally has an official support page and intuitive tutorial for buying cryptocurrencies using a credit card which can be found here.
Adversely, if you already have pre-purchased Bitcoin or Etheruem (Or any Binance-listed cryptocurrency for that matter) you can exchange it for NEM. Namely, whichever cryptocurrency you deposit, you want to exchange it for Bitcoin or Ethereum (As these are the primary base currencies that are paired for purchasing NEM). To deposit a particular type of cryptocurrency navigate to the same tab as instructed before, the 'Funds' option and from the drop-down select 'Deposit'. It will then ask you which cryptocurrency you want to deposit, and a unique wallet address will be generated. Send the cryptocurrency you've purchased from any other provider to this newly generated address.
Note: (You CANNOT send one type of cryptocurrency to a different cryptocurrencies' address. For example, if you tell Binance you're depositing Bitcoin, you can ONLY send Bitcoin to this address, if you send Ethereum, it will be lost forever and you can't get it back).
Once the funds have been sent and are processed as well as confirmed, you should see that your account balance is now reflective of however much you deposited. Next, the final step is to use the exchange to finally buy NEM.
Purchase/Place An Order for NEM
The final step here is to place a buy order for NEM on the Binance markets, which will in turn yield us NEM. Start off by navigating to the homepage of Binance. Then, navigate to the top-left of the page and you should see the tab "Exchange", hover over this and select the "Basic" option (Clicking the 'Advanced' option will grant you access to more in-depth charting and analysis tools, but for simply purchasing NEM, we don't need this). Once here, you'll see on the right-hand side the magnifying glass where you can input text. Above this, click the "BTC" tab (or "ETH" if you deposited Ethereum). Then, in the text field, type in NEM's ticker symbol which is "XEM".
Doing this will look like this: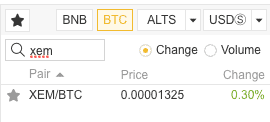 Click on this, and to your left the chart that's representative of NEM's price movement will now appear in the form of a visual. Underneath this visual, you should see two tabs, 'Buy XEM' and 'Sell XEM' . Underneath the 'Buy XEM' input, you'll see the 'Limit' and 'Market' options; click on 'Market' (This market type will just execute at the next best possible price, and is arguably simpler than a market order).
Then, utilize Binance's percentage converter (Which converts your balance in cryptocurrency to how much of the intended asset you can purchase) to indicate how much of your deposit you'd like to purchase worth of NEM. Additionally, you can simply do the conversions yourself, however, for beginners the percentage tool is very convenient.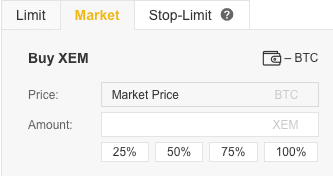 As is shown in the image above, all you'll need to do is specify how much worth of NEM you want to purchase and then press the 'Buy XEM' button. Upon execution, you'll have then successfully purchased NEM on Binance and can withdraw it, send it to someone else, use it for development, or simply holding it for long-term growth.
Coinbase
Coinbase is a San Francisco cryptocurrency exchange that emerged to the mainstream for cryptocurrency purchases because of its high emphasis on regulatory abidance within the United States, something a plethora of other exchanges have avoided. Unfortunately at the moment Coinbase does not list NEM [XEM] as a valid asset for trading. Coinbase has taken a large initiative in adding and listing new assets to their exchange, so an NEM listing is definitely possible.
It's important to keep an eye out for official Coinbase listings, as many times there will be schemes or scams that claim they are 'Official team members' of Coinbase, and that if you give them your funds they can work out a 'special price' or something similar; these are traditionally always fake and should be avoided.
Plus500
Plus500 is a CFD provider that offers the buying and selling of various financial products, most notably CFDs (Contracts for Difference) which are representations of assets instantiated through contracts. At the moment, while Plus500 does offer the trading of a plethora of different cryptocurrency CFDs including Bitcoin, Ethereum, and Tron, the exchange does not currently offer NEM trading.
This doesn't mean that NEM trading will never be a possibility on Plus500, as a matter of fact, the exchange is constantly updating its list of supported assets and financial products, so its definitely possible. Also, considering the fact that NEM has revolutionized a lot of development industries and has also maintained a very high usability rate, seeing Plus500 list NEM CFDs would not be a surprise.
Buying NEM in Your Country
UKUS & CanadaAustralia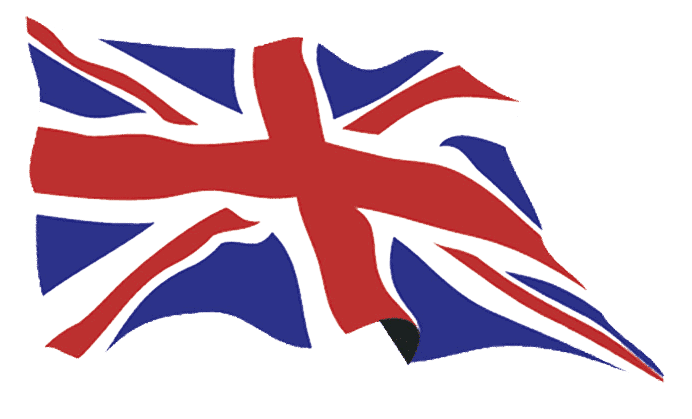 The easiest way to purchase NEM as a resident in the UK is by using Binance. Although at the moment UK residents cannot directly purchase NEM straight with a credit card, they can in fact purchase Bitcoin or Ethereum with a credit card and then use that Bitcoin or Ethereum to exchange for NEM.
There are currently no jurisdictional rules or laws (At this moment) that explicitly states that NEM is not able to be purchased. It's at this moment, legal, however, you should always be up to date on changing environments as cryptocurrency and blockchain regulation is changing each and every day. You can also purchase NEM as a UK resident on HitBTC.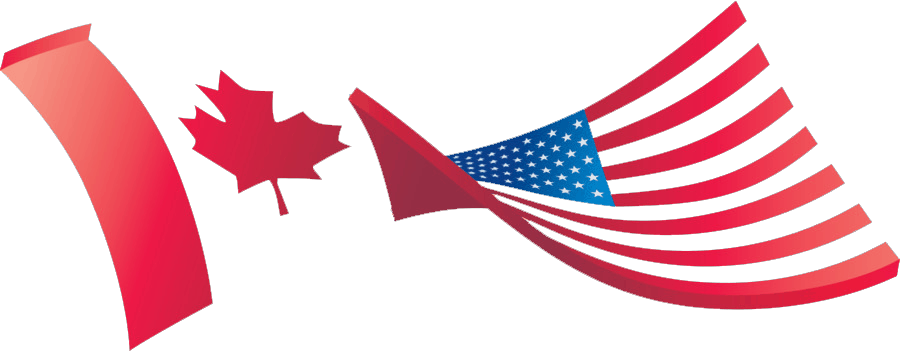 Those who are wondering how to buy NEM in US & Canada can easily do so on Binance. Binance is a Malta-based cryptocurrency exclusive exchange that has been pushing the boundaries as far as assets listed, funding methods available, and types of products offered. US and Canadian residents are not restricted from purchasing NEM, and it's not explicitly restricted in either of the areas. Keep in mind, however, landscapes in these regions are constantly changing as far as regulation and legislation, so it's important to stay up to date with these changes.
Additionally, US and Canadian residents can utilize HitBTC as an alternative exchange to buy NEM as the exchange is not prohibited in either jurisdiction.
The most common option to NEM in Australia is through Binance, where you can deposit funds via direct cryptocurrency or purchase a base cryptocurrency using a credit card on the site and then using that base cryptocurrency to swap for NEM. Australia has demonstrated evolving laws when it comes to cryptocurrency and blockchain, so it's best to be up to date on changing landscapes just in case cryptocurrencies such as NEM are restricted or require a unique verification.
Additionally, Australian residents can utilize HitBTC to purchase NEM. HitBTC only allows for cryptocurrency deposits at the moment, so you'll need to purchase your Bitcoin or Ethereum (The two paired assets to NEM on HitBTC) from a third party exchange and transfer it.

Differences Between Buying and Trading NEM
Buying
Buying NEM means you own the actual NEM asset and are you, yourself, participating in the NEM network. You can move it, save it, store it, or anything else.
Purchases are typically, but not always, associated with longer-term holds such as months, or multiple years since buying the underlying asset does not accrue fees as opposed to trading methods.
NEM can only be used for transaction or payment purposes when it is actually bought and the underlying asset is held in its entirety. You can only send NEM to another person if you physically buy the virtual asset, not trade it.
NEM's "Smart Application" system that is available for blockchain developers can only be utilized and participated in when buying NEM.
Trading
When trading NEM, you are typically using some sort of financial product such as CFDs which many times imply margin and fees on your trades.
NEM when being traded is traditionally done within small time frames with a pure intention to speculate on price or profit off price movement.
NEM cannot be used for development when trading and it cannot be sent to other users if traded (Using a financial product like a CFD). You do not own the underlying asset in most trading cases.
Higher risk is traditionally associated with trading cryptocurrencies such as NEM because there is more possibility for a loss due to price adversity because of consistent opening and closing of positions as opposed to one singular position that is held.
How to trade NEM with a trading robot?
NEM can in fact be traded using cryptocurrency robots, however, it's important that you do proper research and due diligence on any of the trading robots you're utilizing mainly because there are a plethora of scams and pyramid schemes when it comes to cryptocurrency robots.
Trading robots are simply programs that record your own unique exchange data (Or API keys – which are secret keys that represent your account ownership) and trade for you automatically based on certain factors. For example, if you have a trading robot that buys and sells NEM once per day at the same time without you doing anything, you're technically running a trading robot.
Current day cryptocurrency trading robots maintain very similar features, particularly one that enables the selection of certain assets and 'trade pairs'. In this case, you select which trading pairs you want your program to trade automatically. To trade NEM with this type of trading robot, you would hover to this section of any cryptocurrency robot and select any of the liquid NEM trading pairs: This includes "XEM/BTC" "XEM/ETH" "XEM/USDT" or any other available pair.
Trading robots are a very high risk method for trading; please proceed with caution.
Alternative Methods to Buy NEM
Credit/Debit CardPayPalBitcoin
The fastest, and arguably most efficient method to buy NEM using a credit card or debit card is through the Binance exchange. On Binance, you can link a credit card and purchase one of the base cryptocurrencies that NEM is paired to on the Binance markets (Keep in mind, at this time, there is no one-stop-shop for purchasing NEM directly using a credit card without being subject to extremely high premiums).
To get started with buying NEM using a credit card, head to over to Binance's exchange platform. Register for an account (As instructed in the 'Binance' section located above in this guide) and hover over 'Funds' then select 'Buy with Credit Card'. From here, enter in your card credentials, select either Bitcoin or Ethereum and enter the quantity of the asset you want to purchase. After the processing is done, you'll then be able to use the newly purchased base cryptocurrency to swap it for NEM on the markets on Binance. Simply go to the 'Exchange' tab, select 'Basic', find the NEM pair of your choice, and input your desired purchase. Upon execution, you'll have successfully bought NEM using a credit card.
Buying NEM using PayPal can most easily and safely be done by first purchasing Bitcoin through a verified PayPal integration exchange. You can follow our in-depth guide on buying Bitcoin using PayPal here which details the best exchanges to purchase Bitcoin using PayPal on, how to get the most cost-efficient option, and also how to send your newly acquired Bitcoin to a different provider.
The basis here is that in order to purchase NEM using PayPal, you'll first have to purchase Bitcoin using PayPal; then you can send that Bitcoin to an exchange such as Binance that offers XEM/BTC purchases. Then, finally, you'll use the newly deposited Bitcoin to buy NEM.
Buying NEM using Bitcoin is the easiest alternative method to buy NEM, only because it assumes you don't have to buy Bitcoin and that you already own some. In this case, you'll simply need to find an exchange, such as Binance, that offers an XEM/BTC trading pair. In this case, you'll register on one of these exchanges, go to the 'Deposit' section and then generate a new Bitcoin deposit address tailored for the exchange. Then, from wherever you're holding your external Bitcoin, send it from that exchange or wallet to this newly generated wallet.
As shown below, generating a new address on Binance will give you the exact address to send your Bitcoin to. After the transaction confirmations are completed, you can then use the newly deposited Bitcoin to buy NEM through the Binance XEM/BTC pair.
How to sell NEM?
In any case of having ownership of NEM, selling the cryptocurrency is even easier than buying it. All you'll need to do in the case of selling NEM is actual NEM or a respective NEM position. In almost all cases, the sale process for NEM is traditionally straight forward. There are 2 main instances for selling NEM:
You own the underlying NEM asset
In this case, you can sell NEM after depositing it to your newly generated exchange wallet. On Binance the process work as such: Head over to the 'Funds' tab and select 'Deposits' from the drop down. Then, type in NEM or XEM (Both will work), which will subsequently generate a new unique address for you. This address is where you're going to send the NEM you own to. If you already have your NEM on Binance, then you can skip this step. Once the NEM is deposited, head over the NEM markets as we instructed before and underneath the XEM price chart, you'll see the 'Sell XEM' option. In the image below, we've opted to sell our XEM for Bitcoin, since Bitcoin is universal and we can convert it to fiat easily if we want to.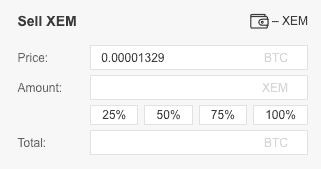 Ensure you've selected 'Market Order' as this is the easiest and fastest option, enter in the quantity of XEM you want to sell, then press 'Sell XEM'. Upon execution you'll have successfully sold NEM.
NEM is a global and innovative cryptocurrency looking to revolutionize the way that the digital economy functions. NEM is currently one of the top 100 cryptocurrencies and maintains a valuable presence because of its underlying blockchain which was uniquely coded to suit as a platform for developers as well as prospective merchants and users of cryptocurrency in general.
NEM is a cryptocurrency, and at first, purchasing cryptocurrencies like NEM might seem like a task only adept computer users are able to do, however, as demonstrated in this guide, it's fairly simple and can be a process that you can follow step by step to achieve your end goal.
If you like to receive articles like this into your inbox along with NEM news, be sure to subscribe to our newsletter.
FAQ
What's the difference between NEM and Bitcoin?
NEM and Bitcoin are both cryptocurrencies, they both run on their own unique underlying blockchains, however, they are very different from one another. Namely, NEM can theoretically process more transactions per second than Bitcoin; NEM also has a higher finite supply than Bitcoin, which means the price of NEM will seem miniscule to Bitcoin even if the same amount of demand is pursued. NEM and Bitcoin both run on different blockchains. They were both uniquely coded from scratch. In terms of speed, NEM is faster, however, in terms of decentralization (The concept of not relying on any central intermediary to maintain a financial system), Bitcoin is more decentralized.
Are NEM and XEM the Same Thing?
Yes, XEM and NEM are the same thing; the main difference to note here is that XEM is the ticker symbol for NEM. What this means is that on the cryptocurrency markets, or on your preferred broker/exchange you will never see NEM/BTC listed, you will always see XEM/(Any asset that it is paired to). Similarly to how Bitcoin's ticker symbol is BTC, NEM's ticker symbol is XEM. XEM and NEM are the same thing, just names used in 2 different instances.
What is the best place to buy NEM?
Binance is currently one of the best places to purchase NEM. The exchange offers a high level of security that has been vetted and tested through a majority of different instances. The exchange offers various deposit and withdrawal methods, and also integrates credit card purchases for base cryptocurrencies such as Bitcoin or Ethereum which can then be swapped for NEM inclusively on the exchange. Binance does not require extended verification or documentation in order to purchase initial NEM as well, which is a great benefactor. Additionally, third-party exchanges such as HitBTC offer the purchase and sale of NEM, however, exchanges such as these are crypto inclusive, meaning you have to deposit cryptocurrency to their site, you can't initiate a bank account transfer or equivalent.
Is NEM Legal to Use?
This question depends on your jurisdiction. Currently in the US, UK, AU, and Canada, NEM is legal to purchase and use. It's best to check with your countries' overall cryptocurrency regulation rules and see their input. Some countries may be more lenient than others, while some countries have banned cryptocurrencies entirely - in this case, NEM would not be legal to use.
Can I get rich with NEM?
NEM has shown immense price gains in previous years. In the course of just a month (December 2017-January 2018), the price of NEM nearly quadrupled. NEM has previously made many people rich, so in theory, yes you can get rich with NEM. Keep in mind, NEM is an asset and it is volatile, so there is no guarantee at all of certain price increases, if any price increase at all.