Over the last year, Decentraland coin has gained a return of over 4200% and the token of the most well-known blockchain-based virtual reality platform in the world has become one of the biggest trends of the year in the cryptocurrency market.
In this guide, we are going to show you how to buy Decentraland coin, analyze its price, features, and suggest the best digital wallets to store your MANA coins.
How to Buy Decentraland Coin – Quick Guide
If you want to instantly buy Decentraland crypto without reading our comprehensive guide, simply follow the 4-steps below:
Open an account with eToro – First, head over to eToro's website and sign up for an online trading account.
Upload ID – To verify your ID, you need to upload a picture of your passport or any national ID and a document that verifies your proof of address.
Deposit –Make a deposit of at least £140 to get started. You can do that with a credit/debit card, bank transfer, PayPal, Neteller, or Skrill.
Buy Decentraland Coin – Search for Decentraland (MANA) coin, insert the amount you want to buy and then click on the 'Open Trade' button.
How to Buy Decentraland Coin – eToro Tutorial
In this section of our guide, we are going to show you a short tutorial on how to buy Decentraland crypto using eToro's platform.
Step 1: Open an Account
To get started, the first thing you need to do is to open an account with eToro. Fortunately, the process is fairly simple and does not require complex registration procedures. You simply need to visit eToro's website, click on the 'Join Now' button and enter your personal details.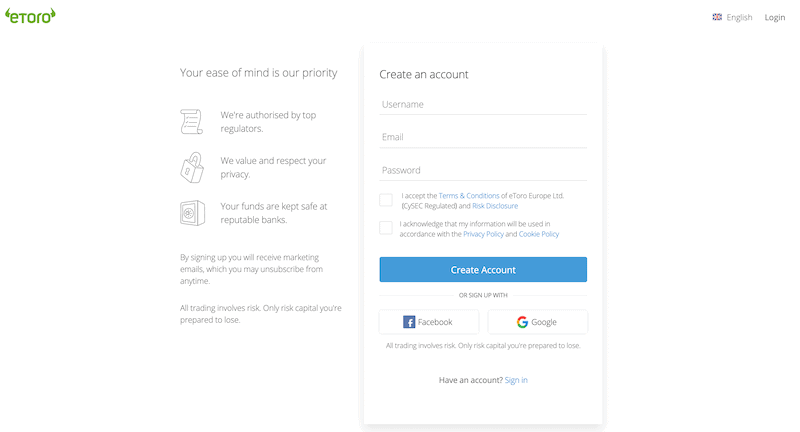 Step 2: Complete the Account Verification Process
After you have completed the registration process and approved your email address, you then need to verify your identity. This is because eToro is FCA-regulated and must comply with all KYC procedures of the British regulator.
As such, to verify your new eToro account, you are required to upload proof of identity and proof of address.
Step 3: Add Funds
Now, you are allowed to add funds to your account. However, take note that eToro offers an unlimited demo account, which means you can always switch between the real and demo modes. If you are a beginner, we suggest you spend some time on the eToro demo account before you start trading with real money.
Nonetheless, whenever you are ready to make a deposit, click on the 'Deposit' button on eToro's trading dashboard, and choose one of the supported payment methods – credit/debit card, PayPal, bank wire transfer, Neteller, and Skrill. Then, you can make a deposit of at least $200, which is around £140.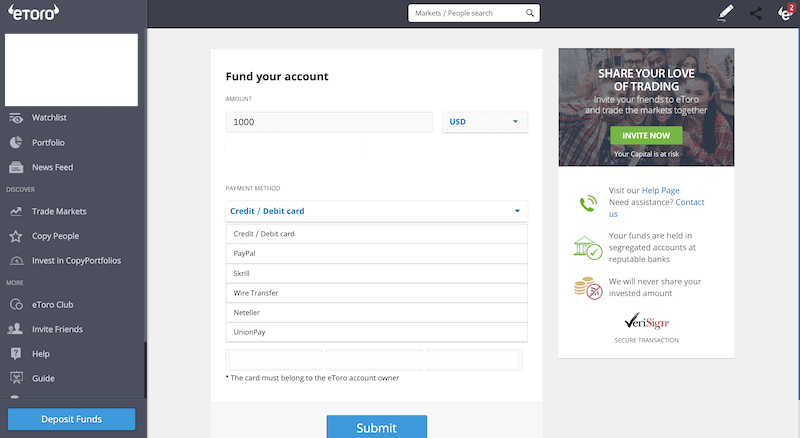 Step 4: Buy Decentraland Coin
To buy a Decentraland crypto on eToro's platform, enter Decentraland or MANA at the search bar and then click on the first result the appears in the drop-down menu. On the Decentraland instrument page, navigate to the 'Buy' button and then insert the amount you want to invest, and click on the 'Open Trade' button to complete your MAMA purchase. To set a stop loss and take profit order, you'll then need to navigate to the portfolio section and set these orders that will help you mitigate the risk and manage your position.
Where to Buy Decentraland Coin eToro
Presently, Decentraland coin not yet available on many crypto exchanges so you'll have to find an exchange or an online trading platform that supports this coin. To help you find where to buy Decentraland coin, we suggest three platforms that allow you to trade Decentraland token.
1. eToro – Overall Best Crypto Exchange to Buy Decentraland

eToro is a brokerage firm that was founded in 2006 and offers thousands of assets in the form of CFDs or securities. It is also one of the most trusted cryptocurrency trading platforms in the world offering users to buy a range of digital assets including Decentraland crypto that very soon will be available on its platform. If you're looking for where to buy Decentraland, this is our top pick.
When we compare eToro to other online trading platforms in the market, its key strength is that it enables users to buy and sell assets without paying any fixed trading commission. This a major advantage as most crypto exchanges in the market charge between 0.1%-0.5% per transaction. You'll also get access to a user-friendly platform where you can easily trade cryptocurrencies, shares, ETFs, indices, and commodities.
In addition, eToro is not just a marketplace for digital currencies but it is also the largest social trading platform in the world. You will, therefore, get access to social trading tools so you can share trading ideas, connect with other users, and copy the trades of other investors by using the CopyTrade tool.
Another benefit of trading with this platform is the CopyPortfolios tool that allows you to invest in managed portfolios across different investment themes, including the crypto market.
Past performance is not an indication of future results.
Finally, as the current state of regulation in the crypto market is not very clear, eToro is one of the few regulated platforms in the market that offers crypto trading. This brokerage firm is regulated by the FCA and offers a digital wallet service that is also regulated by GFSC.
Pros
Offers a range of 19 crypto coins, including Decentraland
No trading fees when you buy and sell assets
Accepts PayPal, credit/debit card, bank wire transfer, Neteller and Skrill
Built-in safe cryptocurrency wallet
Largest social trading network in the world
Features managed CryptoPortfolios
Regulated by the FCA