Bitcoin Gold (BTG) was born on October 24, 2017, when the developers of the coin decided to initiate a hard fork (an update of the network that is not compatible backward) of the Bitcoin (BTC) blockchain. The original goal with the creation of BTG is to decentralize the mining of the cryptocurrency.
Buy Bitcoin Gold in 5 steps on eToro
Navigate to the official website of eToro and register an account
Verify your identity and address with the required documents
Deposit funds to your account
Select Bitcoin Gold and how much BTG you want to trade
Execute the trade
What is Bitcoin Gold?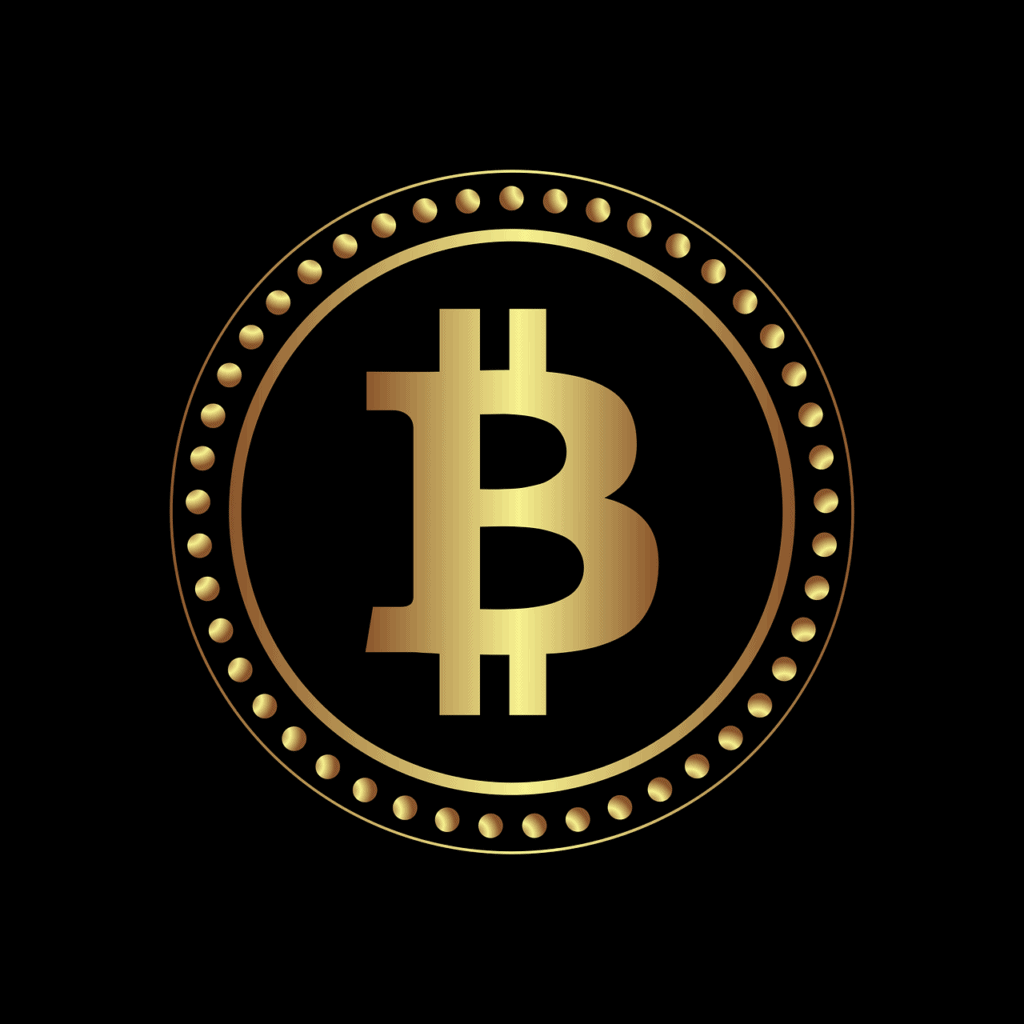 Bitcoin Gold was born from the idea of opposing ASIC mining chips. As Bitcoin is mined mainly with ASIC mining rigs – expensive, high-performing equipment that is specialized in mining cryptocurrencies -, large mining pools (a group of miners) are dominating the Bitcoin network. Bitcoin Gold developers wanted to change this by implementing an algorithm that is ASIC-resistant – meaning that miners using this kind of equipment are unable to participate in the BTG network. Bitcoin Gold allows GPUs (Graphics Processing Units) exclusively to be used for mining the coin.
While Bitcoin Gold is only just over a year old, the cryptocurrency has already rewarded its investors with great returns. After a few days it was created, BTG was standing at $113. In only two months, the coin's priced increased to $474, which is more than four times the original price.
While Bitcoin Gold is not in the top 10 cryptocurrencies (it's currently holding the 24th place among the largest coins by market cap), BTG is popular among users with the digital currency trading on over 75 Bitcoin Gold exchanges. 75 services seem like too much to choose from. So now you are asking yourself: where to buy Bitcoin Gold? Let us answer this question by showing you the top BTG exchange services and brokers where you can buy Bitcoin Gold.
We have created an account at these services, carefully testing them. We based our selection of Bitcoin Gold exchange services on our experience, handpicking you a list of the best of the best service providers. In addition to showing you the services, we also included a step-by-step guide for each on how to buy BTG. Let's dive in after we have explained the difference between trading and buying the cryptocurrency.
Differences between buying and trading Bitcoin Gold
While sometimes the two words are used as synonyms, there's a major difference between buying and trading Bitcoin Gold. If you decide to buy and hold the coin, you are making a mid to long-term investment. On the other hand, trading BTG is a short-term thing. When trading the cryptocurrency, you try to make smaller profits (taking advantage of the volatility of the crypto market), but these profits add up as you make more trades. If you buy and hold Bitcoin Gold, you are in for big times; you seek to make a huge amount of potential profits with a long-term investment.
Both options have both upsides and downsides. Buying and holding Bitcoin Gold requires no trading experience or knowledge from the user. But – on the flip side -, you are unable to short BTG. If you go with trading BTG, most services allow you to place both buy and short orders. Therefore, you can make potential profits even in a downtrending crypto market, which can become useful when coin prices have just crashed. Unless you use a crypto robot platform – we will talk about this later on this article -, you need at least a basic currency trading knowledge as well as experience to make profitable trades with Bitcoin Gold (and other coins). Traders usually deploy both fundamental and technical analysis – using different indicators -, so you should at least test your knowledge on the aforementioned techniques before you start trading BTG.
How to buy Bitcoin Gold on Binance?
Binance is a well-respected exchange on the Bitcoin Gold market and among cryptocurrency enthusiasts. Founded in 2017, the service managed to become one of the favorite exchanges of crypto users due to its fast registration process, a wide variety of coins, stable service, and the fact that you don't need to verify your account if you are trading normal amounts of cryptocurrencies. Though Binance lacks fiat deposits and withdrawals, so you have to possess one of the four base currencies in order to buy BTG on the exchange.
Pros:
A wide variety of cryptocurrencies supported (including BTG)
Easy registration with minimal personal information required
High limits without verification
You can choose between basic and advanced trading views
Cons:
You need a Bitcoin Gold wallet
Only crypto to crypto trading pairs
If you decide to verify your account, it can take some time
In its huge list of cryptocurrencies, Binance includes Bitcoin Gold too. So, it's time to start trading by creating an account, setting up the required security measures, depositing funds, and buying BTG.
Step 1: registering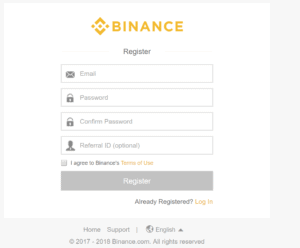 Account registration on Binance is quite fast. Ready your email and a strong, but also easily memorable password, click "Register" on the service's websites and fill in the form with the required details. When you are ready, check your inbox for an email from Binance to verify your email address.
Step 2: 2-factor authentication (2FA)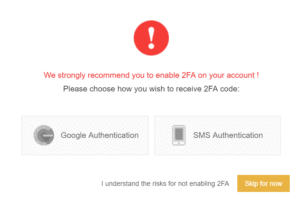 As you are holding cryptocurrency on your Binance wallet, you need to be extra careful about the security of your coins. A great security measure offered by the Bitcoin Gold exchange is 2-factor authentication (2FA). If 2FA is enabled, you will be required to use another device to log in to your account. This adds extra security. In case a hacker acquires your login credentials, he needs access to your device too that you are using for 2FA.
On Binance, you can choose to set up 2-factor authentication either via Google Authenticator or your phone number. To use the first option, download the Google Authenticator app to your mobile device and integrate it with Binance as shown on the exchange's website. If you choose to set up 2FA via your phone number, you'll get a text message every time you are trying to log in with a code inside, which you should type into the required field.
Step 3: deposit funds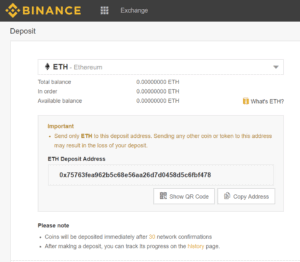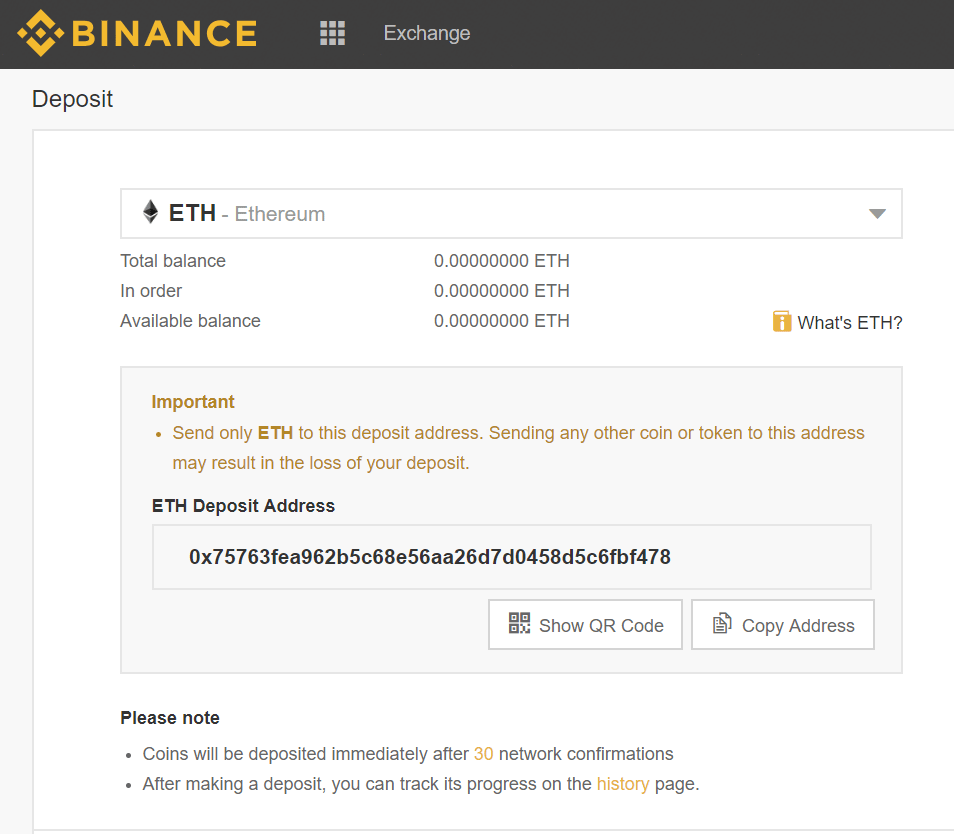 After your account is secured via 2FA, you are safe to deposit funds to the Bitcoin Gold converter. You can find the "Deposits" tab under the "Funds" menu. Head there and choose from the list of cryptocurrencies. It is advised to select one of the four base currencies on Binance (BNB, USDT, BTC, ETH) as it will allow you direct BTG trades. If you deposit a coin other than the base currencies, it's no problem either. When your funds arrive at your Binance account, convert them to one of the base currencies before buying BTG.
Step 4: trading
Now that you have cryptocurrency on your Binance account let's start trading. Select BTG from the list of base currencies. On the next page, you will see a chart and different options (limit, market, and stop-limit) to trade Bitcoin Gold.
If you don't know what these mean, let us explain. Limit orders let you set the Bitcoin Gold price you want to trade at. This will allow you to get a good Bitcoin Gold rate, though if you set a too low BTG price, it could take some time until your trade executes. Market orders are the fastest of all three as they execute almost instantly. However, it will not guarantee you the best Bitcoin Gold rate. And last, but not least, stop-limit orders are best suited for short-term trades. With stop-limit orders, you can set a minimal (in case you are buying) Bitcoin Gold price. If the Bitcoin Gold price reaches that value, your trade will execute automatically.
Now, choose from either of these options and execute your trade to buy Bitcoin Gold.
How to buy Bitcoin Gold on Changelly?
Changelly is a BTG exchange featuring almost instant transfers. The service is really convenient as you don't have to provide any personal details except for your email address, and trades usually execute between 10 and 30 minutes. Changelly accepts Bitcoin Gold credit card purchases. However, due to the exchange and its service provider's fees, Changelly takes a commission of almost 10 percent from your transaction.
Pros:
Super fast transactions
Relatively low trading fees
Easy to use platform with a nice design
Supports many coins
Cons:
You need a Bitcoin Gold wallet
High credit card processing fees
Bitcoin Gold exchange rate is not fixed
Can't sell coins for fiat
Good Bitcoin Gold news! You don't have to verify your account on Changelly for trading normal amounts of coins. Moreover, we can leave the deposit part out completely as the BTG exchange takes the money right from your wallets or cards when buying Bitcoin Gold. Now, let's continue with our step-by-step guide!
Step 1: registering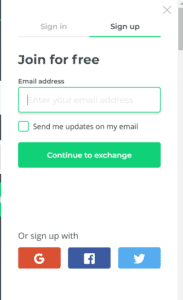 Registering an account on Changelly is as easy as 1-2-3. Click "Join" in the top right corner of the page and fill in the details with your details. Similarly as Binance, you'll only need your email to register on Changelly. For a faster process, you can use Google+, Facebook, or Twitter.
Step 2: verify your email
As with most accounts you create on the internet, you have to verify your email address after signing up. Check your inbox for a message from Changelly and click the link inside to verify your email.
Step 3: 2-factor authentication (2FA)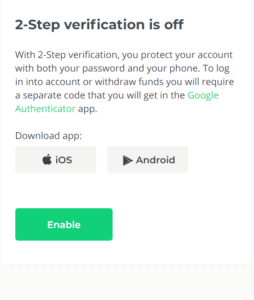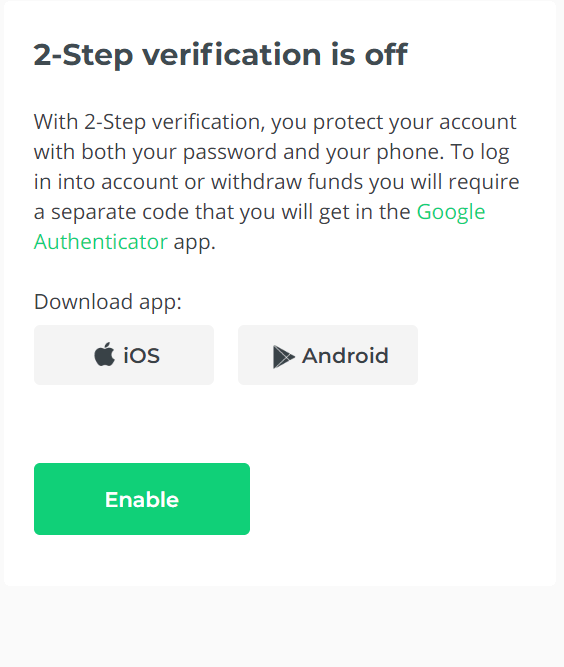 As security is super important when you are using any kind of platform that offers trading services, you should take some measures yourself to protect your account. Head to the "Settings" tab in your newly created Changelly account and check out 2FA. You have to download Google Authenticator to your smartphone to activate 2-factor authentication – you can find the link for both iOS and Android on the 2FA page.
Step 4: trading
As you don't have to deposit funds to Changelly, we can continue with buying Bitcoin Gold. Head to the homepage of the service and select the currency you want to use to buy BTG as well as Bitcoin Gold from the list. Choose how much coins you want to purchase and proceed to the next page. If you are using your credit card to buy Bitcoin Gold, fill in the form to execute the trade. Your BTG should arrive between 10 and 30 minutes.
How to buy Bitcoin Gold on CEX.IO?
CEX.IO is one of the oldest cryptocurrency exchanges. The Bitcoin Gold exchange was founded in 2013 in London, the UK. At the time, the operators of the service were also running a cloud mining solution – that, at a point, got so large that it possessed 42% of the total hash rate of the network. CEX.IO features a BTG exchange and trading platform that is fairly easy to use. The exchange accepts credit card payments with reasonable rates (2.99%).
Pros:
Operating for a long time
Reasonable fees for credit card payments
Fast support
Easy-to-use platform
Cons:
Alleged hidden fees (8% per transaction instead of 2.99%)
You need a Bitcoin Gold wallet
Now, let's see how to buy BTG on CEX.IO. Unlike the previous cryptocurrency exchanges, CEX requests you to verify your identity before you can start trading on the platform. Therefore, we've included that in a separate step.
Step 1: registering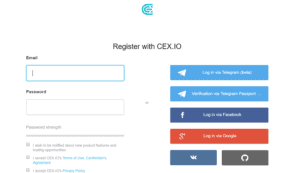 Head to the "Register" tab on CEX.IO and continue with filling in your details. The service offers plenty of alternative registration methods, which will make your user experience better and your account creation faster. You can choose from Google+, Telegram (you can also use the Telegram Passport to verify your identity), Facebook, VK, and GitHub. After you are done, proceed to the next step.
Step 2: verification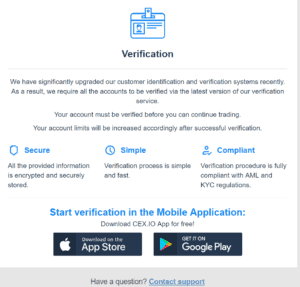 Now, that your account has been created, you need to verify it in order to start trading. To do that, you need to download the CEX mobile app to either iOS or Android. The verification part can become tricky as we were unable to log in via third-party services (such as Google+) from phone, so we needed to create another account without using Google+.
If you manage to log in to your account on your smartphone too, you can start verifying your identity. CEX will ask you to take a photo of the front and back of either your government ID, driver's license, or passport. After that, you have to make a note stating that you are a CEX.IO customer. Then, you need to make a selfie with the note and your identity document in your hands (which can also be a bit tricky to do).
Step 3: deposit funds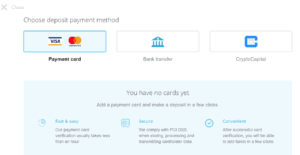 The next step is to deposit funds to your account. Head to the "Deposit" tab and select between the different payment methods (credit card, bank transfer or CryptoCapital). While credit card payments are more expensive, they take less time to arrive. After you are done selecting your payment method, proceed by selecting the amount of funds you want to transfer.
Step 4: trading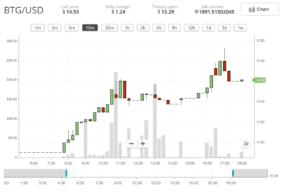 As soon as your funds have arrived on your account, you can start trading. Head to the "Trade" tab and find the Bitcoin Gold USD (BTG/USD) pair. To exchange BTG to USD, select the amount of Bitcoin Gold you want to purchase. Please note that, like Binance, CEX's trading platform has different order types. As you now know what limit and market orders are (if don't, head back to step 4 of the Binance guide), we won't explain those. The third option, margin trading, is not available for BTG, so you can leave that out. If you prefer a good Bitcoin Gold exchange rate, go for the limit order, in case you want to execute the trade as fast as possible, choose the market order.
How to buy Bitcoin Gold on IQ Option?
IQ Option is a fast-growing broker that offers trading services for assets, such as binary options, stocks, forex, and CFDs. As cryptocurrencies are offered as CFDs, you don't need a wallet to buy BTG on IQ Option. Founded in 2013, the broker is headquartered and regulated in Cyprus, offering an impressive platform with a great level of transparency to over 25 million customers.
Pros:
You don't need a Bitcoin Gold wallet
User-friendly platform
Mobile trading
Regulated broker
Cons:
Slow customer support
You don't actually own the Bitcoin Gold you buy
Let's see how to buy BTG on IQ Option. Similarly to our step-by-step guide for CEX, this tutorial will also include the verification step as you are required to verify your identity to be able to start trading.
Step 1: registering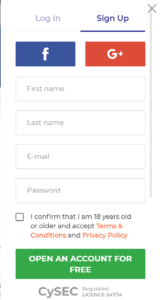 Use the "Sign Up" button in the top right corner of IQ Option's homepage to register an account at the broker. The service allows you to integrate Google+ or Facebook for a quicker process. Fill in the details and tick the box that you are above 18 years old as well as you've read the terms.
Step 2: verification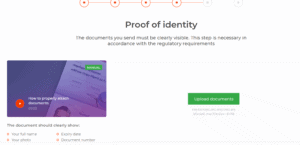 After creating your account, the next step is to verify your identity and residence. You have to upload different documents for each; the broker will specify the document types it accepts for verification. You also need to fill in a questionnaire to confirm you are aware of the risks related to CFD trading.
Step 3: deposit funds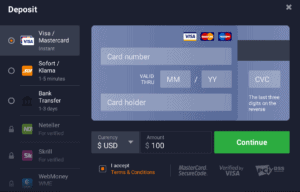 Deposits are free on IQ Option, which is great news. You can choose between different payment methods, including credit card, Sofort/Klarna, bank transfer, Neteller, Skrill, and WebMoney, to fund your account. Select the amount you wish to transfer to your account and your desired payment method, and proceed with rolling out the transaction.
Step 4: trading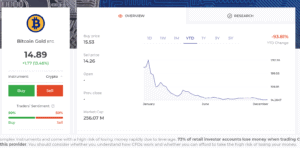 Funds arrived at your account? Then it's time to start trading! Either use the search bar or browse the cryptocurrency category to find Bitcoin Gold. You'll see a chart showing you the current Bitcoin Gold price. Analyze it carefully to determine the perfect entry point. After you are done, click "Buy" and select the amount of BTG you want to purchase. Execute the trade.
How to buy Bitcoin Gold on eToro?
eToro is one of our favorite platforms to buy cryptocurrencies. The broker – that is regulated in multiple countries, including the UK and Australia -, offers outright coin trading for its customers. It means that you are the real owner of the digital currency you are trading on the platform – as opposed to the earlier cryptocurrency offerings of the platform, which were based on CFDs. eToro is a smart, easy to use, newbie-friendly platform that has awesome social trading features (like copy trading).
eToro would be a great platform to buy Bitcoin Gold. But unfortunately, the service does not support Bitcoin Gold in any form.
How to buy Bitcoin Gold on Coinbase?
Coinbase is a San Francisco-based cryptocurrency exchange that has served millions of customers. The service is one of the most newbie and beginner-friendly exchanges in the crypto space – you can purchase your first coin with a few clicks using the user-friendly interface of Coinbase. The crypto exchange supports credit card payments with one of the lowest fees on the market. Therefore, if you choose this option to buy cryptocurrency, you don't need to deposit funds into your account. Instead, you can go right ahead to buy your coin of choice.
However, a major downside of Coinbase is in its support for coins. The exchange trades only a handful of digital currencies, and, unfortunately, Bitcoin Gold is not one of them.
How to buy Bitcoin Gold on Plus500?
Plus500 is an Israel-based broker that offers CFD trading for multiple assets, including stocks, forex, and cryptocurrencies. Similarly to eToro, this service is regulated in multiple countries, including top-tier regulators, such as the UK's FCA. In addition to that, Plus500 is traded on the main market of the London Stock Exchange. Due to the aforementioned fact, the broker has to comply with different regulations and laws. Therefore, its service has to be more transparent and fair than competitors that are not traded on a stock exchange. As cryptocurrencies are offered as CFDs on the broker's service, there's no need for users to hold their coins on crypto wallets. However, you are not the actual owner of the digital currency you trade on the platform. And CFD trading is considered as a high-risk activity, so you should be careful with your trades.
Unfortunately, Plus500 only supports a limited number of coins and Bitcoin Gold is not among the supported digital currencies. Read back to see our step-by-step guides on services that support BTG.
How to trade Bitcoin Gold with a trading robot?
While "manual" trading – where you are using different indicators to deploy your own technical analysis in addition to fundamental analysis – need certain expertise from users, automated trading solutions do not have such requirements. Instead of manual analysis, the aforementioned applications use algorithm-based robots that are scouring the market to make potential profits fully automatically. These services have been present on the fiat market for a time, and have been implemented into cryptocurrencies – such as Bitcoin Gold – as coins have become increasingly popular.
The main benefit of Bitcoin Gold trading robots is time. As opposed to manual trading, you don't need to sit in front of your computer screen all day to determine the best entry and exit points for your trades. You just simply have to set up the robots that will use algorithms to find those points for you. Therefore, you are making potential profits fully automatically, without the need to continuously interact with the assets you are trading. The only thing you have to do is monitor the performance of the bots. Furthermore, most crypto robot platforms use their own strategies and indicators to find the best trades, so you don't need any trading skills to use such an application.
To trade Bitcoin Gold with a trading robot, you need to first find the service of your choice. We have a page dedicated to crypto robot platforms, which might be worth for you to check out. After you have created an account at a service, you need to deposit funds into your account, set up your bots, and they will do all the trading for you.
How to buy Bitcoin Gold with Credit Card?
Credit card transfers are really convenient, especially when buying cryptocurrencies. While bank transfers take multiple days to arrive and you have to wait until the weekend is over for financial institutions to resume transferring your funds, card payments allow for almost instant transactions.
However, credit card crypto purchases are more expensive than bank transfers. The latter cost only a few percents or none at all, while credit card fees can go as high as 10 percent. So, you have to carefully check which provider to use.
As Bitcoin Gold is not as widely adopted as Bitcoin (BTC), you have limited options for credit card purchases. If you want to use a BTG exchange, CEX.IO offers the best rate (2.99% officially, but some users say it adds up to 8% with hidden fees) for that. On the flip side, in case you don't want a wallet for Bitcoin Gold trading, check out brokers, such as IQ Option. On IQ Option, deposits are free, so you just need to deposit fiat via a credit card to your account, then use your balance to buy Bitcoin Gold.
How to buy Bitcoin Gold with Paypal?
We have screened the internet as well as the brokers and exchanges offering BTG trading, and we couldn't find a solution to buy Bitcoin Gold with PayPal. It seems that the brokers and exchanges are either not supporting PayPal as a payment method or BTG is not offered for trading on the services. So, unfortunately, you are unable to exchange Bitcoin Gold to PayPal balance.
How to buy Bitcoin Gold with Bitcoin?
You don't need to use fiat currencies to buy BTG. As BTC is widely accepted as a base currency at different cryptocurrency exchanges, you can buy Bitcoin Gold with Bitcoin. This comes handy at times especially when you have a BTC balance that you seek to exchange to BTG. Let us show you how you can do that on Binance.
Firstly, create an account at the cryptocurrency exchange. Set up 2FA, then head to the deposit area and send BTC into your Binance wallet. When your funds have arrived, head to the trading platform of the exchange. Choose Bitcoin from one of the four base currencies and find the BTG/BTC trading pair. Select the amount of coins you wish to purchase, your order type, and execute the trade. For more information on how to buy Bitcoin Gold on Binance, read back to find our step-by-step guide.
Do you need a Bitcoin Gold Wallet?
If you are using a cryptocurrency exchange to buy Bitcoin Gold, you need a BTG wallet. However, if you are using a broker, such as IQ Option, you don't need a wallet as Bitcoin Gold is offered via CFDs.
Both options have their upsides and downsides. By owning Bitcoin Gold, you are contributing directly to the value of the cryptocurrency as well as its community and network. On the flip side, cryptocurrency can be stolen by hackers, so owning coins is not as secure as trading crypto CFDs. However, with a few tweaks, such as setting up 2FA for your wallet and the Bitcoin Gold exchange you are using, can fix that issue. It is also recommended to buy a hardware wallet, such as the Ledger Nano S or Trezor, to be completely secure from hackers.
How to create a Bitcoin Gold wallet?
In case you are purchasing BTG on a cryptocurrency exchange and planning to hold the coins for a time, you need to create a Bitcoin Gold wallet where you can safely store your assets. Since its launch, BTG has been widely accepted in the crypto community. Therefore, numerous wallet solutions have been created to store the BTG coins of users. Now, let's see two of the best ones and how you can use them to create a Bitcoin Gold wallet.
The first solution is Exodus, a multi-coin wallet that supports a reasonable number of cryptocurrencies. Fortunately, that includes Bitcoin Gold too. Exodus has a beautiful interface and an easy to use software. To create your BTG wallet on the service, you need to first download the app to your desktop.
The second Bitcoin Gold wallet we are showing you today is Coinomi, another multi-asset wallet with one major difference from Exodus – the service is available for smartphones in addition to desktops. There is support for all major operating systems – Android, iOS, Windows, Mac, and Linux included. In addition to BTG, Coinomi supports over 500 digital currencies. To create your Bitcoin Gold wallet at Coinomi, head to the website of the service and download its wallet to your platform of choice.
How to buy Bitcoin Gold in the UK?
Bitcoin Gold becomes more and more popular in most countries, including the United Kingdom. Therefore, plenty of cryptocurrency exchanges and brokers are supporting the digital currency. While this is a great thing, there is also a downside. And that is confusion. It can become a struggle to find the best Bitcoin Gold wallet for UK citizens from so many solutions that have been deployed. But here we are to help you!
Testing numerous services, we have come to the conclusion that Binance is the best platform to buy BTG for the citizens of the United Kingdom. The crypto exchange has very low fees and relatively high account limits, so you don't have to verify your account if you are trading normal amounts of coins. To buy Bitcoin Gold in the UK via Binance, check back to read our step-by-step guide on the cryptocurrency exchange.
How to buy Bitcoin Gold in the USA and Canada?
Both Canadians and Americans are interested in buying Bitcoin Gold. While there are many services where you can buy BTG, due to the strict regulations of the USA and Canada, many of the crypto exchanges are denying support for citizens of the aforementioned countries. But let us help you in showing the way to buy Bitcoin Gold in the USA and Canada.
Fortunately, Changelly is not among the services that are denying support for Canadian and US users. This cryptocurrency exchange just accepts everyone from the Earth as their customer. Creating an account is easy at Changelly, you only need an email address. The best feature of the cryptocurrency exchange is its near-instant nature; your funds will be credited within 30 minutes after the transaction has been initiated.
How to buy Bitcoin Gold in Australia?
While Aussies are interested in buying BTG, many services are focused mainly on Europe and North America. So, we need to find you the best cryptocurrency exchange where you can buy Bitcoin Gold in Australia. And that service is Binance where the Oceanic nation is one of the supported countries. The exchange features a wide variety of digital currencies, high account limits, and inexpensive trading fees. To see detailed steps on how to use the service to buy BTG, read back to find our tutorial.
How to sell Bitcoin Gold?
After BTG's price has gone up to a limit where you are satisfied, you may choose to sell the coin for profits. But how and where can you sell Bitcoin Gold? Let us tell you the where first, the cryptocurrency exchange Binance. And now let's see our brief tutorial on selling the coin on the service.
Firstly, you need to create an account at the cryptocurrency exchange. When you are done, you need to set up 2FA as soon as possible to protect your coins. If you are ready with that, head to the deposits section and select Bitcoin Gold. Use the wallet address shown on the page to send coins to your Binance wallet. When your BTG has arrived, head to the trading page. Choose your preferred coin from the four base currencies (BTC, ETH, BNB, and stablecoins), then select the relevant BTG trading pair. Set the amount and order type, then execute the trade.
Conclusion
So we have shown you the best services you can use to buy Bitcoin Gold. You also know that credit card transfers are fast, but a bit expensive and owning BTG on your wallet has its downsides and upsides. Unfortunately, you can't buy Bitcoin Gold with PayPal.
Now, it's your time to choose the service and the payment method you want to use to buy BTG. We recommend Binance as it is a trusted cryptocurrency exchange featuring a wide variety of coins as well as high limits without verification.
Subscribe to our newsletter to receive Bitcoin Gold news and more articles like this!
FAQ