The developers behind the OpenBazaar decentralized marketplace project have announced a $1 million cash infusion from Union Square Ventures, Andreesseen Horowitz, and William Mougayar. The money will be used to fund further development of the free, open-source platform for online commerce.
Free, open trade for all
The point of OpenBazaar is to remove the endless restrictions and high fees associated with currently available ecommerce sites and online payment rails. As lead developer Brian Hoffman put it, "The Internet has decentralized communications, and Bitcoin has decentralized money, but online commerce still relies on numerous intermediaries."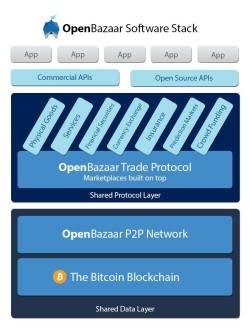 William Mougayar appears to share Hoffman's passion for an open, censorship-resistant platform for online commerce. In a statement shared with Inside Bitcoins, Mougayar claimed, "USV is excited to support and help OpenBazaar and OB1 realize their vision of delivering a free and open marketplace protocol that ushers in a new era of peer to peer global commerce."
Many OpenBazaar supporters may feel that taking on investors could compromise the project's original goals, but it appears that the new backers are supporters of the uncensored trade that will be made possible by the decentralized network for online trade. OpenBazaar development hit a bit of a lull earlier in the year, and this initial round of funding will allow some of the main developers to work on the platform full-time. A new company, OB1, will also be created. The company will offer services to OpenBazaar users.
History will show that Ross Ulbricht's biggest crime was not raising capital from VCs that would've defended his decentralized marketplace.

— Ryan Selkis (@twobitidiot) May 29, 2015
A Silk Road with venture funding?
Although many of the core developers involved with OpenBazaar shy away from calling the network a replacement for Silk Road, the reality is that some people will see it as nothing more than an online portal for drug peddlers. A key difference between Silk Road and OpenBazaar is that the former could be viewed as a more of an online service than software. After all, the Dread Pirate Roberts was collecting a cut of every sale on his hidden service. It appears that the OpenBazaar model will be similar to bitcoin in that the developers cannot be held liable for the actions of their users.
There are certainly clear differences between the centralized Silk Road and decentralized OpenBazaar, but convicted Silk Road Administrator Ross Ulbricht's stated vision with his original experiment of a censorship-resistant online marketplace can also be seen in OpenBazaar. In fact, one could argue that the new network takes Ulbricht's concept to the next level in that there is no central team of moderators who can reject certain products, services, or merchants. There is no ability for the OpenBazaar team to charge fees, track user data, or restrict trade in any way, which creates a completely new paradigm for online trade.
At this time, the OpenBazaar team is inviting anyone to join the development process on GitHub. Roughly 100 developers have contributed code to the project. Whether for legal or illegal purposes, it's clear that plenty of Internet users are interested in an incorruptible platform for free and open online commerce.
You can follow @kyletorpey on Twitter.
---