LAS VEGAS (InsideBitcoins) — Standing in front of a rapt crowd at the Inside Bitcoins Conference in Las Vegas, Patrick Byrne stunned the packed room by announcing a stock market based on the bitcoin block chain protocol.
"Overstock went public in 2002," Byrne said.  "And it became very clear to me, very quickly, that there was a tremendous amount of criminality on Wall Street. And I was asked to take part. Then in 2007, a very well known hedge fund manager sat me down on Wall Street and said, 'You need to understand, Patrick, you're the most hated man I've ever known in my entire life. I hope they chisel that on my mausoleum some day: 'The most hated man on Wall Street in 2007.'"
Byrne says he became the "scourge of Wall Street" by focusing on a single issue that drove the mechanics of the entire stock market: settlement.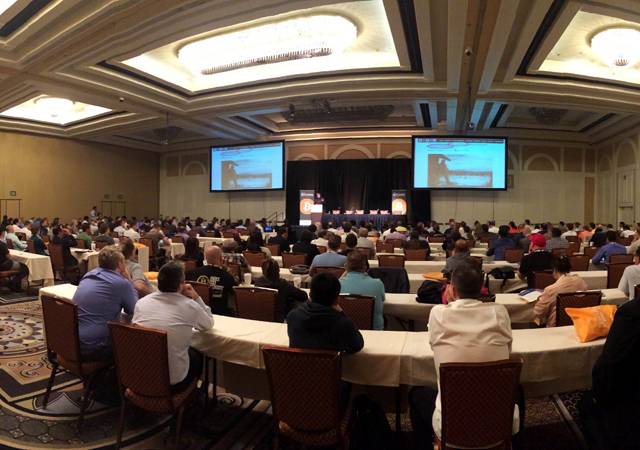 Beginning his presentation with an explanation of the Depository Trust and Clearing Corporation (DTCC), the backbone of the U.S. stock market, Byrne described it as the "slop in the system that has the fingerprints of organized crime all over it." And his intention was to transform it. Byrne referred attendees to learn more about the corruption of the stock market at www.DeepCapture.com.
The global equities market is "an enormous black box." His research, which he says has been a work in progress since 2005, reveals that the capital markets have "flimsy regulation at best" — the mechanics of which are owned by the people who would profit most.
His solution: Overstock is launching a peer-to-peer alternative to Wall Street. "Blue chip" law firm Perkins Coie will assist in the legal process and Byrne has hired two of the three founders of Counterparty to join in the effort. Previous speculation had centered on Byrne establishing a cryptocurrency — and his concept does include an "O" coin as a unit of value that will help enable the "parallel stock market."
"We've opened our checkbook. We've built a business unit with Overstock to build the cyrpto alternative to Wall Street," Byrne declared.
One potential hitch to his Wall Street 2.0 strategy: regulators will need to approve the concept.