NEW YORK (InsideBitcoins) — This week, Congressman Steve Stockman (R-TX) proposed a new bill to the Congress called the "Cryptocurrency Protocol Protection and Moratorium Act," short named CryptPMA. The bill calls for a five-year moratorium on regulation targeting cryptocurrencies in the United States.
"Virtual currencies are the future of finance, but only if everyone competes on a level playing field."
"Just as the invention of credit in the 12th century, and credit cards in the 20th century revolutionized economies, virtual currency is the next step forward. Virtual currencies are the future of finance, but only if everyone competes on a level playing field. This bill makes virtual currencies safe, secure and uniformly regulated," Stockman said in a release on his Facebook page.
The first part of the bill is on the proposed moratorium. It is an across-the-board block on all regulation with regard to "the creation, use, exploitation, possession or transfer of any algorithmic protocols governing the operation of any virtual, algorithm or computer source code based medium for exchange."
What that means is that neither the states nor the federal government could interfere in the development of digital currencies. If enacted, the bill would go into effect on June 1, 2015 and extend for five years thereafter.
H.R. 5777 and BitLicense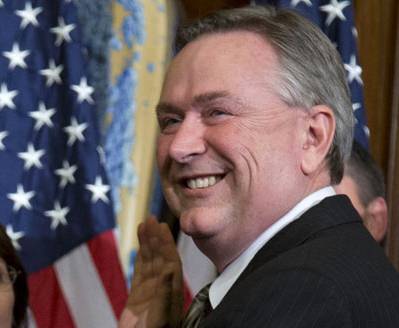 What's important to understand is that, should this bill pass, it would likely have little effect on the proposed New York State BitLicense rules. In the bill, it says that there will be interference "…except for statutes already enacted and effective priority to the date of enactment of this act."
If BitLicense were to become effective between now and June 1, it would continue to be the law in New York irrespective of this federal regulation. However, the legislation does say: "…and further suspending the enactment and effectiveness of any and all pending statutes and regulations until the end of the aforementioned moratorium."
Bitcoin and taxes
Stockman delved into the tax world as well. Right now, the IRS requires that payments to contractors with cryptocurrency needs to be taxed as regular income on Form 1099. When it comes to the buying and selling of the asset, it should be taxed at capital gains rates.
Stockman is arguing that bitcoin be treated as a currency. Currently, if someone receives 1BTC for payment valued at $350, but then bitcoin's value were to drop to $100, the individual would still be required to pay taxes on the $350. Stockman believes this is unfair.
His argument is that the cryptocurrency should only be taxed when it is converted into actual dollars or other government currency. His bill says:
"Taxpayers accepting cryptocurrency in trade or commerce should be deemed to realize actual income only when cryptocurrency is monetized through conversion or exchange into dollars or any official government currency, and that fair market value should be calculated as net proceeds from the conversion."
This would allow for the individual only to be taxed when they have received actual income rather than "theoretical income."
The bill is short lived
While Stockman has good intentions with regard to allowing cryptocurrency time to grow, the bill is likely short lived. Stockman ran for Senate in the 2014 election and lost. By introducing a bill as a lame duck representative in the last month of this year's Congressional calendar, it's not likely the bill will go far.
The only real way for this bill to become a reality is if Stockman can gain some support from Congressional members that are retaining their seats. If not, a moratorium on cryptocurrency won't come.