The sole reason why a cryptocurrency trader invests in bitcoin robots is to make a profit doing nothing while the bitcoin robot does all the trading. In the blockchain and cryptocurrency ecosystem, a wide array of bitcoin robots exists with all of them having the same goal i.e. to help the trader maximize returns.
Many inexperienced cryptocurrency traders ask themselves after being acquainted with several advertisements on automated trading if it is really possible to make large profits in trading with little or no personal effort. Whilst searching for suitable trading bots having viewed a lot of advertisements, investors interested in automated trading systems encountered Crypto Revolt website which led them to try out the app. So is this robot legit? Read our review to find out.
The Crypto Revolt app is a trading robot used to rake in huge profits by automated trading. Taking a close look at the website, every potential investor is promised huge profits just by trading using the software. The average returns for every user of the software is $1,100. However, it is essential to find out the validity of the claims of this trading platform and at InsideBitcoins, we have reviewed it.
Note: The promise of large returns by automated trading systems to investors doesn't necessarily mean that huge profits are realized in the long run. There are trading software that don't work and trading using such a platform increases the risk of losing every fund on it. Thus, with adequate research, the question, is Crypto Revolt Scam or Legit? is adequately answered.
Crypto Revolt Review – the InsideBitcoins Opinion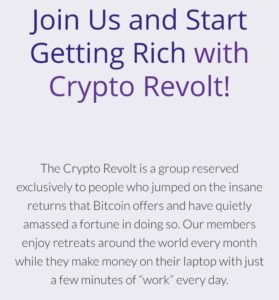 In a search for a good and working trading robot, traders are expected to carry out proper research about all available automated trading platforms, compare the offers before making decisions. This can be easily done by check out the trading rpbot's reviews on different cryptocurrency platforms. For instance, to check out reviews for Crypto Revolt, Go To Google and search keywords relating to the software. Doing this, it helps traders have an idea about what other users experienced using the software. Most reviews focus on certain key points such as seriousness, usability, transparency, results and trading options. A good review search would suggest the seriousness of Crypto Revolt.
Having done a review search, almost all reviews suggest that, the users were less satisfied with the services being offered by the Crypto Revolt system. However, with positive and negative review from different personalities, we found that there is an indication somewhere that speaks in favor of the trading bot.
Although studying the review of others about the trading system is good, it doesn't mean one, therefore, has to do away with a personal analysis of the system. So, a test on the software will actually provide a good judgment on the likelihood of a scam or not.
Is Crypto Revolt Scam or Serious? The Verdict!
Observations having tested the Crypto Revolt system suggests the following:
Possible returns exists within the 88% – 90% range,
Crypto Revolt scam does not exist, however, as a new system, there are risks in auto trading.
InsideBitcoins recommends a moderate investment of 250 euros to every intending user.
To learn more about the bot or test the system, click on this link.
It is absolutely normal for questions to arise on the Crypto Revolt system whether signs exist that it is working excellently. E.g. other trading bots such as Bitcoin Trader, Cryptosoft, & Bitcoin Revolution App has been tested extensively and are certified valid as trading software. It is therefore highly necessary that InsideBitcoins compare and review the diverse offers the trading robot offers.
We will find out what exactly to look for when analyzing a trading offer, this is needed to test the automated trading software. Using this method, intending traders can easily locate good trading platforms. Trading naturally is a risk that comes with all of its benefits, therefore, it is not really suitable for all investors. There are also a lot of trading platforms that choose to dodge licensed Bitcoin Exchanges and brokers, these are details to watch out for when reviewing the system.
How does the Crypto Revolt App work?
The Crypto Revolt app is a software that works the same way a day trader works. The app uses trading strategies and analysis to make trade decisions. A question might then pop up that, since the app works, in the same way, human traders' work, how come it promises to generate such a large profit? This can be easily summed up in speed and availability. Trades are completed within seconds using the software as the software acts on various signals in the market to churn out the profit. What then is the job of the trader? The trader is expected to set appropriate signals for the software to follow. These signal decisions can be properly made when the trader has a good knowledge of the Crypto market. The app then acts based on these parameters set by the trader.
Opening a Crypto Revolt Account – Step by Step
Anyone who is familiar with Bitcoin Trader and wishes to test the Crypto Revolt system would be reminded of the former's features when looking at the latter's website. On the homepage of the website, a video of CNN reporting about Bitcoin is shown. Watching the video, it is observed that the video has no links with what the software offers, however due to the big name the news channel has, the site seems to take advantage of this. The website offers free tips on how to get fast wealth which however should be ignored at first. One can only estimate the chances of success with Crypto Revolt account. However, it remains only an investment experiment fit for curious users.
Step 1: Registration
Registering an account can be done on the sign up page which is visible on the home page. Registering an account is possible in three steps, the needed details are First Name, Last Name, and Email Address.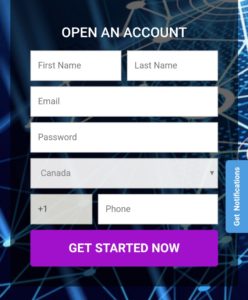 Having done that, the next step requires a strong password to the account and lastly, you'll be required to input your phone number. After this, you can click on the Join button to start trading.
Step 2: Deposit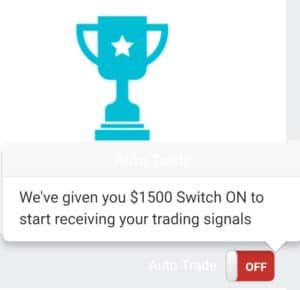 After registration, you are led to the deposit interface of the trading platform. There are different payment methods offered on the app. In comparison to others, payments methods can be found through the broker capital trade, Bitcoin, Ethereum and Bitcoin cash. In this situation, most platforms prefer the use of credit cards, however, the use of popular cryptocurrencies is also a nice option. The minimum amount required for a deposit on the trading system is around $250.
Step 3: Demo trading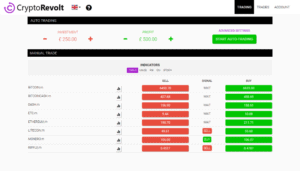 It is always advisable to familiarize oneself with the different components of the trading platform before starting real trading. Logging onto the account, under the Menu tab, exists the trading tab which contains trade information. A software developer seems to have a bit of an advantage in trading. Under the same Menu tab, exists the news tab which details the trader with current cryptocurrency news that might be useful in making trade decisions. There is also a signal tab and cryptocurrency calendar on the platform. There are also different kinds of video charts for several cryptocurrencies and assets. With this preliminary, it is easy to understand the things that can be considered in trading.
Step 4: Trading
Trading on the Crypto Revolt platform is automated and would only require the trader to make a few settings. The platform do not offer a demo trading account at the moment, however, it provides adequate information on how to trade on its website. Thus, after being acquainted with the necessary information and you are ready to trade, login and choose the desired currency pair and start trading.
Is Crypto Revolt Legit? The Test.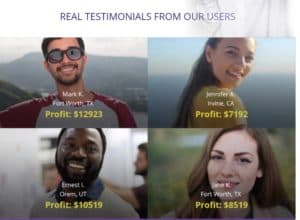 To answer the question on the status of Crypto Revolt app being a scam venture or legit can be answered to personal satisfaction when you invest in the platform with a low investment capital i.e. $250 minimum fee. With this deposit, you would have first-hand information on the operations of the platform and make a good assessment. It is good financial advice for traders to carefully study the risks and opportunities attached to cryptocurrency trading and investment. It also helps them to be acquainted with other automated trading service providers such as Cryptosoft, Bitcoin Loophole App etc. It is worthy of note that legitimate services offered are known from the Bitcoin Code because its developers would most likely have the automated trading software.
Facts that can help you assess the reliability of your trading software is as follows:
First, the service provider's platform must be traceable with an address attached to it. This is because there must be a chance to use the offer rather than render the software obsolete. Second, find out the transparency of the providers by taking a close look at the platform. Lastly, find out the steps taken to ensure the security of payment details during transactions.
Is Crypto Revolt Fake? The Platform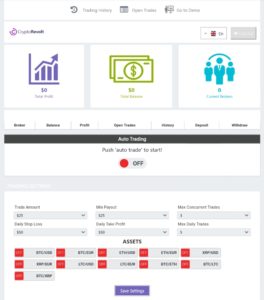 The question above can be adequately answered when there is a real Crypto Revolt account available. Thus, this brings us to the realization that it would be worthwhile to start with a relatively small investment i.e. $250 since Crypto Revolt is an investment experiment. This same information was shared at Bitcoin Investor test. Surprisingly, the risk of losing the funds invested doesn't end probably because one chose an excellent trading bot, it can only be said to be a natural side effect of derivative trading.
The truth is even the best crypto bot cannot reduce the risk attached to trading, thus, it is advisable for every intending investor to start with an investment of $250. This is because, peradventure if a case of loss comes up, then, one's entire financial future is not at stake, just a little and manageable investment. Come what may, there are risks associated with trading and it should never be hidden.
Crypto Revolt versus other Robots
In comparison to other trading bots such as The News Spy, The Bitcoin Loophole, Bitcoin Trader etc., Crypto Revolt app actually works and with an 88% possibility of high returns using their financial model, it poses a good standing amongst other trading bots.
Other Recommended Trading Robots
The News Spy: This is a trading app with an inbuilt algorithm that connects to different financial markets all across the globe using the information to deliver quality trading signals which earns its users thousands of dollars daily. To know more about this software, see The News Spy review.
Bitcoin Compass: As a software developed by wall street veterans from different backgrounds, this trading robot is a very promising one with a trading signal accuracy of 99.4%. With an initial investment of $250, daily profits can be around $1300 averagely. To get more understanding about this software, check our Bitcoin Compass review.
Conclusion: Crypto Revolt Software Review and Results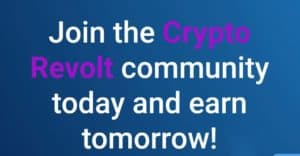 The possibility of Crypto Revolt turning out to be a scam seems very unlikely as various indications suggest that the application works fine. Please note that even though the website promotes the promise of great winnings, one needs not be blinded due to greed. Our advice to intending investors is to make sure their investment for the trading experiment shouldn't be more than $250.
FAQs