Last Updated on
Cryptocurrency scams are no new occurrence. Since cryptos gained mainstream attention and started seeing increases in their value, scammers have been working on innovative means to milk people off their assets and steal from them. This happens on cryptocurrency exchanges and even on popular apps that are frequently used.
While various countermeasures have been deployed to stem the prominence of crypto scams, things are far from normal. But, if anyone can cause in a dent in the operations of bad crypto actors, it has to be Google.
Over the years, many scams have thrived off the Internet because Google has permitted them. While it's difficult for the company to blacklist certain portions or manipulate search results as regards websites selling tools used by crypto criminals, it needs to do something about the ease at which criminals use its products to scam users.
Just this week, news platform BleepingComputer reported that Trojan, an information-hijacking software developed by IT firm Qulab, was infecting computers via scam videos that promote a Bitcoin generator on YouTube—a Google product.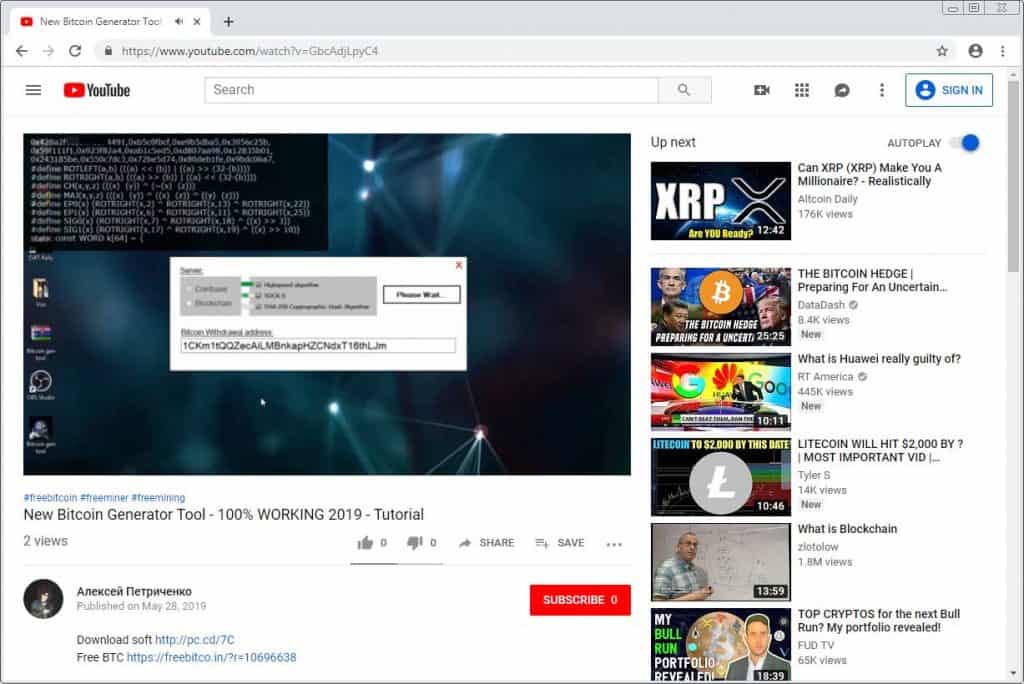 Essentially, the report claimed that while YouTube was taking down accounts propagating the video upon complaints from viewers, more accounts would simply pop up with the same intent and carry on from where the previous ones stopped.
The videos themselves describe a tool that mines Bitcoins for free and sends them to users' Bitcoin wallets, as well as links for interested users to get the tool. On clicking the link, an unsuspecting user would be taken to a portal to download the fictitious tool, which is actually a trojan malware. Once downloaded, the Trojan is installed, and it begins stealing the viewer's confidential information.
The same thing goes for other Google-owned platforms. Last week, internet security platform We Live Security published a report, detailing an upsurge in the number of fake crypto wallet apps on the Play Store, Google's official app marketplace.
The report gave details of the "Trezor Mobile Wallet," a replica of an app developer by hardware wallet provider Trezor. According to We Live Security, upon downloading the app, a user would see a separate widget on their phone (one for an app called "Coin Wallet- Bitcoin, Ripple, Ethereum, Tether.").
While this app promises optimal protection, it is reportedly nothing but a ruse to get users to transfer their assets to the attackers' cryptocurrency wallet addresses. The list truly is extensive, and when you think about just how much influence Google has over today's Internet community, it becomes even scarier.
Google Play Store has been found containing four fake crypto wallets by the malware researcher Lukas Stefanko. Their purpose is to steal users' personal data. These apps portray as crypto wallet, while they steal sensitive credit card details. #FakeWallet pic.twitter.com/5NSlVrJ91v

— CryptoXChange (@cryptoxchange11) November 19, 2018
The company owns various subsidiaries, including YouTube (which has a stranglehold on the online video market), Chromecast, Android (which owns about 75 percent of the global smartphone market), and others.
So, it's obvious that the company itself needs to take a proactive role in stemming the spread of crypto scams. Its many subsidiaries have served as the conduit for scams to be propagated, and if the scams can be eradicated by Google, you can only imagine how much that will stunt their growth.