The advent of cryptocurrencies into the global financial arena has no doubt changed the way people look at money as a means of value exchange. The dynamic growth in the crypto and blockchain industry has led to the emergence of global giants like Ripple. Ripple is the creator of XRP, the number 3 crypto in the charts right now.
Initially, Ripple created 100 billion XRP crypto coins and put more than half of them in escrow. Currently, about 44 billion of them are already in circulation. It should be noted that XRP differs from others like Bitcoins that are automatically generated and awarded to appropriate problem-solvers that facilitate the smooth running of the network.
What Ripple Says
Despite having created the crypto, Ripple fronts itself as an entity separate from the XRP network, claiming that the company has no centralized control of the cryptocurrency. In fact, according to Ripple, the cryptocurrency would still remain strong and in circulation even if Ripple were to cease to exist. To put some faith into that, Ripple locked about 55 billion XRP in an escrow system.
Here's what Ripple's CTO David Schwartz had to say during a Q&A session on Quora:


Ripple says that it doesn't control XRP and insists that the coin would still exist as a decentralized crypto even if the company were to dissolve today.
The XRP Escrow System: How It Works
For starters, the 55 billion coins locked in escrow make for 55% of the total XRP supply. The XRP escrow system is based on the Ledger that is strengthened with consensus algorithms. The 55 billion XRP are locked in a number of escrows programmed to release 1 billion XRP every month over a target total of 55 months. The released cryptos usually enter circulation via OTC (Over The Counter) sales, a process designed to prevent the market from suffering shock as a result of the huge monthly release.
Below is a snippet of Ripple's CEO Brad Garlinhouse's tweet announcing the escrow lock-up back in 2017.
However, not all the released amount is usually sold off. The market always takes what it needs. After the sales, the remainder is locked up in a new escrow that's then moved to the end of the queue and timed to unlock after all the preceding escrows are unlocked.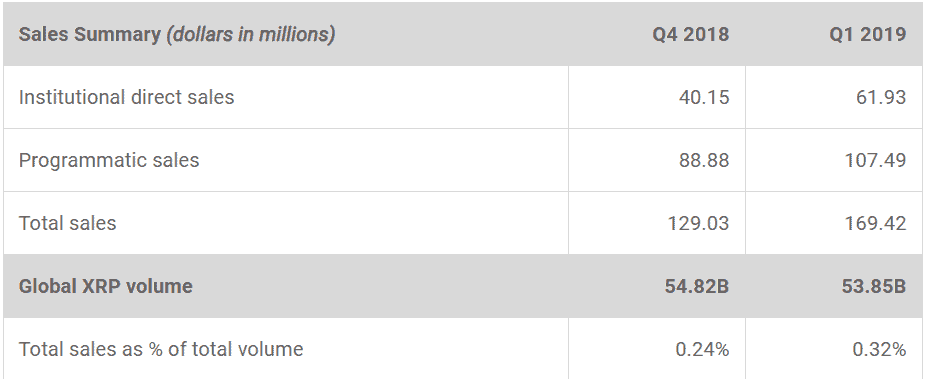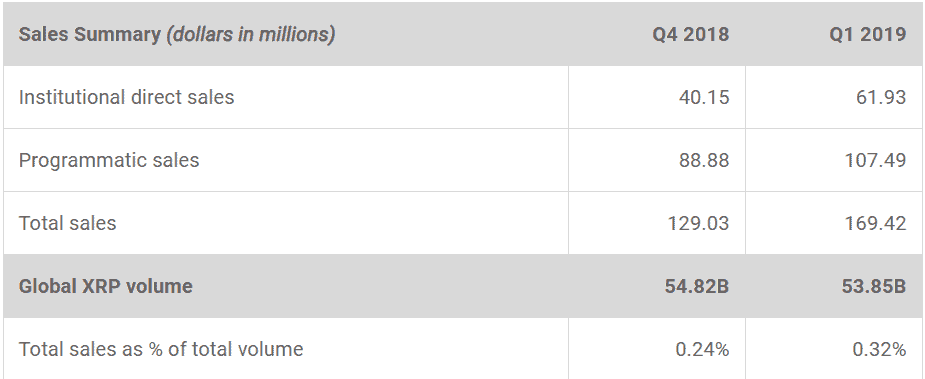 XRP Escrow releases and subsequent sales in the fourth quarter of 2018 and first quarter of 2019.
What If It All Stopped?
As already mentioned, Ripple's Escrow system has been releasing a billion XRP into the market every month, a plan that would last 55 months (roughly 4.5 years) if all the released cryptos were to be bought out every month. However, since only a given percentage of these cryptos are bought every month, the escrow releases might take decades to run their course.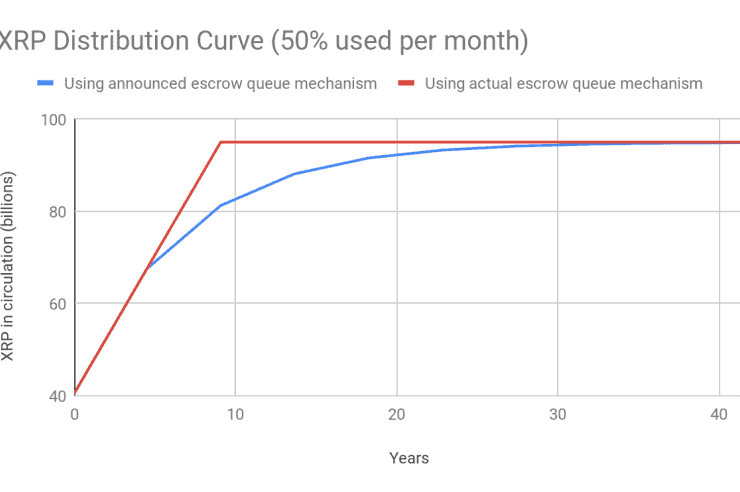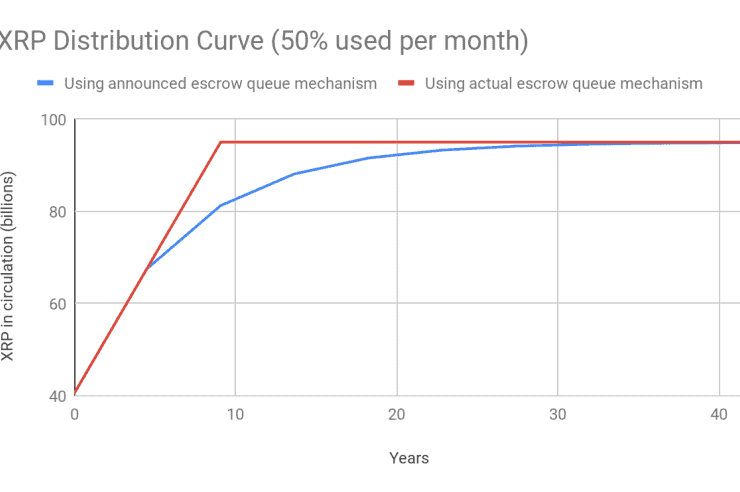 A graphical comparison between the planned escrow mechanism and its actual execution relative to the number of years taken if 50% of the released coins are sold monthly.
Although there's still a significant amount of the tokens still locked up, many in the crypto industry can't help but ponder the possible effects that could occur if the releases were to be halted. To put that in better perspective, a total stop would mean that no more of the tokens would be entering the market and that those who would want to buy Ripple would have to do so on cryptocurrency exchanges or by peer-to-peer means.
Granted, such a development would affect various spheres of the crypto's standings with regard to market dynamics that could in turn resonate across the board. For example, market movements like price actions in Bitcoin have been known to affect the entire crypto market. However, in the case of XRP, the effect may not be as profound – but it would be felt. As mentioned, the stoppage of XRP releases would affect various pillar factors in the crypto's market:
Price
A decrease in supply would mean more demand and ultimately lead to a price increase for the cryptocurrency.
Awareness And Adoption
XRP's standings especially in terms of usage or transaction volumes as well as market capitalization has been boosted by its adoption by various financial institutions. Most of these institutions and big-moneyed individuals buy XRP over the counter (OTC) mostly during the escrow releases. A stoppage of the releases would prompt these entities to turn to the already circulating XRP to buy from other holders, and that would lead to more people becoming aware of XRP and its potential.
Possible FOMO
FOMO (Fear Of Missing Out) has been a major driver behind the success and price increase for many of the top cryptocurrencies – starting with Bitcoin. As a crypto gets more popular and its demand rises, people take notice and start buying in en masse, thereby creating an atmosphere of urgency for those who haven't bought. In the case of XRP, this would play out quite fast and expressly if the supply was to be cut. It would create a scenario where people would start rushing in to buy in anticipation of an imminent price increase.
Parting Shot
As part of the large and expanding crypto industry, XRP has undoubtedly captured the attention of people from all over the world. Ripple's unconditional support also counts greatly in terms of usage and exposure. There are now thousands of people who want to buy the crypto either to trade with or HODL. A recent agreement between Ripple and MoneyGram will see MoneyGram adopt Ripple's xRapid that uses XRP as a base currency for funds transfers. Ripple's Interledger Protocol has also made XRP more versatile as the ledger facilitates payments between it and other cryptos.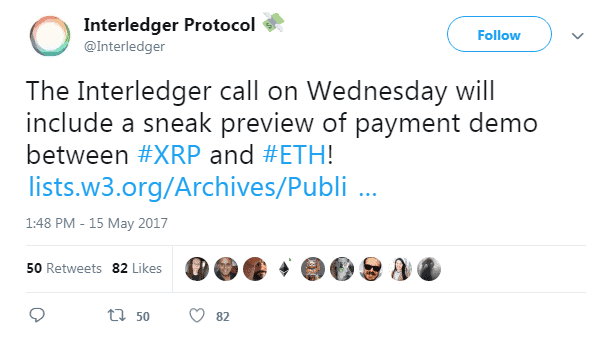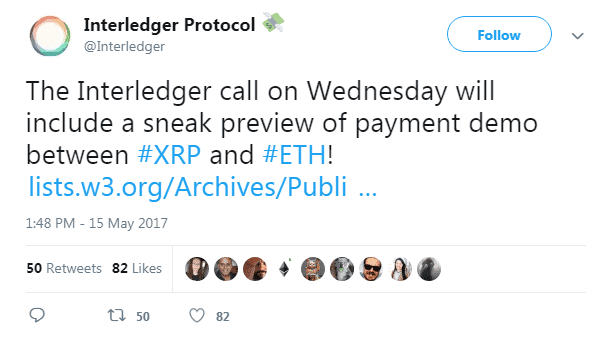 A tweet announcing the testing of the Interledger Protocol between XRP and ETH in 2017.
Shortly after, the first interledger transaction was completed between XRP and ETH.


Tweet announcing the completion of the first ever cross-crypto transaction on the Interledger Protocol in 2017.
Besides being widely regarded as credible means of value exchange, cryptos are also looked at as digital assets viable as investment opportunities. Bitcoin, for one, has cemented this belief as anyone who got into Bitcoin trading and acquired some early enough has earned good profits from the price increase over the years.
Given that market forces of demand and supply affect price, it goes without saying that a decrease in the supply of XRP would lead to a hike in price. In fact, there have been calls from various XRP fans like the Crypto Bitlord for Ripple to get rid of half of the coins locked in escrow. Of course, such a move would have the same effect as the stoppage of escrow releases since the crypto's demand would rise – and hence affect the price upwards.