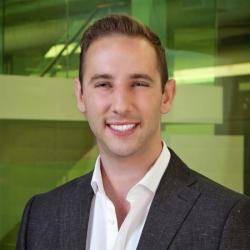 NEW YORK (InsideBitcoins) — Undoubtedly, one of the most anticipated sessions of the Inside Bitcoins Conference in Las Vegas is Matt Slater's presentation on bitcoin derivatives. Slater is the co-founder & CEO of San Mateo-based Hedgy, a peer-to-peer hedging marketplace that aims to eliminate counterparty risk by holding bitcoin margin deposits in non-custodial escrow. The platform matches merchants who accept bitcoin with investors holding bitcoin futures. The company sprung from the Boost Bitcoin Hackathon in April as Coindash and was ultimately rebranded as Hedgy. Slater spoke with Darnell Jackson on recent industry trends.
The most enthusiastic bitcoin fans and detractors alike have noted bitcoin's price volatility as a serious concern. How can Hedgy protect consumers from rapid fluctuations in Bitcoin prices?
Currently, our contracts are limited to businesses and accredited investors with large bitcoin holdings. Our smart hedging contracts protect users from volatility by locking in a USD/BTC exchange rate, known as a "forward contract."
You recently tweeted about how Bitcoin and Apple Pay were made for each other. What's the biggest reason why?
One of Apple's biggest accomplishments is its ability to change consumer habit. With Apple Pay, consumers will begin shifting from credit cards to phone payments, making Bitcoin payments and transfers many times easier. More importantly will be the 3rd party apps such as bitcoin wallets that use the Apple Pay technology.
With the recent announcement that Paypal is splitting from eBay, do you feel this will make Bitcoin adoption more likely for Paypal?
Absolutely. Paypal can now focus on its own income statement without the massive overhead from Ebay. Bitcoin will open an entirely new market for Paypal as well as reduce costs internally with regards to international payment settlement.
Disruption is the new innovation. You recently mentioned that only 57 of the original Fortune 500 companies still exist today. What innovations in bitcoin have you found most likely to shake up the status quo?
Smart contracts, crypto equity and international remittance are the biggest innovations in bitcoin I see going forward.
Follow Darnell Jackson on Twitter @FreedomMMC