We can all add this to the extensive list of Bitcoin price predictions that we've logged in so far. Dan Morehead and Joey Krug, the founders and chief executives of trading and investment fund Pantera Capital, made an appearance on Laura Shin's Unchained podcast. They both shared their views on the price of Bitcoin, as well as their opinions on the future of Facebook and its Libra crypto asset.
During the interview, Morehead was quizzed on the current state of the blockchain and cryptocurrency industry, as well as his iterations of the industry's life cycle. In his reply, he pointed out trends in the growth of Bitcoin's price, adding that there is a good chance the most popular digital asset breaks the $40,000 threshold by the time the year draws to a close.
In part, he said, "Graph the price of Bitcoin logarithmically, and its trend has been to grow at 235% compound annual growth rate. That puts BTC at $42,000 at the end of 2019. I think it's a good shot that at the end of the year we hit that."
Using an extrapolation of this trend, he predicted that the price would go on to hit $122,000 by December 2020, and 356,000 by the end of 2021.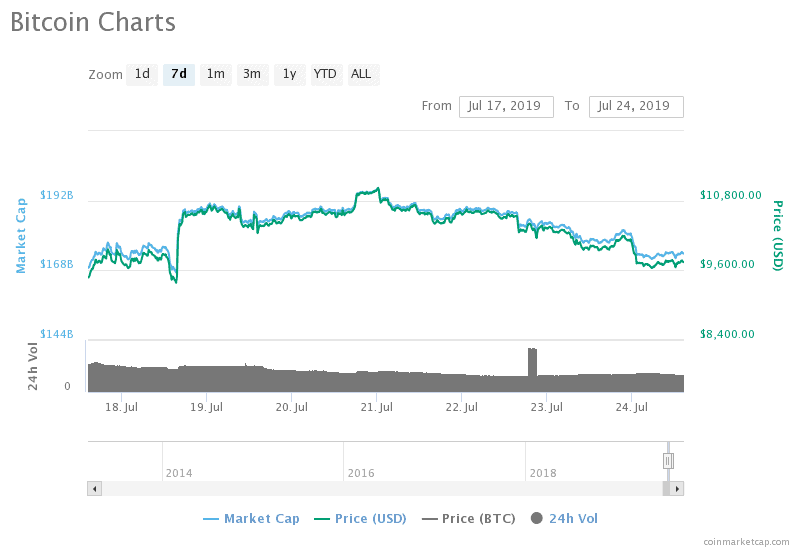 The prediction is a bit grandiose, as Morehead himself admitted. However, he pointed out that he predicted a $5,000 price berth at the point where Bitcoin trading was done at $100 per token. We all know what happened then.
Still, given the time and how Bitcoin has moved so far, an eventuality such as this would be impressive, to say the least. Data from market analysis platform CoinMarketCap shows that Bitcoin currently trades at $9,748.95 a token, down 2.73 percent over the past day. The assets high point was $13,387 on June 26, and while the asset cracked the $13,000 point this month, it's pretty much been on a downward spiral since then.
A more practical prediction was given by Galaxy Digital CEO Mike Novogratz back in May. In an interview with media house CCN, the crypto fund boss predicted that Bitcoin should be able to crack $20,000 once more before the year draws to a close. History proves that Novogratz might be right. Bitcoin reached its apex, trading about $19,700 back in December 2017, despite exchanging for just over $2,700 in July of the year. If a bear market could propel it that high two years ago, innovation could be the driver for another staggering rally of trades on cryptocurrency exchanges.
On the issue of innovation, Morehead gave a similarly bullish outlook on Facebook's Libra. The CEO heaped praise on the social media giant's decision to tie the stablecoin to a basket of currencies, adding that this could enhance the asset's stability. He further predicted that Libra could go on to be the world's reserve currency.
"The reserve currency has shifted 4 or 5 times over the last five centuries…You could imagine something like Libra, a basket token, ultimately becoming a place that countries can store wealth in."
For now, we will need to wait quite a while to see whether his prediction regarding Libra will be right. So far, regulators and lawmakers don't seem convinced, and even an appearance before by Facebook Blockchain Head David Marcus before Congress last week didn't see to do much to change their views. At this point, it seems more likely that if Libra proceeds, stern regulatory oversight will follow.