Last Updated on
Imagine a binary options robot that guarantees an average daily profit of $1671 on a deposit of $250. That's what Profit Maximizer alleges to do. But is it legit? InsideBitcoins in-depth review reveals that Profit Maximizer is a scam. You stand no chance of making a profit with this robot and they won't allow you to withdraw your deposit.
In this review, we will look at all the red flags that show that this robot is a scam. We will also look at tips for identifying a legit robot and also recommend tested and proven robots. The majority of robots in our recommended list are fully auto meaning that you do not need any trading experience to use them. Click the 'trade now' in the table below if you prefer going straight to a legit robot.
Is Profit Maximizer a scam? Yes!
InsideBitcoins determines that the Profit Maximizer web-trader is a fake – We did not find any evidence of an underlying technology
Profit Maximizer has an accuracy score of zero percent – Those why try it end up losing money
InsideBitcoins gives Profit Maximizer a legitimacy score of 2% – There are a lot of blatant lies and ridiculous claims on their website
Keep reading to learn more about the Profit Maximizer scam or visit our Top Bitcoin Robot 2019 – Legit and Accurate for tested and proven robots
Profit Maximizer alleges to be a binary options robot that automatically generates a profit of $1671 from a deposit of $250. According to the scammers behind the platform, traders who deposit more than the minimum amount stand a chance to make up to $10k per day. However, InsideBitcoins investigation shows that this platform is a scam.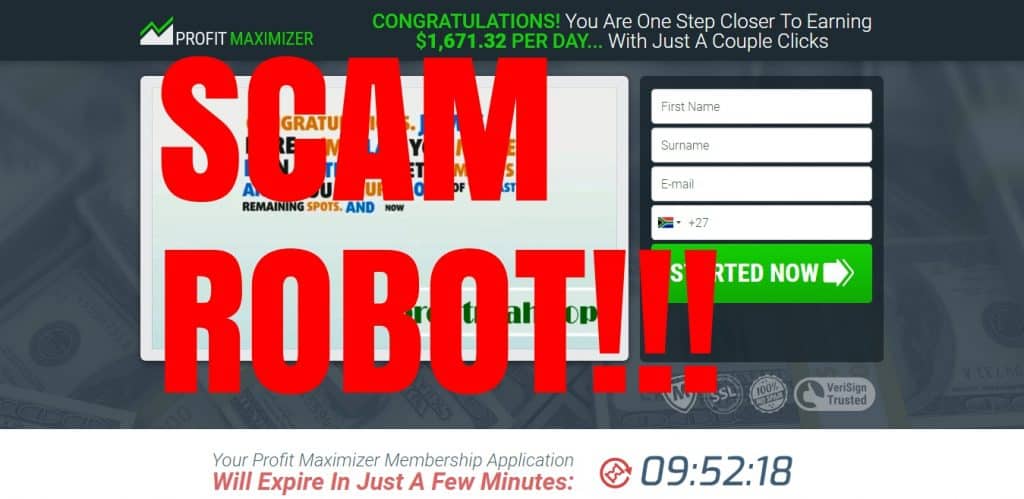 InsideBitcoins investigation includes a live test and also an in-depth analysis of users' feedback. In the live test, we deposit $250 and carry out live trading. Our live test on the Profit Maximizer app shows that it does not have any underlying trading technology. If you have been reading our reviews, you might have noticed that this is typical of scam robots.
We can confirm that the Profit Maximizer web-trader is a fake. All the brokers it lists as partners are a sham. The lack of legit brokers means that this platform does not participate in any live trading. Further investigation reveals that the person who claims to be the founder of this platform does not exist. A good reverse image search shows that the image used in their profile is from Pixaby, a stock images site
What is Profit Maximizer?
Profit Maximizer is a scam binary options robot that claims to generate an average daily profit of $1671. Like other scam robots, this platform uses chicanery to get new signups. Their main target market is the less experienced and financially desperate beginner trader. You will find a lot of stories and testimonials on their website about people who came from rags to riches through the robot.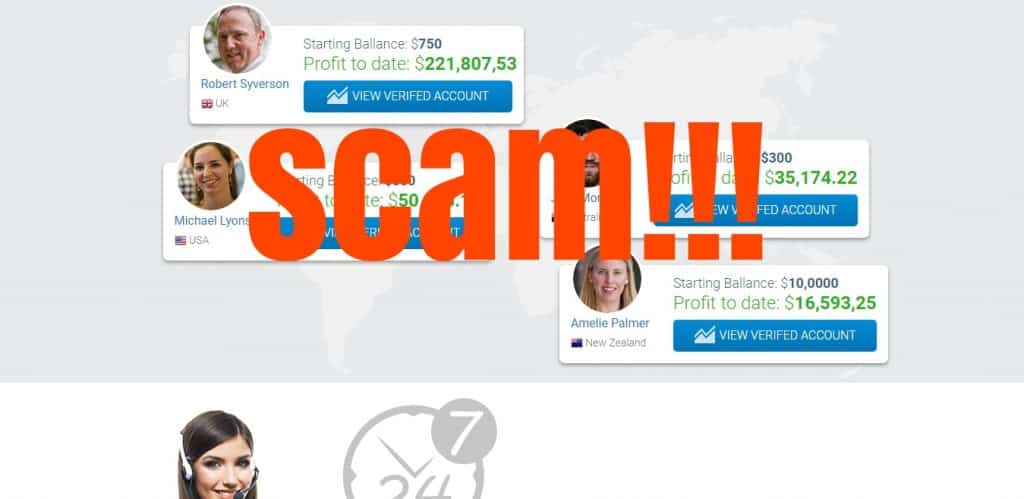 If you have been following our reviews, you will realize that this is one of the techniques that are synonymous with scam robots. Also worth noting, these robots mention very little about their trading technology. This is because there is none and the only thing they are interested in is your money.
As mentioned previously, the brokers listed as Profit Maximizer partners are all scam. This means that this platform does not connect to any exchange. Consequently, no live trading takes place and the results that traders receive in the fake web-trader are all faked. The Profit Maximizer platform reports consistent losses from the beginning until the trader's account goes into the negative.
How does Profit Maximizer work?
Profit Maximizer allegedly relies on complex computer algorithms for trading signals. However, our investigation reveals that it is a scam and there are no such algorithms behind its fake web-trader. Profit Maximizer is nothing but a cleverly built webpage that baits traders into depositing money with scammers.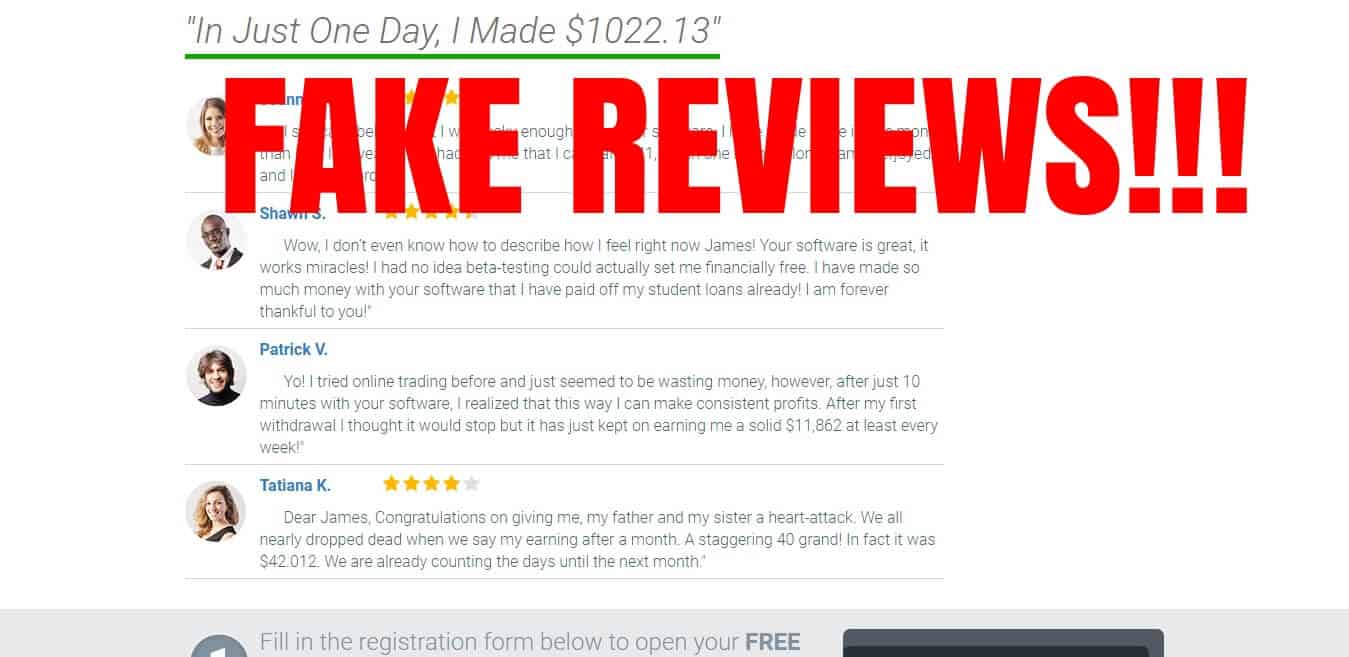 When a trader deposits money through Profit Maximizer, it goes to its partner sham brokers. These 'brokers' in return give the scammers behind the platform a huge commission on every deposit made through them. In short, the scam brokers share your deposit with the scammers behind Profit Maximizer while tricking you into believing that your money is lost through live trading.
Profit Maximizer also relies heavily on affiliates. These affiliates use all manner of deception to get signups. The platform pays them a commission of up to $150 on every deposit made through them. These affiliates use spam marketing and mostly falsely associate the robot with celebrities in a bid to get new signups.
It is important to carry out enough due diligence before depositing money with any robot. InsideBitcoins makes the process easier by providing unbiased and comprehensive robot review. We recommend that you avoid Profit Maximizer and instead try 1k Daily Profit for a legit robot. Read our 1k Daily Profit review to learn more.
Who is James Forley and is he the founder of Profit Maximizer?
In a video on their website, a James Forley introduces himself as the founder of Profit Maximizer. He claims to have made millions through the robot and is offering the opportunity to a select few to join the millionaire club.
Our investigation reveals that the man who claims to be the founder is a paid actor outsourced from Fiverr. James Forley is not their real name and they have no background in binary options trading. It is not uncommon for scam robots to hire actors to masquerade as the founders.
How to tell if a trading robot is a scam
As stated previously, scam trading robots tend to have similar characteristics. As a result, they are easy to identify for the trained eye. In this section, we will discuss the telltale signs of a scam robot in the context of Profit Maximizer. We will also introduce some of the most popular legit trading robots and why they are the best.
How easy and secure is the signup process?
Scam trading robots do not pay attention to users' safety. Their website and trading platforms are likely to lack encryption. This means that any data submitted through them including billing details can be stolen by hackers. The standard encryption protocol is the Secure Socket Layer (SSL). A website without encryption shows a "not secure" warning on the URL.
Furthermore, scam robots tend to share users' data with third-party scammers. With scam robots like Profit Maximizer, you are likely to receive a lot of spam emails and calls after signup. Read our Bitcoin Compass review for a legit trading robot with military grade level cybersecurity strategy.
What payment options do they accept?
Scam trading robots are likely to insist on deposits through methods which a dispute cannot be raised. Trading robots rely on brokers to receive deposits and facilitate transactions. Scam brokers are likely to provide deposit methods that are untraceable. Consequently, the best way to determine a legit trading robot is by checking the regulation of their partner brokers.
If a partner broker is well regulated, then their deposit methods are highly likely to be traceable. Regulators require brokers to adhere to strict deposit protect measures. Read our Mason Ford review to learn what to look for in a legit robot broker.
How reputable are their trading platforms?
When it comes to live trading, most scam robots provide a fake trading platform. One way to determine if a trading robot trading has legit trading technology is through users' reviews. Trading robots with fake trading platforms tend to make consistent losses. This means that they have a lot of reviews pointing out that their technology does not work. InsideBitcoins makes the research easier for you through comprehensive and unbiased reviews.
Profit Maximizer: Key Features
Zero profits
Zero Profits
With Profit Maximizer, you have a zero chance of earning profits. The platform is a scam configured to report losses. In our live test, we lost a deposit of $250 in less than a day of live trading. Most people who try this robot report making losing all deposit within a day.
Unsafe Trading platform
Unsafe trading platform
As mentioned earlier this robot appears to collect unnecessary user details. You are likely to get exposed to hackers if you sign up with them. Their website lacks encryption which means that hackers can steal any submitted through it.
No withdrawals
No withdrawals
Profit Maximizer does not allow users to withdraw their trading capital. Like most scam robots, they are likely to block you from the platform if you insist on withdrawing.
Scam brokers
Scam brokers
All the brokers listed by Profit Maximizer as partners are a scam. This means that they do not participate in any live trading. Furthermore, InsideBitcoins investigation reveals that the Profit Maximizer trading platform is fake.
Poor reputation
Poor reputation
The majority of online reviews we have analyzed show that this trading robot is a scam. Furthermore, there are a lot of complaints about the platform generating consistent losses until a trading account depletes. Even worse, the scammers behind the platform are blatant enough to ask for additional deposits.
Is Profit Maximizer a scam? The Verdict!
Profit Maximizer is a big scam and you should avoid it. InsideBitcoins investigation shows this platform is owned and operated by scammers who are not willing to reveal their real identity. James Forley, the man who claims to be the founder is a paid actor from Fiverr, a popular freelancing platform. Our review further determines that Profit Maximizer uses deceptive marketing techniques to get new signups.
Also, our investigation shows that the web-trader provided by this robot is fake. It does not connect to any broker or exchange and there is no live trading involved. Consequently, the results that traders receive through the robot are predetermined. We recommend that you avoid this robot and instead try 1k Daily Profit, an auto robot that generates a daily profit of up to $1k. We have tested this robot and can confirm that it is genuine.
FAQ