Last Updated on
In recent days, auto-trading robots have become popular thanks to the potential demonstrated by some of these software. A good auto-trading robot can allegedly generate thousands of dollars in profits per day from an investment as little as $250. However, not all trading robots are legit. In fact, 99% of all trading bots in the market today are a scam. HB Swiss is one of the scam robots masquerading as a forex trading robot.

InsideBitcoins investigation takes into consideration a myriad of factors when determining the legitimacy of a robot. These factors revolve around transparency, profitability, reputability, safety and customer services. In this review, we will look at why HB Swiss is a scam and also give recommendations for tested and proven robots. Try a legit trading robot by clicking the button in the table below or keep reading to learn more about HB Swiss.
Is HB Swiss a Scam? Yes!
InsideBitcoins gives HB Swiss a legitimacy score of 10% – Legit robots must score above 70%
This platform lies about its founders and partner brokers – We have found that they partner with scam brokers
Our live test shows that this robot has an accuracy level of below 10% – top Bitcoin robots 2019 have a reported accuracy level of 90% and above
Most people who have tried HB Swiss report making consistent losses.
HB Swiss is a scam trading bot and you should stay away from it. Our investigation reveals that there are a lot of complaints about this platform. The majority of users report losing their deposit within a few minutes of trading. We can confirm that this trading robot is owned and controlled by several scam brokers.
Further research reveals that they do not have any underlying proprietary technology. Like most scam robots in our list, HB Swiss uses a webpage to trick traders to believe that there is an underlying trading algorithm. This webpage has similar features with legit robots but they do not work. When a trader switches on live trading, the platform starts making losses and cannot be stopped until the deposit is finished.
HB Swiss lies about its founders and does not disclose about its partner brokers until a deposit is made. We have established that the profiles used for founders are fictitious. Furthermore, this platform partners with unregulated, sham offshore brokers.
What is HB Swiss?
HB Swiss is a scam platform claiming to be a forex trading robot. InsideBitcoins test reveals that this platform is owned and used by scam brokers to trick traders into signing up. They do not have any trading technology and their fake web-trader is set to make consistent losses. InsideBitcoins investigation also reveals that this platform keeps moving from one domain to another. This is typical of most scam trading robots.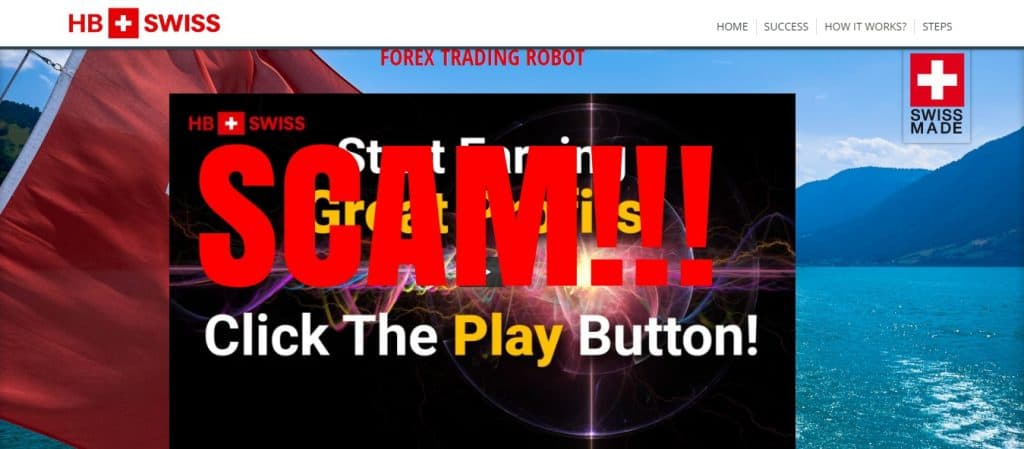 Before venturing into Forex, HB Swiss was operating a binary options robot. We can confirm that the negative publicity from scamming traders is what made HB Swiss change web-domain and start operating as a forex robot. Moreover, HB Swiss tells blatant lies on its website. Perhaps the biggest lie is the claim that it generates $5000 profits per day from an investment of $250. They do not shy away from asking investors to invest as much as $10,000 to make a million dollars in less than a month.
We can confirm that there is no robot on earth that can report such profits. You won't make a dime with HB Swiss, therefore, stay away from it. Users instead recommend that you try Netflix Revolution if you are looking for a legit auto-trading bot. The users who have tried this robot have claimed that it is one of the most profitable in the industry. Read our Netflix Revolution review or click the trade button in the table below to start trading.
How does HB Swiss work?
HB Swiss claims to apply sophisticated computer algorithms to scan the crypto markets for tradable insights and execute trades automatically. However, our live test reveals that they do not have such technologies. We can confirm with a 100% certainty that what they provide is just but a webpage meant to trick traders into signing up. Once you make a deposit, consider your money as lost.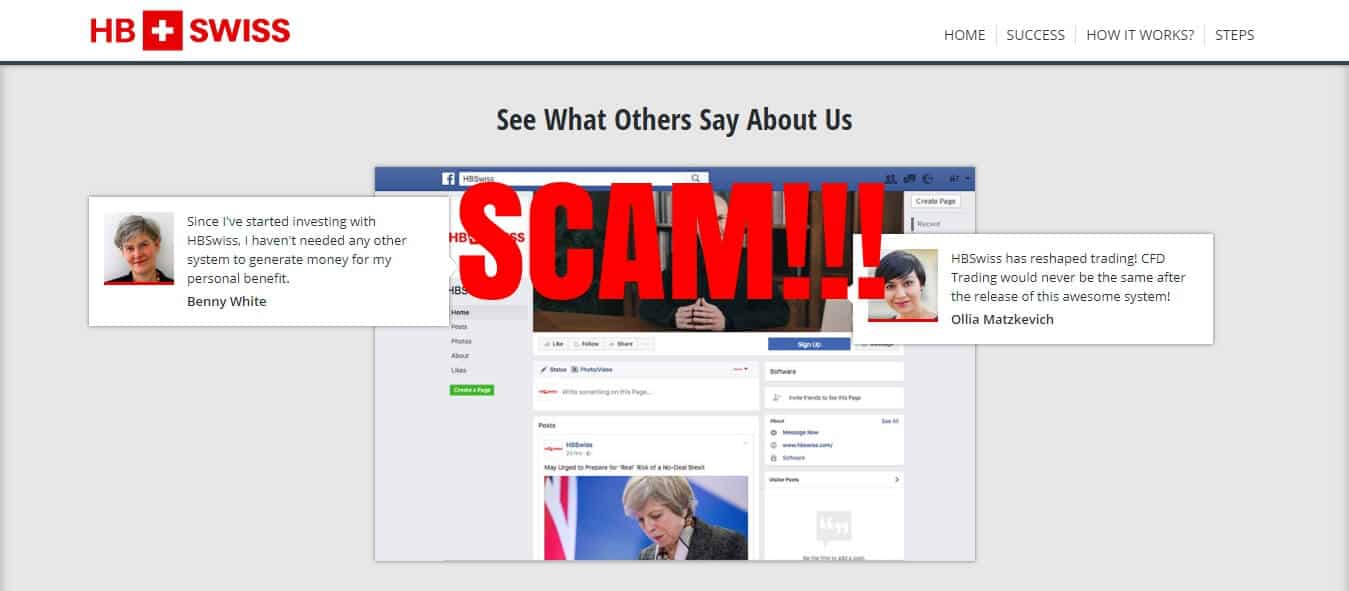 Legit trading robots utilize the power of technology to analyze big data and automatically execute corresponding trades. Traders can prove the existence of this technology since it shows some consistency in profitability. A genuine robot can make losses but it has a high likelihood of overcoming them. Also, traders can relate performance to market events such as economic news. Scam trading robots report losses from the beginning to the end. Top trading robots conduct both technical and fundamental analysis.
In technical analysis, the robot reviews charts and historical data to determine the direction of the markets. Similarly, in fundamental analysis, the algorithm analyses qualitative data to make decisions. For instance, the robot can read the news as they emerge and place matching trades. This makes it possible to allegedly capitalize on every trading opportunity that presents. Read our 1k Daily Profit Review for a robot that conducts both the fundamental and technical analysis.
Why you Should never trade with HB Swiss
InsideBitcoins investigation finds this self-proclaimed trading robot to be highly suspicious. We recommend that you stay away from it and instead try reliable robots. In a nutshell, here are some red flags that this robot is a scam.
Automated losses – Our investigation reveals that you will not make any money through this platform. There are a lot of complaints about people losing their entire deposit within a few minutes of live trading. You will lose your entire deposit in minutes if you decide to trade with this bot.
No withdrawals – HB Swiss does not allow traders to withdraw their money if they opt out before live trading. Those who decide to trade have nothing to withdraw given that the platform is set to automatically make losses until their money is finished.
Unsecured trading platforms – InsideBitcoins investigations show that the HB website and web-trader are highly insecure. You are likely to get exposed to cyber attackers if you sign up with this bot.
Provides misleading and false information – Our investigation reveals that this platform lies about almost everything. For instance, our live test reveals that the testimonials provided on their website are false. The images used are from stock sites.
HB Swiss scam Signup Process
As mentioned earlier, the signup process with HB Swiss is totally unsafe. You will receive a lot of spam emails and calls if you signup with them. This is because they share your information with other scammers. Also, their website is not safe which makes it possible for hackers to intercept traffic and steal data.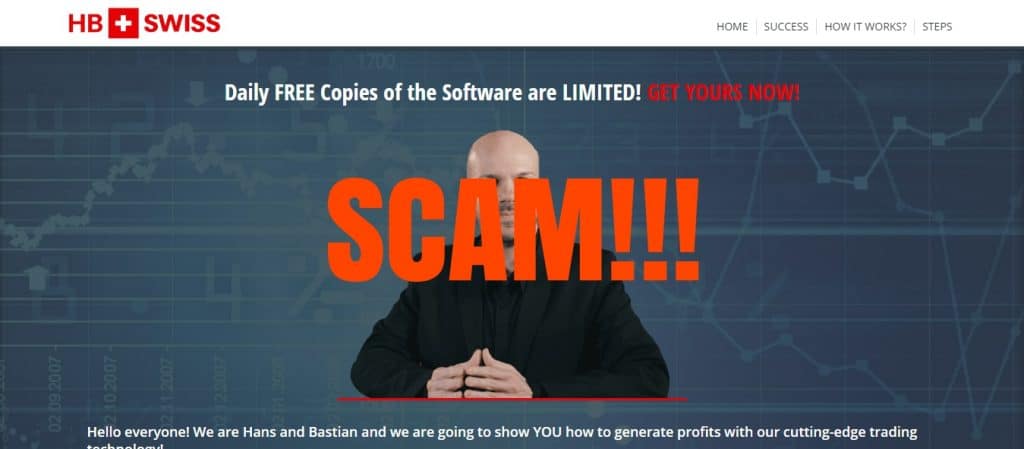 A secure website and trading platform must encrypt all data passing through them. Without encryption, hackers can easily read any data submitted through the website. An encrypted website has a lock symbol in its URL. Most platforms use what is known as Secure Socket Layer (SSL) to encrypt platforms.
InsideBitcoins also pays attention to measures put in place to ensure safety. We can confirm that HB Swiss does not have any. They only seem determined in getting as many signups as possible. Once you deposit with them, you are on your own. They will steal your deposit and sell your data in the black market for additional income.
Unsafe Deposits and Withdrawals
Our investigation shows that HB Swiss does not protect users' billing information. Your banking details are likely to be exposed to hackers if you signup with them. HB Swiss facilitates deposits instantly but does not allow users to withdraw their money. Their customer service does not answer to inquiries especially when they are about how to withdraw.
From our investigation, we are convinced that HB Swiss main goal is to solicit deposits. When you deposit money, the scammers behind the platform share it with the affiliates who introduced you to the platform. These affiliates are paid up to $150 per signup. The money comes from the deposit given that there is no any other way for the platform to make money other than stealing from unsuspecting users.
False live trading platform
The HB Swiss trading platform appears not to have any underlying proprietary technology. We are convinced that what they offer is nothing but a webpage with features that mimics a real trading platform. This webpage is meant to trick traders into believing that they are participating in real trading as their money is wiped out of their accounts.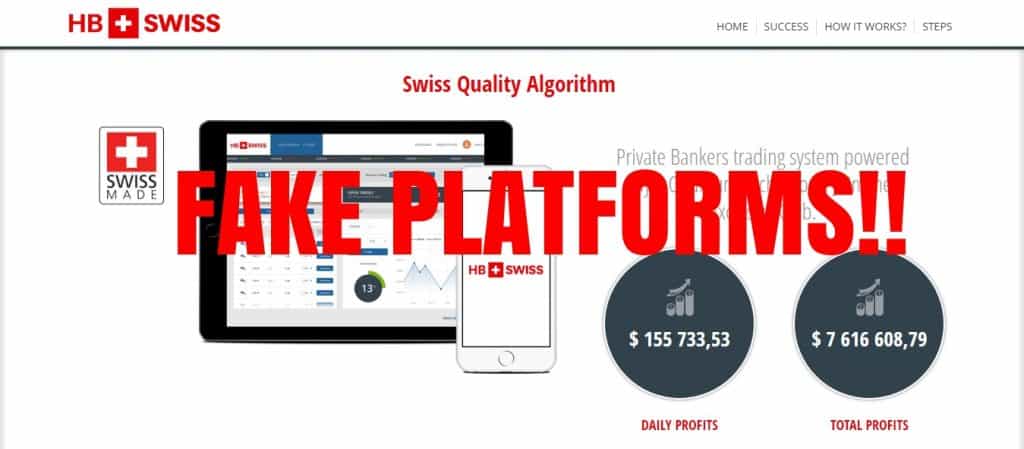 InsideBitcoins can confirm that this is a trick used by the majority of scam robots. These platforms are usually owned by scam brokers and highly depend on unscrupulous affiliates to get signups. The affiliates get a cut of the deposit made through them. This explains why you should always carry out enough due diligence before signing up with any platform. We make this easy for you by providing comprehensive and unbiased reviews. Read our Easy Trade App review for a legit trading robot that trades forex.
How to detect a scam auto-trading robot
Scam auto-trading robots are not hard to detect for a keen trader. The following are the telltale signs of a scam auto trading robot.
Ridiculous profits guarantee – Scam robots tend to guarantee enormous profits from a little investment. For instance, HB Swiss promises to help traders make at least $5000 per day from an investment of $250. These platforms are likely to stress more on the earning potential in their marketing campaigns.
Fake reviews – Scam robots tend to use images from stock sites to build fake testimonial profiles. The fake reviews are likely to be about how the app helped the reviewer to get out of debt and buy expensive cars. You can determine if a profile is false by conducting a reverse image search of the photos used for reviews.
Poor reviews – If there are a lot of complaints about people losing money or not being able to withdraw, then it is highly likely that the platform is a scam. Avoid platforms with a lot of negative reviews and those with few perfect reviews.
Keeps changing domains – A platform that keeps moving from one web-domain to another is also likely to be a scam. Sham trading robots keep changing name and domains to avoid being punished by Google.
Is HB Swiss legit? The Verdict!
InsideBitcoins investigation reveals that HB Swiss is a scam trading robot. This platform is used by scam brokers to fish for deposits from unsuspecting users. There are a lot of complaints about the platform disappearing with traders' money. Our live test shows that they do not have any proprietary trading technology. What they provide is a cleverly built webpage to trick traders into signing up. Once you deposit money, they go missing in action. We recommend that you only trade with tested and proven trading robots. Click the button in the table below to start trading with a legit auto-trading robot.
FAQ