Crypto Gold is a platform that claims to make its users overnight millionaires by helping them invest in crypto mining. This software claims to apply the latest crypto mining equipment to give investors a return on investment beyond their imagination. But is Crypto Gold a scam or legit crypto mining app?
As usual, InsideBitcoins has carried out rigorous tests to determine if this is a trustworthy app. We conclude that it is a scam and you should keep away from it. In this review, you will learn more about why you should not invest in Crypto Gold and get recommendations for proven crypto trading apps. It is essential that you read our main robot page to learn about our rating criteria and our top picks for 2019.
Is Crypto Gold Legit? No!
InsideBitcoins tests find Crypto Gold highly suspicious.
There are a lot of negative reviews online about this software.
This crypto investing software focuses much on hype marketing and not improving its platform.
Crypto Gold charging mechanism is not transparent.
Their customer service is not responsive.
Read our review of Bitcoin Loophole if you are looking for legit crypto trading software.
InsideBitcoins tests involve hands-on experience with the platform and also an analysis of individual users' online reviews. We found Crypto Gold investment software hard to use and their fee mechanism not transparent.
Also, there are a lot of online complaints about this trading platform scamming people. InsideBitcoins, therefore, does not recommend it and advise that you keep away from it.
What is Crypto Gold?
Crypto Gold claims to be a crypto investment platform that enables investors to make thousands of dollars per day investing in crypto mining.
The platform requires investors to contribute anywhere between $500 and $1.5 million depending on membership level. The membership levels offered include Silver, Gold, Platinum, Diamond, and White Diamond.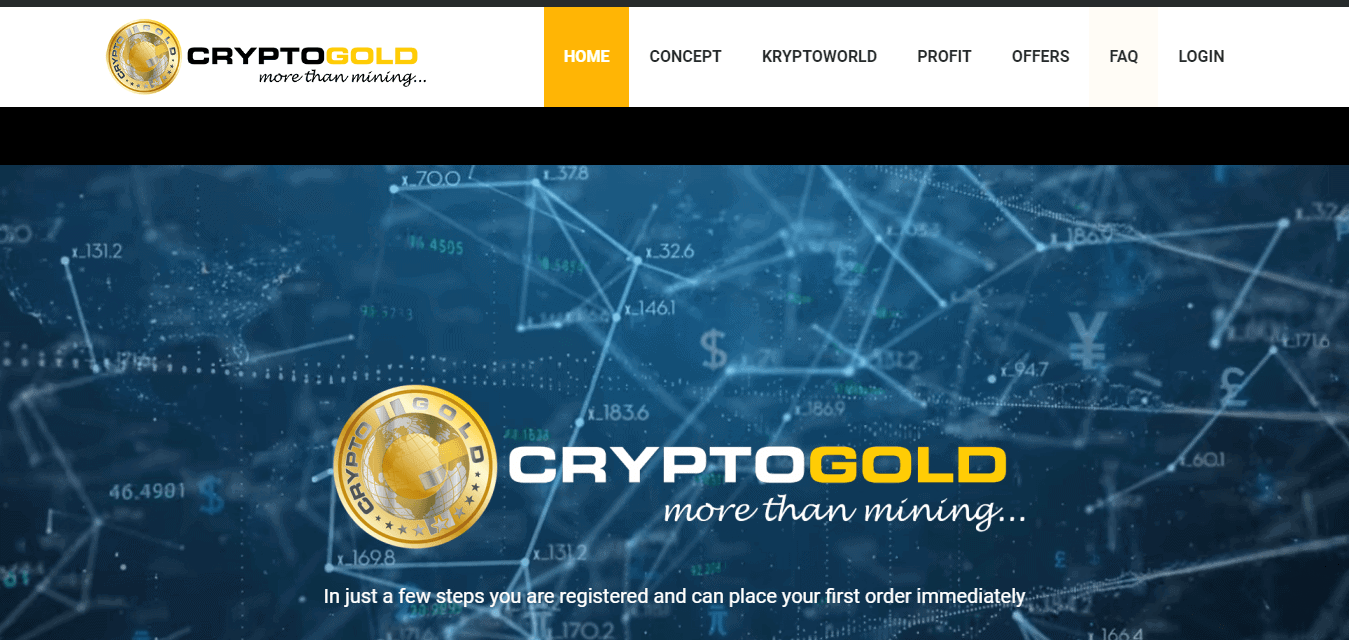 InsideBitcoins finds the Crypto Gold approach to have the characteristics of a pyramid scheme with members at lower levels earning money basing on the number of people they introduce. Crypto Gold calls this multi-level marketing, but our analysis reveals that contributions made by new members drive their ecosystem.
We can confirm that their trading platform does not work as they promise and most of their claims are bogus. Our tests indicate that they do not have a stable underlying technology behind their platform and are often dodgy on questions regarding the logic behind their business model.
InsideBitcoins has determined that their customer service is unresponsive most of the times especially on questions regarding the reliability of their trading platform. Also, while it is possible to make money from crypto mining pools, the ROI promised by Crypto Gold is ridiculous and impossible.
This platform seems only determined to get new signups after which it is likely to disappear with your money. Read our Bitcoin Profit review if you are looking for a legit trading platform.
Who Founded Crypto Gold?
Crypto Gold does not disclose any information about its founders and the team behind the app. There is also no information about its country of origin or a traceable phone number. This means that there is no way for investors to track the people behind the platform in the event of fraud.
Even worse, the platform uses freelancers to give fake reviews about its platform. InsideBitcoins has determined that almost all of the people on its videos are freelancers on Fiverr. One freelancer appearing on their website has also appeared on other scam websites in the crypto industry.
Also worth noting, this trading platform is not under any regulation whatsoever despite collecting deposits. While trading apps are usually not regulated, they operate under brokers who are generally monitored in their jurisdictions of operation. Crypto Gold handles deposits which mean that the lack of regulation makes it illegal.
How does Crypto Gold Work?
Crypto Gold is a platform that pools together investors' funds and invests them in crypto mining companies. With this platform, you can invest directly in mining pools, or you can buy shares of companies invested in crypto mining.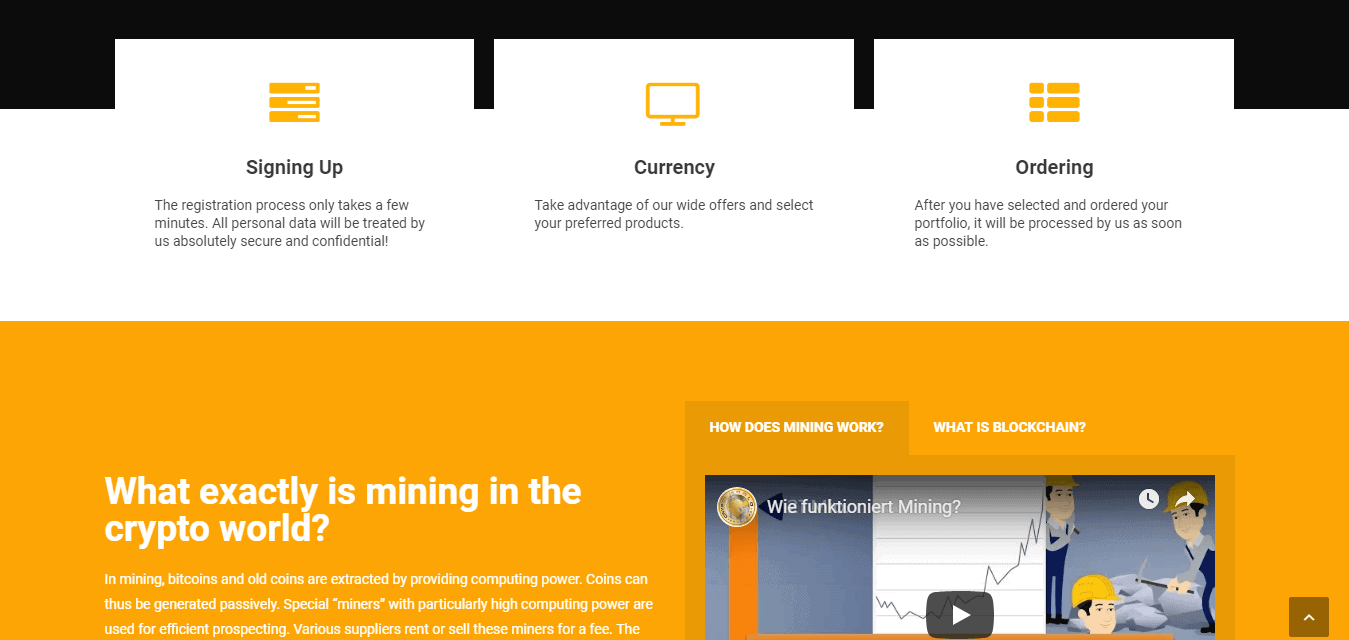 InsideBitcoins has determined that this platform does not provide any information about the companies it invests in or the process it uses to assign funds. The failure to make these disclosures should be a big red flag to investors.
Given that this platform is not under any regulatory body, there is a high likelihood that it does not invest in any crypto mining business. Crypto Gold is more focused on raising deposits which adds to the suspicion that it might be a pyramid scheme surviving on deposits made by new members.
The approach used by this scam platform should not be confused with automated crypto trading, a proven method that involves using computer algorithms to trade. While many crypto trading robots are a scam, there are a few that are legit. We recommend that you read our list of the best trading platforms in 2019 if you are looking for a high return crypto investment method.
Crypto Gold Line of Business; Overview.
What is Crypto Mining
What is crypto mining?
Crypto mining is a process through which new digital coins come into circulation. For cryptos such as Bitcoin, the method involves transactions validation through complex mathematical models. Crypto miners make money by keeping a fraction of the coins they help generate by accurately validating transactions.
Does Crypto Gold Invest in Crypto Mining?
Does Crypto Gold invest in Crypto Mining?
Crypto Gold claims to help investors generate millions of dollars by investing in crypto mining. We did not find any evidence that Crypto Gold invests in Crypto mining. InsideBitcoins finds this platform not transparent and hence highly untrustworthy. They seem more determined to mobilize new deposits than to improve their investment platform and services. We are convinced that their business model depends on the money collected through new signups and hence this is a pyramid scheme. If you are looking for a high return investment in the crypto industry, we recommend that you look at our list of top crypto trading robots in 2019. Also, read our guides on the example robots provided in this post. These have been proven to generate profits and we highly recommend them.
Account Creation.
While we do not recommend this trading platform, we find their account creation process simple and fast. Perhaps this is a strategy to get signup from as many people as possible. With this platform, you can open an account and deposit within three minutes. However, be warned that there is a high likelihood that you will lose your invested capital.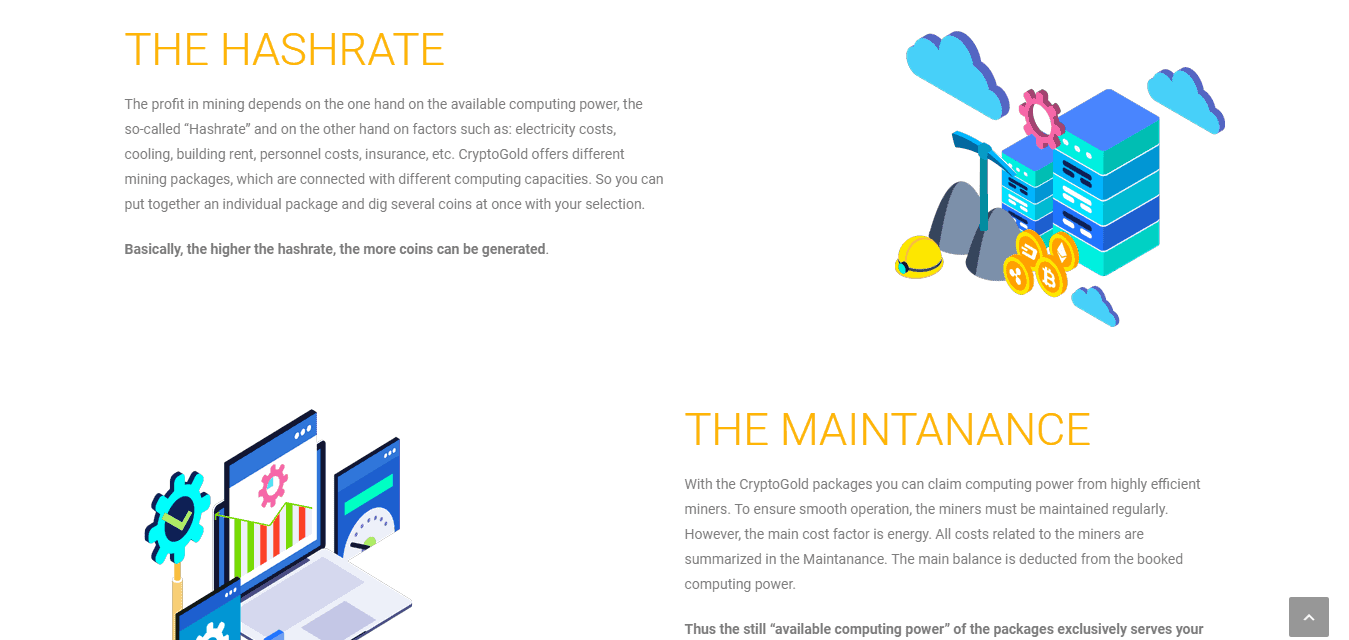 InsideBitcoins determines a great signup process by the ease of use and the security measures that are taken to protect users' data. A good signup process should only take the necessary details and should have measures in place to protect this data.
Legit crypto investment platforms such as Bitcoin Trader have well-established users' data protection measures following regulatory requirements such as the GDPR. Scam projects such as Crypto Gold, on the other hand, do not adhere to any regulations and therefore do not pay attention to users' data security.
Deposits and Withdrawal
Crypto Gold provides multiple payment methods to include Visa, Master Card, and Wire Transfer. InsideBitcoins could not establish how this platform handles clients' payment details. A good platform should have foolproof methods and should not store any billing details from clients.
Regarding user feedback, there are many complaints about Crypto Gold not allowing investors to withdraw their money. Some users have also complained about exorbitant charges from this investment platform. Others have complained about their investment capital not reflecting in their accounts.
InsideBitcoins has determined that only a few people claim to have earned profits from this platform and they came in the form of a commission for introducing new members. There are little details and feedback about investors making money from crypto mining pools. We recommend that you keep away from Crypto Gold since it is highly likely that you won't be able to make any money or get your deposit back after signup.
Investment.
As mentioned previously, Crypto Gold claims to pool funds from investors and invest in crypto mining pools. Crypto Gold requires investors to deposit between $500 and $1.5 million plus a flat fee of $79. They claim that the more you deposit, the higher the returns. However, you will be lucky to get your capital back let alone enjoy some profits.


InsideBitcoins has determined that this platform focuses more on mobilizing deposits than providing investment opportunities to investors. You may make a little income from Crypto Gold if your motivation is to help them get more money by introducing more people but do not expect anything from them in terms of return on invested capital.
Why you should avoid Crypto Gold.
As mentioned severally in this review, Crypto Gold is a complete scam, and you should avoid it. This platform claims to invest in crypto mining, but we have established that their main focus is on mobilizing deposits. The following are the main reasons as to why you should not invest in Crypto Gold.
Has features of a pyramid scheme – Crypto Gold appears to sustain its business model by mobilizing new deposits and paying commissions on referrals. Additionally, this platform claims to invest in crypto mining but does not provide any evidence to that effect.
There are many complaints about deposit loss – If you conduct an online search, you will realize that there are many complaints about people losing money by investing in Crypto Gold.
Is not regulated – Any company that mobilizes deposits from investors must be tightly controlled. Crypto Gold is not regulated in any jurisdiction and can therefore not be held accountable in case of deposit loss.
High deposit requirements – This scam investment platform requires a minimum investment of $500.
High investment fees – You need to pay an investment fee of $79 to get enrolled in their membership programs. These programs inform the amount you will earn when you make referrals.
Crypto Gold vs. popular crypto investment platforms.
| | |
| --- | --- |
| | |
| Trades cryptocurrencies using sophisticated computer algorithms | Does not apply any known technology. Appears fishy. |
| Requires a minimum deposit of $250 only | Requires a minimum deposit of $500 and a maximum of $1.5 million |
| Legit trading platform and business model | Unproven investment platform |
| Well thought out trading platform | Has all the characteristics of a pyramid scheme |
| Few complaints about trading platform reliability | Many complaints about lost deposits and unresponsive customer service |
| Highly recommended | Not recommended |
Is Crypto Gold scam or legit? The Verdict!
FAQ.