As cryptocurrencies have been with us for over ten years, organizations and crypto enthusiasts have developed plenty of applications in this space. This ranges from wallets, exchanges, trading platforms, innovative solutions, and bitcoin robots. One of these robots is Bitcoin System. This robot however has turned out to be a scam and is in fact no longer in service. We would recommend you try Bitcoin Trader instead.
The somewhat volatile nature of digital currencies makes it a great asset for trading. Whether it's a bull or a bear market, smart traders can take advantage of the crypto market's prices to generate profits for themselves.
Combining cryptocurrencies and algorithmic trading present on the fiat market, organizations have released multiple crypto bots. These bots use algorithms as well as different trading strategies and indicators to trade cryptocurrencies automatically. The benefit of such services is that you don't have to sit in front of your computer checking the charts and prices, you just simply set up a bot to do all the trading for you.
Today, we are checking out the Bitcoin System app, a trading bot that has promised great returns in the past for its users. We've seen an increased number of people searching "Bitcoin System scam" and "Bitcoin System legit" in Google. In this Bitcoin System review, we'll get to the end of that.
Unfortunately, there are crypto bots that are not completely honest or legit, and some of those "services" are after your money. That's why it is super important to analyze every crypto bot on the market. Therefore, after reading this Bitcoin System review, you'll be able to determine whether this service is safe and worth your money. Let's dive in!
Please note that algorithmic crypto trading involves high risks. So, you'll have to be extra careful when selecting the service you want to trade cryptocurrencies at. Also, use algorithmic crypto trading platforms at your own risk. Click here to find out more about bitcoin robots and trading robots in general.
What is Bitcoin System?
Bitcoin System is an app that utilizes bots to trade cryptocurrencies automatically. The platform uses a technology that cuts out human error completely, leaving all the trading to the cryptocurrency robots.
So we took a look at the Bitcoin System website. Or, more precisely, we wanted to take a look at the site. But we couldn't find it, neither any social media accounts of the service. The Bitcoin System website seems like gone or just under maintenance, but the first option seems more possible.
In case the site is under maintenance, we believe that it has left either the bitcoinsystem.com or cryptosystem.com domain. The first one has the basic WordPress theme set up, while cryptosystem.com is for sale on cryptodomains.com for $52,000, which is a great sum for the domain. In case of a re-launch, we think that the Bitcoin System app will migrate to another website than cryptosystem.com or bitcoinsystem.com.
As there are many scam services in the crypto space and a part of the crypto robot platforms are operated by scammers, we need to check whether we can talk about a Bitcoin System scam. So, every time you use a new service, we need to carefully check whether it is legit. You don't want to lose your funds to scammers, do you? Furthermore, automated cryptocurrency trading involves high risks, so you'll have to choose a platform where you can trade with the best performance.
So, is Bitcoin System legit? We've checked and analyzed the service whether it is legit. Unfortunately, neither Google nor any social media platforms (along with other websites) show any information on the crypto bot platform. So, neither we can say it's a scam nor that it's totally Bitcoin System legit. If we could see the Bitcoin System website, create a Bitcoin System sign-up for the service and test it, then we would provide you with more information on this. But, unfortunately, this time we can't. Although, we hope the website will come back at some point, and we will be able to see to evaluate it thoroughly.
Is it a scam?
We couldn't test the crypto bots on Bitcoin System as the site can't be reached. Therefore, we couldn't verify the success rate of the platform's bots.
We can't determine whether Bitcoin System is a scam crypto robot platform as we were unable to find the website.
InsideBitcoins recommends an investment of no more than $250 at Bitcoin Trader (an alternative platform to Bitcoin System).
To start trading, head to the website of a trustworthy crypto robot platform, or read further to see the exact instructions on how to use the platform.
Who founded Bitcoin System?
As we can't access the Bitcoin System website, we don't know the person or persons who have created the crypto robot platform.
How does the Bitcoin System app work
Bitcoin System (should) work like most of the algorithmic coin trading apps that utilize crypto robots to do all the trading for the user. These systems work as follows. You register to a service, if it is applicable, you verify your account. After that, you need to fund it with money. Not all services have the same pricing models. At some, you have to pay a flat fee every month for subscribing to the platform where you can use the bots to trade cryptocurrency. At others, you have to rent the bots that do the trading for you. There's also another pricing model that is popular at companies who have issued tokens during an Initial Coin Offering (ICO). At these services, you have to buy the native token of the service, and hold a certain amount to use different bots and/or features on the platform.
If you are ready with paying the fee, you have to set up the bots. After you are done, you don't have to do a thing other than watching the performance of the crypto bots.
Unfortunately, as we don't have access to either the Bitcoin System app or the Bitcoin System website, we can't tell you anything on how the service works in real life. In case the operators of the service re-launch their platform, we'll create a Bitcoin System account to test the crypto bot, and will update this review accordingly.
In the next section, we have compiled a step-by-step guide for a trustworthy crypto robot platform. However, as we were unable to create a Bitcoin System sign-up, we decided to show you another platform. The service we are recommending you to use is Bitcoin Trader, one of the trusted automated cryptocurrency trading apps we have reviewed. Our step-by-step Bitcoin Trader tutorial will guide you through the processes of creating an account, testing the robots via the demo trading platform, depositing funds, and using the live trading platform.
Important note about Bitcoin Trader: please disregard the information on the homepage of the service; it has plenty of advertisements that tell how much you can make in a certain number of days among other things. Some sites that are claiming such information can mislead the users to thinking the service is a scam. We can certainly say that Bitcoin Trader is legit, and you can make profits on the platform. Just don't believe on the service provider's claim on the amount of profits you'll make using the crypto bot. They can't predict that as you are the one who is setting up and operating the bot. So you'll have to determine that yourself.
How to place trades on Bitcoin Trader?
Step 1: opening an account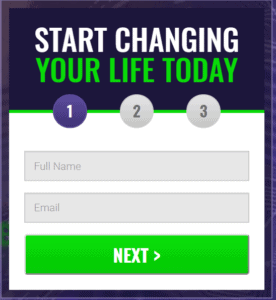 To use the Bitcoin Trader app, you'll need to create an account. Head to the homepage of the service. You'll find a form on the right side of the page where you'll have to type in your details, including your name and email. You'll also have to choose a strong, but memorable password. At the third step of the registration process, the website will ask for the country of your residence as well as your phone number. Fill out the form completely, and proceed to the next step.
Step 2: demo trading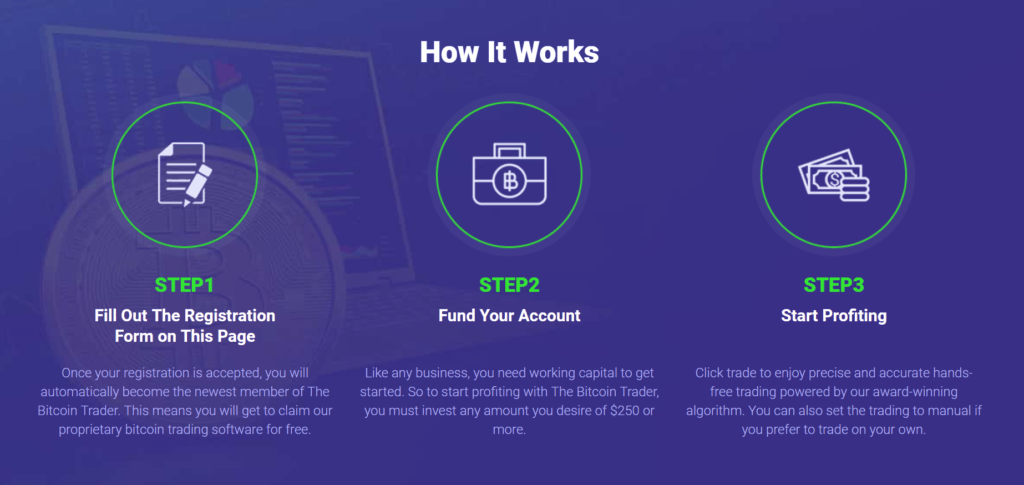 Now, your account is created. Hooray! But, before you start trading on the platform, you'll have to evaluate whether the trading bots on the service are legit as well as profitable. A demo account – which is provided by Bitcoin Trader for free – will let you do that. The demo account is loaded with $1,500 (virtual funds), which you can use to trade cryptocurrencies via the platform's bots.
On the left menu bar, you'll see a button "Go to Demo." Click it, and the site will take you to the demo trading platform. You'll see three stats on the top: total profit, total balance, and winning trades (the trades that have resulted in profits). On the right side of the "Open Trades" tab, there's a slide next to "Auto Trade." To start your first demo trade, click on it and it will turn on. After a short period of time, you'll see multiple trades that have been conducted by the crypto bots of the platform. Analyze the results and determine whether this platform is worth your money. Please note that algorithmic cryptocurrency trading involves high risks.
Step 3: deposit funds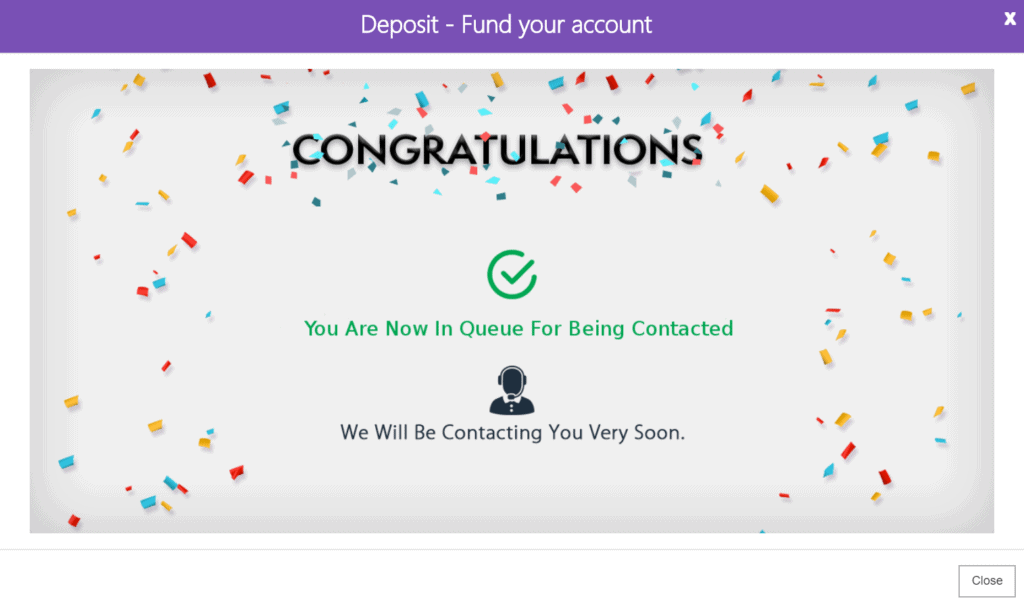 If you have come to the conclusion that you want to trade cryptocurrencies live on Bitcoin Trader, then you'll have to first deposit funds into your account. To switch back from demo mode, click "Go to Live" on the left side of the page. When you are there, click the green "Deposit" button, and the website's administrators will reach out to you with instructions on how to deposit funds into your account. Look for their email and follow the instructions in order to fund your Bitcoin Trader account.
Step 4: let the robot place trades on your behalf

As soon as your funds are credited on your account, you can start trading. At the Trading Room, you'll see a red circle with "Off" next to it. Click it to turn it on. Now, set up your bots that will do all the trading for you. The only thing you'll have to do then is to watch and analyze the performance of your crypto bots.
Can you make money with Bitcoin System?
At the current moment, you can't make profits with the Bitcoin System app as the website of the service is down. We have searched everywhere, but we were unable to find the domain Bitcoin System is using. Before the website was down, it may have been possible to generate profits with the crypto robot platform. However, we can't verify this information until the site gets back up.
The Verdict: users are unable to use the Bitcoin System app
So, we have given the Bitcoin System system the worst rating we could give. As mentioned before, the reason for this is insufficient information on the service and the fact that users are unable to trade via the Bitcoin System app. They can't create a Bitcoin System account either, which is really bad since the users can't even test the demo trading platform of the service – as well as no access to basic information on the website.
There may be a time when the service re-launches. If that happens, we'll create an account at the service, and we'll analyze and test it, then update this Bitcoin System review with the new information as well as our take on the crypto bot.
Meanwhile, we recommend checking out the Bitcoin Trader app as a trustworthy crypto robot platform.
FAQ
Other trading robots you might be interested in
As Bitcoin System is not a working crypto robot platform, it is crucial to recommend some great solutions we have tested previously. You already know Bitcoin Trader, which is featured in this review's step-by-step guide. But there are two other excellent services that are on the top of our list. Let's see them!
Bitcoin Code
When we write a review about a scam crypto robot platform or one that is not working (like the Bitcoin System app) – in most cases -, we recommend this service to our readers. Why? Because it is easy to use, completely legit, and the performance of the bots is great.
CryptoSoft
Another top-rated service, which we are constantly recommending to our readers. If you fancy a crypto robot platform that has a trustworthy service, high-performing bots, an easy account creation process along with other cool features, then CryptoSoft is your go-to service. Don't forget to check out our CryptoSoft review on the crypto robot platform.