Analysts predict bitcoin will be trading at new highs before year's end and as its value grows this will feed back into greater buying demand.
Bitcoin was trading at $12,200 but has pulled back under $12,000 as US equity futures make a recovery bid.
In our price report three days ago we saw bitcoin eyeing $11,000 so has advanced 1,000 dollars (9%) since then.
Action overnight in the Asia session provided the latest bitcoin price booster, with much of the trading activity initially taking place on the Binance exchange. (You can read a Binance review here.)
Turmoil on world stock markets in the wake of the deepening US-China trade war is fuelling the bitcoin buying frenzy, especially among Chinese investors.
Overnight, the People's Bank of China set the yuan at a higher rate than the market was assuming it would, which helped to staunch the bleeding in stocks, at least temporarily.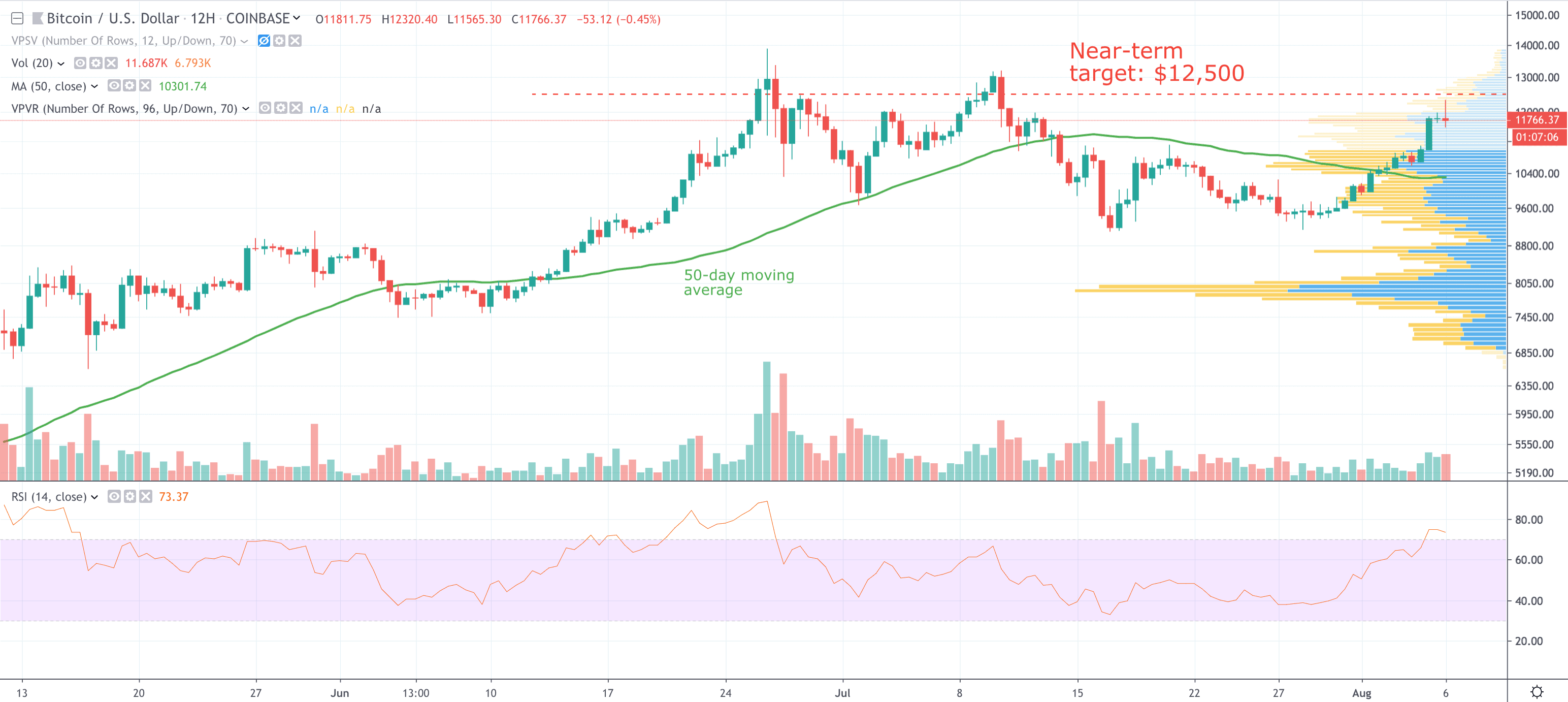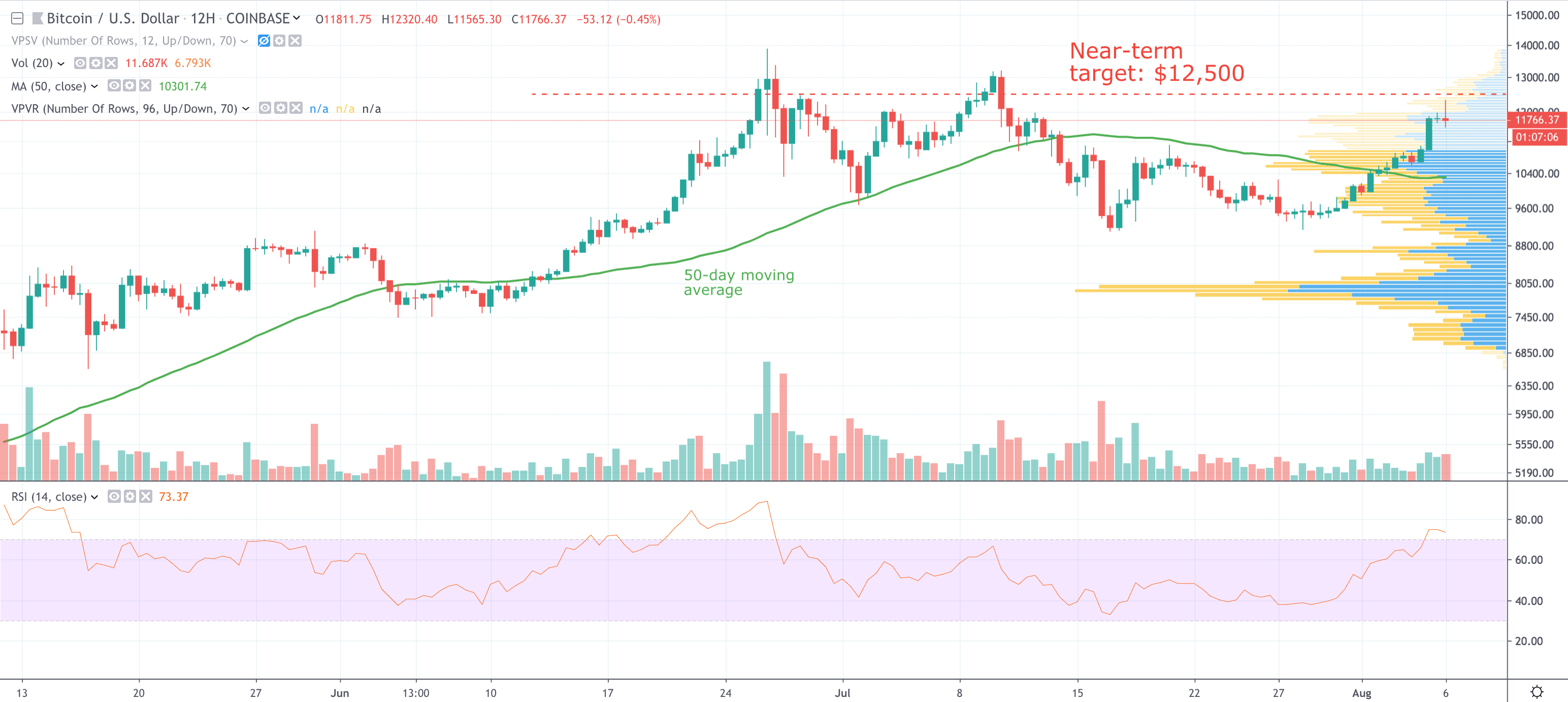 BTC/USD price on 12-hour chart, Coinbase, 6 August 2019 (Chart courtesy TradingView)
Bitcoin benefits from currency war
A full-blown currency war is in motion, with the US following up yesterday's yuan devaluation by labelling China a currency manipulator.
That is not just an insulting jibe by the US Treasury but the first legal step in taking a complaint against China to the International Monetary Fund to seek redress.
Speaking to CNBC, Thomas Lee from Fundstrat, the Wall Street analyst he co-founded, said bitcoin is "a hedge against global risks".
Lee continued by saying that bitcoin had become an "authentic institutional source of diversification that's going to help it propel to new highs".
He is still bullish on US equities seeing the "US still pretty well-positioned", maintaining a year-end price target of 3125 for the S&P 500.
Uncorrelated bitcoin
Fundstrat's Lee analyst was asked how he squares bitcoin being uncorrelated to equities but still expecting it to rise in price when equities will also be rising, according to his company's forecasts.
In response he points to how the end of the crypto winter, improving technical and more fiat-to-crypto on-ramps are "really bullish for bitcoin but doesn't have to be bullish for equities".
In terms of the fiat on-ramps mentioned, in the retail market it has become much easier to buy bitcoin for non-technical people. It even possible these days to buy bitcoin with PayPal.
Lee also noted how in the past couple of years bitcoin has been correlated to the dollar and risk.
However, he currently sees two highly significant correlations having emerged – negative correlation of bitcoin to equities and positive correlation to gold.
Bitcoin's attraction as a store of value or "digital gold" is leading to greater institutional buying, said Brian Kelly, founder of BKCM, a digital asset investment firm.
Commenting on institutional FOMO, Kelly said: "the herd is hear right now".
As the price of bitcoin rises, Kelly predicts it will gain even more interest from institutions.
"Bitcoin is reflexive. The higher it goes the more you want to own it as it's a better store of value as it goes up," said Kelly.
He thinks bitcoin will make new highs this year.
Bitcoin dominance – measured as its share of overall market capitalisation – has risen to its highest level since April 2017 at 68.6%.
Outside of the flight to safety, perhaps helping it to glide past the previous year high at $13,800 could be the issuance of 100 million Tether stablecoins in the past 24 hours.
China softening on crypto
Signs that China is softening its attitude to crypto was recently discussed by Jeremy Allaire, the chief executive and co-founder of payments company Circle.
He doesn't think it is an accident that Chinese courts recently ruled that bitcoin is legal property, the Bank of China has published an explainer for its customers on bitcoin.
That couldn't have come at a better time for the bitcoin market and for those Chinese investors joining the capital flight caravan.
Hong Kong's implosion is a key driver of prices at the moment. Hong Kong is where the Chinese rich have traditionally parked their money, but that is looking like an increasingly precarious options and is pushing bitcoin up the agenda of alternative options.
Gary McFarlane is the cryptocurrency analyst at interactive investor. His commentary is provided in a personal capacity and should not be considered investment advice.